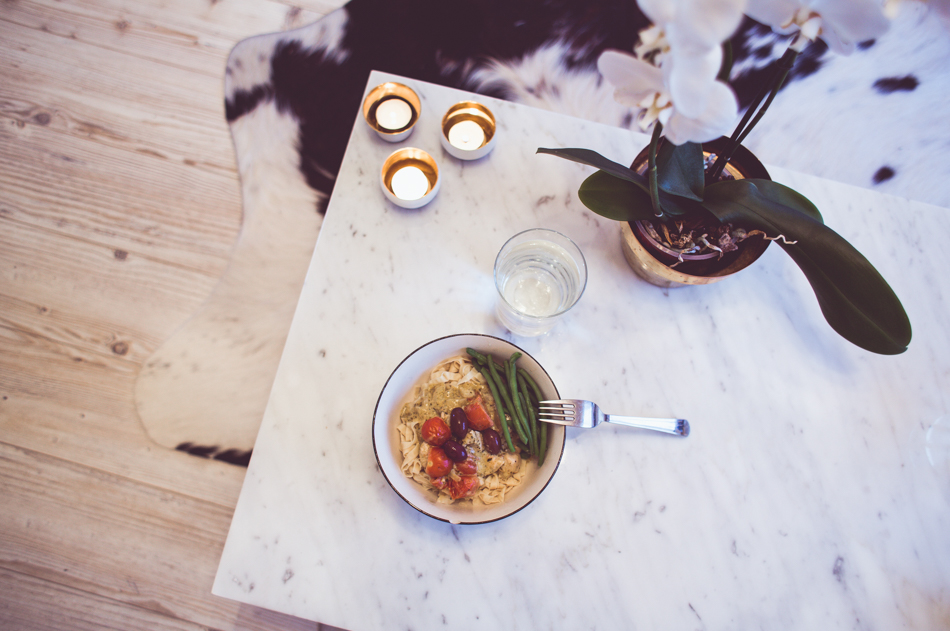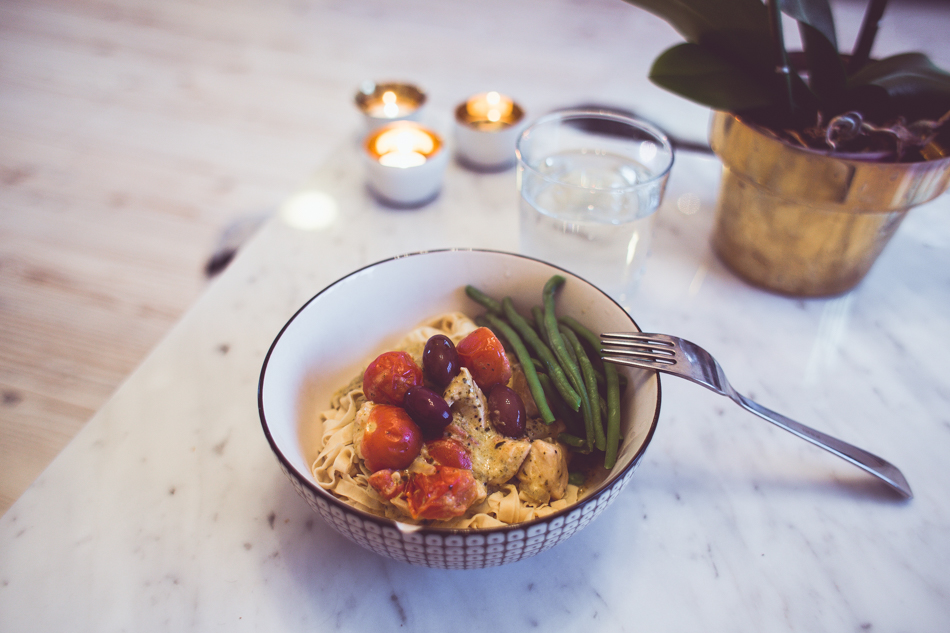 Tonight's dinner
Här har ni ett recept på en väldigt snabb men god middag! Det blir såklart godare med vanlig pasta men jag valde bönpasta (gula soyabönor) som är snällare mot magen. Såsen gör att det nästan känns som vanlig pasta ändå. :-) Jag gjorde för ca 4 pers och hade 800 g kyckling, 1 gul lök, 3 vitlöksklyftor, 2 burkar crème fraiche & totalt 1 burk pesto.
Stek kyckling, gul lök och vitlök. Salta & peppra. När det är stekt, i med crème fraiche & pesto. Jag blandade både röd och grön pesto denna gång. Ha i delade cocktailtomater och låt det puttra lite. Servera med bönpasta, oliver & haricot verts! Sjukt gott att ha i spenat i grytan också men det glömde vi köpa.
Nu ska vi äta vattenmelon och titta på Game of Thrones!
// Here you have a recipe on a very quick yet delicious dinner! Ofc it's more tasty with regular pasta, but I chose a pasta made out of soya beans which is more kind for my stomach. The sauce makes it taste almost like normal pasta. :-) I made this for like 4 persons and used 800 g chicken, 1 yellow onion, 3 cloves of garlic, 2 cans of creme fraiche & 1 pesto jar.
Fry chicken, yellow onion and garlic. Add salt and pepper. When it's fried, add creme fraiche & pesto. This time I mixed both red and green pesto. Add cherry tomatoes and let it simmer. Serve with bean pasta, olives and haricot verts! It's also very nice to have spinach in it but we forgot to buy it.
Now we're gonna eat watermelon and watch GoT!