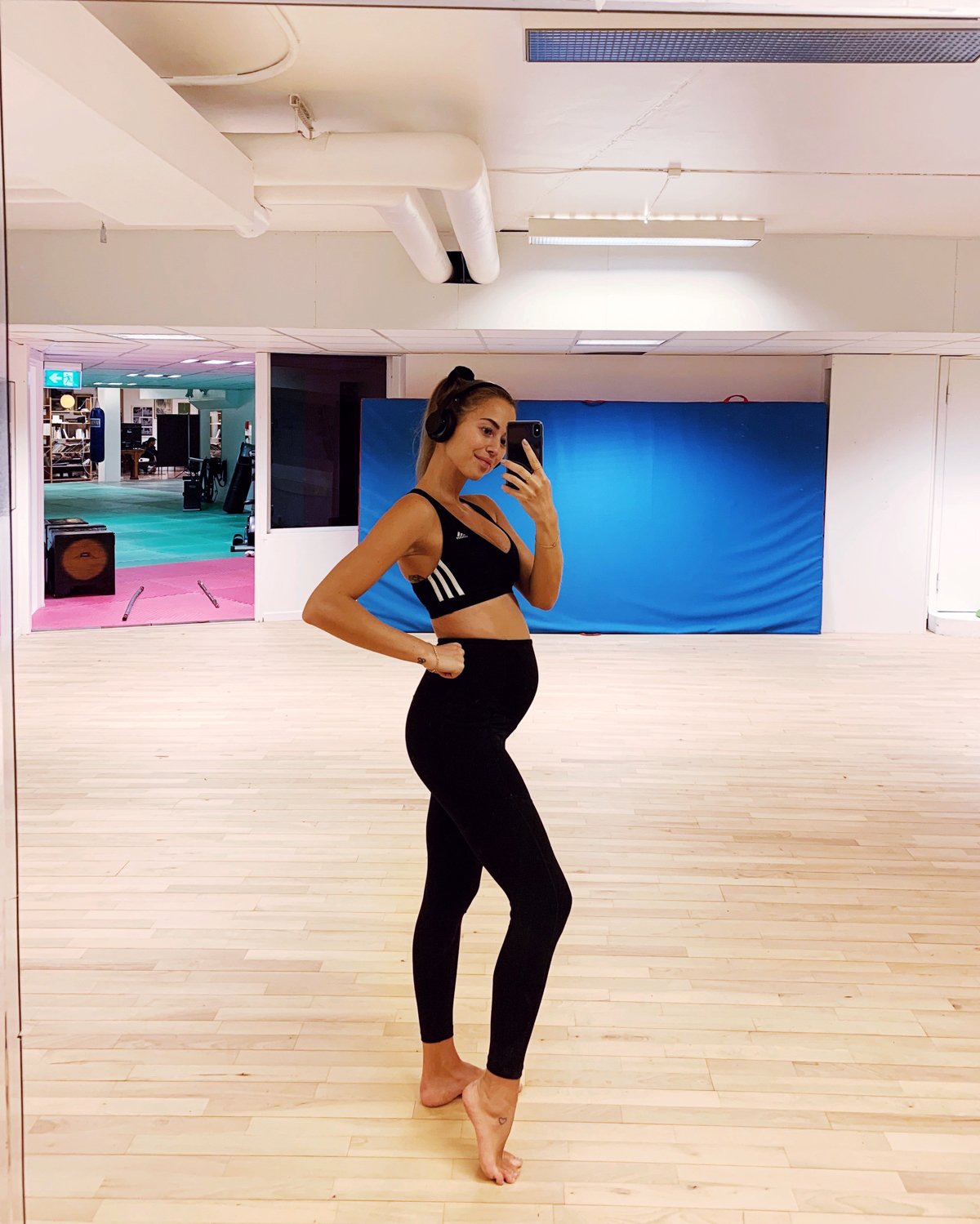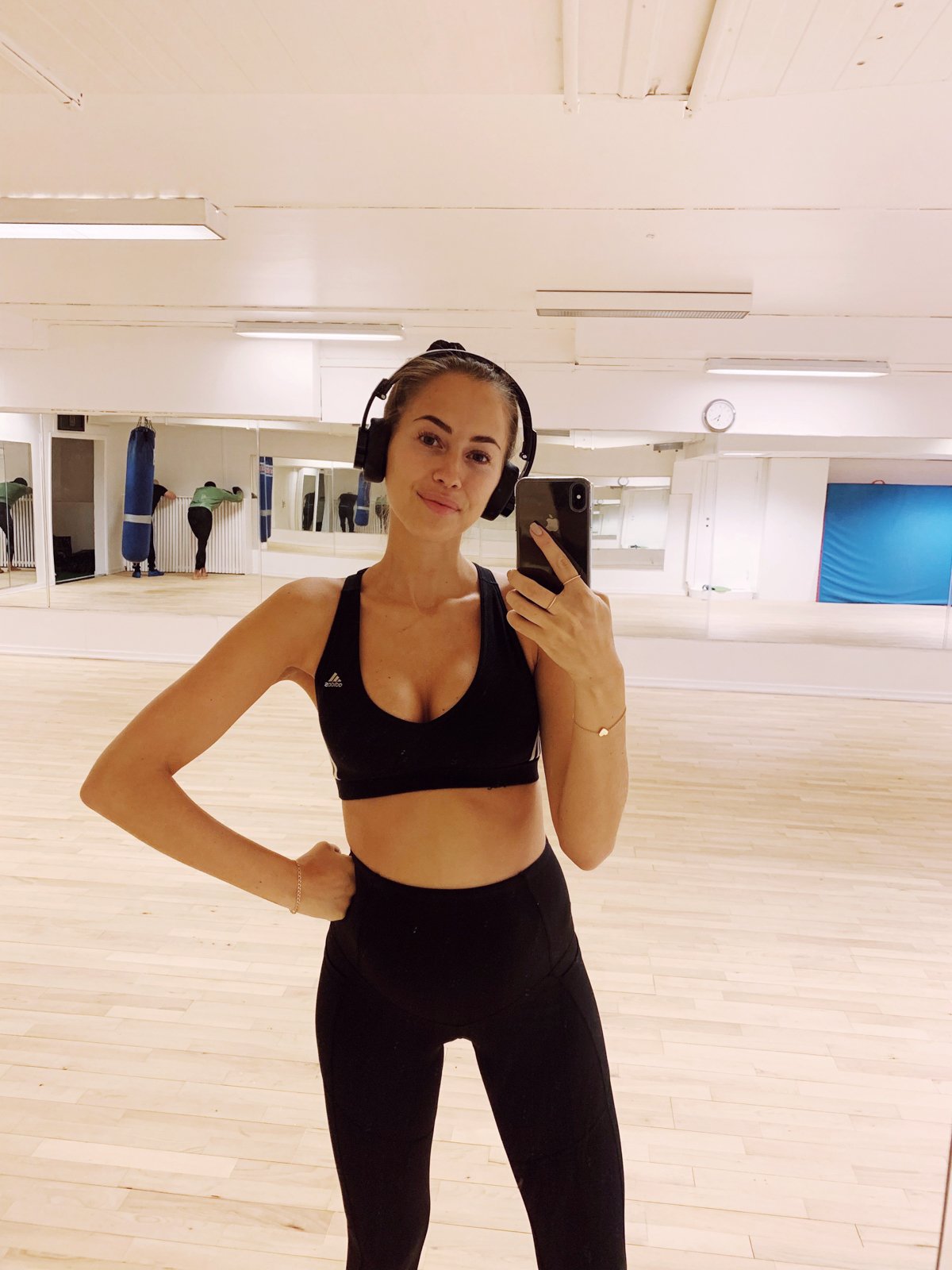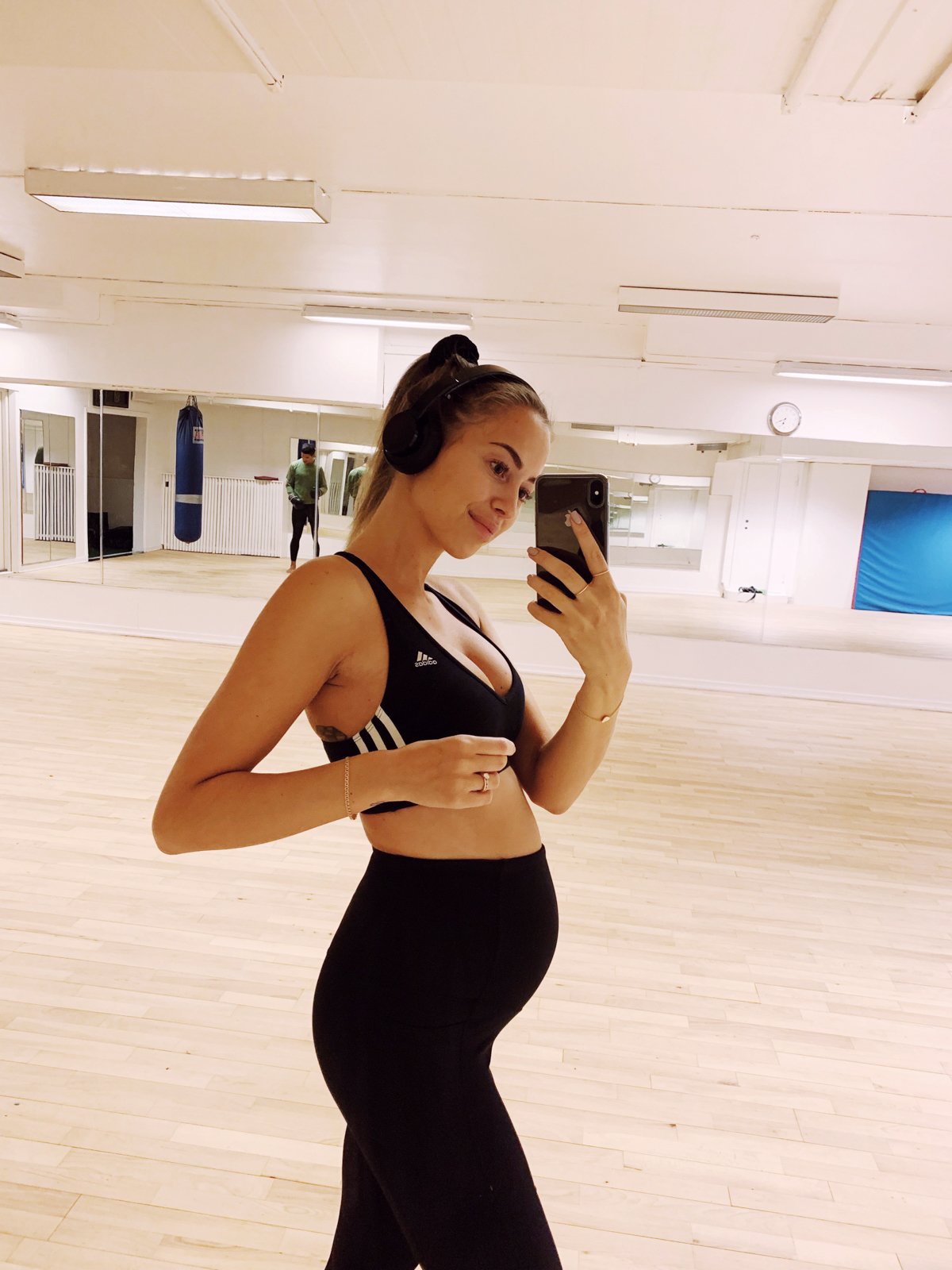 Tights from Bring Sportswear, top from Adidas, headphones from Urbanista x Fashionablefit
Idag tränade jag för första gången sedan innan jul och satan vad skönt det var. Ni är många som har frågat mig om/hur jag har tränat nu under graviditeten och jag tänkte att jag skulle svara på det nu. Ärligt talat så hade jag en vision om hur jag skulle köra på som vanligt, hålla musklerna vid liv och vara mitt starkaste jag vid förlossningen typ…. Men min kropp ville ju något annat.
Första veckorna efter plusset så vågade jag knappt träna. Även om jag visste att det var helt ofarligt att fortsätta träna som jag var van vid så var jag så rädd för att förlora lilla fröt så jag rörde mig inte mycket. Vågade inte ens ha sex. Jätteknäppt, jag vet. När första ultraljudet i v8 visade ett tickande hjärta och jag vågade andas ut litegrann så hade ju illamåendet slagit till. De två månaderna när jag bara kräktes och inte kunde äta ordentligt så fanns det ingen energi till att träna. Den lilla kraften jag hade gick åt att ta mig igenom vardagen med jobb och allt, och sedan låg jag utslagen låg soffan. MEN, detta vände ju tillslut och från vecka 13 så började jag träna med min PT Damla! Vi körde två gånger i veckan, gravidanpassad träning (endast styrkeövningar, har inte kört någon kondition utan fokus ligger på att stärka rygg/axlar, bål osv) och jag lärde mig vilka övningar som var okej och inte okej. Sedan kom julen, semestern, migränen och aptitproblemen igen och jag tog en paus från träningen. Satsade på långpromenader och vila.
Nu är aptiten och hungern äntligen tillbaka, alla kilona jag tappade under kräkperioden är nästan på plats igen och jag börjar känna mig stark och pigg igen. Därför tänkte jag nu försöka komma igång med träningen igen! Körde idag som sagt och det känns så bra, och i veckan ska jag träffa Damla och köra med henne. Mitt mål är att behålla min styrka och försöka hålla igång så länge det känns okej för det är bra för både mig och Bebor, men jag lägger ingen press på mig själv och behöver jag några veckor där jag bara vilar så är det helt okej.
Och JÄKLAR vilken skillnad detta lilla pass gjorde på min hunger. Är vråååålhungrig nu!! Dags att laga middag. :-)
// Today I worked out for the first time since before Christmas and damn it felt so good. Many of you have been asking me about how/if I work out during my pregnancy and I thought I could answer that now. To be honest I had a vision about me working out as usual, keep my muscles alive and kinda be my strongest self when I give birth…. But my body wanted something different.
The first week after my positive test I barely dared to work out at all. Even though I knew it was completely safe to keep working out the way I was used to, I was so scared to lose that little bean so I didn't move much. I was even too scared to have sex. Really weird, I know. When the first scan in week 8 showed a beating heart and I dared to breathe out a bit, the nausea had kicked in. Those two months when I only vomited and couldn't eat properly, I didn't have any energy to work out. I had to use the little energy I had to get myself through the day with work and all, and after that I passed out on the couch. BUT, this changed eventually and from week 13 I started to work out with my personal trainer Damla! We did two workouts a week, workout suited for pregnancy (only strength training, I haven't done any cardio. the focus is to strengthen my back/shoulders, torso etc) and I learned what exercises that was safe and not safe. Then Christmas came, and vacation, and then migraine and struggle with my appetite again so I took a break from working out. I aimed on long walks and rest. 
Now my appetite and hunger is finally back, all the weight I lost during that puke period is almost back and I'm starting to feel strong and alert again. That's why I'm gonna try to get started again! So like I said I worked out today and it feels so good, and this week I'm gonna meet with Damla and work out with her again. My goal is to keep my strength and try to keep on as long as it feels fine because it's good for both me and Bebor, but I'm not gonna put any pressure on myself and if I need a few weeks to rest that is totally okey.
And DAMN what a different this little workout did on my hunger. I'm staaaarving now!! It's time to cook dinner. :-)