Jag har sett att många av er är nyfikna på vårt bröllop! Jag har redan visat hur min klänning (här!) och ring (här!) kommer se ut så nu tänkte jag berätta lite mer om själva bröllopet, blommor, dekoration m.m. :-)
// I've noticed that many of you are curious about our wedding! I've already showed you what my dress (here!) and ring (here!) will look like so now I thought it was time to tell you a bit more about the wedding, flowers, decoration etc. :-)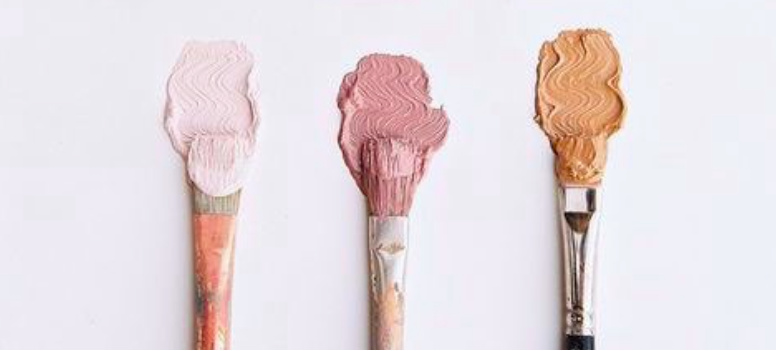 Vi börjar med färgpaletten för hela temat (som vi kallar för Förtrollad Trädgård – bröllopet ska kännas bohemiskt och sagolikt, men samtidigt elegant och lyxigt) och den går i smutsiga rosa nyanser, beige och vitt med detaljer i guld. Mina brudtärnors klänningar kommer gå i 3 av dessa färger!
// Let's start with the color palette for the whole theme (which we call Enchanted Garden – the wedding should feel bohemian and like in a fairytale, yet still elegant and luxurious) and it contains dusty pink colors, beige and white with details in gold. My bridesmaids dresses will be in 3 of these colors!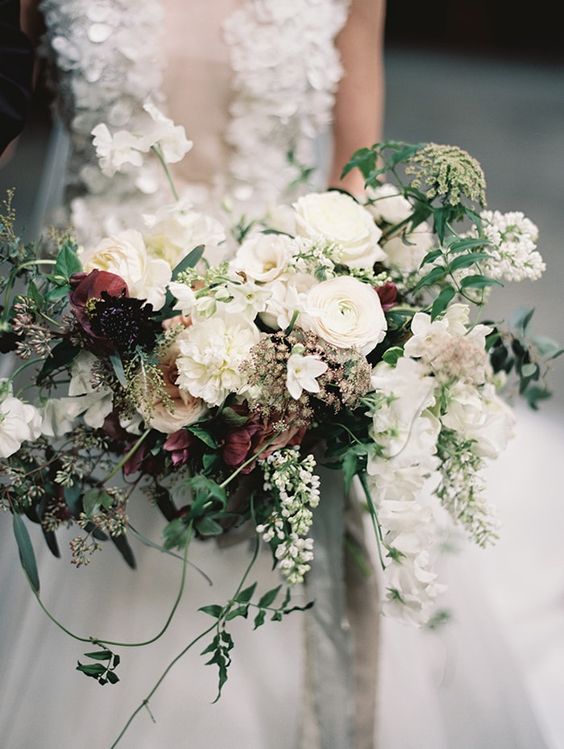 Min bukett, och all annan blomsterarrangemang, ska kännas vildvuxen men romantisk. Stora ljusa blommor som kombineras med gröna kvistar och blad.
// My bouquet, and all the other flowers for the wedding, will have a wild feeling yet still romantic. Big light flowers combined with green leaves and twigs.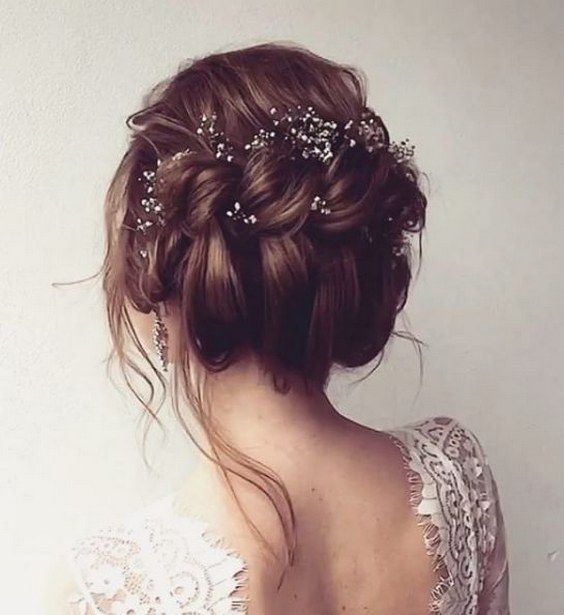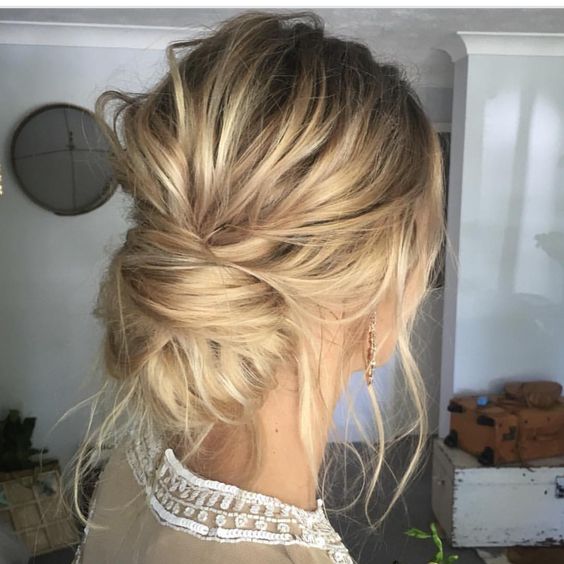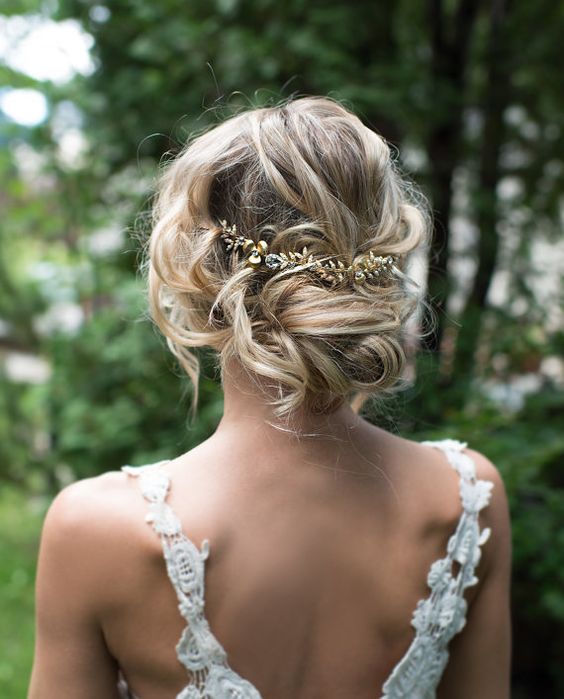 Har nog inte visat hår innan så jag gör det nu. Har ju lagt ganska mycket krut på klänningen så håret ska inte vara too much. Det ska vara en slarvig uppsättning med små blommor eller något smycke i.
// I don't think I've showed you the hair yet so I do it now. Since my dress is pretty spectacular I don't want the hair to be too much. It should be a messy hair-do with small flowers or a piece of jewelry.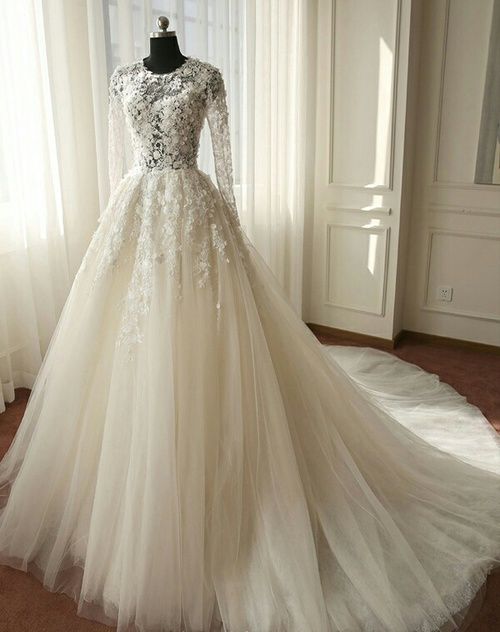 Inte min klänning, men ganska lik! Kommer dock bara ha 3D-blommor på kjolen, upptill blir vanlig transparent spets. :-)
// Not my dress, but pretty similar! I will only have 3D flowers on the skirt though, on the top I will have regular transparent lace. :-)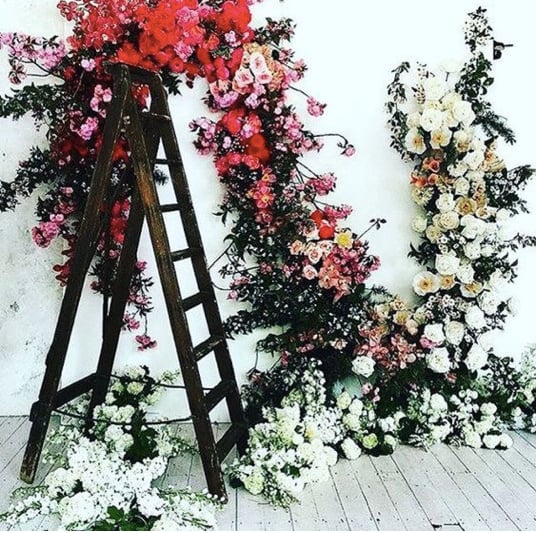 Mer blommor! Mycket ska det vara! Förutom mat och dryck så är blommorna det viktigaste på vårt bröllop. Ja och att vi ska bli man och fru såklart. ;-) Vi ska bygga upp en vild blomstervägg att ha som backdrop för foto för alla gäster. Väggen kommer vi även flytta ner till middagen sen och ha bakom vårt bord.
// More flowers! Lots of flowers! Except for food and drinks, the flowers are the most important thing at our wedding. Well except for us becoming husband and wife ofc. ;-) We're gonna build a wild flower wall to use as a backdrop for photos for our guests. We will also move the wall down to the dinner after and put it behind our table.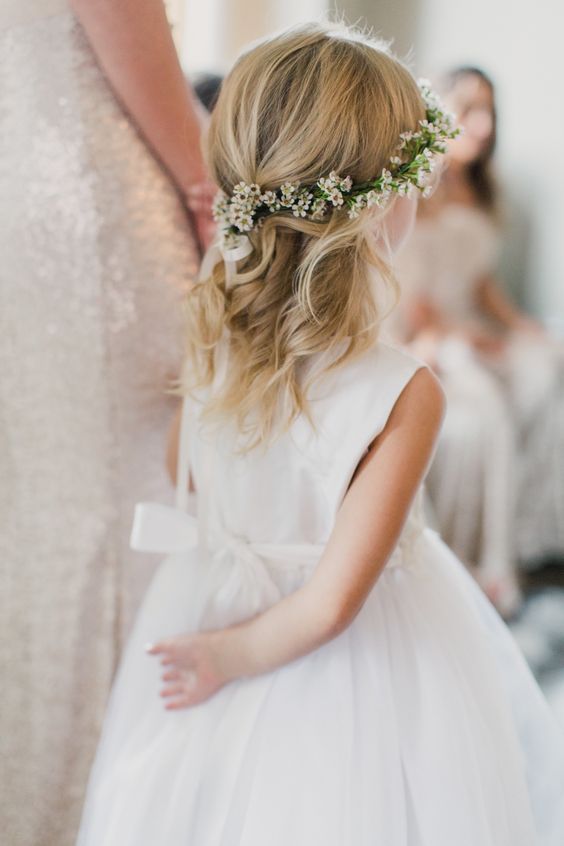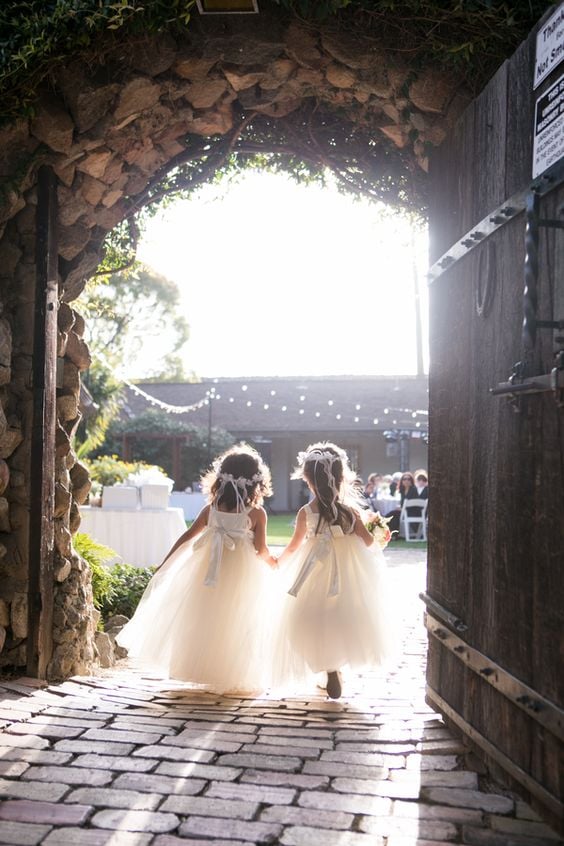 Lär förstöra sminket redan när jag ser våra 5 brudnäbbar (mina systerdöttrar och Aleks brorsdöttrar). De kommer vara så himla fina! Tjejerna kommer ha vita klänningar och små tunna kransar på huvudet, de kommer gå allra först och kasta ut rosblad från sina korgar. Efter brudnäbbarna kommer mina brudtärnor och Aleks…vad fan heter det. Best men? Marskalkar! Aleks har 4 st (så 2 av mina tärnor får gå ihop!) och min bror är en av dem. :-)
// I will probably ruin my make-up in the beginning already when I see our 5 flower girls (my nieces and Aleks nieces). They will be so pretty! The girls will have white dresses and thin flower crowns on their heads, they will walk down the "aisle" first and throw rose leaves from their baskets. After the flower girls comes my bridesmaids and Aleks best men. He has 4 (so 2 of my bridesmaids will walk together!) and my brother is one of them. :-)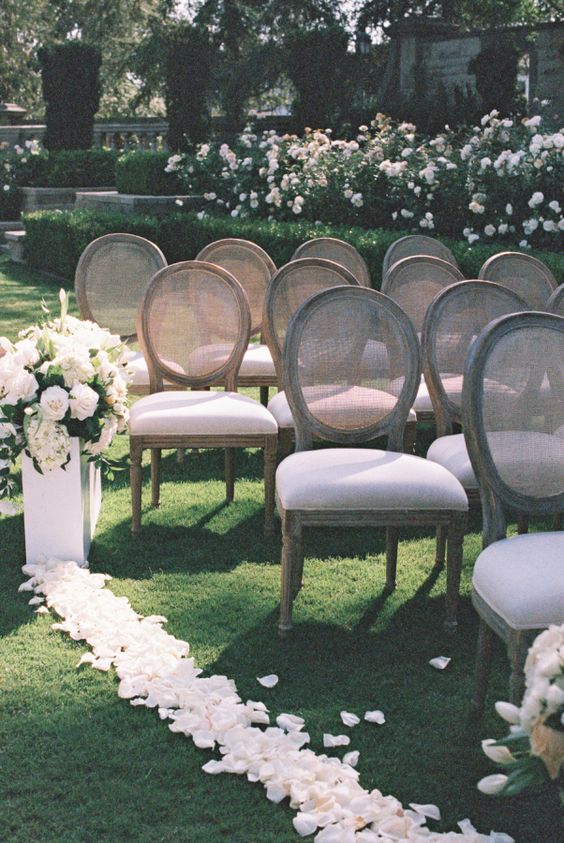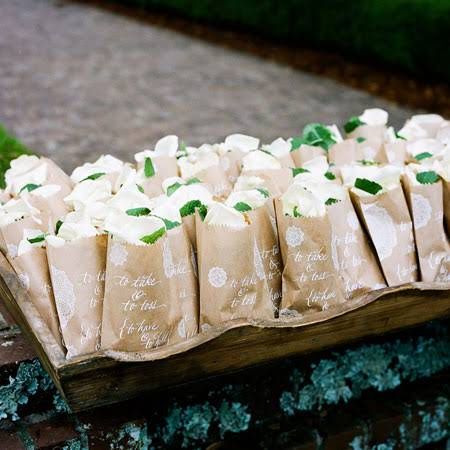 Rosblad kommer även ligga längs gången och våra gäster kommer få nå liknande papperspåsar/strutar med blomblad att kasta på oss sen när vi förklaras Herr och Fru (Zouiten) Subosic. AHHH pirr pirr!!
// We will also have rose leaves along the aisle and our guests will have some similar paper bags with leaves to throw at us when we're pronounced Mr and Mrs (Zouiten) Subosic. AHHHH butterflies!!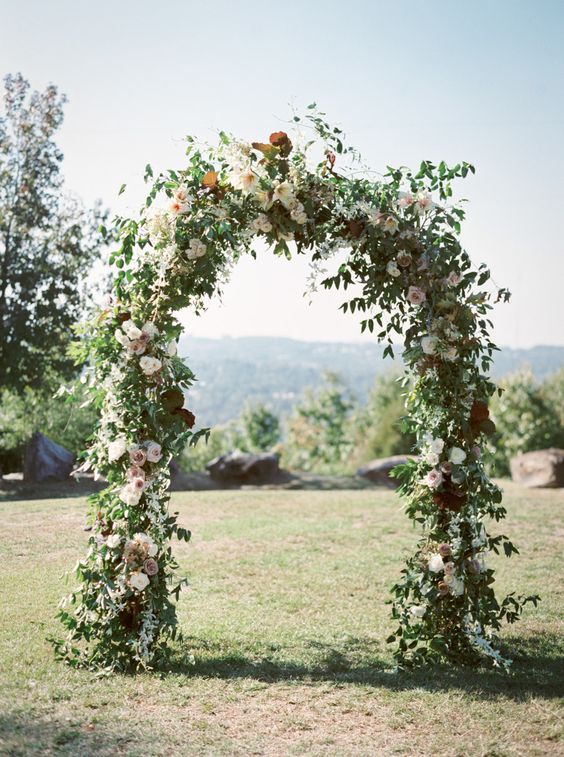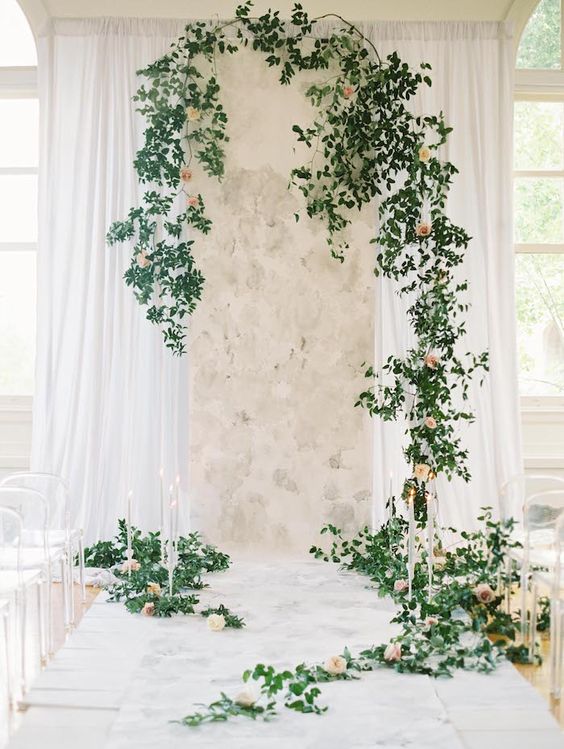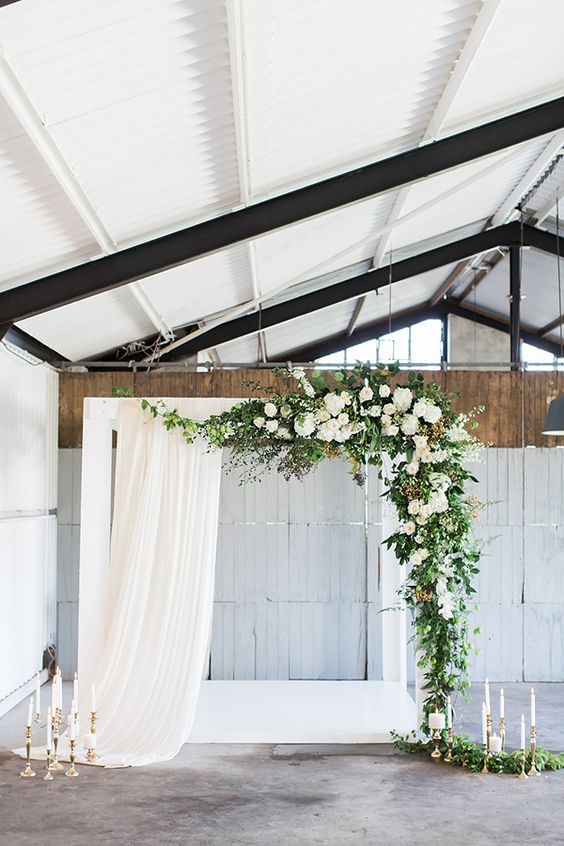 Vidare till vigselplatsen. Vi ska ju vigas utomhus och själva vigselplatsen (som är omringad av stora gröna träd) ska också dekoreras med blommor och gröna kvistar.
// Moving on to the ceremony spot. We will get married outside and this place (which is surrounded by big green trees) will also be decorated with flowers and green twigs.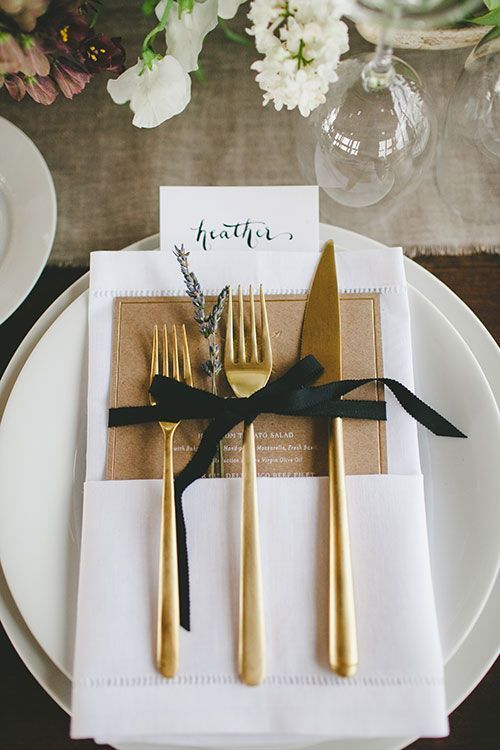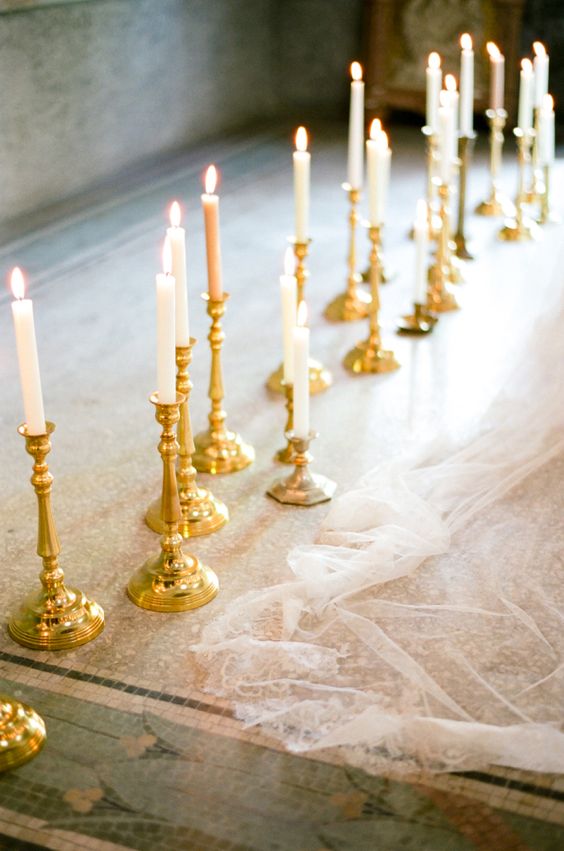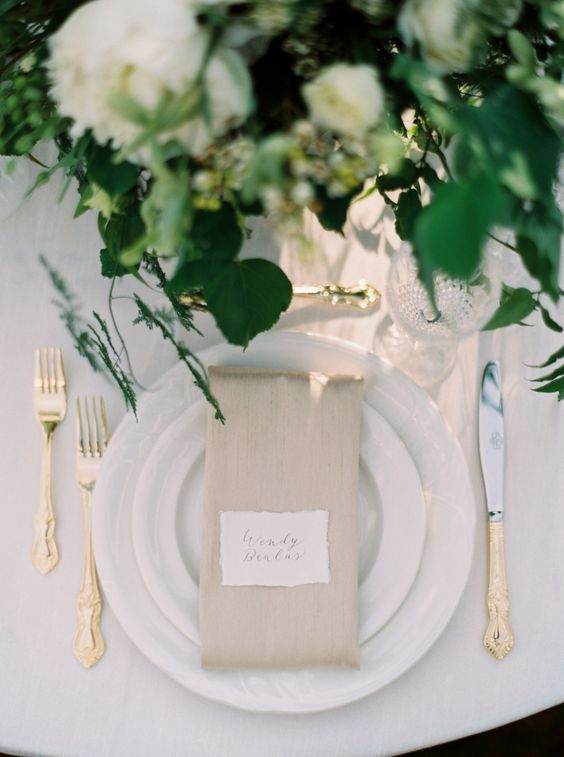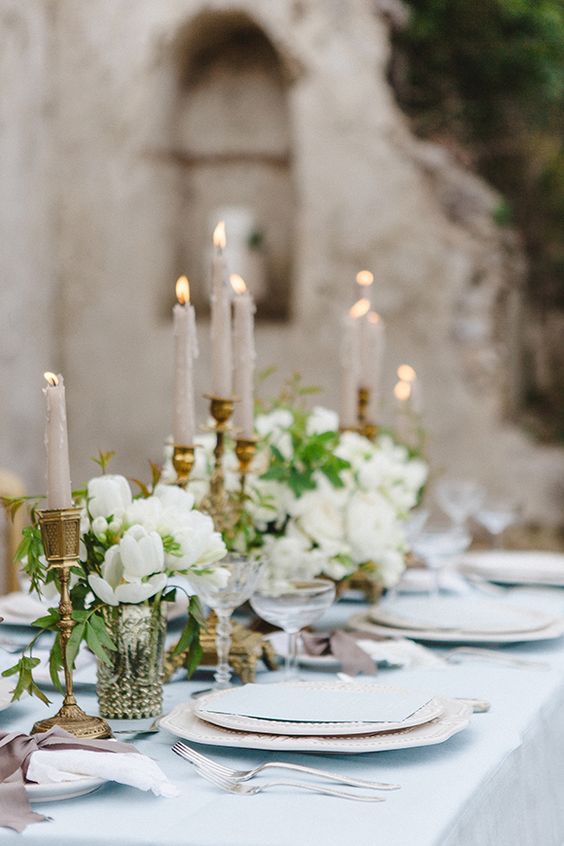 Lite inspo för borden!
// Some inspo for the tables!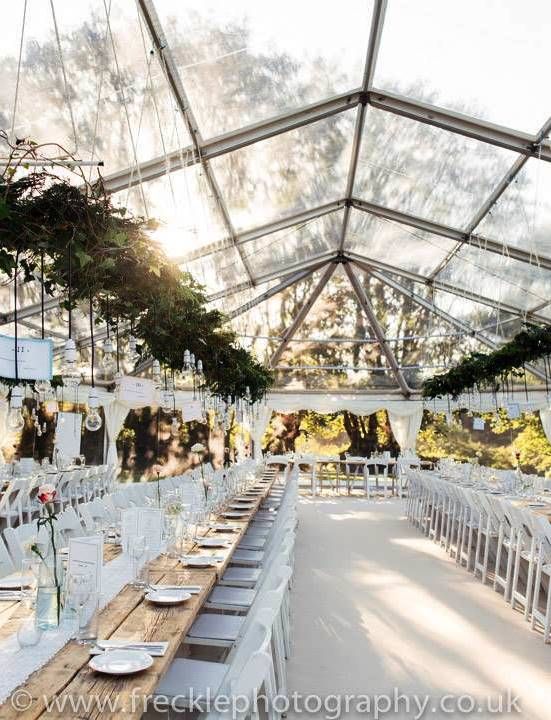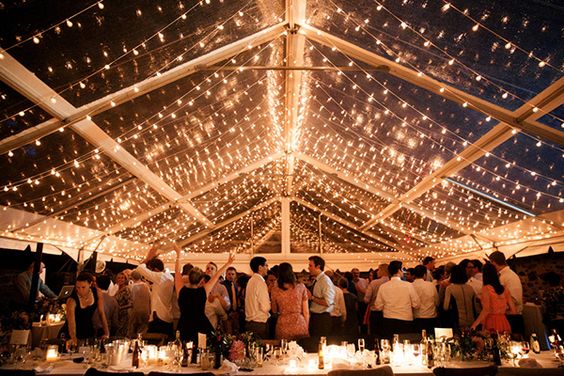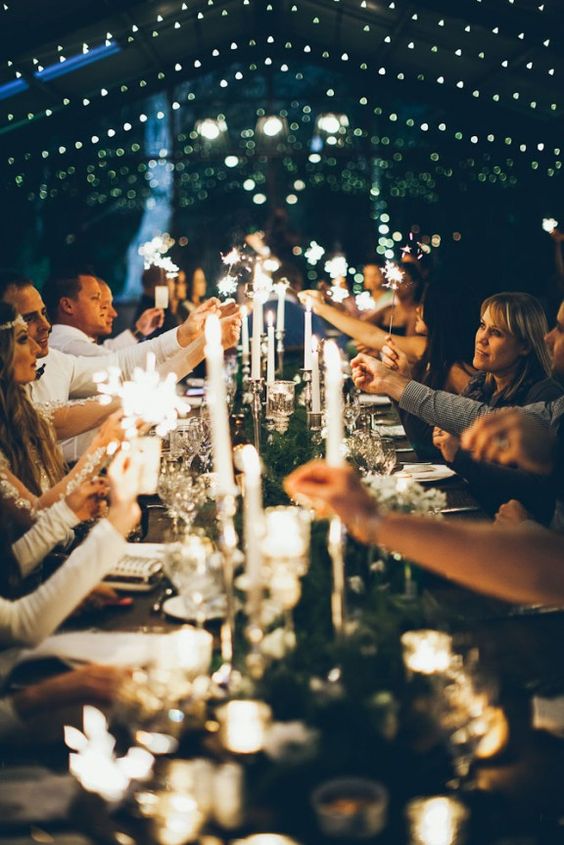 Hittade inte riktigt några bilder som visar hur det kommer se ut där vi har middag och fest, men vi har hyrt ett "tält" med glastak och trägolv och vi ska försöka få till den förtrollade trädgårdskänslan även här med levande ljus, massa blommor, ljusslingor i hela taket etc. Helst hade vi ju varit under helt bar himmel, men även om det är mitt i sommaren så bor vi fortfarande i Sverige och kvällarna är kalla. Förhoppningsvis slipper vi ha "väggarna" uppe iallafall!
// I couldn't really find any photos that shows what it will look like at the dinner and party, but we've rented a "tent" with clear glass roof and wooden floor and we will try to get that enchanted garden feeling in here as well with candles, lots of flowers, light balls in the ceiling etc. We would have preferred being completely outdoor, but we live in Sweden and even though it's in the middle of the summer the nights are cold. Hopefully we don't have to have the "walls" up!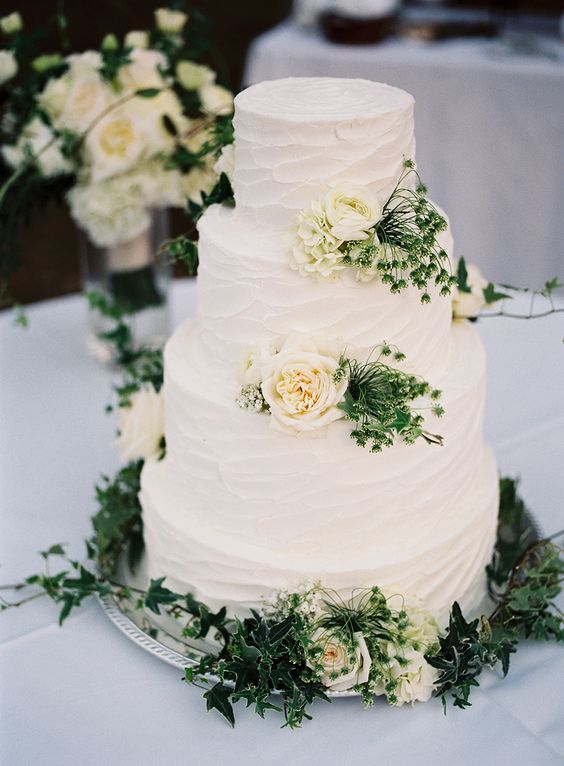 Vår magiska chokladtårta ska vara vit och samma känsla som resten av bröllopet. Kanske addera något guldigt på (vi har ett eget monogram som vi använder oss på trycksaker).
// Our magical chocolate cake will be white and have the same feeling as the rest of the wedding. Maybe add something golden on (we have our own monogram that we use on printed stuff).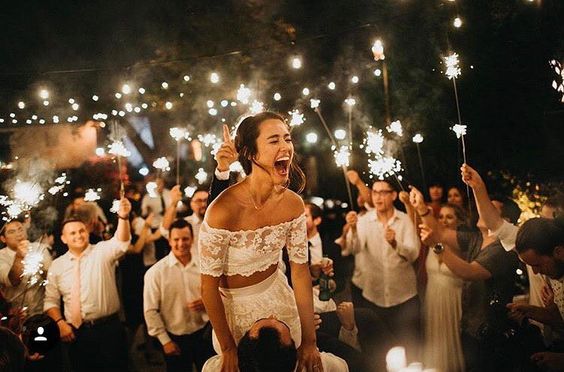 Avslutar det hela med den här fina bilden (jag verkligen känner hennes lycka!) och säger: TOMTEBLOSS! Vi måste ha tomtebloss! :-)
// I'm ending this post with this beautiful photo (I can really feel her happiness!) and say: SPARKLERS! We have to have sparklers! :-)