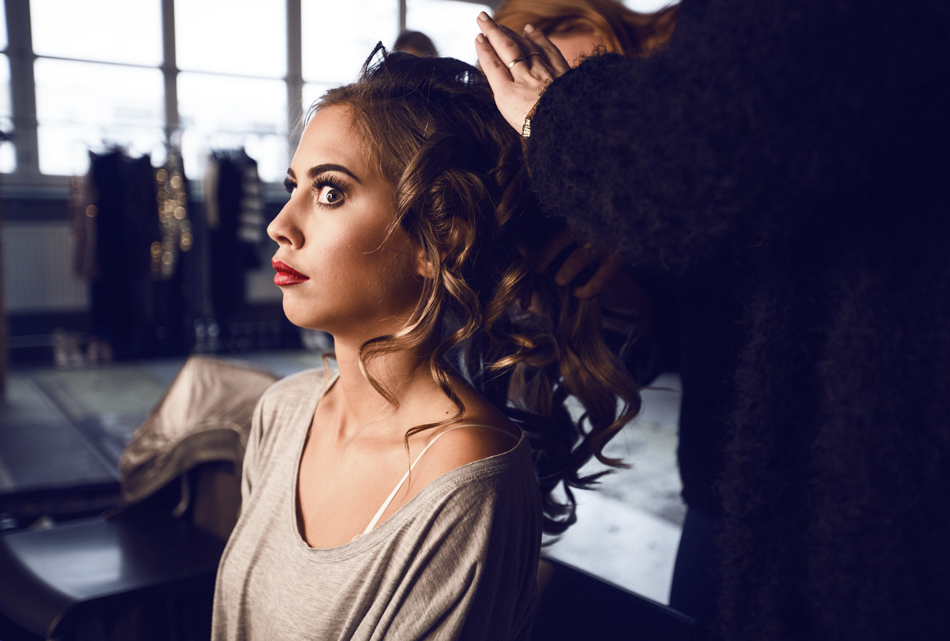 1. Beroende av?
Närhet, choklad, designerväskor, Aleks, jobb.
2. Vad får du oftast komplimanger för?
Utseende: fransar & bryn (ser alltid till att få göra dem själv när jag blir sminkad av make up-artist, I know my shit liksom haha). Insida: att jag är omtänksam, stark och driven.
3. Dina planer under 2016?
Jag och Aleks ska iväg till Mauritius i januari, sedan har jag inte vågat boka in mer för jag vet ärligt talat inte hur mitt liv kommer se ut i vår när jag droppat nyheten (som jag pratat om det senaste året). :-) Mycket jobb, antar jag! Och mycket resande inom jobbet.
4. Vad är det konstigaste du ätit?
Krokodil, struts, bajs, sniglar & känguru.
5. Hur ser dina morgonrutiner ut?
Det beror på vad det är för dag. Vissa dagar plåtar jag med Madde så då ser det lite annorlunda ut, men är det t.ex. en måndag ser det ut såhär: Klockan ringer vid halv åtta och jag är sur som fan för att jag hatar att lämna sängen. Men går på toaletten, stoppar i mina linser och tvättar ansiktet. Går tillbaka till sängen, lyfter upp Mani där och busar med honom (det är det bästa han vet). Klär på mig, kanske sminkar mig lite. Antingen käkar jag frukost hemma eller så äter jag när jag kommer till kontoret istället. Drar hemifrån innan halv nio så att Mani hinner rastas påväg till kontoret. Klockan 9 börjar måndagsmötet.
6. Serier du följer just nu?
Hmm. Just NU så är det bara Walking Dead, the Originals & Vampire Diaries. Ser ni ett mönster? Haha.
7. 5 saker du vill göra i framtiden?
Se mer av världen, bli miljardär, gifta mig, föda ut tre små fina barn & leva lyckligt till jag är 100 år gammal.
8. Har du någonsin brutit mot lagen?
Eh ja många gånger…. T.ex. så var jag och mina vänner riktiga små satungar när vi var små, snattade gärna godis och sånt. Vi hade inga pengar och när vi redan länsat hela Jarlaberg på pantburkar så var det enda alternativet tyckte vi, haha.
9. Vad står det i ditt senast inkomna SMS?
Åtta hjärtan från min storasyster.
10. Vilka är dina närmsta vänner?
Nadia, Mika & Dilay som jag känt sedan jag var liten och som jag älskar till döds. Shiva som jag lärde känna för några år sedan men som snabbt blev en av de viktigaste personerna i mitt liv. Humlan som bor på andra sidan jordklotet men som jag tänker på och saknar varje dag. Jag har inte så många vänner, men jag har vänner som jag kan räkna med i alla lägen. Vänner som vet allt om mig och älskar mig för den jag är. Vänner jag skulle göra allt för! ♥
(obs bajs var ett skämt hehe)
---
1. Addicted to?
Closeness, chocolate, designer handbags, Aleks, work.
2. What you usually get compliments for?

Look: lashes & eye brows (I always make them myself even when a make up artist does my make up, cause I know my shit haha). Personality: that I care about others, that I'm strong and driven.
3. Your plans during 2016?
Aleks and I are going to Mauritius in January, after that I haven't booked anything cause I honestly don't know what my life will look like this spring when the news is out (the one I've been talking about the last year). :-) Lots of work, I guess! And a lot of travelling with work.
4. What is the weirdest thing you've eaten?
Crocodile, ostrich, poo, snails & kangaroo.
5. What does your morning routine look like?
It depends on what day it is. It looks a bit different those days I shoot with Madde, but if it's a Monday for example it looks like this: The alarm goes off at 7.30 and I'm pissed as fuck cause I hate leaving bed. But I go to the bathroom etc, put in my contacts and wash my face. Go back to bed, lift Mani up and play with him (that is the best thing he knows). I get dressed, maybe put on some make up. I either eat breakfast at home or eat something when I get to the office instead. I leave home around 8.30 so that Mani have time to do his needs on the way to the office. The Monday meeting starts at 9.
6. Tv shows you're following?

Hmm right NOW it's only Walking Dead, the Originals & Vampire Diaries. Can you see the pattern? Haha.
7. 5 things you want to do in the future?
See more of the world, become a billionaire, get married, have 3 beautiful children & live a happy life until I'm 100 years old.
8. Have you ever broken the law?

Uhm yes many times… For example my friends and I were little devils when we were kids, shoplifting a lot. Only candy and stuff. We didn't have any money and we had already found all the recycled cans so we thought this was the only option, haha.
9. What does it say in your last recieved text? 
Eight hearts from my sister.
10. Who are your closest friends? 
Nadia, Mika & Dilay who I've known since I was kid and love to death. Shiva who I got to know a few years ago but quickly became one of the most important persons in my life. Alexandra who lives on the other side of the world but whom I think of and miss every day. I don't have many friends, but I have friends I can count on in every situation. Friends who knows everything about me and who love me for who I am. Friends I would do anything for! ♥ 
(poo was a joke btw haha)