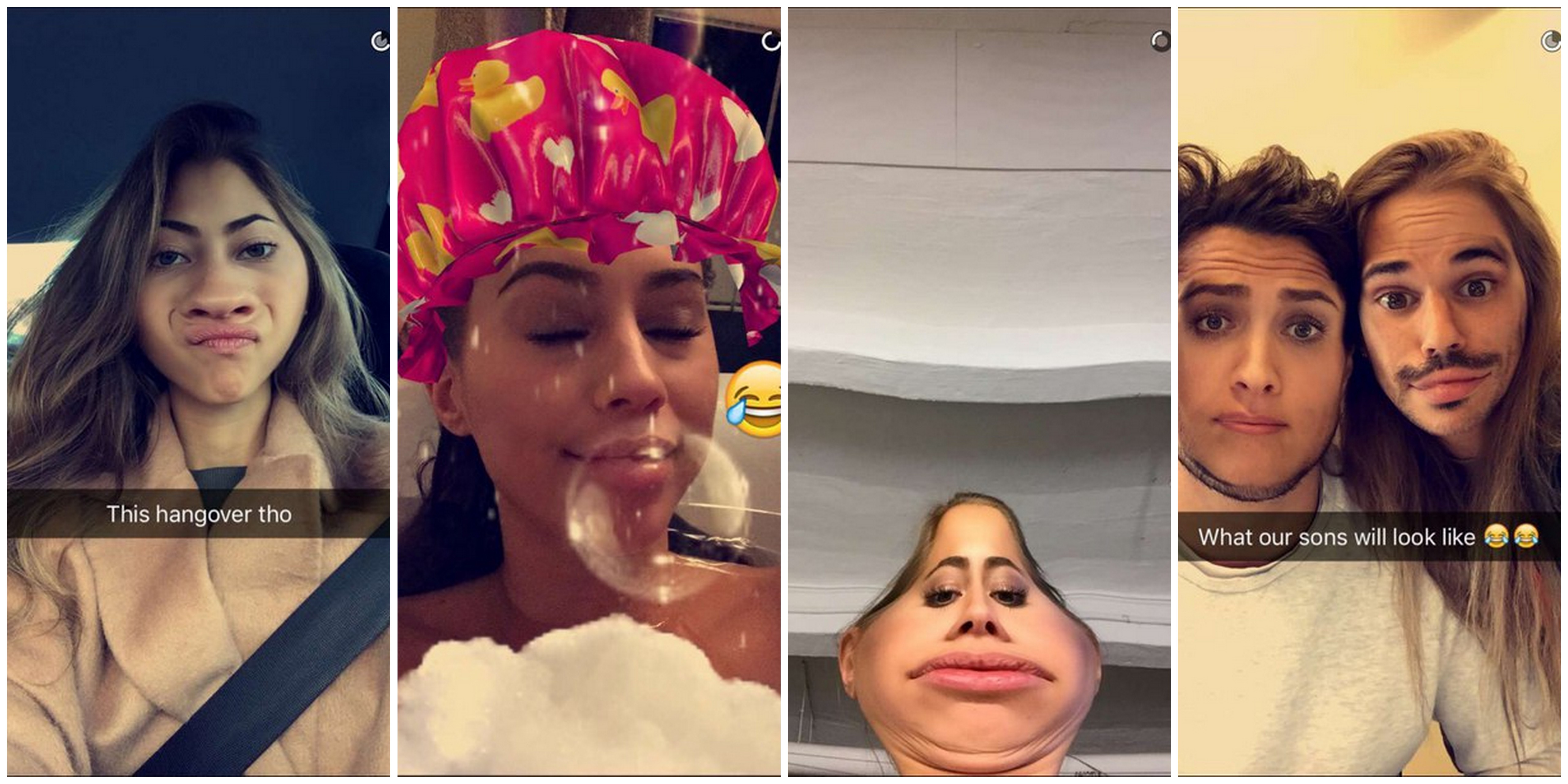 Join me on snapchat: zouitenk
Jag antar att jag inte är den enda som är beroende av snapchat?! Eller iallafall av alla filter/effekter man kan lägga på. Blir typ lite rädd av bilden på mig och Aleks där vi blandat våra ansikten… Snubben till vänster var ju lite snygg? Haha.
Juste jag öppnade upp min snapchat här om dagen vilket innebär att jag tillät folk att skicka snaps till mig under några minuter. Alltså KAOSSS, min telefon dog! Snapchat stängdes ner flera gånger, det trillade in typ 5 snaps i sekunden och jag kunde inte ens gå till inställningar och stänga av för allt bara laggade. Tillslut gick det och det tog mig 45 minuter att kolla igenom alla snaps och ÅÅÅÅHHHH vad varm jag blev i hjärtat! Alla skickade så himla fina hälsningar, videos och bilder. <3 Hann inte svara tillbaka på alla men jag svarade många. Det där ska jag göra igen en deppig dag när jag behöver piggas upp lite för jäklar vad glad jag blir. Ni är helt fantastiska ska ni veta!!
// I guess I'm not the only one who's addicted to snapchat? Well at least to all the filters/effects you can add. I'm a bit scared of the photo of me and Aleks with mixed faces…. The dude to the left is a little bit hot? Haha.
I opened my snapchat the other day, which means I allowed everyone to send me snaps during a couple of minutes. OH MY GOD chaossss, my phone died! Snapchat shut down several times, I got like 5 snaps every second and I couldn't even enter settings to turn it off. When I managed to shut it off it took me 45 minutes to watch all the snaps and OHHHHHHH it warmed my heart soooo so much! Everyone sent me the most beautiful greetings, videos and photos. <3 I couldn't answer them all but I answered many of them. I'm gonna do this again some day when I feel a bit down because this made me so freaking happy. I hope you know how amazing you guys are!!