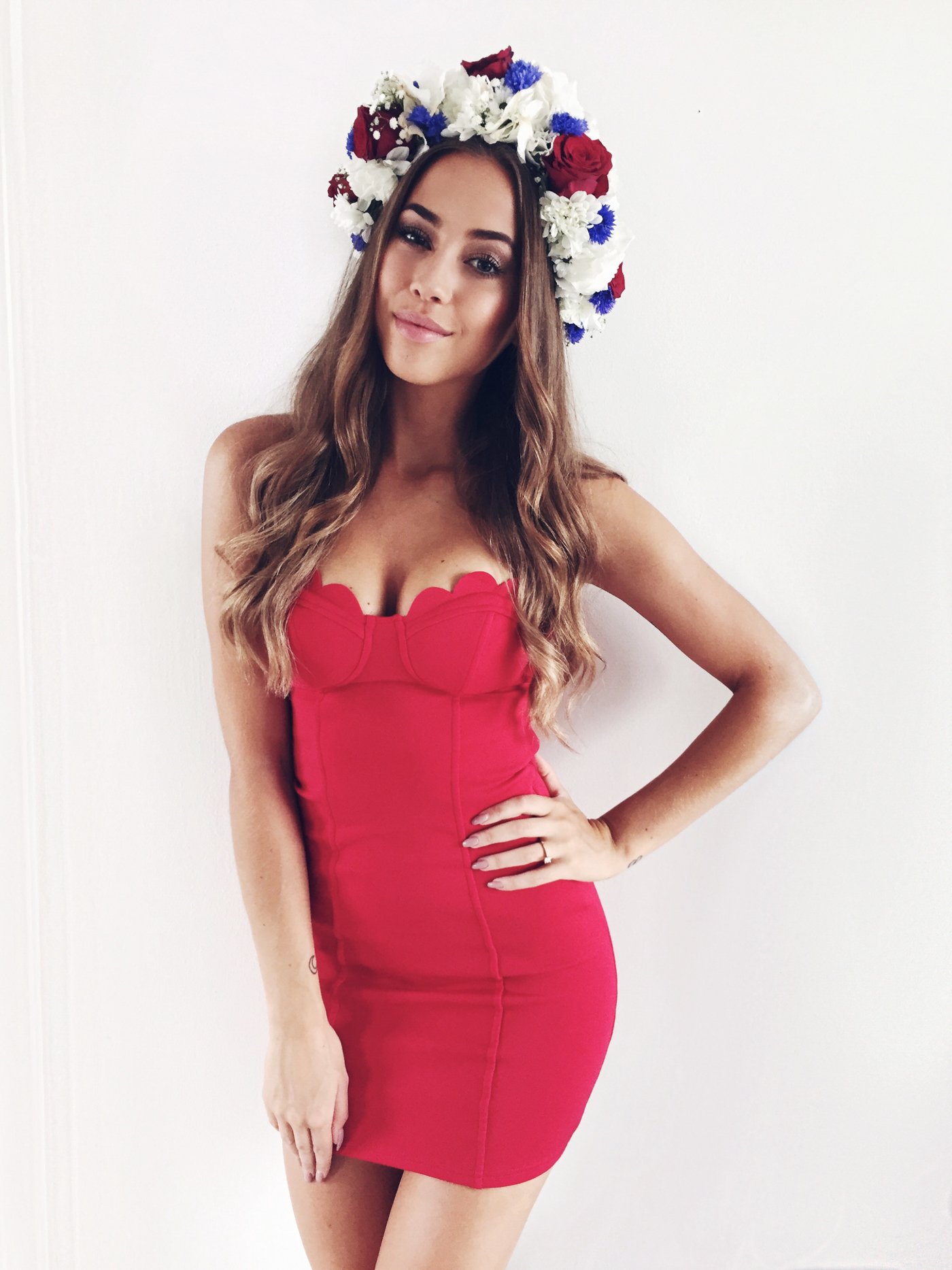 SUMMER GIRL / DRESS FROM NELLY
Summer plans:
Except for work I've got a couple of trips coming up! In July I will go to Båstad for a couple of days with my friends, we're gonna hang out at the Summer on festival and party hard. ;-) When I get back, my sister and her kids will come to Stockholm for a couple of days! Hopefully the weather will be nice so that we can go to the beach. Later in July it's time for our friend's wedding in Greece. We will stay for a week in a villa with our friends. In August Aleks and I will actually go to Rio together with Adidas for the Olympics! We've always wanted to go to Brazil so I'm super excited. And it's gonna be really cool to watch the games. I might also go back to New York in August as well but it's not decided yet. Anyway, I will end summer in Croatia together with my three best friends! <3
Favorite summer drink:
Hmm well I love all drinks in the summer haha, but strawberry daiquiri really brings back some fun memories from my first summer trips abroad with my friends.
Most fun summer memory:
I have so many beautiful memories, but one that really warms my heart and that I think about a lot is those summers we spent at Åland with my grandparents when we were kids. I don't remember much more than playing outside the cabins and the happiness (and the huge icecreams grandma always bought me haha). I don't know why but those memories give me so much….comfort.
Favorite BBQ food:
I'm a very simple person when it comes to that, give me a KORV MED BRÖD (sausage in bread) with ketchup, mustard, cucumber mayo and top it with toasted onion and I'm happy haha.
My dream summer destination:
Greece or Italy, they're both so beautiful and the food is amazing. As you know I also love going to Barcelona, and Ibiza!
Favorite summer place:
Our friend's country house that we always go to every summer. I love going there so much because it's so quiet and simple. There's no water in the house, barely no phone reception which means no internet at all, and all we do there is reading books, going out on walks with Mani and eating simple food like meatballs with macaroni. I just love it there! We dream about getting our own cabin out there one day..
What I listen to this summer:
Well the songs that will definitely remind me of this summer is: One Dance, Panda and Can't stop the feeling, maybe because they play them EVERYWHERE ALL THE TIME. Feel free to share your fav albums at the moment! I need some new music to listen to.
Favorite summer scent:
The scent after it's been raining is just SUMMER to me. And it's also my favorite because rain means less pollen haha.
I'm really looking forward to:
I'm really really looking forward to finishing the renovation of our new apartment, because that feels pretty far away right now. We've bumped into a couple of issues so we probably won't be done until September… Other than that I also look forward to our trip to Croatia! I've always wanted to go there, and I'm so glad all four of us (me, Mika, Nadia and Dilay) are finally going on a trip together again!! It's been waaay to long.
Three things I love the most about summer:
Well as a Swede there's no surprise that I mostly love the higher temperature, it just makes everything a bit easier and more fun. Like all the get together's in the parc, the open air festivals & parties, going to the beach and having picnics. The second best thing is definitely the light! Here the sun sets after 10 pm and it rises at 3 am. Which is amazinggggg, but that also means really dark winters.. Ok let's enjoy it while it lasts haha. And the third…. Well it has to be that it's totally acceptable to be lazy as hell during the summer haha.
A little summer tag! Hope you liked it. :*