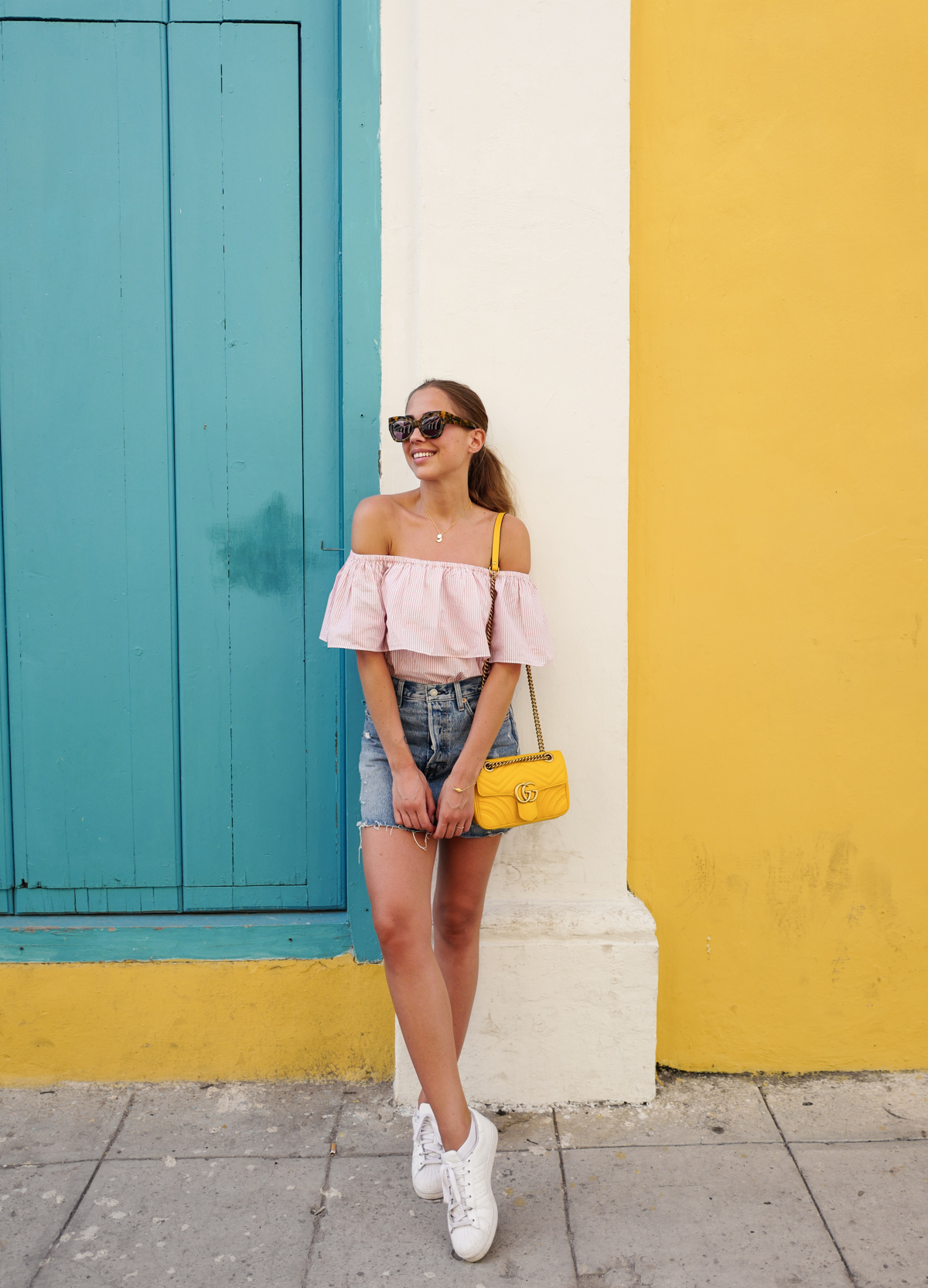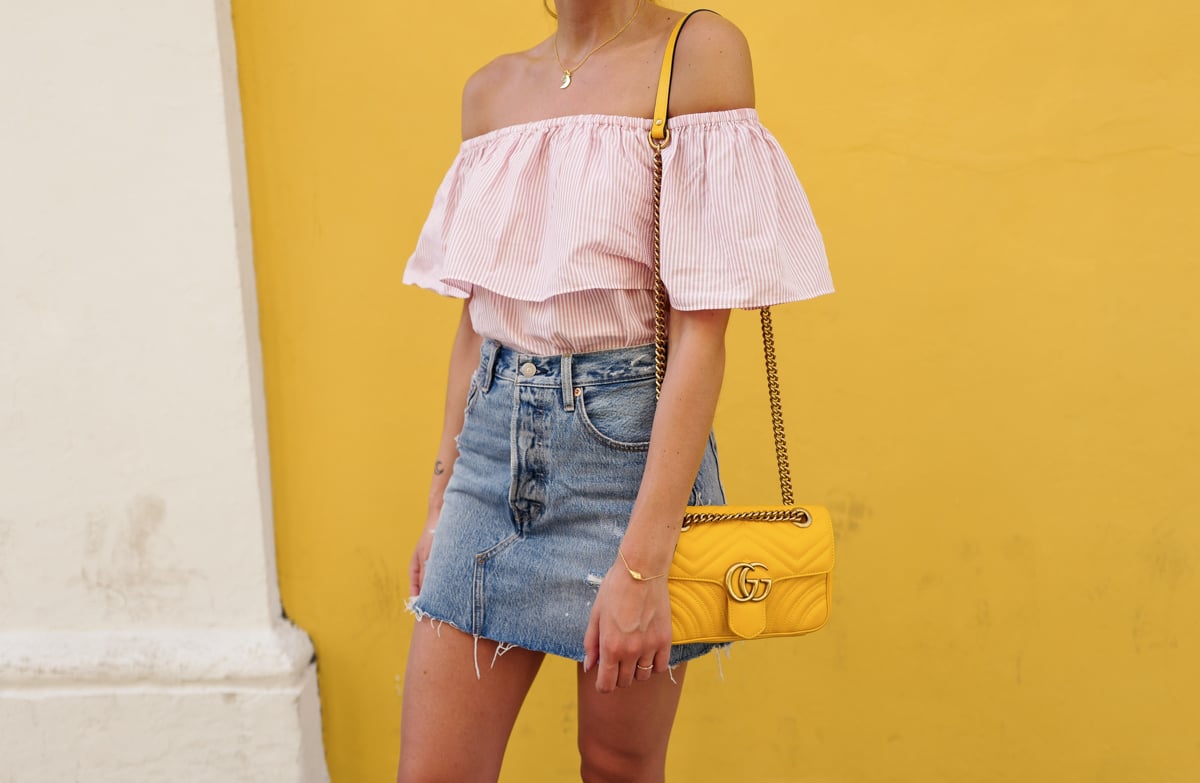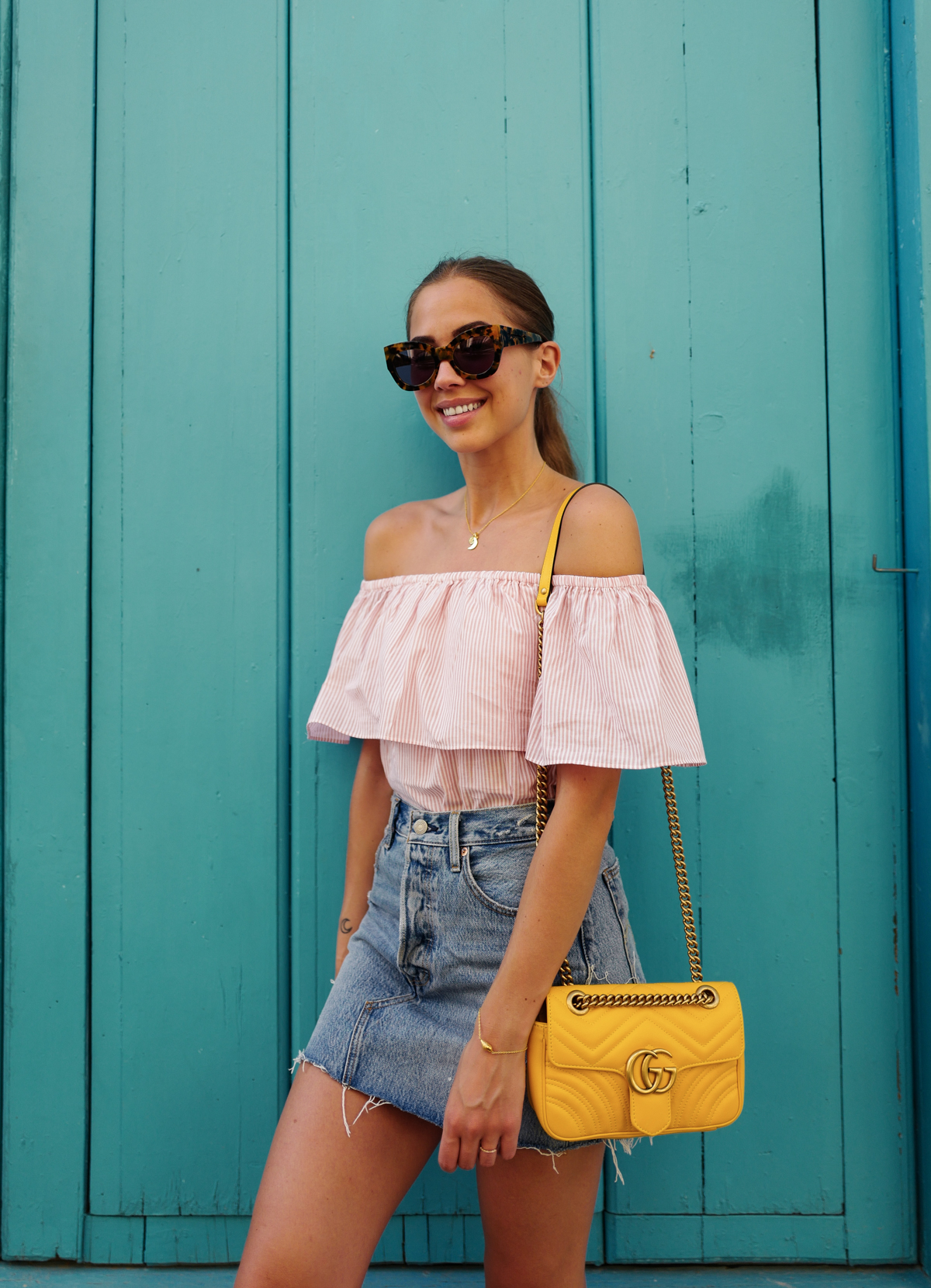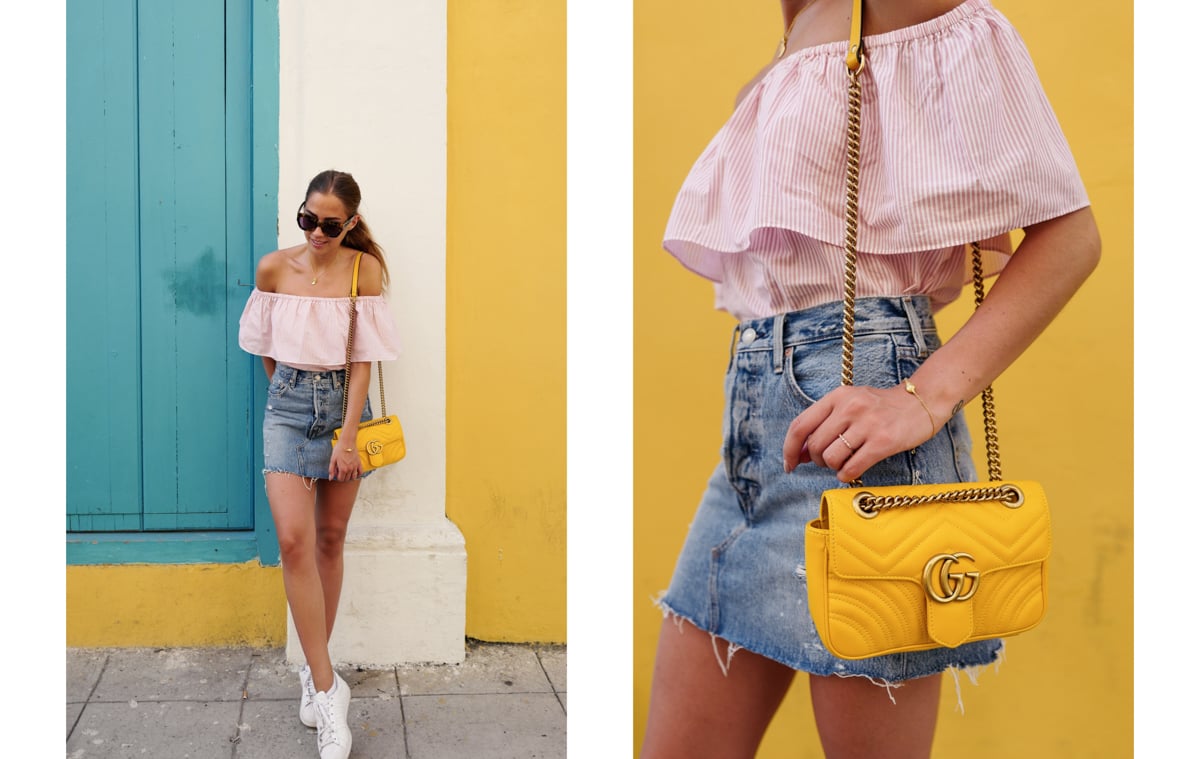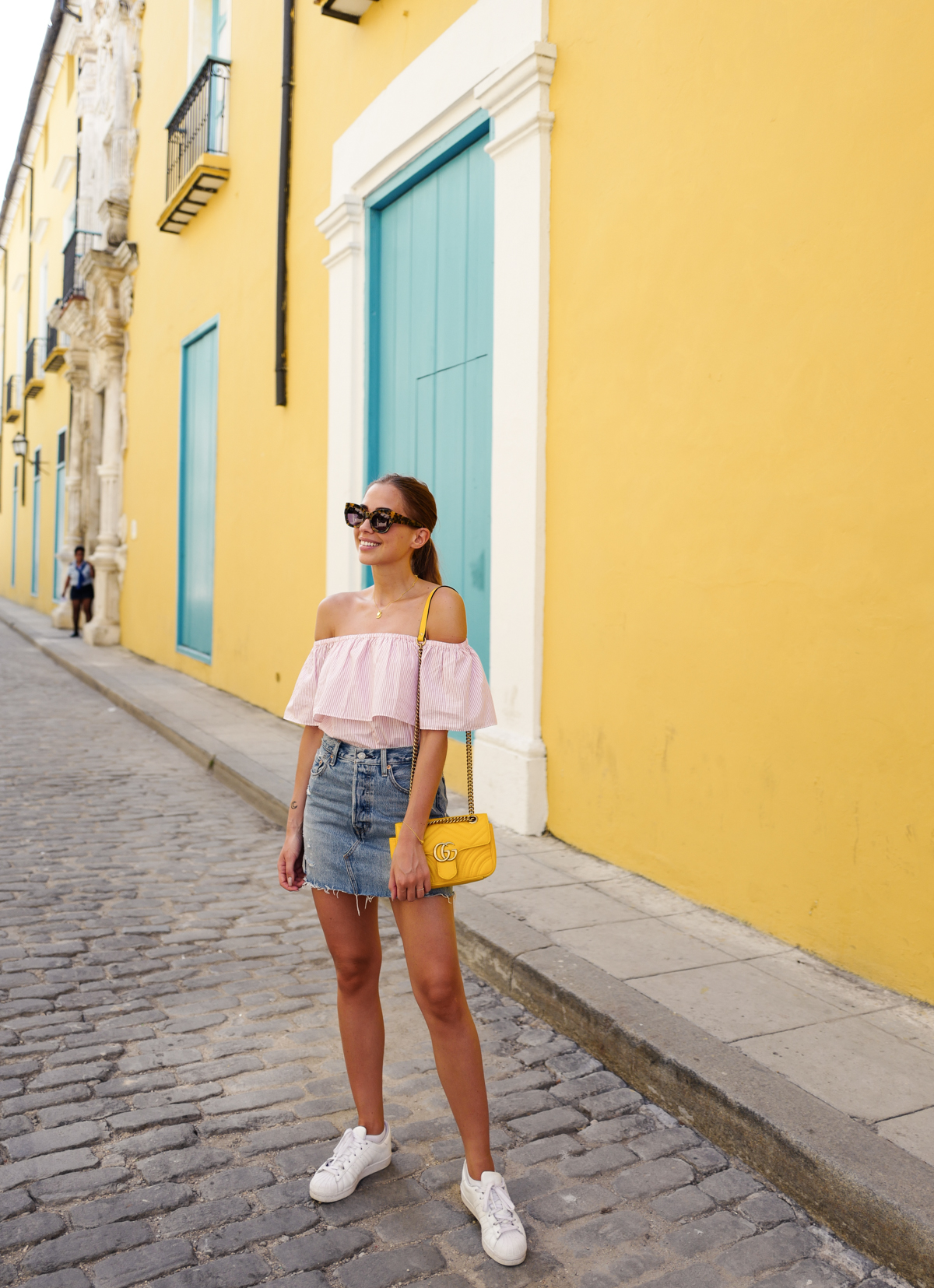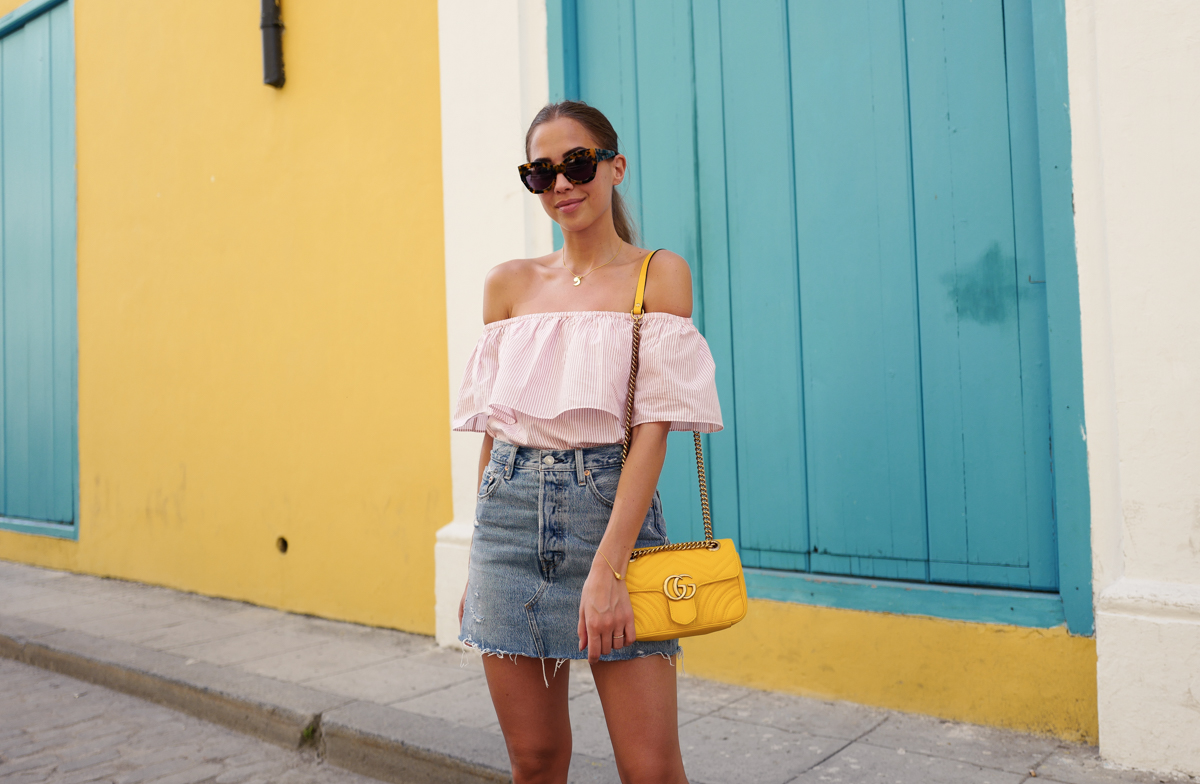 Top HERE (adlink) // skirt from Levi's // Bag from Gucci // shoes from Adidas // sunglasses from Karen Walker // bracelet and necklace from Sophie by Sophie
God morgon från Kuba! Efter bröllopsfesten så hann vi hem och sova 2 timmar innan det var dags att åka till flygplatsen. Resan tog, med ett litet stopp i Amsterdam, ca 15 timmar och jag lyckades ändå sova 7 timmar så jag mådde helt okej när vi landade här. :-)
Vi kom fram på eftermiddagen igår och då gick vi en vända på stan (så jääääkla fin stad! så mycket färg och WOW bilarna ska vi ju inte ens tala om….) innan det var dags för middag och mojitos med hela gänget. Jag och ett gäng härliga bloggtjejer är här till på lördag för att plåta en kampanj för Nelly.com! Imorgon plåtar vi swimwear och party och på fredag plåtar vi på Havannas gator. Idag är vi dock lediga så nu ska vi ge oss iväg!
PS. Ska göra mitt bästa med uppdateringen här men det är inte lätt med detta wi-fi. De senaste två inläggen tog mig totalt 2 timmar att ladda upp haha!
// Good morning from Kuba! We went home and slept 2 hours after the wedding party and then it was time to go to the airport. The trip took 15 hours and I managed to sleep 7 hours so I felt pretty okey when we landed here. :-)
We arrived yesteday afternoon and went for a walk in the city (such a beautiful city! So much color and WOW all those cars….) before it was time for dinner and mojitos with the whole team. Me and a bunch of lovely bloggers are here until Saturday to shoot a campaign for Nelly.com! We're shooting swimwear and party tomorrow, and on Friday we're shooting out on the streets of Havana. We have the day off today though so now we're heading out!
PS. I'll do my best with the blog update but it's not easy with this wi-fi. My two latest posts took me 2 hours to upload haha!