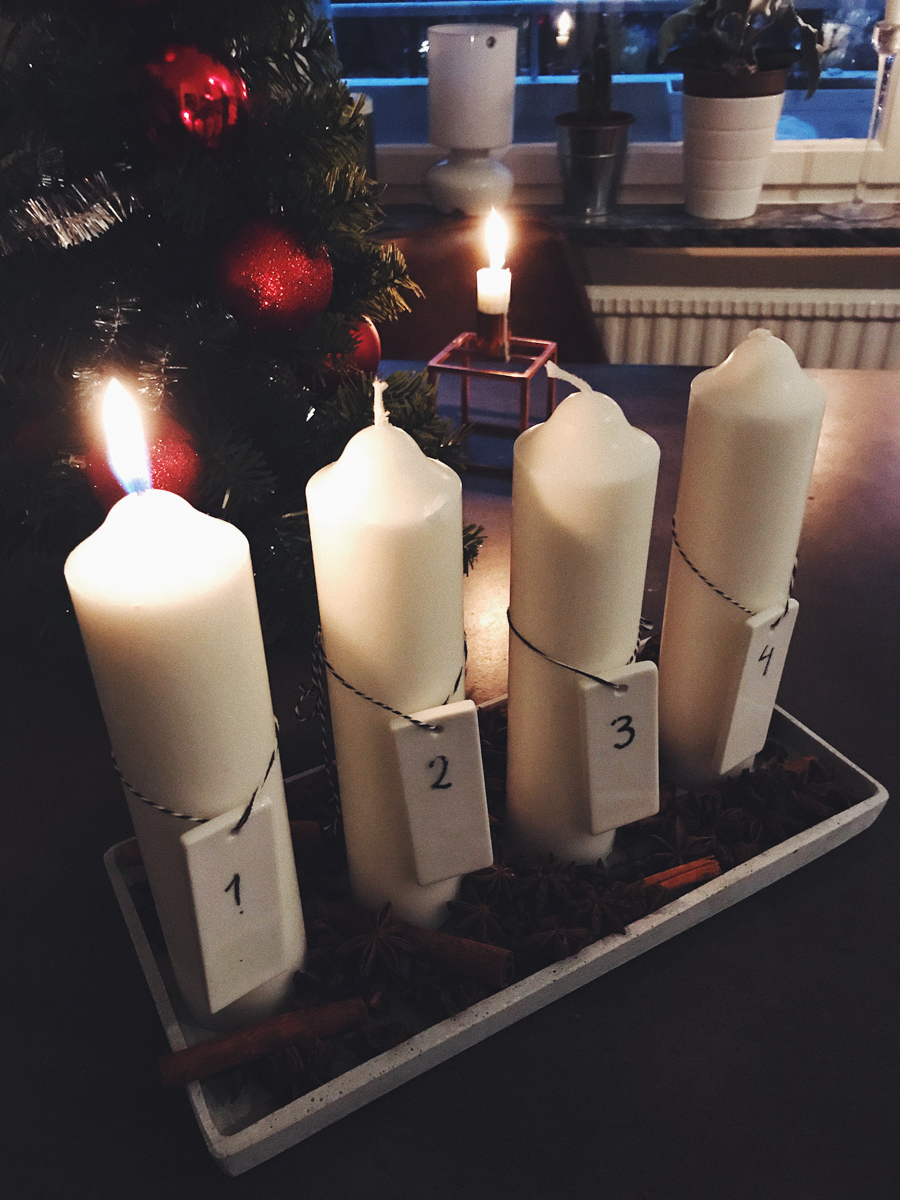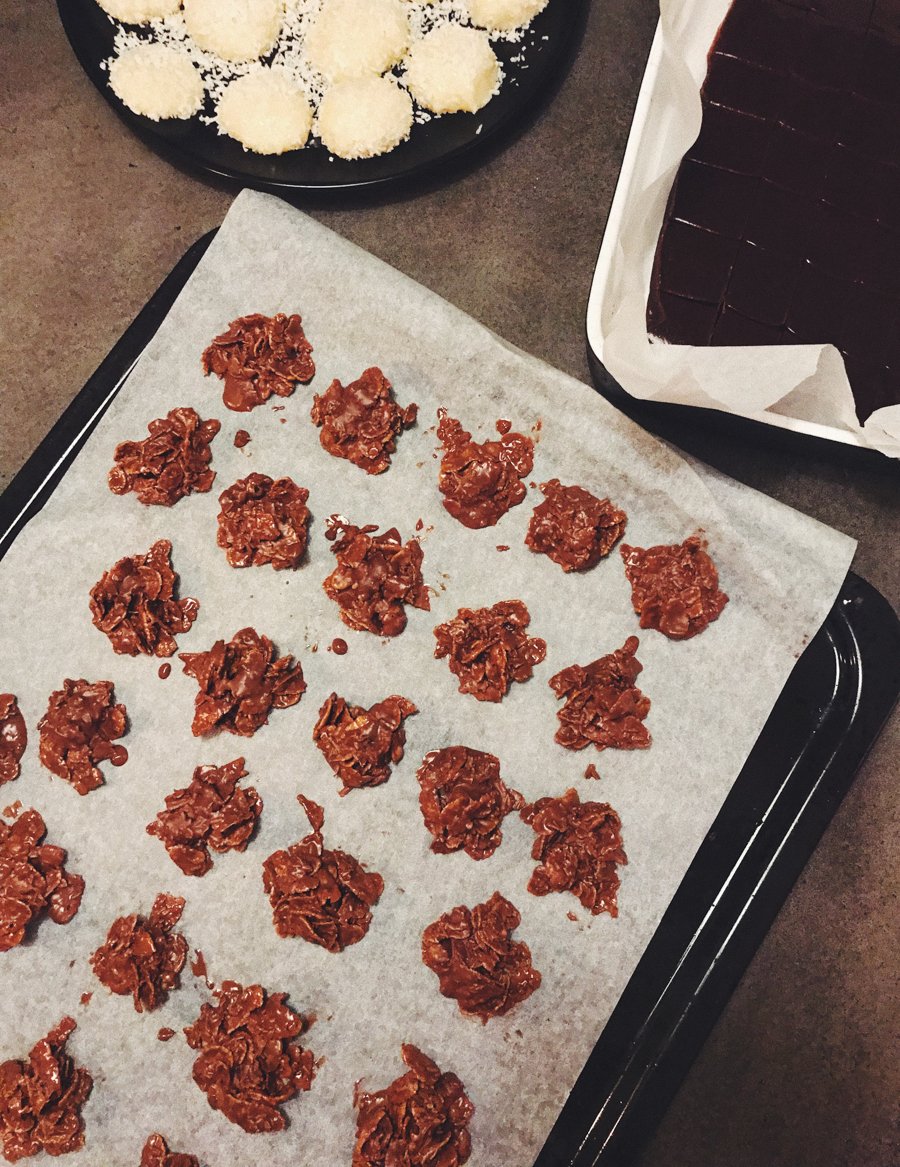 Celebrating 1st advent with my friends
Äntligen december och äntligen första advent! Efter en riktig skitstart på denna dag så åkte jag hem till Klara för lite adventsmys med henne och Shiva. Julmusik och julbak stod på schemat. Eller bak och bak, tanken var först att baka lussebullar och pepparkakor men det slutade med att vi gjorde väldigt enkelt julgodis istället haha. I flera timmar hängde vi i köket, pratade, åt mat och godis och för en stund så glömde jag allt som tyngde mig. Att umgås med mina människor är verkligen det enda som får mig att må bättre när jag är ledsen. Mina vänner vet när jag behöver prata, och när jag bara behöver skratta och tänka på annat och jag är så jäkla tacksam för att jag har den turen att ha så omtänksamma människor runt om mig. För det är det inte alla som har.
Iallafall, godiset blev svingott och såhär gjorde vi för den som undrar:
Cornflakesgodis: 200g ljus choklad, 25g kokosfett, 4dl cornflakes och 2 dl riven kokos. Smält chokladen tillsammans med kokosfettet i ett varmt vattenbad. Blanda sedan i cornflakes och kokos. Forma till toppar på en plåt och låt stelna. Vi ställde dem ute ett tag. :-)
Chokladkola: 100g smör, 1dl socker, 1.5msk kakao och 1msk ljus sirap. Blanda alla ingredienser i en kastrull och låt koka i ca 5 minuter. Häll ut på i en form och låt svalna.
Kokossnöbollar: 200g riven kokos, 1 burk kondenserad mjölk (ca 400g) och 1tsk vaniljsocker. Blanda kokos, kondenserad mjölk och vaniljsocker i en kastrull. Låt sjuda i några minuter och rör om hela tiden så det inte bränns. När smeten är tjock och kladdig, häll upp på en tallrik och låt svalna. Forma sedan till små bollar och rulla i kokos.
// Finally December and finally 1st advent! After a shitty start of this day I went to Klara for some cozy advent celebration with her and Shiva. We wanted Christmas music and Christmas baking. Well, maybe not baking… The idea was first to bake saffron buns and gingerbread but we ended up making simple Christmas candy instead haha. We hung out in the kitchen for ours, talked, had food and sweets and for a moment I forgot everything that burdened me. Hanging out with friends is the only thing that makes me feel better when I'm sad. My friends know when I need to talk, and when I just need to laugh and think about other stuff and I'm so grateful and lucky to have such kind and loving people around me. Because not everyone do. 
Anyway, the candy was delicious and here's how we made it:
Cornflake candy: 200g milk chocolate, 25g coconut fat, 4dl cornflakes and 2dl grated coconut. Melt the chocolate together with coconut fat in a hot water bath. Then mix in cornflakes and grated coconut. Make little pieces on a plate and let it harden. We put them outside for a while. :-)
Chocolate caramel: 100g butter, 1dl sugar, 1.5tbsp cocoa and 1tbsp light syrup. Mix all ingredients in a saucepan and boil for about 5 minutes. Pour out on a plate and let it cool down.
Coconut snowballs: 200g grated coconut, 1 can of condensed milk (about 400g) and 1 tablespoon vanilla sugar. Mix coconut, condensed milk and vanilla sugar in a saucepan. Allow to simmer for a few minutes, stir constantly so that it doesn't get burned. When the batter is thick and sticky, pour it onto a plate and let it cool down. Then shape into small balls and roll in coconut.