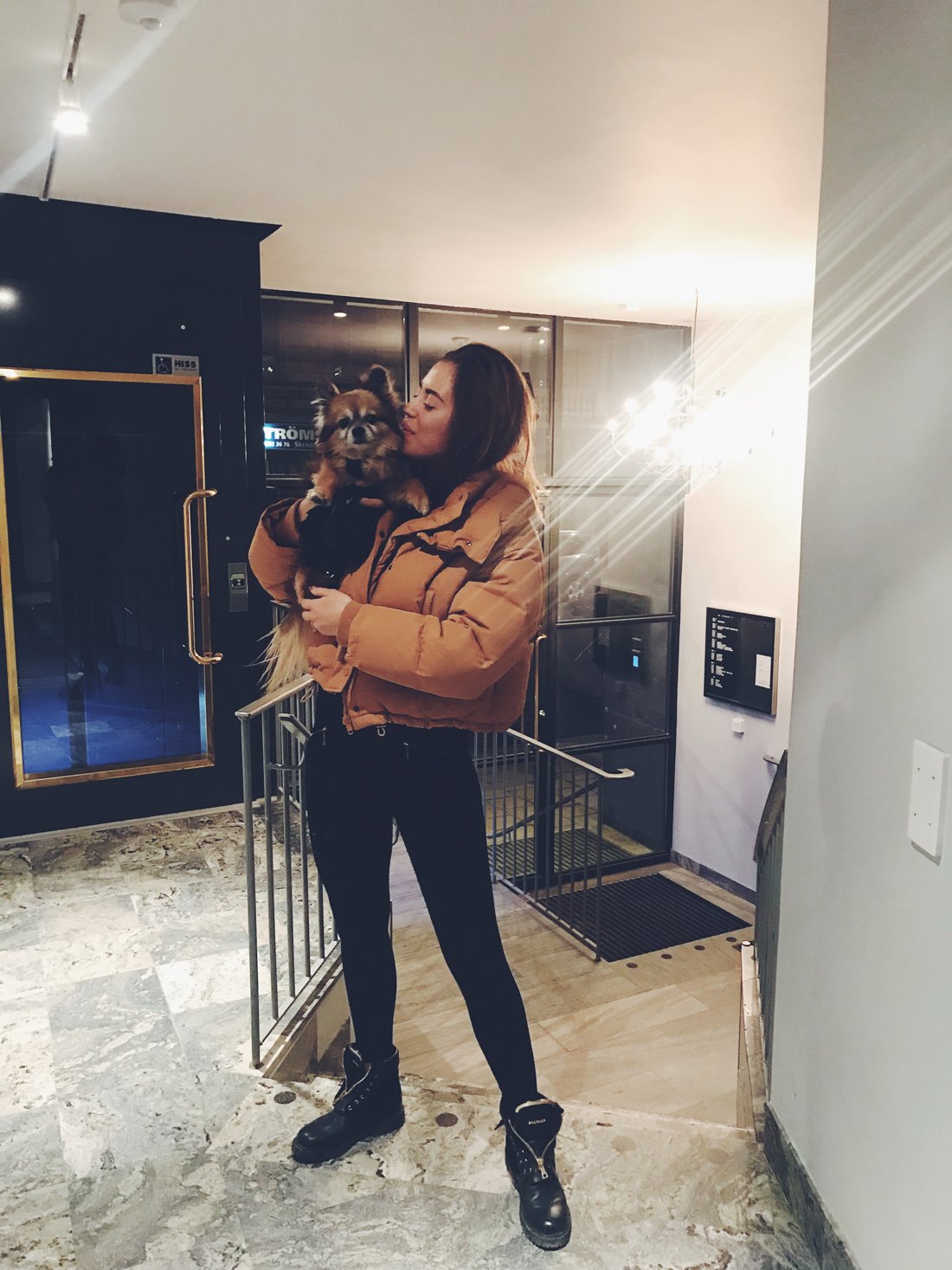 Igårkväll hade jag egentligen planerat att gå på fest, men jag hade en riktig pissdag med jobbiga tankar och mensvärk så jag kände inte alls för att gå ut bland massa folk. Så tråkigt, hade verkligen sett fram emot en utekväll men jag pallade verkligen inte. Istället åkte jag och Aleks över till Dani och Babak för myskväll!
// Last night I had planned to go to a party, but I had a really shitty day with bad thoughts and period cramps so I didn't feel like going out and meet lots of people. Sad, because I was really looking forward to a night out but I couldn't find the energy for it. So instead Aleks and I went over to Dani and Babak for a cozy night in!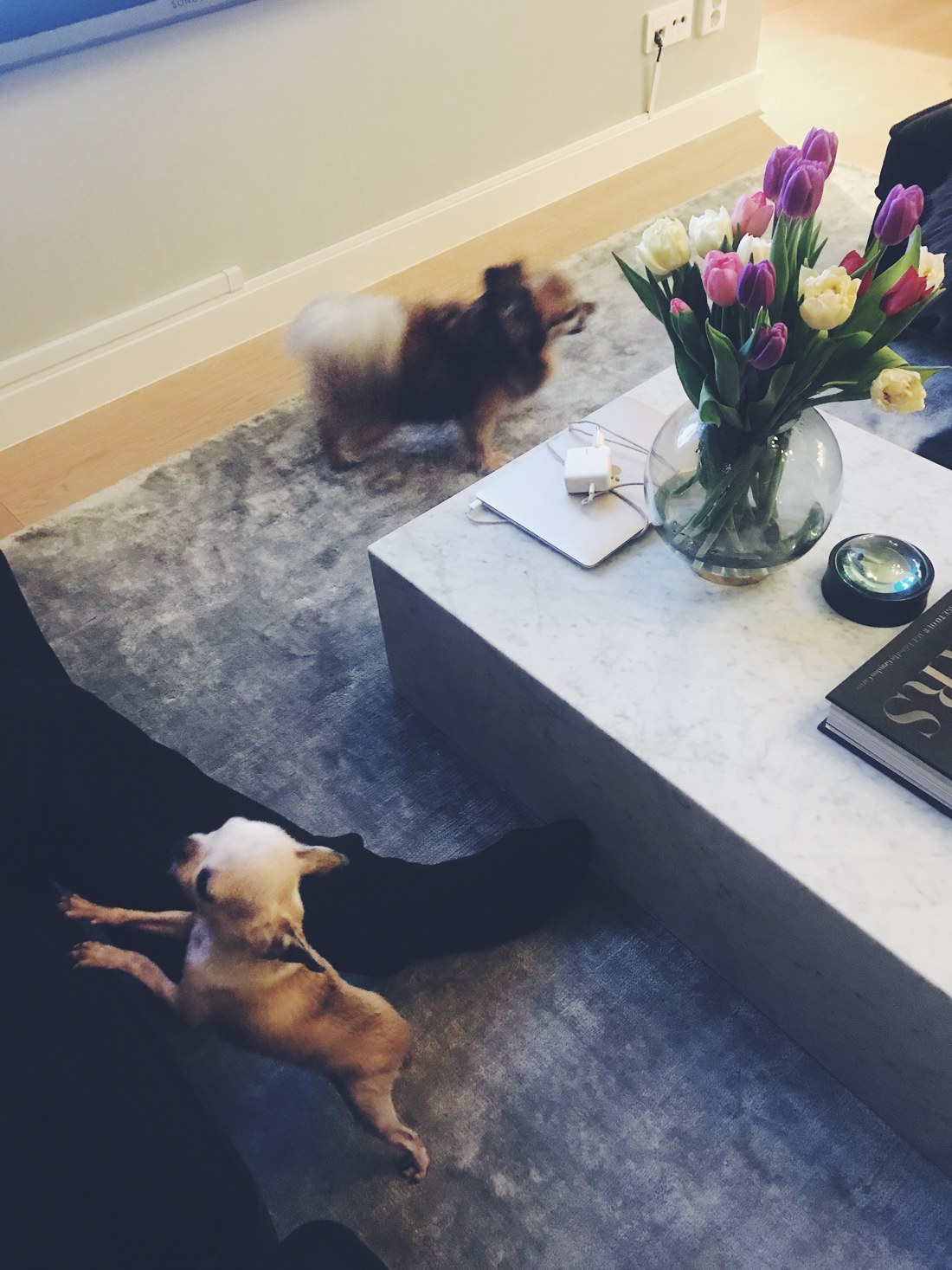 Hundarna var också med såklart. Alltså Mani är så stor jämfört med Mini haha, fast Mani är väldigt liten han med. Det är bara hans fluffiga päls som gör att han ser större ut, men när man badar honom så ser man hur liten han egentligen är.
// The dogs were with us too of course. Seriously Mani is so big compared to Mini haha, but Mani is small too. It's just his big fluffy fur that makes him look bigger, but when he gets a bath you can see how small he really is.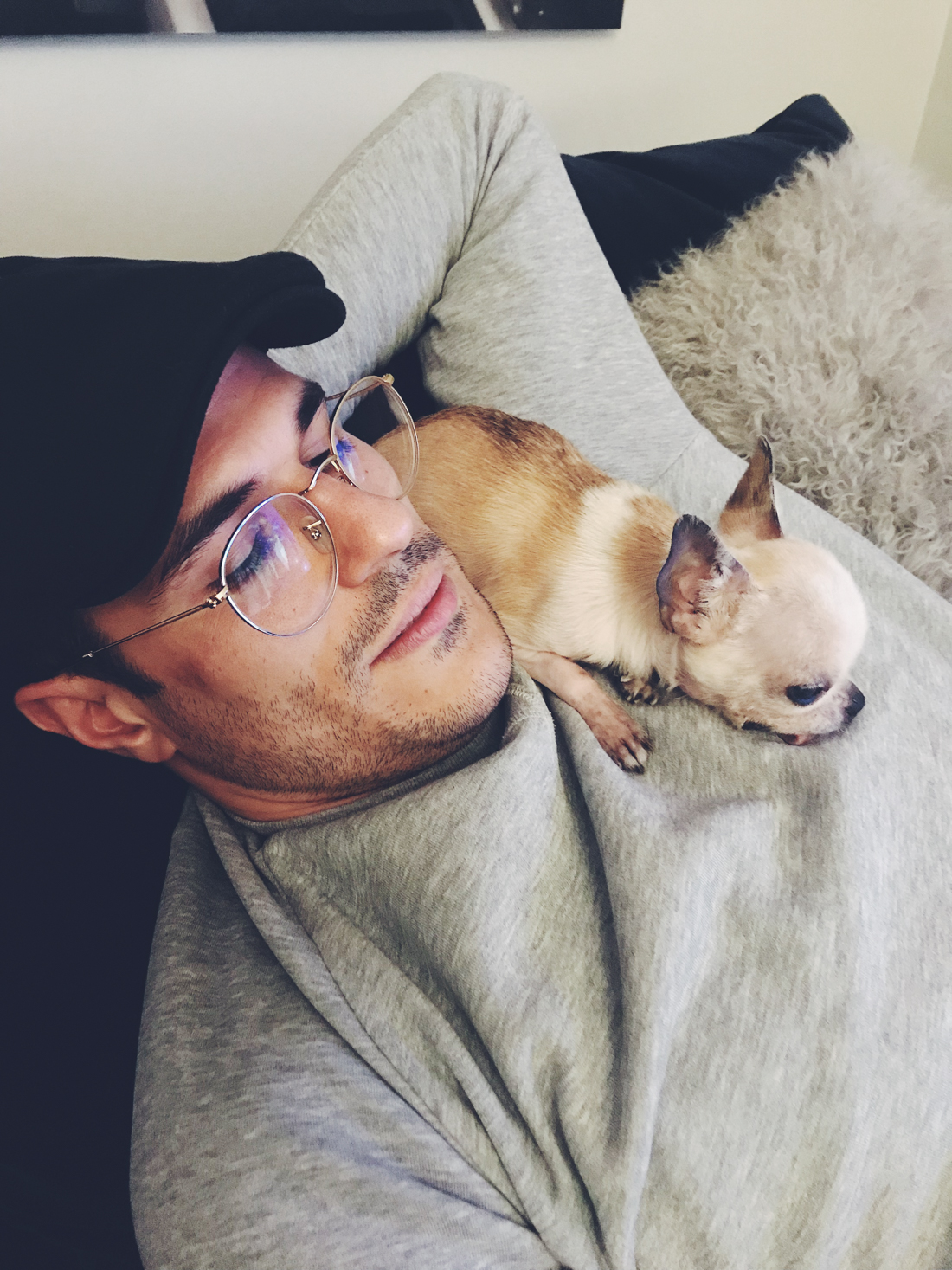 Mini la sig tillrätta på Aleks och så tittade vi på premiären av Let's Dance! Det är nu fyra år sedan jag var med och det är med blandade känslor som jag tittar på det varje år. Så kul att titta på men så ledsen över att jag redan varit med för nu kommer det ju aldrig hända igen haha. Lätt bland det roligaste jag någonsin gjort!! Vilka hejar ni på i år? Jag hejar på min gamle danspartner Calle som vanligt så klart, men i år även på Margaux!
// Mini found her spot on Aleks and then we started watching the premier of Let's Dance! It's been four years since I was on the show and I watch it with mixed feelings every year. So fun to watch but I'm so sad that I've already been on the show because now it will never happen again haha. One of the most fun things I've ever done, no doubt!! I'm cheering for my old dance partner Calle of course, but this year I'm also cheering for Margaux!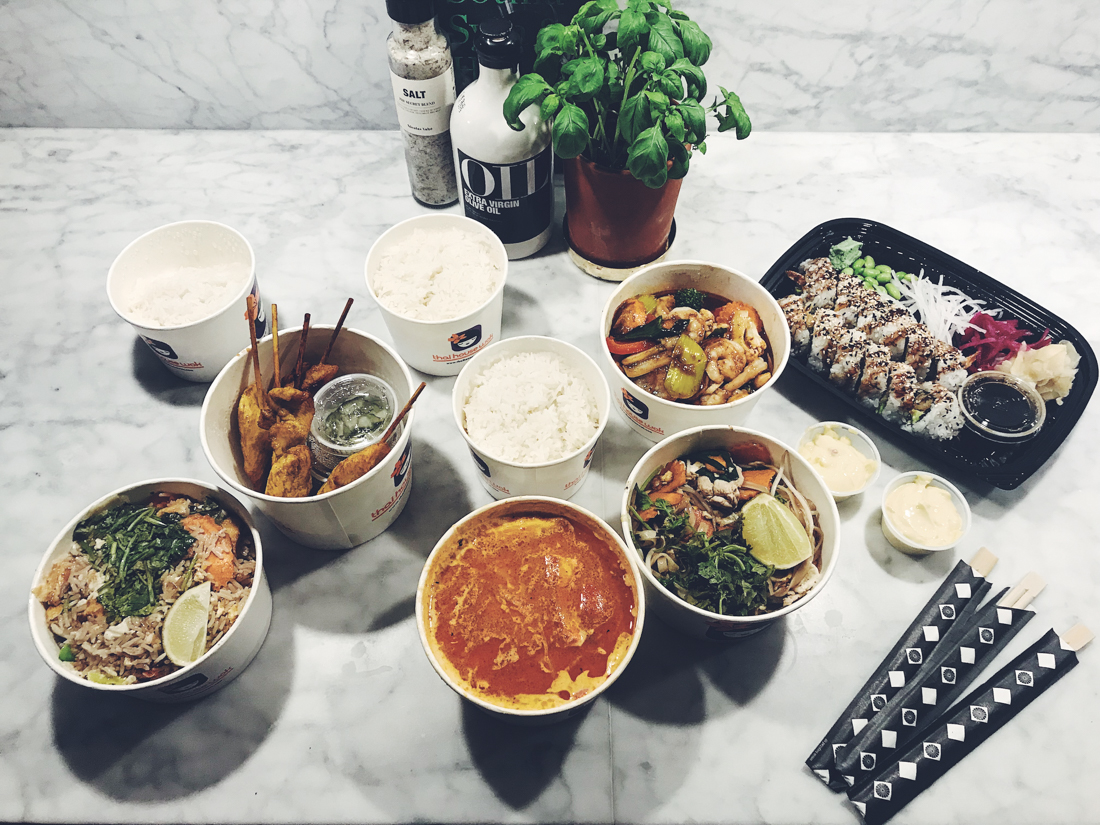 Vi beställde lite käk från thaistället nedanför (kan aldrig få nog av thaimat hehe), lite blandade rätter som vi delade på! Allt var gott förutom padthai som inte smakade något alls. Typiskt för det är ju min favvo. :-(
// We ordered some food from the thai place downstairs (I can never get enough of thai food hehe), some mixed dishes that we all shared! Everything was delicious except the padthai that didn't taste anything at all. So typical cause it's my favorite dish. :-(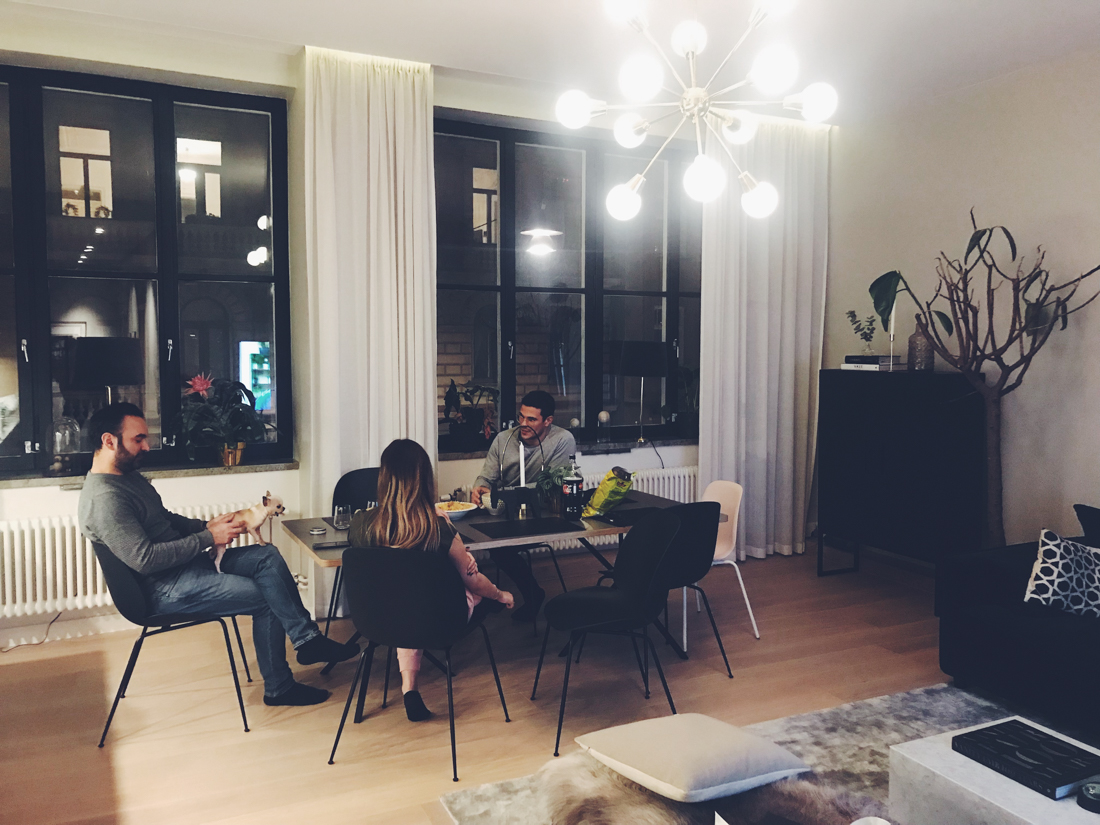 Sen satt vi och pratade i några timmar och åt snacks. Jag och Aleks försökte övertala våra vänner att hänga med till Coachella (en kompis till oss har nämligen två extrabiljetter) men det gick sådär haha…. Fett mysig kväll iallafall! Föredrar innekvällar framför utekvällar alla dagar i veckan. :-)
Idag har vi städat och fixat hemma, handlat lite nya växter och så. Helt i onödan egentligen för vi båda vet att de kommer vara döda inom några veckor….. Mvh bör bara ha kaktusar.
// Then we sat and talked for a few hours and had snacks. Aleks and I tried to convince our friends to join us for Coachella (a friend has two extra tickets) but it didn't go so well haha…. Anyway, such a cozy night! I always prefer a night in over a night out.  :-)
Today we've been cleaning and fixing stuff at home, bought some new plants etc. Very unnecessary though because we both now that they will be dead in a few weeks….. Should only buy cactuses.