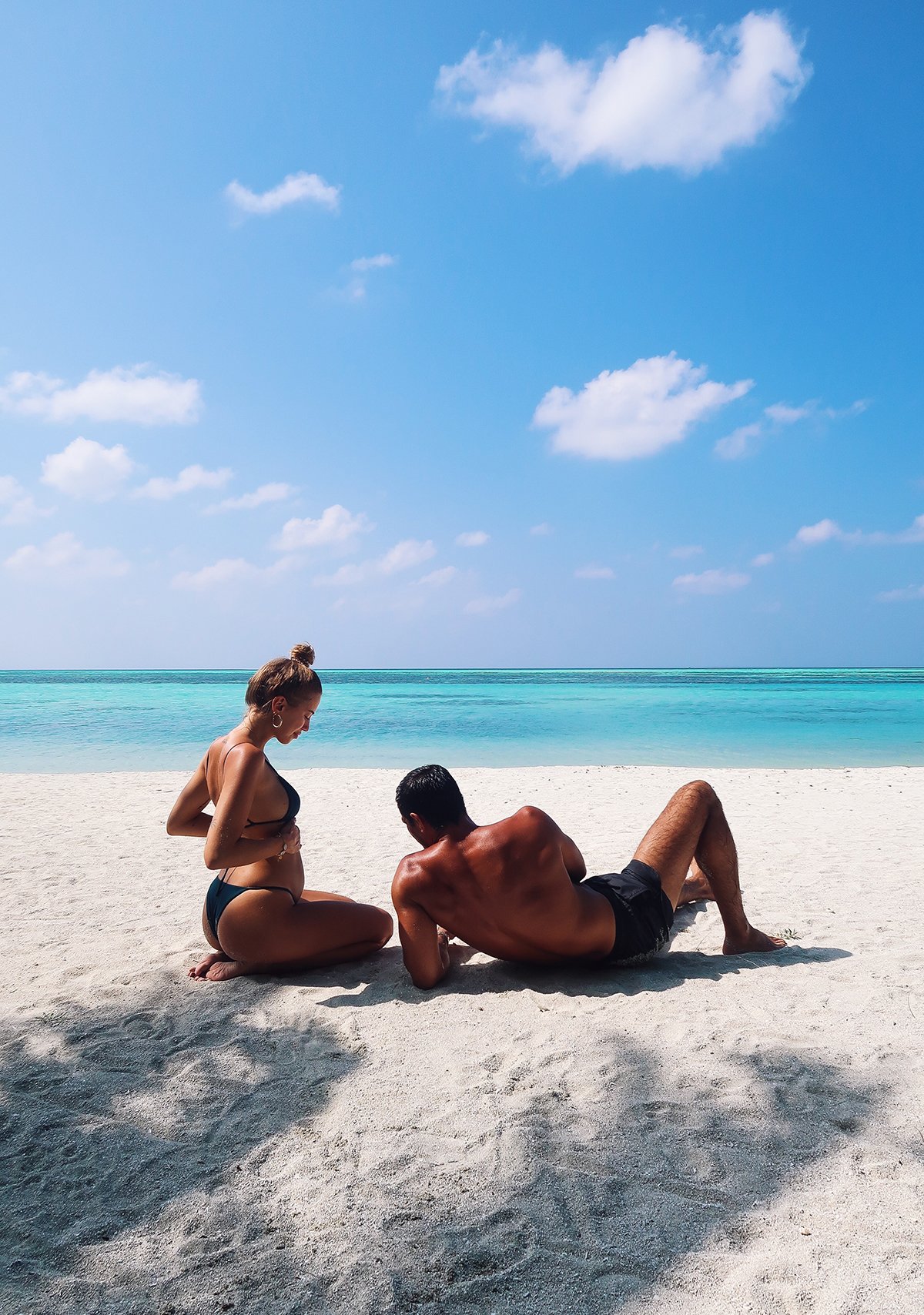 I will remember this trip forever ♥
Nu sitter vi på flygplatsen i Malé och väntar på planet som går om ett par timmar. Långflyg till Istanbul där vi mellanlandar, och sedan därifrån till Stockholm (landar hemma imorgon vid lunch). Ville verkligen inte lämna paradisön när vi åkte därifrån i eftermiddags, men nu vill jag bara komma hem och tycker att det ska bli skönt. Saknar Mani också SÅ mycket!!
Jag har redan sagt detta men fan vad jag kommer minnas denna resa, för alltid. Det har verkligen varit en speciell resa, dels för att det var här vi gick ut med graviditeten och allt vi gått igenom (det var som en stor tyngd som släppte från mina axlar) och dels för att det var här vi båda vågade inse att vi ska bli föräldrar snart. Vi har pratat så mycket om Bebor denna resa, om namn, om hur vi ska göra om hemma, om våra framtidsplaner och allt sånt.
Och magen kikade fram! Och……och….. Det var under denna resa jag inte längre kunde missta Bebors rörelser för att vara gaser haha! Nu har jag känt rörelserna så tydligt, som små knuffar inifrån. Och idag såg jag det för första gången utanpå magen också. Så himla speciell känsla… Tyvärr missade Aleks det, men han får nog känna snart också. :-)
// Now we're at the airport in Male waiting for our flight that leaves in a few hours. Long flight to Istanbul, and then from there to Stockholm (we will land at home tomorrow at lunch time). I really didn't want to leave the paradise island when we left this afternoon, but now I just want to come home and I think it will be nice. I miss Mani SO much as well!!
I've said this before but damn I'm gonna remember this trip, forever. It has sure been a special trip, partly because it was here we revealed the pregnancy and everything we've been through (it was like a huge weight that was lifted off my shoulder) and partly because it was here we both dared to realize that we will become parents soon. We have talked so much about Bebor during this trip, about names, how we're gonna change the apartment, our future plans and all that.
And my belly popped out! And……and…. It was during this trip that I no longer could mistake Bebor's movement for being gases haha! I've felt the movements so clearly now, like small pushes from the inside. And today I saw it for the first time on my belly. Such a special feeling… Unfortunately Aleks missed it, but he will probably feel it soon too. :-)