– In paid collaboration with Babyshop –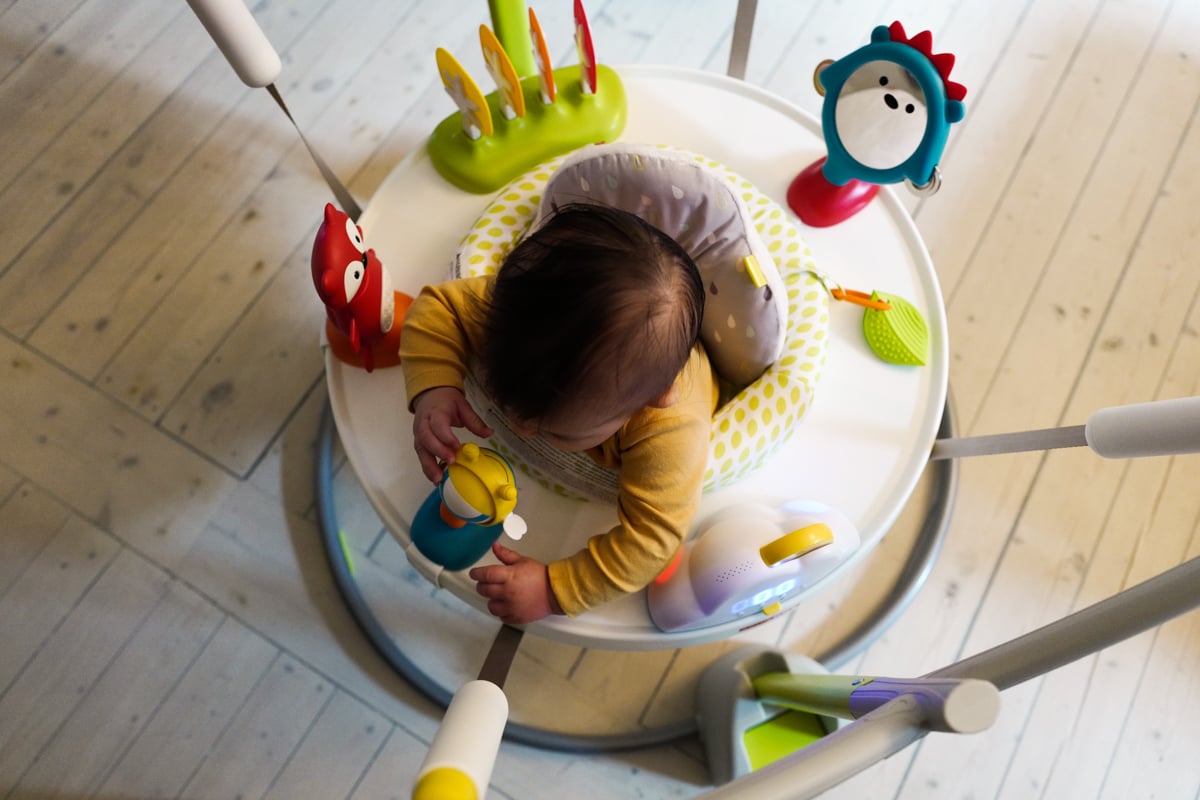 Skip Hop Explore & More here (sold-out at the moment but back in stock in a few weeks)
Här kommer några av våra favoriter från Babyshop! Saker vi (jag, Aleks och Nikola!) tycker om och som vi använt de senaste veckorna. Är ni sugna på något så kan ni använda min kod Kenza15 som ger er 15% rabatt!*
Vi börjar med denna hoppgunga/aktivitetcenter från Skiphop. När Nikola närmade sig 4 månader så märkte vi att babysittern inte längre var så spännande. Han tycker fortfarande om babygymmet (också från Skiphop), men nu måste vi variera lekstationer mer för att han ska vara nöjd och efter att ha sett hur mycket min kompis Danis bebis älskade denna så valde vi en sån vi med. Den är från 4 månader+ och Nikola ÄLSKAR den. Vi låter honom vara i den kortare stunder nu i början och vi leker ihop. Han blir helt fascinerad av leksakerna på och utforskar dem för fullt. Jag tycker om den också för att man kan fälla ihop den och skjuta in den under soffa/säng. Hatar när allt måste ligga framme haha!
// Here are some of our favorites from Babyshop! Stuff that we (me, Aleks and Nikola!) likes and have been using the last couple of weeks. If you want to shop something, use my code Kenza15 and get 15% off!*
Let's start with this bouncer/activity center from Skiphop. When Nikola got closer to 4 months we noticed that the babysitter wasn't so exciting anymore. He still likes his baby gym (also from Skiphop), but now we have to change play stations more for him to be satisfied and after seeing how much my friend Dani's baby loved this one, we chose one too. It's from 4 months+ and Nikola LOVES it. We let him be in it for shorter periods now in the beginning and we play together. He gets completely fascinated by the toys and he really explores them. I also like it because you can fold it down and put it under the sofa/bed. I hate when everything has to be out haha!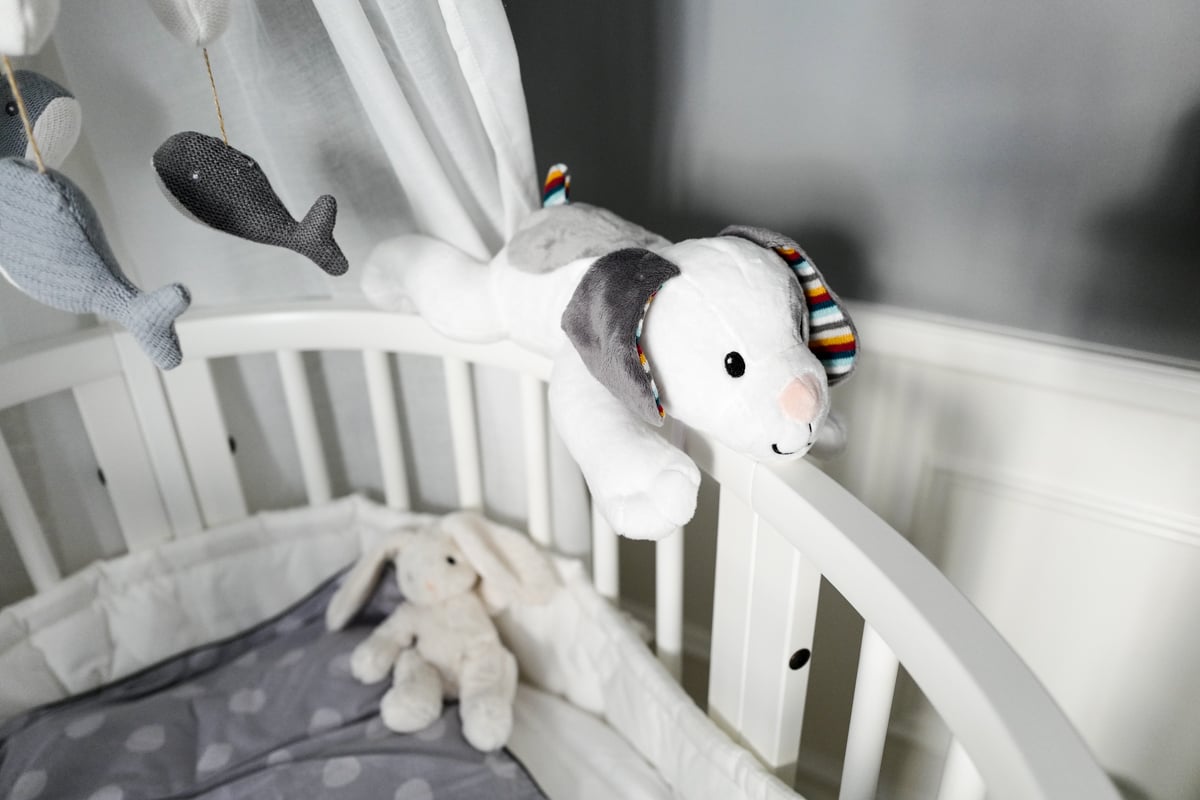 Zazu DEX here
En smidig grej som jag önskar att vi hade haft redan när han kom, så hade jag fått ha min mobil ifred lite mer. :-) Vi var nämligen tvungna att spela hjärtljud och white noise på youtube för att han skulle sova (ibland hade vi det ljudet på hela natten) och ofta när vi stängde av så vaknade han direkt. Hjärtljudet har han nog glömt nu men han sover fortfarande bättre med brus så istället för att han ska behöva ligga i vagnen med köksfläkten på så fäster vi detta gosedjur på vagnen eller sängen när han sover på dagen. Den har 6 olika ljud, stängs av automatiskt efter 10 min och drar igång igen om bebisen gråter/skriker tack vare röstsensorer.
// A smart thing I wish we had already when he was born, so I could have my phone for myself. :-) Because we had to play heart sounds and white noise on youtube for him to sleep (sometimes we had it on all night) and often when we turned it off, he woke up right away. I think he has forgotten the heart sound now but he still sleeps better with some white noise so instead of him sleeping in the stroller next to the kitchen fan, we attach this pet on his stroller or on his bed when he sleeps during the day. It has 6 different sounds, turns off automatically after 10 minutes and start playing again if the baby cries/screams thanks to voice sensors.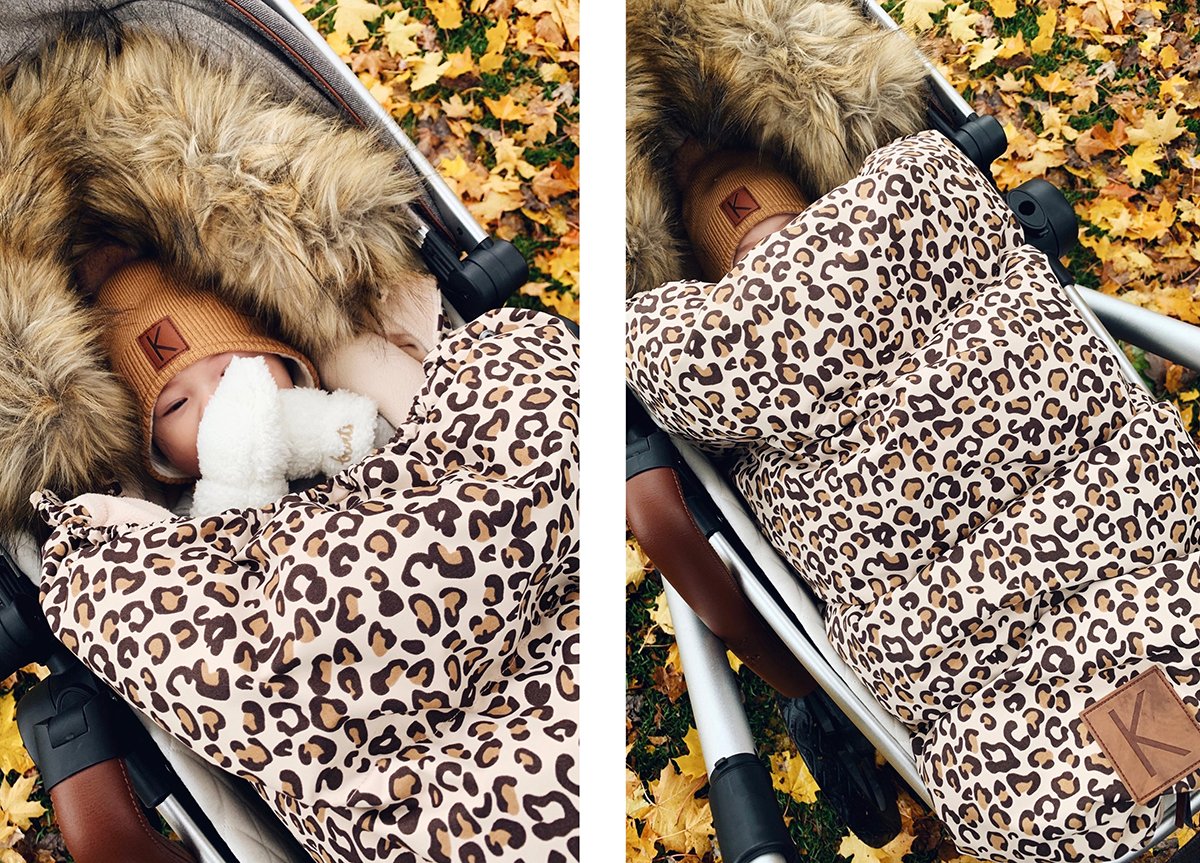 Kuling footmuff here , mittens here and Kuling hat here
Mysigaste gosigaste åkpåsen!! Den här kommer vi använda hela vintern och jag är så jäkla avis på honom som får ligga där i värmen. Den har dubbla dragkedjor (dvs på båda sidorna så man kan ta bort hela överdelen om man vill), är fodrad med fleece och har avtagbar fuskpälskrage. Och så är den helt enkelt jävligt gullig! Leo kan liksom inte bli fel.
// Coziest footmuff!! We will use this one all winter and I'm so jealous of him that gets to lie in there. It has double zippers (I mean on both sides so you can remove the whole upper part if you want to), it's lined with fleece and has a removable fake fur collar. And it's simply really cute! Leo can never be wrong.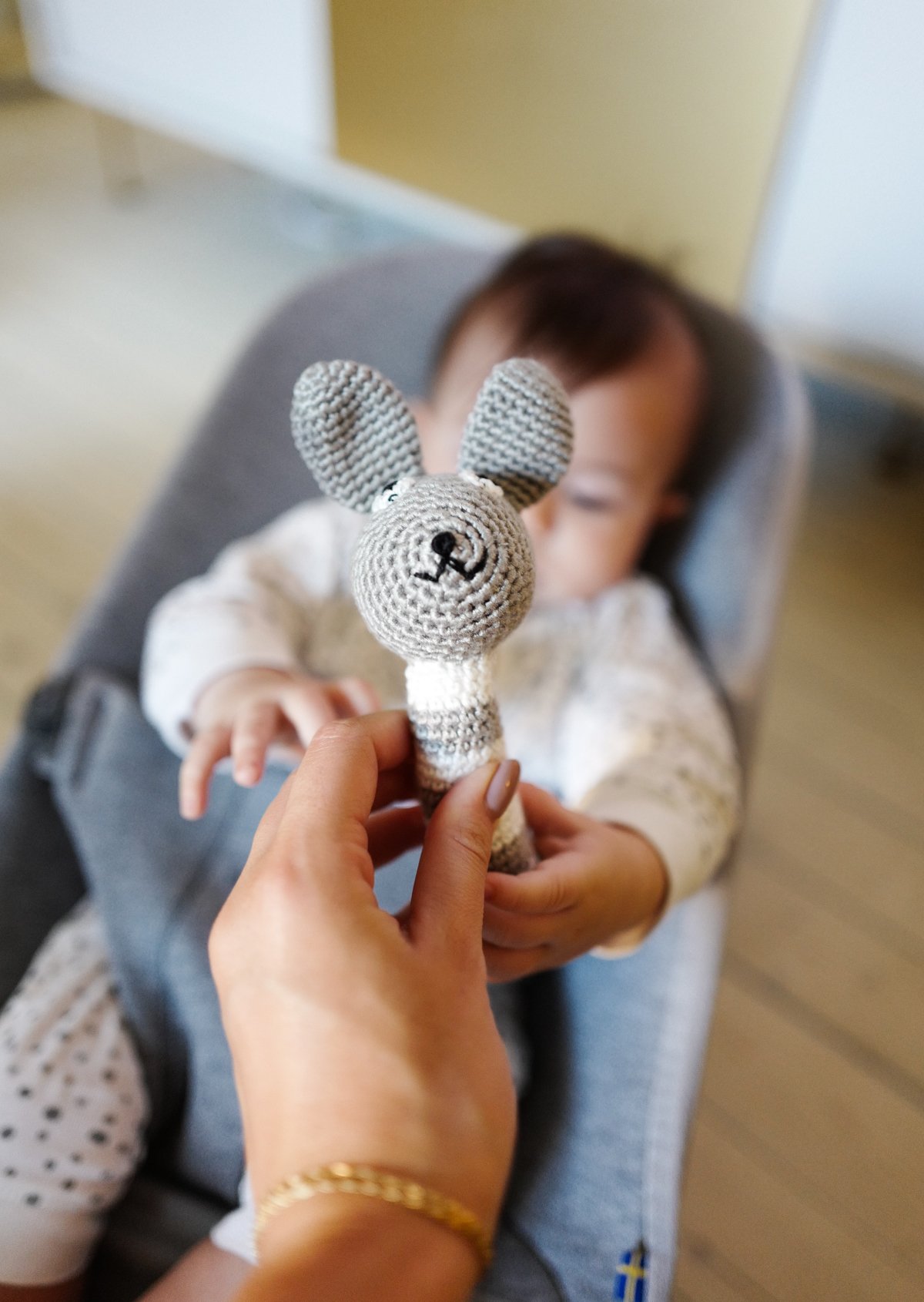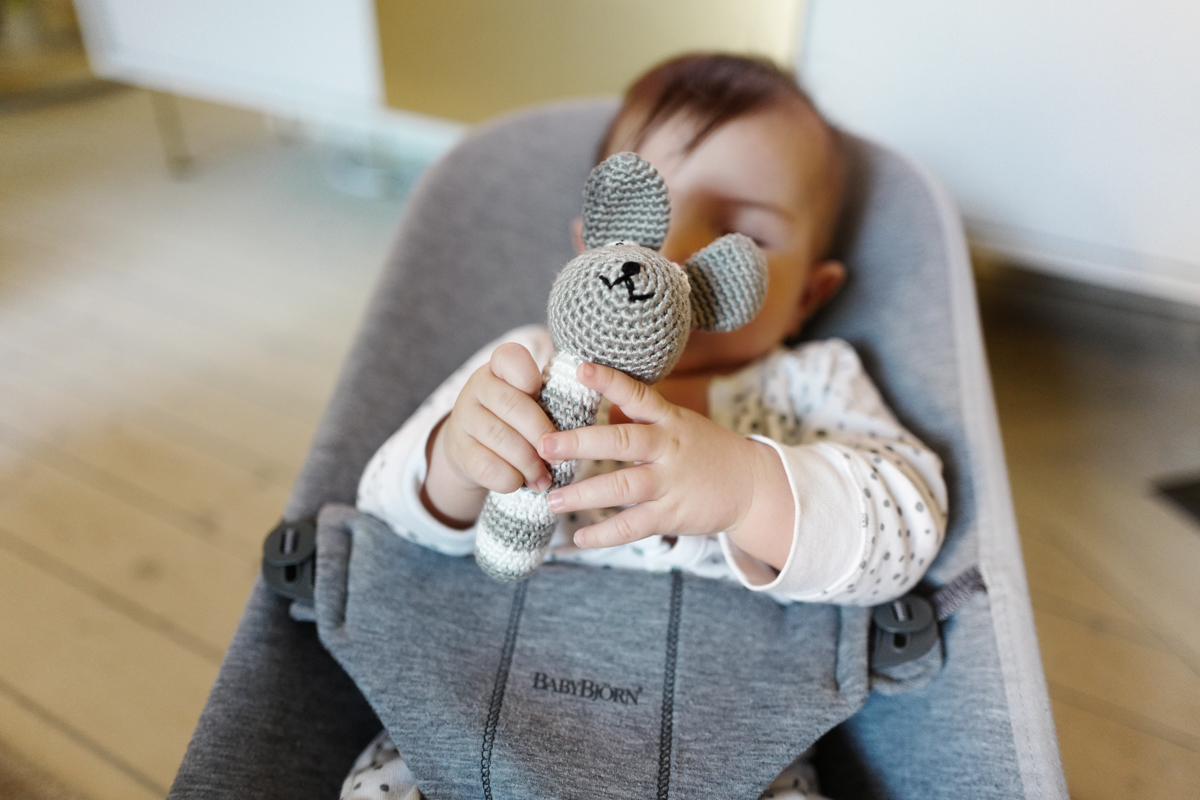 NatureZoo rattle here
Skallror är Nikolas nya favoritleksak och här har ni en liten handvirkad kanin i ekologisk bambugarn. Nikola utforskar ALLT med munnen nu och denna är inget undantag. Perfekt storlek för det.
// Rattles are Nikola's new favorite toy and here is a little handmade rabbit in organic bamboo. Nikola is exploring EVERYTHING with his mouth now and this one is not an exception. Perfect size for that.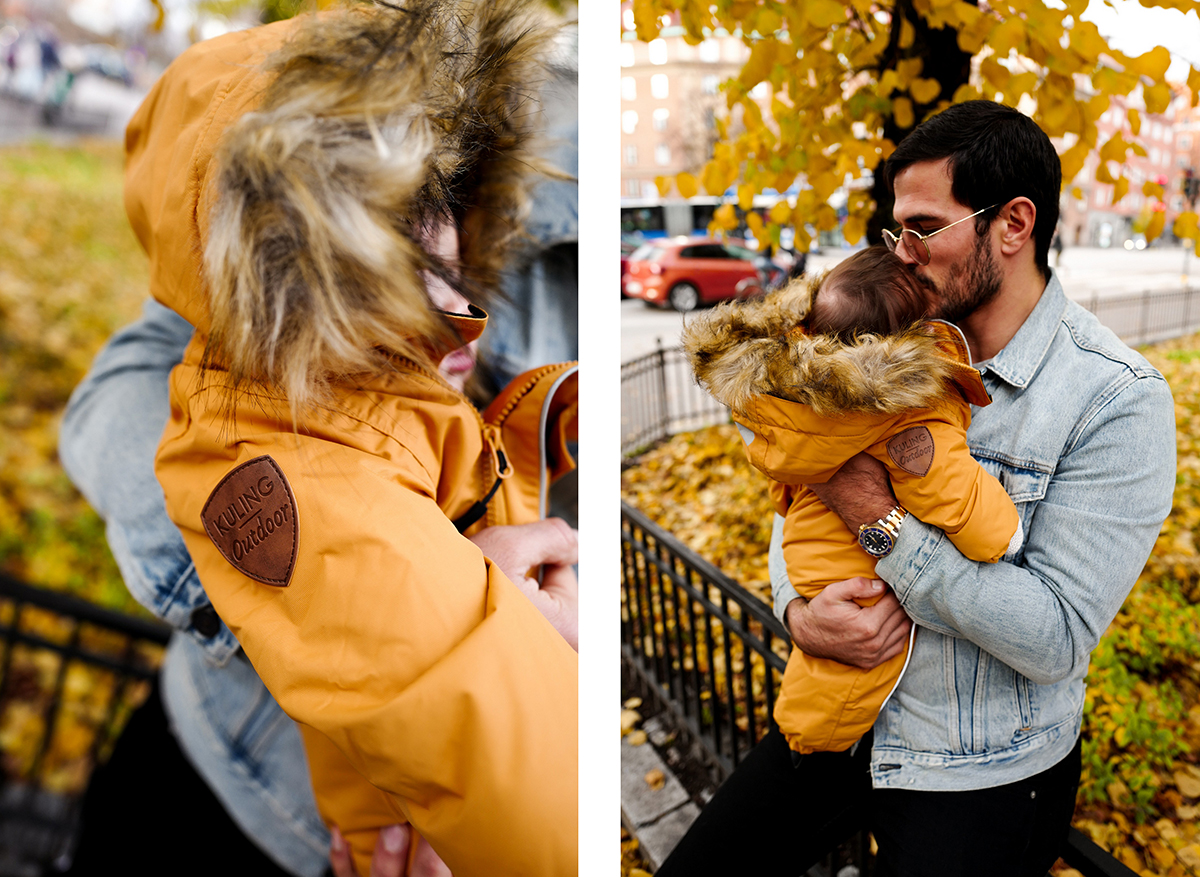 Kuling onepiece here
Denna har vi såklart inte börjat använda än eftersom att det inte varit så kallt i Stockholm, men vi har minsta storleken vilket är 74 (Nikola är 70 lång nu) så den blir nog perfekt i vinter! Vattentät, avtagbar luva med fuskpäls samt reflektiva detaljer på.
// We haven't started using this one yet since it hasn't been that cold in Stockholm, but we have the smallest size which is 74 (Nikola is 70 tall now) so I think it will be perfect this winter! It's rain-tight, has a removable hood with fake fur and reflective details on.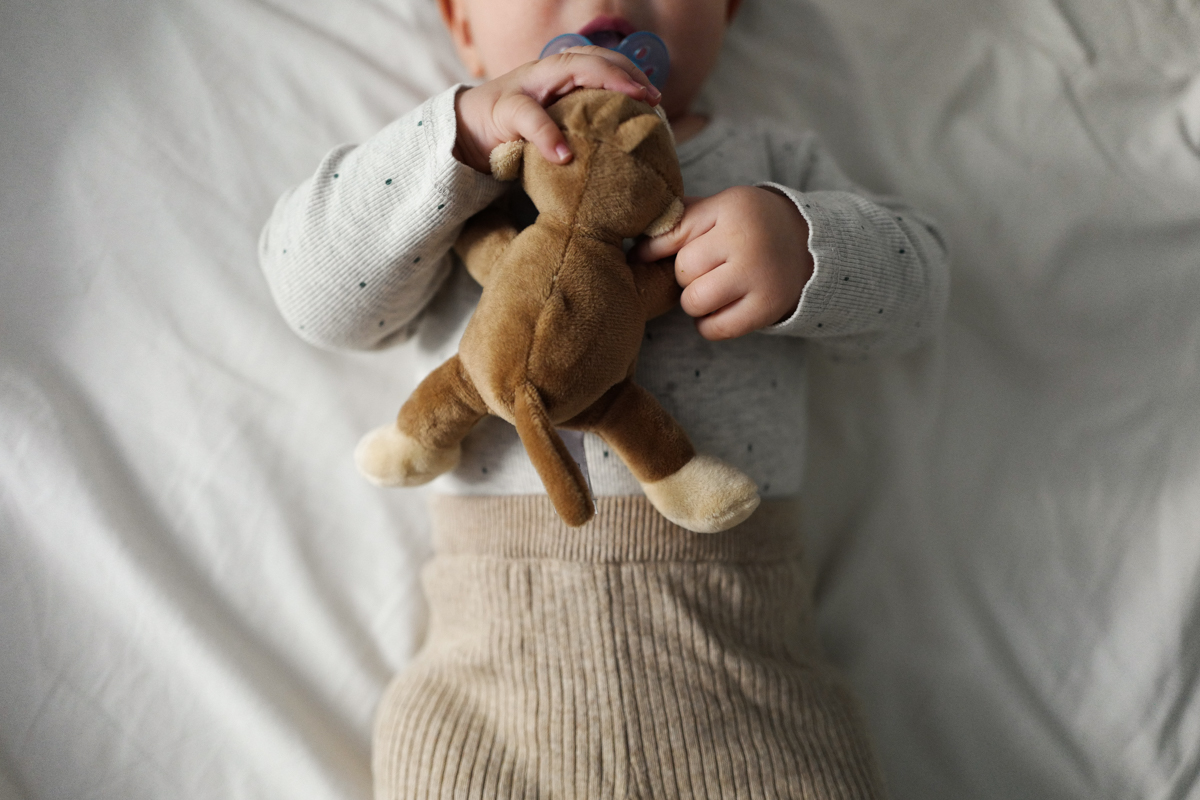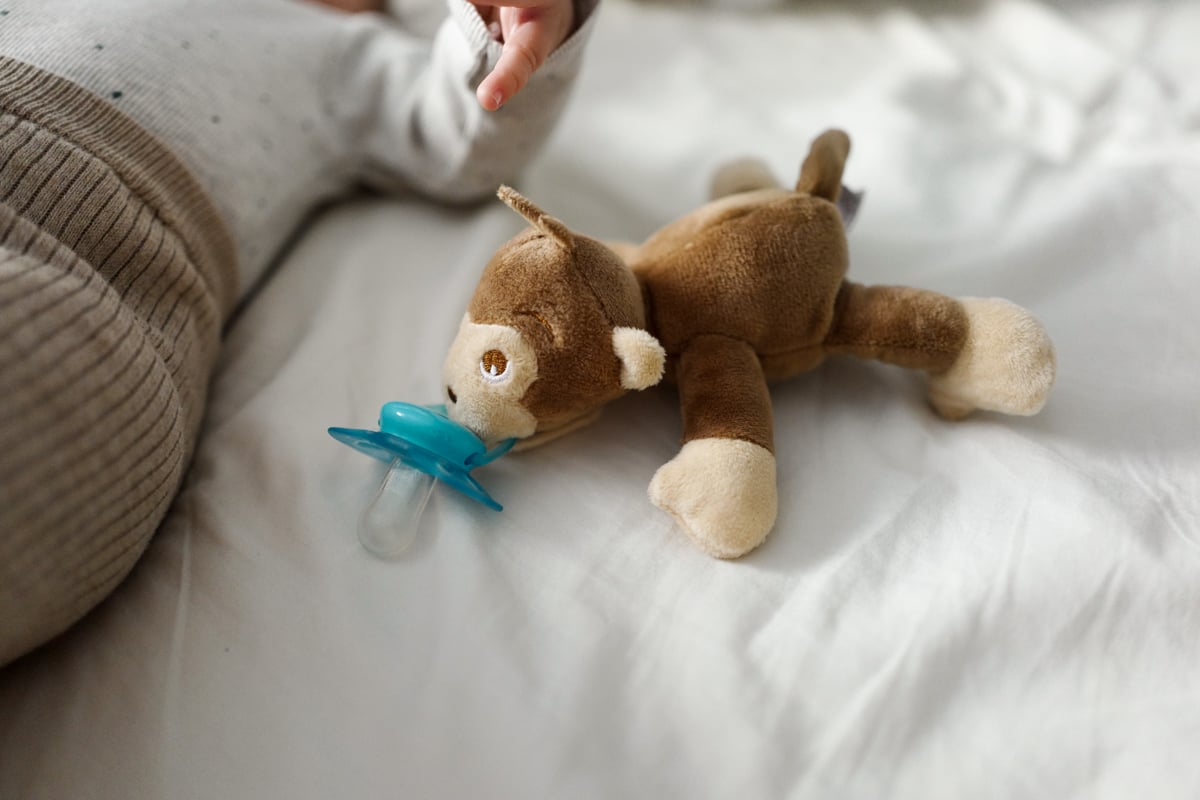 Philips Avent snuggle here
Andra favoritleksaken, som egentligen mest är till för att hålla nappen på plats i munnen medan bebisen sover. Men Nikola tar som ni vet inte napp men nu när han smakar och biter på saker så är han intresserad av inte bara apan utan även nappen. Men han suger inte, utan han biter och håller på! Så länge han är nöjd så… :-)
// His other favorite toy, which is mostly made for keeping the pacifier in the mouth while the baby is sleeping. But as you know Nikola doesn't take the pacifier but now when he tastes and bites on stuff, he is interested in not only the monkey but also the pacifier. But he doesn't suck on it, he bites etc! As long as he's satisfied… :-)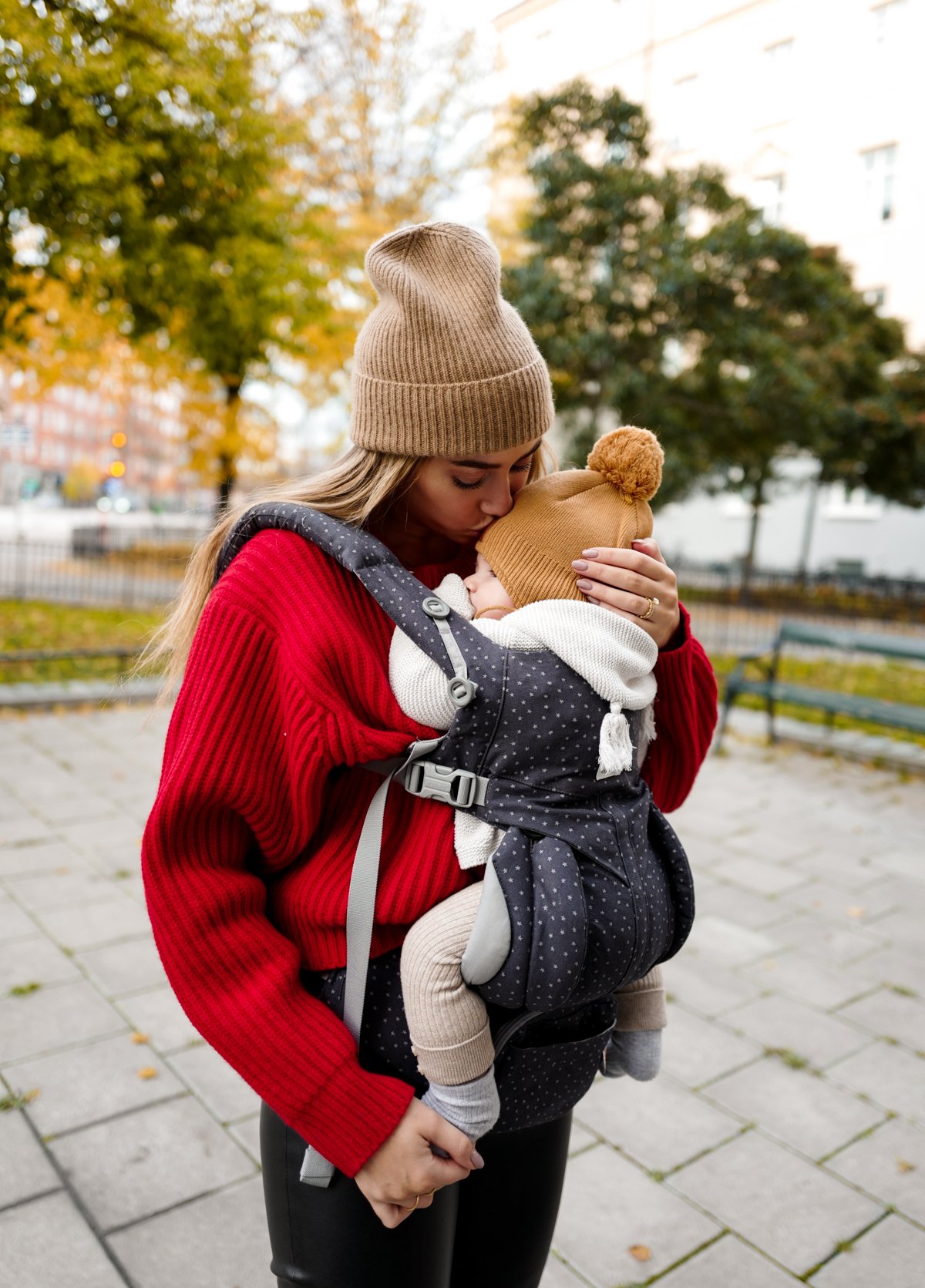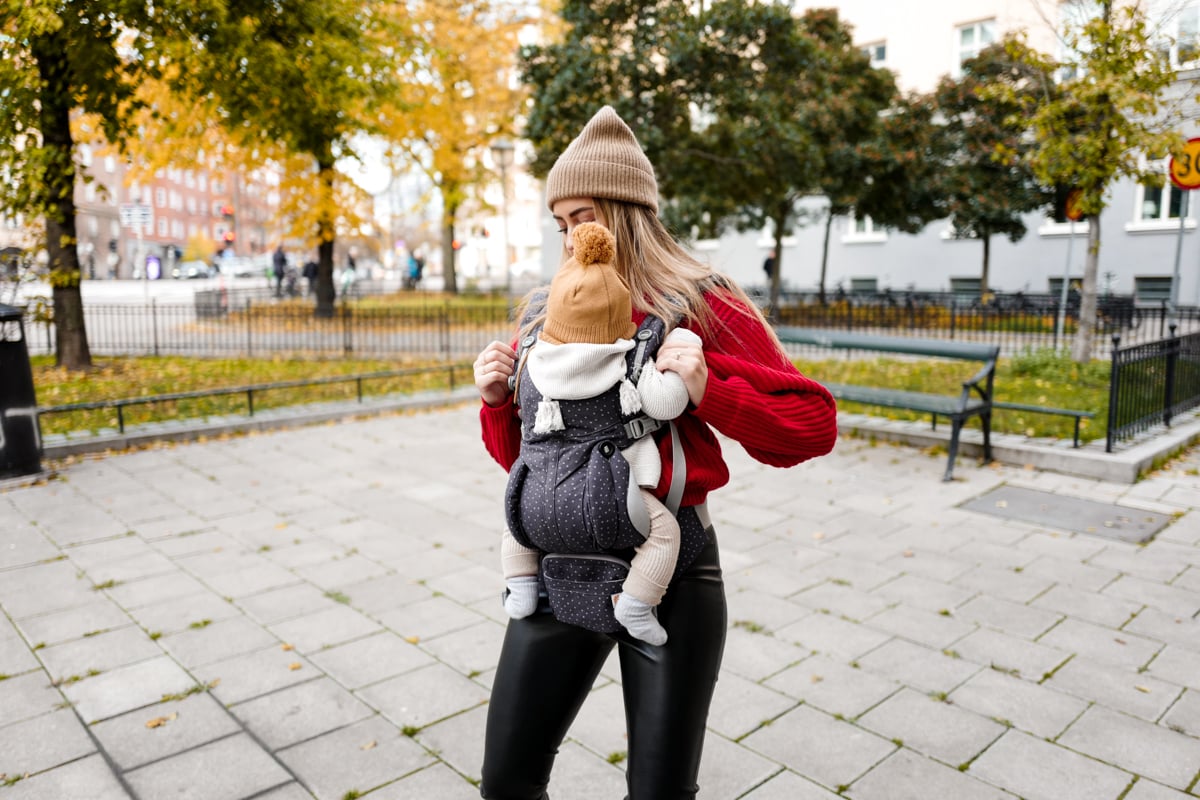 Ergobaby Omni 360 here
Både jag och Nikola har älskat våra bärsjalar (and still do!) men när han blev runt 7-8 kilo tung så kände jag att jag behövde bättre stöd för längre bärstunder. Min kompis Mirre tipsade mig om denna sele från Ergobaby och jag blev inte besviken! Riktigt skön är den (och den blev ännu skönare efter att jag fick tipset att sätta midjebältet högre upp!) och det känns även lite smidigare med sele nu när det är kallare och han behöver mer kläder på sig. Man kan bära i fyra olika bärpositioner i denna men vi bär bara såhär än så länge, den är ergonomisk för både förälder och bebis och passar från nyfödd upp till 20 kg – så vi kan bära läääänge till!! :-)
// Both Nikola and I have loved our wrap carriers (and still do!) but when he became around 7-8 kilos, I felt that I needed better support for longer carrying periods. My friend Mirre told me about this carrier from Ergobaby and I didn't get disappointed! It's very comfortable (and it got even more comfy after I got the advice to but the waist belt higher up!) and it also feels a bit smoother with carrier now when it's cold and he needs more clothes on. You can carry in four different positions in this one but we only carry like this for now, it's ergonomic for both parent and baby and it's suitable from newborn up to 20 kilos – so we can carry for a looooong time! :-)
* Not valid on sale items. These brands are not included in the offer: Mini Rodini, Molo, Mini A Ture, Bobo Choses, Kenzo, Kavat, Mayoral, Tinycottons, Mar Mar Copenhagen, Soft Gallery, Joha, Emporio Armani, Hugo Loves Tiki, The Animals Observatory, Le Toy Van, Stokke Home, Gray Label, Louise Misha, Acne Studios. The code can not be used on strollers and baby car seats.
– This post is in collaboration with Babyshop.