Vad konstigt det känns, att det är sista veckan på kontoret innan jag kliver in i vecka 36 och min mammaledighet börjar. Och just att jag ska på MAMMAledighet?! För att jag ska bli mamma? Kan inte förstå att det snart är dags, äntligen. Jag kommer dock fortsätta jobba en del hemifrån och efter att Bebor har kommit så är som sagt min plan att iallafall jobba 50% (också från soffan), men det här är sista veckan som jag är på Ivyrevel. Sedan kommer jag såklart behöva åka in ibland för stora designmöten osv som inte går att ta via mail och då får han hänga på, om inte Aleks är hemma såklart.
Min sista vecka är också en väldigt fullspäckad vecka och jag kan inte säga att jag inte blir stressad av min to do-lista… Men det ska nog gå. I maj är det lite lugnare med kampanjer i mina sociala medier och sen i juni & juli har jag som sagt varnat min agent och mina kunder för att jag eventuellt måste pausa helt och skjuta på kampanjer. Det beror ju helt på hur Bebor mår (och är! vi ju ingen aning om vad vi får för bebis, om han är lugn, krävande eller sjuk osv) och hur allt flyter på.
Men jag är så peppad på mitt nya liv. Tänkte skriva ett inlägg lite längre fram om hur det känns nu när graviditeten lider mot sitt slut och hur jag känner inför denna otroligt stora förändring som snart kommer ske. För även om det här är det jag vill mest av allt i hela världen så känns det ju lite läskigt också.
// It feels so weird, that this is my last week at the office before I step into week 36 and my maternity leave starts. And just the fact that I'm going on MATERNITY leave?! Because I'm gonna become a mother? I can't believe that it's almost time, finally. I will continue to work at home though and like I've said before my plan is to work 50% (also from my couch) when Bebor is here, but this is my last week at Ivyrevel. Then I will have to go in every now and then for big design meetings etc that we can't do over e-mail and then I will just bring him with me, if Aleks isn't at home of course. 
My last week is also a very busy week and I can't say that I'm not stressed about my to-do list…. But I can do it. May is a bit more calm with campaigns in my social media and then in June & July I have warned my agent and my clients that I might have to pause completely and postpone campaigns. It all depends on how Bebor feels (and how he is! we have no idea what kind of baby we're having, if he's calm or needy or sick etc) and how everything floats. 
But I am so excited for my new life. I'm planning on writing a post soon about how it feels now that my pregnancy is almost over, and how I feel about this incredibly huge change that is about to happened. Because even though this is what I want the most in the whole world, it feels a bit scary too.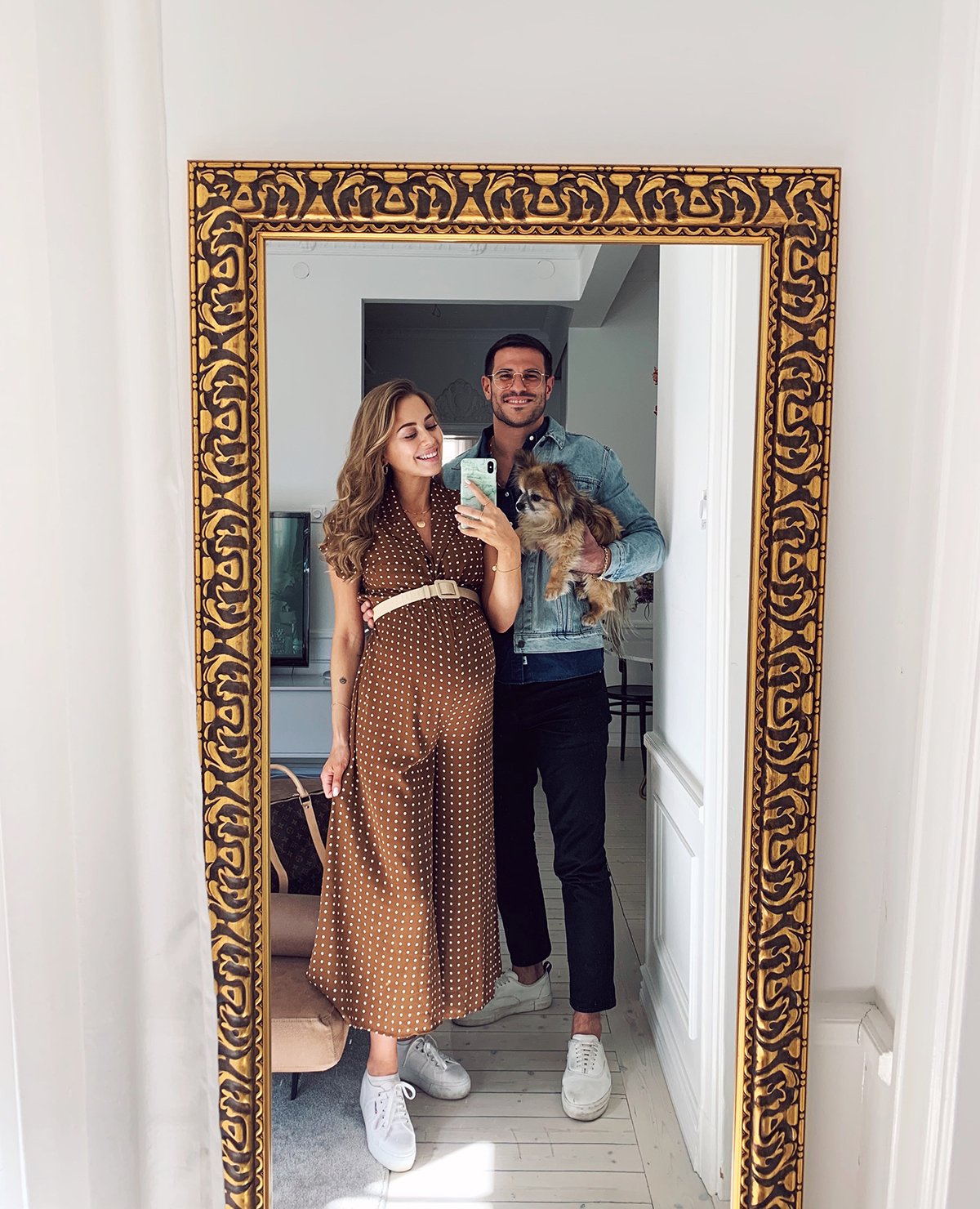 Snart blir vi fyra! PS. Är lite nervös över hur Mani kommer hantera vår nya familjemedlem. Han är rätt obrydd när det kommer till bebisar så jag har inga förhoppningar om att de ska bonda på en gång haha, men jag hoppas att han inte känner sig utanför och bortglömd. Något vi verkligen ska tänka på!
PS 2. Fått så många frågor på insta om detta plagg jag bar på min födelsedag. Det är en byxdress från Zara! Tog min vanliga size för den hade plats för magen ändå. Skärpet var däremot litet och åkte upp hela tiden, hehe. Men kommer funka finfint i sommar, smidigt med knapparna också där fram när jag ska amma!
// Soon we will become four! PS. I'm a bit nervous about how Mani is going to handle our new family member. He's not interested at all in babies so I have no expectations about them bonding right away haha, but I hope that he won't feel left out and forgotten. Something we will think about a lot! 
PS 2. I have gotten a lot of questions on my insta about this jumpsuit I wore on my birthday. It's from Zara! I took my normal size because it still had room for my belly. The belt was too small though and opened up all the time, hehe. But it will be perfect this summer, and it's smart with the buttons in the front when I'm gonna breastfeed!