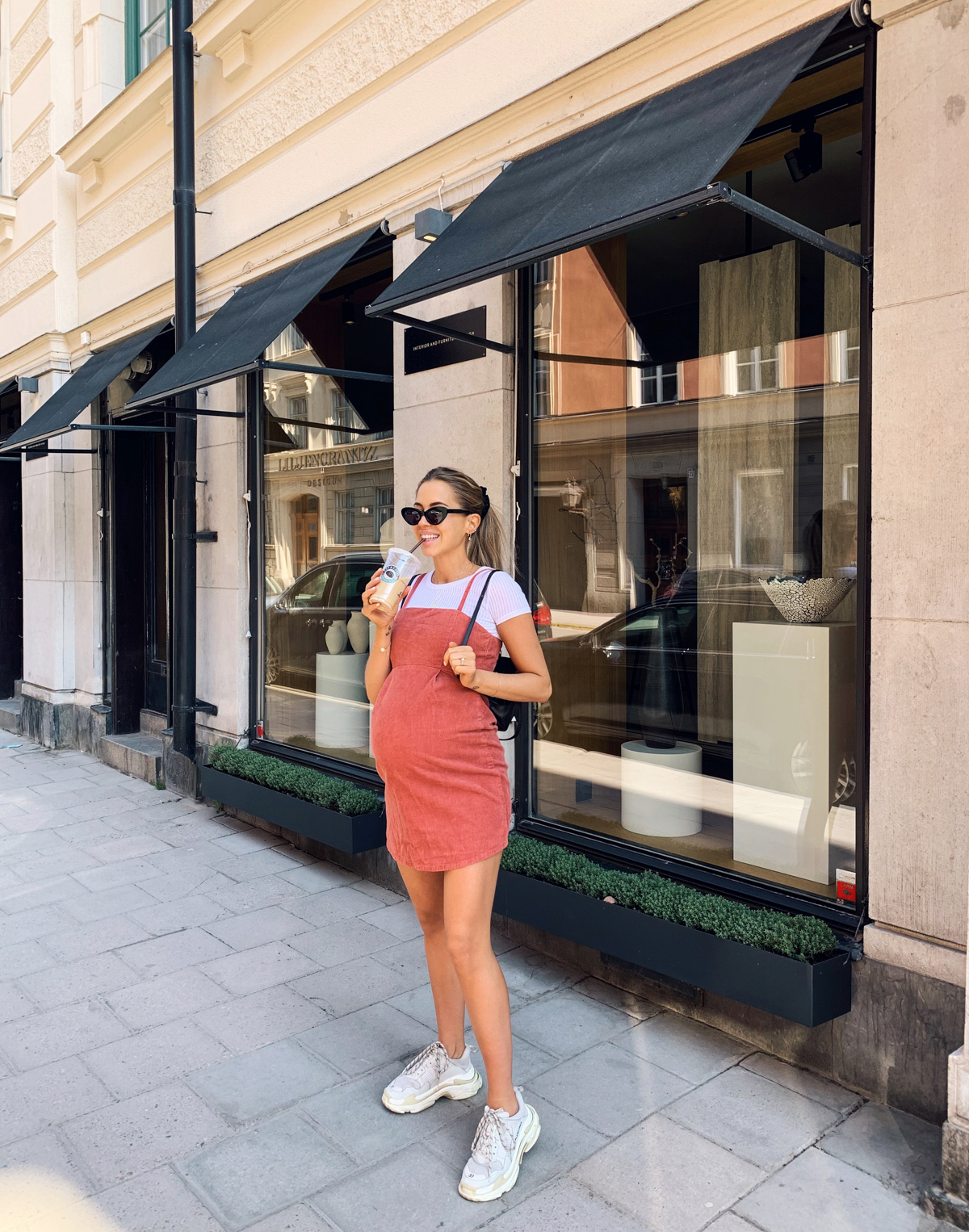 Glad påsk hörrni!
Känns ju helt knäppt att gå klädd såhär i april men det var ju ändå 20 grader idag! Klänningen är en mammaklänning från Asos, bar den i Marocko i vecka 26 så jag trodde inte jag skulle komma i den nu när magen är typ fem gånger större haha, men det gick preciiiiiis att få igen dragkedjan där bak. :-)
Iallafall, vi drog ner på stan en sväng och bytte 2 babyplagg som vi fått dubbletter av i present på vår babyfika. Det blev två små pyjamasar för det hade vi inget av i storlek 0-1 mån. Sedan shoppade jag några plagg till mig själv också inne på Urban Outfitters och sen en efterlängtad islatte på det! Det var typ helt dött på stan, alla är väl iväg och firar påsk.
// Happy Easter everyone!
It feels so weird to be dressed like this in April but it was 20 degrees today! The dress is a maternity dress from Asos, I wore it in Morocco in week 26 so I didn't think it would fit now when my belly is like 5 times bigger haha, but with a little struggle Aleks managed to close the zipper in the back. :-)
Anyway, we went down town a while to change some baby clothes that we had gotten duplicates of as babyshower gifts. We got two little pajamas because we didn't have any of those in size 0-1 months. Then I bought some pieces for myself too at Urban Outfitters and then an ice-latte! There were not much people out, I guess everyone is away celebrating Easter.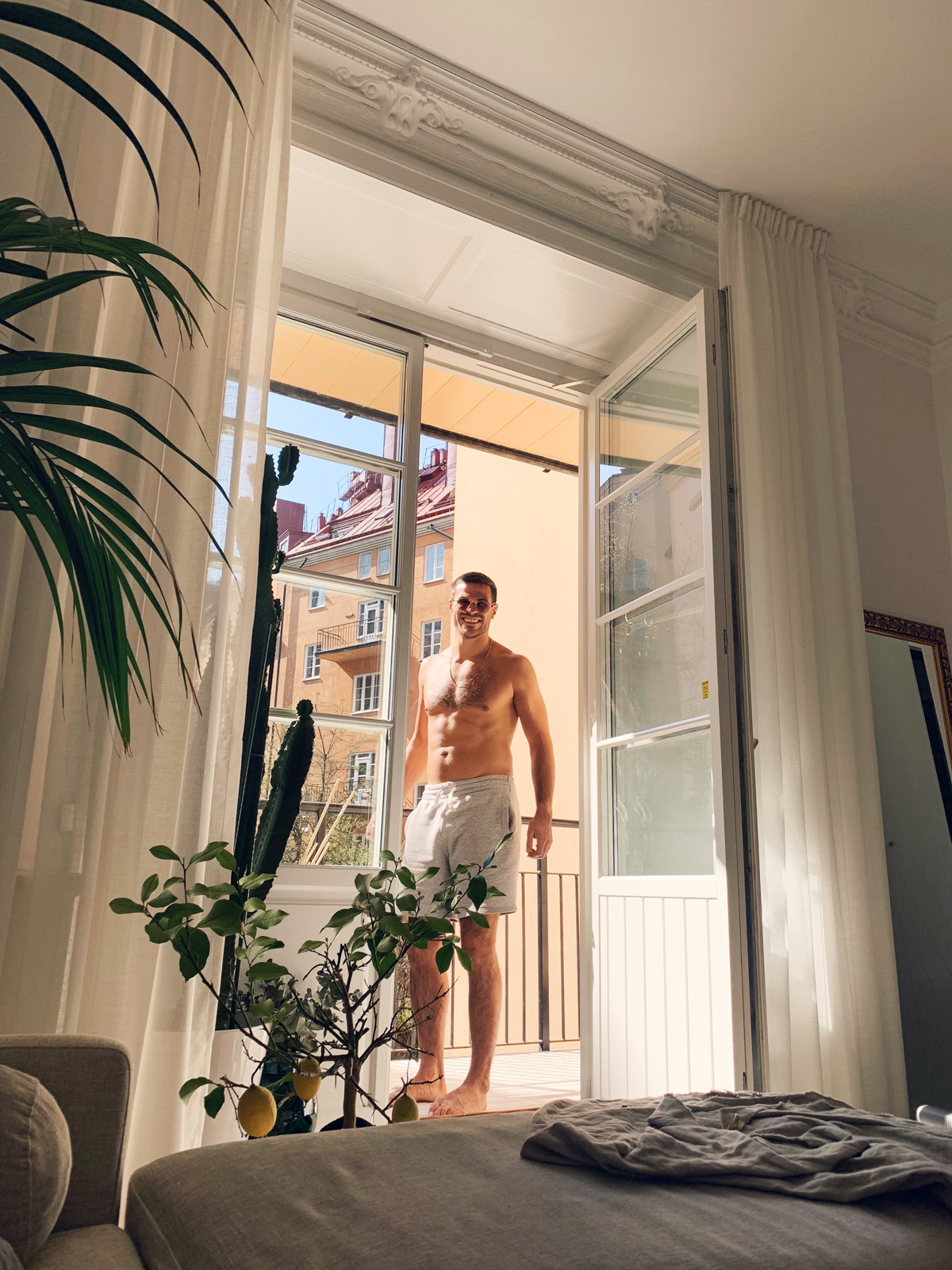 Vad gjorde vi själva på Påskafton? Jo, vårstädade balkongen! Aleks fick börja utan mig för jag behövde ligga på soffan och vila lite hehe. Han sådde lite blommor och så, tog bort sin hög med träningskläder (någon annan som har en man som bara "måste" ha sina äckliga träningsgrejer på balkongen? handskar, benskydd, susp, dräkter… så jäkla onice. men samtidigt så har jag dem hellre där ute än typ i badrummet…. hur gör ni?) och sedan började jag hjälpa till och då städade vi hela balkongen, sköljde av alla möbler och gjorde ordning. Fint blev det!
Vill dock göra om balkongen…… Haha. Eftersom att vi kommer vara hemma mycket i sommar så kommer jag förmodligen tillbringa mycket tid där ute. Har beställt ett parasoll som man sätter på räcket så att jag och bebis kan sitta i skuggan, men vill också byta ut alla möbler till skönare "loungemöbler". Göra balkongen mer mysig och mjuk helt enkelt. Men vet inte om jag orkar ta tag i detta nu. Någon som är grym på inredning som vill komma och hjälpa? ;P
// So what did we do on Easter Eve? Well, we fixed our balcony for spring! Aleks had to start without me because I had to rest on the couch a bit hehe. He planted some flowers and stuff, removed his pile of workout clothes (anyone else got a man who just "have to" have his smelly workout gear on the balcony? gloves, pads, clothes… so not nice, but at the same time I rather have them out there than in the bathroom… how do you do?) and then I started helping and we cleaned the whole balcony, all the furniture etc. The result was nice!
I want to change the balcony though….. Haha. Since we will be at home a lot this summer I will probably spend a lot of time out there. I've ordered a parasol so that me and the baby can sit in the shadow, but I also want to replace all the furniture to more comfortable "lounge furniture". Well basically make the whole balcony more cozy and soft. But I don't know if I have the energy to start fixing this now.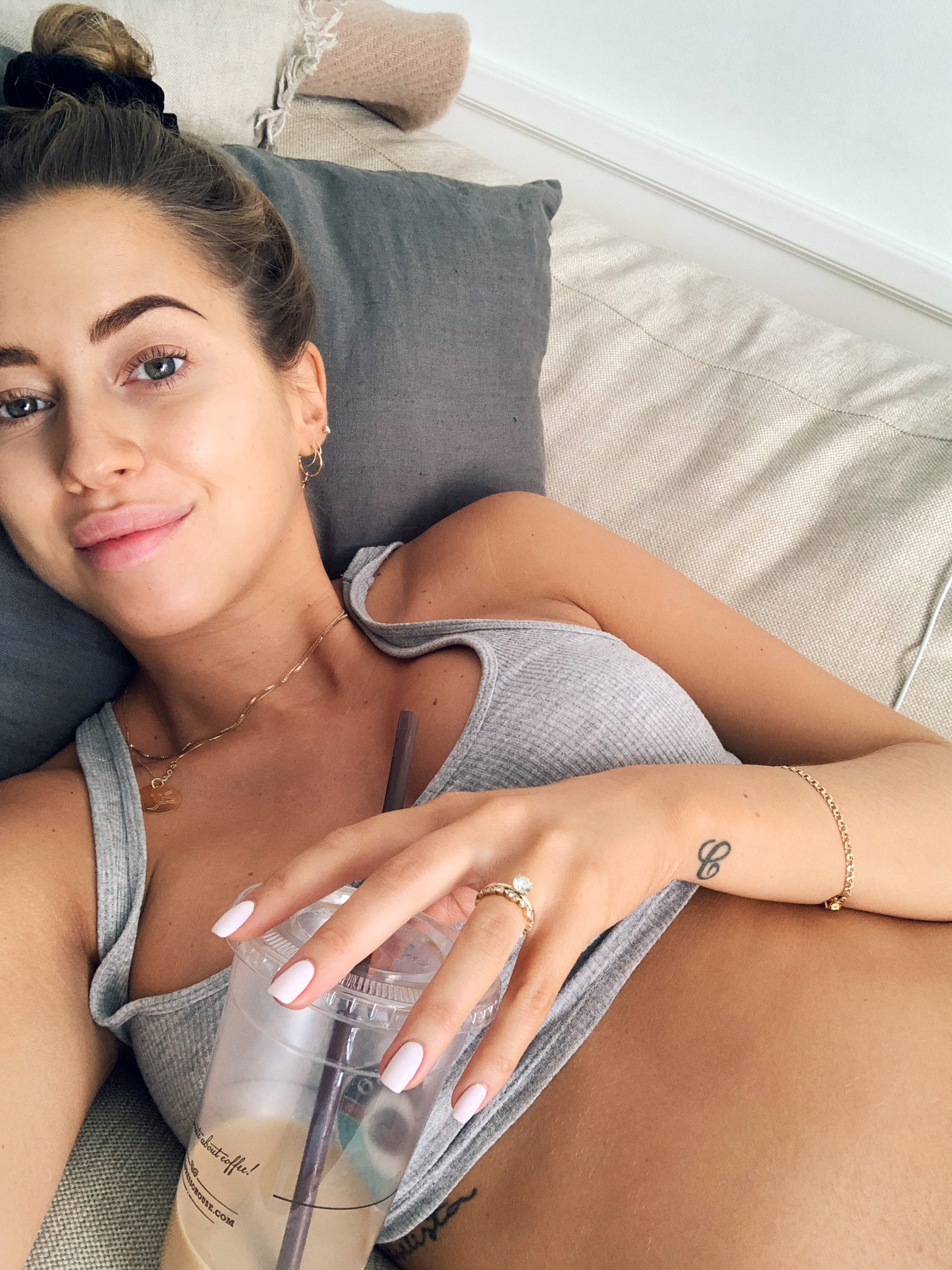 Trött tjej med en bebis som gör illa revbenen, hehe. Fasen vad stark han är nu! Har bara vilat sedan vi blev klara med balkongen och nu är det snart dags för middag. Funderar på thai…. Eller pizza… Vi kan inte bestämma oss.
Imorgon fyller jag förresten år! 28 hela år. Känns så konstigt att man helt plötsligt börjar närma sig 30. Kan fortfarande känna mig som 22 ibland, men å andra sidan är jag glad över att den tiden är förbi. Jag är så mycket mer trygg och bekväm i livet jag lever nu, jag vet vem jag är, vad som betyder något, och vad jag vill med mitt liv. Och att bli äldre känns inte längre så jobbigt. Att fylla 27 var betydligt jobbigare dels pga saknaden efter pappa men också för att det var då vi började vår första IVF-behandling. Jag var bara så jävla stressad och ledsen över hela klimakteriesituationen att 27 istället kändes som 47 och hela dagen var jobbig. Är fortfarande orolig över hur det kommer bli framöver, men jag väljer att fokusera på nuet för jag kan ändå inte ändra min situation. Därför känns 28 okej. Mer än okej faktiskt, jag har nog aldrig varit lyckligare och jag är så tacksam för det. Tacksam över att denna födelsedag inte blir som min förra. Imorgon ska jag verkligen bara njuta av att vara med min lilla familj. Aleks, Mani och lillen i magen. <3
// Tired girl with a baby that is hurting my ribs, hehe. Damn he is so strong now! I have just been resting since we finished with the balcony and now it's almost time for dinner. We're thinking about thai…. Or pizza… We can't decide. 
Btw, it's my birthday tomorrow! I'm turning 28. It feels so weird that I'm suddenly getting closer to 30. I can still feel like 22 sometimes, but on the other hand I'm happy that those days are over. I feel so much more safe and comfortable in the life I'm living now, I know who I am, what matters, and what I want with my life. And getting older doesn't feel that bad anymore. Turning 27 was way more tough, partly because I missed my dad but also because that's when we started our first IVF treatment. I was just so stressed and sad about the whole menopause situation so 27 felt like 47 and the whole day was tough. I'm still worried about how everything will turn out later on, but I choose to focus on the present because I can't change my situation anyway. That's why 28 feels alright. More than alright actually, I don't think I've ever been more happy and I'm so grateful about that. Grateful that this birthday won't be like my previous birthday. Tomorrow I'm just gonna enjoy being with my little family. Aleks, Mani, and the little one in my belly. <3