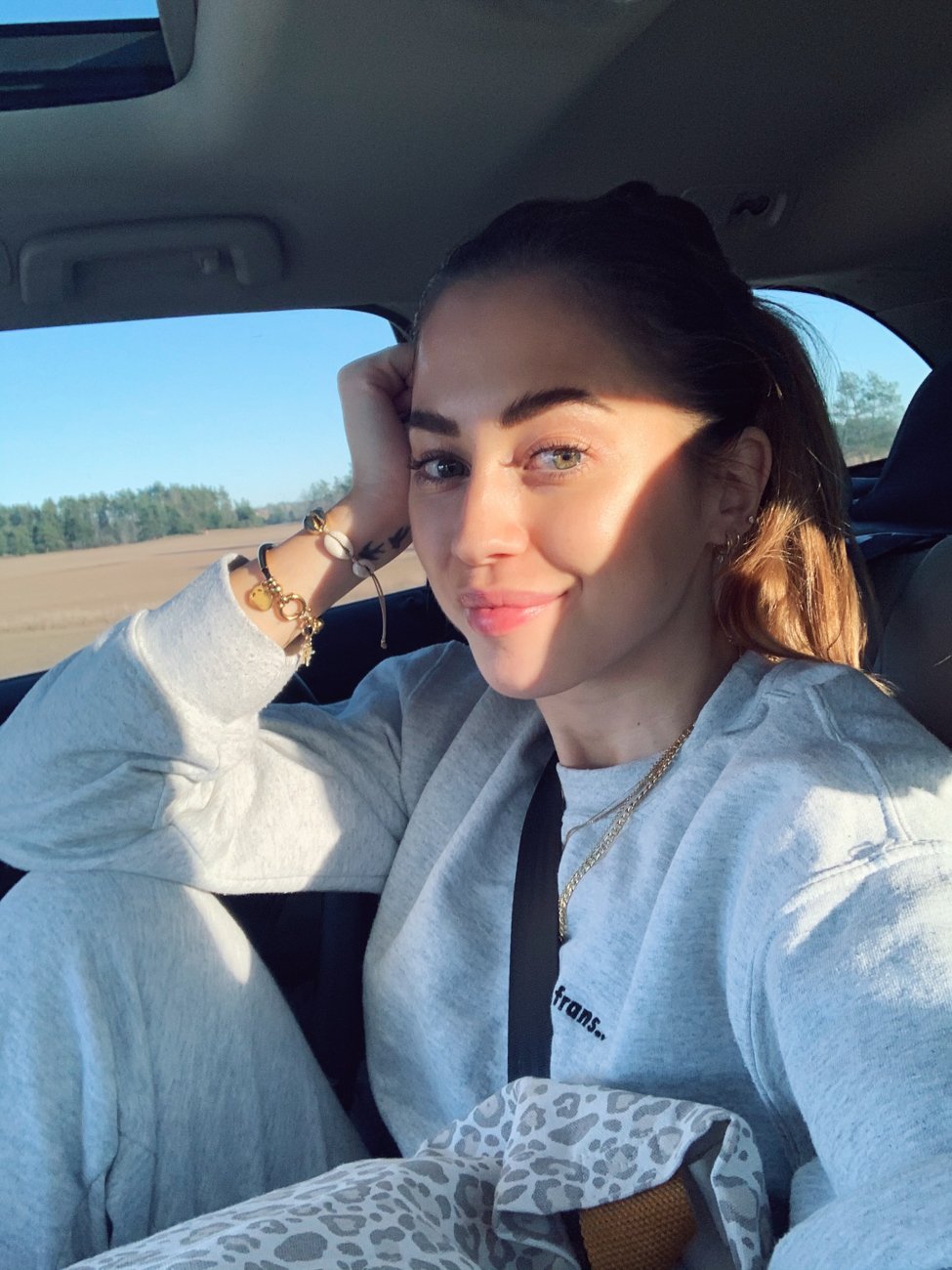 Hej hjärtan! Nu är vi framme på Maldiverna (vi kom fram igår eftermiddag) och innan jag börjar posta semesterbilder med palmer och turkost hav, så tänkte jag berätta lite om hur flygresan gick! Var ju lite orolig över hur det skulle gå med Nikola. Det tog ändå nästan 22h från dörr till dörr så det var en rätt lång resa. MEN det gick faktiskt över förväntan! Vi tar det från början.
Det hela började med att vi hoppade in i vår bil hemma. Sedan svängde vi förbi Dani för att jag skulle droppa av Viennas födelsedagspresent (missade hennes 1-årskalas pga magsjuka, så jävla trist) och lite badkläder från min kollektion. Efter det hämtade vi upp Aleks pappa så att han kunde köra oss till Arlanda. Han brukar alltid göra det, och alltid hämta oss också. Så himla snällt. <3
// Hi sweethearts! Now we have arrived to the Maldives (we arrived yesterday afternoon) and before I start posting vacation photos with palm trees and turquoise sea, I thought I could tell you a bit about the trip! As you know I was a bit worried about how everything would go with Nikola. It took almost 22 hours from door to door so it was a pretty long trip. BUT it actually went better than I had expected! Let's take it from the beginning.
We started with us getting into our car at home. Then we went by Dani so that I got drop off Vienna's birthday gift (I missed her 1st birthday party because of the stomach flu, so sad) and some swimwear from my collection. After that we picked up Aleks dad so that he could drive us to the airport. He always does that, and always picks us up as well. So kind. <3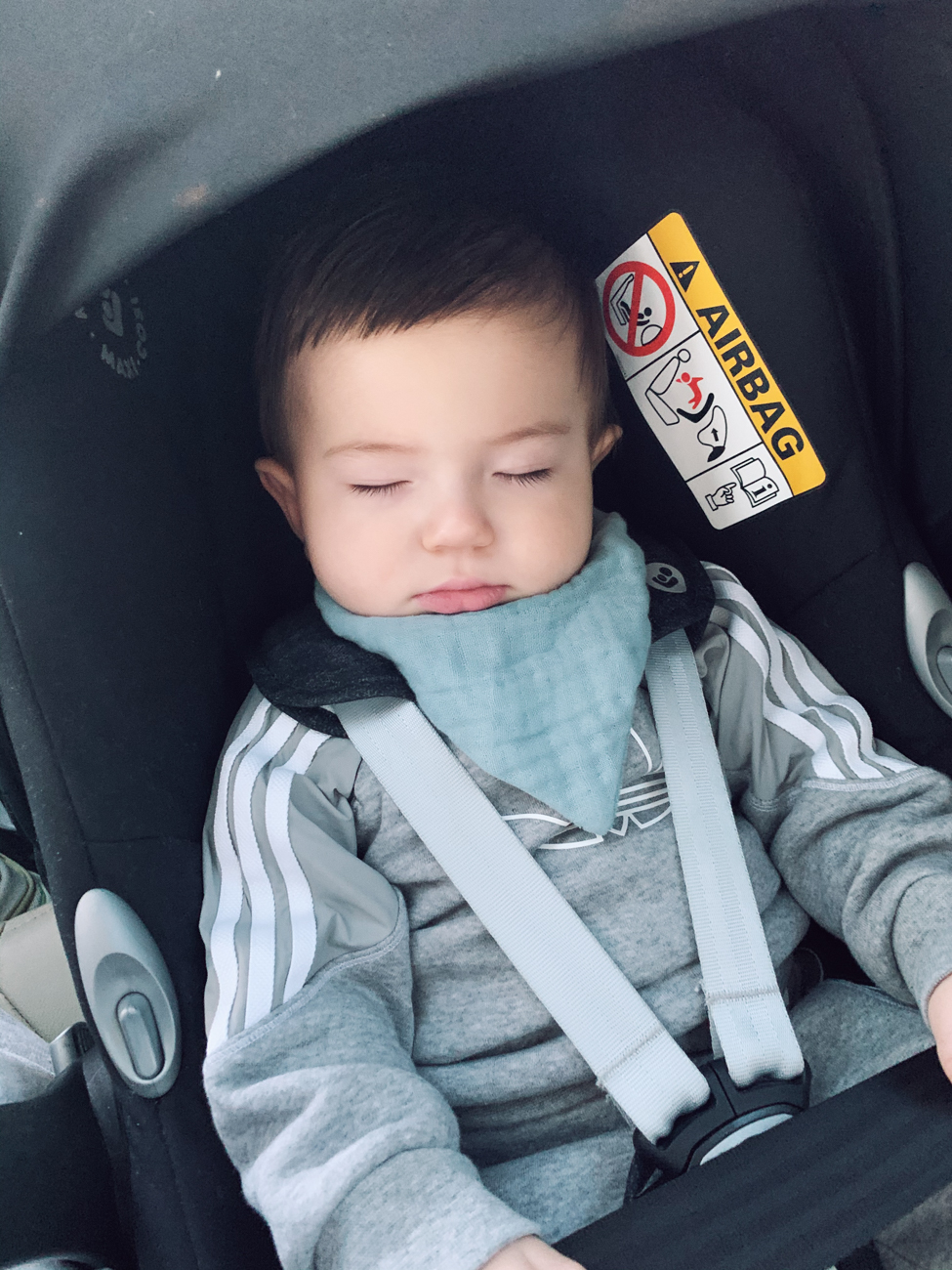 Nikola sov hela vägen ut och vaknade så fort vi kom fram och det var dags att säga hejdå till farfar. På flygplatsen checkade vi in, och så valde vi att uppgradera oss på första flyget (Stockholm-Istanbul) för att det var bra pris på det, och då fick vi även platserna på rad 1 så att Nikola kunde få en sån spädbarnskorg som man hänger upp på väggen. Vi frågade om priset för att uppgradera hela vägen till Male men det skulle gå på 25 lax per person och det kände vi var lite extremt haha. Vi har redan lagt väldigt mycket pengar på flyg och hotell så det fick bli ett nej. 
// Nikola slept the whole way out and woke up as soon as we got there and it was time to say goodbye to grandpa. We checked in, and then we decided to upgrade us on the first flight (Stockholm-Istanbul) because it was a good price, so then we also got the seats at the first row so that Nikola could get one of those baby bassinets that you put up on the wall. We asked for the price to upgrade the whole way to Male but that would cost 2500 euro per person and we felt that was a bit extreme haha. We have already put a lot of money on flight tickets and the hotel so we said no.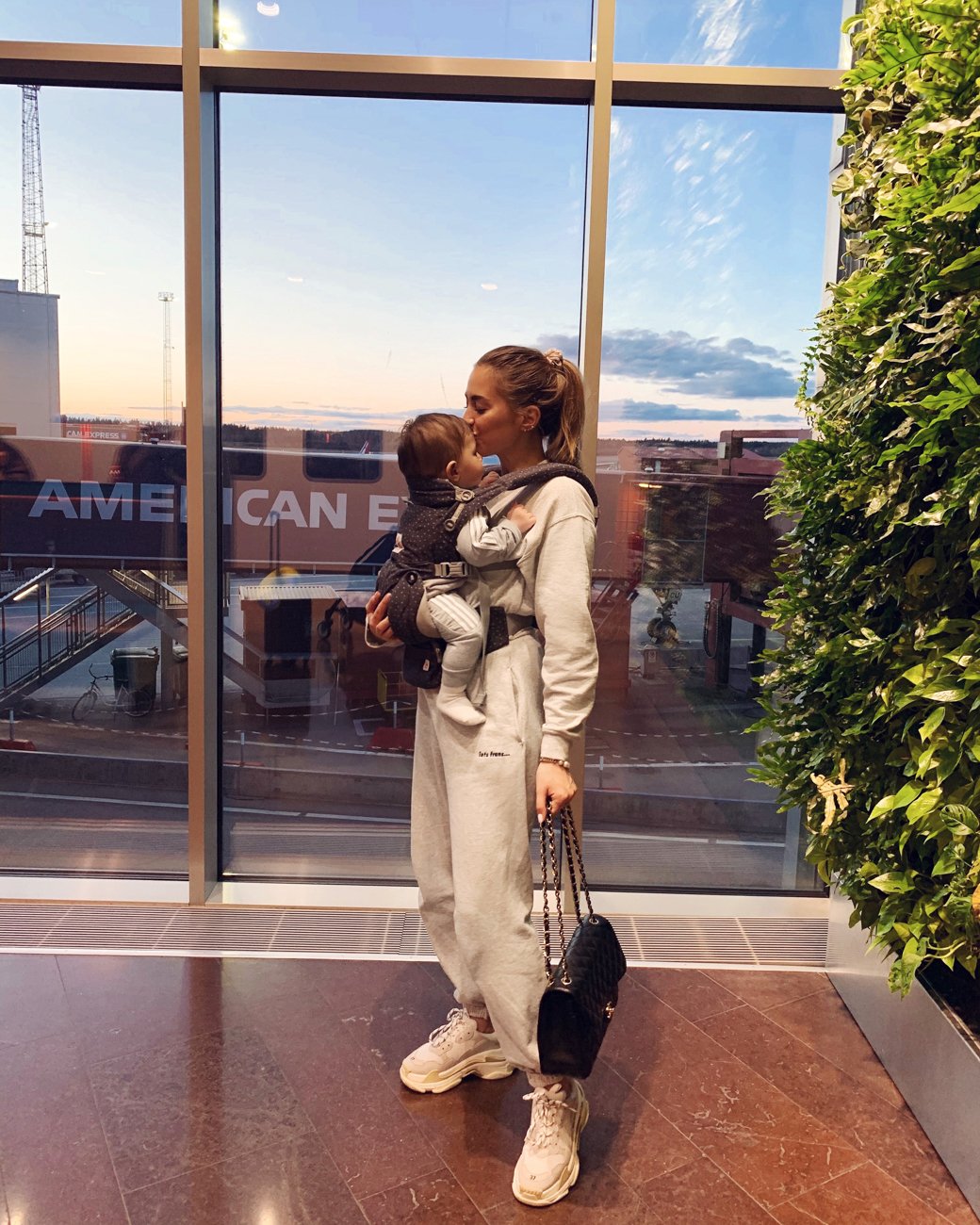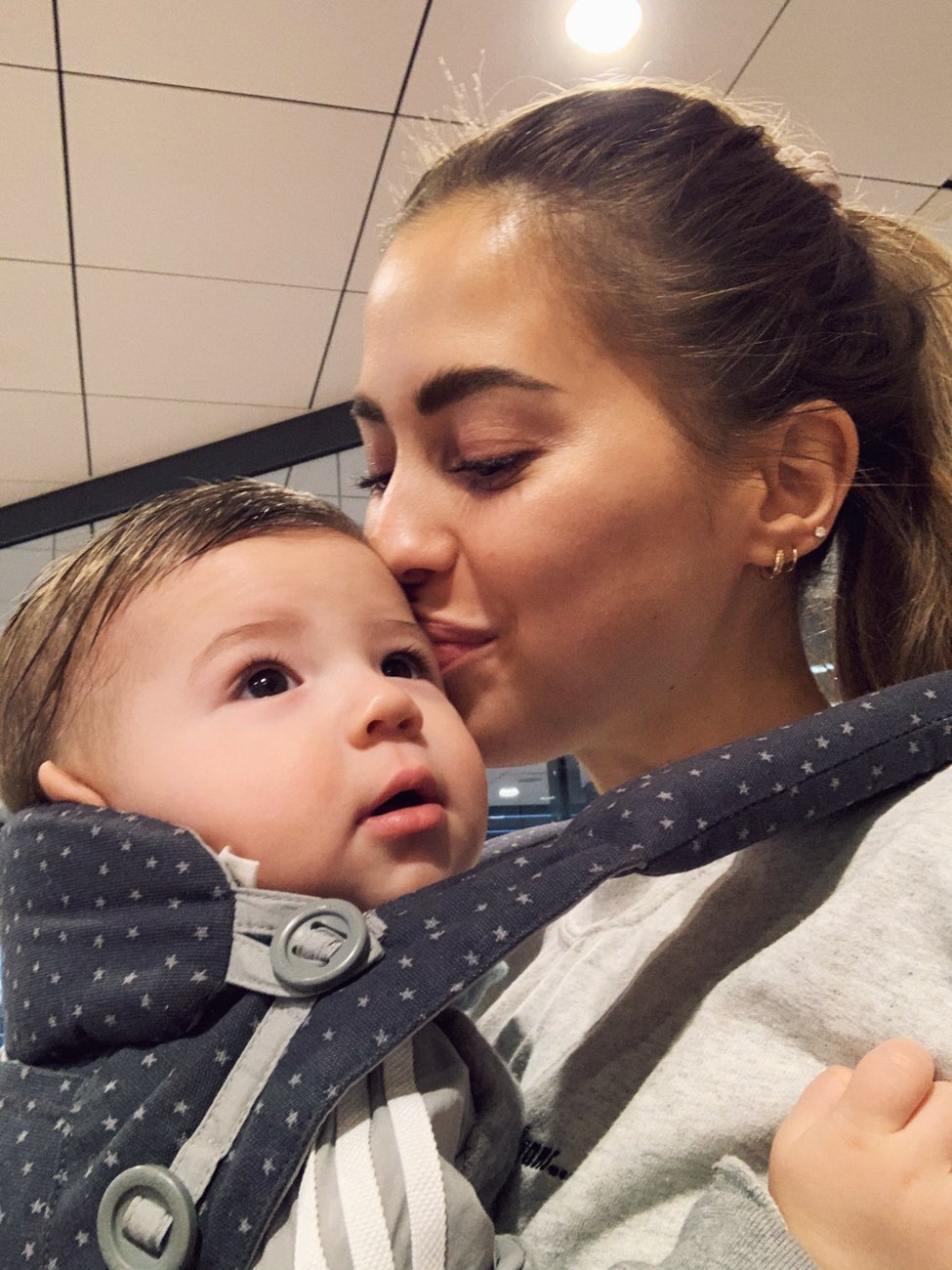 På Arlanda! Vi valde att ha med både resevagnen (Babyzen Yoyo, som man får ha som handbagage) och vår sele från Ergobaby. Tycker det är smidigast att ha honom i selen när man ska boarda osv, så har man armarna fria och kan bära packning. Och på tal om packning då, i handbagaget hade vi: ett gäng nappflaskor och färdigblandad ersättning och välling samt några klämmisar med frukt/mat.  Och såklart blöjor, våtservetter, leksaker och ombyten till Nikola.
Jag flög i mitt mjukisset från Urban Outfitters, och Nikola i sitt från Adidas!
// At Arlanda airport! We chose to bring both our travel stroller (Babyzen Yoyo, you can have it as hand luggage) and our carrier from Ergobaby. I think it's easiest to have him in the carrier when we board the planes etc, so that we have our arms free and can carry luggage. And speaking of luggage, in our hand luggage we had: a bunch of baby bottles and drink-ready formula and gruel, plus some squeezes with fruit/food. And of course diapers, baby wipes, toys and extra clothes for Nikola.
I traveled in my sweat set from Urban Outfitters, and Nikola in his from Adidas!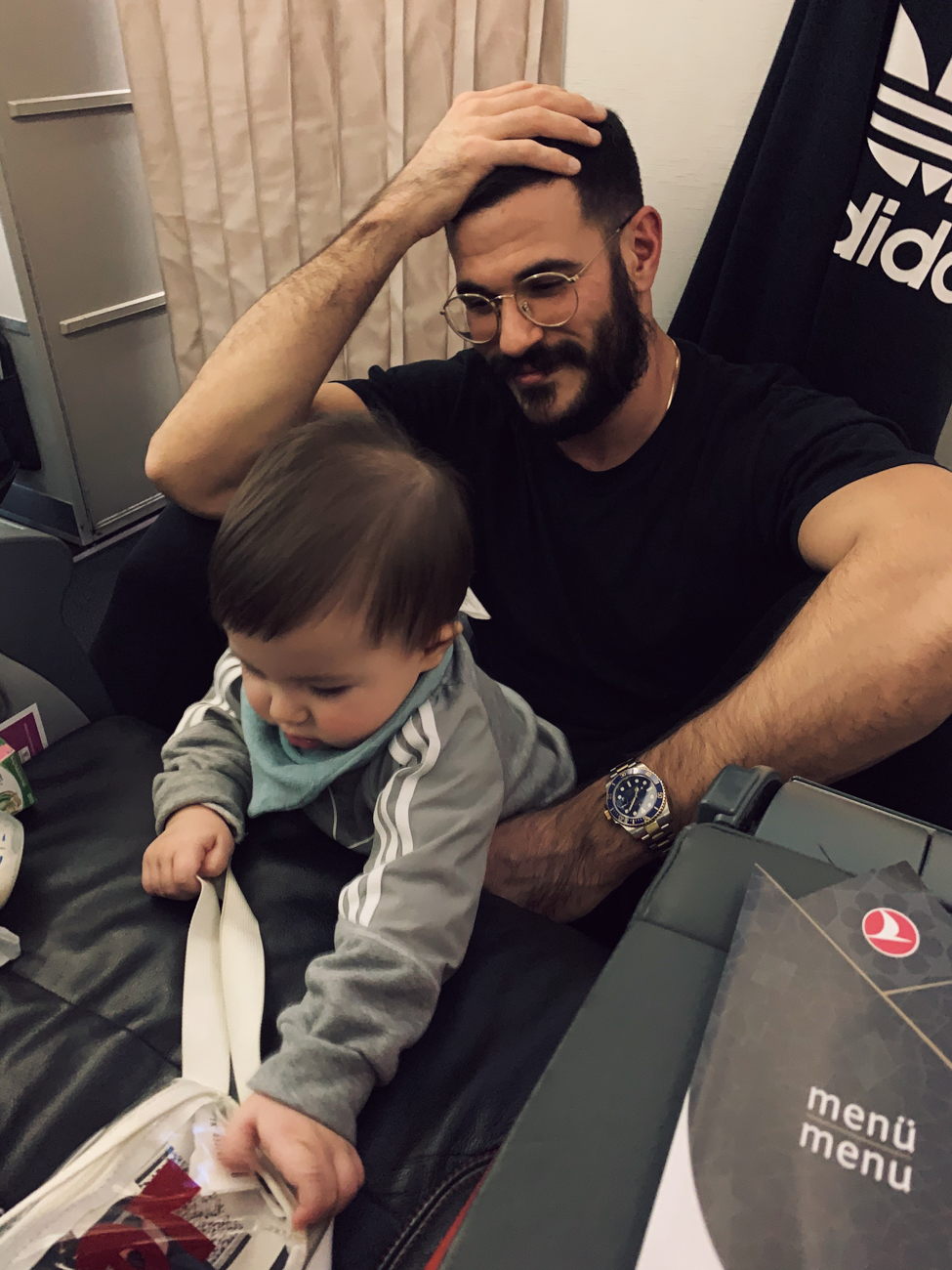 Första flyget gick väldigt bra och snabbt. Det lyfte klockan 17 och fram till att han skulle sova (han lägger sig vid 19) så lekte vi, hoppade i knät, och flörtade med passagerarna bakom. :-) Det gick rätt lätt att få honom att somna men lite gnäll var det såklart. Men det är alltid så när han håller på att somna. Han hann iallafall bara sova en timme i sin korg innan det var dags att landa, då lyfte vi över honom till mitt knä och han fortsatte sova. Han fortsatte faktiskt sova i vagnen de 3 timmarna vi var på Istanbuls flygplats också och även när vi gick på andra planet. Men han vaknade såklart precis innan vi skulle lyfta hehe.
// First flight went really good and fast. It lifted at 17 and up until he was going to sleep (he goes to bed at 19), we just played, jumped in the lap, and flirted with the passengers behind us. :-) It was pretty easy to get him to fall asleep but he did whine a bit of course. But he always does that when he's about to fall asleep. Anyway he only slept an hour in his bassinet before it was time to land, then we lifted him over to my lap and he continued to sleep. He actually continued to sleep in the stroller those 3 hours we were at Istanbul's airport too, and even when we went on the second plane. But of course he woke up right when we were about to take off hehe.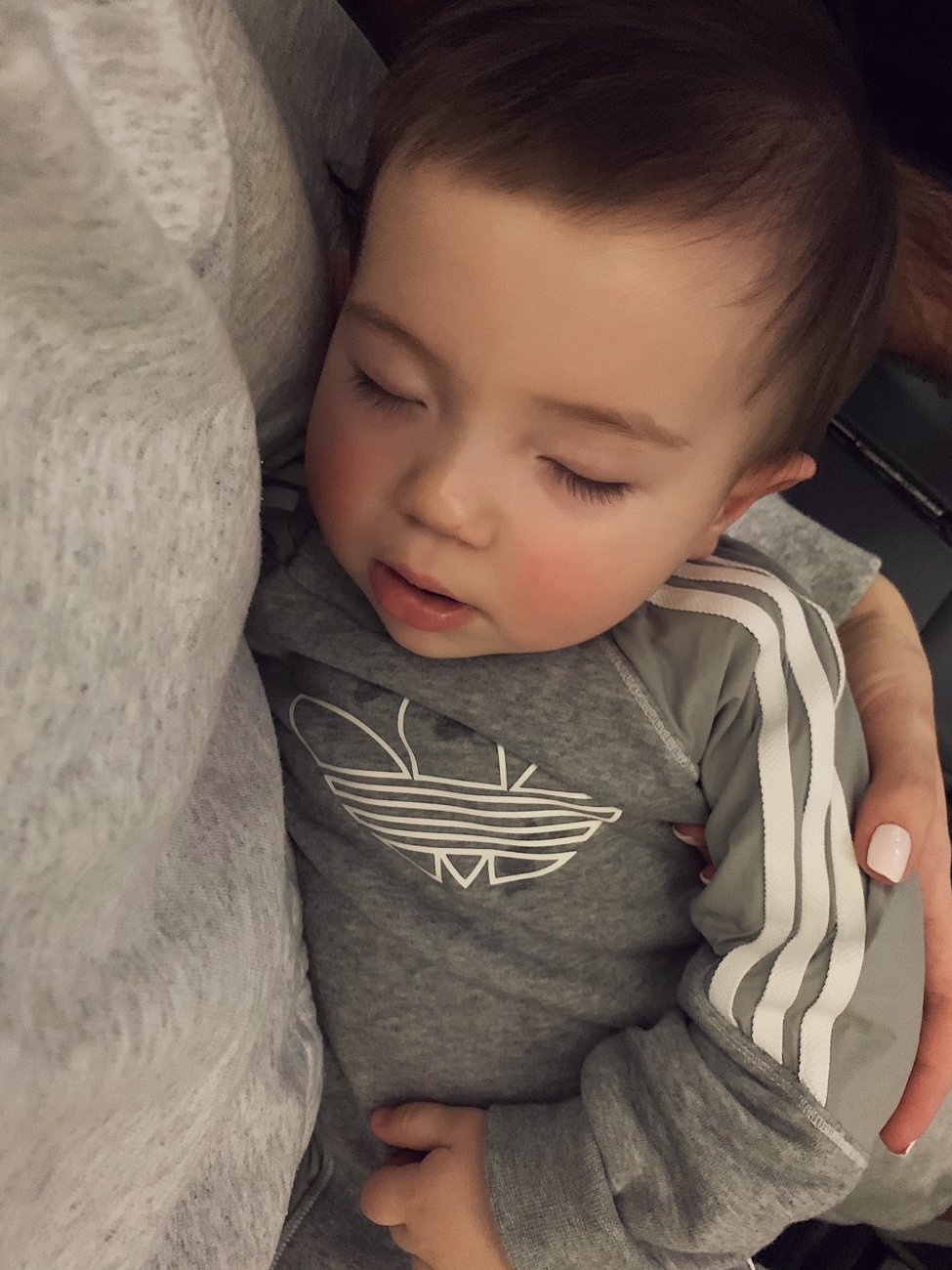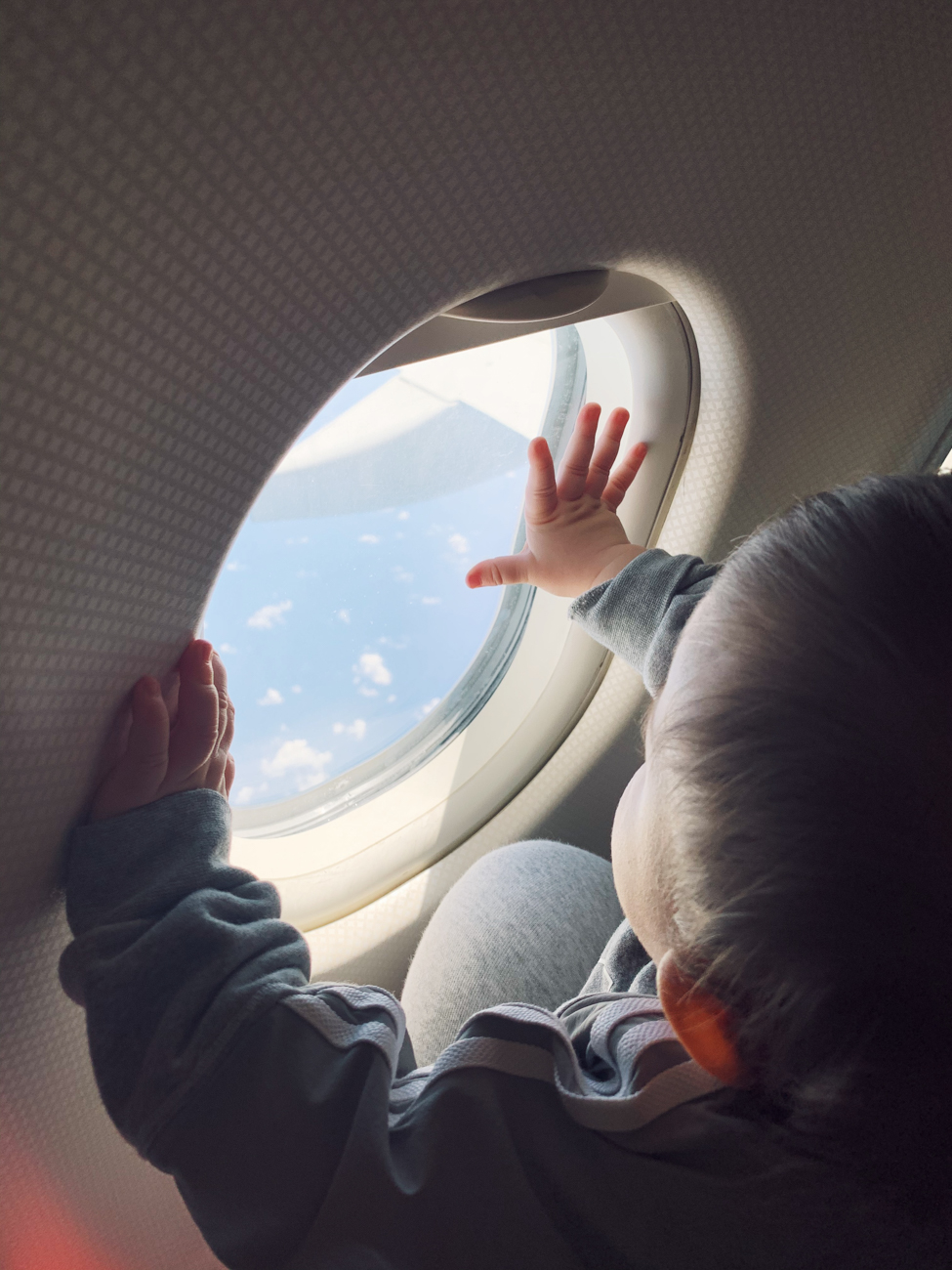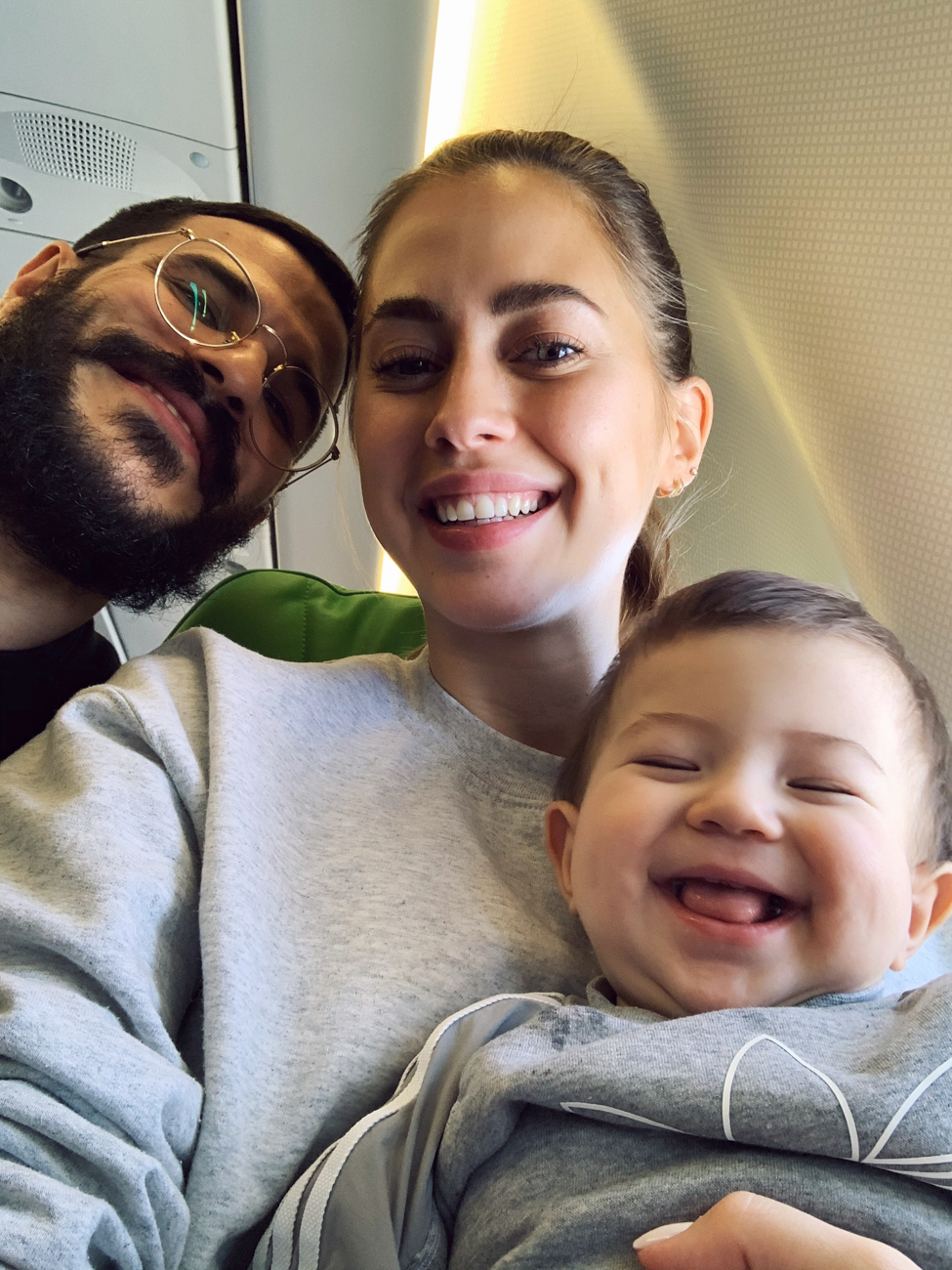 Ok fördelen med att resa på natten: bebis sover (förhoppningsvis) mycket. Nackdelen: man har en sovande bebis i knät så man kan knappt röra sig, gå på toaletten eller byta position. Det gick alltså inte att sova för vi satt så obekvämt hela resan haha. Men det viktigaste var ju att han fick sova så att han var på bra humör, vi klarar ju oss!!
Han vaknade som sagt när vi lyfte från Istanbul, och då var han vaken en timme trots att det var mitt i natten (allt var ju så spännande). Men sedan somnade han om (efter lite skrik, hehe svettiiiiigt) och sov tills det blev morgon. Han vaknade när det var bara 2 timmar kvar av flygningen och då fick han frukost. Sen var det bara att underhålla honom sista tiden genom att leka, gå lite i gången osv osv!
// Ok the perks with traveling in the night: baby sleeps (hopefully) a lot. The negative: you have a sleeping baby in your lap so you can barely move, go to the toilet or switch position. So we couldn't sleep because we sat in such an uncomfortable position all trip haha. But the important thing was that he got to sleep so that he was in a good move, cause we'll be fine!!
Like I said he woke up when we took off from Istanbul, and then he was awake for an hour even though it was in the middle of the night (everything was so exciting). But then he fell back asleep (after some screaming, hehe sweatyyyyy). He woke up when it was only 2 hours left of the flight and then he got breakfast. Then we just had to entertain him the last hours by playing, walk in the aisle etc etc!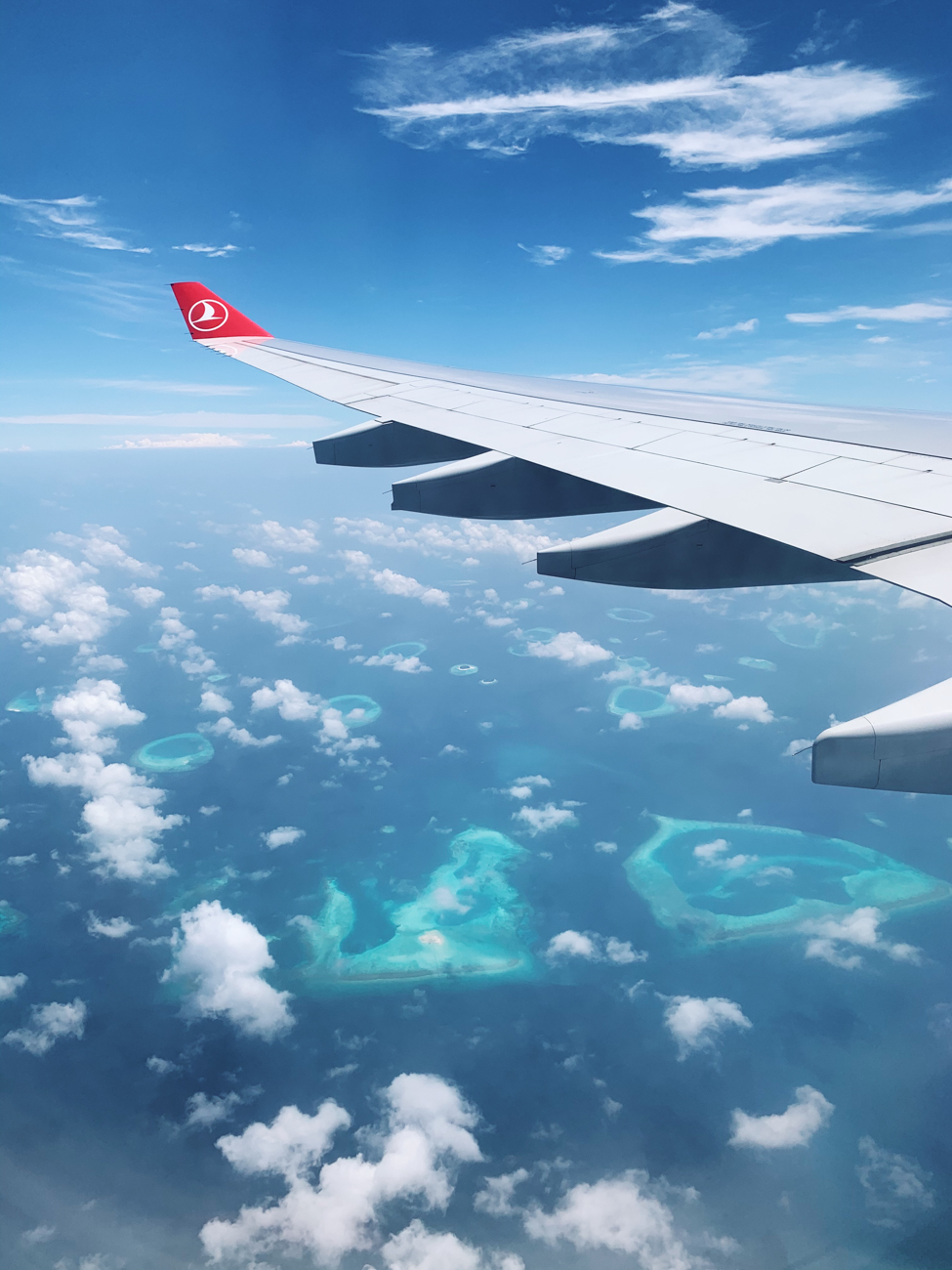 Sedan landade vi på Male! Alltså utsikten när man flyger över alla små öarna är sinnessjuk… När vi gick av planet var det som att kliva in i en bastu, så varmt!! Och så skönt att äntligen komma av planet. Efter passkontroll och väskupphämtning så gick vi mot check-in för sista flyget: seaplane.
// Then we landed in Male! The view when you fly over the little islands is insane…. When we got off the plane it was like stepping into a sauna, so hot!!! And so nice to finally get out of that plane. After the passport control and bagage claim, we walked towards the check-in for our last flight: seaplane.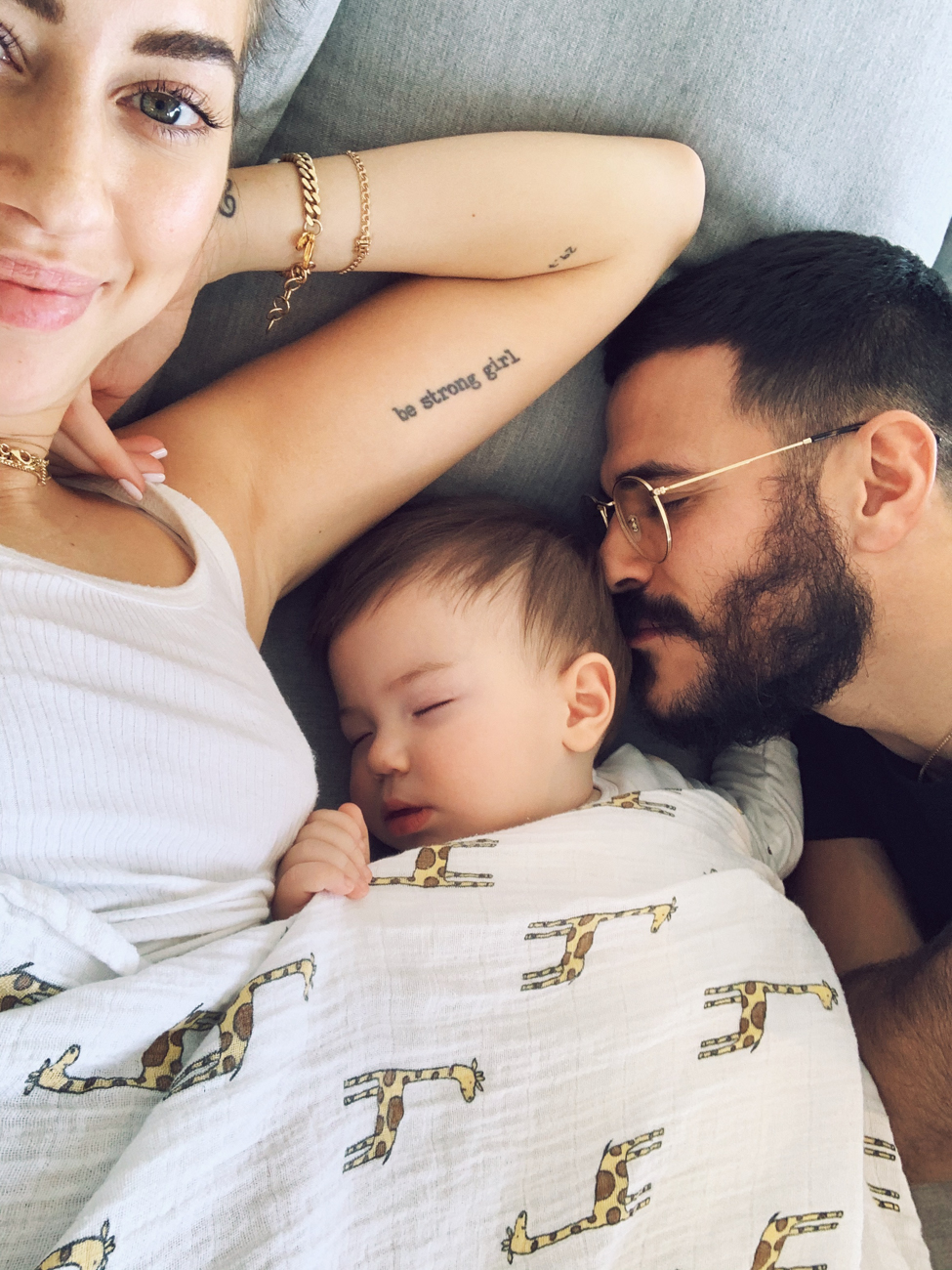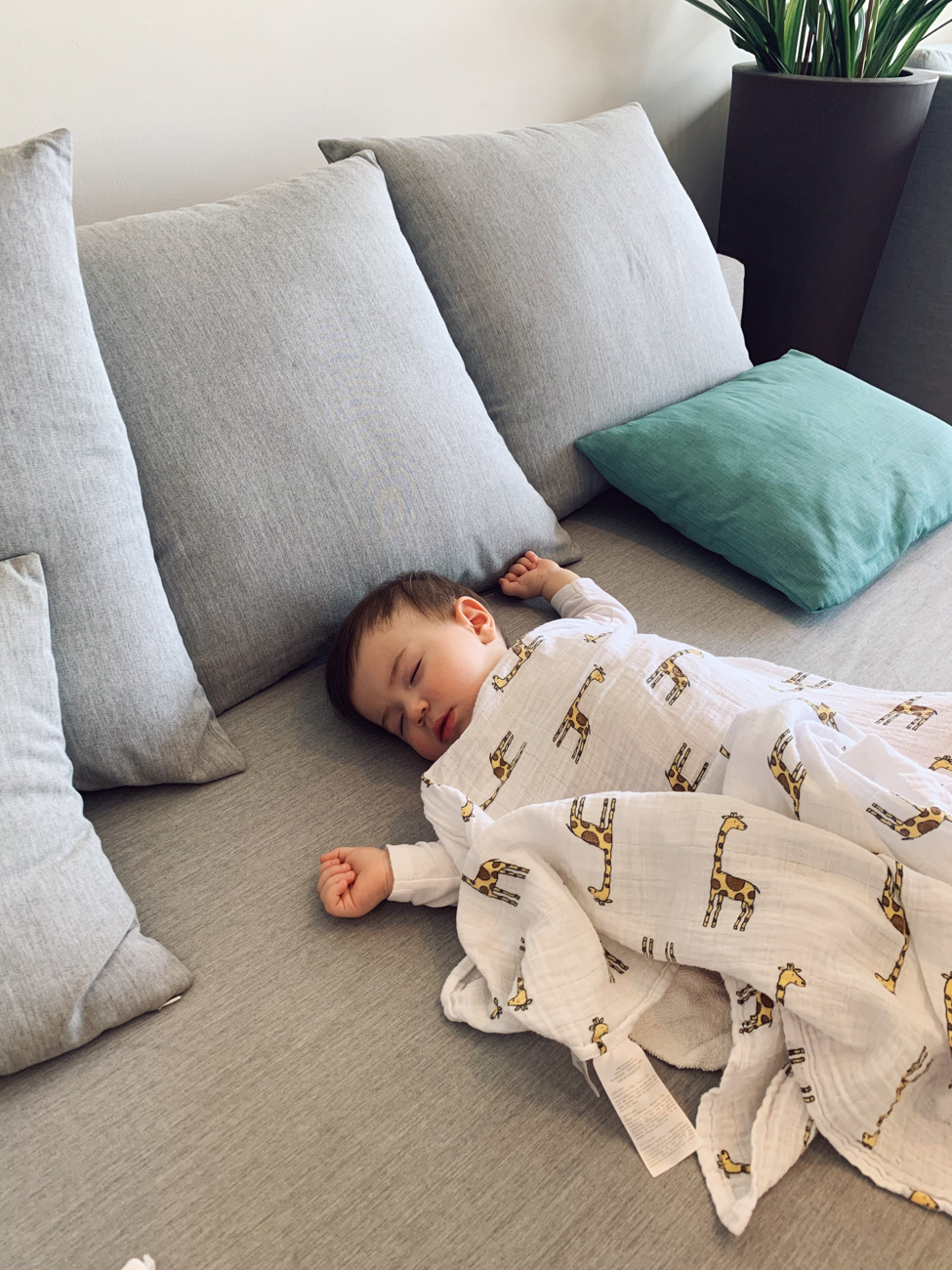 När vi hade checkat in allt där och konstaterat att vi hade extremt mycket övervikt haha (skyller på alla blöjor, ersättning, välling och barnmat vi har med för 2 veckor, går ju knappt att handla något här på ön) så tog en buss oss till vår resort LUX's egna lounge vid seaplane-stationen. Då var det dags för den här lilla killen att sova sin första nap för dagen!
// When we had checked in everything there and pointed out that we had like A LOT of overweight haha (I blame all the diapers, formula, gruel and baby food that we have brought for 2 weeks, you can barely shop anything here on the island), a bus took us to our resort LUX's own lounge at the sea plane station. Then it was time for this little guy to sleep his first nap for the day!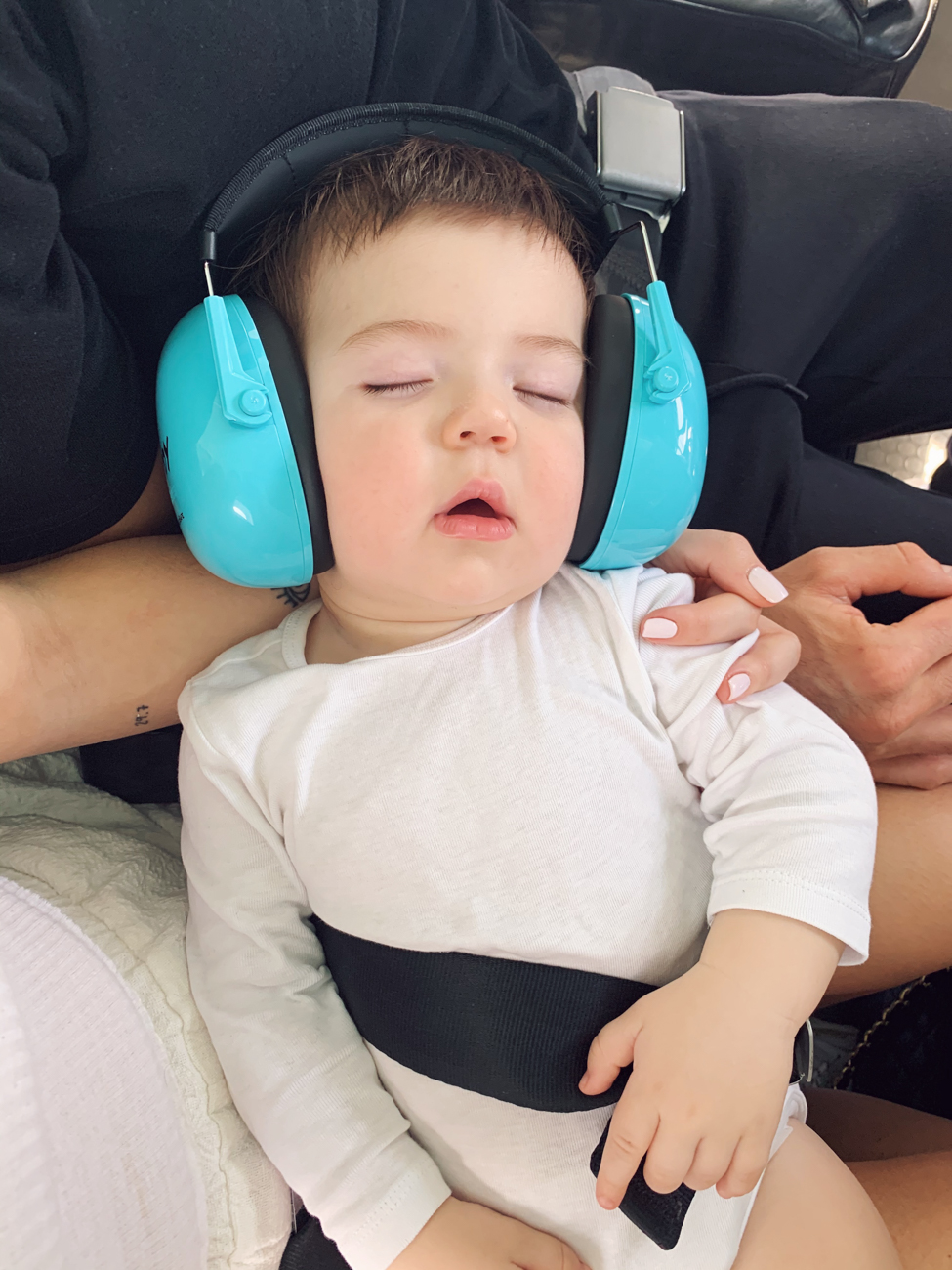 Vi lyckades inte tajma det bra dock (gör man någonsin det haha) för han hann bara sova 10 minuter innan de kom och sa att det var dags. Men han var så trött så han sov sig igenom boardingen och start av sjöflyget i min famn, med hjälp av dessa hörselkåpor (köpta på Apotea). De är ett måste på seaplane för det låter så extremt högt, önskar att jag också hade sånna. Tror vi fick öronproppar förra året när vi flög men inte denna gång. Iallafall, hörselkåporna kan nog även vara bra att ha på bebisarna på de vanliga flygen också för Nikola vaknade och blev rädd några gånger när personalen pratade i högtalarna.
Hur gullig med de där ihopmosade kinderna. <3
// We didn't time it good though (do you ever haha) because he had only slept 10 minutes when they came and said it was time to go. But he was so tired so he slept though the boarding and the start in my arms, with the help of these hearing protection. It is a must on the seaplane because it is so loud, I wish I had them too. I think we got earplugs last year but not this time. Anyway, it can be good to have those hearing protection on the baby in the regular flights as well because Nikola woke up and got scared a couple of times when the crew spoke in the head speaker. 
How cute with those squeezed cheeks. <3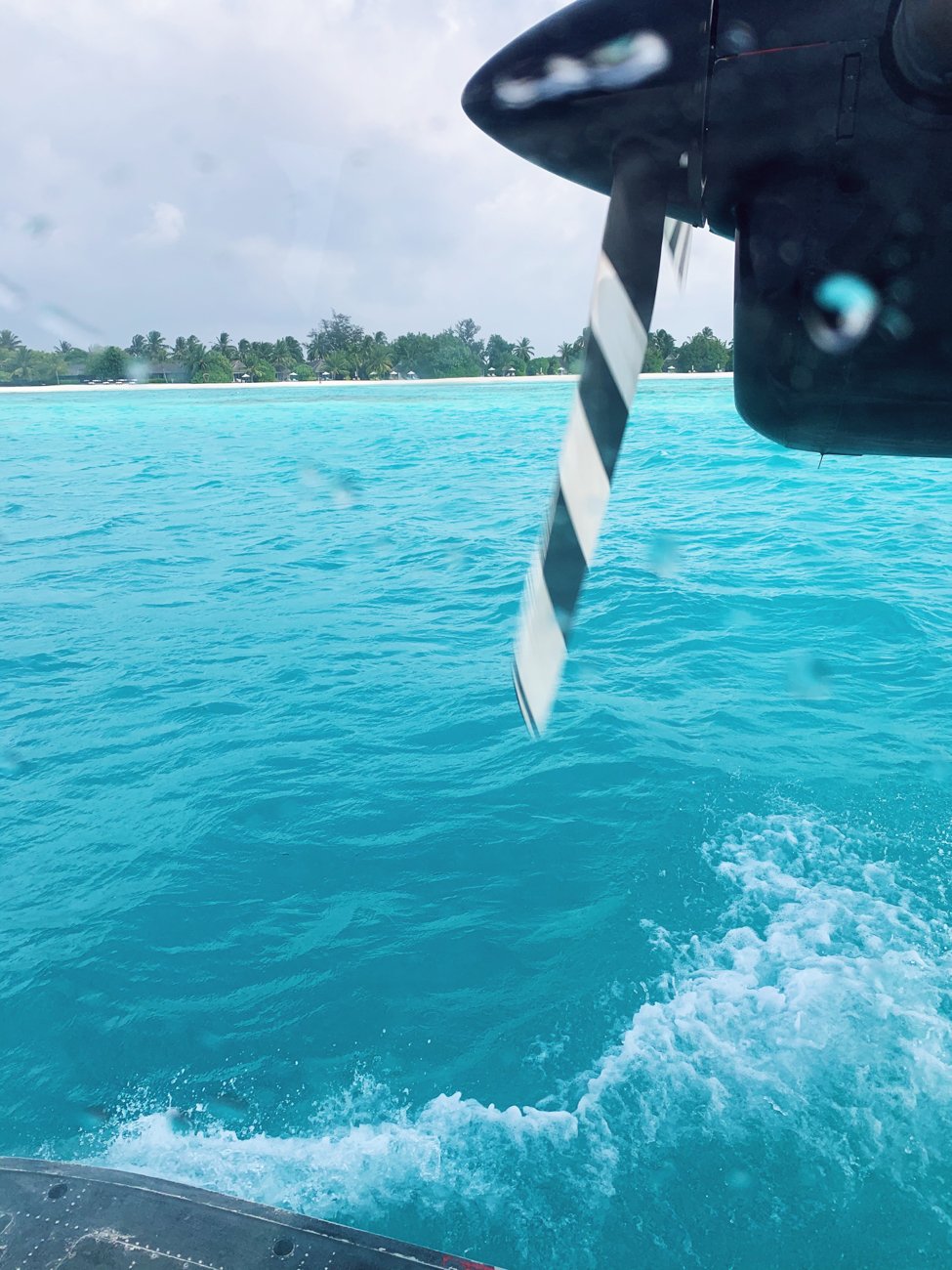 Flygrädda jag fick en chock förra året när jag såg att piloterna var barfota, men denna gång var jag beredd på det. Försöker tänka så att de är så chill för att allt är så chill, så då borde jag också va chill. CHILL CHILL CHILL.
Efter knappt en halvtimme landade vi vid vår ö!!
// As you know I'm scared of flying so I got a shock last year when I saw that the pilots were barefoot, but this time I was prepared on that. I try to think that they are so chill because everything is so chill, so I should also be chill. CHILL CHILL CHILL.
After barely half an hour we landed outside our island!!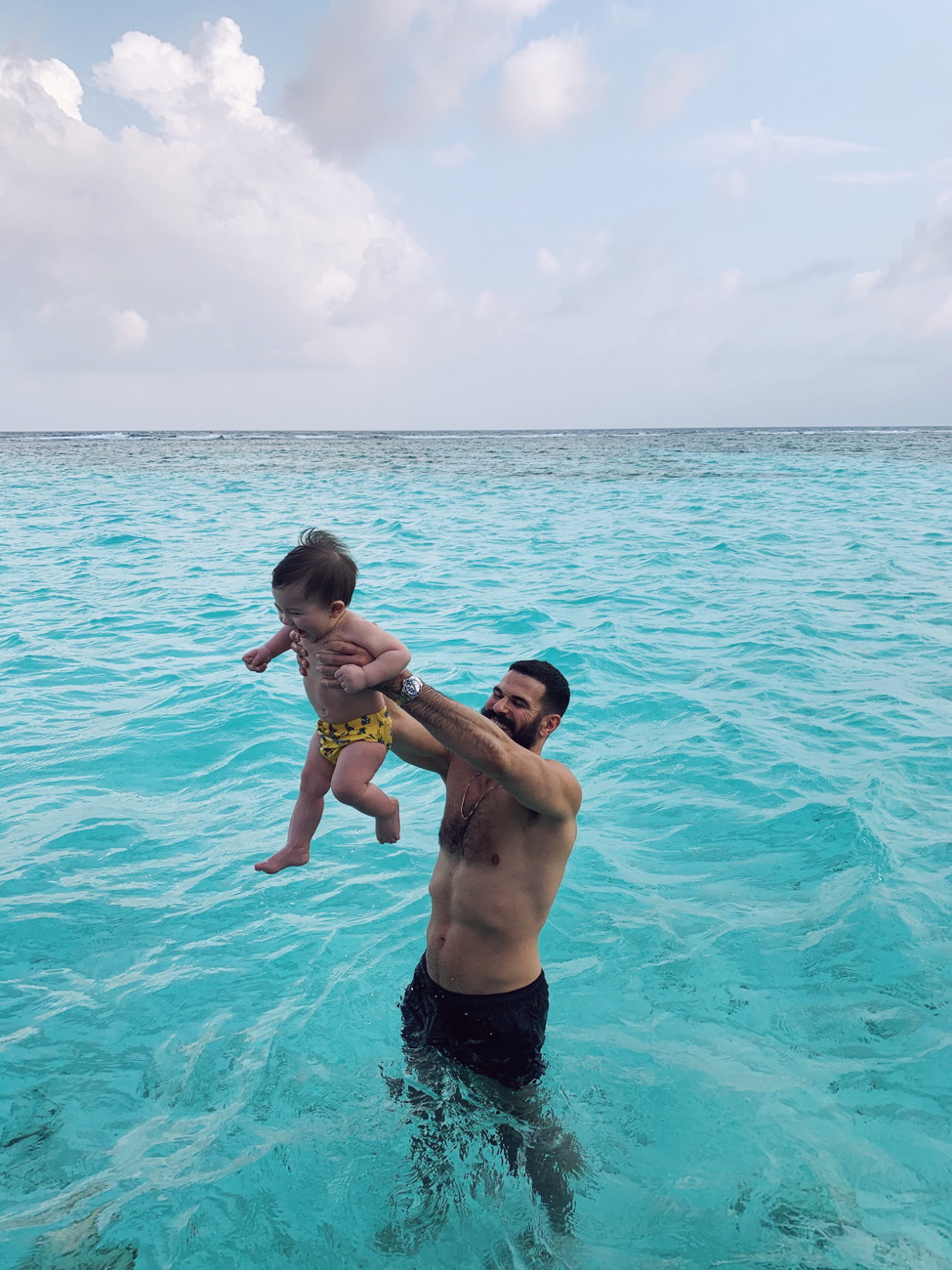 Det första vi gjorde var att äta en sen lunch på stranden, sedan fick vi nyckeln till vår vattenvilla och då blev det direkt ett dopp i havet innan det blev mörkt. Sedan sov vi en stund, gick och åt middag, och sen la vi oss. Vi alla var rätt trötta efter den långa resan och TACK GODE GUD att barnet förstod att vi behövde en ordentlig nattsömn. Han sov nämligen 11 timmar (med EN matning efter 8 (!) timmar). Vår bästa natt någonsin. Fick en chock när jag vaknade!!
Idag har vi haft vår första riktiga dag här och vi har bara badat och lekt i vattnet och ätit massa gott. Nu ska vi gå och träna en snabbis innan middagen. Vi hörs snart igen!
// The first thing we did was eat a late lunch at the beach, then we got the key to our water villa and took a dip in the sea before it got dark. Then we slept for a while, went out for dinner, and then we went to bed. We were all pretty tired after the long trip and THANK GOD that the child understood that we needed a proper night's sleep. Cause he slept 11 hours (with ONE feeding after 8 (!) hours). Our best night ever. I was so shocked when I woke up!!
Today we've had our first full day here and we have just been playing in the water and eaten lots of delicious food. Now we're gonna go and work out a quickie before dinner. Talk to you soon again!