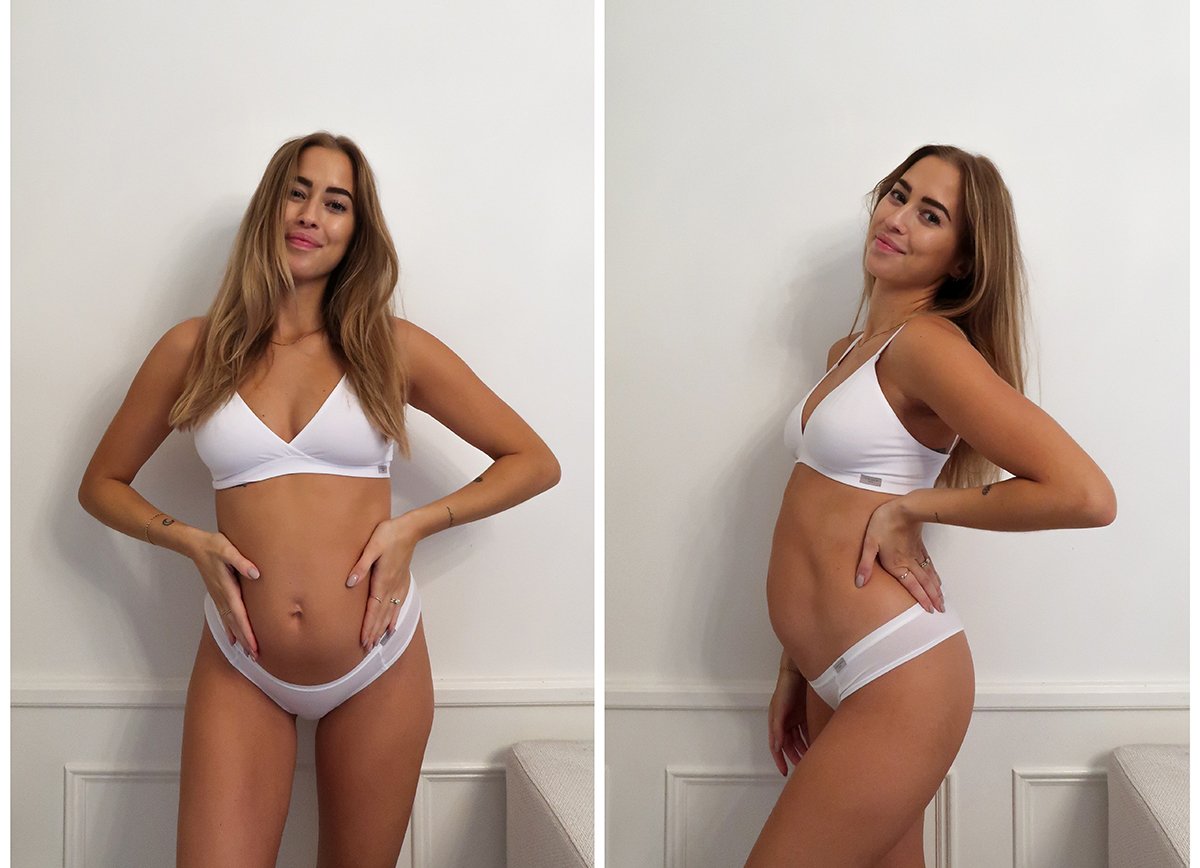 47,9% avklarat – 146 dagar kvar till BF! (vilket är 1a mars)
Jag tänkte att det var dags att göra den första graviduppdateringen nu när vi är nästan halvvägs! Detta inlägg blir lite längre än inläggen framöver men det är för att det är det första och det finns mycket att gå igenom hehe. Vet dock inte hur ofta jag kommer göra dessa uppdateringar, inte varje vecka som sist, men kanske varannan eller var tredje? Vad tycker ni?
Bebis: Just nu är bebisen ca 22-24 cm lång och väger bara ett par hundra gram. Så liten, men ändå så stor redan? Hur fort har det egentligen gått!! Det är nästan ännu svårare den här gången att förstå att det är en liten minimänniska där inne. Jag glömmer ofta bort det under dagen men blir påmind då och då av de små sparkarna som bara blir starkare och starkare. Nu har även Aleks känt sparkarna utanpå magen! Jag kände Nikola första gången i vecka 19, då låg min moderkaka i framvägg. Den här gången ligger den i bakvägg vilket kanske förklarar hur jag kunde känna rörelser redan i vecka 14(!), och kanske att jag denna gång visste hur det skulle kännas.
Förra veckan hade vi vårt rutinultraljud och det var så himla kul att få se bebisen igen. Ögonen fylldes med tårar så fort bebisen dök upp på skärmen. Tänk att det är min unge!! Allt såg tack och lov bra ut, bebisen rörde sig mycket så det tog lite tid att få bra bild över organen etc men det var bara kul för mig att få se min bebis extra länge! Som jag skrivit tidigare så mäter bebisen lite större än standard, precis som Nikola gjorde, men jag har redan förvarnat min barnmorska för att jag vägrar gå 12 dagar över tiden igen så kanske inte behöver klämma ut en riktigt lika stor unge denna gång?! Får man väl hoppas iallafall, hehe.
Vet att många av er är peppade på att veta könet på bebisen. ;-) Vi har vetat det ett tag nu eftersom vi gjorde NIPT och på RUL fick vi det även bekräftat. Vad tror ni, flicka eller pojke?
Kenza: Och hur mår jag då? Priiiima! Nej okej nu överdrev, jag är rätt trött haha. Nikola har dessutom haft ett gäng dåliga nätter på sistone och det är ju lite tuffare att hantera sånt när man är gravid. Men det var jobbigare i början av graviditeten då jag var ännu tröttare och även mådde illa, så jag känner fan att läget är stabilt just nu! :-) Jag tränar på 2 gånger i veckan och än så länge känns kroppen bra också. Magen är lite större än vad den var vid det här laget förra gången (speciellt när jag käkat, då växer den typ 3 storlekar) och den dök även upp sjukt mycket tidigare denna gång. Vilket bara har varit mysigt, men jag är lite skraj över hur stor den ska bli denna gång eftersom att den blev så sjukt stor och TUNG sist.
Ni kanske minns att jag strugglade med aptiten förra gången och så var det i början av denna graviditet också. Det enda som gick ner var typ mackor och jag mådde illa så fort jag åt. Men det vände kring vecka 15 och sedan dess har jag kunnat äta någorlunda normalt. Men ja, det som helst slinker ner är ju bröd, pasta och godis haha… Önskar jag kunde vara en sån som cravade typ mandariner…..
Annars så har jag fortfarande lite svårt att greppa det här med att jag ska bli tvåbarnsmamma och att Nikola ska bli storebror. Vi har bara 3 månader kvar ihop hemma jag och han, innan han börjar förskolan, och sen knappt 2 månader senare ska jag vara hemma igen men med en ny bebis. Känns lite konstigt (typ hejdå Nikola, hej ny bebis) men jag vet också att jag kommer landa i det hela och att det sen kommer kännas hur naturligt som helst! :-)
Vad vill ni läsa om i nästa graviduppdatering? 
// We're almost halfway through, so I thought it was time to do my first pregnancy update. Because this is the first update, and there's a lot to say, this post will be a little longer than the future posts hehe. I don't know how often I'm gonna do these updates, not every week like the last time, but maybe every other- or third week? What do you think?
Baby: Right now, the baby is 22-24 cm tall and weighs about a couple of hundred grams. So tiny, but yet so big already? Time really flies!!! This time, it's actually even harder to realize that there's a little human inside of me. I often forget about it during the day, but then I get reminded by the kicking, which is getting stronger and stronger. Even Aleks has felt the kicking when touching my belly! The first time I felt Nikola was in week 19, I had the placenta in the front at that time. This time I have the placenta in the back, which probably explains why I felt the baby's movement already in week 14(!). It may also be because I know how it's supposed to feel.
Last week, we had our anatomy scan, and it was so fun to see the baby again. My eyes teared up when the baby showed up on the screen. Can't believe that is my kid!! Everything looked completely normal, thank god. The baby was moving a lot so it took a while to get a good picture of the organs etc but it was fun for me because I got to see my baby a little while longer! As I've written before, the baby measures a little bigger than standard, just like Nikola, but I have already told my midwife that I refuse to be 12 days overdue this time. So hopefully I won't have to give birth to such a big baby again!? Fingers crossed, hehe.
I know that many of you are curious to know the gender of the baby ;-) We have known for a while now, since we did the NIPT, and we got it confirmed at the week 20 scan. What do you guys think, girl or boy?
Kenza: And how am I feeling? Excelleeent! Okay, that was an exaggeration, I'm tired haha. Lately Nikola has had a couple of bad nights, and it's definitely harder to cope with such things when you're pregnant. But it was even tougher at the beginning of the pregnancy, because then I was nauseous and even more tired. So I'm actually feeling stable at the moment! :-) I work out twice a week, and so far my body feels stable aswell. My belly is a little bit bigger this time (especially when I've eaten, it gets tripple as big) and it definitely showed up earlier this time. I love that, but I'm also scared of how big it's gonna get since it was both huge and HEAVY the last time.
You might remember that I struggled with my appetite the last time, and I did during the beginning of this pregnancy too.  The only thing I could eat was like sandwiches, and as soon as I ate something I felt sick. But it got better by week 15 and I have been able to eat quite normally ever since. But yeah, I surely prefer things like bread, pasta and candy haha… I wish I was one of those who craved mandarins…
Other than that I'm still struggling trying to understand all this that I'm becoming a mom of 2 soon and that Nikola is becoming a big brother. We only have 3 months left at home together him and I, before he starts preschool, and then not even 2 months later I'm gonna stay at home again but with a new baby. Feels a bit weird (like bye Nikola, hello new baby), but I also know I'm gonna land in all this and that it will feel completely natural! :-)
What would you like to read about in the next pregnancy update?