Hej bloggen!
Gud vad jag blev sugen på att skriva ett inlägg nu!! Vi har städ hemma på morgonen nu så jag sitter på favoritcaféet nere på vår gata, äter en smörfralla och dricker min morgonkopp med havrelatte. Danilo ligger i vagnen bredvid mig och snuttar på sin napp, som jag får stoppa in ungefär 55 gånger i minuten (skam den som ger sig! napp ska ungen ta!) Våra 2 veckor i full bebisbubbla-mode är över och vi har kommit igång igen med rutiner kring jobb, förskola och allt. Jag har haft paus vad gäller samarbeten etc men nu är jag igång igen! Än så länge går det bra, Danilo sover fortfarande mycket och när han är vaken är han väldigt lugn.
Ok, nu ska jag berätta hur det gick när Nikola fick träffa sin lillebror för första gången! Herregud vad man hade målat upp den bilden i huvudet x antal gånger. :-)) Och sen var det äntligen dags!! Nikola var hos min mamma de två nätterna vi var iväg på BB, så när vi kom hem där på lördagen så gick Aleks iväg och hämtade honom. När de kom sen så hade jag lagt Danilo i sin lilla vagga, och så överöste jag Nikola med pussar och kramar i hallen. Hade saknat honom så mycket. <3 Sedan pekade vi mot vaggan i vardagsrummet och sa "Nikola, titta där! Bebisen i mammas mage har kommit ut! Din lillebror är här!" Och det känns som att han fattade på en gång. Ögonen blev stora som tefat och så sprang han fram till vaggan, med mig och Aleks precis bakom. Livrädda för att han typ skulle välta den eller slå Danilo haha. Men vet ni vad han gjorde? Han började klappa honom. Tog Danilos hand i sin, pussade den. Sa BÄTIS BÄTIS (bebis) och man kunde verkligen se lyckan i hans ögon. Jag trodde verkligen inte det, nog för att vi förberett honom och pratat om bebisen i mammas mage i 9 månader, men jag trodde han skulle vara för liten för att förstå. Och såhär har det fortsatt nu i snart 3 veckor. Han är så fin mot honom, pussar hans huvud, händer och fötter, sätter sig bredvid i soffan, slår sig på knäna och säger "bätis knä!" och vill ha honom i knät.
Självklart måste vi hålla ett vakande öga på honom, Nikola kan vara väldigt vild av sig och även om han inte menar det så kan han vara lite hårdhänt ibland. Men jag tror, och hoppas, att bröderna från och med nu och för all framtid kommer ha varandras ryggar. Som Aleks och hans storebror.
Det här är bröderna Subosic 2.0!
// THE SUBOSIC BROTHERS 2.0 AND HOW WE CAME UP WITH THE NAME DANILO
Hi guys! I got so excited to write a post now!! They are cleaning our apartment this morning so I'm sitting at my favorite café on our street, eating a sandwich and drinking my morning cup of oatmilk latte. Danilo is in the stroller next to me sucking on his pacifier, which I have to put back in like 55 times per minute (not gonna give up! this kid will take the pacifier!) Our 2 weeks of full baby bubble mode are over and we are back to our routines with work, preschool and all that. I've had a break from collaborations etc but now I'm back on track! So far so good, Danilo still sleeps a lot and when he is awake he is very calm.
Ok, now I'm gonna tell you how it went when Nikola met his little brother for the first time! Gosh I had been imagining this moment for so long. :-)) And then it was finally time!! Nikola was at my mom's those two nights we were at the hospital, so when we got back home on Saturday Aleks went over to get him. When they came home, I had put Danilo in his little cradle, and then I met Nikola at the door and gave him so many hugs and kisses. I had missed him so much. <3 Then we pointed towards the cradle in the livingroom and said "Nikola, look over there! The baby from mommy's belly is out! Your baby brother is here!" And it felt like he understood right away. His eyes got so big and he ran towards the cradle, with me and Aleks right behind. Terrified that he was going to push the cradle over or hit Danilo haha. But you know what he did? He started petting him. He took Danilo's hand in his hand, kissed it. Said BÄTIS BÄTIS (bebis/baby) and you could really see the happiness in his eyes. I really didn't expect this, I mean we had been talking about the baby in mommy's belly for 9 months, but I thought he would be too young to understand. And this is how it's been now for almost 3 weeks. He is so kind towards him, kissing his head, hands and feet, sits next to him in the couch, points on his lap and says "baby lap!" and wants hip in his lap.
Of course we need to keep an eye on him, Nikola can be very wild even though he doesn't mean to be. But I think, and hope, that the brothers from now on and forever will have each other's backs. Like Aleks and his big brother.  
They are the Subosic brothers 2.0!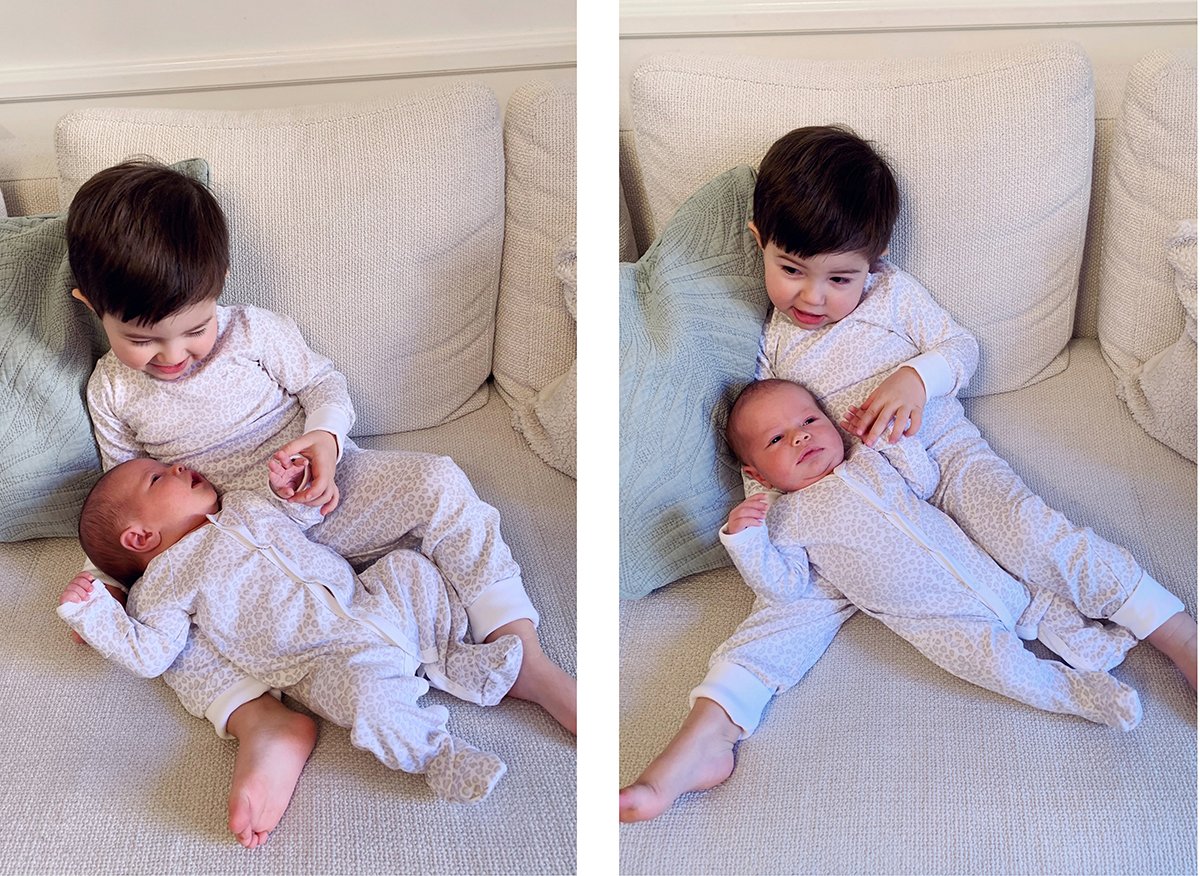 Mina pojkar – pyjamasar från Livly

Ni är så himla många som frågat om namnet så jag tänker att jag drar den historian också! Såhär var det: Vi har sedan Nikola låg i magen haft ett till pojknamn på listan. Damijan – ett namn som funnits i Aleks släkt och som var ett förslag från hans pappa. Han kallade till och med Nikola för Damijan första tiden för han ville så gärna att vi skulle ta det haha. Men Nikola var en Nikola. Iallafall, när vi fick reda på att vi väntade en till liten pojke så blev Damijan ett av våra alternativ denna gång med ihop med två andra namn och Danilo var ett av dem. Det tredje namnet, som var det namnet jag (innan förlossningen) verrrrrkligen ville ha, kommer jag tyvärr inte avslöja hehe. Det är ett unisex-namn och vi spar det för framtiden, om vi får fler barn. Och varför blev det inte det namnet? Av två anledningar, Aleks var fortfarande inte helt övertygad och ärligt talat när Danilo kom ut så kändes det namnet inte rätt på honom. Inte alls. Men vi höll på och velade i flera dagar mellan de tre namnen och till slut var det jag som ba NU TAR VI DANILO PUNKT och så la jag ut det på Instagram så att vi inte kunde ångra oss. Hahaha. Damijan är också så fint tycker jag och skulle vi få en tredje son så kommer det vara ett alternativ också, men det jag var rädd för var att folk skulle uttala det som amerikanska "Damien" som låter som en inte så trevlig kille haha (uuursäkta om någon heter det!!)
Ju mer vi kallade Danilo för Danilo så kändes det verkligen rätt. Och så passar det så himla bra med Nikola tycker vi, förutom k och d så är ju alla bokstäver samma. Danilo är ett namn som finns på olika ställen i världen och uttalas på olika sätt, vi uttalar det "Danni-lo". Fast mer av ett kort å än ett långt oooo om ni fattar. Precis så som o:et i Nikola är mer ett å det med. Så de två namnen klingar verkligen så bra ihop! :-)
// So many of you have asked about the name so I thought I could tell that story as well! Here it goes: Since Nikola was in my belly, we had another boy's name on the list. Damijan – A name that has been in Aleks family and it was a suggestion from his father. He even called Nikola Damijan the first weeks because he really wanted us to take that name haha. But Nikola was a Nikola. Anyway, when we found out that we were expecting another boy, Damian became one of our options this time as well together with 2 other names and Danilo was one of them. The third name, which was the name that I really wanted (before I gave birth), I won't reveal unfortunately hehe. It's a unisex name and we're saving it for the future, if we get more kids. And why didn't we take that name? For two reasons, Aleks still wasn't convinced and honestly when Danilo came out that name didn't feel right. Not at all. But we went back and forth between those 3 names for days and in the end I was the one who said WE'RE CHOOSING DANILO PERIOD and then I posted it on Instagram so that we couldn't regret us. Hahaha. I think Damijan is also very beautiful and if we would get a third son it will be an option again, but I was scared people was gonna think it was like the American name "Damien" who doesn't sound like a nice guy haha (soooorry if it's your/your kid's name!!!)
After calling him Danilo for a few days, it felt totally right. And we also think it suits so good together with Nikola, because except k and d all the letters are the same. Danilo is a name that exists in different places around the world and are pronounced differently, we pronounce it "Danni-lo". And the o is pronounced like the o in Nikola so those two names goes perfectly together! :-)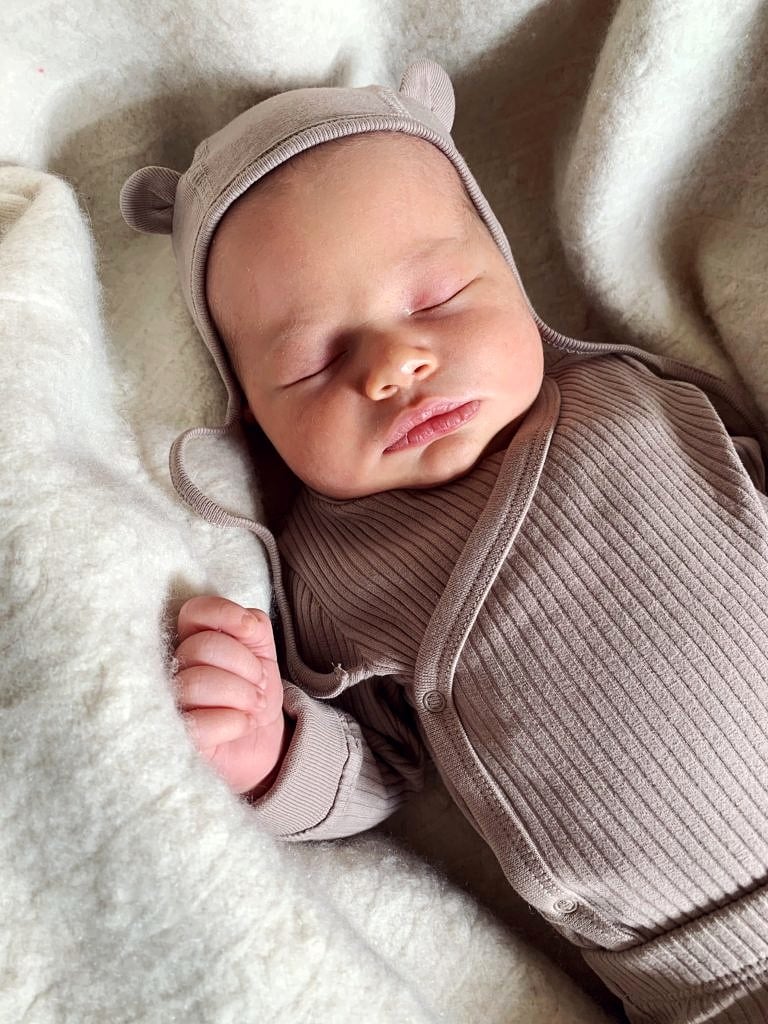 Munnen ♥ – och klädd i kläder som mormor köpt på Lindex
Sist men inte minst så tänkte jag bara snacka lite utseende på mina grabbar för det var ju något man var SÅ nyfiken över. Hur skulle lillebror se ut? Skulle de bli lika? Som jag sa innan så tyckte jag att Danilo var jättelik Nikola direkt när han kom ut, men ju mer tiden gick desto mer olika blev de. Bebis-Nikola var stor och rund, enorma händer & fötter, runt ansikte, smala kolsvarta ögon och svart hår och mörka bryn etc. Danilo är tvärtom liten och smal och har ett smalt ansikte, större ögon, ljusare hår och blonda (!) ögonbryn/fransar. Även ögonen är ljusa, just nu är de sådär blågrå så vi får se om de blir helbruna som Nikolas eller om han får mer av min gröna färg. Jag ser likheter ibland (speciellt över näsa och mun) men när jag tittar på gamla bilder på Nikola så är de så olika så det ska verkligen bli spännande att se hur Danilo kommer se ut om något år. Många säger att Nikola var mini-Aleks och att Danilo är mini-Kenza, jag skulle säga att han fått min mun och mina ljusare färger men mer likheter än så ser jag inte mellan oss.
Okej nu letade jag upp bilder där de faktiskt var jävligt lika haha. Visst ser man att de är brorsor ändå?! <3
// Last but not least I thought I could talk a bit about the looks on my boys because that was something we were SO curious about. What was little brother going to look like? Would they look like each other? Like I said before, I thought Danilo was a copy of Nikola when he came out, but with time he became more and more different. Baby Nikola was big with big hands & feet, round face, slim black eyes and black hair and dark brows etc. Danilo is the opposite he is small and slim with a slim face, bigger eyes, lighter hair and blonde (!) brows/lashes. His eyes are also light, right now they are that blue grey color so we'll see if they get all brown like Nikola's or if he get a bit of my green color. I see similarities sometimes (especially nose and mouth) but when I look at old photos of Nikola they are so different, so it's gonna be fun to see what Danilo will look like in a year. Many people say that Nikola was a mini Aleks and that Danilo is a mini Kenza, I would say he has my mouth and my lighter colors but I don't see more similarities than that. 
Okey now I found photos where they look a lot like each other haha. You can tell they are brothers right?! <3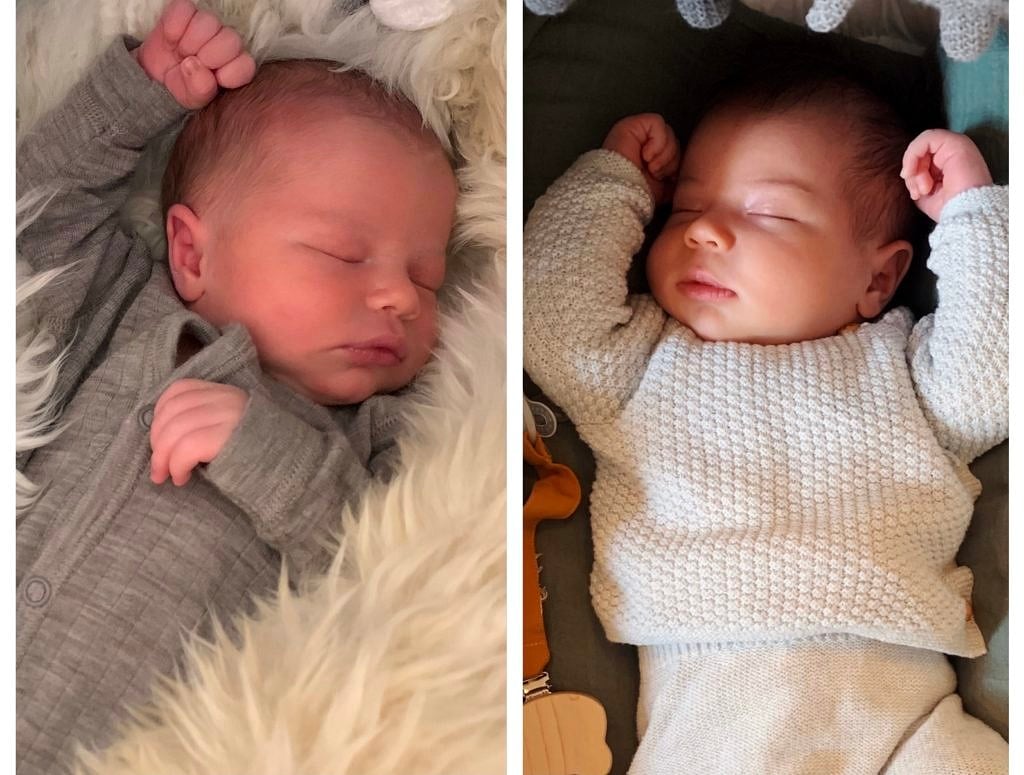 Danilo & Nikola