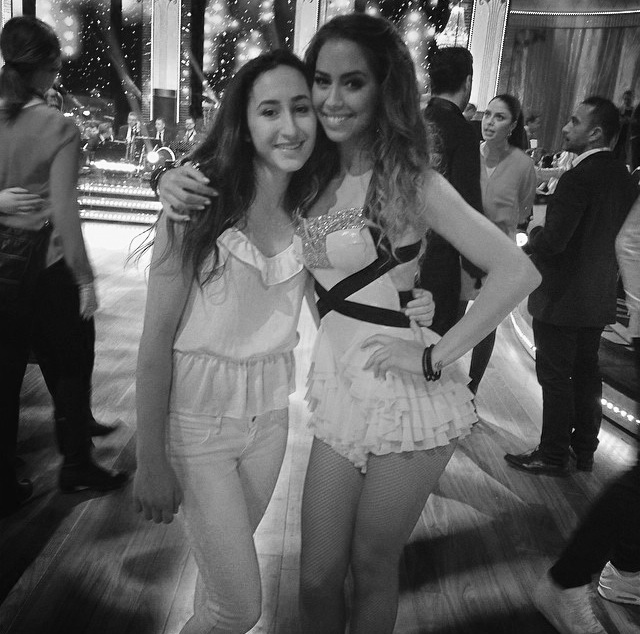 Här har vi en RIKTIGT go tjej som heter Valentina. Hon är en av mina läsare som under en väldigt lång tid gett mig massa kärlek. Vi har träffats flera gånger och i fredags fick hon och hennes kompisar komma och kolla på Let's Dance. Du är guldvärd!! ♥
God morgon!
Jag har sovit 12 timmar inatt och är nu utvilad och PEPPAD för en ny träningsdag. Jag har läst igenom era kommentarer och det var bra för mig att få höra lite olika åsikter! Vi lever just nu i en liten bubbla och det blir lätt så att man glömmer bort att det faktiskt är en tävling. Alla ska ju åka ut någongång, och vi har redan nu gått längre än vad jag trodde att vi skulle göra så jag är glad över att vi fortfarande är kvar.
Måste berätta också att jag fick en video från en läsare som hade filmat sin kompis Linnea när vi hängde löst i fredags. Hon satt och höll för öronen och vågade inte kolla på tvn. När de sedan sa våra namn, att det var vi som gick vidare så skrek hon högt som fan. Haha så sjukt, man har ju själv suttit så också ett x-antal gånger när man tittat på sånna här tv-program så att någon satt så och gjorde så till mig kändes så himla kul. Fick verkligen en spark i baken. Nu jääääklar ska jag träna vals idag!!! :)
// Good morning! I slept 12 hours tonight so now I'm ready for a new day with dance practice. I read through your comments and it was really good for me to hear different opinions! I'm currently living in this little bubble and it's very easy to forget that it's actually a competition. We are all going to be eliminated at some point, and we have already made it through more Friday's than I thought we would so I'm really happy that we are still here.
I also have to tell you about this video I got from a reader, she filmed here friend Linnea when we were in the bottom two. She had her hands over her ears and didn't want to look at the tv. And when they said our names, that we we're through, she screamed. Haha so crazy, I've been there myself a lot of times while watching these kind of shows so that someone was actually doing that to me was really fun. I got a kick in the butt. Daaaaamn I'm gonna practice sooo much waltz today!!!! :)