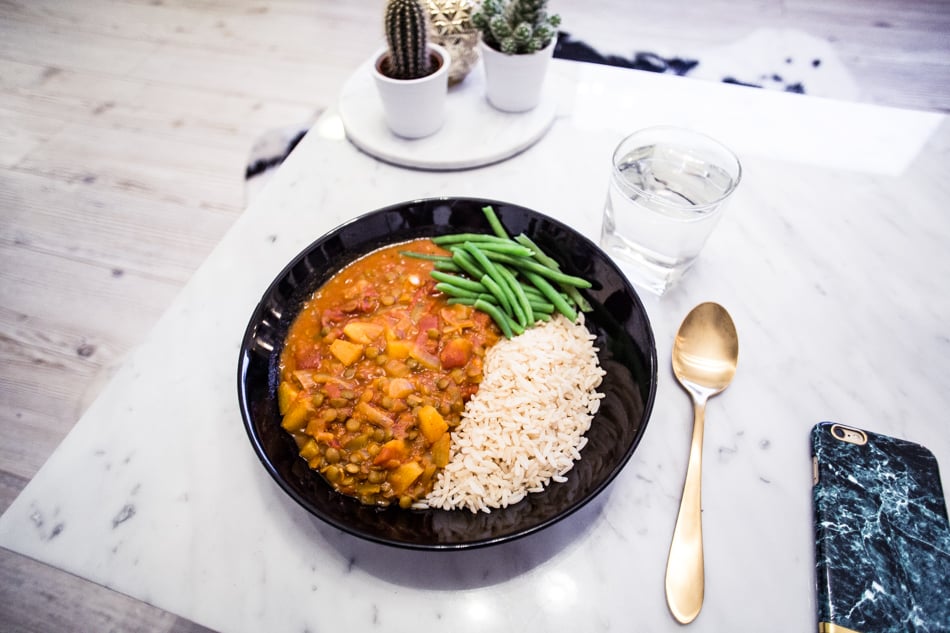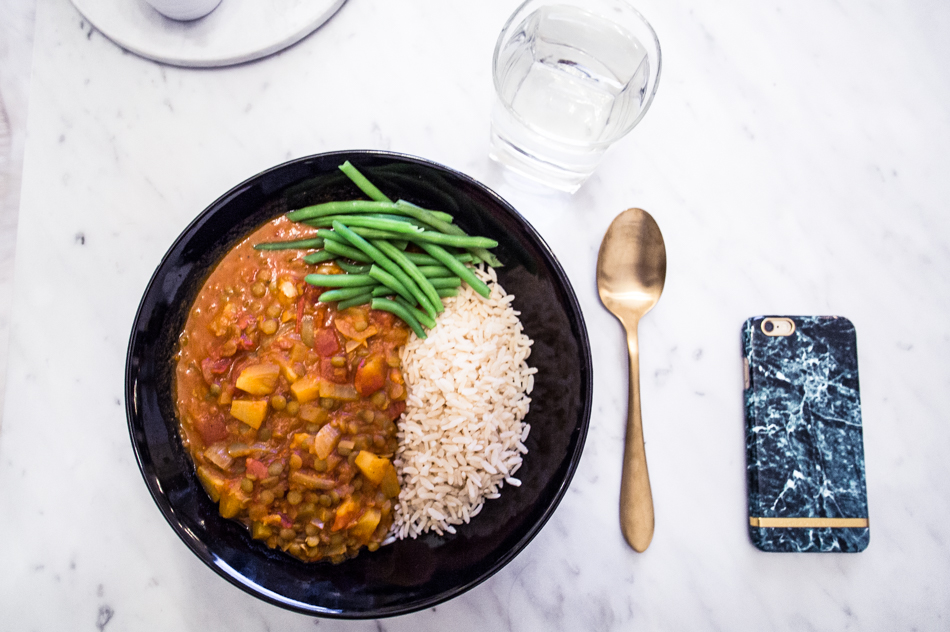 African lentil stew with pineapple!
Här kommer det efterlängtade receptet på Aleks linsgryta! :-) Ibland har vi även tofu i men det skippade vi denna gång. Vi gör MYCKET så att vi har för några dagar, så detta kanske är för typ 8 pers? Detta tog ca 50 minuter att göra.
8dl gröna linser
3 stora gula lökar
1 hel vitlök
3 burkar kokosmjölk (400ml styck)
2 paket krossade tomater (500g styck)
2 burkar ananas (340g styck)
150g tomatpuré
7 st grönsaksbuljongskuber (eller vad tusan det heter?!)
5 msk curry (smaksak..)
Salt & peppar
Börja med att koka upp linser i en kastrull. Hacka löken och fräs i en annan STOR kastrull. Pressa i vitlöken och fräs på. Häll av vattnet från linserna och häll i linserna i den stora kastrullen. Ta upp löken från golvet (haha Aleks börjar tröttna på mitt "vad gör du nu???" – "nu tar jag upp lök från golvet"…..) Krydda med curry. I med kokosmjölk, krossade tomater och grönsaksbuljongen. Rör om och låt koka i ca 10-15 minuter på medel värme. Häll i tomatpurén under tiden och och salta och peppra efter behov. I med ananasen sist av allt (om den inte är färsk, skölj bitarna innan), typ 2 min. Klaaaart!! Servera med råris och haricots verts.
---
Here's the recipe for Aleks lentil stew! :-) Sometimes we also have tofu in it but not this time. We do A LOT of it so that we can eat it for a couple of days, so this is for maybe 8 people? It took about 50 minutes to cook.

8dl green lentils
3 big yellow onions
1 whole garlic
3 cans of coconut milk (400ml each)
2 packages of crushed tomatoes (500g each)
2 cans of pineapple (340g each)
150g tomato paste
7 vegetable broth cubes (or what's it called?!)
5 tbsp curry powder (well it's a matter of taste)
Salt & pepper
Start with boiling the lentils. Chop the onion and fry in a LARGE saucepan. Crush the garlic and add it. Remove the water from the lentils and add them in the big saucepan. Pick up the onion from the floor (haha Aleks is getting tired of my "what are you doing now????" – "now I'm picking up the onion from the floor"….) Add curry. Add coconut milk, the crushed tomatoes and the vegetable broth. Stir and let it cook for about 10-15 minutes on medium heat. Pour in the tomato paste in the meantime and add salt and pepper after your taste. Add the pineapple in the end, when it's like 2 minutes left. Doooone!!! Serve with brown rice and green beans.