THE BIG 10 GIVEAWAY – PART I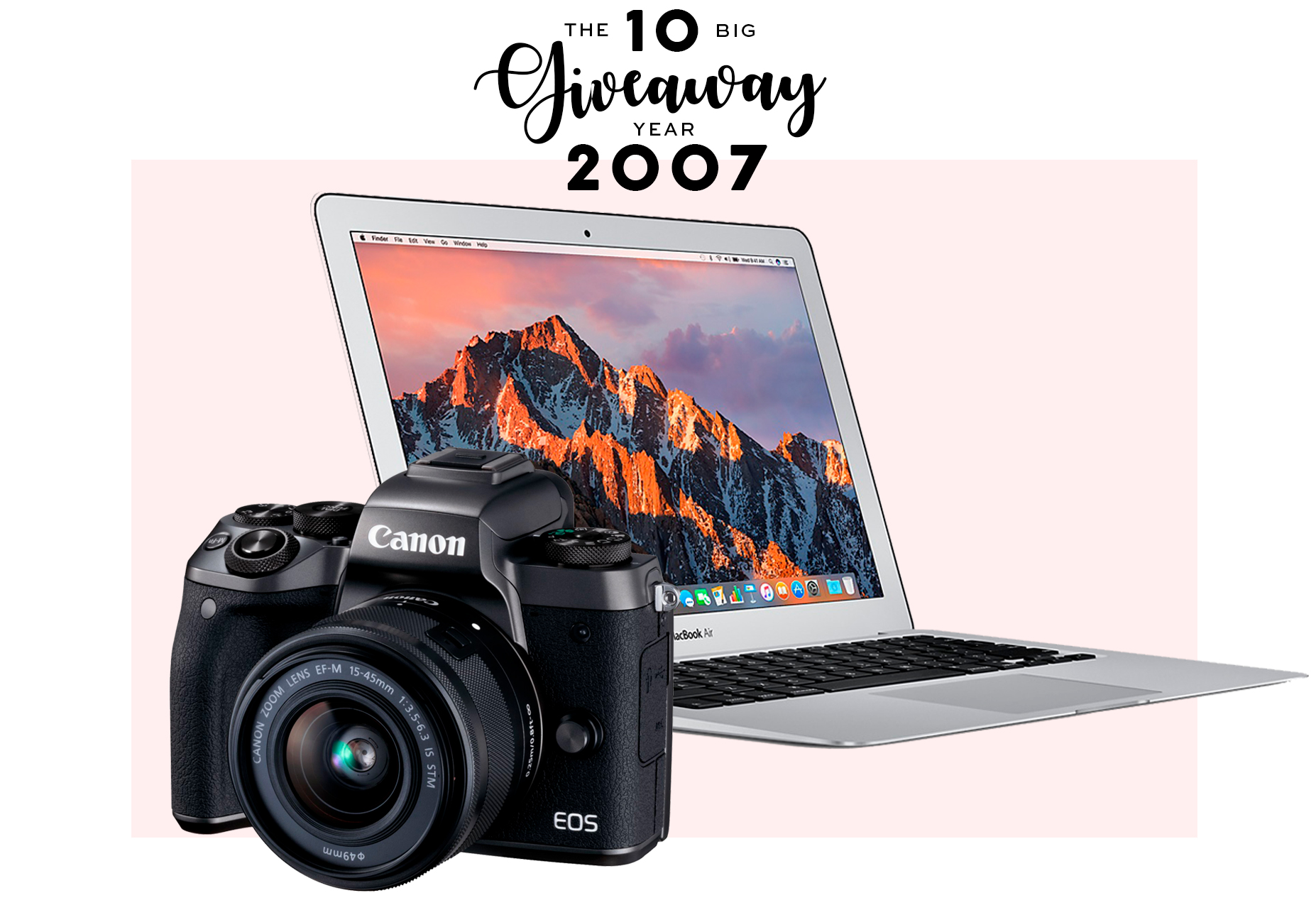 This giveaway is to celebrate these past 10 years that I've shared with you guys here on my blog. Every giveaway will somehow be connected to each year – here's 2007!
Nu drar vi igång min stora giveaway! 2007 var mitt första hela år som bloggare, och det var här jag verkligen la ner varenda ledig liten sekund jag hade på att uppdatera bloggen. På morgonen innan skolan, på rasterna i skolan, hemma, kvällar, nätter… Jag prioriterade bloggen framför familjemiddagarna (fråga bara min mamma, haha) och ville en vän hänga efter skolan svarade jag alltid "jag måste bara hem och blogga först!" Därför ville jag börja med ett pris som kanske kan hjälpa någon av er med bloggandet?
Sånna här fancyschmancy-grejer hade inte jag på den tiden, men nu är det bra utrustning som gäller för att hålla hög kvalité på sin blogg så därför tävlar jag nu ut en Canon EOS M5 + 15-45mm lens (tack Canon för att ni är med och sponsrar med denna kamera!) och en MacBook Air 13″. Totalt värde ca 22.000 SEK.
Här kommer reglerna. Lycka till!
– Lämna en kommentar till detta inlägg där du skriver typ JAAA JAG VILL VARA MED! Hehe.
– Svara även på denna fråga: Varför läser du bloggar?
– Glöm inte fylla i din mailadress så att jag kan kontakta dig om du vinner.
– Tävlingen avslutas den 31a december och jag väljer då en vinnare. Alla vinnare ur min stora giveaway kommer sedan att bli presenterade (med sina förnamn) här i början av nästa år!
– Eventuell vinstskatt betalas av vinnaren.
// Let's start my big giveaway! 2007 was my first year as a blogger, and this is when I really took every little second I had to update my blog. In the morning before school, in school on the breaks, at home, in the evenings, in the middle of the night.. I prioritized my blog over family dinners (just ask my mom, haha) and if a friend wanted to hang out after school I always said "I just have to go home and update my blog first!" That's why I wanted to start with a prize that maybe can help one of you with your blog?
I did not have this kind of fancy schmancy stuff back then but now you need good equipment to keep a high quality on your blog, so that's why I'm giving away a Canon EOS M5 + 15-45mm lens (the camera in this giveaway is sponsored by Canon!) and a MacBook Air 13″. Total value around 2000 euro.
Here are the rules. Good luck!
– Leave a comment on this post telling me like OOOHHHH I WANT TO JOIN! Hehe.
– Also, answer this question: Why do you read blogs?
– Don't forget to fill in your e-mail address so I can contact you if you win.
– The competition will end on the 31st of December and I will choose a winner. All the winners of my big giveaway will be presented (with their first names) here in the beginning of next year!
– The winner is responsible for eventual profit tax.
From my blog in 2007! Those outfits though…. :')