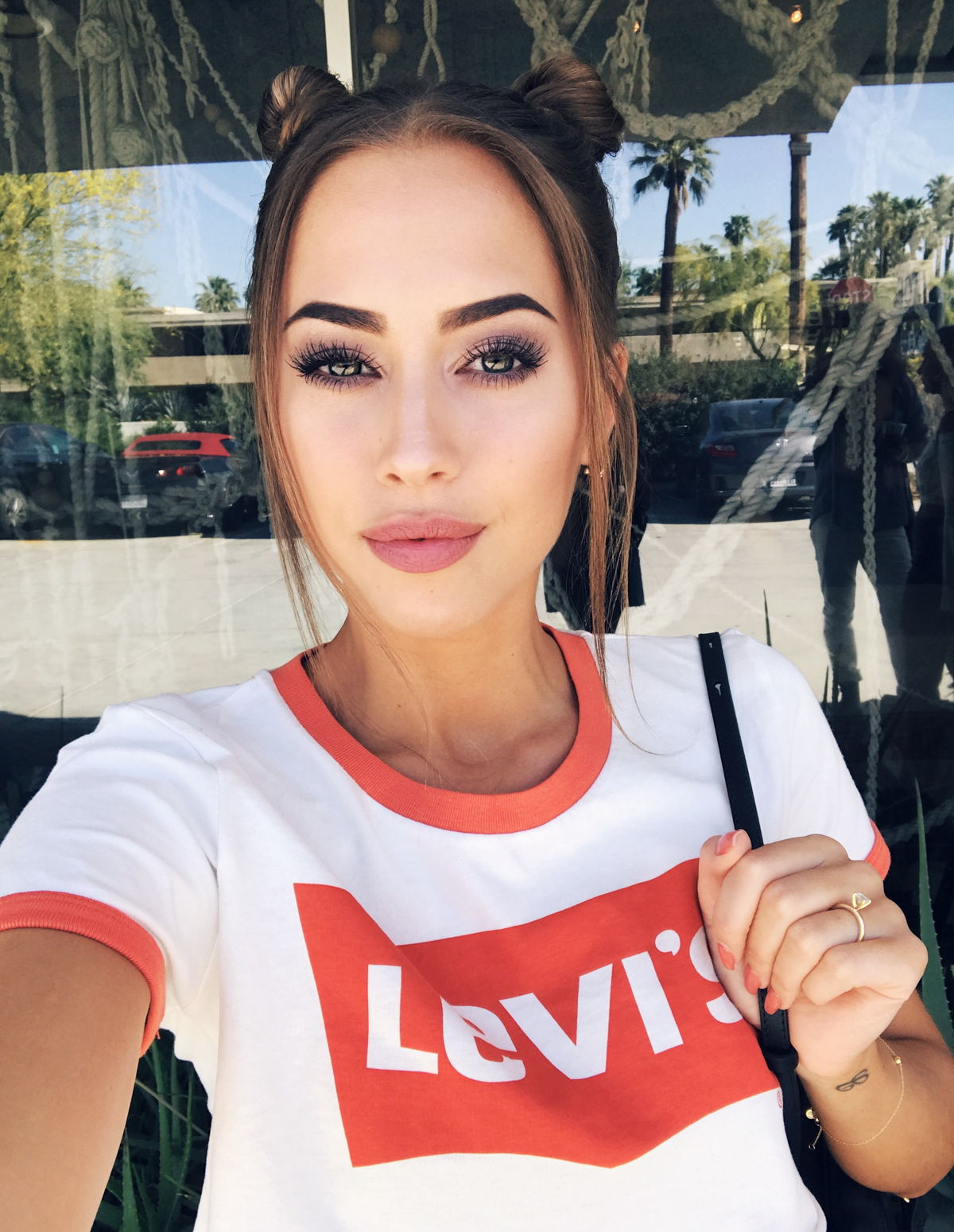 Här kommer en bildbomb från dag 2 på Coachella! Som jag skrev innan så var vi på en brunch på förmiddagen, sedan gick vi tillbaka till hotellet för att duscha och göra oss i ordning. Håret satte jag upp (med hjälp av Humlizzzz) i två bollar på huvudet. Så jäkla skönt att få bort håret eftersom att det var så varmt, vill typ alltid ha denna frilla haha!
// Here's a whole bunch of photos from day 2 at Coachella! Like I wrote earlier we were at a brunch in the morning, then we went back to the hotel to shower and get ready. I put my hair up (with help from Alexandra) in two buns on my head. So nice to put it up since it was so hot, I always want to have this hairstyle haha!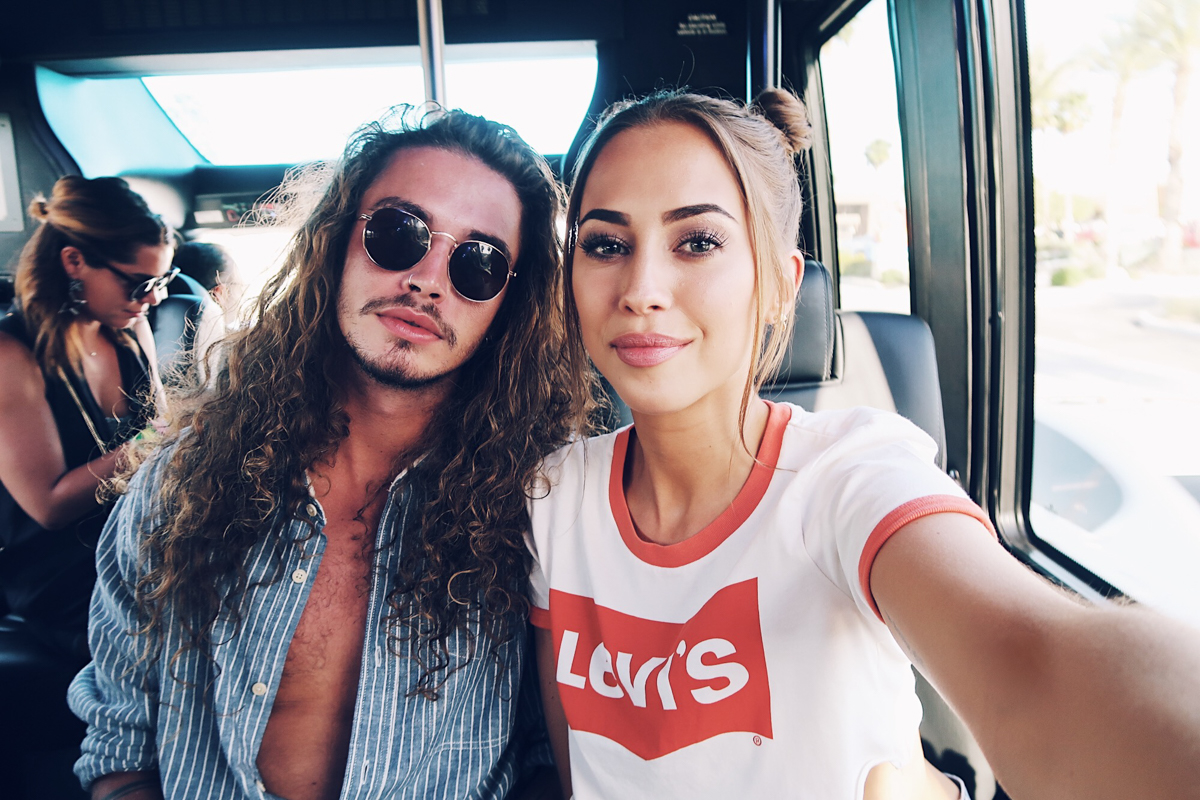 Sedan hoppade vi på bussen till Coachella! Här är jag och min nya polare Giaro från Holland. Fett skön snubbe! Det tar ungefär 40 min från Palm Springs till festivalen så vi drack drinkar, spelade musik och dansade.
// Then we got on the bus to Coachella! Here I am with my new buddy Giaro from Holland. Such a nice dude!It takes about 40 minutes from Palm Springs to the festival so we had drinks, played music and danced.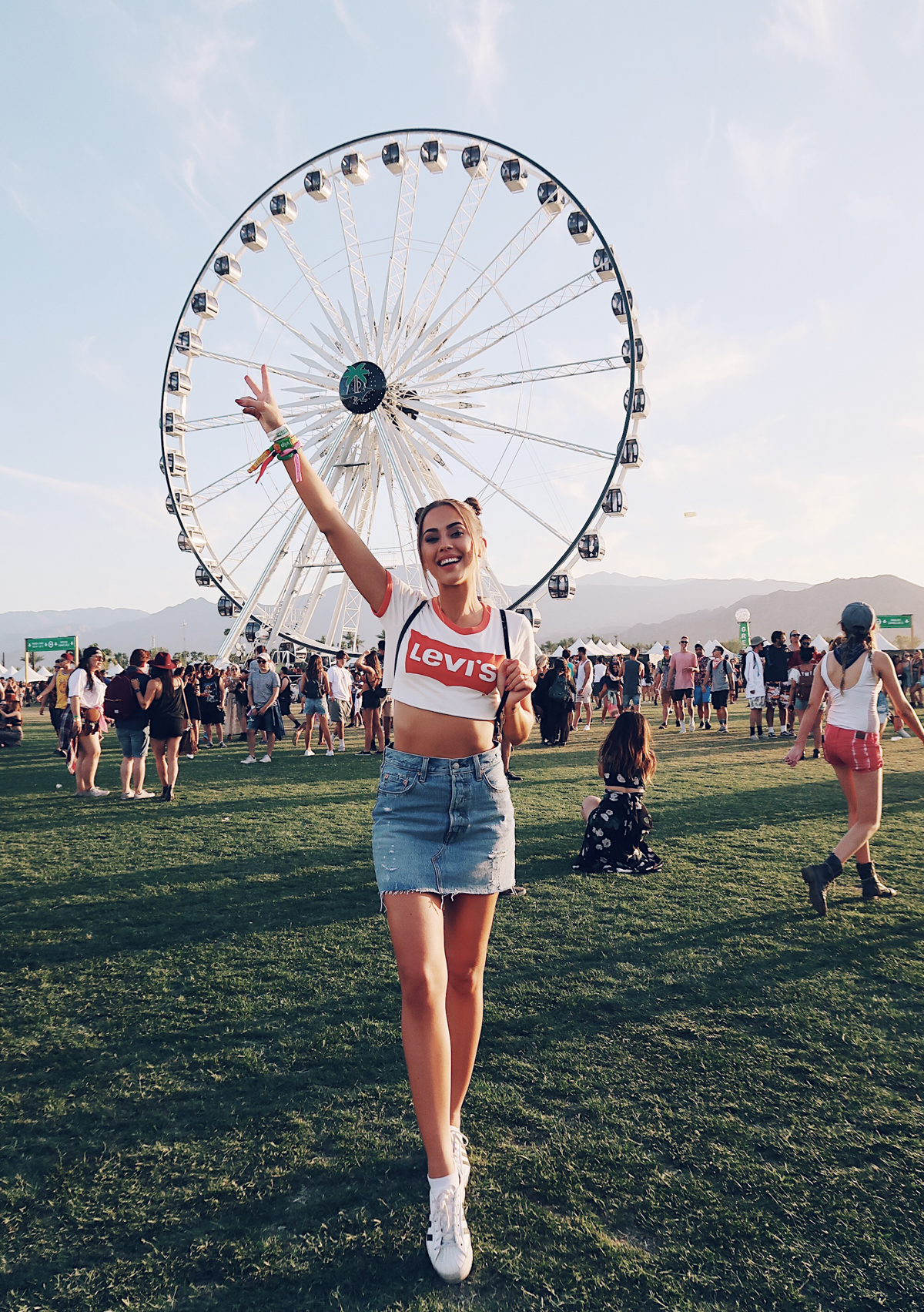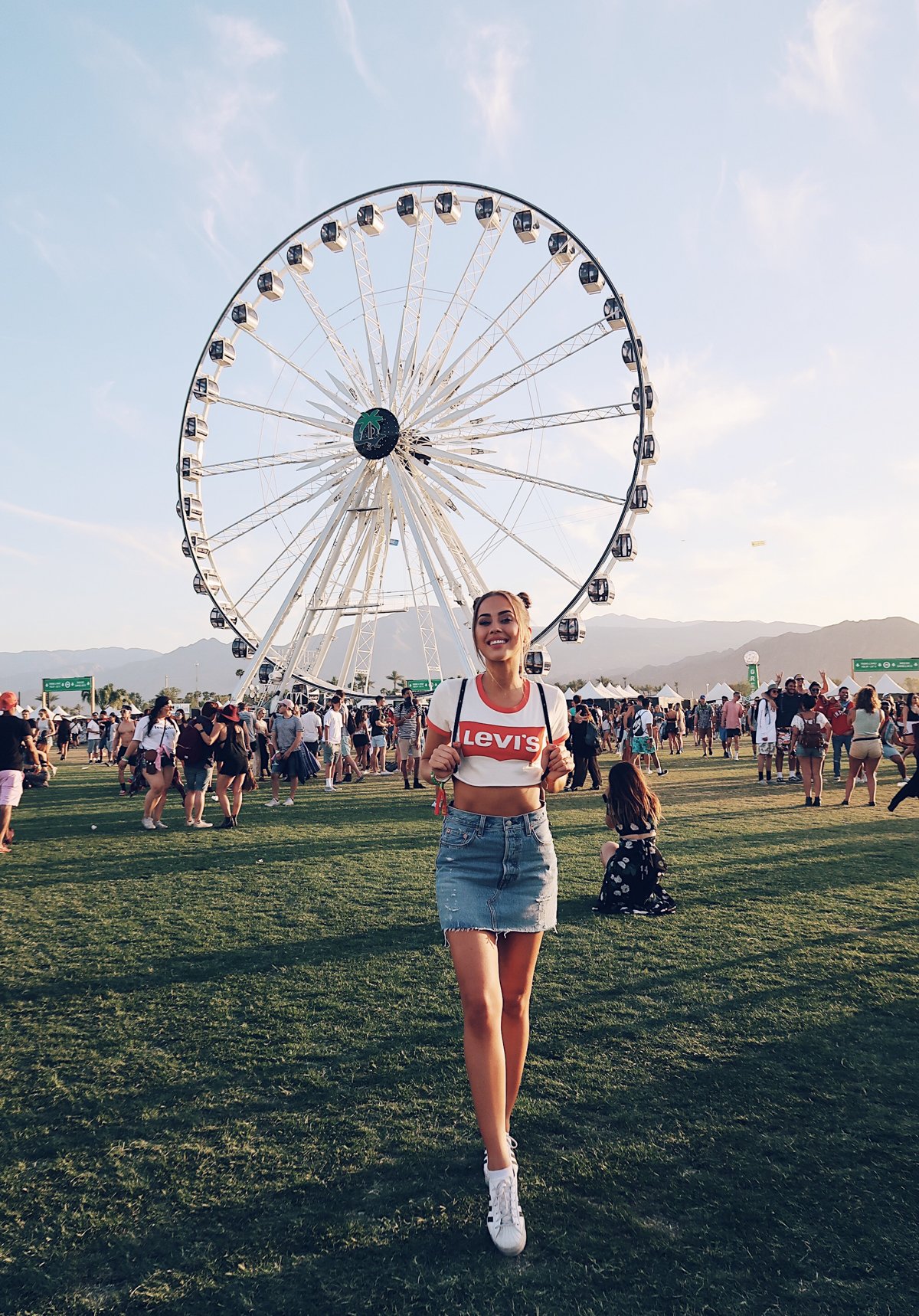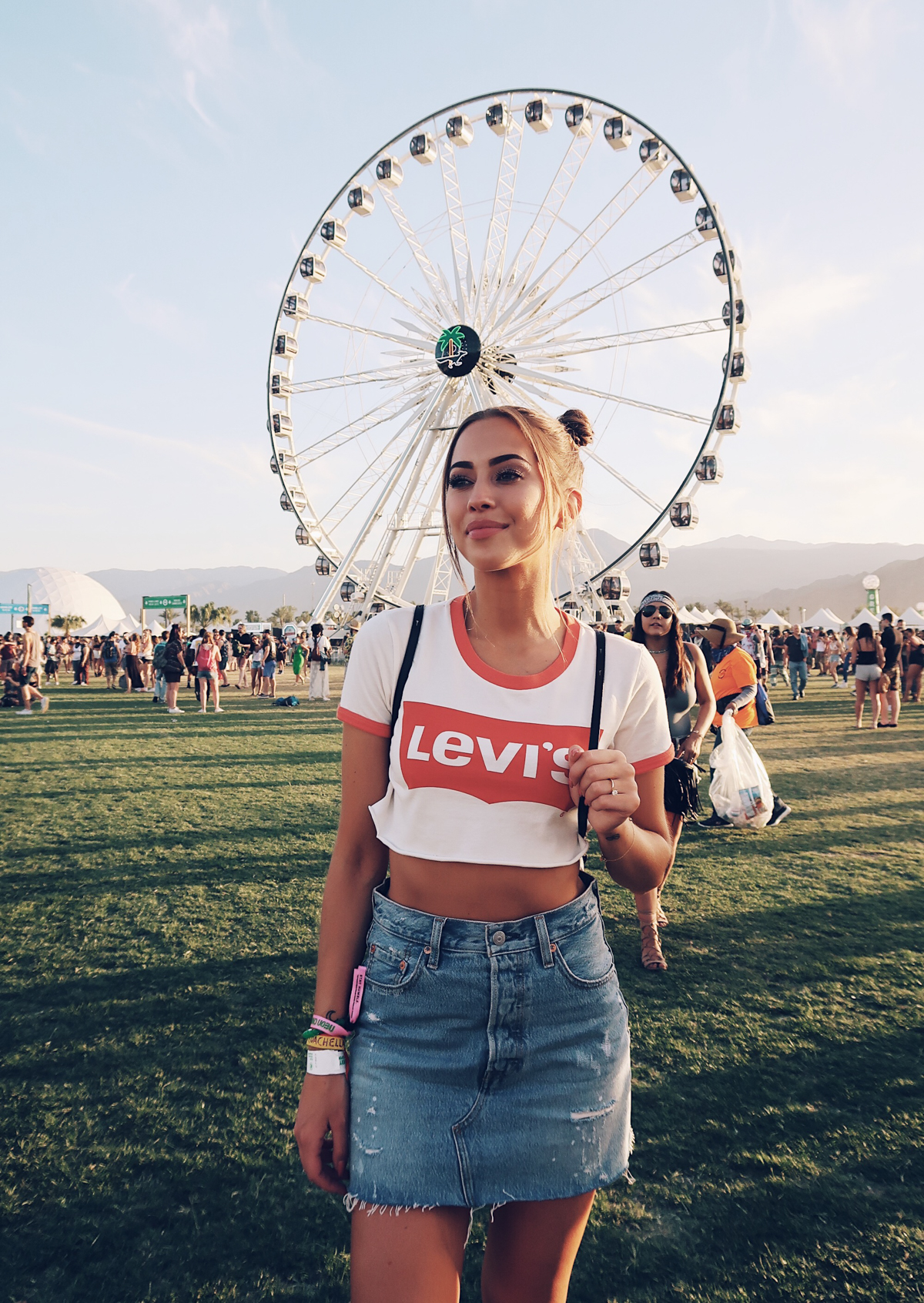 När vi kom fram skyndade vi oss till Pariserhjulet för att ta de obligatoriska Coachella-bilderna, för det hann vi inte göra dagen innan för då var det redan mörkt när vi kom fram.
Denna dag körde jag på en väldigt bekväm outfit med avklippt tisha och kjol från Levi's (som jag var på resan med! var inte tvungen att bära deras grejer, så ni vet :-)), sneakers från Adidas och min lilla rygga från Chloé.
// When we got there we hurried to the Ferris wheel to take the traditional Coachella photos, because we didn't do that the day before because it was already dark when we got there.
I went for a comfy look for this day with a t-shirt and skirt from Levi's, sneakers from Adidas and my little backpack from Chloé.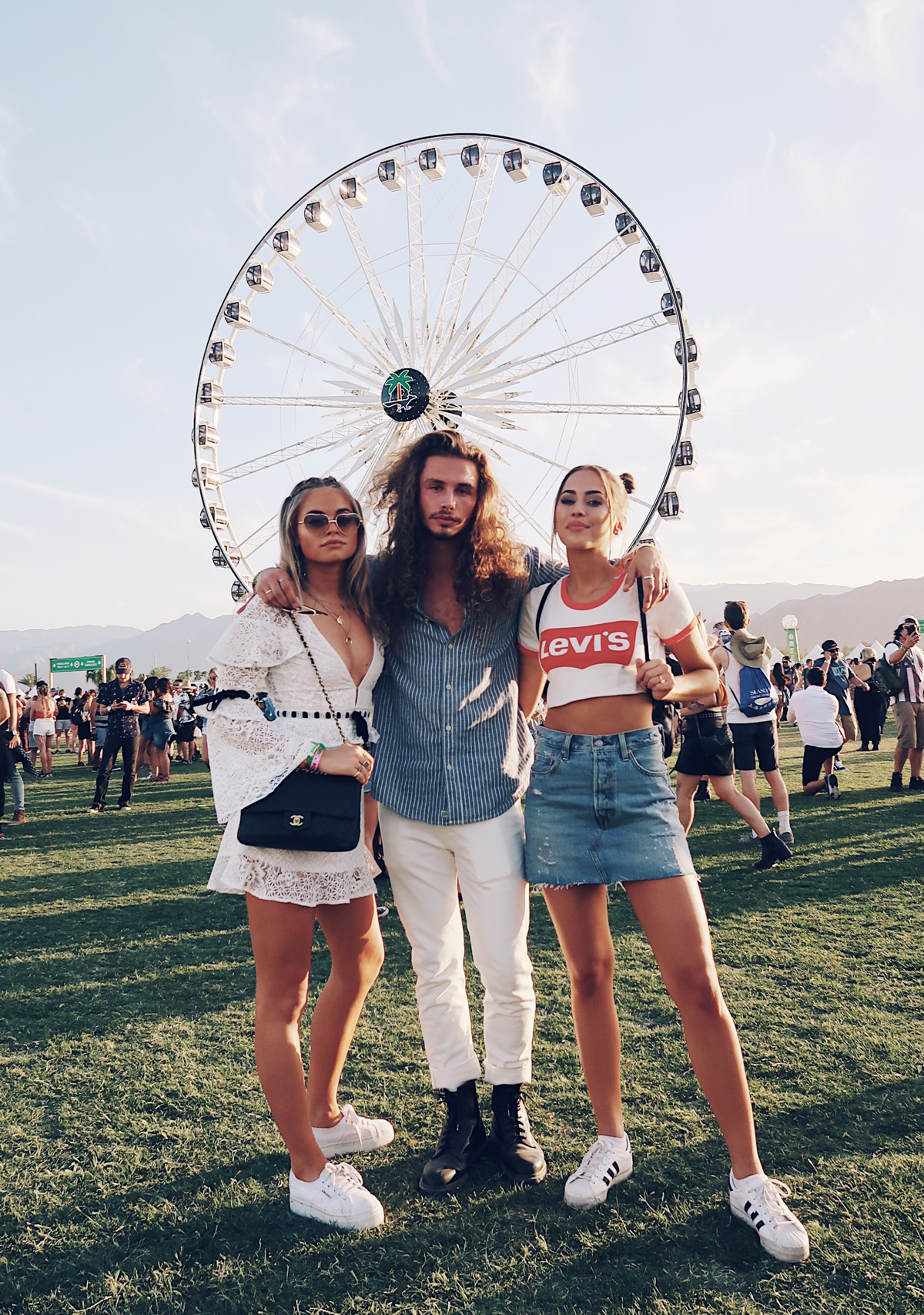 Och så en bild med mina favorit-Holländare Claire och Giaro! Vi har haft så kul med dem denna helg. Det är faktiskt väldigt sällan man träffar människor i denna bransch (iallafall utanför Sverige) som känns varma och äkta, det är därför jag nästan alltid håller mig undan litegrann. Det tar för mycket energi från mig att hålla på att låtsas som de gör. Man ger och ger och försöker föra en vettig konversation men får inte ens en fråga tillbaka. Ibland funderar jag på att ba säga något jävligt sjukt för att se om de ens lyssnar? Det är så mycket me me me. Jag orkar inte sånt. Nu träffade vi flera personer som var riktigt härliga och kändes genuina, så det var kul!
// And a photo with my favorite Dutch Claire and Giaro! We've had so much fun with them this weekend. It's actually rare for me to meet people in this business (at least outside Sweden) that feels warm and real, that's why I almost always stay away a bit. It takes too much energy from me to pretend like they do. You give and give and try to have a normal conversation but you don't get a single question back. Sometimes I want to say something really fucked up just to see if they are even listening? It's just me me me. I can't stand that. This time we met several people who were lovely and felt genuine, so that was fun!
Hejdå solen! Det är så himla fint på Coachella-området.
// Bye sun! It's so beautiful at the Coachella area.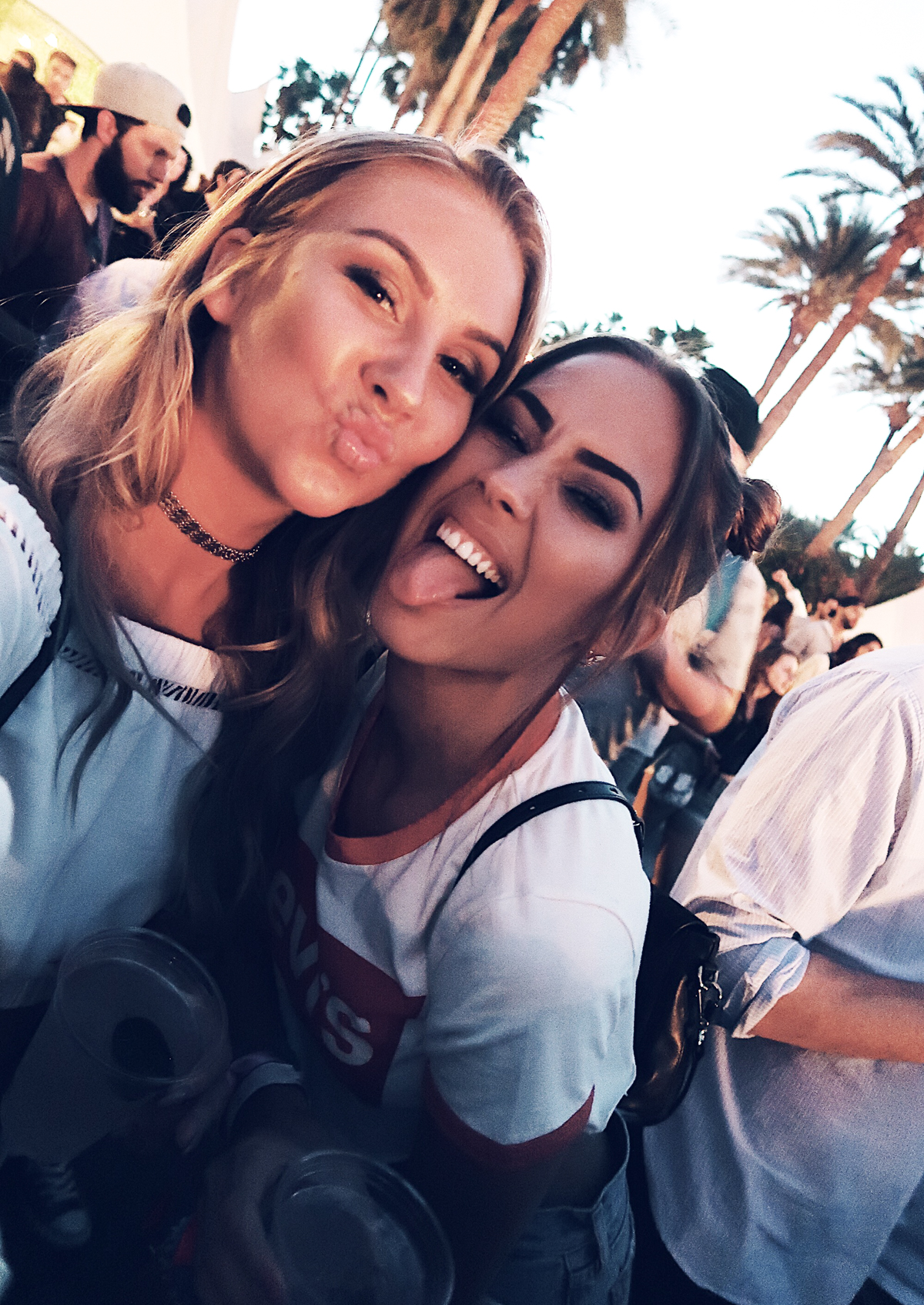 Efter lite burgare och pommes så kollade vi på Future (och Drake!), dansade i gräset och drack drinkar. Så glad över att vara här med mitt hjärta, jag vet att hon alltid har drömt om att åka på Coachella så när jag fick förfrågan av Levi's att åka med dem i år så var det ingen tvekan om saken. Hon skulle ba med!
// After some burgers and fries, we watched Future (and Drake!), danced in the grass and had cocktails. I'm so happy to be here with my sweetheart, I know that she has always dreamed about going to Coachella so when Levi's asked me if I wanted to go with them this year there was no doubt. She was coming with me!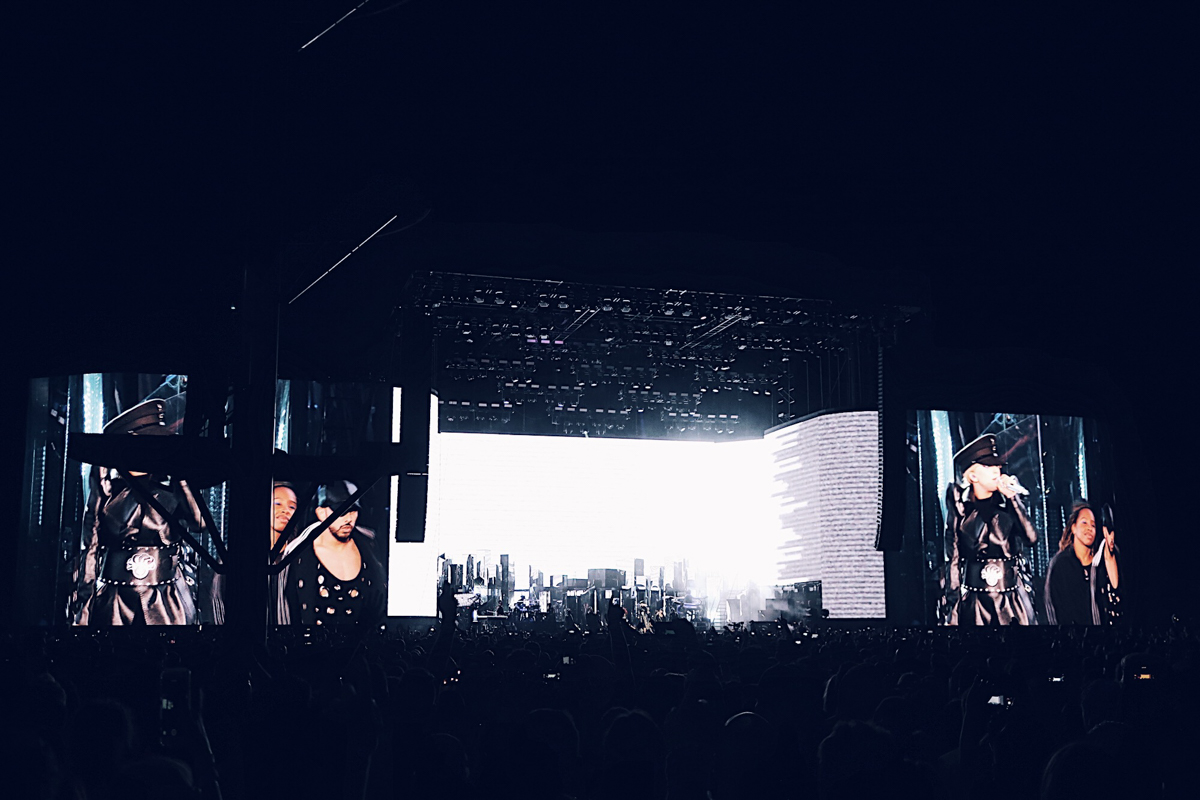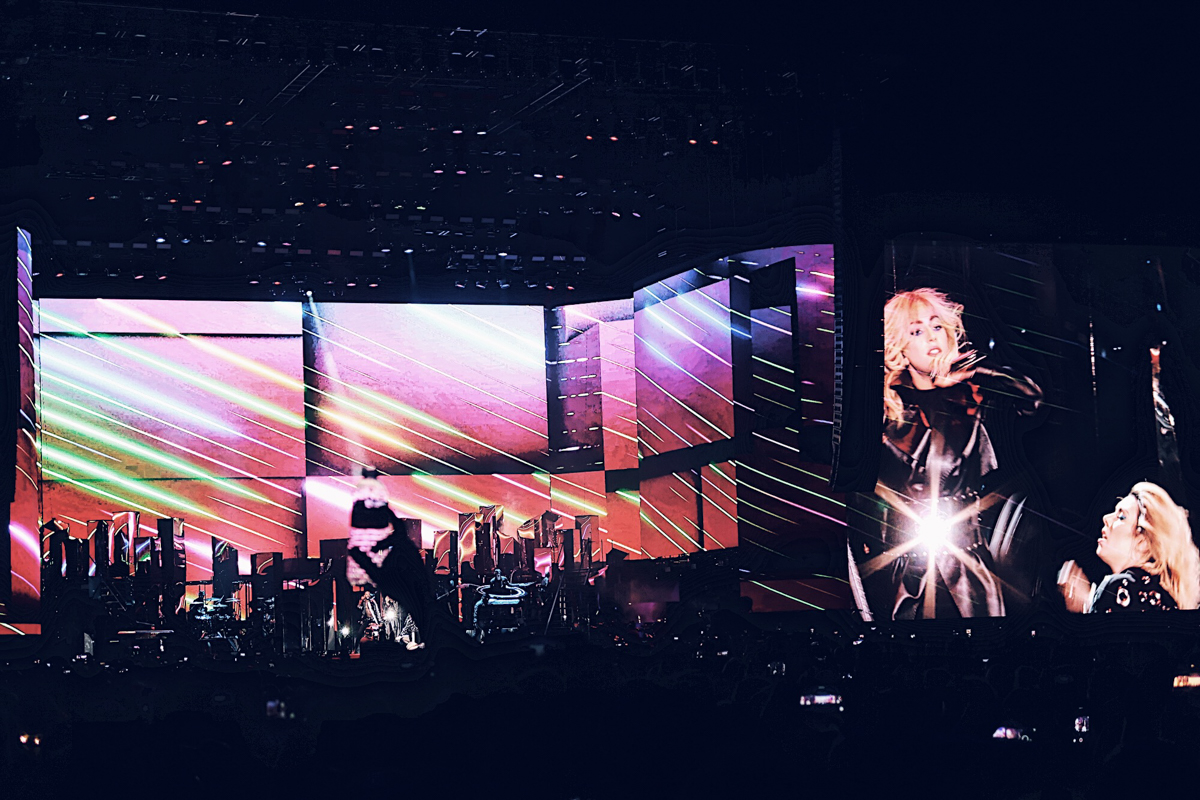 Sen var det äntligen dags för Lady Gaga! Som ni kanske vet så hoppade hon in för Beyoncé som ställde in för några månader sedan. Jag har alltid gillat Lady Gaga så för mig var det helt ok. :-)) Hon bjöd som alltid på en megashow och vi hoppade och skrek med i låtarna. Hon är så JÄVLA bra.
// Then it was finally time for Lady Gaga! As you might now she jumped in instead of Beyoncé who cancelled a few months ago. I've always liked Lady Gaga so that was totally fine by me. :-)) She gave us a huge show as always and we jumped and screamed along in the songs. She's SO freaking awesome.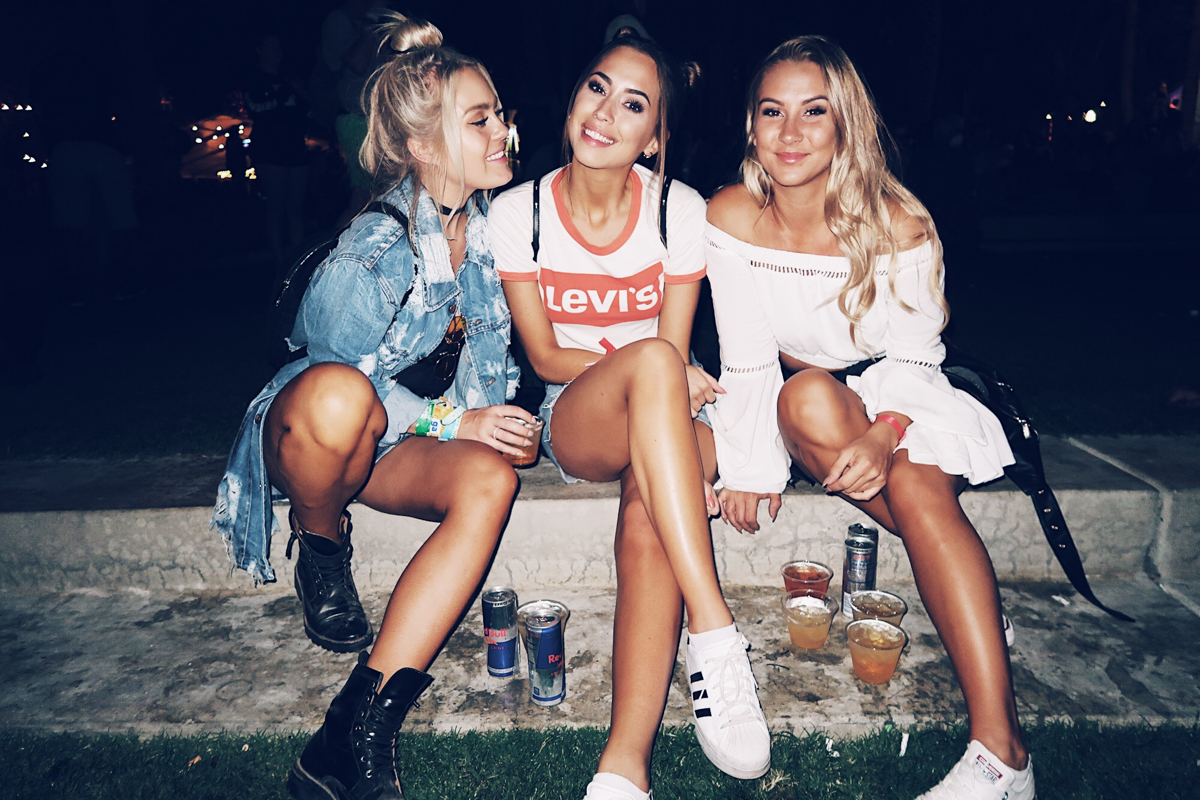 Juste, glömde! Vi hade ju den här bönan med oss också. Men vilken jävla struggle det var haha. Festivalområdet är ju gigantiskt och nätet suger så det tog mig och Angelica typ 2 timmar att hitta varandra.
// Oh, I forgot! We had this babe with us too. But what a freaking struggle that was haha. The festival area is huge and the phone reception sucks so it took me and Angelica about 2 hours to find each other.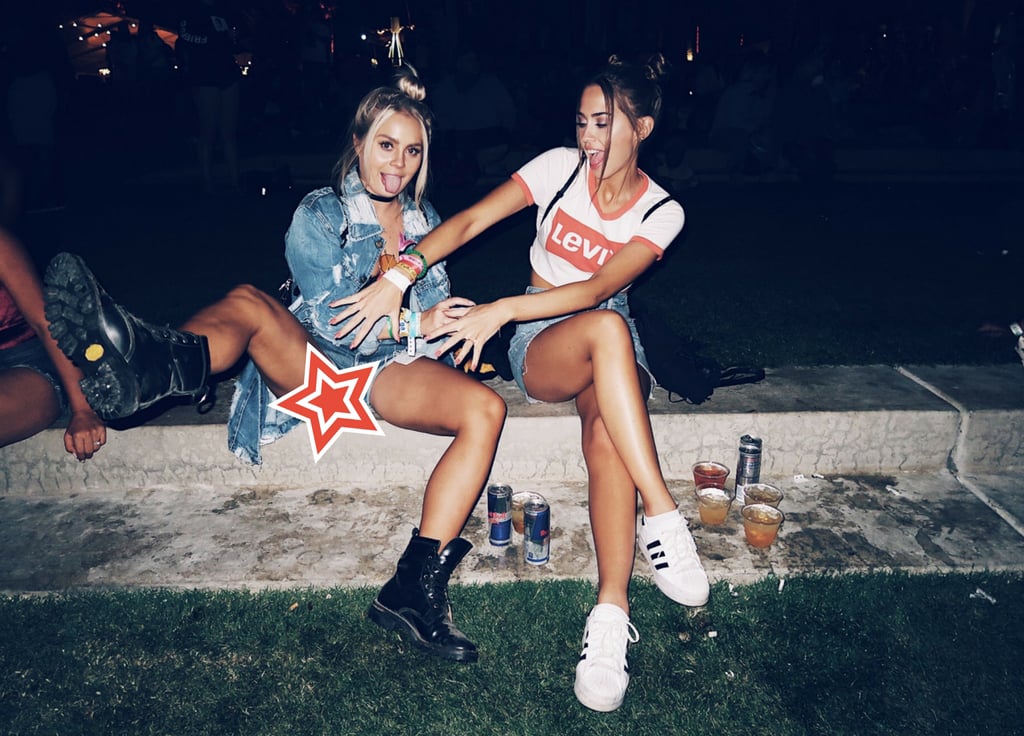 Haha har alltid så kul med denna tjej. <3
// Haha I always have so much fun with this girl. <3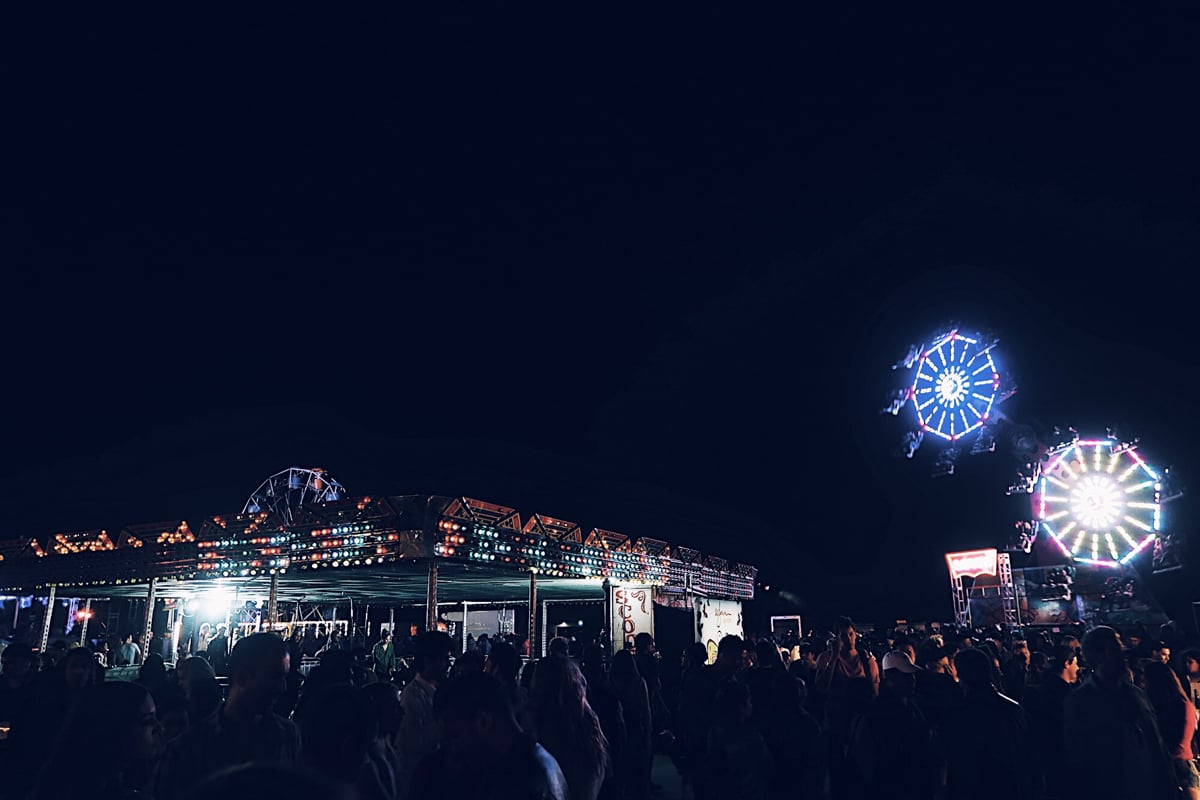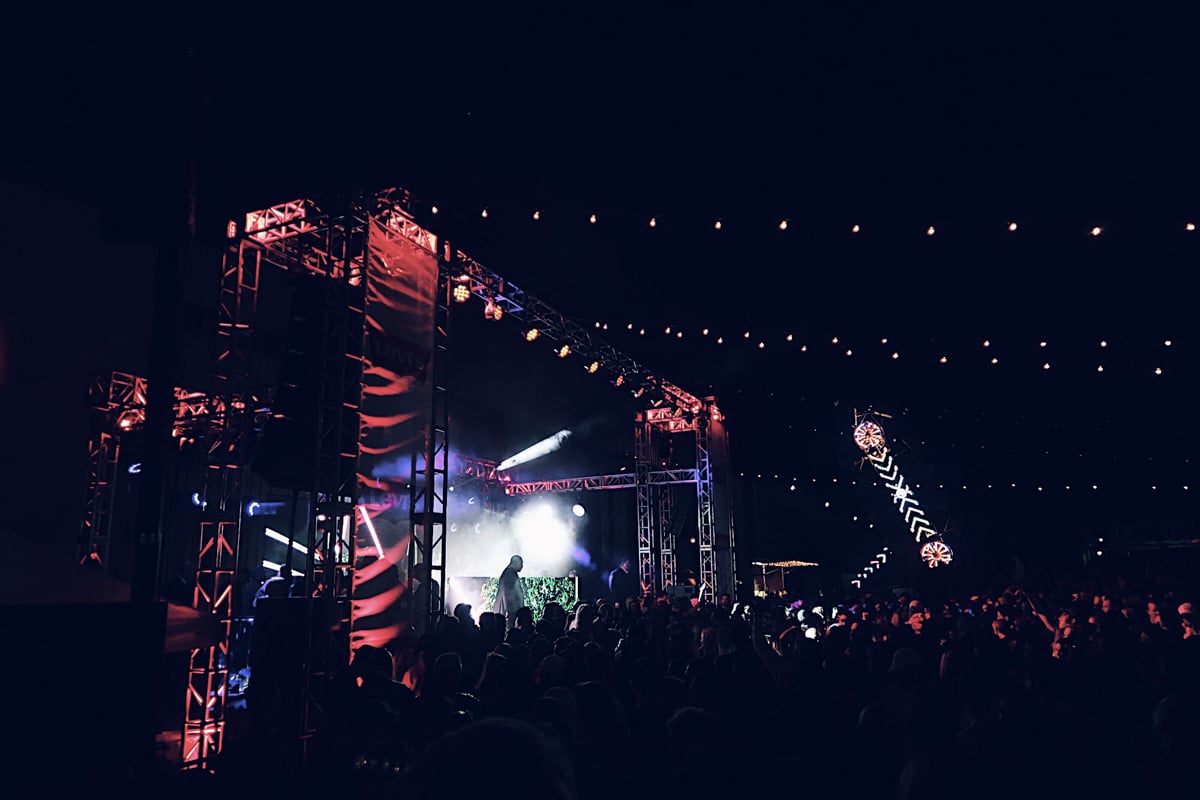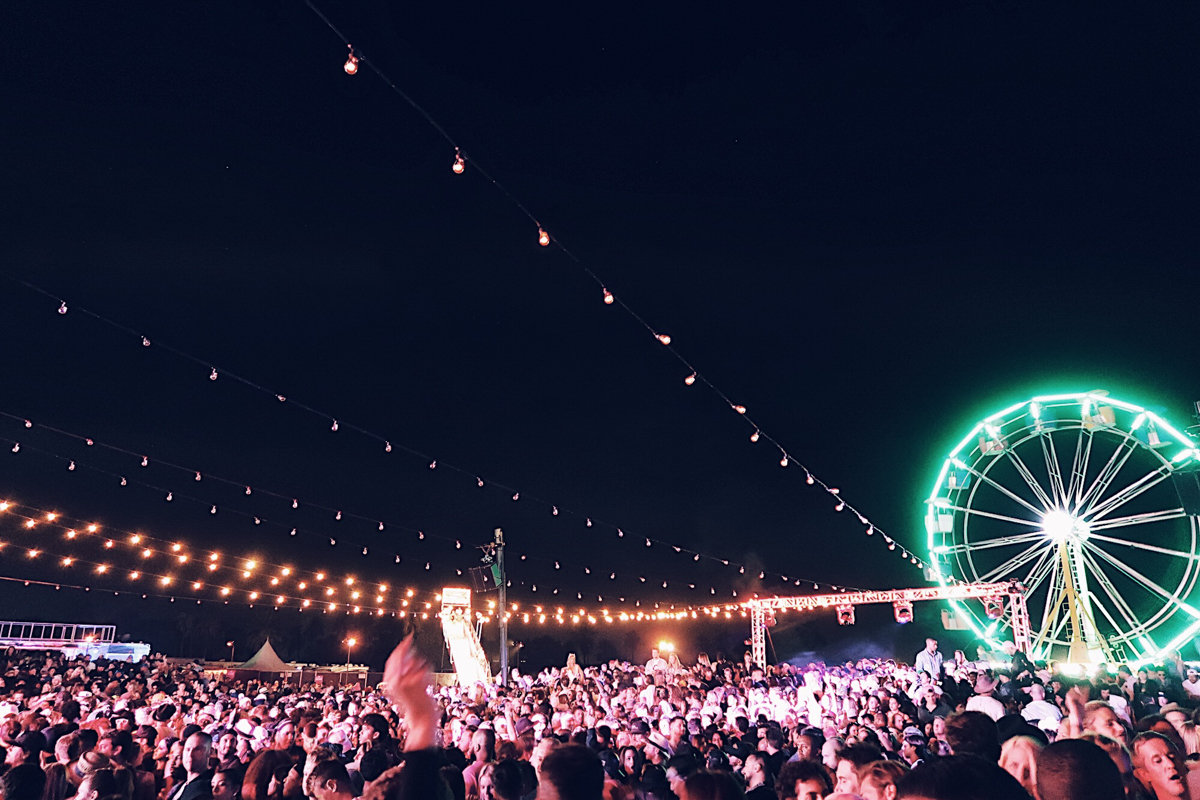 När festivalen var slut så åkte vi till Neon Carnival! Det är en av de största festerna under Coachella och vi sprang runt bland superstars som Rihanna, the Weeknd och Drake…. Fick vi höra efteråt alltså, vi såg ingen haha!
Vi var nog inte hemma förrän vid 5? Sov typ 3.5 timme och sedan var det bara att gå upp och köra den allra sista dagen. Mer om dag 3 senare!
// When the festival was over we went to Neon Carnival! It's one of the biggest parties during Coachella and we ran around there among superstars such as Rihanna, The Weeknd and Drake…. Well that's what everyone told us afterwards, we didn't see anyone haha!
I don't think we were home until 5 am? We slept like 3.5 hours and then we had to get up and start the very last day. More about day 3 later!