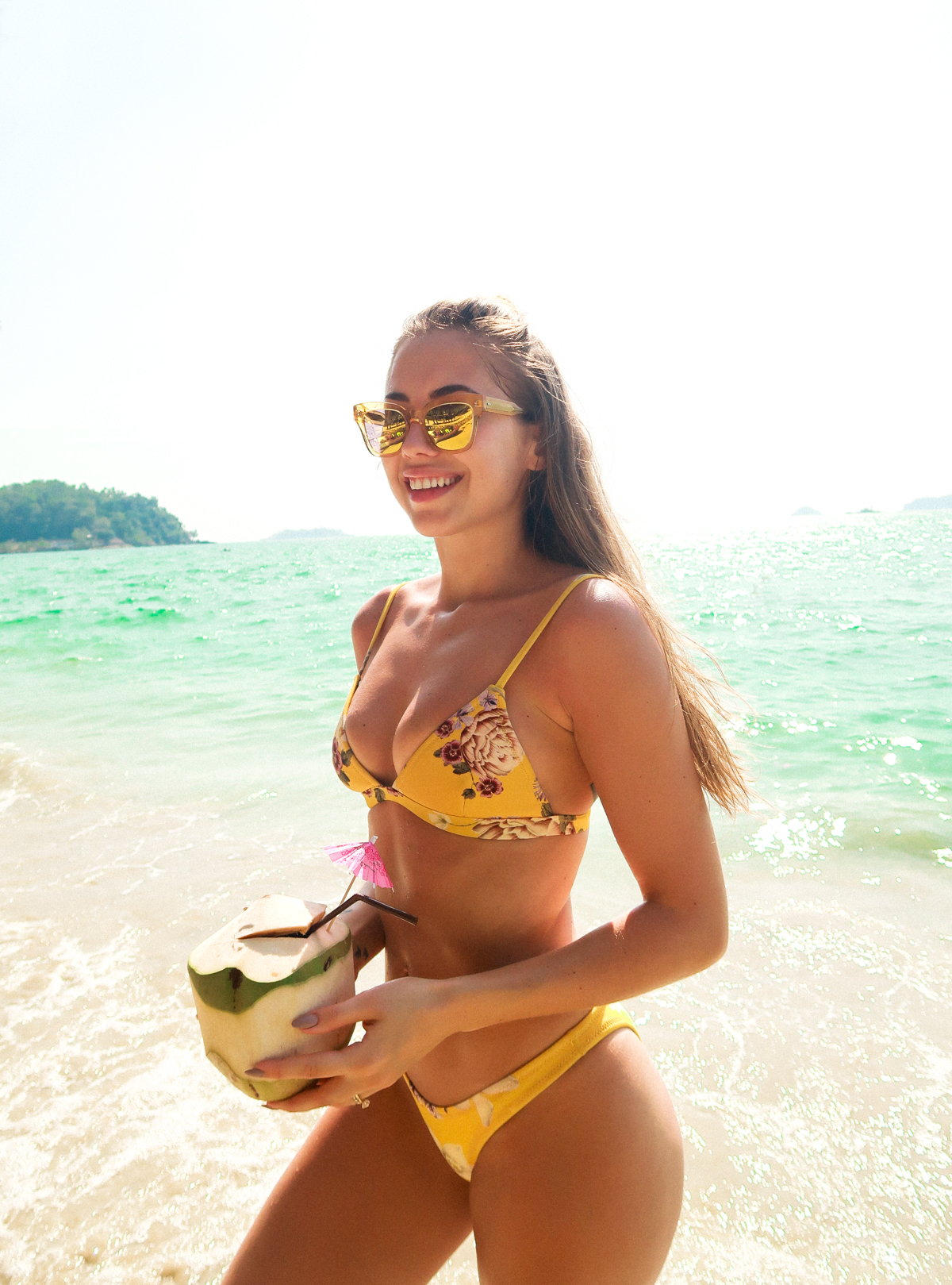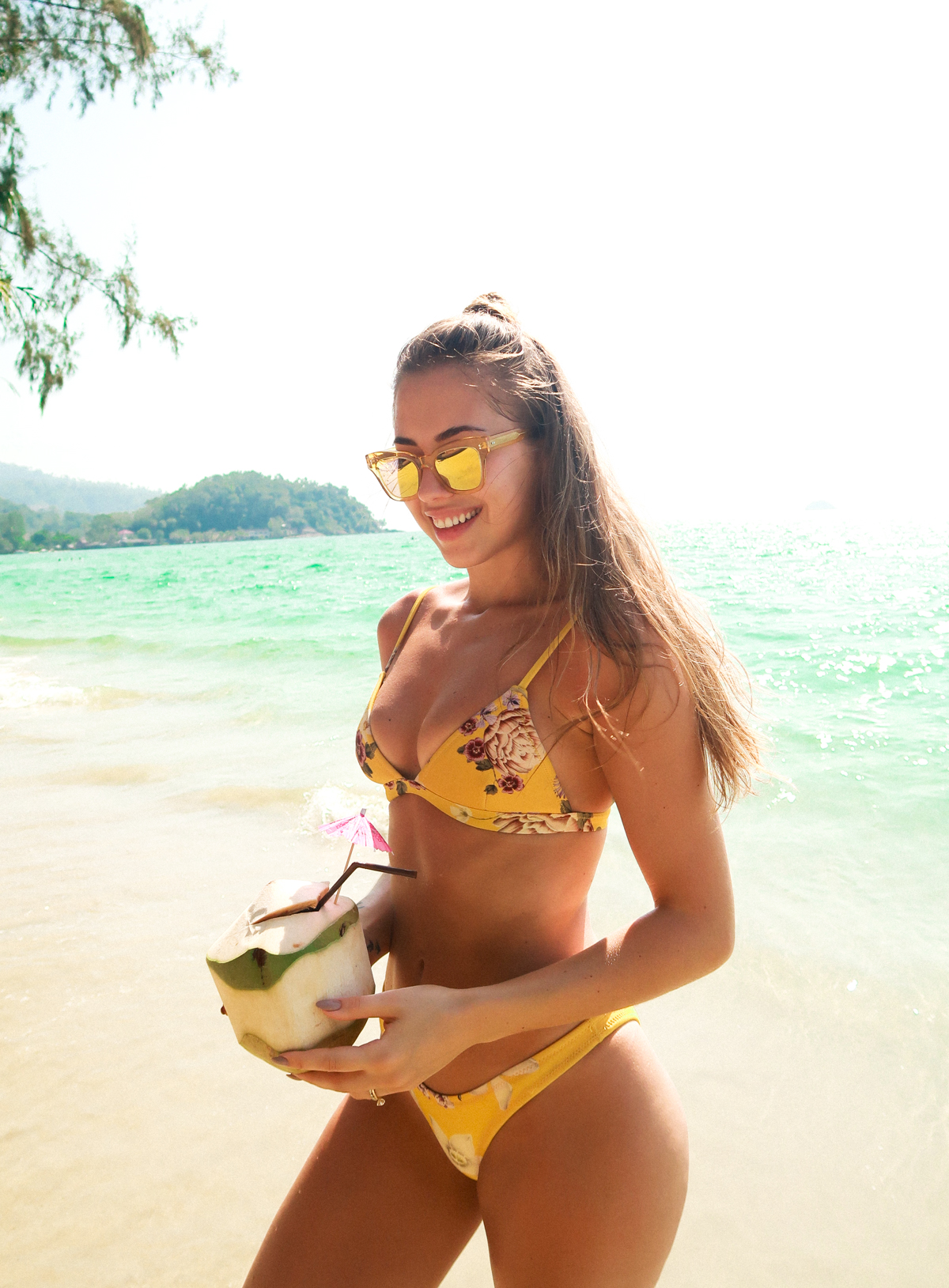 Started 2018 on a beach with a fresh coconut! Bikini from Triangl, sunglasses from Chimi Eyewear.
NU börjar jag komma in i vardagen igen (inte helt lätt efter jul/nyår och semester, har fan varit borta till och från i nästan en månad?!) med jobb, möten, rutiner och allt vad det är. Eftersom att vi "firade" nyår uppe i luften och sedan var i Thailand där jag varken hade koll på datum eller tid så har jag inte riktigt landat i att det är nytt år igen. 2018. TVÅTUSENARTON. Så sjukt.
Jag är sämst på nyårslöften och sånt, men vad jag önskar mig för 2018 är (blandat stort och smått!):
– Bra hälsa. Få ordning på min sköldkörtel. Nästa vecka har jag käkat Levaxin i 6 veckor, ska ta nya prover då och se om vi fått ordning på mina värden eller om vi måste justera dosen (ligger på 50 mg nu). Jag ska även hålla min regelbundna träning (2-3 pass i veckan) och fortsätta äta bra mat (MYCKET grönt!), men också äta för själen när jag känner för det. Fortsätta hålla balansen helt enkelt!
– Lycka. Efter 2017 som var ett tufft år så önskar jag att jag får vara glad större delen av detta år. Glad och bekymmersfri, kommer väl inte riktigt bli så men fan vad skönt det hade varit. Jag hoppas iallafall och tror att jag kommer kunna ta mig igenom svårigheter som väntar tack vare människorna jag har vid min sida.
– Bli helt rökfri. Jag har aldrig gömt för er att jag röker ibland, mest feströker (har så jäkla svårt för att stå emot cigg när jag dricker alkohol, vilket jag knappt gör längre) eller kompisröker om en vän räcker fram en cigg, men jag vill sluta med det med. Nu har jag inte rökt ett bloss på flera veckor och det känns väldigt bra. Varje dag får jag se vad rökning tillslut gör med en person och det är fruktansvärt. Jag ska göra allt vad jag kan för att stå emot.
– Börja podda. Detta SKA bara ske, jag måste bara hitta rätt timing och jag är inte där just nu.
– Blogga bättre. Har nog aldrig bloggat så lite som under 2017 vilket inte är så konstigt med tanke på hela situationen och jag vet att jag inte ska känna mig dålig för det, men jag vill verkligen prestera bättre i denna del av mitt jobb i år. MEN – hälsa först. Jag får inte känna mig stressad över detta.
– Meditera mera. Började med detta i december (med appen Headspace) och jag gillar det som fan, men glömde bort det under semestern. Det ska jag börja med igen!
– Läsa mer böcker. Varje gång jag reser så hittar jag min kärlek för böcker igen men av någon anledning så känns telefonen viktigare är jag är hemma? Hm. Ska sluta pilla på telefonen i sängen och läsa en bok istället.
– Fira vår första bröllopsdag. Den 29e juli har vi varit gifta i ett år och det måste ju firas! Vi tänker typ antingen bjuda in alla och ha världens roligaste fest (även om den inte kommer slå vår bröllopsfest) eller typ åka iväg och göra något bara vi två.
– Resa till Maldiverna och checka av det från min bucketlist. Vi funderar på att åka i mars?
– Umgås mer med min vänner. Brukar vara bra på detta men under slutet av 2017 drog jag mig undan lite. Orkade helt enkelt inte och de har varit väldigt förstående. Men jag vet att jag mår så mycket bättre av att umgås med dem. Så ska försöka boka in lite mysiga middagar, träningsdejter och sånt nu!
– BEBISGOS! En av mina bästa vänner föder vilken dag helst nu och jag längtar.
– Träffa min syster och barnen mer. Åka ner och hälsa på eller tvinga upp dem hit oftare, vilket är roligare för här har de ju Stockholmskusinerna – Aleks brorsdöttrar!
– Springa milen. Har aldrig sprungit mer än 7-8 km och så fort våren kommer ska jag börja springa igen (kan bara springa ute, hatar löpband).
– Laga mer mat. Jag och Aleks turas om att fixa middag men medan han står och lagar storkok i timmar så beställer jag från indiska restaurangen runt hörnet….
– Köpa landställe. Kommer aldrig sluta drömma om en stuga! HOPPAS detta blir året vi hittar något som känns rätt.
– Filma mer (för privatbruk). Är ju en mästare på att ta en miljard bilder men det är ju SÅ mycket roligare att titta tillbaka på små filmklipp.
– Tatuera mig. Skulle egentligen gjort det förra året men det blev aldrig av. Men i år så! Är inte riktigt säker på vad än dock, men jag vet att den ska vara tillägnad min make/bästa vän. Inte namn dock, hehe.
– Besöka Shiva i Portugal. Nu har hon lämnat oss och det suger, men så fort hon installerat sig i Lissabon så ska jag åka och hälsa på!
Ok var nog inte så dålig på det här med löften haha, kan fortsätta i en evighet men jag stoppar här. Har ni något ni verkligen vill göra 2018?
Förresten, vill ni att jag gör en liten recap av mitt 2017 också?
// NOW I'm starting to come back to my everyday life (not so easy after Christmas/New Year's and vacation, I've been away for almost a month?!) with work, meetings, routines and all that. Since we "celebrated" New Year's up in the air and were in Thailand where I barely checked what time and date it was, I haven't really landed in the new year yet. 2018. TWO THOUSAND AND EIGHTEEN. Crazy.
I suck at New Year's resolutions etc, but what I wish for 2018 is (both big things and smaller!):

– Good health. Get my thyroid values in order. Next week I've been on medication for 6 weeks, so I'm gonna take new samples and see if we got my values right​ ​or if we have to adjust the dose (I'm on 50 mg now). I will also keep my regular workout routine (2-3 times a week) and continue to eat good food (LOTS of greens!), but also eat for the soul when I feel like it. In other words – keep the balance!
– Happiness. After 2017 that was a tough year, I wish to be happy for most of the year. Happy and care-free, not really gonna happen but damn how nice that would've been. But I hope and believe that I will be able to go through the difficulties that awaits thanks to the people I have by my side. 
– Be completely smoke free. I've never hid from you that I smoke sometimes, mostly when I party (so hard to resist a cigaret when I drink alcohol, which I barely do anymore) or when I friend offers me one. Now I haven't smoked anything at all for several weeks and it feels very good. Everyday I see what smoking eventually does to a person and it's terrible. I will do my best to resist. 
– Start a podcast. This WILL happen, I just have to find the right timing and I'm not there right now.
– Post more on my blog. I have never blogged as little as in 2017, which is not weird considering the whole situation and I know I should not feel bad about it, but I really want to perform better in this part of my job this year. BUT – health first. I should not feel stressed about this.
– Meditate more. Started with this in December (with the app Headspace) and I like it a lot, but forgot doing it during our vacation. I'll start with that again!
– Read more books. Every time I travel, I find my love for books again. But for some reason the phone feels more important when I'm at home? Hm. Stop being on my phone in bed, read a book instead.
– Celebrate our first wedding anniversary. On July 29th, we have been married for a year and we mustcelebrated! We intend to either invite everyone and have the world's best party (although it will not be as fun as our wedding party) or maybe go away and do something just the two of us.
– Travel to the Maldives and check it off my bucket list. We are thinking about going in March?
– Hang out more with my friends. I'm normally good at this but in the end of 2017 I pulled myself away a bit. I just didn't have the energy and my friends have been very understanding. But I know I feel so much better when I spend time with them so I'll try to book some cozy dinners, workout dates and so on now!
– CUDDLE WITH A BABY! One of my best friends is giving birth any day soon and I'm so looking forward to it.
– See my sister and the kids more. Travel and visit them or make them to come up more often, which is more fun since they have their Stockholm cousins here​​ – Aleks nieces!
– Run 10 km. I've never done more than 7-8 km and as soon as the spring comes I'll start running again (I only run outside, I hate treadmill).
– Cook more food. Aleks and I take turns on making dinner but while he's cooking big stuff for hours, I order form the Indian restaurant around the corner… 
– Buy a country house. I will never stop dreaming about a cabin! HOPE this will be the year that we find something that feels right.
– Film more (for private use). I'm a master at taking a billion pictures, but it's SO much more fun to look back on videos.
– Get a new tattoo. I was supposed to get one last year but it just didn't happen. But this year it will! Not really sure what motive yet, but I know it will be dedicated to my husband/best friend. Not his name though, hehe. 
– Visit Shiva in Portugal. She has left us now and that sucks, but as soon as she's ready in Lisbon I will go and visit!
Ok I guess I wasn't that bad at this whole resolution thing haha, I can go on forever but I'll stop here. Do you have something you really want to do in 2018? 
By the way, do you want me to do a little recap of my 2017 as well?