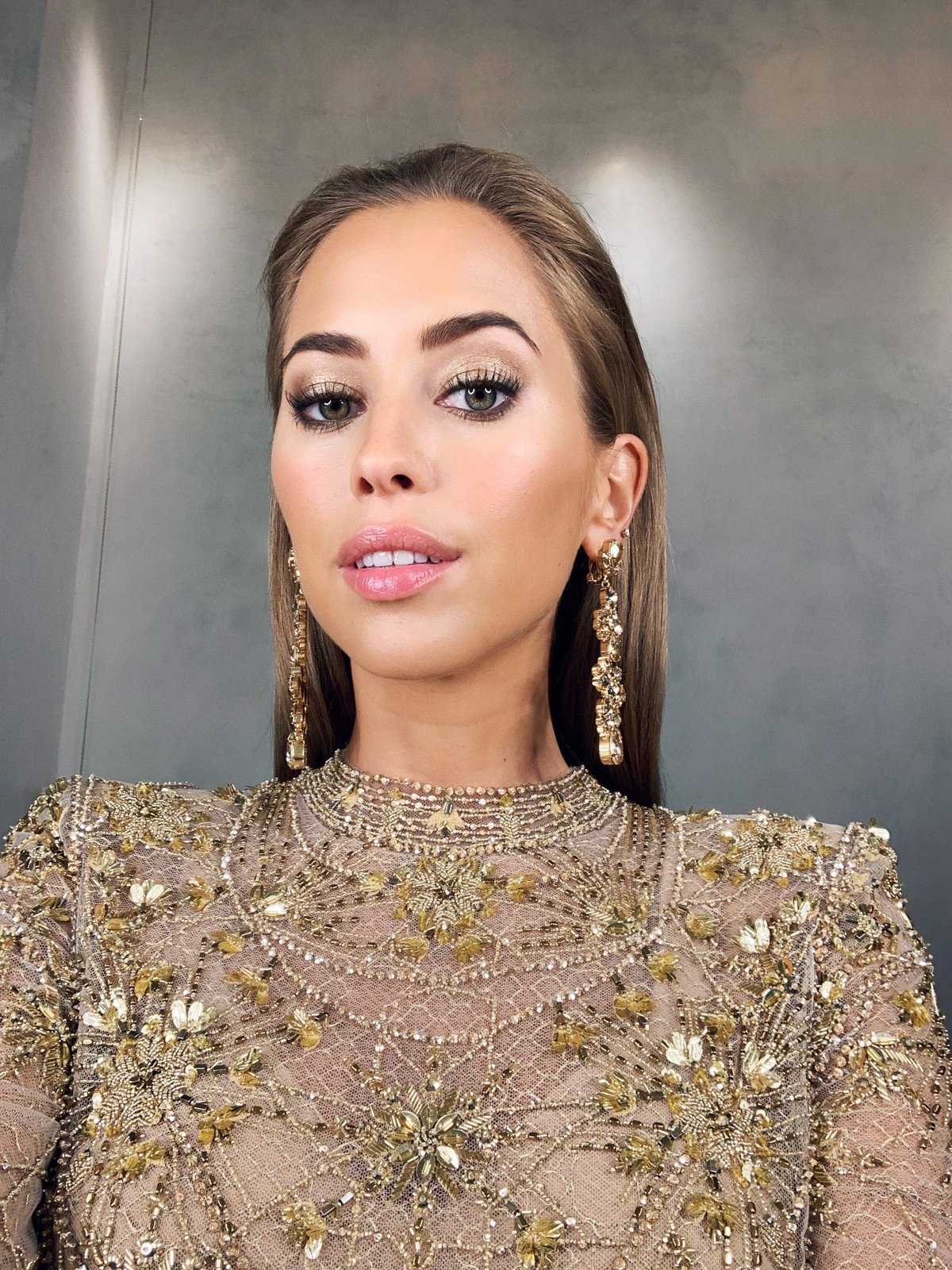 Hej hjärtan! Jag var helt utslagen igår efter fredagskvällen (jag somnar vid 21 varje kväll nu så att vara ute till ett var rekord hehe) och behövde en riktig slappardag för att återhämta mig. Jag och Aleks gick en långpromenad med Mani i Hagaparken, lagade pasta med pesto och tittade på serier.
MEN nu ska ni få en liten uppdatering från ELLE-galan! I fredags var det som sagt dags för årets gala och jag började med att göra mig i ordning hos Nathalie Berzelius. Det fick bli en guldig look för att matcha klänningen och allt! Och håret fick ligga kammat bakåt. Jag kände mig så fin, Nathalie är så himla duktig! Vet inte hur hon får fram denna fina lyster. Om ni undrar över några av produkterna så får ni fråga henne på instagram. :-)
// Hi sweethearts! I was completely exhausted yesterday after Friday night (I fall asleep at 21 every evening now so being out til 1am was a record hehe) and I needed a lazy day to recover. Aleks and I took a long walk in Hagaparken with Mani, made pasta with pesto and watched series. 
BUT now I'm gonna give you a little update from the ELLE gala! On Friday it was time for the gala of the year and I started it by getting ready at Nathalie Berzelius. We did a golden look to match my dress and everything! And the hair was combed back. I felt really pretty, Nathalie is so good! I don't know how she brings out this nice glow. If you wonder about any products you will have to ask her on her instagram. :-)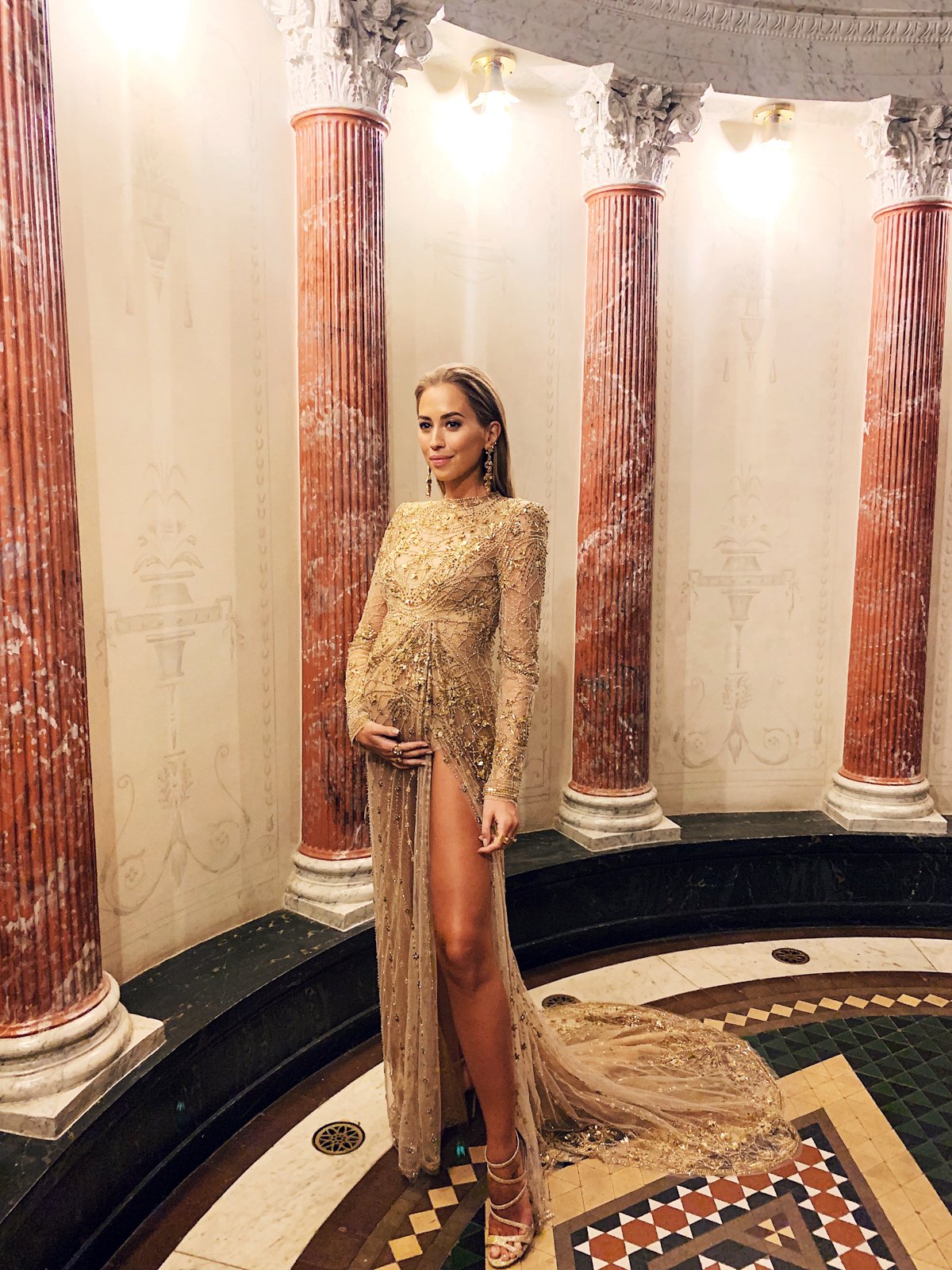 Här har ni hela looken! Min kollega och stylist Sebastian Hammarberg kom till mig för några veckor sedan med en idé om en helguldig look och tillsammans med ingen mindre än Fadi El Khoury skapade vi denna guldiga klänning med handbroderade stenar. Den blev så fin! Fadi är så duktig. Tack tack tack för att jag fick äran att bära en sån här vacker skapelse!
Skorna från Casadei var perfekta till och smyckena från Caroline Svedbom var pricken över i:et.
// Here you have the whole look! My colleague and stylist Sebastian Hammarberg came to me a few weeks ago with an idea of an all golden look and together with Fadi El Khoury we created this golden dress with hand embroidered pearls. It turned out amazing! Fadi is so talented. Thank you for letting me wear this beautiful creation!
The shoes from Casadei were perfect for the dress and the jewelry from Caroline Svedbom was the icing on the cake.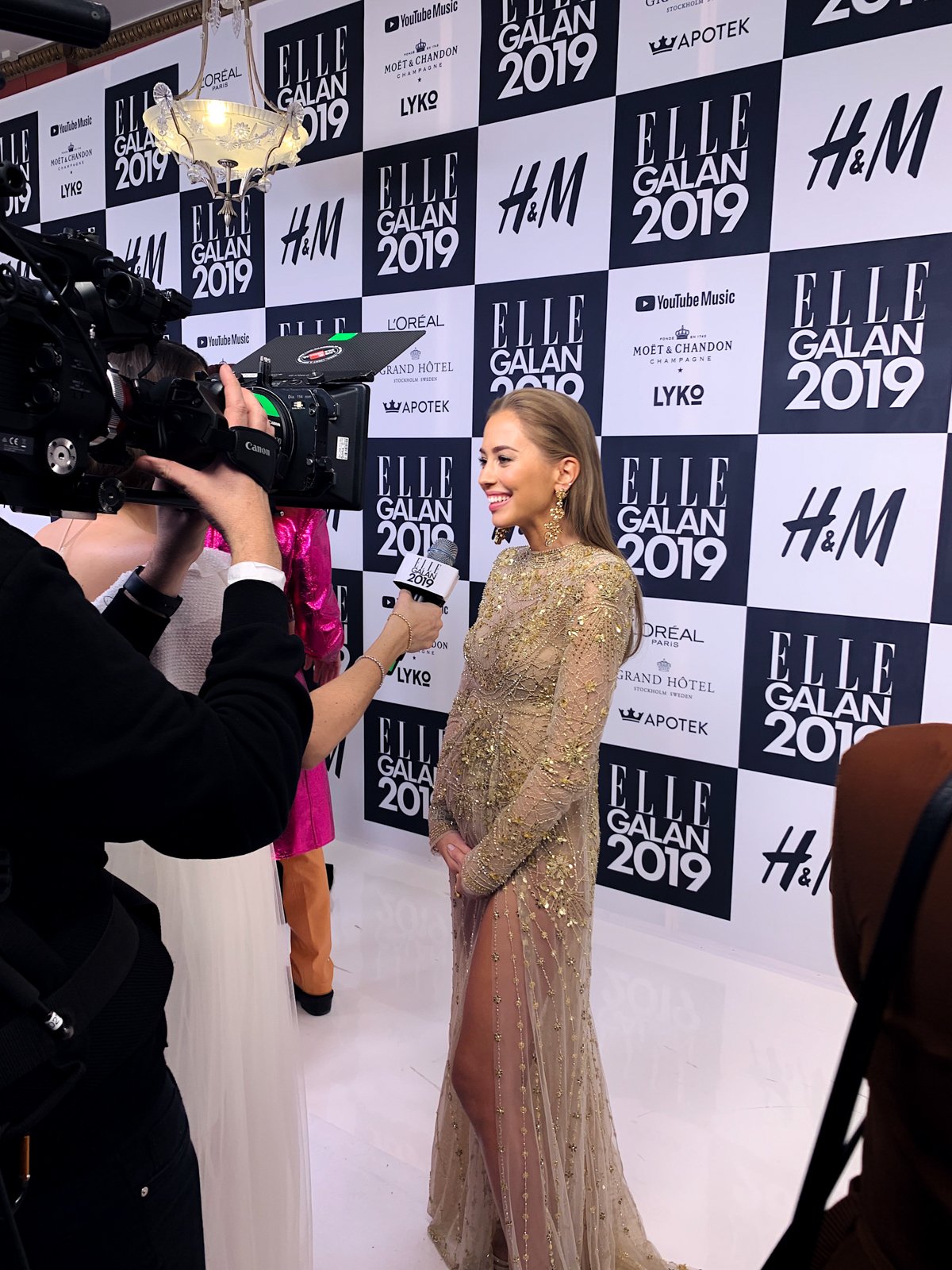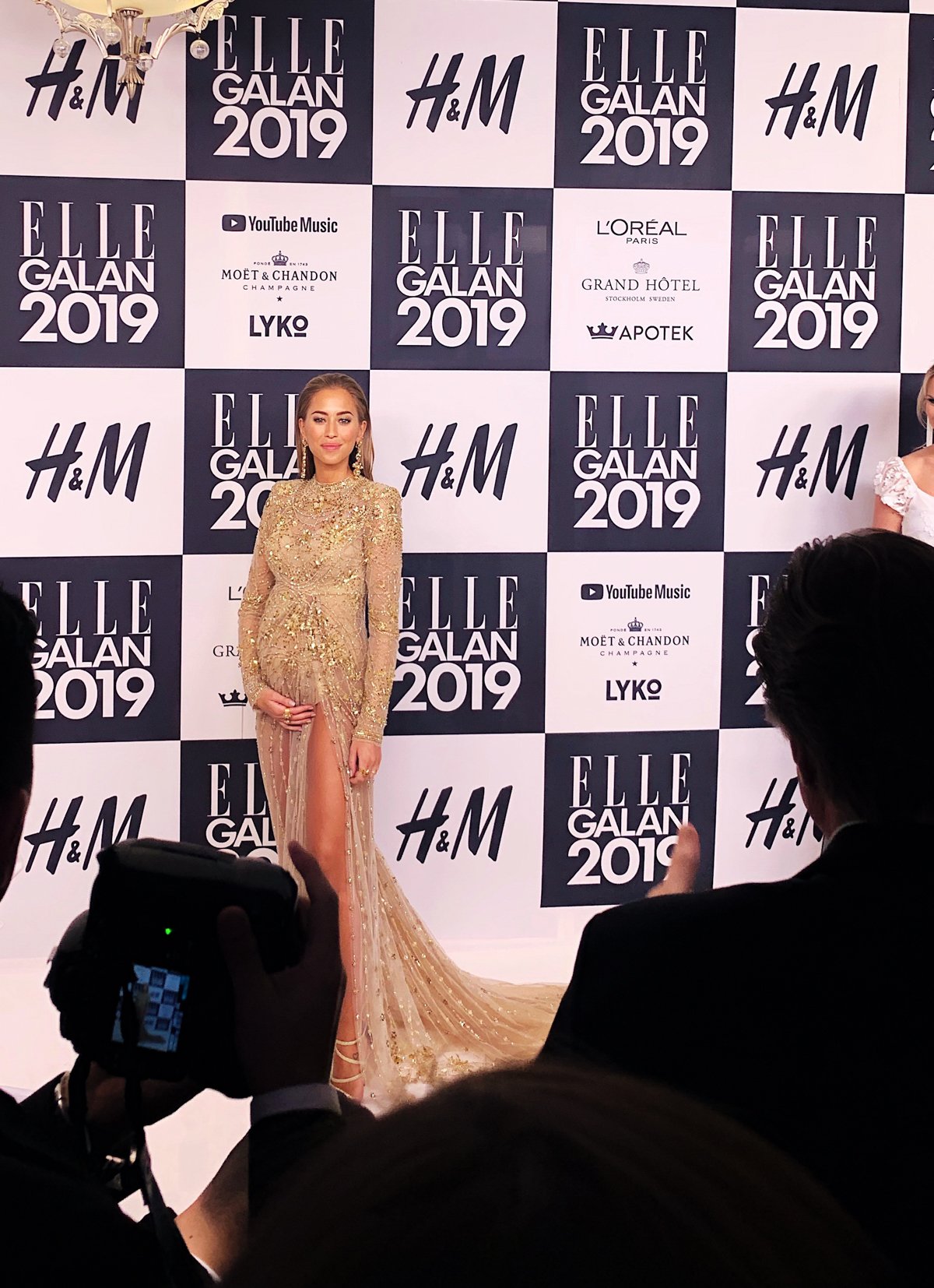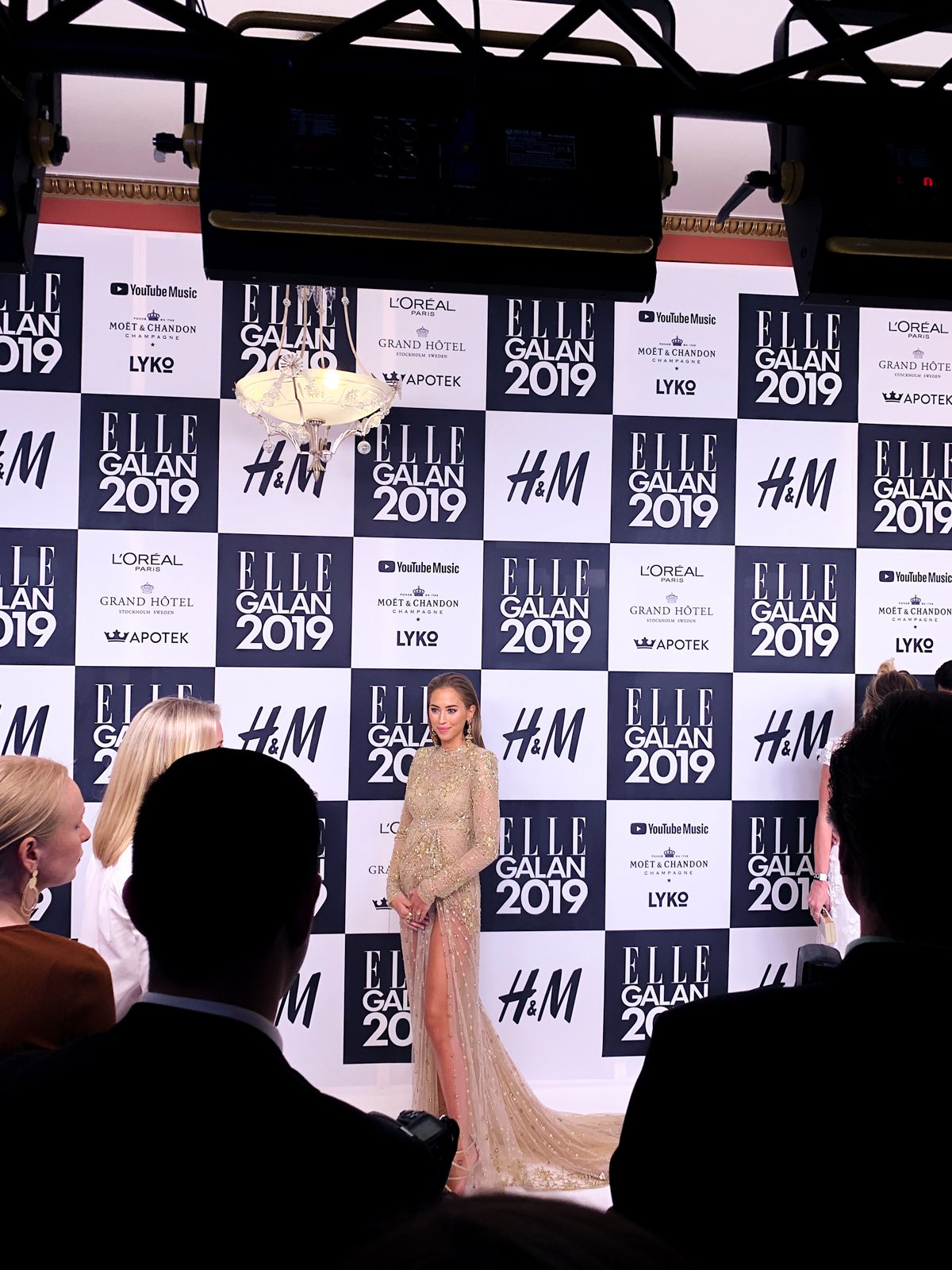 Sedan var det dags för röda mattan! Jag har lyckats få med mig Aleks på ELLE's röda matta en gång tror jag och han var lika svårövertalad i år. Såg att någon skrev "varför lämnar din man dig på röda mattan?" haha.. Lämnar.. Alltså, vill han inte bli fotograferad så kan jag ju inte tvinga honom. Och jag klarar mig själv liksom, han behöver inte hålla i mig. Plus nu stod han ju vid sidan om och kunde ta några smygbilder på mig till bloggen. Nästan bättre ju. ;-)
// Then it was time for the red carpet! I have managed to get Aleks to walk the ELLE carpet with me once I think and he was just as hard to convince this year. I saw that someone wrote "why is your husband leaving you on the red carpet?" haha.. Leaving.. Well, if he doesn't want to get photographed I can't force him. And I'm fine by myself, I don't need him to hold me. Plus now he was on the side and could take some sneaky photos of me to my blog. I mean that's almost better. ;-)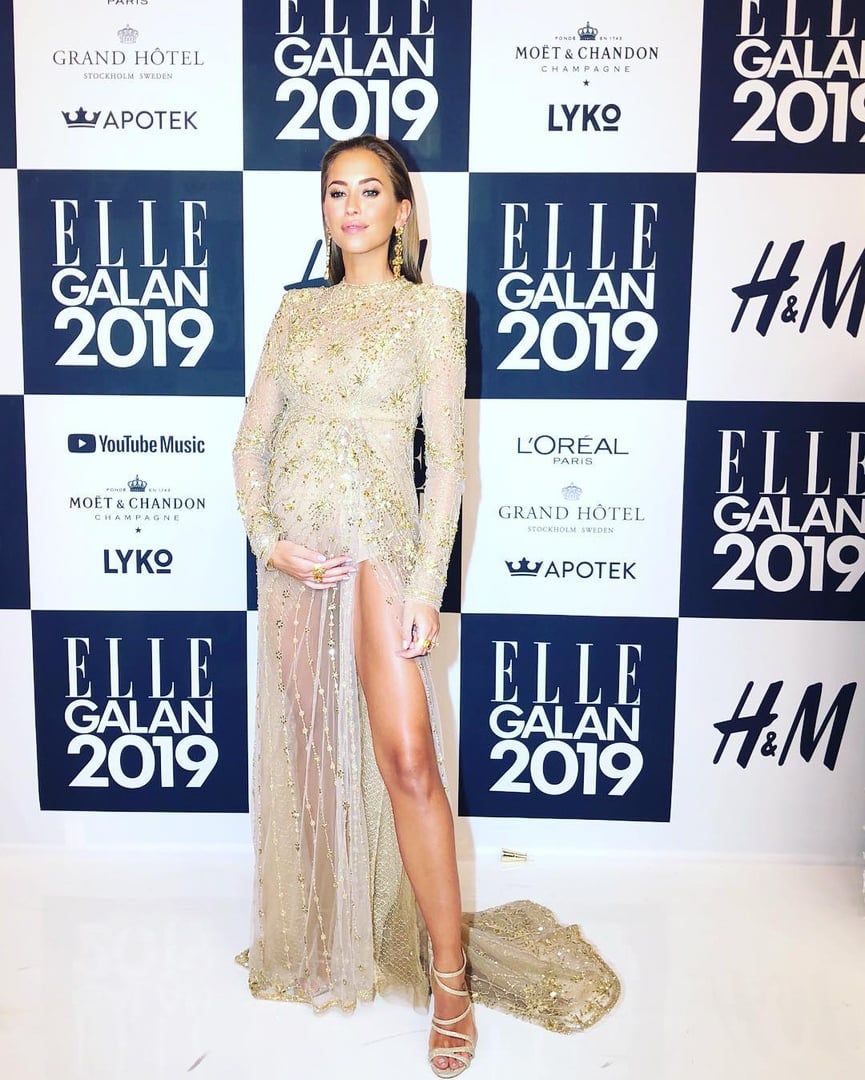 Och så en liten rödamattan-bild som jag hittade hos Bindefeld!
Okej ja, jag borde ha övat in en annan pose. Fan, jag som hade lovat mig själv att inte bli en sån som håller på magen (muttan?!) på alla bilder. Men sen så är man där själv och vill inget hellre än att hela världen ska se ens lilla mage. Ens dyraste lilla skatt. Är medveten om att jag ser jättetöntig ut, stolt men töntig haha.
// And then a little red carpet photo from Bindefeld! 
Okey yes, I should have practiced another pose. Damn, I had promised myself to not be one of those who hold their hand on the stomach in all the photos. But then I ended up there myself and I don't want anything else but for the world to see my little bump. My most precious little treasure. I'm aware of that I look like a total dork, proud but dorky haha.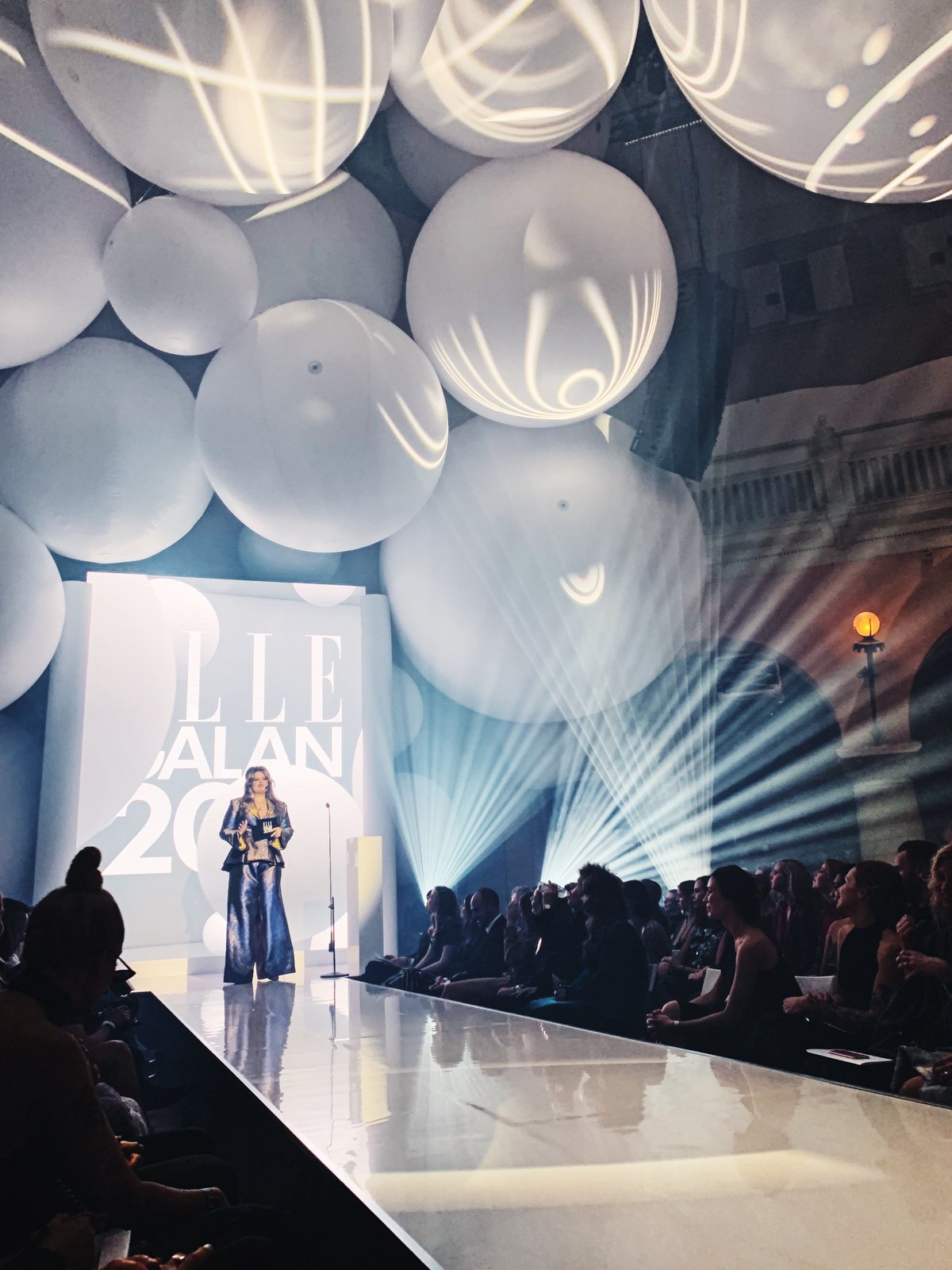 Dags för prisutdelning! Varje gång musiken drog igång så kände jag så små sparkar. <3 Galan leddes av Kakan Hermansson. Jag älskar henne, hon är underbar. Och grattis alla vinnare!
// Time for the award! Every time the music started, I could feel little kicks. <3 The gala was led by Kakan Hermansson. I love her, she is amazing. And congratulations to all the winners!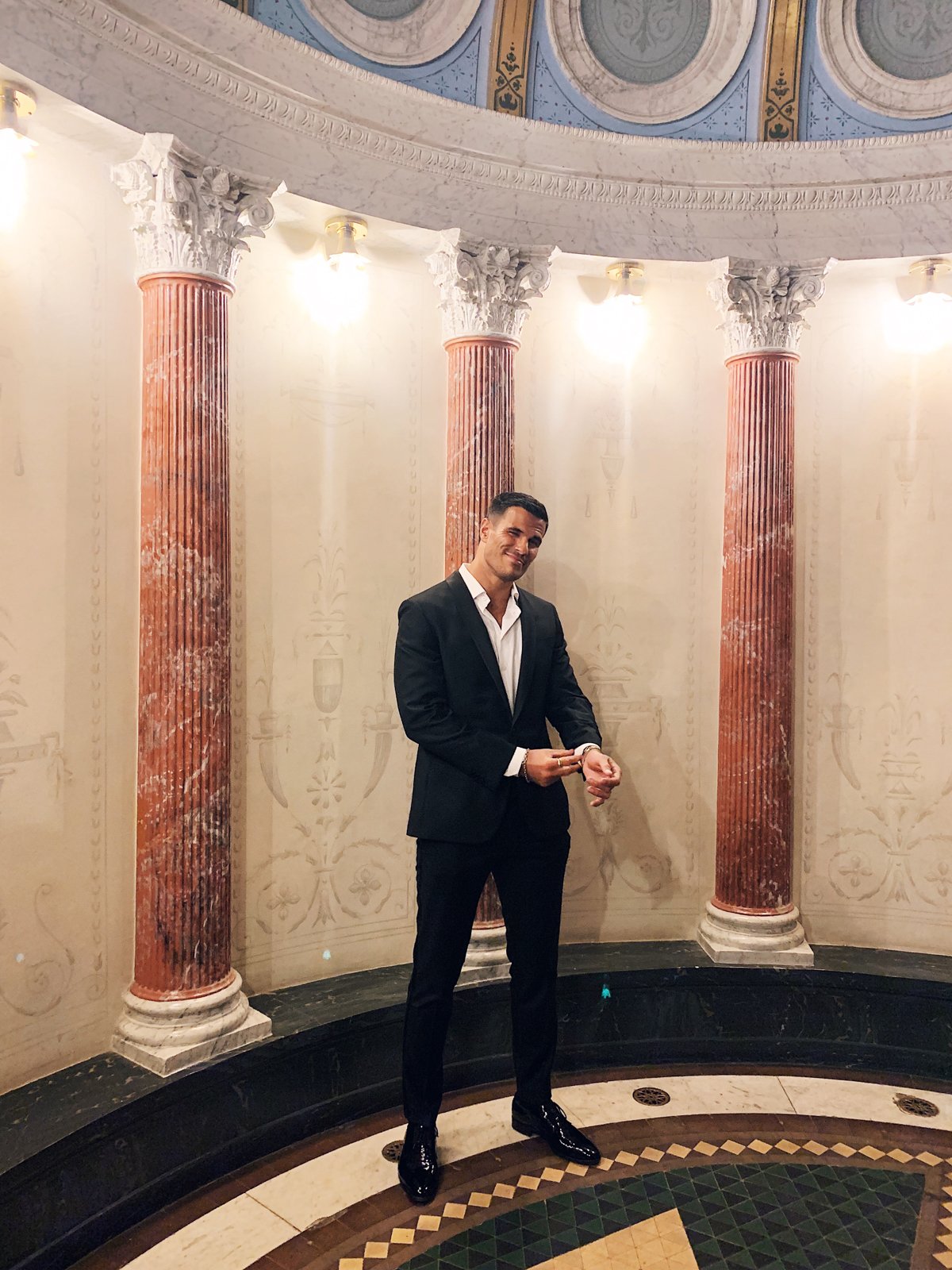 Min stiliga man. Aleks i kostym är typ det snyggaste som finns. Eller han är ju snygg i allt men det är ju något speciellt med män i kostym, tycker ni inte? Kostymen är från Cavaliere.
// My handsome husband. Aleks in a suit is like the hottest thing I know. Well he looks good in everything but there is something extra about men in suits, don't you think? The suit is from Cavaliere.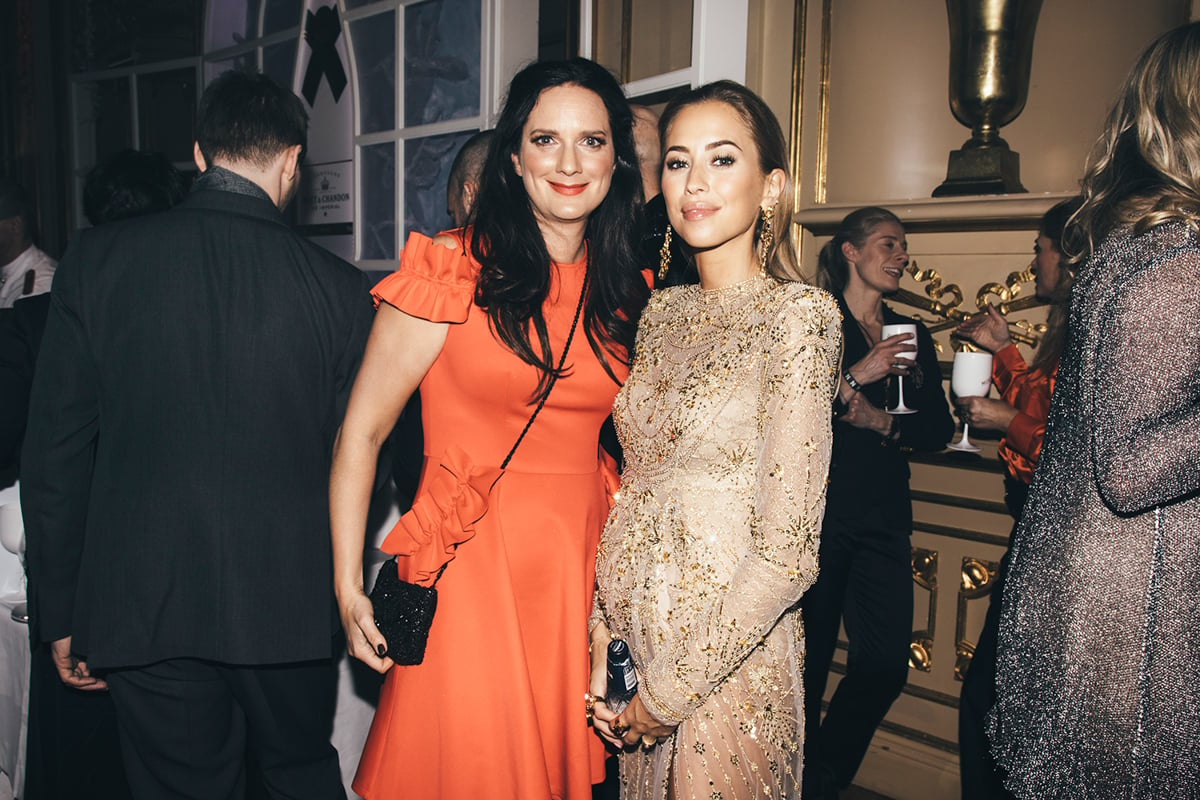 Photo: Elle.se
Efter prisutdelningen var det dags för partyparty och vi träffade bland annat på min mamma. :-) Haha, Sofie har ju en dotter som heter Kenza och för en massa år sedan var det någon som trodde att Sofie därför var MIN mamma. Sedan dess har vi skämtat om det och varje gång hon släpper en ny bok (Sofie skriver riktigt bra deckare!) och skickar över ett ex till mig så står det alltid "kram mamma" i. :-)
// After the award it was time for some party party and we met my mom. :-) Haha, Sofie has a daughter named Kenza and many years ago there was someone who thought that Sofie was MY mother. Since then we have been joking about it and every time she releases a new book (Sofie writes really good crime novels!) and sends me an ex, it always says "love, Mom" in it. :-)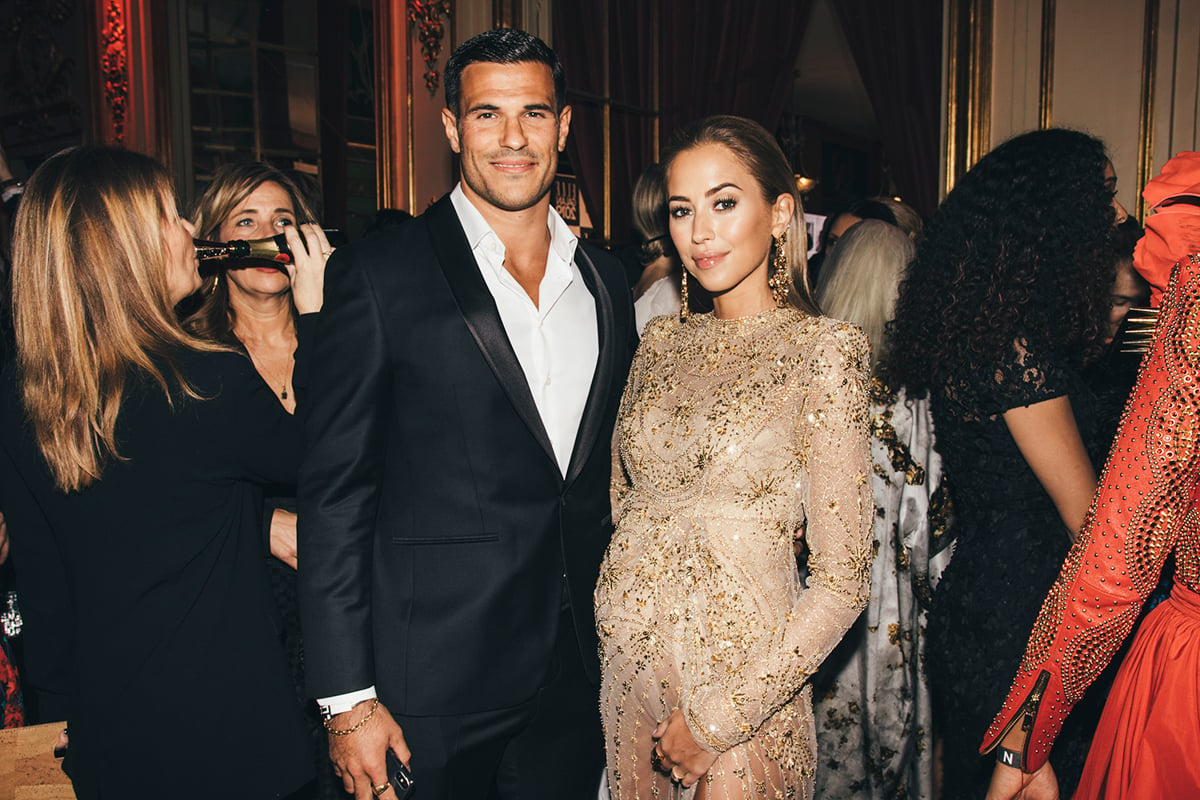 Photo: Elle.se
Jag och min lilla familj. Vi dansade, drack drinkar (vatten för mig) och sedan vid ett började jag bli alldeles för trött och då åkte vi hem. Tusen tack ELLE och Micael Bindefeld för en härlig kväll! Älskar att en gång per år få klä upp mig till tänderna och komma ut såhär. Vi får se om går nästa år, då är Bebor 7 månader och antingen så är vi två svintrötta föräldrar eller så bara längtar vi efter att få komma ut en sväng. Förmodligen båda. :-)
// Me and my little family. We danced, had drinks (water for me) and then at one I started to get too tired so we went home. Thank you so much ELLE and Micael Bindefeld for a lovely night! I love to get all dressed up like this once a year and go out. We will see if we go next year, Bebor will be 7 months and we will either be two tired parents, or we might be craving for a night out. Probably both. :-)