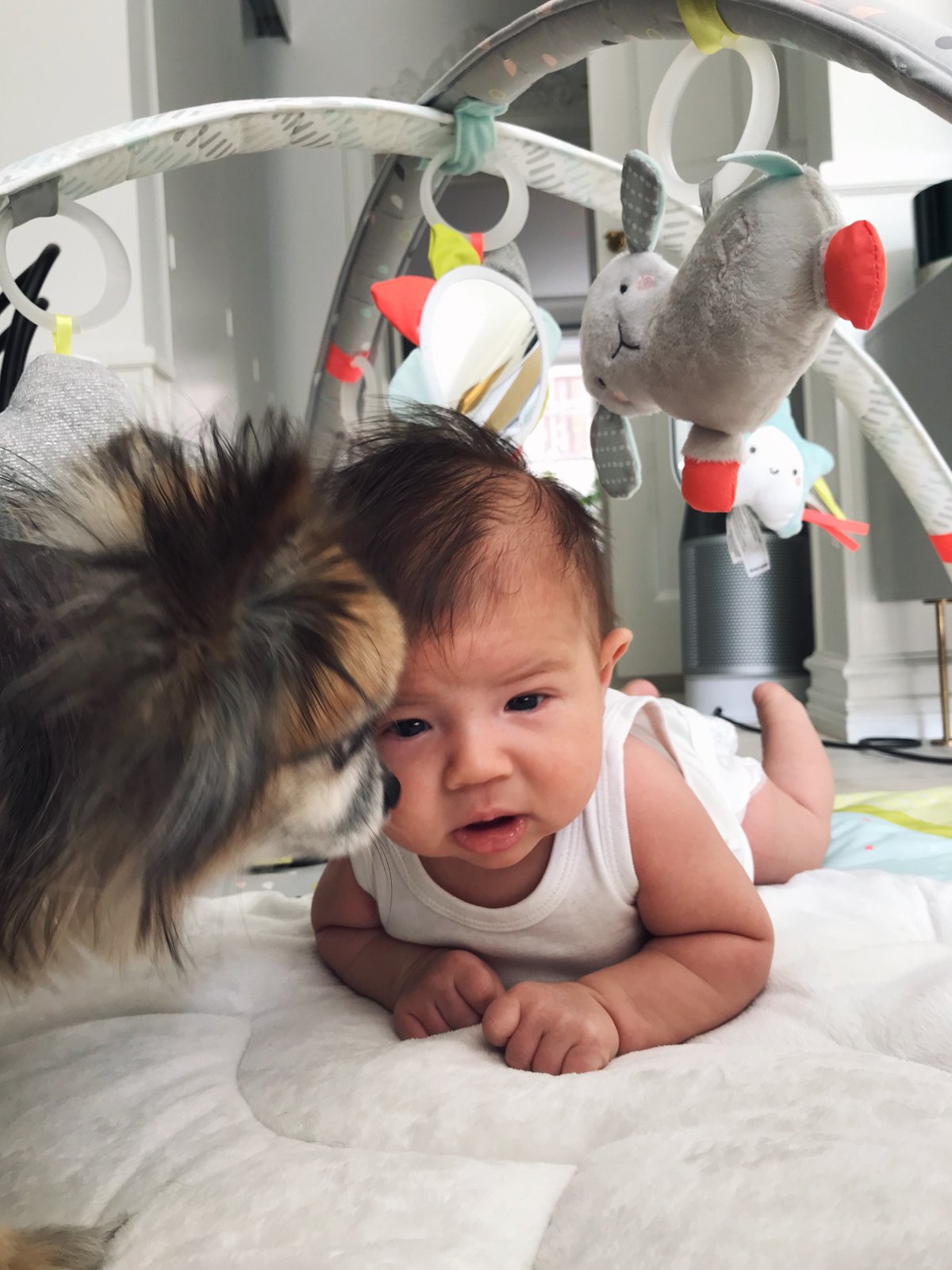 Och så blev Nikola 2 månader! Han börjar bli en stor bebis nu, både i utseende & storlek samt i sin utveckling (tycker jag iallafall haha, fattar ju att jag kommer känna så varje månad men jag vet ju inget annat än det som varit :-)). Han "pratar" för fullt, ler och skrattar åt oss och andra människor, är nästan helt stabil i nacken och älskar att stå upp. Han känner på sina leksaker i babygymmet nu, rullar från mage till rygg och känner på sina egna händer som han nu upptäckt att han har (så jävla gulligt). Kan ju vara typ världens stoltaste morsa. <3
Vi har dock haft lite problem med magen senaste veckorna, jag misstänker att det kommer för mycket mjölk när han äter för han hostar och kippar efter andan och sväljer mycket luft. Lösningen har varit att amma honom lite mer upprätt, och vara noga med att rapa honom, + Miniform och ibland pysventil. Han äter forfarande varannan/varje timme under dagen, och från ca kl 20 (när han lägger sig för natten och bara vaknar för att amma) så äter han oftast igen vid 22, 01, 03 & 05 och sen vill han upp ur sängen. Några nätter den senaste månaden har han sovit 4 timmar i sträck men det är ovanligt. Jag har accepterat nu att han är en stor kille som växer fort och därför behöver mycket mat. Även om det är tufft ibland (speciellt eftersom att han inte är så förtjust i flaskan, dvs endast jag kan mata) så är jag glad över att allt ändå funkar och att han mår bra.
I fredags var vi på hans 2 mån-kontroll där han även fick sin första vaccination! Ett dricksvaccin mot Rotaviruset. Vi tog även hans mått: 6.7 kg och 63 cm – så 2,5 kilo & 9 cm plus sedan födseln. Han kör nu storlek 62 på kläder, men vissa plagg i en storlek mindre funkar fortfarande. :-)
Livet med Nikola rullar alltså på och vi alla tre mår bra! Vi har fortfarande svårt att förstå att han är vår. Vet inte hur många gånger per dag vi tittar på honom och sen på varandra och ba "åh…. han är så fin". Världens finaste gladaste Nikola. <3
// And then Nikola turned 2 months! He's becoming a big baby now, both in looks & size plus in his development (well at least I think so haha, I understand I will feel that way each month but I don't know anything but what's in the past :-)). He "talks" so much, smiles and laughs to us and other people, is almost completely stabile in his neck and loves standing up. He touches his toys in the baby gym now, roll over from belly to back, and touches his own hands which he recently discovered that he has (so damn cute). I might be the proudest mom in the world. <3
We have had some troubles with his stomach though the last few weeks, I think it's because it comes too much milk when he eats because he coughs and try to catch his breath and swallows a lot of air. The solution has been to breastfeed him in a bit more sitting position, and make sure that he burps, + Miniform and sometimes Windi. He still eats every other hour/every hour during the day, and from around 20 (when he goes to sleep for the night and only wakes up to breastfeed) he eats again around 22, 01, 03 & 05 and then he wants to get up from bed. A few nights the last month he has been sleeping 4 hours in a row but that is not common. I've accepted now that he is a big boy who grows fast and therefore needs a lot of food. Even though that is tough sometimes (especially since he's not loving the bottle, meaning only I can feed), I'm happy that everything is working and that he is well.
On Friday we were at his 2 month check-up and he also got his first vaccination! A drinking vaccin against Rota virus. We also took his measurements: 6,7 kilos and 63 centimeters – so 2,5 kilos & 9 cm plus since birth. He is now wearing size 62 in clothes, but some pieces in one size smaller still works. :-)
So life with Nikola is going well and all three of us are fine! We're still having a hard time understanding that he is ours. I don't know how many times per day we look at him, and then at each other and say "oh…..he's so beautiful". The world's sweetest happiest Nikola. <3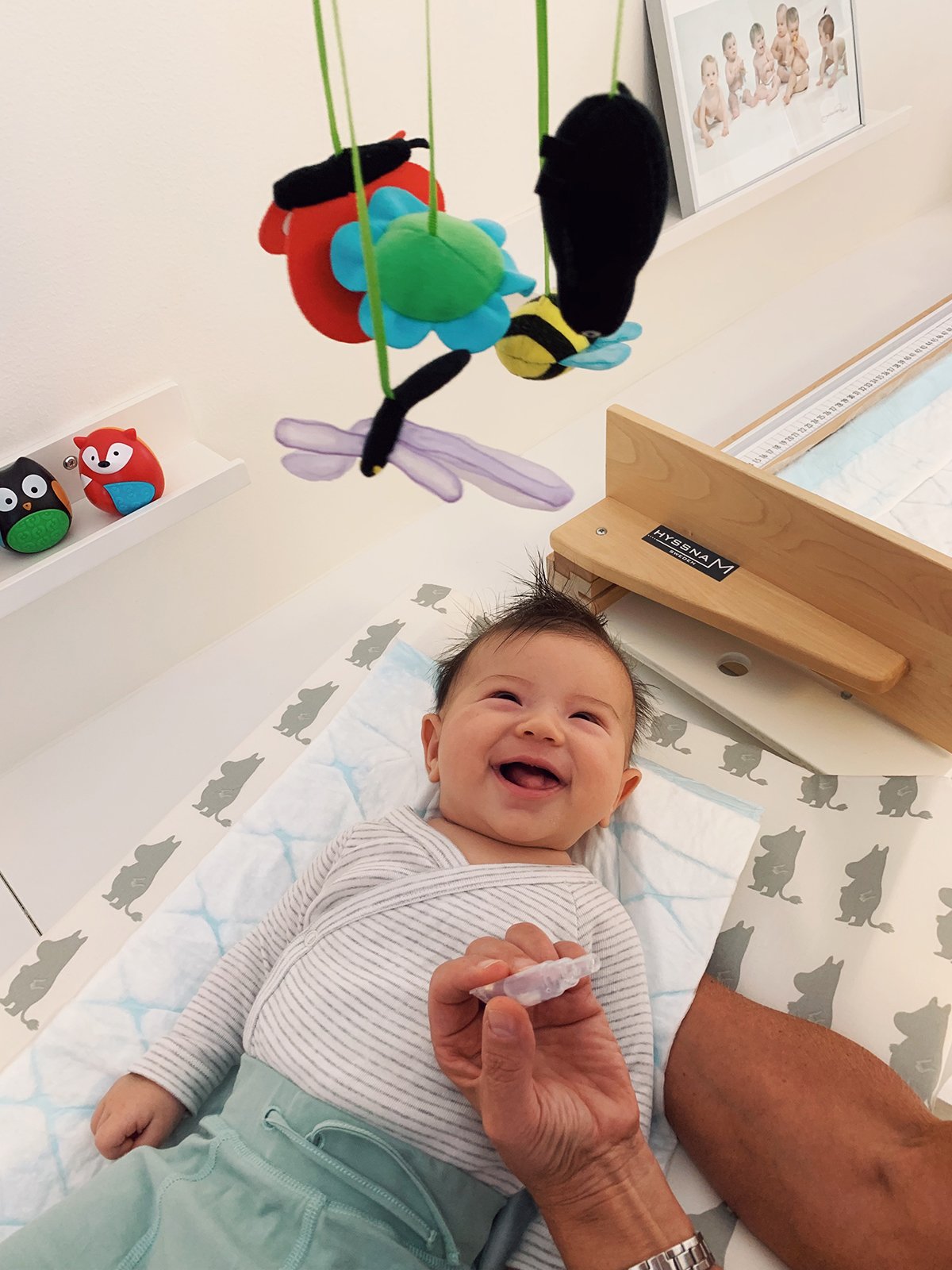 Our happy boy while getting his vaccin. <3 He loved those toys so we bought something similar today to his changing table!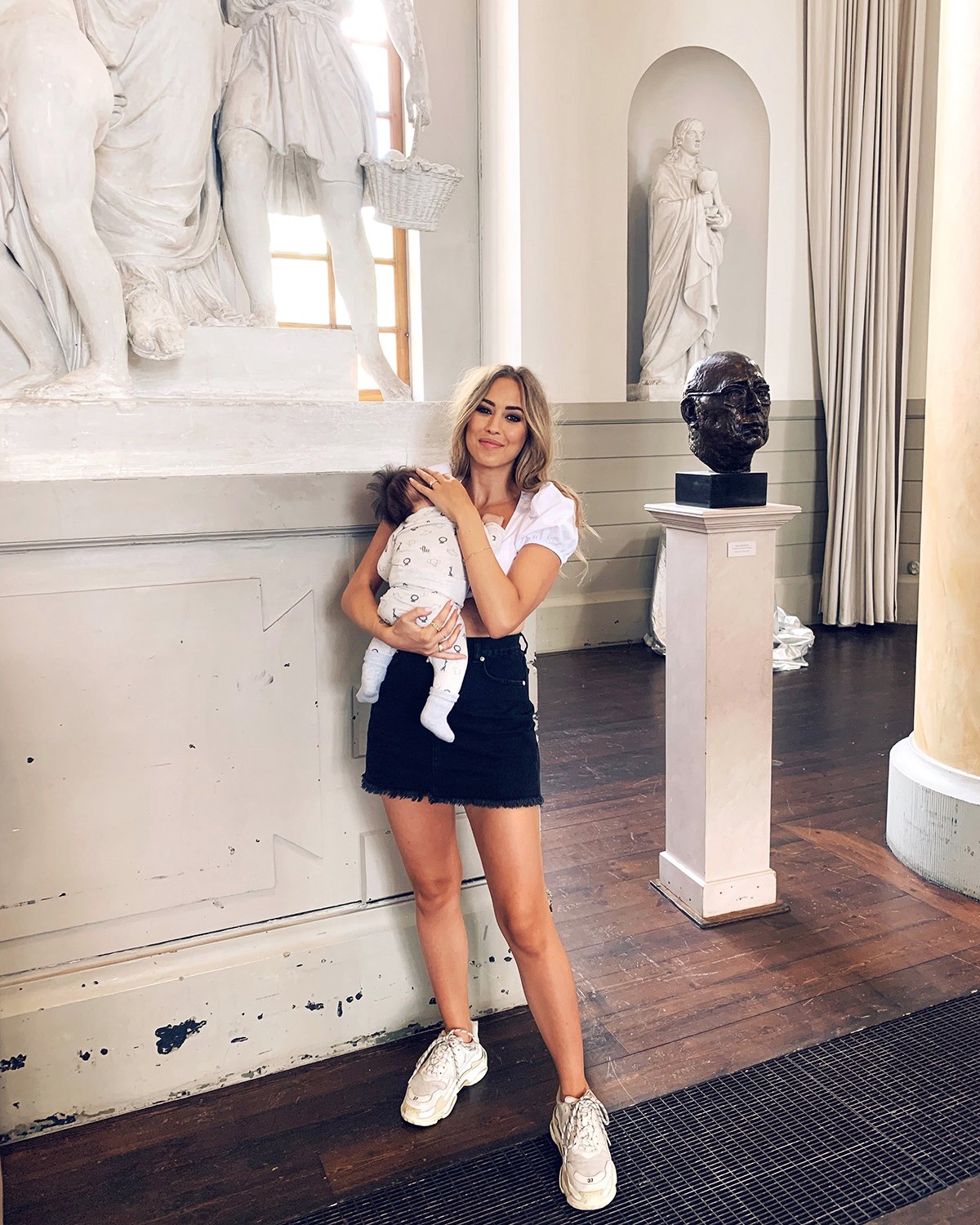 A photo of us two that shows his size. He's getting so heavy my arms hurt haha!