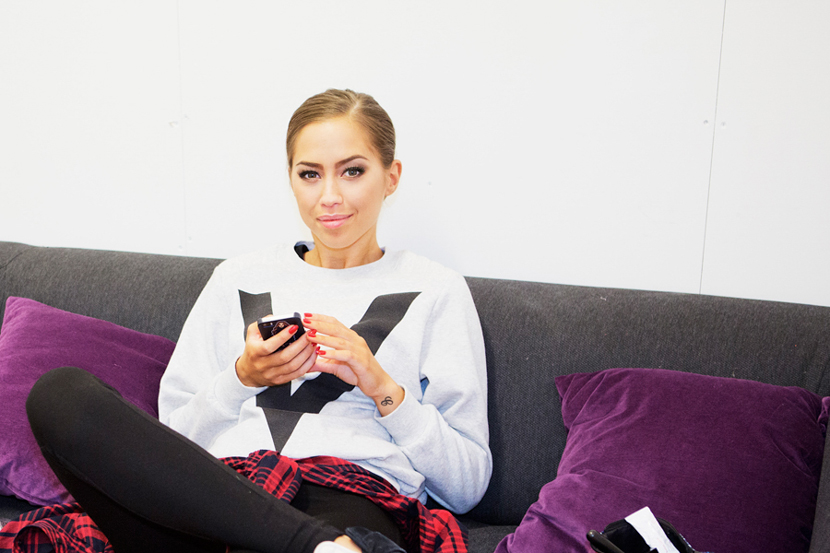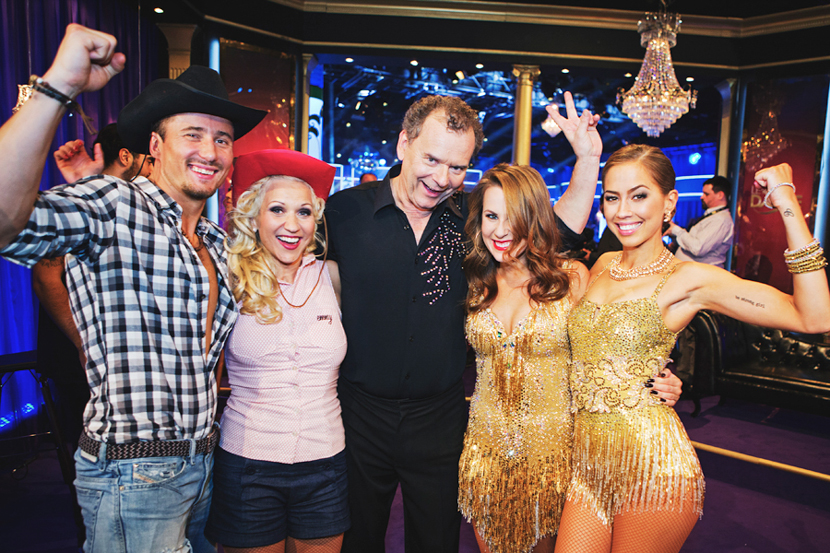 2 bilder från igår, av Annika Berglund/TV4 Let's Dance
God morgon! Om en timme ska jag iväg och träna och filma. Ja…vi är ju kvar ännu en vecka!! :-) Vilken kväll igår. Precis innan vi skulle dansa så står vi på scenen och mitt inslag rullar på tvskärmarna i studion. Jag försöker att inte titta eller lyssna men kan inte låta bli, så tårarna kom såklart igen och Calle försöker lugna mig. Det enda jag tänkte var "hur fan ska jag dansa en stark tango nu när jag bara vill gråta?" Ser hur sekunderna tickar ner, snart är inslaget slut och vi ska dansa live. Jag vet inte hur jag lyckades, men på något sätt klarade jag av det. Vi visade upp en stark tango och fick kvällens högsta poäng – 8,8,8. Var så jäkla glad.
Sedan var det dags för teammatchen där jag, Lotta & Steffo tillsammans med våra danspartners dansade en liten jive/paso-blandning till "Can't remember to forget you". Trots lite tabbar så vann vi över det andra laget och fick 4 extrapoäng var. Jag och Calle vann alltså kvällens program för andra gången och det kändes så himla kul. Det trodde jag verkligen inte när jag vaknade upp igår morse.
Nu är det ny vecka, ny dans. Vi är i topp 5 (!!) och nu blir det tuffare än någonsin. TACK för alla röster igår, utan er hade vi inte kommit såhär långt! ♥
// Good morning! I'm gonna go and dance in an hour. Yes…we are through for another week!! :-) What a night yesterday. Just before our dance we're standing on stage and on the tv screens I see myself talking about the years at home with my father. I try not to watch or listen but I can't help it, so ofc the tears we're coming again and Calle is trying to calm me down. The only thing I could think was "how the hell am I supposed to dance a strong tango now when I just want to cry?" I can see the seconds counting down, the feature is almost over and we're gonna dance live. I don't know how I did it, but somehow we showed a strong tango and got the highest scores of the night – 8,8,8. I was so damn happy.
After that it was time for the team dance where Lotta, Steffo & I together with our dance partners did a little jive/paso mix to the song "Can't remember to forget you". Although we did a few mistakes, we beat the other team and got 4 extra points each. Calle and I won the night's show for the second time and it felt so good. I really didn't think that when I woke up yesterday. So now it's a new week, new dance. We're in top 5 (!!) and it will be harder than ever. THANK YOU for all the votes yesterday, we wouldn't have made it this far without you! ♥