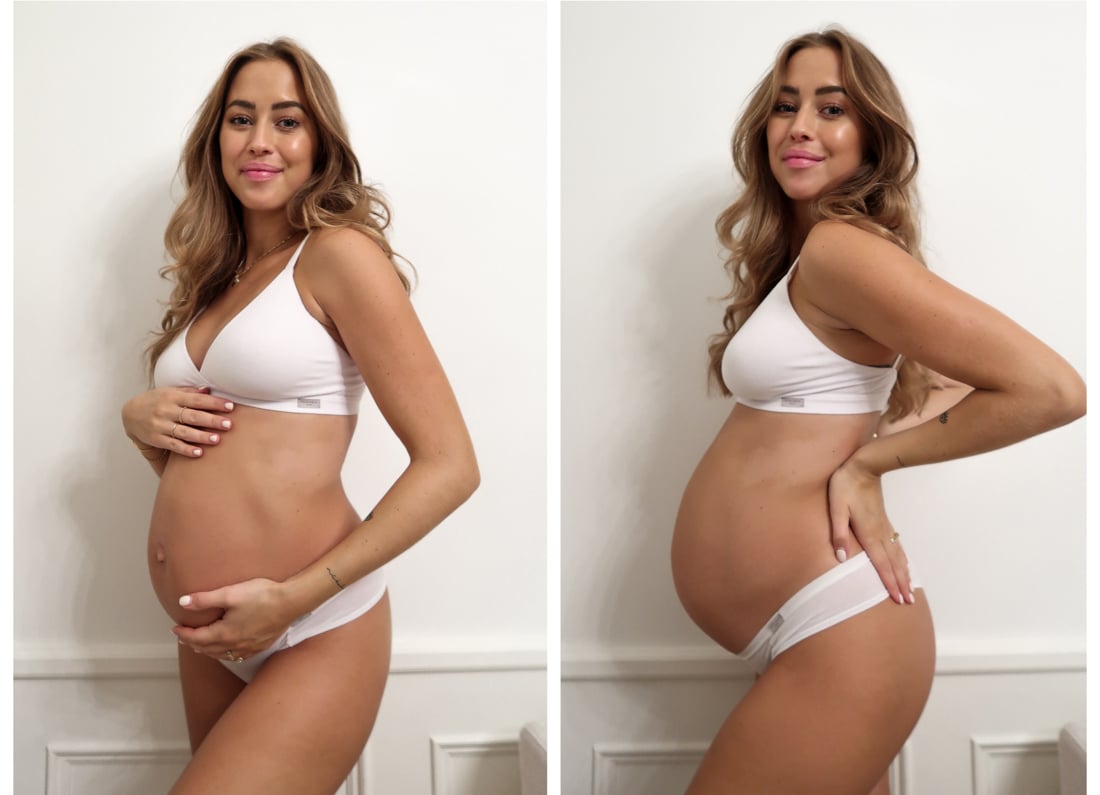 70,7% avklarat – 82 dagar kvar till BF! (vilket är 1a mars)
Jösses vilken skillnad sedan förra graviduppdateringen. Det har ju hänt en hel del med magen kan man säga. Så tråkigt att jag varit dålig på att dokumentera det denna gång, med Nikola tog jag sånna här bilder (i underkläder mot samma vägg) varannan eller var tredje vecka. Jajaja det är vad det är! Tiden går så fort att jag inte hänger med helt enkelt. :-) Nu är vi i vecka 29, 7e månaden, och den sista trimestern.
Bebisen: Lillebror är ca 38 cm lång, väger ca 1,4 kg vid veckans slut och fruktjämförelsen är en butternutpumpa. Det börjar bli rätt trångt där inne nu och jag undrar om han inte redan lagt sig med huvudet neråt. Nikola gjorde det kring vecka 29 och varför jag tror det är för att jag senaste veckan känt hans rörelser på samma platser. Rörelserna börjar iallafall göra ont nu och det här med att känna en benig kroppsdel sticka ut genom huden på min mage är någonting som aldrig går att vänja sig vid. Sån jäääkla alien-känsla haha. På fredag har vi bokat in ett privat ultraljud (3D) som vi gjorde med Nikola, ska bli kul att ta en tydligare titt på lillkillen!
Kenza: Jag har inte mått så superbra på sistone, mycket migrän men den har som tur är släppt nu. Men jag vet att den kan komma tillbaka när som helst, med Nikola hade jag denna ögonmigrän fram till vecka 36 om jag inte minns fel. Min barnmorska håller iallafall koll på blodtryck osv och jag har fått tabletter ifall migränen kommer tillbaka. Mitt enda problem just nu är en nerv i ena skinkan som gör ont (hade samma förra gången också) och att jag börjar känna mig tung. Väldigt tung. Det börjar bli jobbigt att lyfta upp Nikola, klä på honom alla hans vinterkläder, vända mig i sängen. Och sömnen är inte på topp nu heller, Nikola sover okej men jag har svårt att ligga skönt och vaknar ofta av bebisens sparkar. Det värsta med andra gången är ju att man VET att det bara kommer bli värre haha. Men sen så vet man ju också det underbara man har framför sig. <3
Annars så finns det inte så mycket mer att säga om mitt mående. Jag känner mig inte lika stressad längre utan känner att vi har koll på läget. Vi har fått all info om Nikolas inskolning på förskolan (mer om det sen) så där är vi på banan, Nikola har även fått ett eget rum här hemma och tanken är att vi sen ska kunna dela upp oss med varsitt barn om sömnen krånglar, och efter jul & nyår ska vi beställa ny vagn och några småsaker som fattas (det mesta har vi ju sen sist!). Så vi börjar känna oss redo för en ny familjemedlem!
Är det någon annan som väntar andra barnet här? Hur förbereder ni storasyskonet på vad som kommer? Det känns inte som att Nikola fattar något än, mer än att jag tjatar på honom att pussa någon bebis i magen hela tiden. ;-)
// What a huge difference since the last pregnancy update. A lot has happened with the bump. I'm sad I didn't document the pregnancy better this time, with Nikola I took pics like these (in underwear against the same wall) every other/third week. It is what it is! Time really flies. Now I'm in week 29, in the 7th month and it's the last trimester.
The baby: Little brother is now 38 cm tall, weighs about 1,4 kg by the end of the week and compared to a fruit it's like a butternut squash. It's starting to get kind of tight for him in there and I wonder if his head is already facing downwards. Nikola did it around week 29 and the reason I believe that is because I can feel his movement at the same places. His movement is starting to hurt a little bit and I'll never get used to the feeling of a bony body part pushing through my belly. It's suuuuch an alien-feeling haha. On Friday we have a private ultrasound appointment (3D) like we did with Nikola, I'm so excited to take a closer look on the little guy in there. 
Kenza: I haven't been feeling that well actually, I've struggled with migraine which fortunately is gone now. But it can come back at anytime, with Nikola I had this eye migraine until week 36. My midwife is keeping an eye on my blood pressure etc and I've gotten a pill prescription if it would come back. My only problem right now is a nerv inside one of my buttcheeks (I had it the last time aswell) and I'm also starting to feel heavy. Very heavy. It's getting harder and harder to carry Nikola, dress him and to turn around in bed. And I don't sleep very good either, Nikola's sleeping okay but I don't feel comfortable in bed and the baby's kicking wakes me up a lot at night. The worst thing about the second pregnancy is that you KNOW it's only gonna get worse haha. But then, you know what a beautiful time you've got a head of you <3
There's not much more to say about me. I don't feel as stressed out as I did before, I feel we've got everything under control now. We've gotten all the info about Nikola's schooling at kindergarten (more about that later). Nikola has gotten his own room here at home, the idea was for me and Aleks to take one child each if the sleeping turns into a big challenge, and after Christmas we're ordering a new stroller and some other things that we have to buy before the baby's here (we already have most of the stuff). So we're starting to feel ready to welcome our new family member! 
Is anyone else here expecting their second child? How are you preparing the bigger sibling for what's to come? I don't think Nikola's getting it, he's just getting tired of me telling him to kiss some baby in the stomach all the time ;-)