Det har blivit dags att packa BB-väskan igen! När jag väntade Nikola visade jag er på Youtube vad jag packade med och denna gång tänkte jag dela listan här på bloggen istället. Jag har gått efter min förra packningslista men tagit bort sånt jag tyckte var onödigt sist (rödmarkerat!) och lagt till sånt jag saknade (grönmarkerat!) :-)
Jag har ingen aning om hur länge vi stannar denna gång, sist stannade vi 2 nätter. Kanske åker vi hem samma dag denna gång, eller kanske stöter vi på komplikationer och stannar ännu längre, men jag utgår iallafall från något liknande som sist och så får man ta det därifrån!
TILL MIG:
Legitimation
Förlossningsbrev – Minns inte om någon tog upp mitt brev och läste? Eller om de gick efter det som min barnmorska skrivit in i journalen. Hur som helst har jag inte skrivit något brev denna gång utöver det jag och min barnmorska gått igenom ihop (som hon skrivit in i min journal) och jag känner att det räcker.
Mobil + laddare
Hörlurar
Glasögon, linser, medicin etc
Kamera + laddare
Tuggummi – Kom väl till användning efter alla spyattacker
Högtalare + laddare
Powerbank
Vetekudde
Vattenflaska med sugrör
2 st amningsbhar + 2 st amningsvänliga toppar
3 par stora trosor + 3 par strumpor
Mjuka gravidleggings
Tofflor
Pyjamas med knappar eller mjukisset – Jag körde pyjamas och det var nice!
Morgonrock Skippade sist och kommer inte ta med denna gång heller. Bar antingen den sköna sjukhusrocken eller min pyjamas!
Amningsinlägg & amningsnapp
Bröstvårtkräm
Läppbalsam
Värktabletter – Fick på plats
Hårborste + hårsnoddar
Tandborste + tandkräm
BUS (för ansiktet) – Vet vad ni tänker, men det var skönt att vakna upp med lite färg i ansiktet!
Ansiktskräm + ansiktstvätt + rengörinsservetter för ansiktet – Ställde mig aldrig och tvättade ansiktet, men servetterna var guld!
Schampo + balsam – Tvätta håret var det sista jag orkade göra på BB så det skippar jag denna gång.
Deodorant
Massageolja – Vet inte vad jag tänkte här, att Aleks skulle ge mig en skön oljemassage? Haha.. Nej den kom inte till användning.
Smink – Skippade sist och skippar denna gång med. På sin höjd en bryngelé!
Xylocain gel – Den kylande & bedövande gelén som räddade mitt underliv dagarna/veckorna efter förlossningen!! Det måste vara den receptbelagda gelén, den receptfria salvan var inte lika bra tyckte jag. Sist fick jag den inte förrän på återkontrollen några dagar efter förlossningen, denna gång måste jag få tag på den direkt. Kanske går att få på förlossningen/BB? Eller om jag kanske ska be läkaren på MVC skriva ut den till mig innan.
En tjockare lång kofta – Nu när jag föder på vintern!

Har jag glömt något för mig tycker ni? Jag kände inte att t.ex. mjukt toalettpapper som många tipsade om var nödvändigt, det hade inte gjort någon skillnad känner jag. Bindor finns på plats, jag körde mest deras luftiga stora "blöjor" som inte pressade mot underlivet.
TILL BEBISEN:
Babyskydd
Babynest – Skippade nästan sist för jag hörde så mycket olika om detta men är glad över att vi tog med ett litet nest även om han mest låg hud mot hud. Kom till användning när vi skulle äta osv, och på natten sov han i sitt babynest bredvid någon av oss i sängen.
2 st filtar – en extra tjock denna gång!
2 bodys + 2 byxor
4 st hellånga pyjamasar/onesies – Skippar krångel med bodys/byxor och kör onesies istället. Vi trodde inte vi skulle behöva mycket kläder till Nikola men det skedde några olyckor på nätterna hehe så denna gång tar jag med lite extra.
2 par strumpor
Mössa
Kofta för hemfärd
Napp
Gosedjur
Varm overall, varm mössa, varma sockor osv – eftersom det är kallt denna gång!

Blöjor, våtservetter etc finns på plats (iallafall där vi födde och ska föda, vet att det kanske ser lite olika ut från sjukhus till sjukhus).
TILL MIN PARTNER:
Sköna kläder + ombyte
Underkläder + strumpor
Tofflor
Neccessär
Ipad +  laddare
Mobil + laddare
Kreditkort + legitimation
Snacks
SE TILL ATT VI HAR ALLT PÅ LISTAN NÄR ALLT DRAR IGÅNG!! – 100% Aleks ansvar!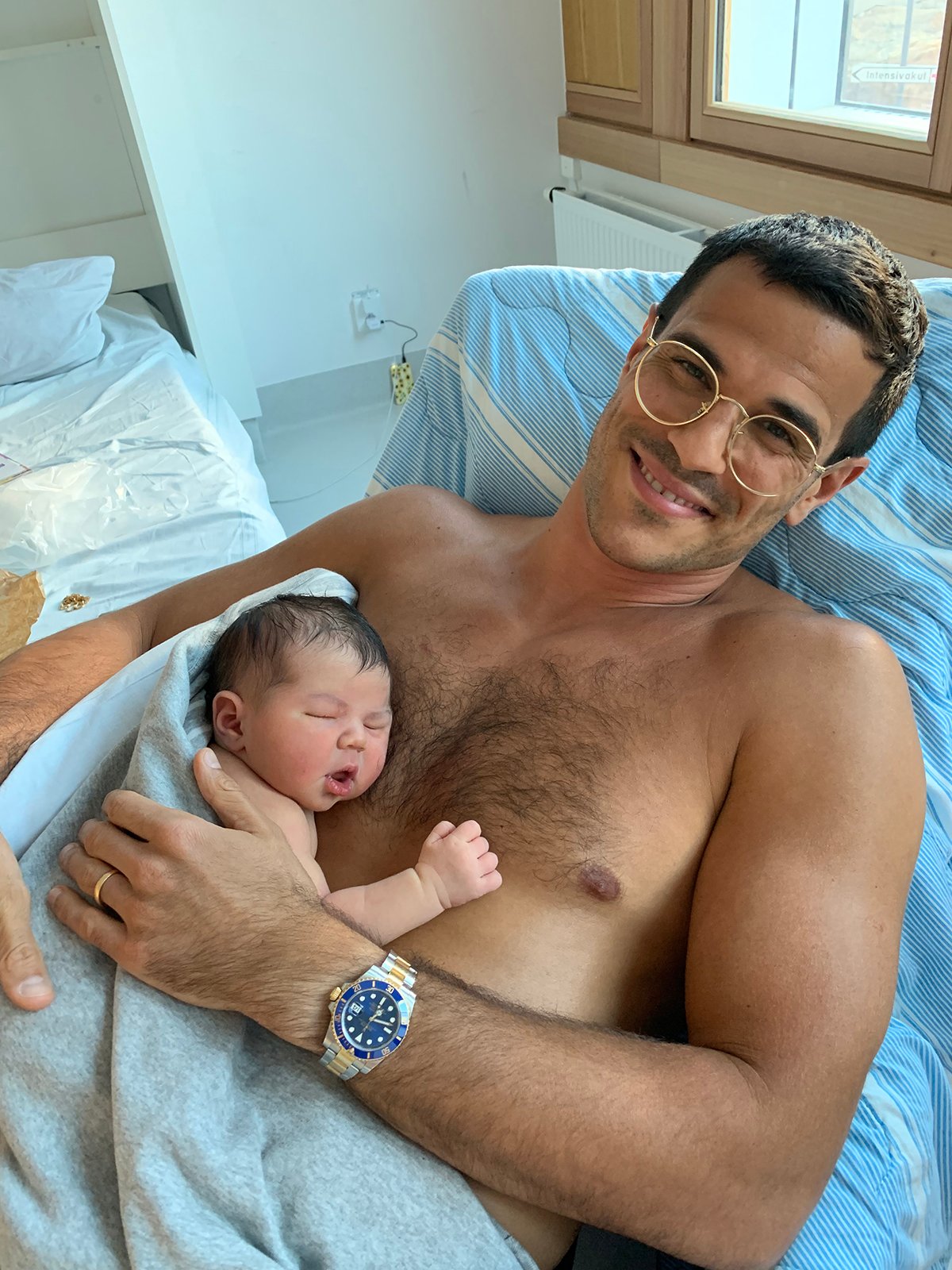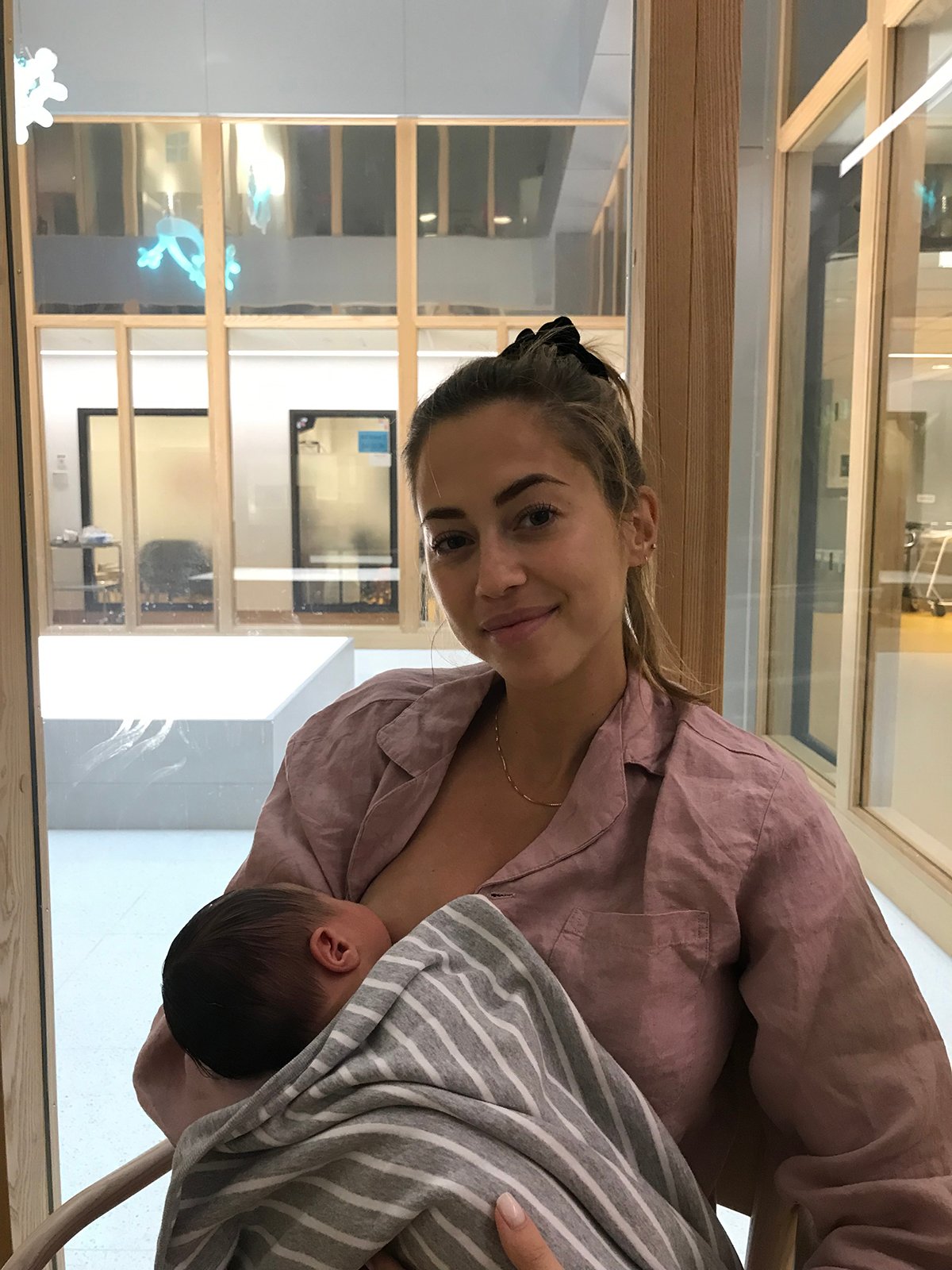 Nej men att man ska få uppleva detta igen!!!! Åh <3
// It's time to pack the hospital bag again! When I expected Nikola, I showed you guys on youtube what I packed, and this time I'm gonna share that list here on the blog instead. It's basically like my last hospital bag but I've removed the things I thought were unnecessary (marked red) and added things I wish I had brought (marked green) :-)
I have no idea for how long we're gonna stay this time, with Nikola we stayed for two nights. Maybe we'll get to go home the same day, maybe we get complications and have to stay even longer than two nights. My mindset is that we're gonna stay for as long as last time. 
FOR ME:
ID
Birth letter – I don't remember if anyone read my letter? Or if they took all the info from what my midwife had written in the journal. I have not written a letter this time. I feel that my midwife has written down all the important stuff in my journal and that's enough.
Cellphone + charger
Earphones
Glasses, lenses, medicine etc 
Camera + charger
Chewing gum – well needed after all the throwing up
Speaker + charger
Powerbank
Wheat pillow
Water bottle with straw
2 breastfeeding bras + 2 tops that are easy to breastfeed in 
3 big panties + 3 pair of socks
Soft maternity leggings
Slippers
Pyjamas with buttons – I loved wearing the pyjamas!
Robe – I skipped it the last time and will not bring it this time either. I wore the comfortable hospital robe or my pyjamas! 
Breastfeeding pads & nipple shields
Cream for sore nipples
Lip balm
Pain killers – Got it at the hospital
Hairbrush + hair elastics
Toothbrush + toothpaste
Self tanning lotion for face – I know what you're thinking but it was nice to wake up with some color in the face!
Face cream + facial cleanser + facial cleaning wipes – Never washed my face, but the wipes were golden! 
Schampoo + conditioner – Wash my hair was the last thing I had the energy to do, so I'm gonna skip that.
Antiperspirant
Massage oil – I don't know what i was thinking here, that Aleks was going to give me a relaxing massage? Haha.. No need for that.
Make up – Skipped it the last time and I'm gonna skip it again
Xylocain gel – The cooling and anesthesic cream that saved me the days after giving birth ! It has to be the prescripted one though, the other one wasn't good according to me. I didn't get it until a couple of days after giving birth last time, this time I gotta get it immediately. Can you get it at the hospital? Or if I can ask someone at the maternity center to do it before.
A warm cardigan – Because this time I'm giving birth in winter! 

Have I forgotten anything important? I didn't feel that soft toilet paper that many of you wrote about was necessary, it wouldn't have made any difference. They have sanitary napkins there, but I mostly wore their big "diapers" that weren't touching the abdomen.
TO THE BABY:
Car seat
Babynest – Almost skipped that last time because i heard so many different opinions about this, but i'm glad we brought a little nest even if we mostly were skin to skin. Used eat when we ate, and during the night he slept in his baby nest next to one of us in bed.
2 blankets– one extra thick this time!
2 bodys + 2 trousers
4 overall pyjamas'/onesies – To avoid all the work with trousers, i'm gonna go for onesies instead. We didn't think we were gonna need many clothes for Nikola but there were a couple of accidents during the nights hehe, so this time I'm bringing extra clothes. 
2 pair of socks
Hat
Cardigan 
Pacifier
Teddybear
Warm overall, warm hat, warm socks etc – since it's so cold this time!

They have diapers, wipes etc at the hospital (at least where I gave/gonna give birth, I know it differs between hospitals).
TO MY PARTNER:
Warm clothes
Underwear + socks
Slippers
Toilet bag
Ipad +  charger
Cellphone + charger
credit card + ID
Snacks
MAKE SURE THAT WE HAVE BROUGHT EVERYTHING ON THE LIST! – 100% Aleks' responsibility!