– This post is in paid collaboration with Nordicfeel –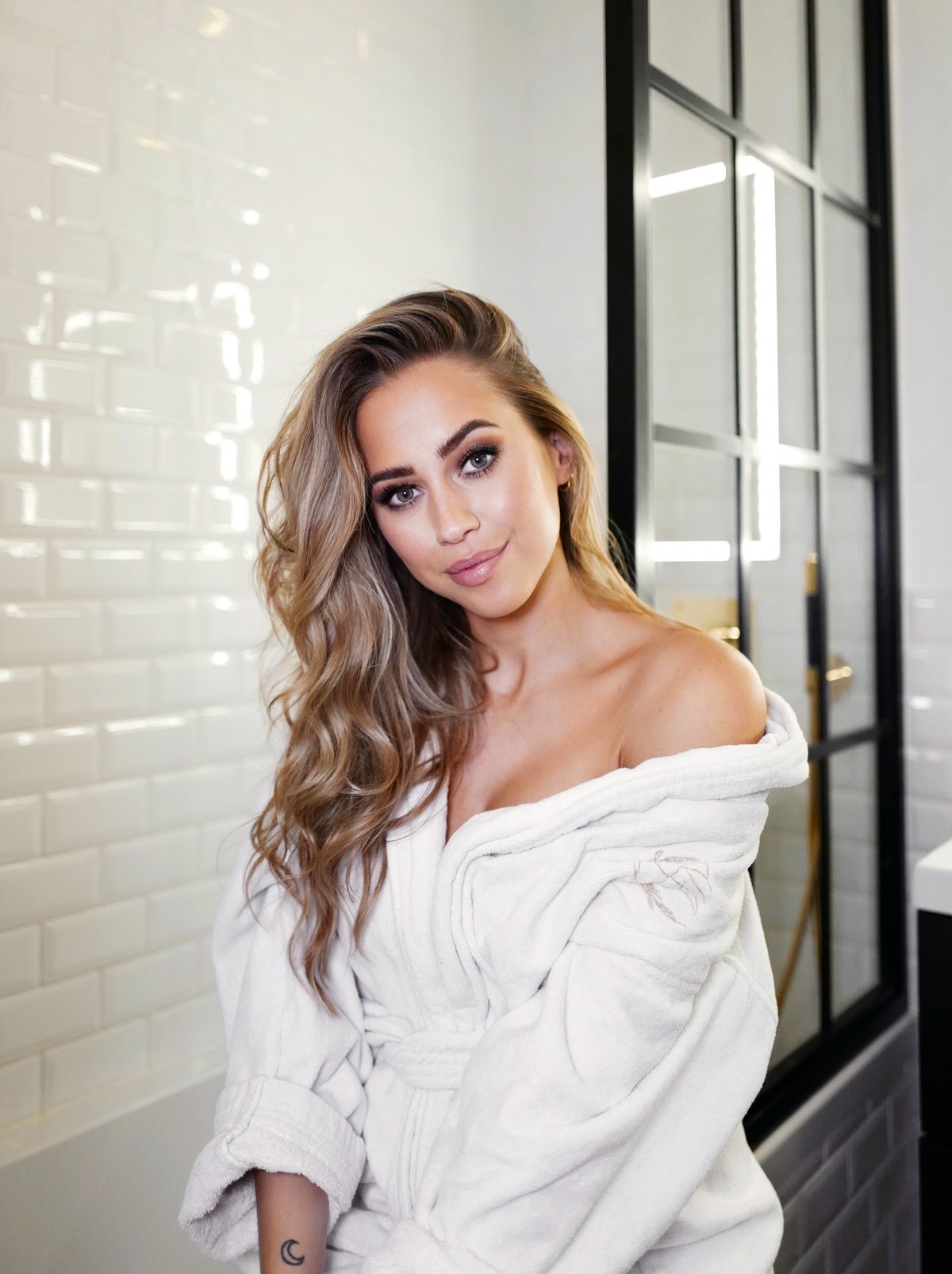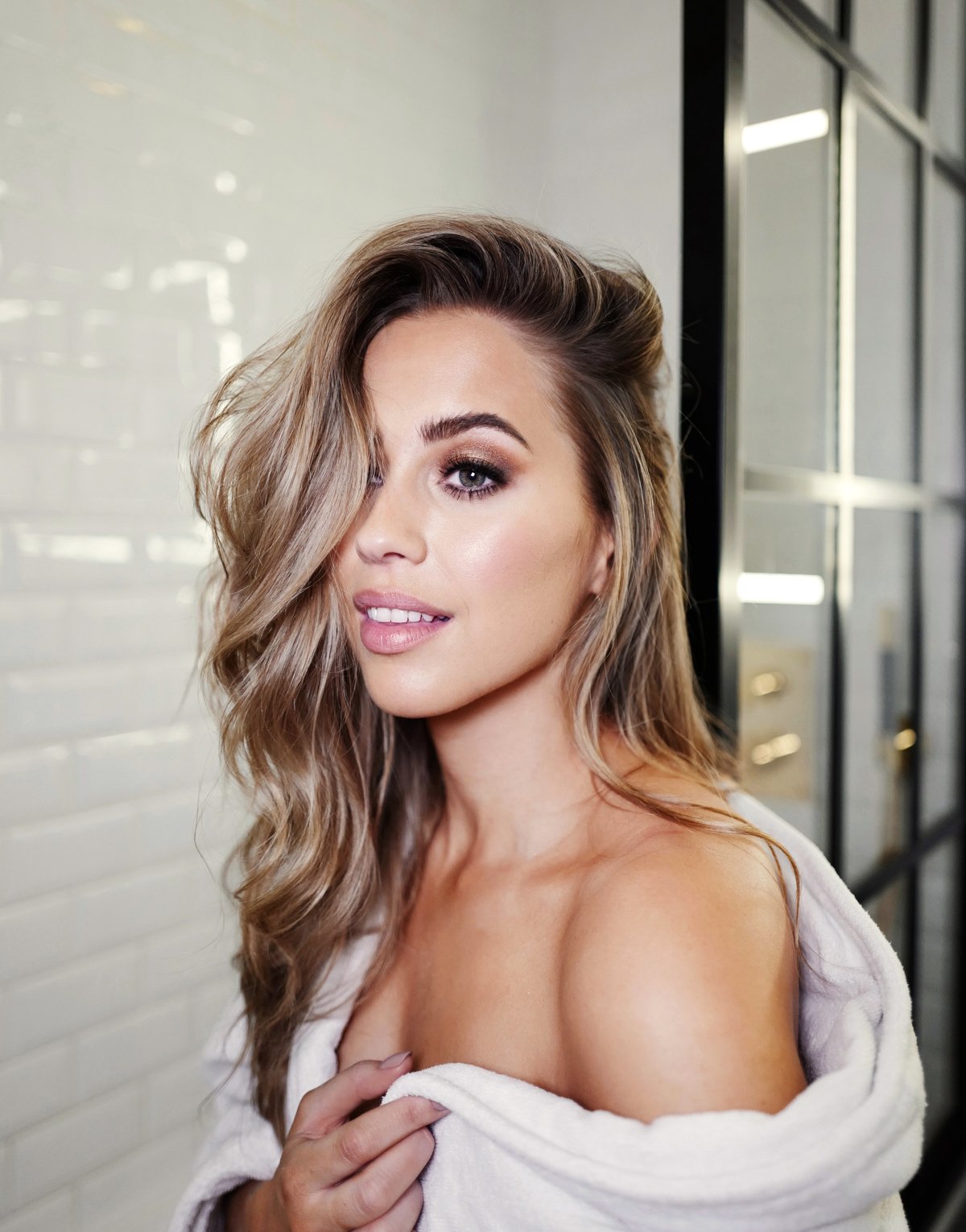 Hej hjärtan! Ni har efterfrågat ett hårinlägg och i samarbete med Nordicfeel kommer här en hårvårdsrutin som är snabb och enkel, vilket är viktigt när man har ont om tid pga bebis och annat hehe. Dessa är produkter som jag själv tycker om, och om ni är sugna på att testa dem så använd min kod KENZA20 så får ni 20% rabatt på Nordicfeels hela hårvårdsortiment!
// Hey sweeties! You have been asking me about a hair post and in collaboration with Nordicfeel here comes a hair routine that is quick and easy, which is important when you don't have much time because of baby and other stuff hehe. These are products I love myself, and if you want to try them out – use my code KENZA20 that gives you 20% off on Nordicfeel's whole hair assortment!
They ship to Sweden, Finland (click here to get to their Finnish website) and Norway (click here to get to their Norwegian website)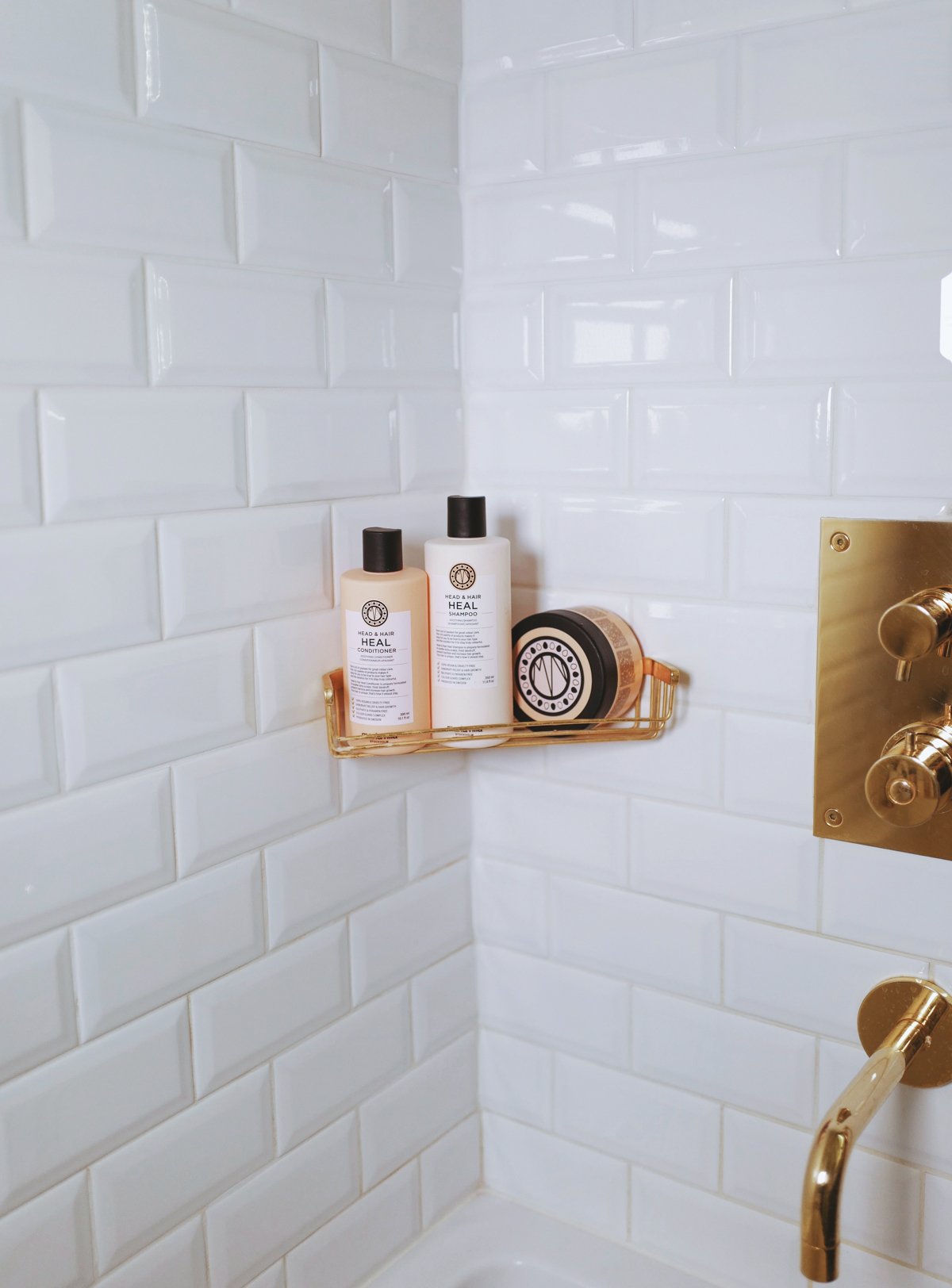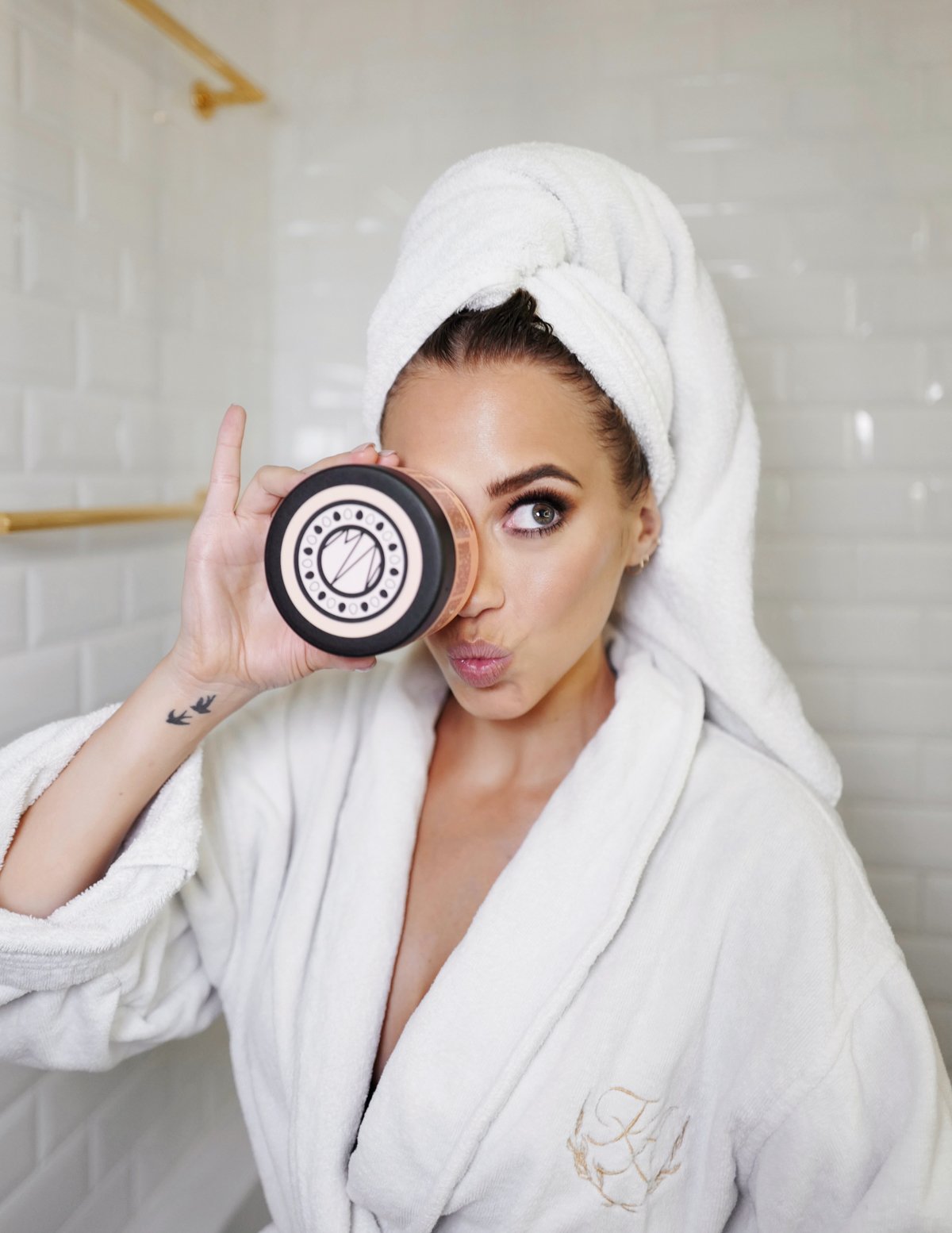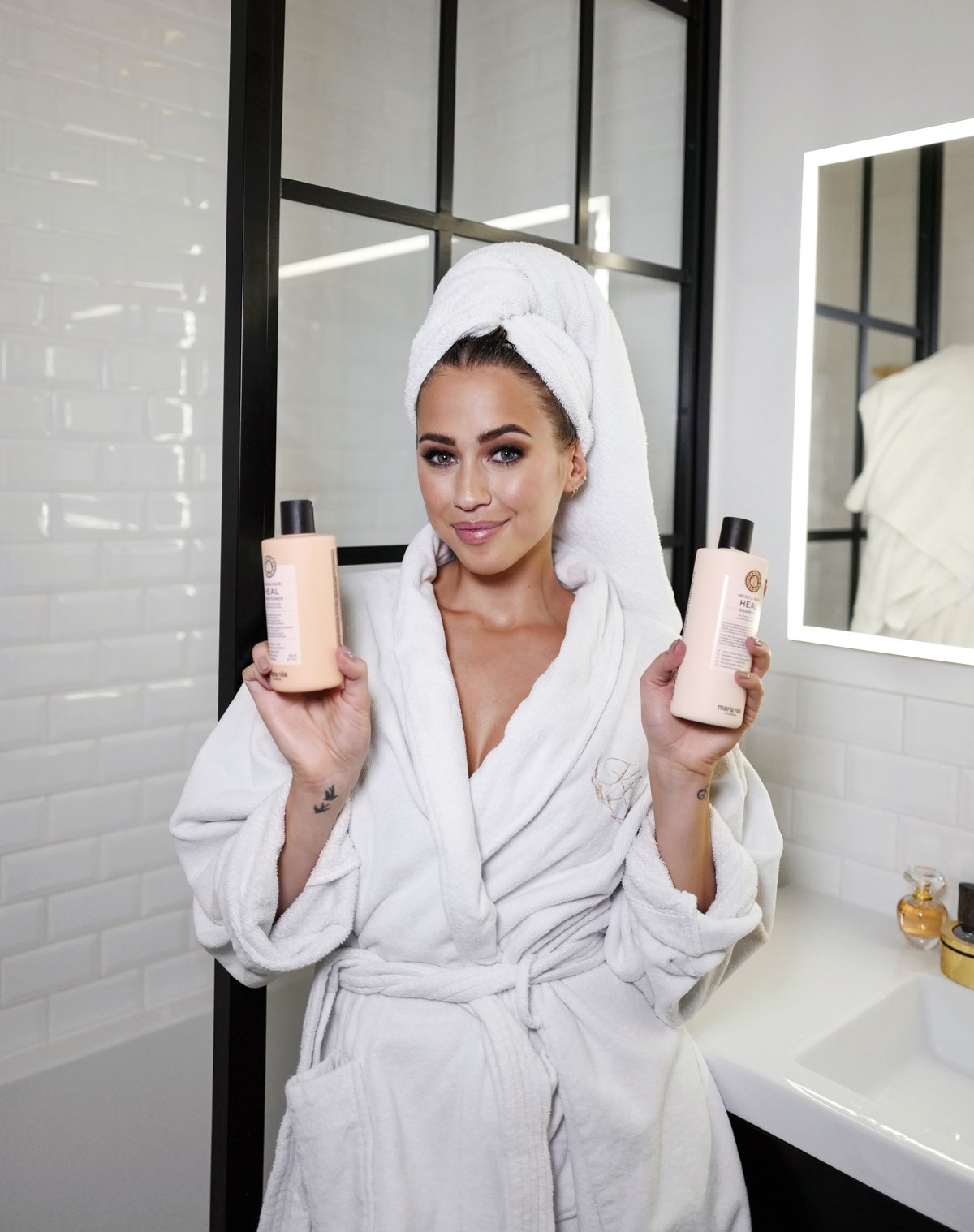 Shampoo, conditioner and masque from Maria Nila Head & Hair HEAL
Vi börjar med tvätten! När hösten kommer och kylan & den torra luften smyger sig på känner jag att jag måste ta hand om mitt hår (och hårbotten!) lite extra. Min hårbotten brukar klara sig rätt bra under sommaren men så fort luften blir lite kallare och torrare så kommer de kliande utslagen tillbaka. Ni kanske minns att jag tidigare berättat att jag använder serien Head & Hair HEAL från Maria Nila för det är verkligen det enda som funkar för min hårbotten. Har använt denna serie länge nu och så fort jag slarvar eller går över till annat (t.ex. när jag behöver använda silverschampo några gånger) så kommer mina hårbottenproblem tillbaka.
Schampot, balsamet och hårinpackningen från denna serie är antiinflammatoriska och behandlar & förebygger mjäll och andra hårbottenproblem. Produkterna innehåller även ämnen som stimulerar hårsäckarna och motverkar håravfall. SUPERVIKTIGT för mig nu när jag börjar tappa hår efter graviditeten.
Så, jag börjar med att tvätta håret med schampot, det ska bara masseras in i hår och hårbotten och sedan sköljas ur. Efter det kör jag balsamet i fuktigt hår, låter det verka någon minut och sedan sköljer jag ur. En gång i veckan kör jag även hårinpackningen! Jag använder då den mellan schampot och balsamet i både hår och hårbotten, låter den verka i 10 minuter innan jag sköljer ur och avslutar med balsamet. Håret blir så mjukt av det och efter bara två gånger är min hårbotten bra igen.
// Let's start with the wash! When fall comes together with the cold and try air, I feel that I need to take care of my hair (and scalp!) a bit extra. My scalp is usually fine during summer but as soon as the air gets cold & dry, my itchy rashes comes back. Maybe you remember that I've told you before that I use the Head & Hair HEAL serie from Maria Nila because that is the only thing that works for my scalp. I've used this line a long time now and as soon as I forget to use it or move over to something else (for example when I need to use silver shampoo etc), my scalp problems returns.
The shampoo, conditioner and masque from this line are anti-inflammatory and treats & prevents dandruff and other scalp problems. The products also contains substances that stimulates the hair follicles and prevents hair loss. SUPER IMPORTANT for me now when I'm starting to lose hair after my pregnancy.
So, I start by washing my hair with the shampoo, you just massage it in hair & scalp and then rinse out. After that I use the conditioner in damp hair, leave it for about a minute and then rinse. Once a week I also use the hair masque! I use it between the shampoo and conditioner, in both hair and scalp and let it in for about 10 minutes before I rinse and finish with the conditioner. The hair gets so soft from it and after just two times my scalp is fine again.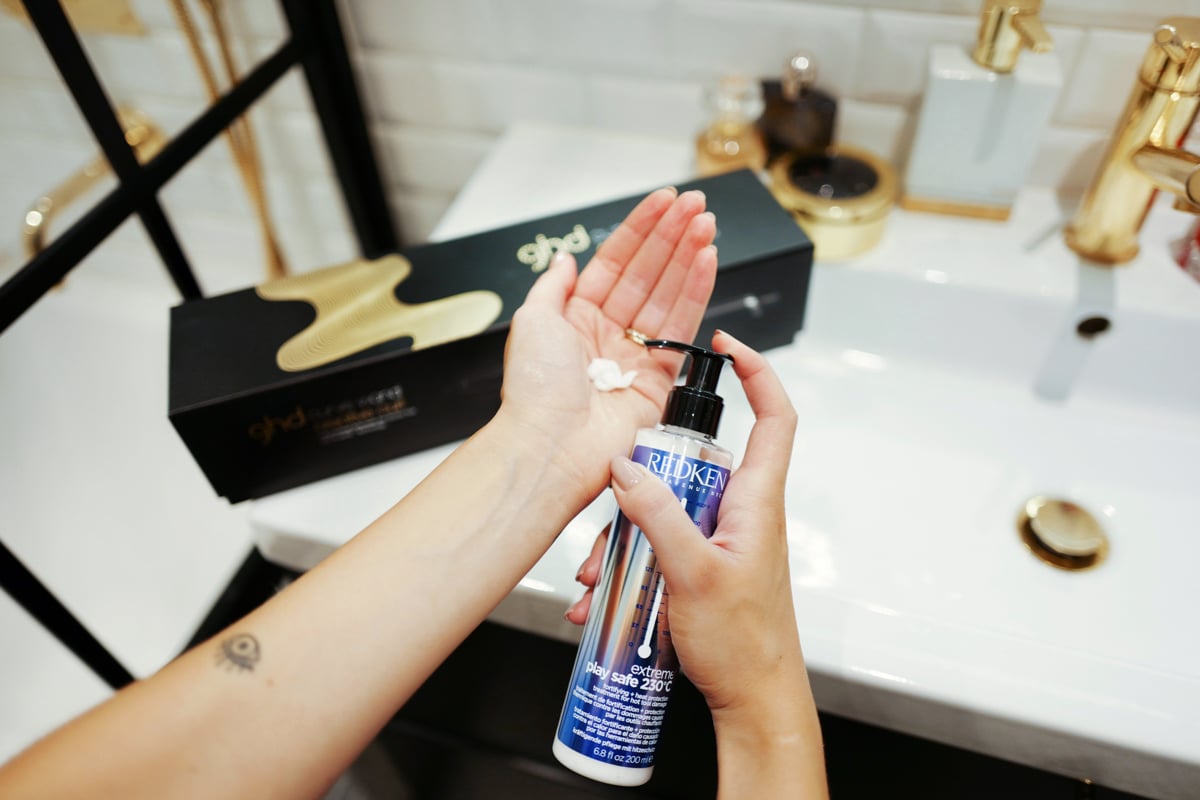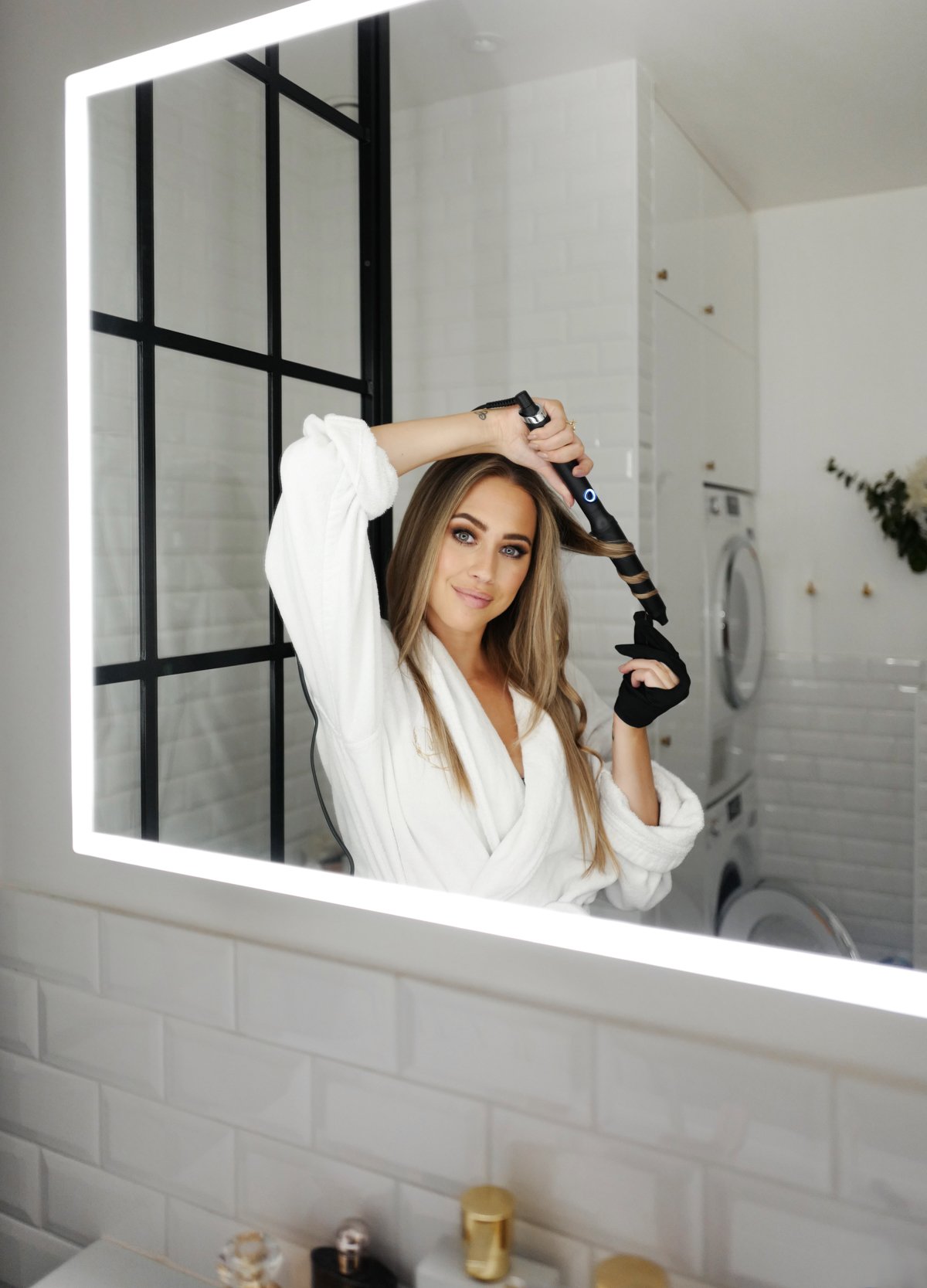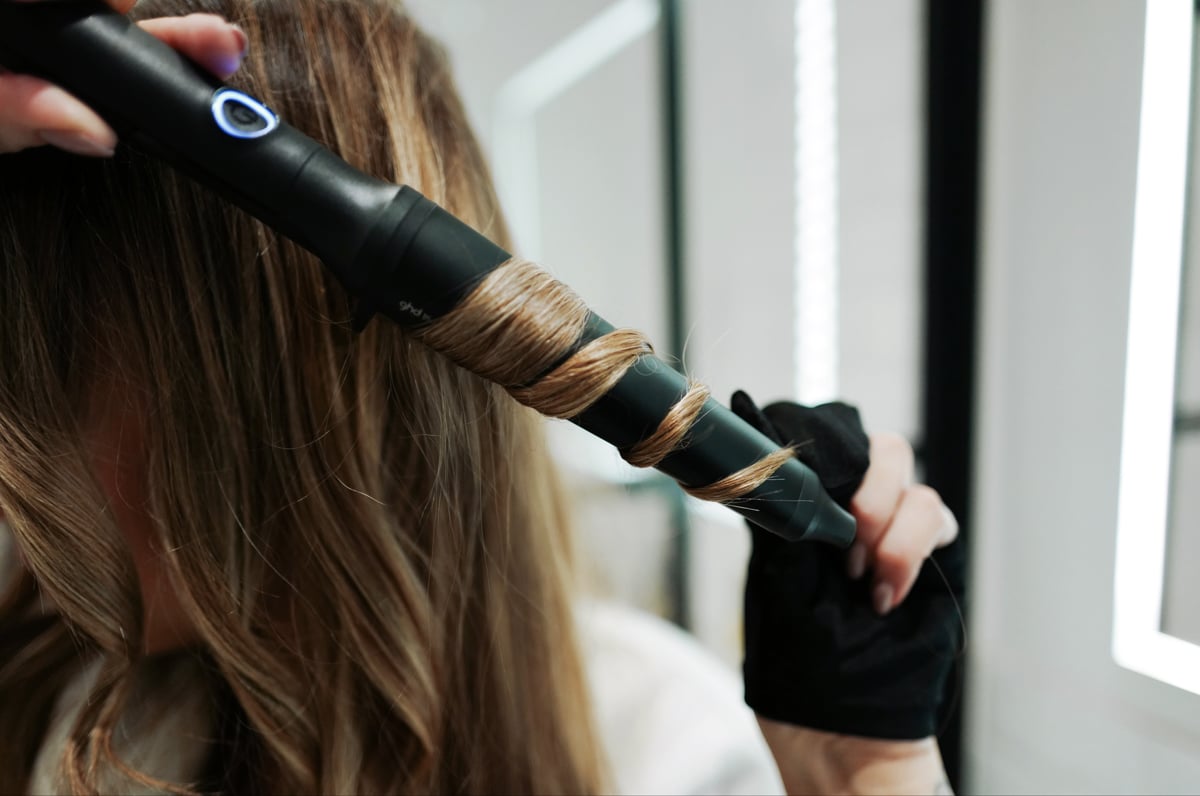 Redken Extreme Play Safe heat protection – GHD Curve Creative Curl Wand 23-28 mm
Vidare till styling. Börjar självklart alltid med värmeskydd, låter aldrig värme röra mitt hår innan jag använt värmeskydd. Oftast har jag i det i fuktigt hår och sedan fönar jag det torrt! Detta värmeskydd från Redken tål hela 230 grader och både behandlar samt stärker håret inifrån. Jag kör några pump i handen och fördelar det i längderna, sedan brukar jag föna håret torrt uppochner för att få lite extra volym. :-)
När håret är torrt och tiden finns så vet ni ju att jag älskar att köra på lite stora "beach"-lockar i håret! Jag tycker det är enklast och snyggast att locka med en konformad locktång och denna från Ghd är 23-28 mm bred vilket är perfekt för de lockarna jag vill få till. Den har sex snabbtänkande sensorer som säkrar en konstant temperatur på 185 grader, som jag nu lärt mig är den optimala temperaturen för hårstyling. :-)
Så hur gör jag då? Jo, jag lockar inte enda från hårbotten utan jag börjar en bit ut så att lockarna hamnar i längderna. Och samtidigt som jag virar hårslingan runt locktången så tvinnar jag även slingan litegrann. Förstår ni hur jag menar? Då blir det inte för lockigt utan ett mer vågigt svall!
// Moving on to the styling. I always start with heat protection, I never let heat touch my hair before I've used heat protection. Usually I use it in damp hair and then I blow dry it! This heat protection from Redken can take up to 230 degrees and both treats and strengthens the hair from within. I add some pumps in my hand and use it in the hair lengths, then I blow dry my hair upside down to get some extra volume. :-)
When my hair is dry and I have enough time, you know I love going for big "beach" curls in my hair! I think it's easiest and best to curl it with a curling wand and this one from Ghd is 23-28 mm wide with is perfect for the curls I want to create. It has six fast thinking sensors that makes sure that the temperature is constantly 185 degrees, which I've learned now is the optimal temperature for hair styling. :-)
So how do I do it? Well, I don't curl it from the roots – I start a little bit out in the lengths. And at the same time I put the hair around the wand, I also twist the hair a bit. Do you understand what I mean? When I do it like that it doesn't get too curly, more wavy!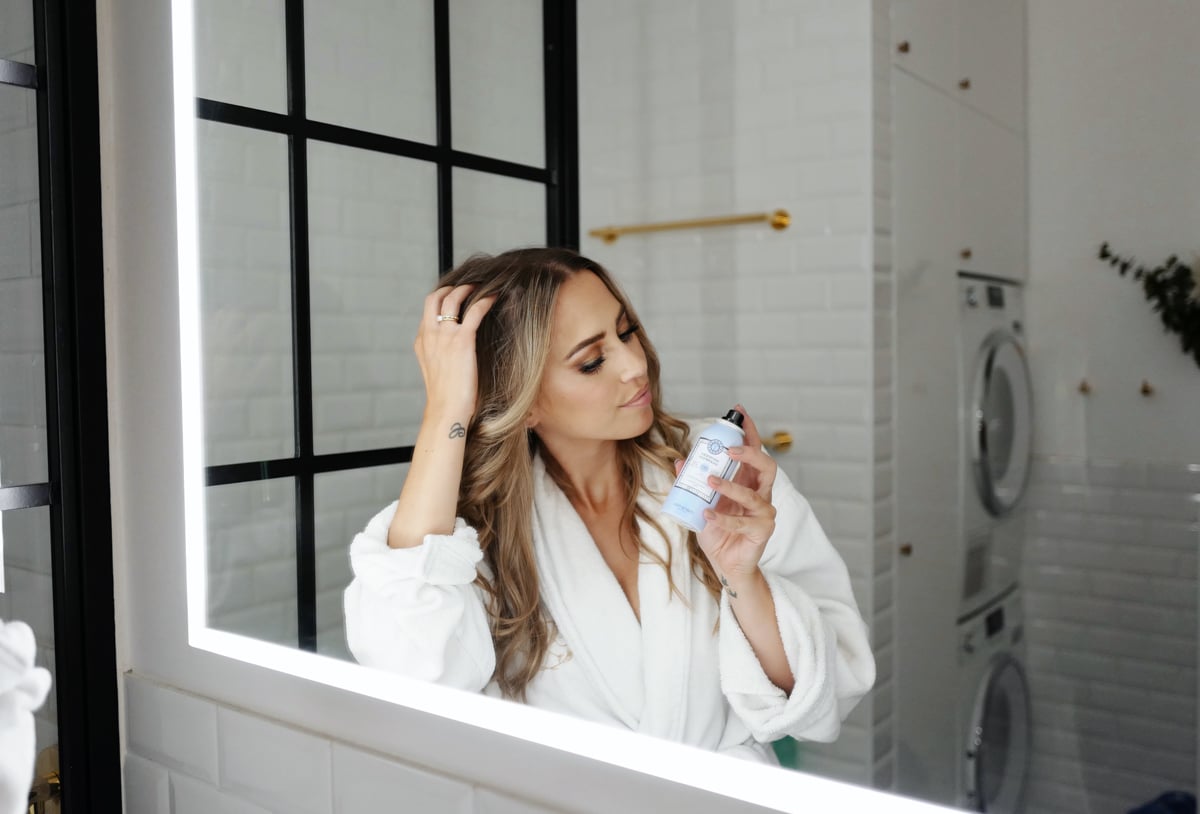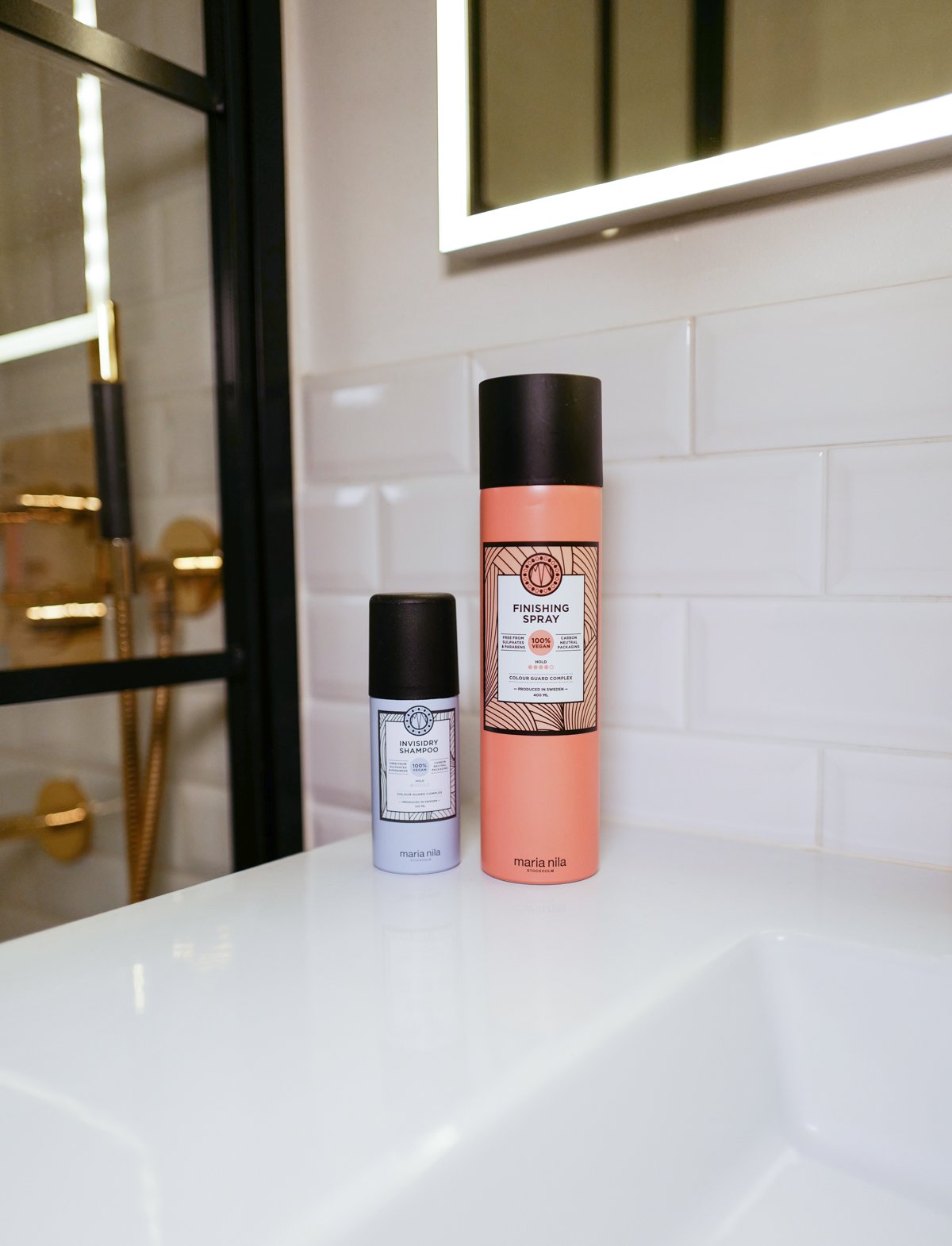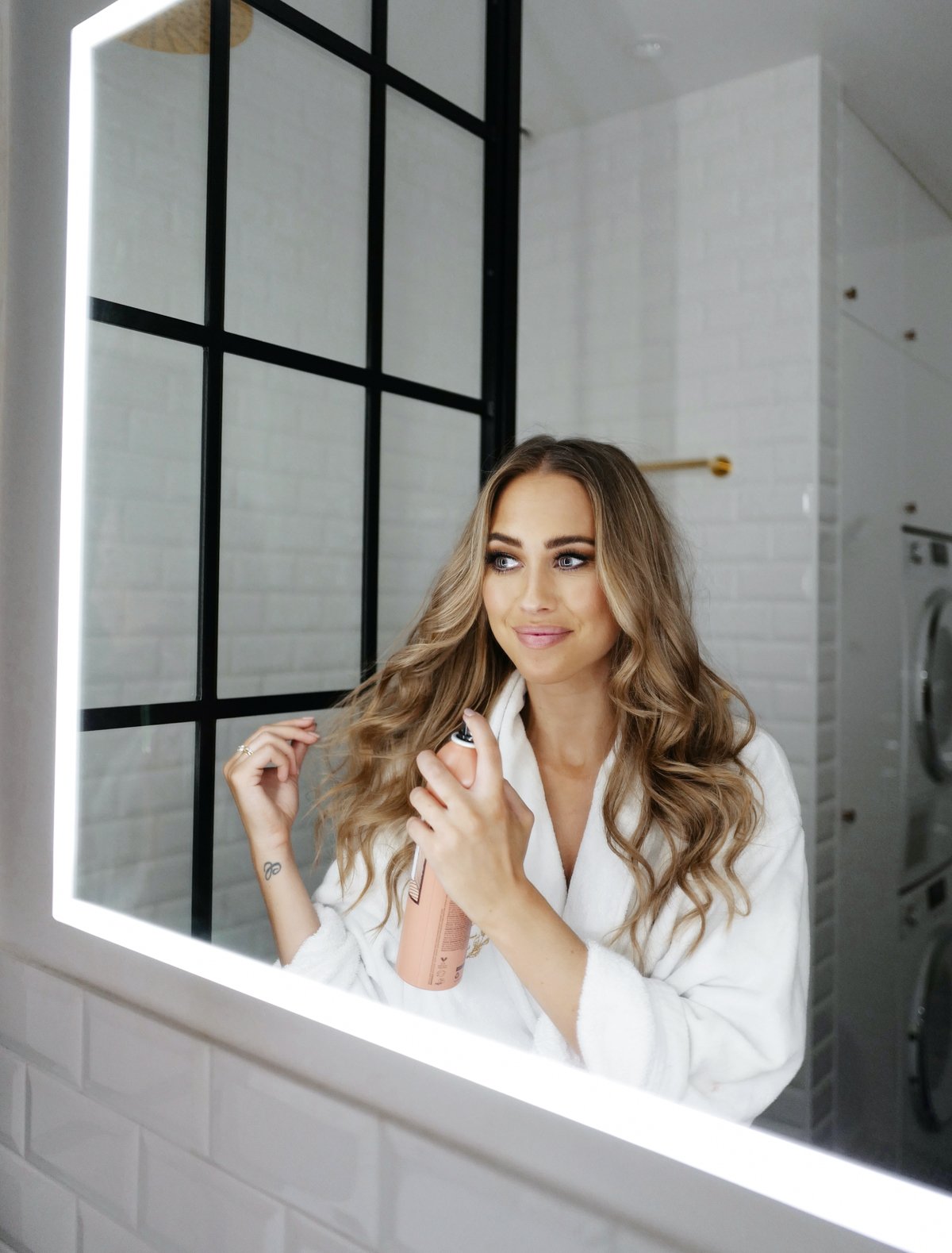 Maria Nila Finishing Spray – Maria Nila Invisidry Shampoo
Dags att avsluta det hela! Torrschampo är en räddning här hemma men det är inte bara när håret är fett och behöver fräschas till som jag använder den, utan jag tycker om att ha den i när håret är rentvättat också för att få lite mer volym och struktur. Detta torrschampo från Maria Nila är en torr puderspray som även skyddar håret mot UV-strålning. Jag har i den vid hårrötterna och gnuggar till. Hänger gärna med huvudet uppochner och gör detta också.
Borstar igenom lockarna lite försiktigt och avslutar med hårspray, en vårdande spray som ger stadga – även den från Maria Nila! Slänger lite med håret, sprayar lite till uppochner och väljer bena, och voila! Klart!
PS. Alla Maria Nilas produkter är veganska & cruelty free, samt fria från parabener och sulfater. Tummen upp på det.
// Let's finish it up! Dry shampoo is a rescue at home but I don't only use it when my hair is greasy and needs to get freshen up, I also like using it in my hair when it's newly washed to get some more volume and structure. This dry shampoo from Maria Nila is a dry powder spray that also protects the hair from UV radiation. I use it in my hair roots and rub it in. And I also do it with my head upside down.
I brush through the curls carefully and finish it with hairspray – also this one from Maria Nila! I throw my head upside down, spray a bit more and voila! Done!
PS. All Maria Nila's products are vegan & cruelty free, and free from parabens and sulfates. Thumbs up.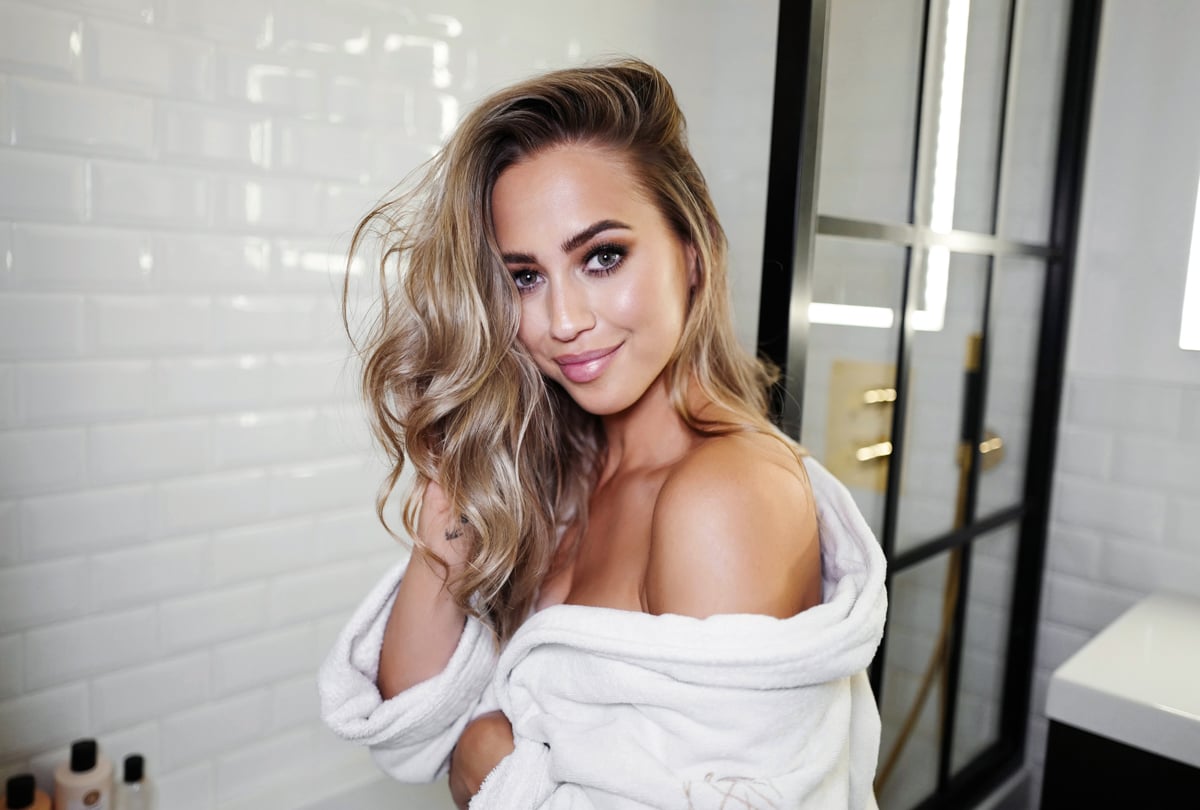 – This post is in collaboration with Nordicfeel.