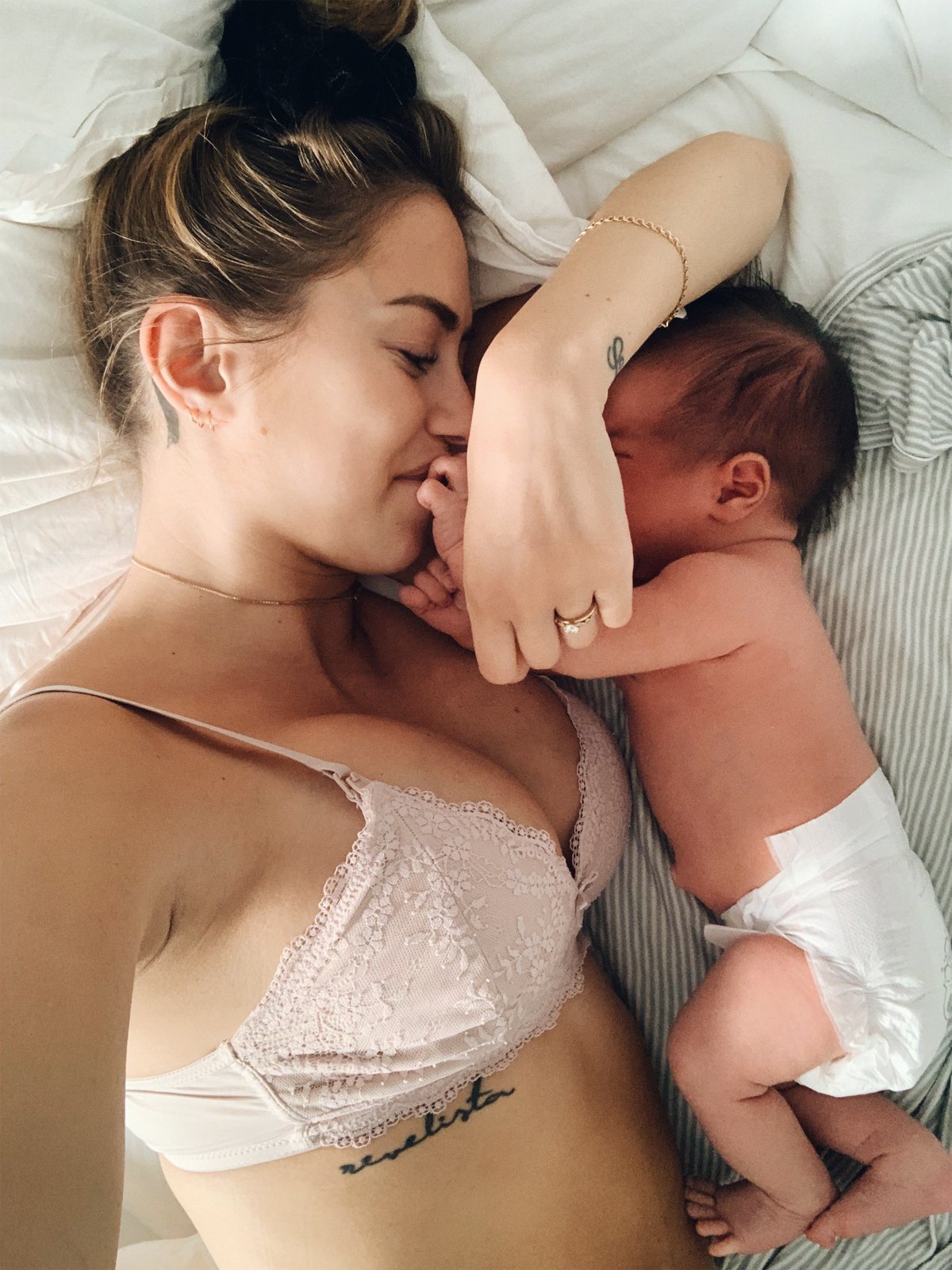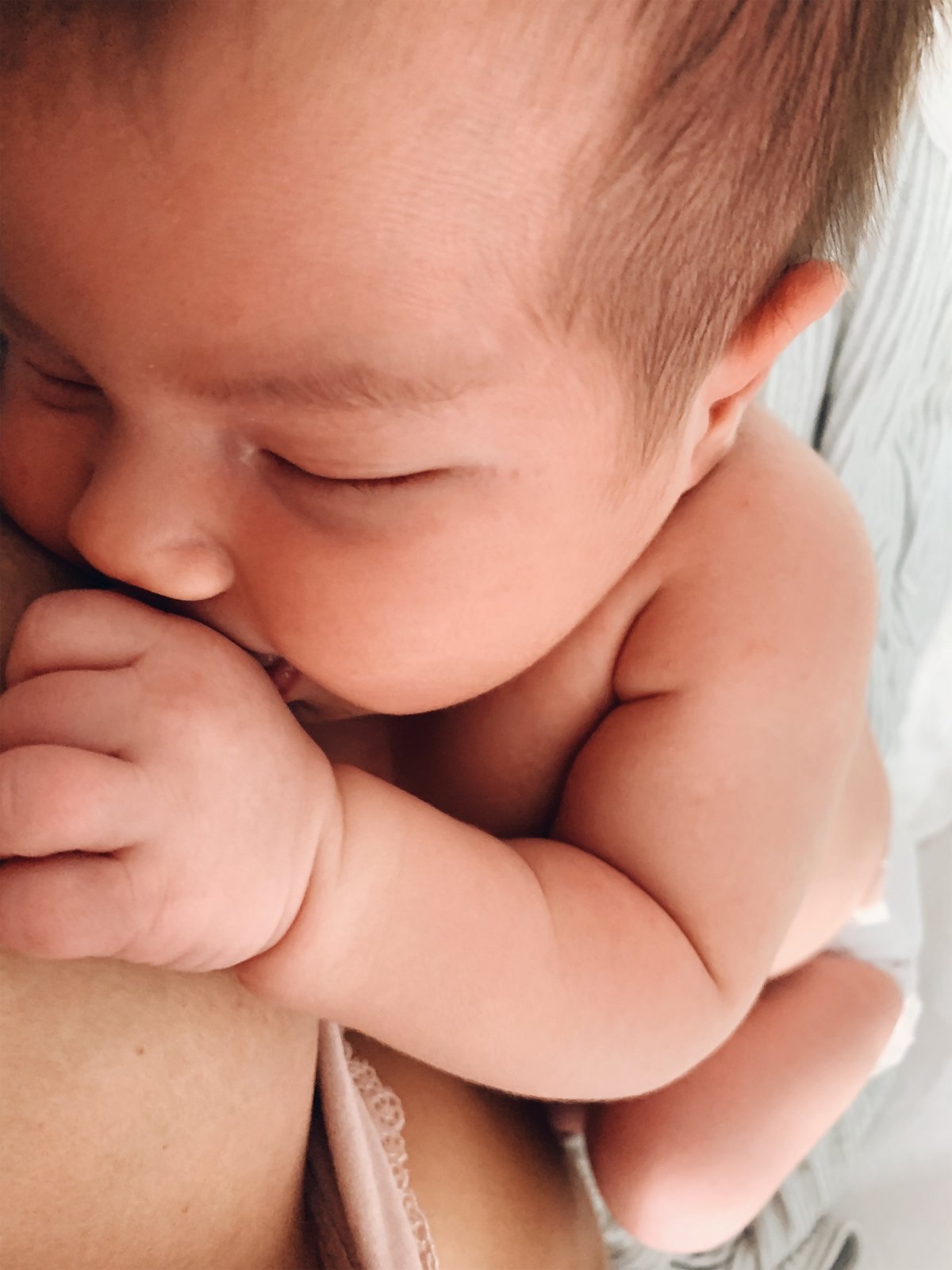 Us right now <3
Idag är vår Nikola hela två veckor gammal. Jag gjorde ju en liten uppdatering när han var en vecka så nu tänkte jag berätta lite om den senaste veckan. Hur har vi mått? Nikola har mått prima, han bara äter, skiter och sover. Ibland alla tre samtidigt typ, haha. Jag har haft mjölkstockning tyvärr med feber, huvudvärk och allt vad det är men det är bättre nu. Så vi kämpar på med amningen för fulla muggar, han går upp ordentligt i vikt (på senaste kollen hade han gått upp 600 g på 8 dagar… inte konstigt att mina boobs exploderade) så han har inga problem iallafall. Jag får ha tålamod och vänta tills min kropp förstår hur mycket mjölk den ska producera för honom, och fortsätta med värme (hej stickad tröja mitt i sommarn), handmjölka och allt man ska göra. Något som är skönt är iallafall att smärtorna där nere är helt borta!
Förutom det, vad mysigt vi har haft det!!!! Min kärlek för den här lilla killen växer sig bara starkare och starkare för varje dag som går. Kan titta på honom och brista ut i gråt för att han är så himla fin. Fortfarande så svårt att förstå att han är vår, för resten av våra liv. Är så tacksam.
Nu ska jag återgå till bebisbubblan. Hur länge får man vara i den förresten? Haha. Aleks går tillbaka till jobbet på måndag och det känns lite läskigt, som tur är så är det bara för en vecka för sedan åker vi iväg 2 veckor till huset vi hyrt! Ska bli skönt att byta ut stan mot natur. :-) Innan vi åker ska jag se till att filma det snack som behövs för att min förlossningsvideo ska bli komplett!
// Today our Nikola is already 2 weeks old. Since I did a little update when he was 1 week, I thought I could tell you about the last week now. So how have we been feeling? Nikola has been great, he's just eating, shitting and sleeping. Sometimes all three of them at the same time, haha. I've had mastitis unfortunately with fever, headache and all that but it's better now. So we keep on fighting with breastfeeding, he is gaining weight properly (in the latest check-up he had gained 600g in 8 days… not surprising my boobs exploded) so at least he is not having any problems. I have to be patience and wait until my body understands how much milk to produce for him, and continue with warmth (hello knitted sweater in the middle of summer), hand milk and all you're supposed to do. Something that is nice though is that the pains down there are completely gone!
Except for that, we're having such a cozy time!!! My love for this little boy is growing stronger and stronger each day. I can look at him and start crying because he is so damn beautiful. It's still hard to understand that he is ours, for the rest of our lives. I'm so grateful. 
Now I'm gonna go back to the baby bubble. How long are you allowed to be in there btw? Haha. Aleks is going back to work on Monday and that feels a bit scary, but luckily it's only for a week because then we're going away for 2 weeks to the house we have rented! It's gonna be nice to change the city life to nature. :-) Before we go I'll make sure to film the talk that is needed for my birth video to be complete!