– This post is in paid collaboration with Superfront –
BEFORE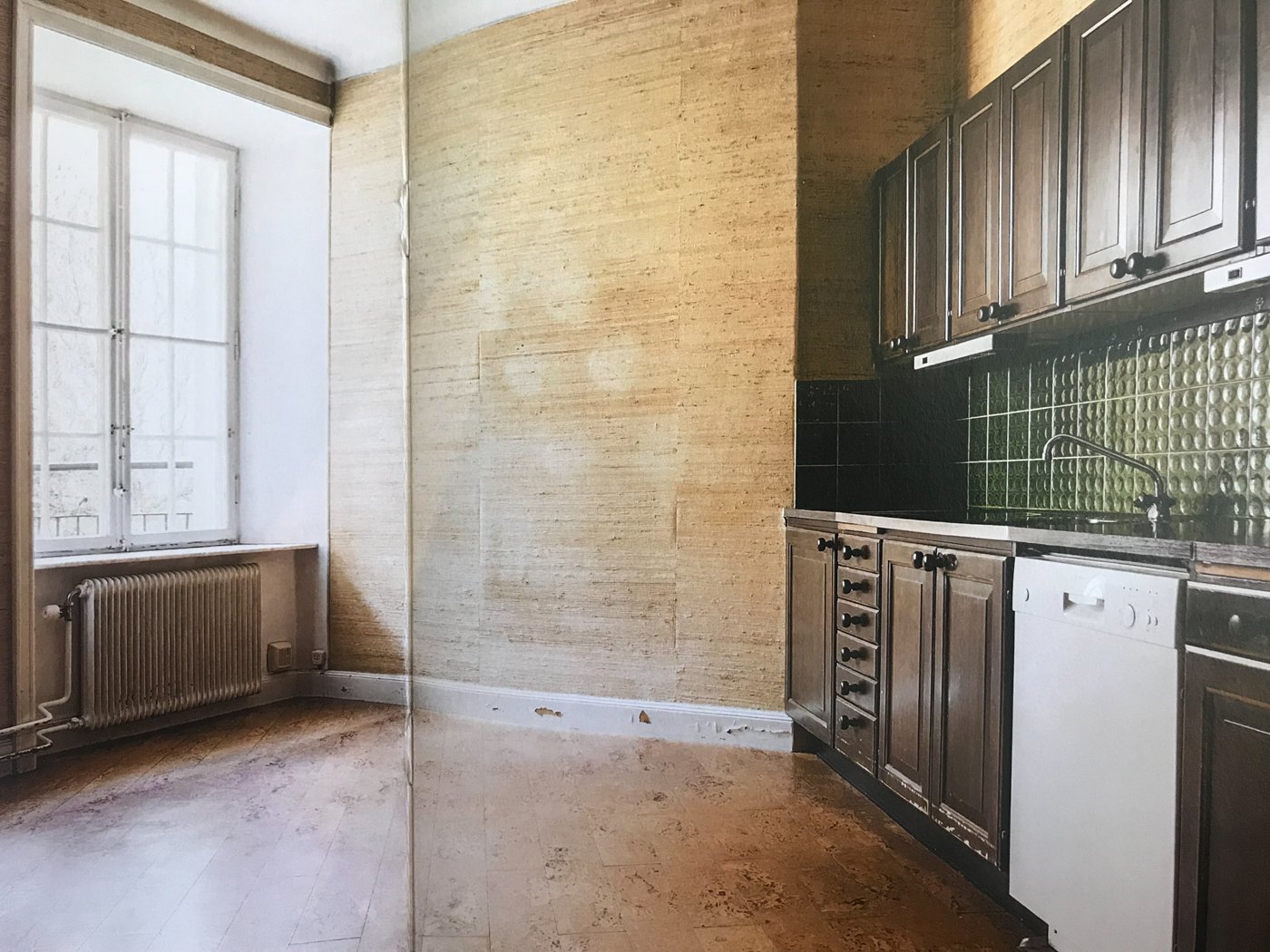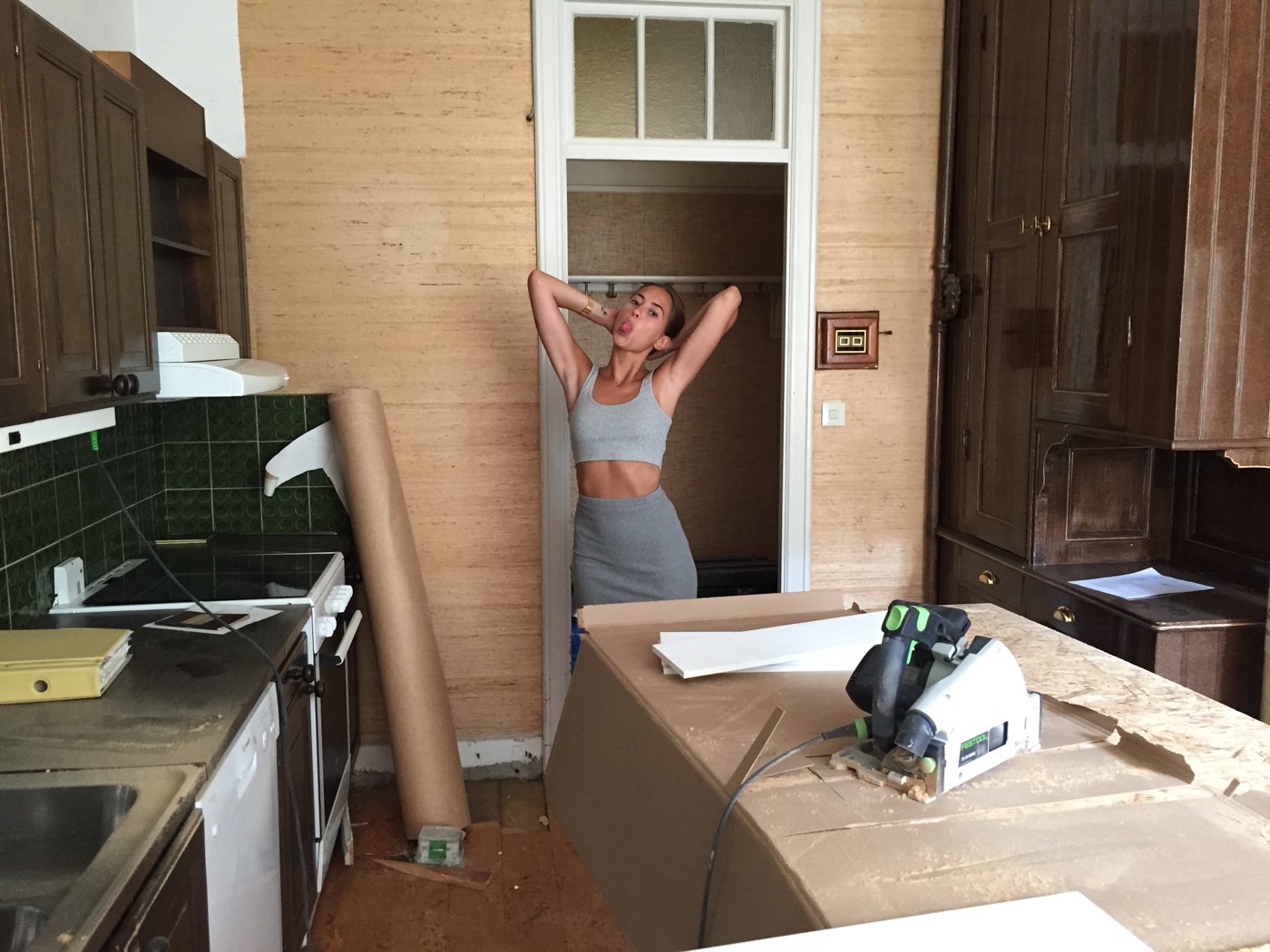 Before the renovation 
Okej, ni har tjatat och jag har lovat…. Så bättre sent än aldrig – dags att visa upp nästa rum i vår lägenhet! Som ni vet så renoverade vi hela vår lägenhet innan vi flyttade in här. Ingenting hade gjorts i lägenheten sedan 70-talet så renoveringen tog flera månader.
Lägenheten var en 2a när vi köpte den, men vi gjorde den till en 3a. Köket var onödigt stort, och eftersom att vi ville ha öppen planlösning med kök & vardagsrum i ett så delade vi upp köket och gjorde ett 3e rum som fick bli walk-in-closet. Hur jag övertalade Aleks till detta? Jo, han fick ha sin speldator där inne haha.
// Okey, you've been asking and I've been promising… So better late than never – it's time to show you the next room in our apartment! As you know we renovated the whole apartment before we moved in here. Nothing had been done in the apartment since the 70s so the renovation took several months.
It was a 1 bedroom apartment when we bought it, but we made a second room. The kitchen was unnecessarily big, and since we wanted it open between kitchen and livingroom, we split the kitchen in half and made a 3rd room. A walk-in closet. How I convinced Aleks to this? Well, he was allowed to have his game computer in there haha.
DURING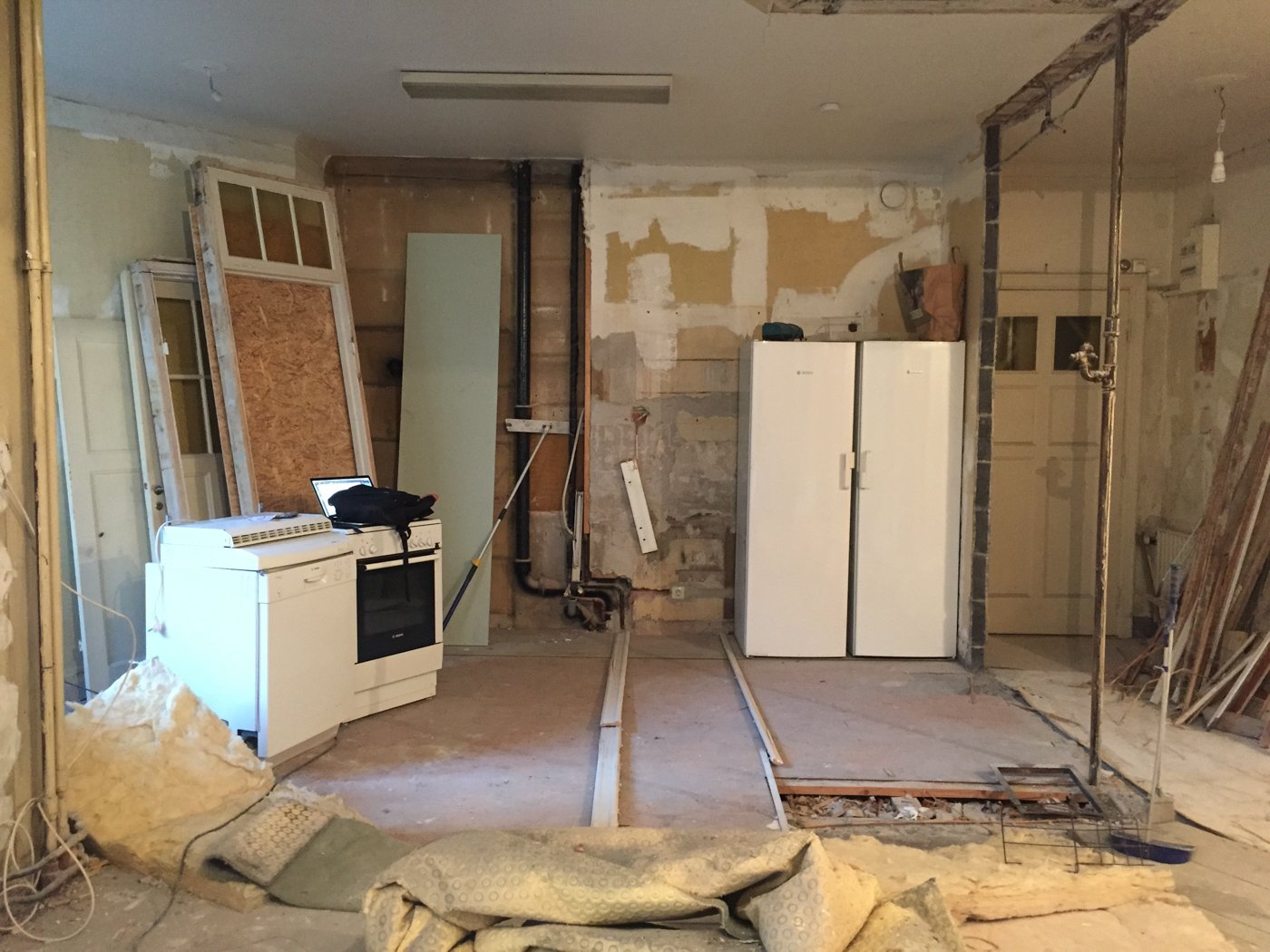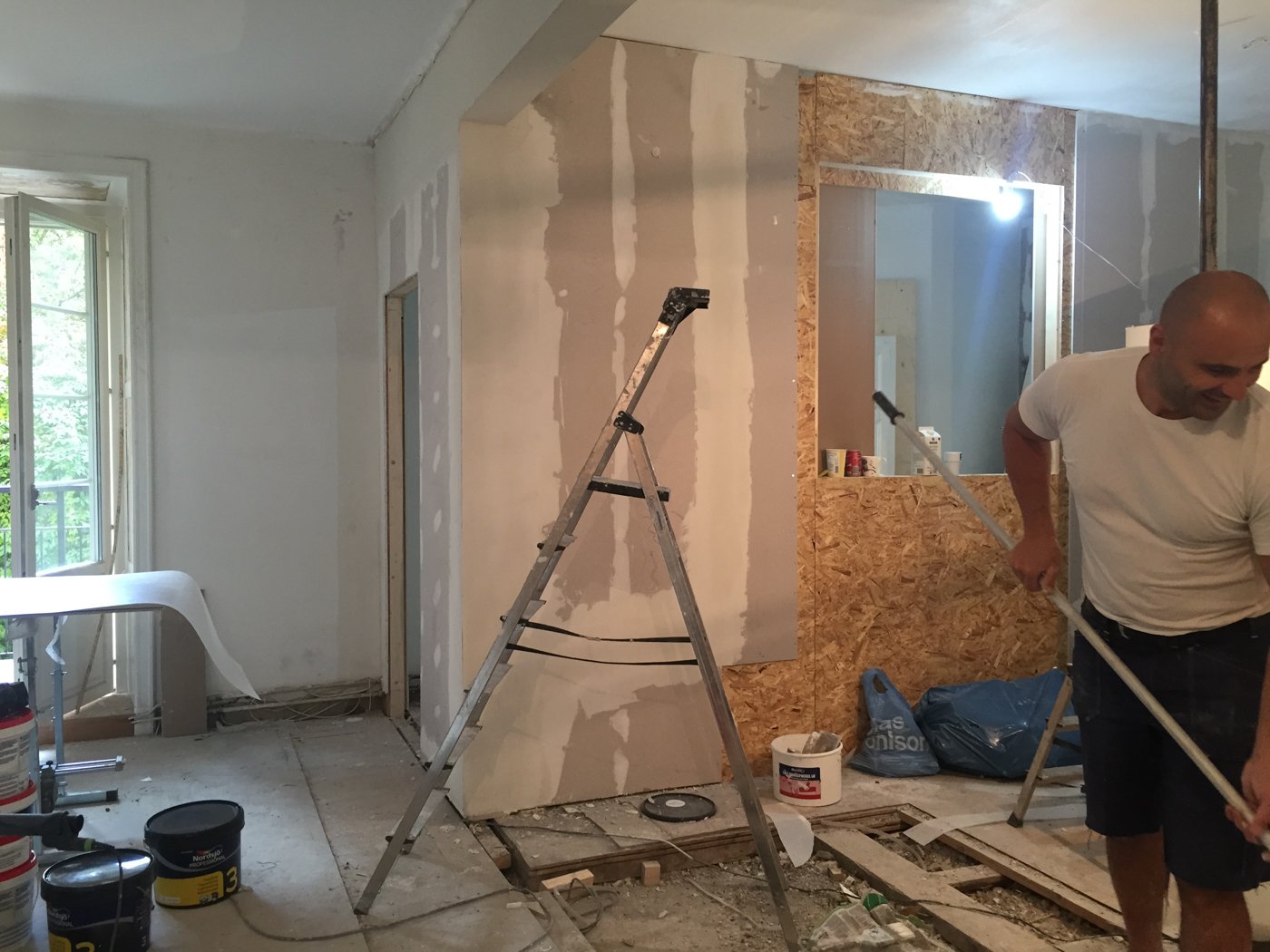 During the renovation
Här ser ni lite hur vi rev väggarna till köket, och satte upp nya som bildade ett nytt litet rum. För att släppa in ljus från det rummet till kök & hall så gjorde vi ett fönster mellan rummet och köket. Vi hade sett den lösningen på Pinterest och gillade det!
// Here you can see how we removed the walls to the kitchen, and put up new ones which formed a new little room. To get some light from that room to the kitchen and hall, we made a window between the room and the kitchen. We had seen this solution on Pinterest and we liked it!
AFTER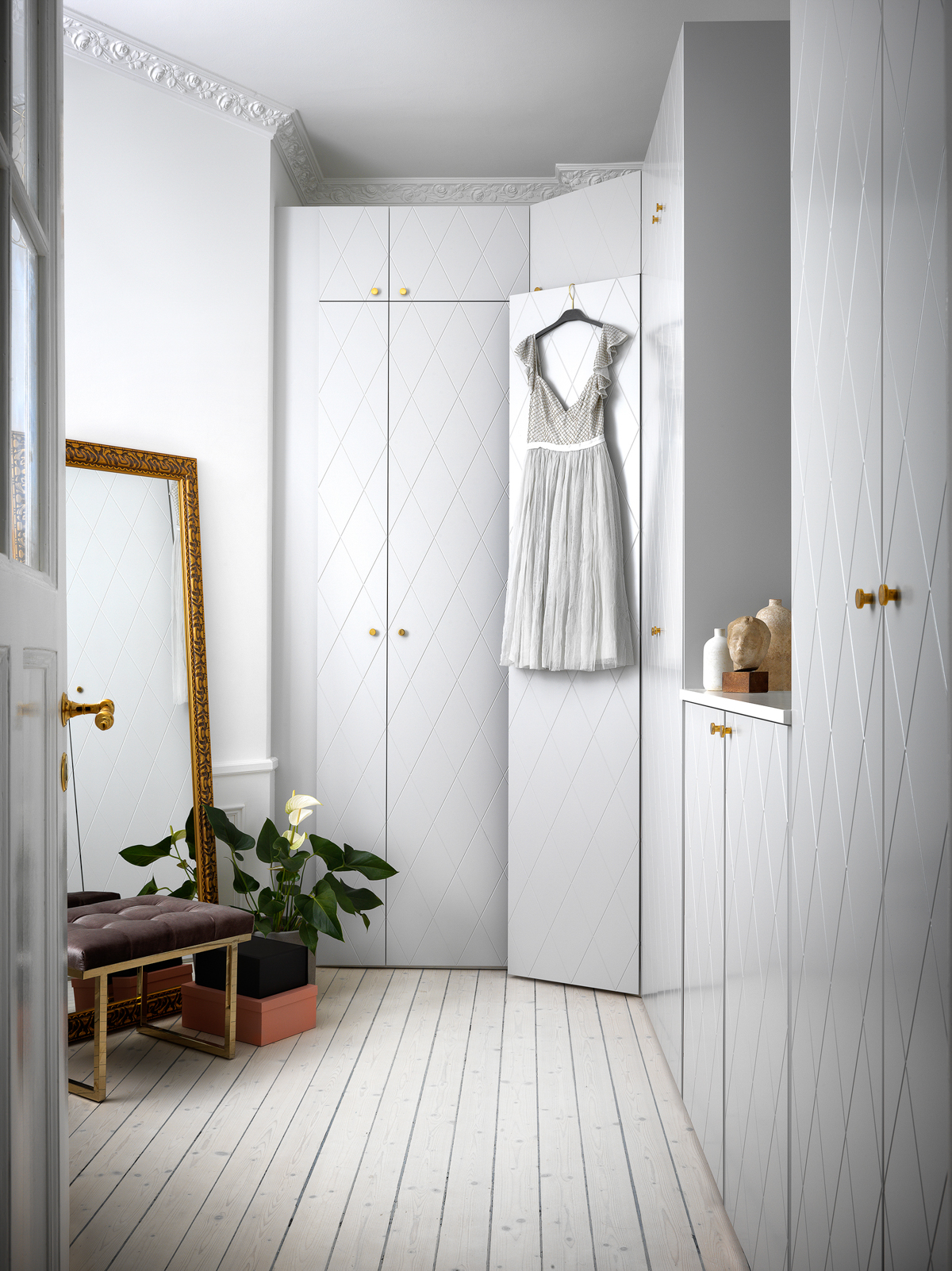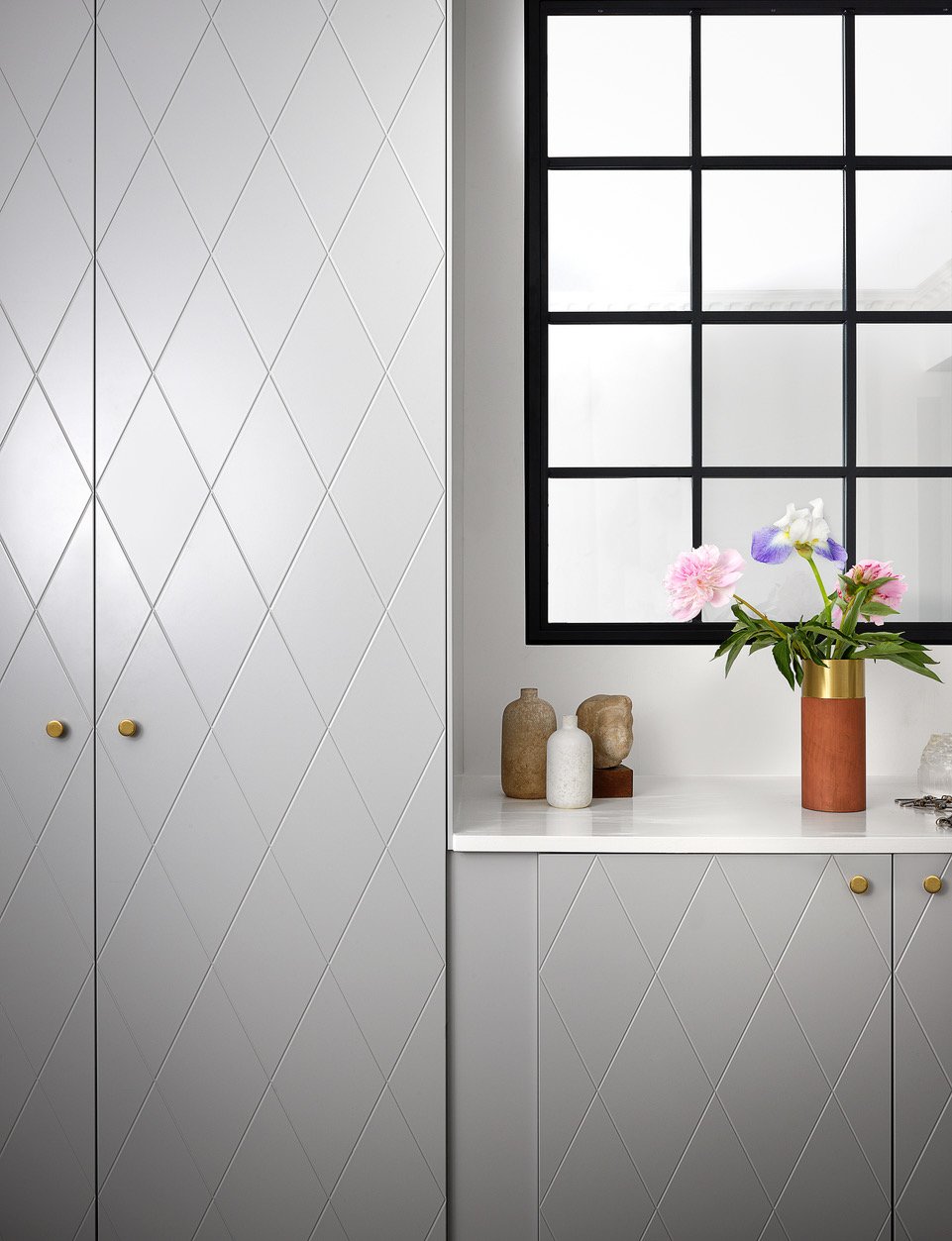 Our walk-in closet today with closets using Superfront design! And the window out to the kitchen.
Och såhär ser det ut idag! Nu visar jag bara vänstra halvan av det som var det stora köket, högra halvan (vilket är vårt kök idag) får jag visa upp en annan gång. Iallafall, så vad gjorde vi då? Precis som i resten av lägenheten så tog vi fram orginalgolvet och gjorde det ljust och fint, samt gjorde väggpaneler & satte upp vackra stuckaturer i taket för att få tillbaka sekelskifteskänslan.
Sen velade vi fram och tillbaka om vi skulle ha stängda garderober eller öppna, men med tanke på att det alltid är kaos i mina garderober så visste vi att det inte skulle bli nice att se allt det haha. Så det fick bli stängda. Då började jakten efter SNYGGA garderober och det var inte det lättaste. Och let's face it… Ikeas garderober är ju bra och smidiga att köpa & montera. Men kanske lite tråkiga?
Men sedan hittade vi Superfront, ett företag som gör fronter, sidor, handtag, ben etc som passar Ikeas vanligaste skåpstommar (kök, tvbänk, garderober etc). Tycker detta är en sån himla smart och rolig idé för de flesta av oss har ju någon Ikea-stomme hemma och vill man piffa till den lite eller göra den mer personlig så är det så himla lätt med Superfront.
Så det vi gjorde var att vi köpte vanliga PAX-garderober på Ikea, och sedan beställde vi fronter, sidor och handtag från Superfronts hemsida som vi enkelt monterade på. Det finns en hel del mönster, färger etc att välja på så valet var verkligen inte lätt. Tillslut valde vi mönstret Harlequin och färgen Ashton Grey vilket vi tyckte kändes väldigt tidlöst och elegant och passade perfekt mot de vita väggarna. Eftersom att resten av lägenheten har gulddetaljer (vi har Superfronts handtag även på andra skåp och byråar i lägenheten) så fick det bli handtagen Mini Circus i brass.
Som ni ser så har vi även några mindre skåp ovan samt en halv garderob under fönstret. Vi ville utnyttja hela takhöjden så vi sågade helt enkelt itu garderober (och Superfront-delar!) också för att få allt att passa perfekt.
// And here's what it looks like today! Now I'm only showing you the left half of what used to be the big kitchen, I'll show you the right half (which is our kitchen today) another time. Anyway, so what did we do? Just like in the rest of the apartment we brought out the original floor and made it light and beautiful, and made wall panels + put up beautiful moldings in the ceiling.
Then we discussed back and forth if we should have closed closets or open ones, but since it's always chaos in my closets we knew it wouldn't be nice to see all that haha. So we chose closed ones. Then the hunt started for STYLISH closets which wasn't the easiest part. And let's face it.. Ikea's closets are good and easy to buy and put up. But maybe a bit boring?
But then we found Superfront, a company who makes fronts, sides, handles, legs etc for Ikea's most common cabinet frames (kitchen, tv bench, closets etc). I think this is such a smart and fun idea because many of us have an Ikea cabinet at home and if you want to make it more fun and personal it's so easy with Superfront.
So what we did was that we bought regular PAX closets at Ikea, and then we ordered fronts, sides and handles from Superfront's website and put them on. They have a lot of patterns, colors etc to choose from so it wasn't easy at all. In the end we went for the pattern Harlequin and the color Ashton Grey which we felt was very timeless and elegant and looked perfect against those white walls. Since the rest of the apartment has golden details (we also have Superfront's handles on other cabinets in our apartment) we chose the handles Mini Circus in brass.
As you can see we also have some smaller lockers on top and also a half a closet under the window. We wanted to take advantage of the whole height so we cut closets (and Superfront parts!) in half to make everything fit perfectly.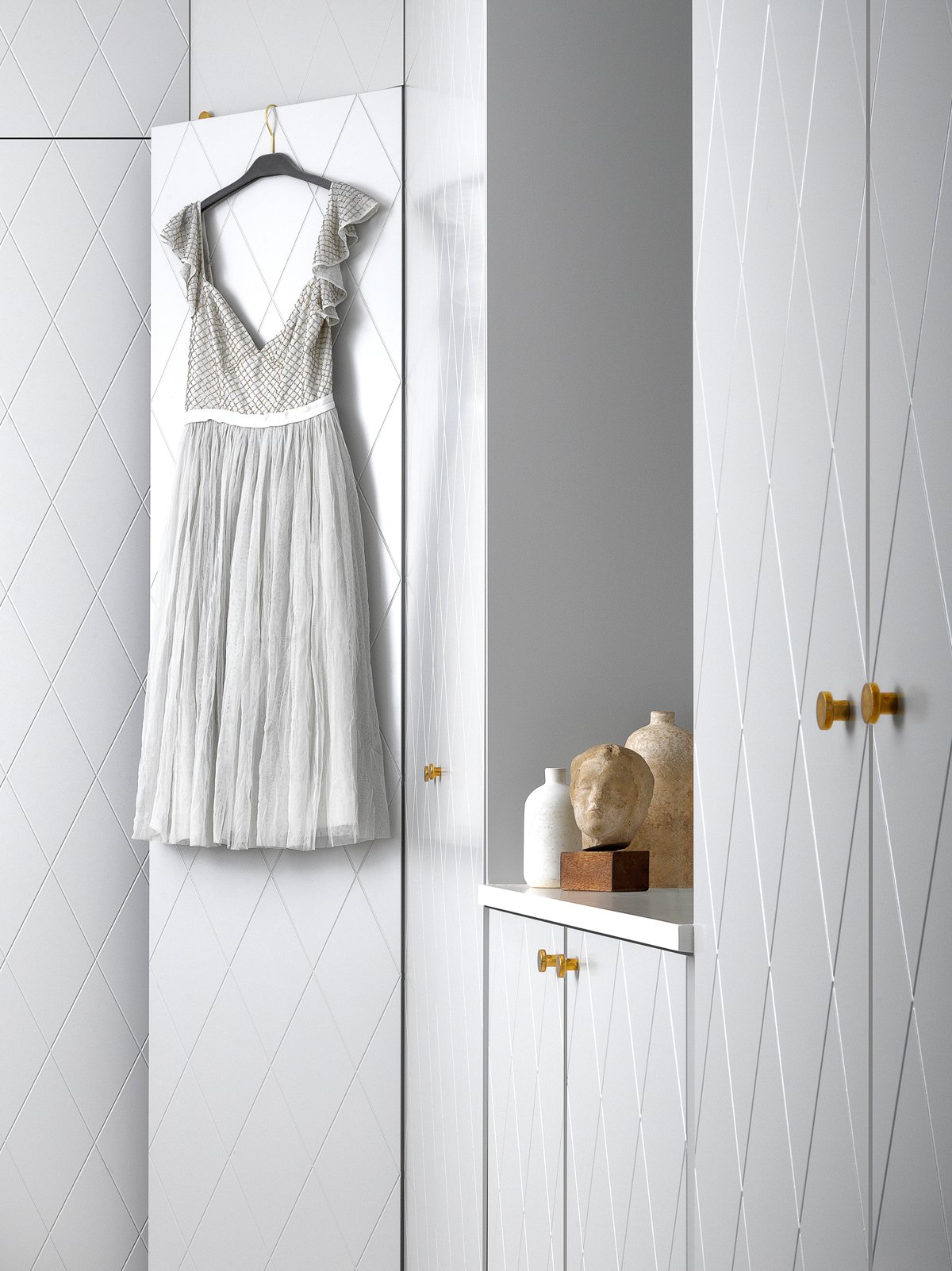 Ikea PAX closets (some parts are actually cut in half!) with Superfront fronts called Harlequin in the color Ashton Grey. Handles are Mini Circus in brass.
Vi är så himla nöjda! Älskar vår walk-in-closet, den känns så lyxig. Om ni undrar var Aleks spelhörna är så är den till vänster under fönstret, gömd bakom dörren. ;-) Nu har det gått 1.5 år och Superfront håller verkligen vad de lovar med hög kvalité för våra garderober är fortfarande helt felfria.
Förresten, Superfront har nyligen lanserat en kollektion sideboards som de kallar ASAP Collection. ASAP består av 9 färdigkomponerade sideboardpaket (för Ikeas Bestå-stomme) i olika färger och mönster som skickas inom 1-2 arbetsdagar. Ben och handtag väljer man till vid sidan så det blir lite personligt ändå, men detta är perfekt om man har lite bråttom eller bara gillar att spontanshoppa och ha grejerna direkt. Väljer man allt själv från början så är leveranstiden 4-6 veckor!
// We are so happy with the result! I love our walk-in closet, it feels so luxurious. If you wonder where Aleks game corner is, it's to the left under the window, hidden behind the door. ;-) It's been 1.5 years now and Superfront really keep their promise about high quality because our closets are still perfect.
Btw, Superfront just launched a collection sideboards called ASAP Collection. ASAP is made out of 9 sideboard packages (for Ikea's Bestå cabinet) in different colors and patterns ready to be sent out in 1-2 work days. You choose legs and handles yourself so it still gets a bit personal, but this is perfect if you're in a hurry or just like to shop spontaneous and want the stuff right away. If you choose everything yourself from the beginning, the delivery time is 4-6 weeks!
– This post is in collaboration with Superfront.