– This post is in collaboration with Elfa Lumi AB, but products are from Lumi –
BEFORE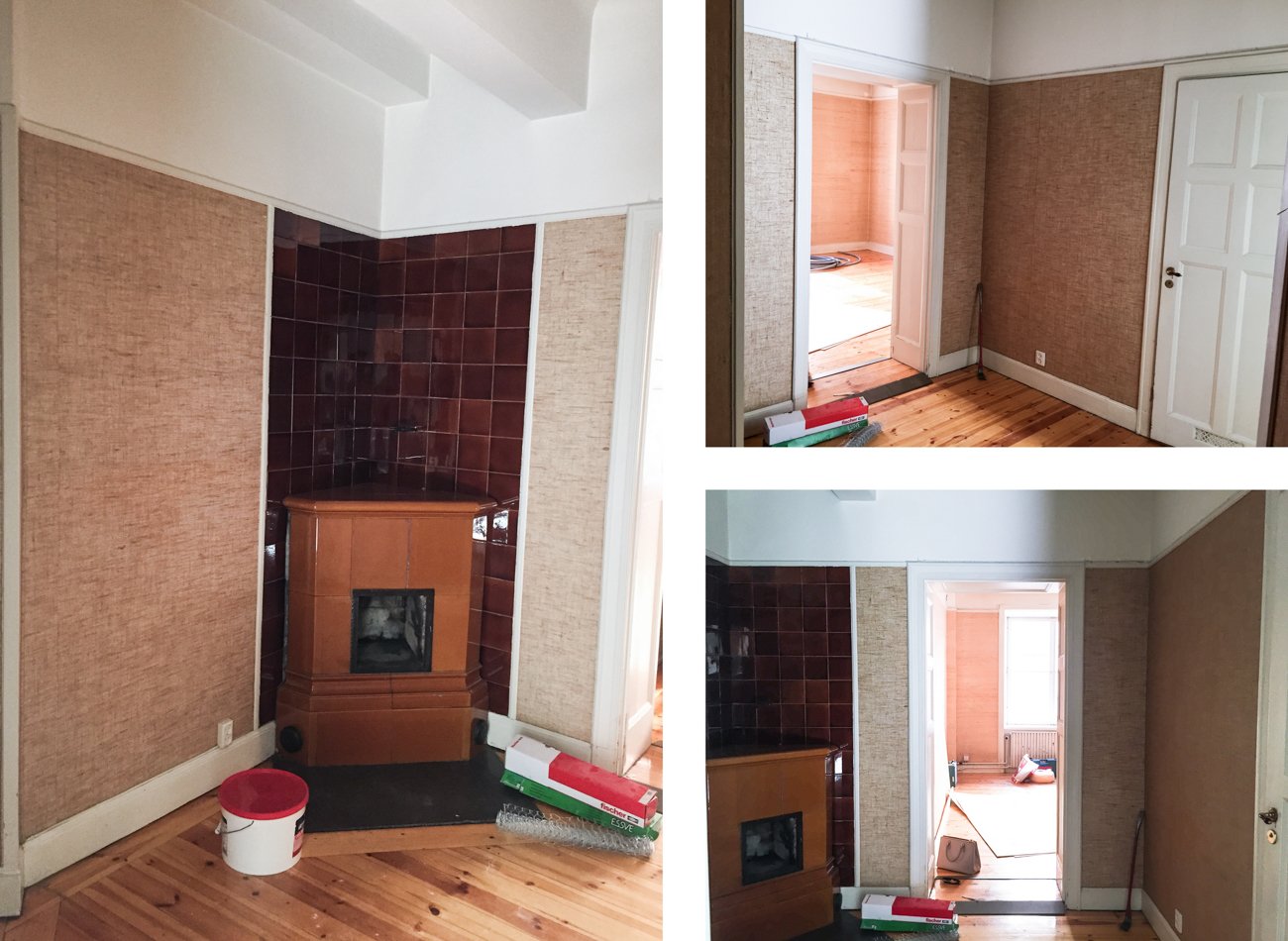 Before we started with the renovation 
Då var det dags att presentera nästa rum i lägenheten, och här har ni det vi kallar för "lilla hallen" utanför badrummet! Såhär såg det ut innan. Den här kakelugnen var den enda av 3 som inte fungerade, så vi kände på en gång att den skulle bort. Istället var vi i stort behov av förvaring! Vi har plats för jackor och skor i hallen vid ytterdörren men inte tillräckligt (ni vet ju att jag har en hel del haha), så här bestämde vi oss för att bygga garderober.
// So it's time to present the next room in our apartment, and here you have what we call "the little hallway" outside the bathroom! This is what it looked like before. This stove was the only one out of 3 that didn't work, so we felt right away that it had to go. Instead we were in need of storage! We have room for jackets and shoes in the hall at the front door as well but not enough (you know I've got a lot of stuff haha), so we decided to build closets here.
DURING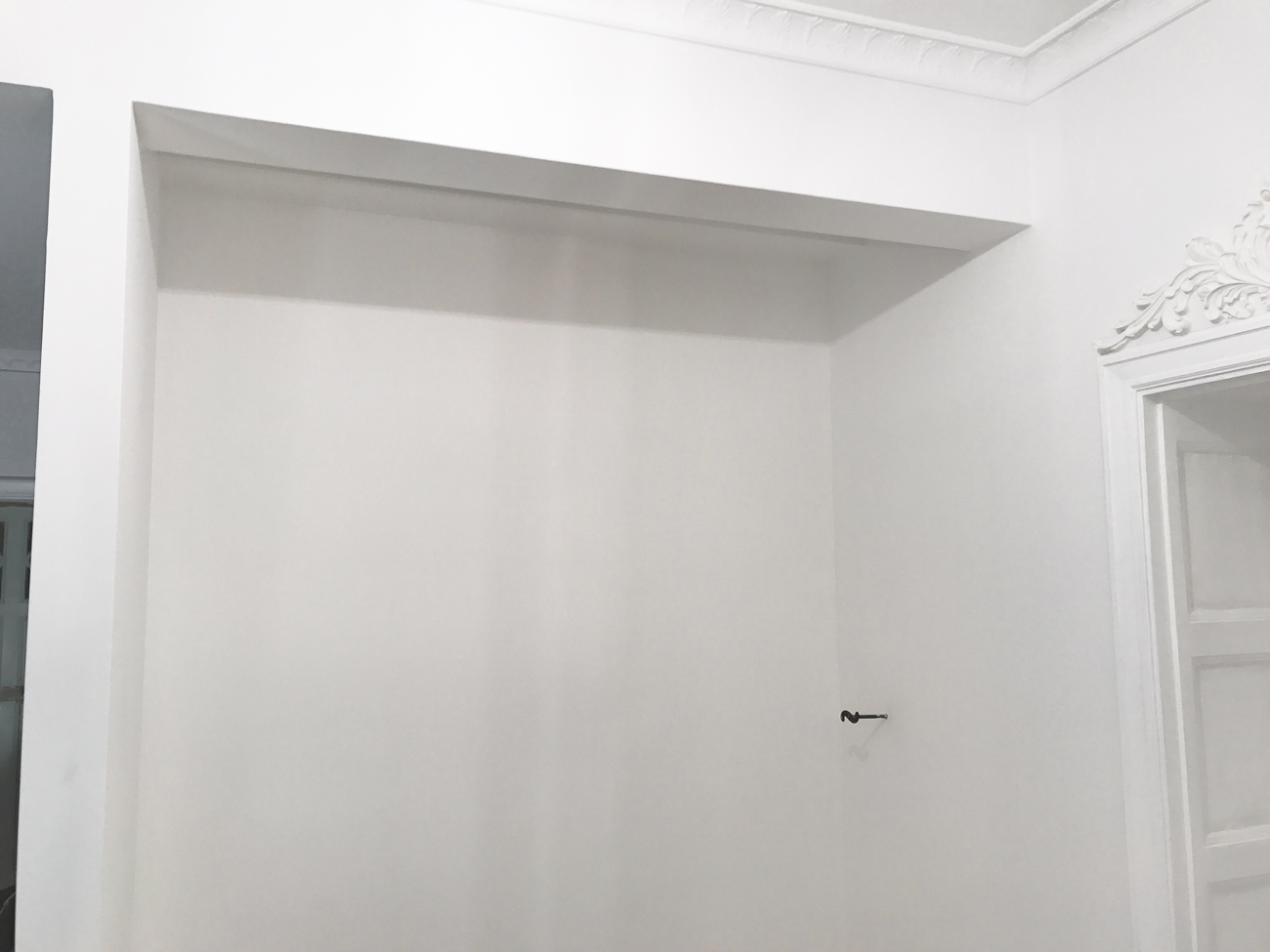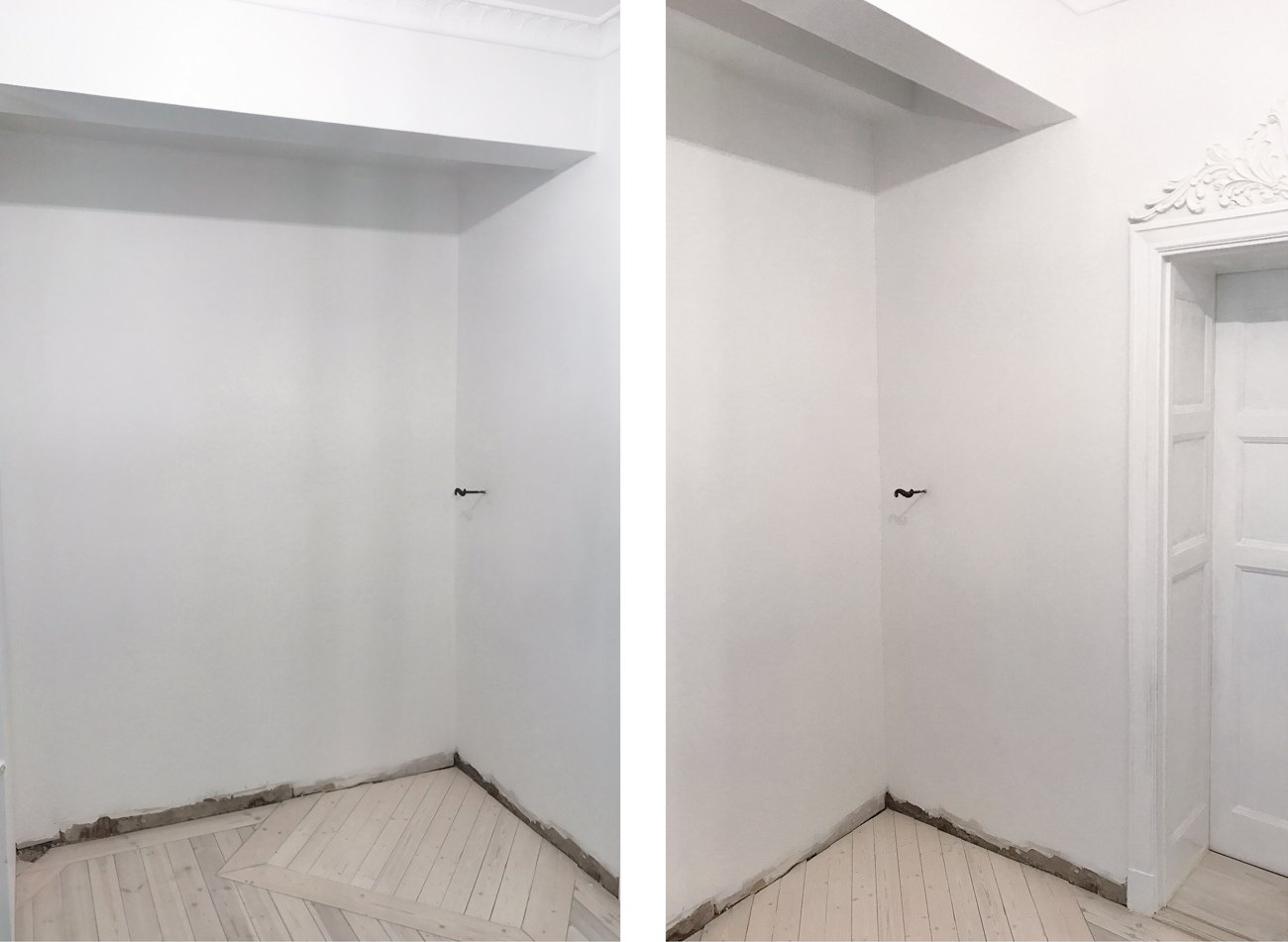 During the renovation
Hejdå kakelugn, gräsliga kakel och fula tapeter! Vi gjorde plats för garderober men sedan stötte vi på ett problem, hur i HELSKOTTA skulle vi hitta garderober som passade just denna yta?
Som tur var kom vi i kontakt med Elfa, ett företag som gör skräddarsydda garderober utefter vad man vill ha plats för samt måtten på ytan. Så de kom och mätte hos oss, och så talade vi om för dem att vi ville ha plats för lite allt möjligt: städgrejer, jackor, skor, lakan & handdukar m.m. Sedan ritade de upp ett förslag på hur garderoben kunde se ut inuti, vi gillade skissen så då var det bara att välja dörrar och lägga beställning!
// Bye stove, hideous tiles and ugly wallpaper! We made room for closets but then we bumped into a problem, where the HECK could we find closets that suited this place?
Luckily we found Elfa, a company that makes custom made closets based on what you want to have in them plus the measurements of the area. So they came to us and took the measurements, and then we told them what we wanted room for: cleaning stuff, jackets, shoes, bed sheets, towels etc. Then they drew a suggestion of what the closet could look like inside, we liked the draft so we chose doors and placed the order!
AFTER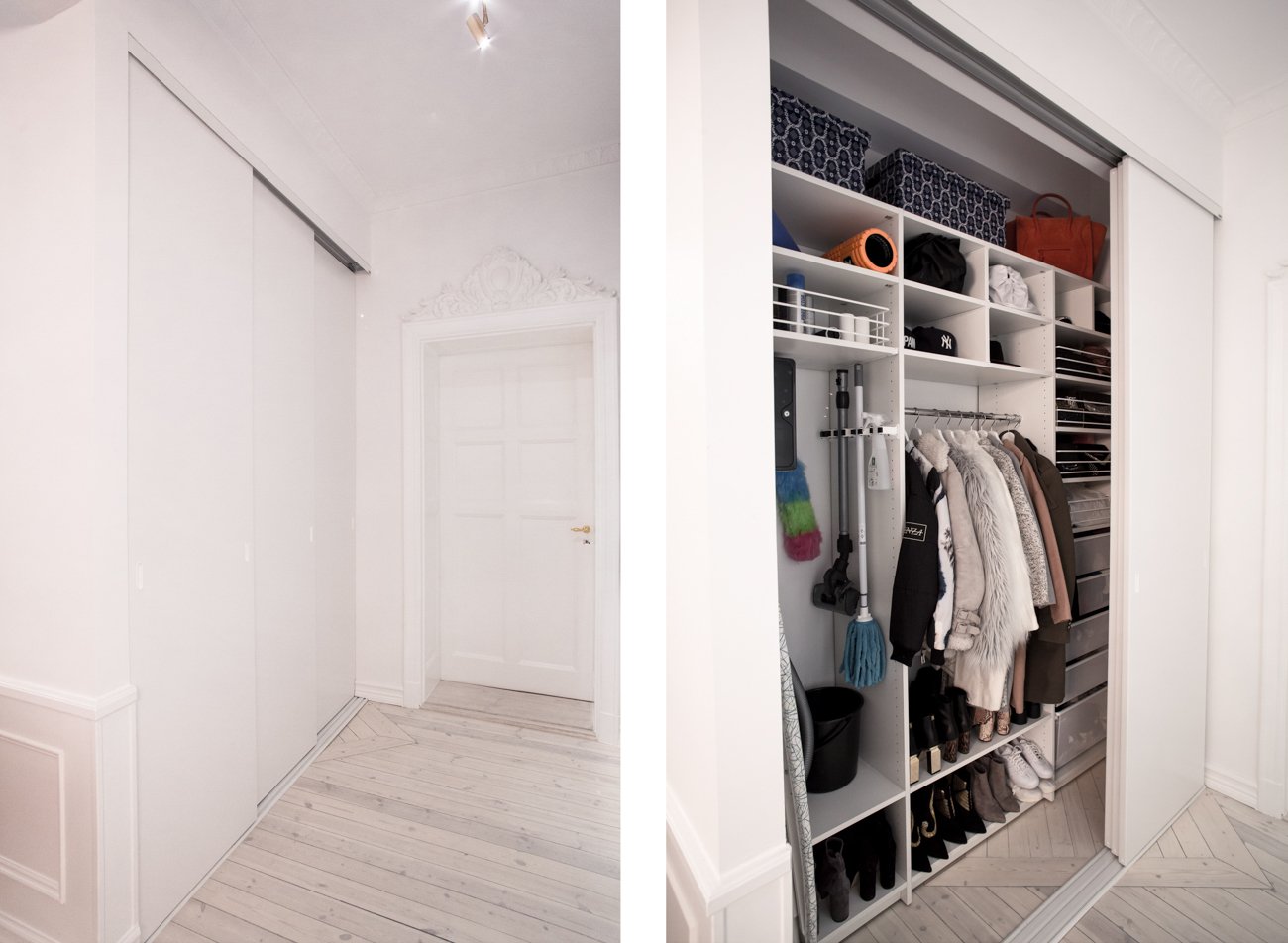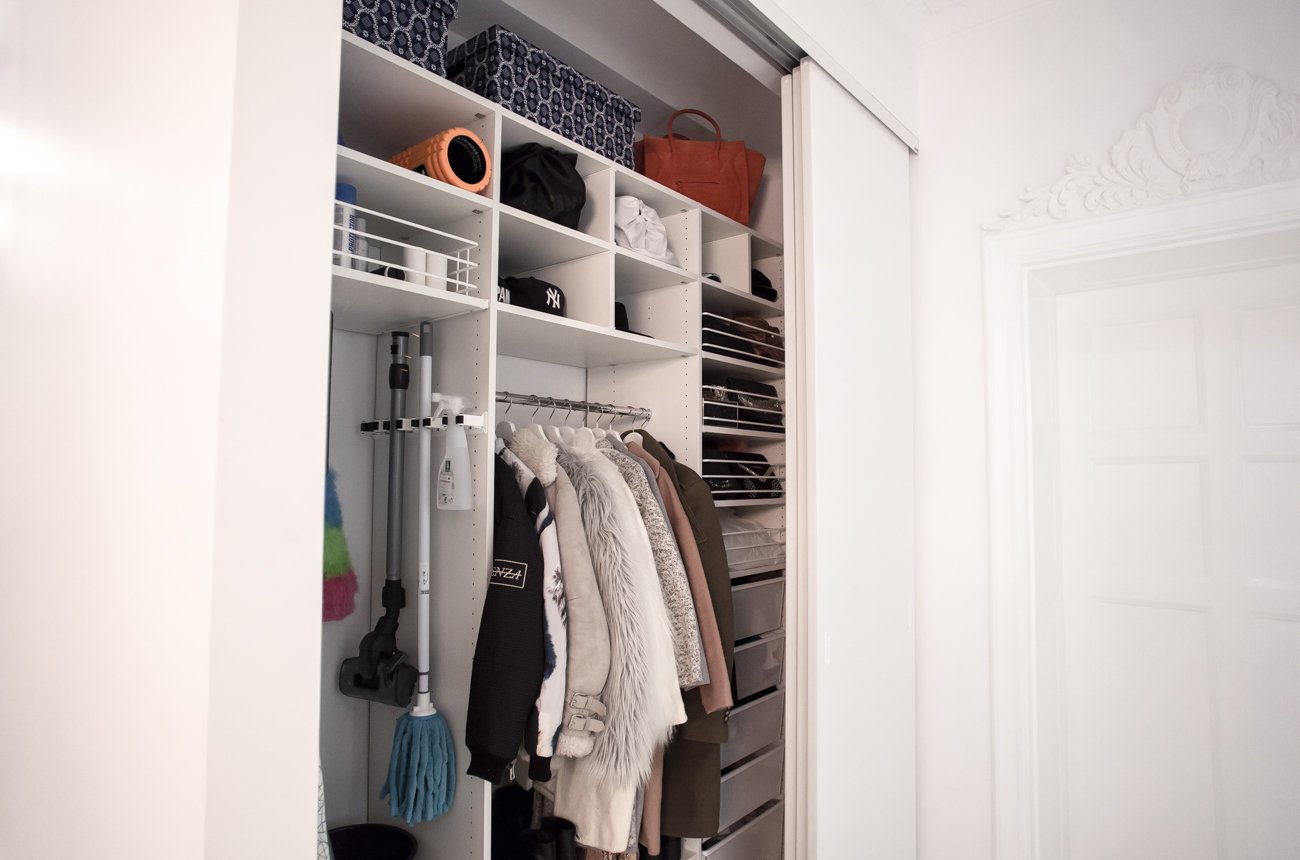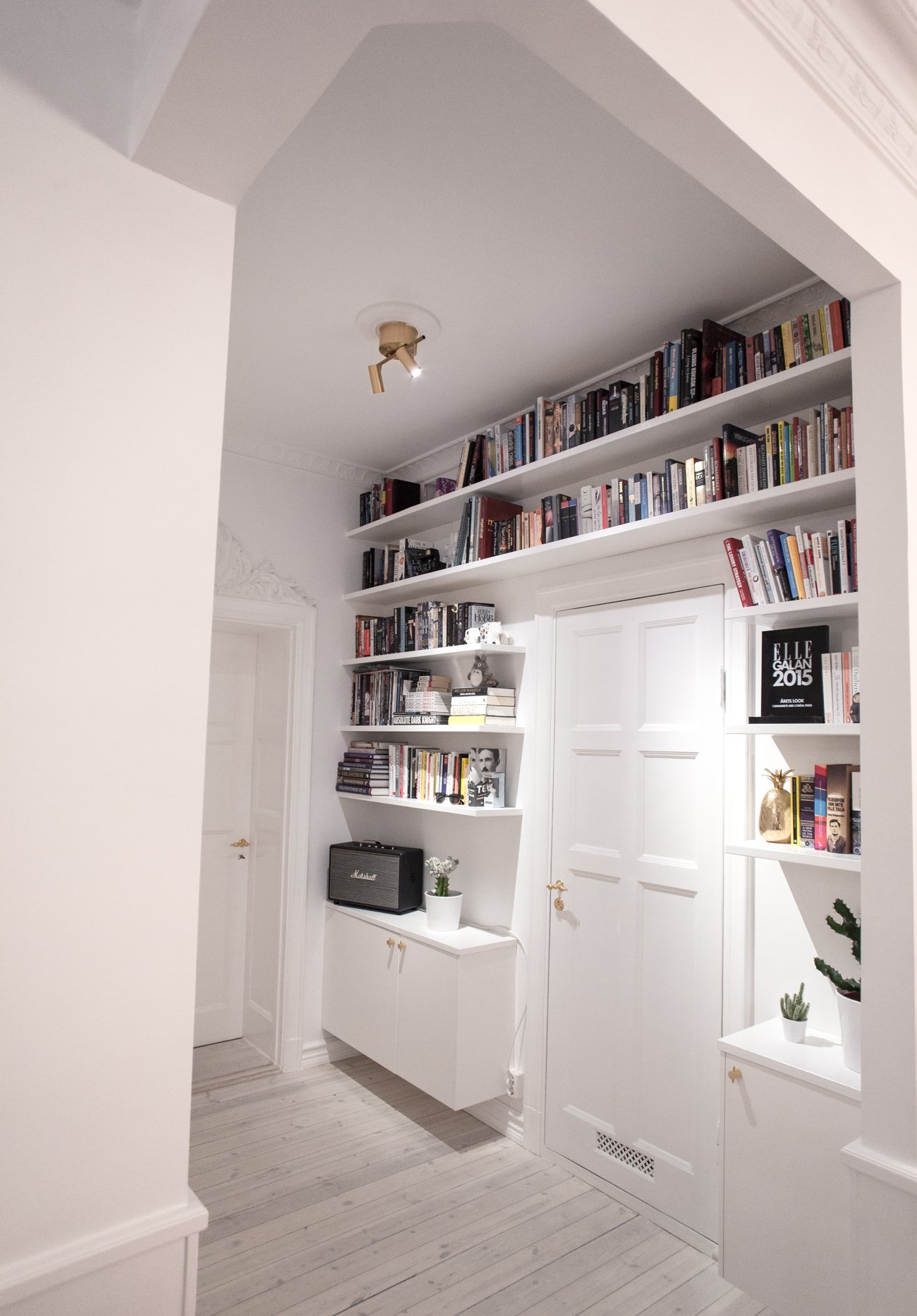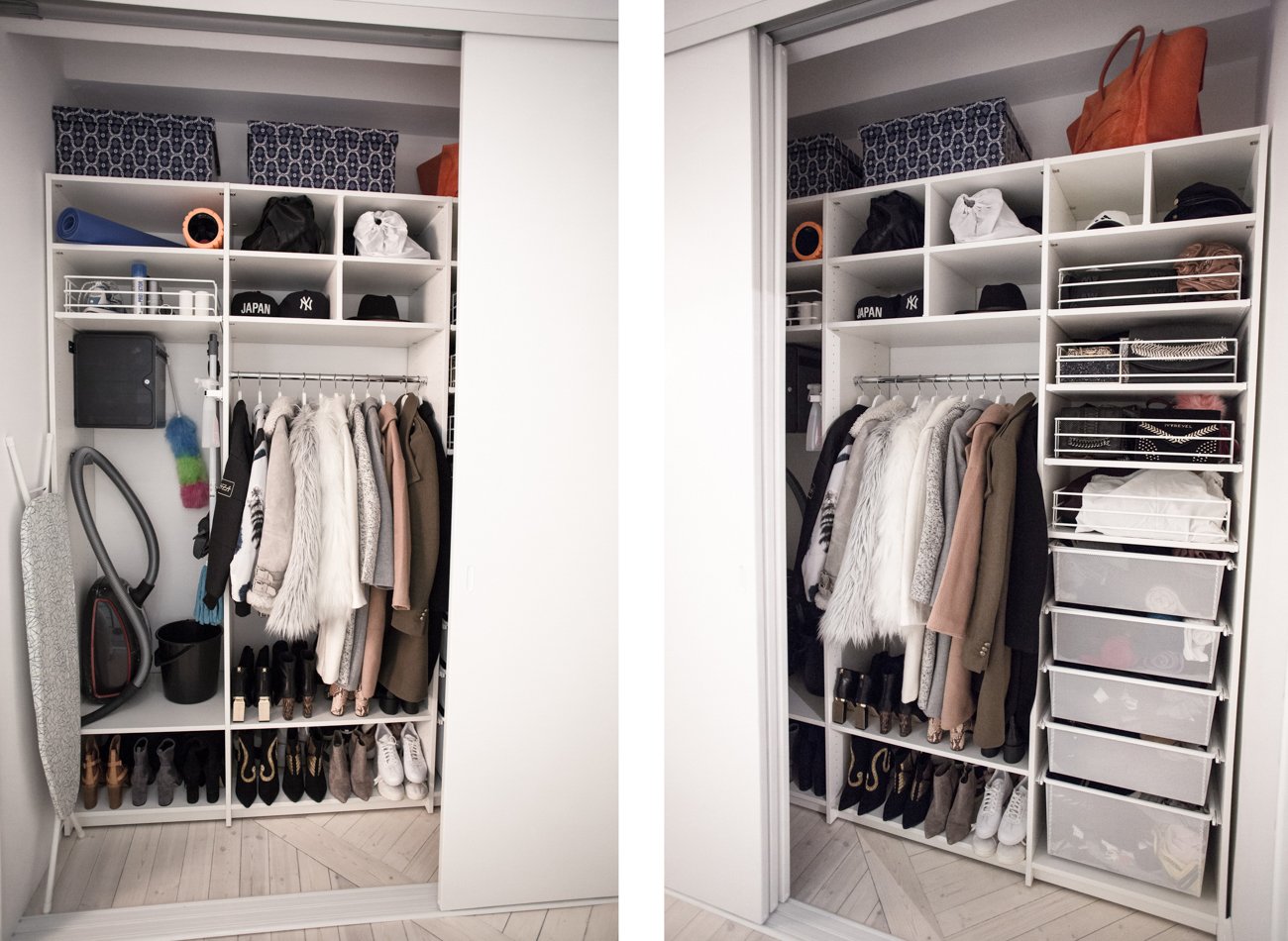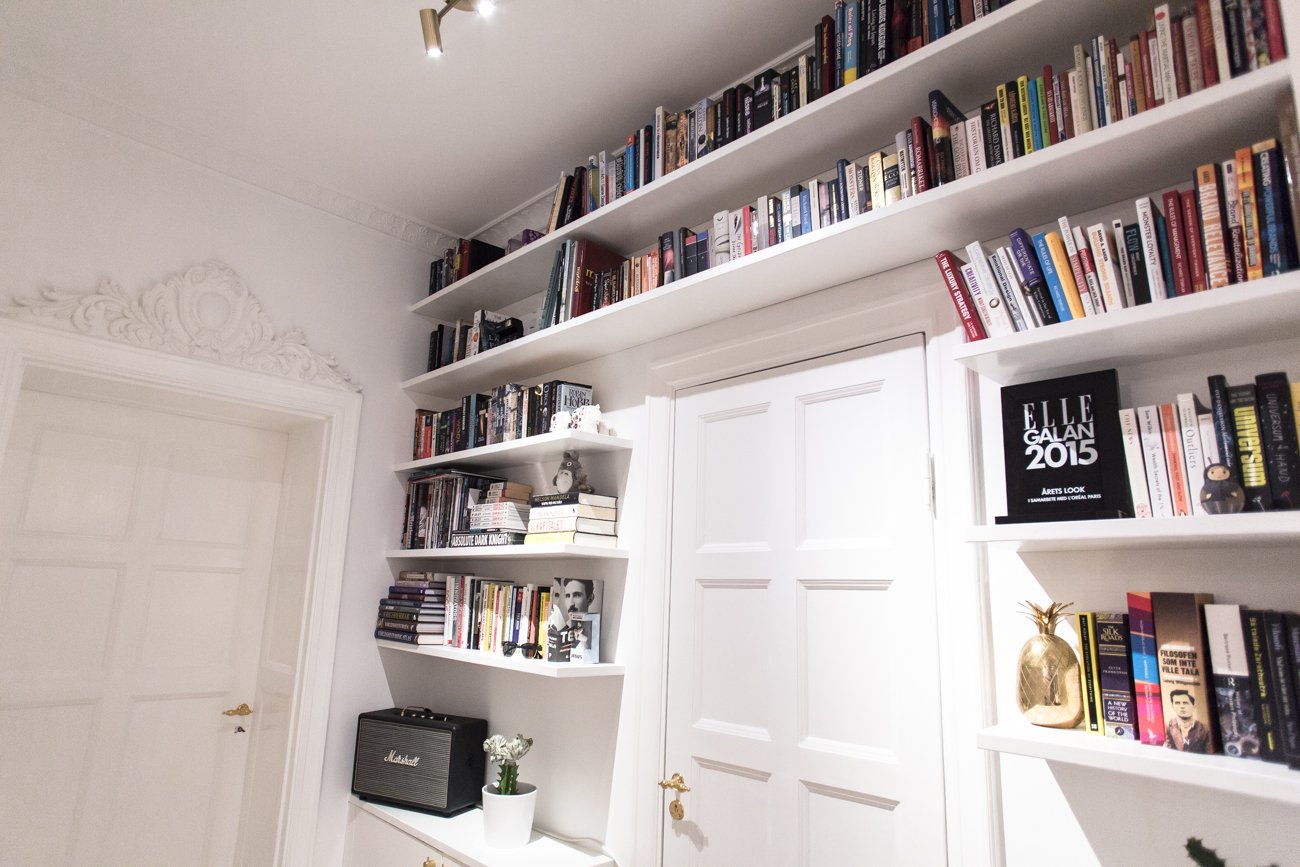 (Aaaalmost) DONE!
Tada! Såhär blev resultatet! Visst blev det fint? Ja, vi bestämde oss för att bygga en likadan väggbokhylla som vi hade i förra lägenheten eftersom att vi gillade den så mycket hehe. :-))))
Dörrarna vi valde är från Elfas nya skjutdörrserie Linear som är designad av Hanna Werning. Vi valde dem för att de var väldigt stilrena och snygga, och eftersom att det inte kommer in så mycket ljus i just denna del av lägenheten så ville vi ha vita. Vi är så himla nöjda med garderoben!! Vi fick plats med allt det vi ville plus lite till, jag har bland annat en del av mina väskor där, hattar, mössor & halsdukar, samt alla mina träningskläder.
Är ni sugna på nya garderober? HÄR kan ni hitta mer information och inspiration! :-)
// Tada! This is the result! Isn't it nice? Yes, we decided to build the same wall bookshelf as the one we had in our previous apartment since we liked it so much hehe. :-))))
The doors we chose are from Elfa's new door serie Linear which is designed by Hanna Werning. We chose them because they were very clean, and since there isn't much daylight in this part of the apartment we wanted white ones. We are so happy with the closet!! We fit everything we wanted to fit in there plus some more, I also have some of my bags there, hats & scarves, and all my workout clothes. More info and inspiration HERE! :-)
– This post is in collaboration with Elfa Lumi AB, but products are from Lumi.