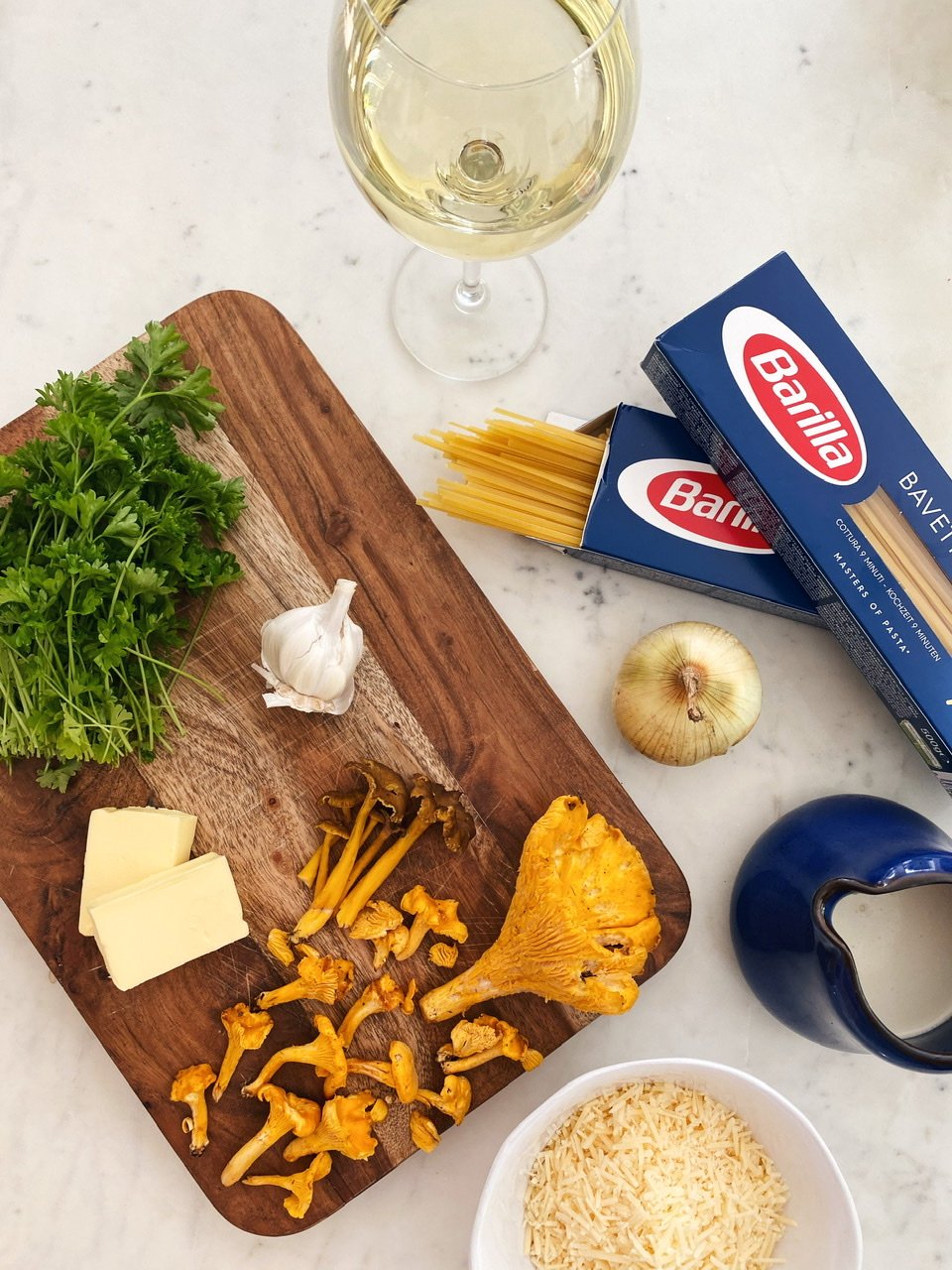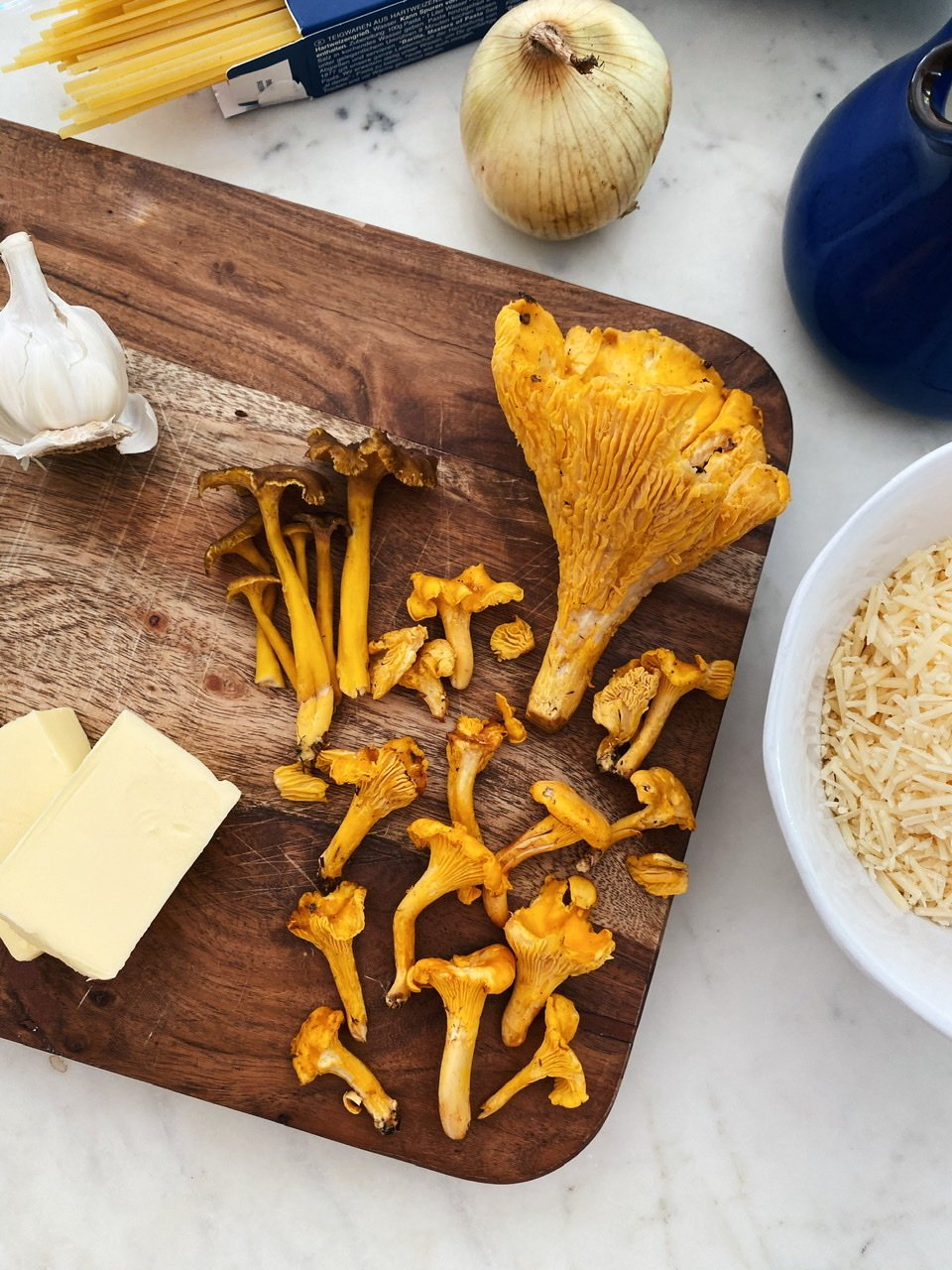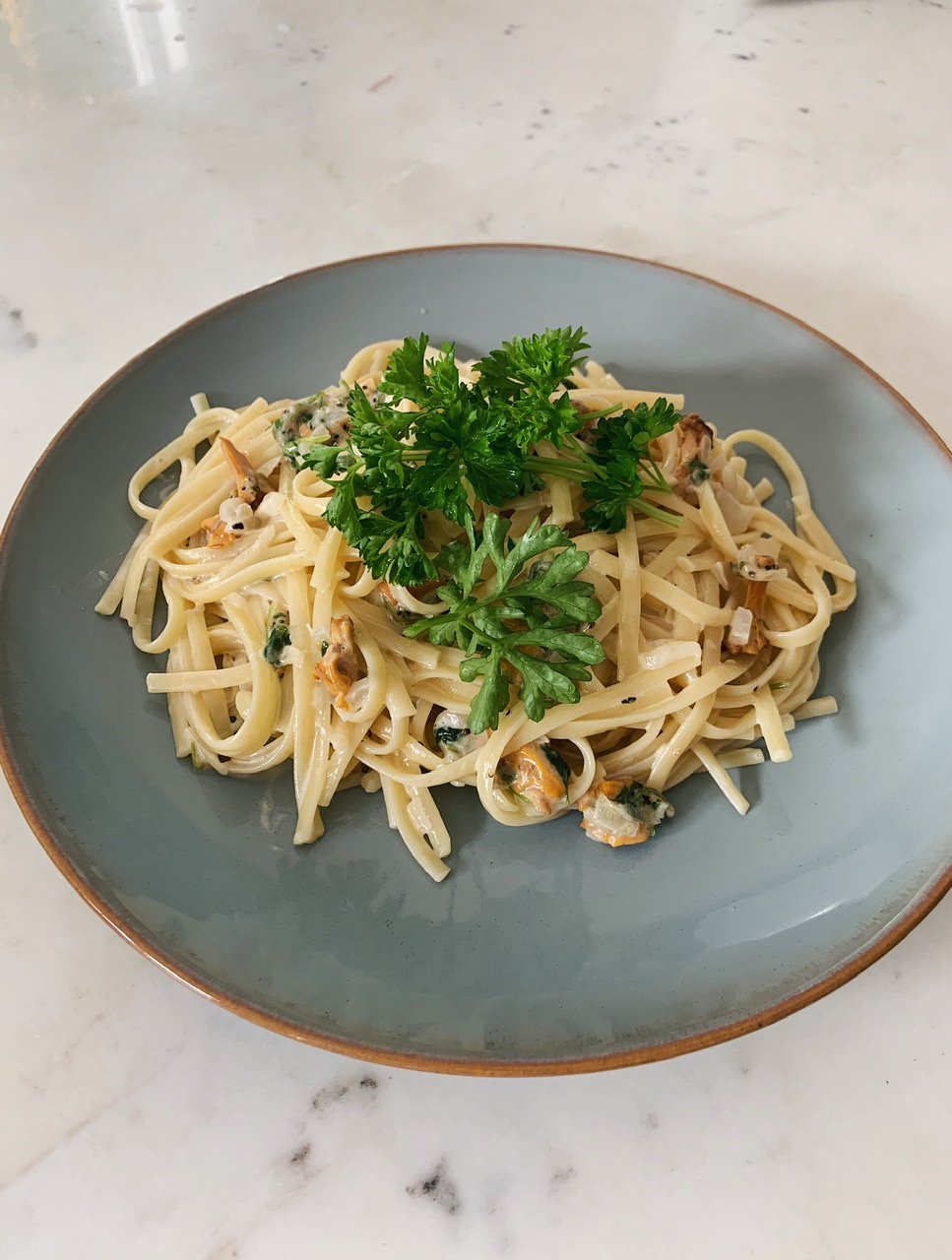 Här kommer receptet på vår kantarellpasta! Supergott och superlätt att göra! Kanske något att göra i helgen? :-) När vi lagar mat har vi alltid i mängd etc efter smak men det är tyyyyyp såhär mycket vi använt för ca 4-5 pers.
Kantareller (vi plockade egna och fick inte ihop så många men kör på ba ju mer desto bättre :-))
500 g Bavette pasta
1 gul lök 
3 vitlöksklyftor
ca 2-3 msk smör
3 dl vispgrädde
2 dl riven parmesan 
1 dl vitt vin (med eller utan alkohol) – eller lite mer för mer vinsmak
en kruka färsk persilja
salt + peppar
Koka upp pastavatten och försök se till att pastan är klar när såsen är klar. Fräs kantarellerna i smör i en stekpanna och lägg sedan i hackad lök och hackad vitlök och fortsätt fräsa. Häll i vinet och låt det koka upp och lägg sedan i grädde. Koka upp igen. Häll i parmesan och rör om. Salta & peppra efter smak. Ha i hackad persilja. Såsen är nu färdig och pastan med. Häll av pastavattnet och häll i kantarellsåsen i kastrullen med pastan och rör om. Klart! Servera med färsk persilja uppepå och eventuellt mer riven parmesan.
// Here's the recipe of our chanterelle pasta! Super delicious and super easy to cook! Maybe something to cook this weekend? :-) When we cook food we always add amount of ingredients after our own taste but this is kiiiind of how much we used for about 4-5 people.
Chanterelles (we plucked our own and didn't find so many but add a lot, the more the better :-))
500g Bavette pasta
1 yellow onion
3 garlic cloves
about 2-3 tbsp butter 
3 dl cream 
2 dl grated parmesan 
1 dl white wine (with or without alcohol) – or more for some more wine flavor 
fresh parsley
salt + pepper
Boil pasta water and make sure the pasta is ready when the sauce is ready. Fry the chanterelles in butter in a frying pann and then add chopped onion and chopped garlic and continue to fry. Add the wine and heat up and then add cream. Heat up again. Add parmesan and stir. Add salt and pepper after your own taste. Add the chopped parsley. The sauce is now done and the pasta as well. Pour off the pasta water and add the chanterelle sauce into the saucepan with pasta and stir. Done! Serve with fresh parsley on top and more grated parmesan if you want.