Vet ni, min mamma och lillebror har flyttat in till stan! Och inte bara var som helst i stan utan helt seriöst 2 minuters gång från oss. SÅN DRÖM!! Har inte haft min mamma så nära sedan jag flyttade hemifrån när jag var 18. Är så så himla glad. Nu kan vi spontanses när som helst! Så kul för Nikola också. <3
Frågade dem om de ville komma över på frukost imorse och det ville dem! Hade inte så supermycket grejer hemma men fick iallafall ihop scones, ägg, juice och kaffe. Älskar att göra scones på helgerna, det är ju så himla lätt att göra. Gjorde för 4 personer och då behövs 6 dl vetemjöl, 3 tsk bakpulver, 3 krm salt, 3 dl mjölk och 75g smör. Blanda alla torra ingredienser i en bunke, finfördela smöret i, blanda i mjölken och rör om med en slev så det blir en kladdig deg. Klicka sedan ut det till 12 bullar på en plåt med bakplåtspapper med hjälp av en sked. Grädda ca 10-12 min i 250g! Jag äter alltid nån med bara smör och ost, och nån med cream cheese och sylt. Nikola får inte äta socker än så han får nöja sig med smör och ost. Detta blev som en liten mellis för honom idag eftersom att han vaknade vid sex redan och åt sin frukost innan oss.
Så startade vi vår söndag iallafall! Nu åkte Aleks ut till landet en sväng och jag ligger bredvid en sovande pojke. När han vaknar ska vi ge oss ut i det soliga vädret och leka!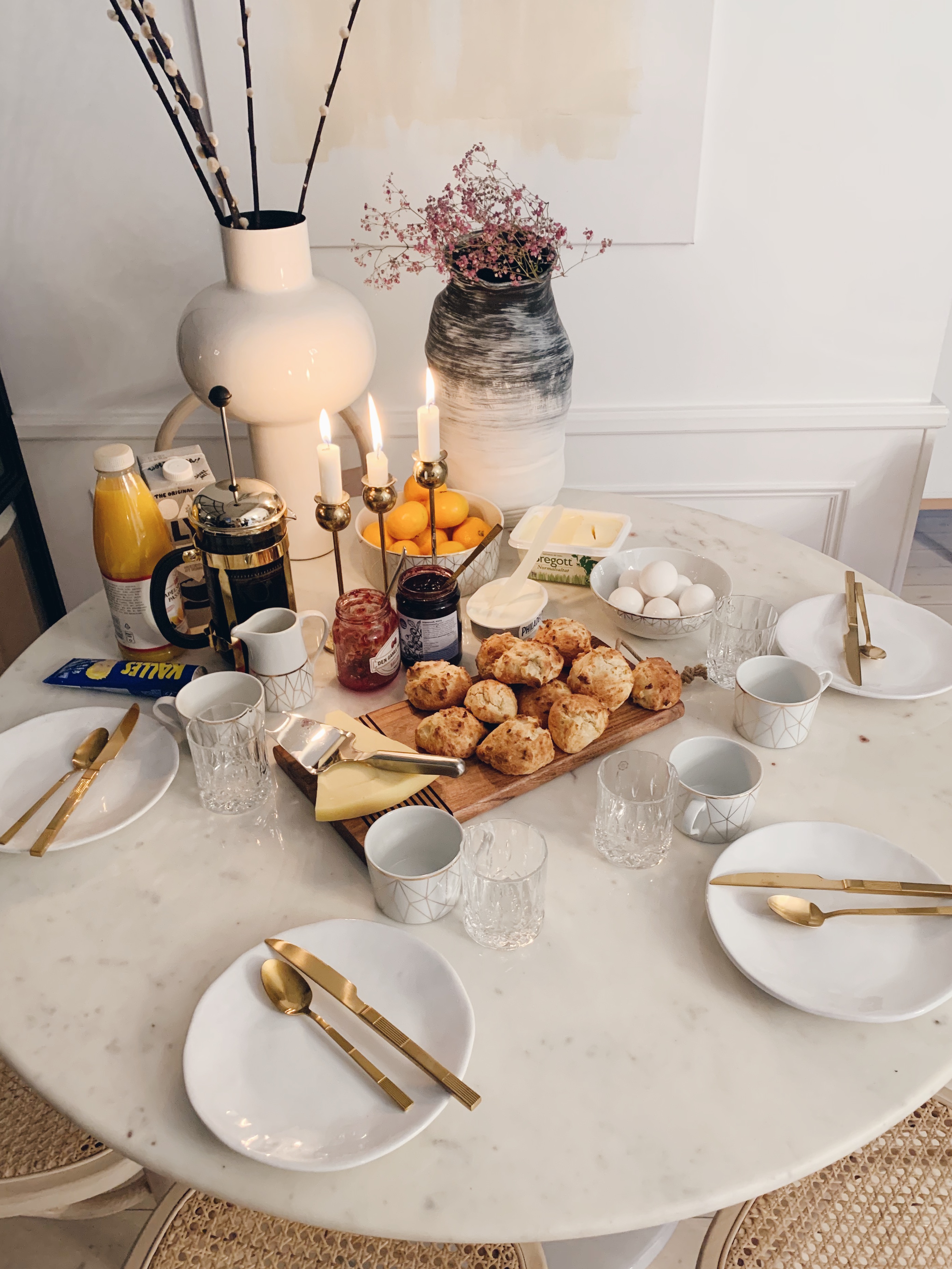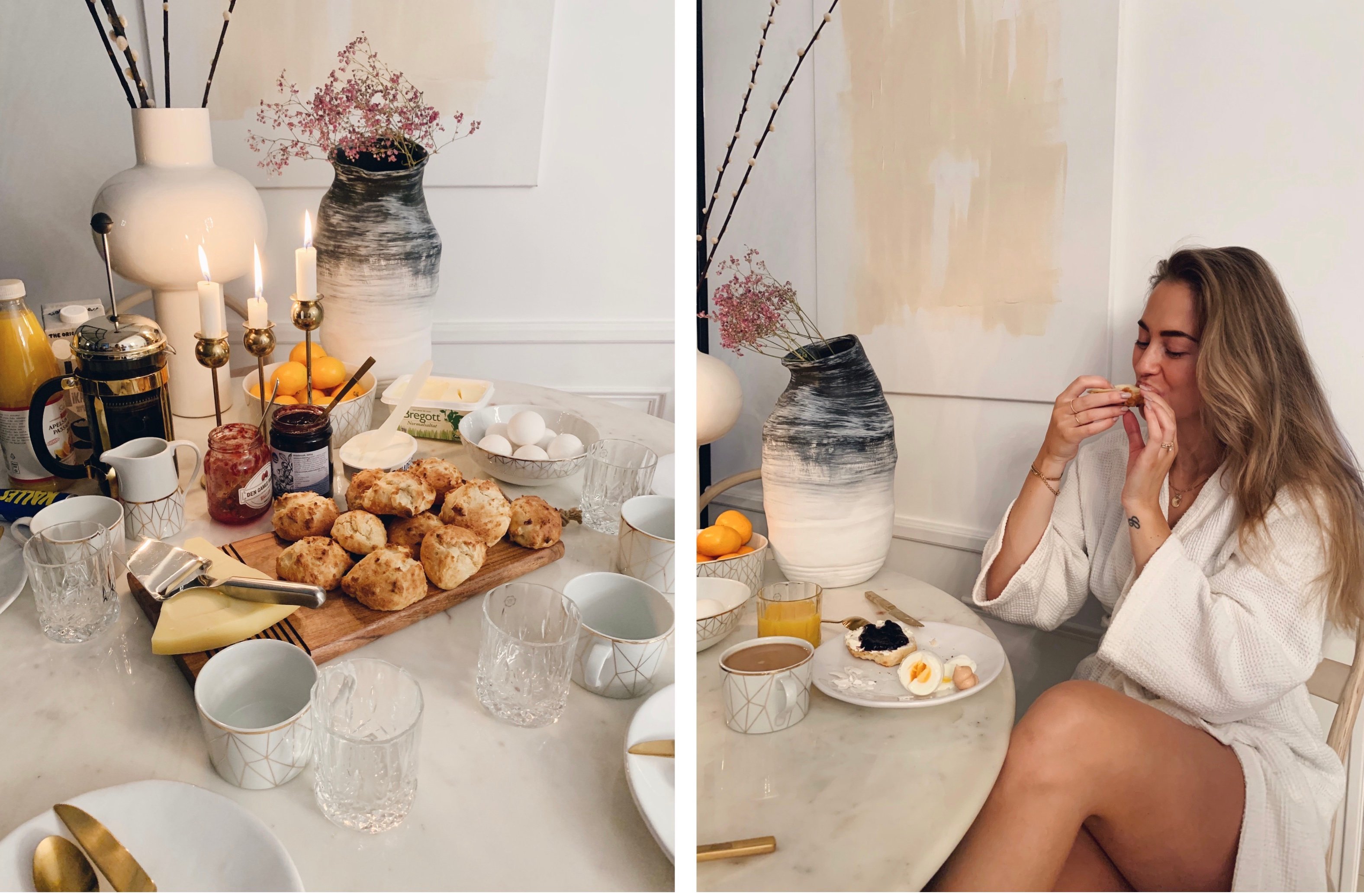 Mani hade turen att få smaka också, som alltid under Nikola. :-)) Allt porslin etc ni ser på bilden är från Jotex (förutom glas, kaffekanna och ljusstakar).
// You know what? My mom and little brother have moved to the city! And not just anywhere, it's 2 minutes from us. WHAT A DREAM!!! I haven't lived close to my mom since I moved from home at 18 y/o. I'm so happy. Now we can see each other more spontaneously! So much fun for Nikola too <3 
This morning I asked them if they wanted to come over for breakfast, and they did. We didn't have a lot at home, but we made scones, eggs, juice and coffee. I love to make scones during the weekends, it's so easy to do. For 4 portions you need 6 dl flour, 3 teaspoons baking soda, 3 ml salt, 3 dl milk and 75 g butter. Mix all the dry ingredients in a bowl, atomize the butter, pour the milk into the bowl and mix everything until it's a smudgy dough. Then, make 12 small buns out of the dough and put it on an oven plate with baking paper. Put the buns inside the oven for 10-12 mins (250 degrees celsius). I always eat one scone with just butter and cheese, and another one with cream cheese and jam. Nikola's not allowed to have sugar yet, but he's happy with just butter and cheese. This was like a snack for him, because he got up at 6 am and had breakfast before us.
That's how we started our Sunday! Aleks has gone to our country house for a little while and I'm lying next to a sleeping little boy. When he wakes up we're gonna go out in the sun and play!