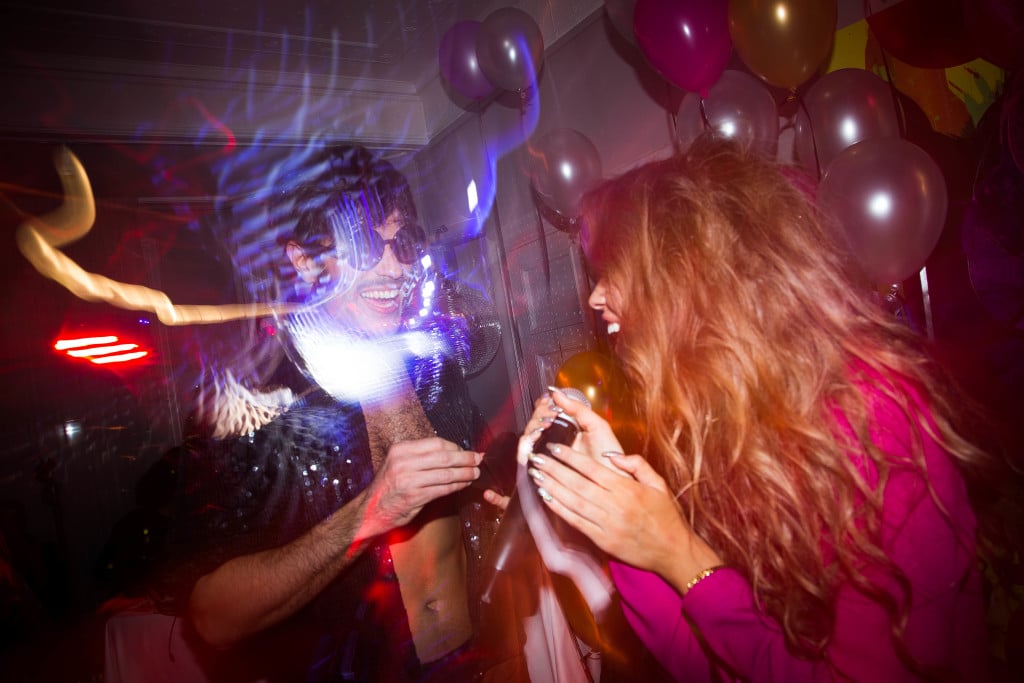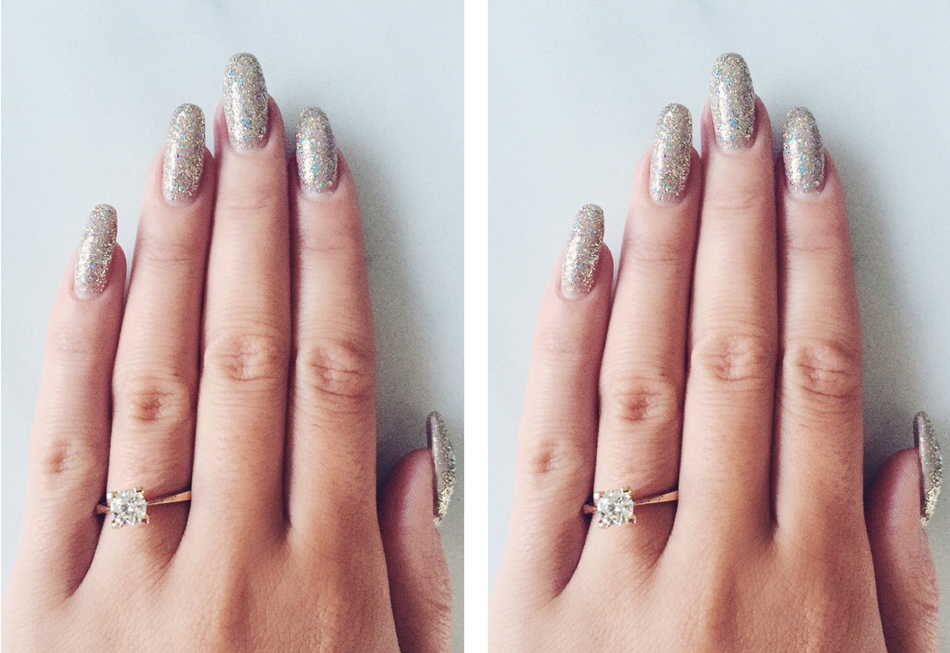 A little glimpse of the proposal, and my beautiful ring. <3
Nu har jag hunnit landa i det hela och samlat mina känslor. :-) I lördags hade jag min stora 25-årsfest, alla mina vänner och min familj var på plats och mot slutet när Miriam Bryant precis uppträtt så tackar jag alla i mikrofonen. Då kommer Aleks upp på scenen, tar tag i mikrofonen och säger att han vill säga några ord. Han plockar fram en svart liten ask ur fickan och säger att han har något han vill fråga mig. Sen går han ned på knä. Mannen i mitt liv. Klädd i uppknäppt paljettskjorta, vida byxor, galen frisyr och polisonger & mustasch som såg ut som jag vet inte vad. Och världens största leende. Han var vackrare än någonsin. Alla skriker, jag är i chock och när jag hör honom fråga "Vill du gifta dig med mig?" brister det och jag börjar gråta och vi kysser varandra och står och kramas och allt var bara helt underbart.
Sen var det så att vi båda var lite nervösa så när han ska trä på ringen (den vackraste ringen jag sett i hela mitt liv) på mitt finger så fumlar vi med fingrarna och…..tappar ringen! Bland all konfetti! Vi alla står på alla fyra och letar ett bra tag, jag ser hur Aleks svettas och ett tag där trodde vi att den var borta för alltid haha. Men sedan hittar vi den och han får på den på mitt finger och allt var PERFEKT. Jag har aldrig varit så lycklig i hela mitt liv.
Aleksandar, det här är början på resten av vårt liv ihop och jag är så stolt över att kalla dig min blivande make. Jag älskar dig. <3
// Now I've gathered my emotions and I'm ready to write about it all. :-) On Saturday I had my big 25th birthday party and all my friends and family were there. At the end when Miriam Bryant had just performed, I say thank you to everyone in the microphone. Aleks comes up on the stage, he grabs the mic and says he wants to say a few words. He pulls out a little black box out of his pocket and says that he has something he wants to ask me. And then he goes down on his knees. Dressed in an unbuttoned sequin shirt, wide pants, crazy hairstyle and sideburns & mustache that looks like well I don't know what. And the world's biggest smile. He was more beautiful than ever. Everyone is screaming, I'm in shock and when I hear him say "Do you want to marry me?" I start crying and we kiss and we hug and everything was absolutely wonderful.
And then we both were a bit nervous so when he puts the ring (the most beautiful ring I've ever seen in my life) on my finger, we fumble with our fingers and….we drop the ring! In the middle of all confetti on the floor! We are all standing on all fours searching for it, I can see Aleks sweating and for a while we thought it was gone forever haha. But then we found it, he puts it on my finger and everything was PERFECT. I've never been so happy in my whole life.
Aleksandar, this is the beginning of the rest of our lives together and I'm so proud to call you my soon to be husband. I love you. <3

When we finally found the ring… :-)))