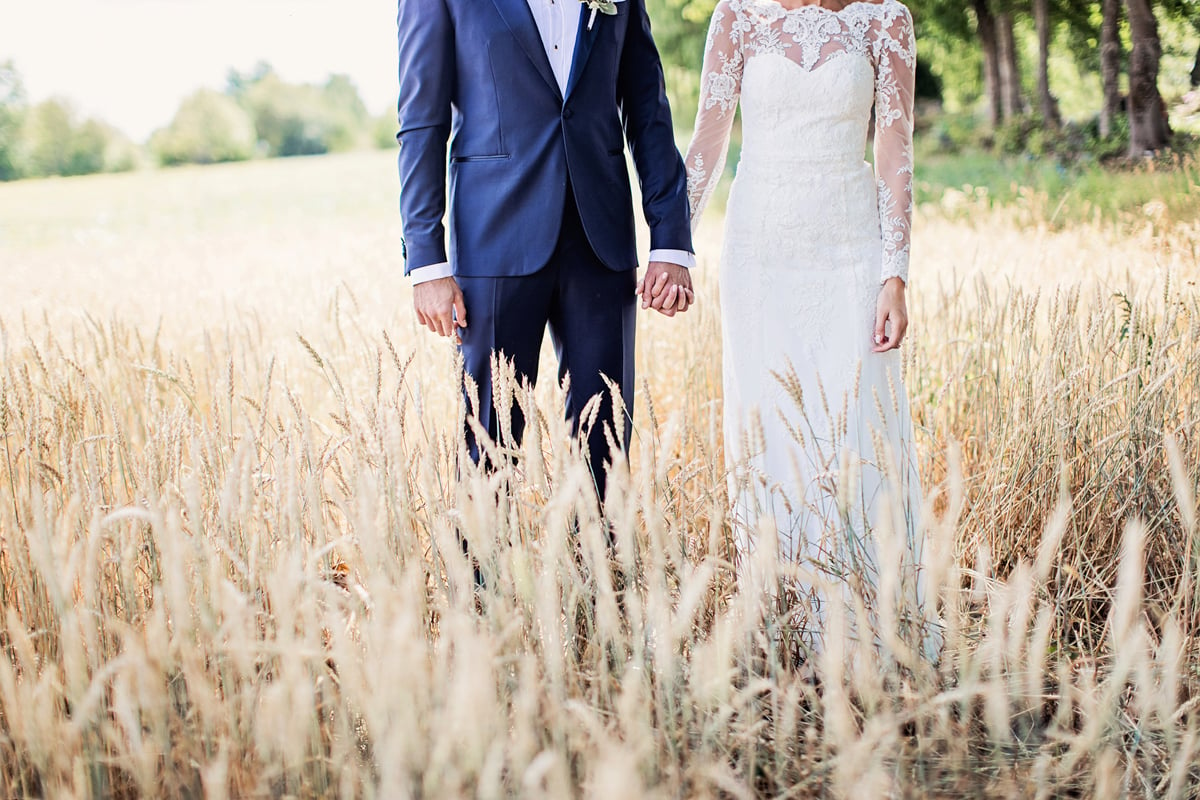 Många av er har önskat mer detaljbilder från bröllopet, på dukning och sånt så här kommer det! Kanske lite inspo för er som ska gifta er?
Alla bilder i detta inlägg är fotade av Emelie Ohlsson ♥
// Many of you have asked for more detail photos of the wedding, of the settings etc so here it is! Maybe some inspo for those of you who are getting married?
All the photos in this post are shot by Emelie Ohlsson ♥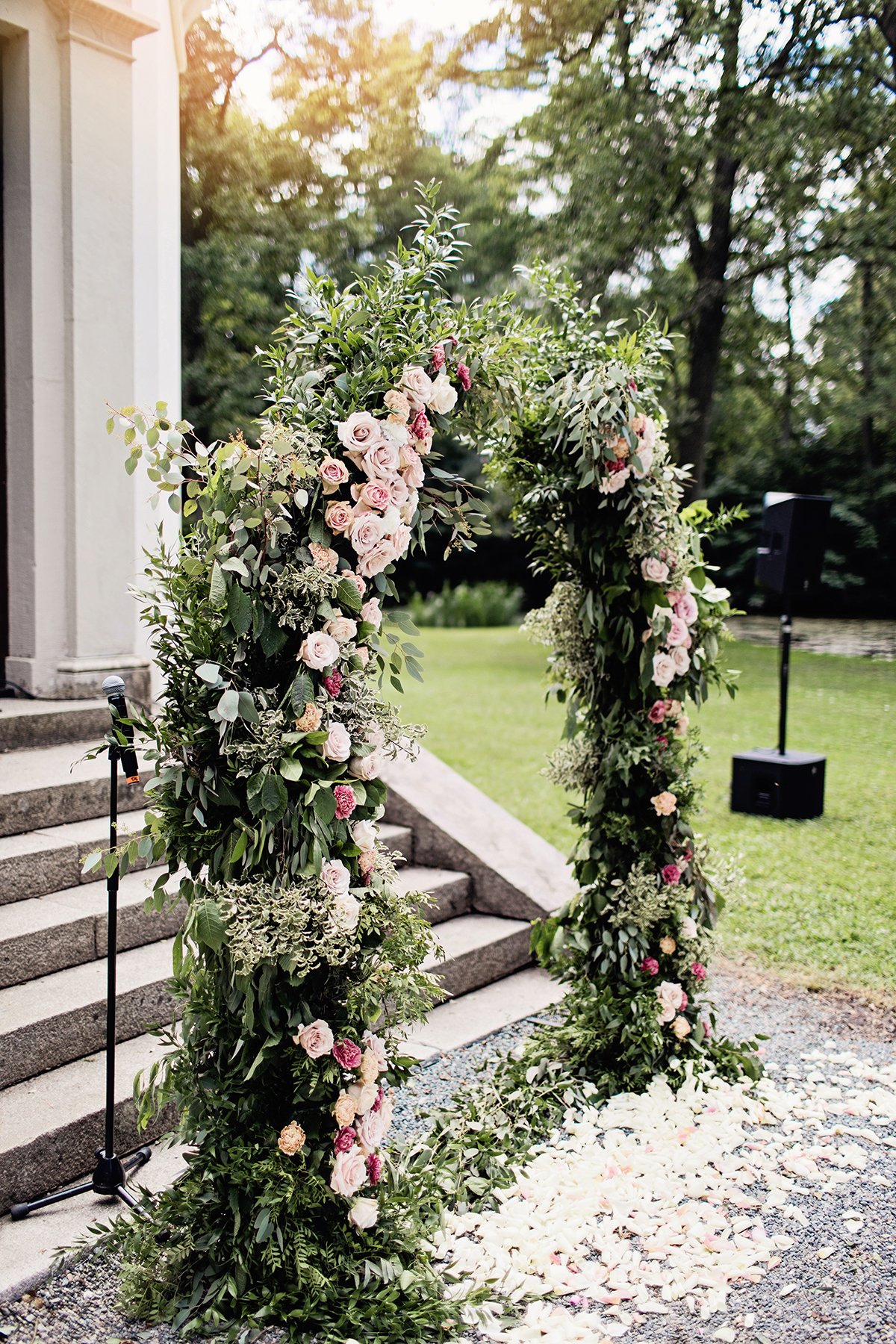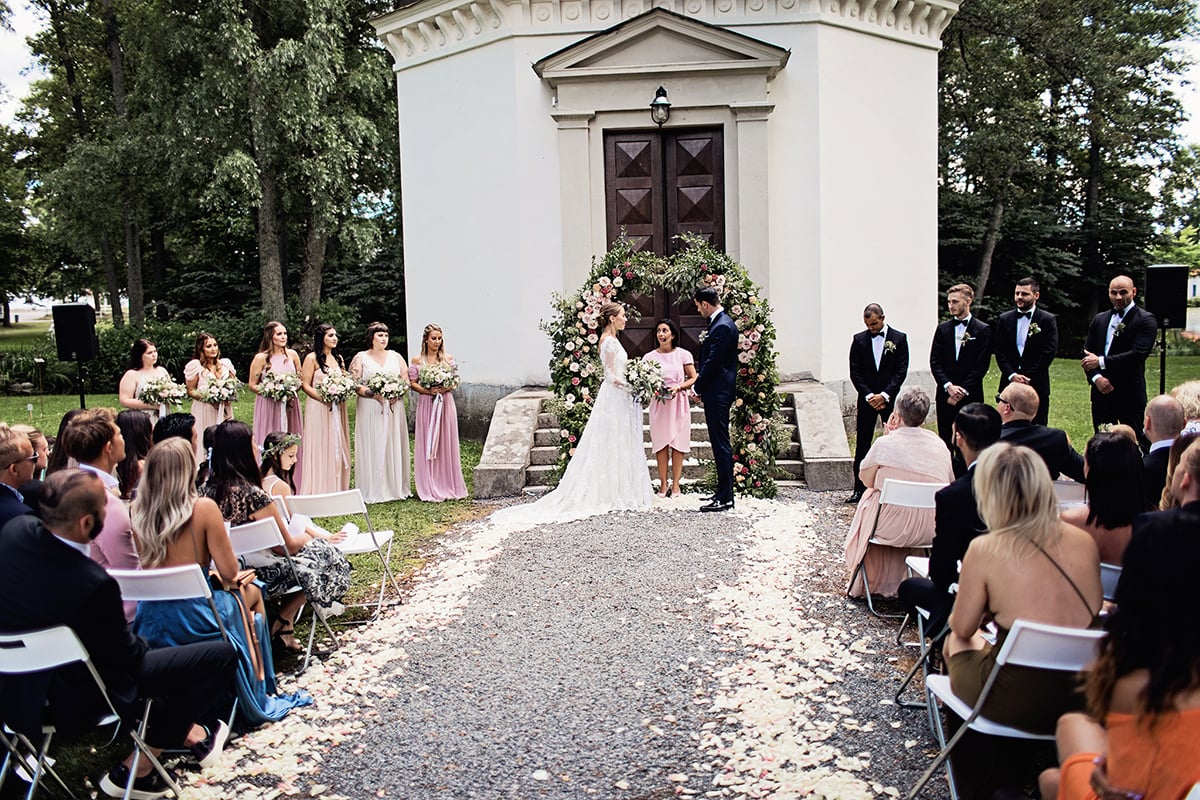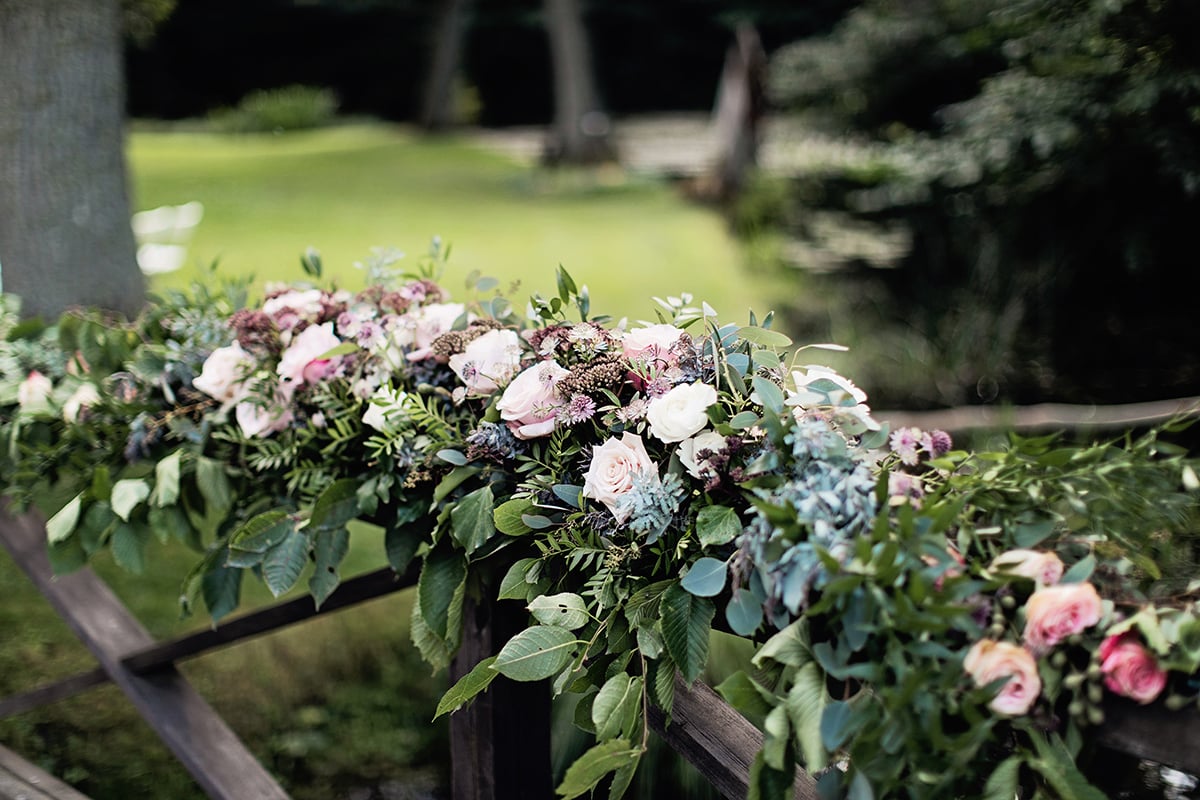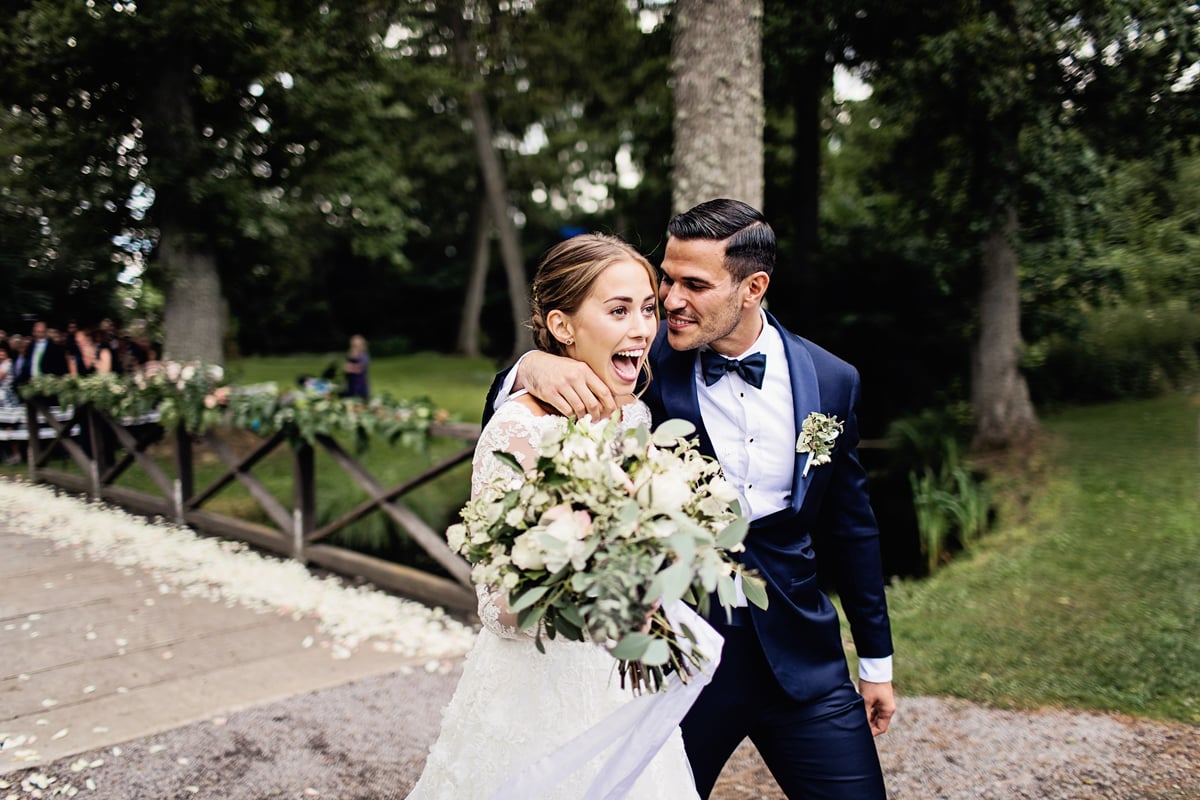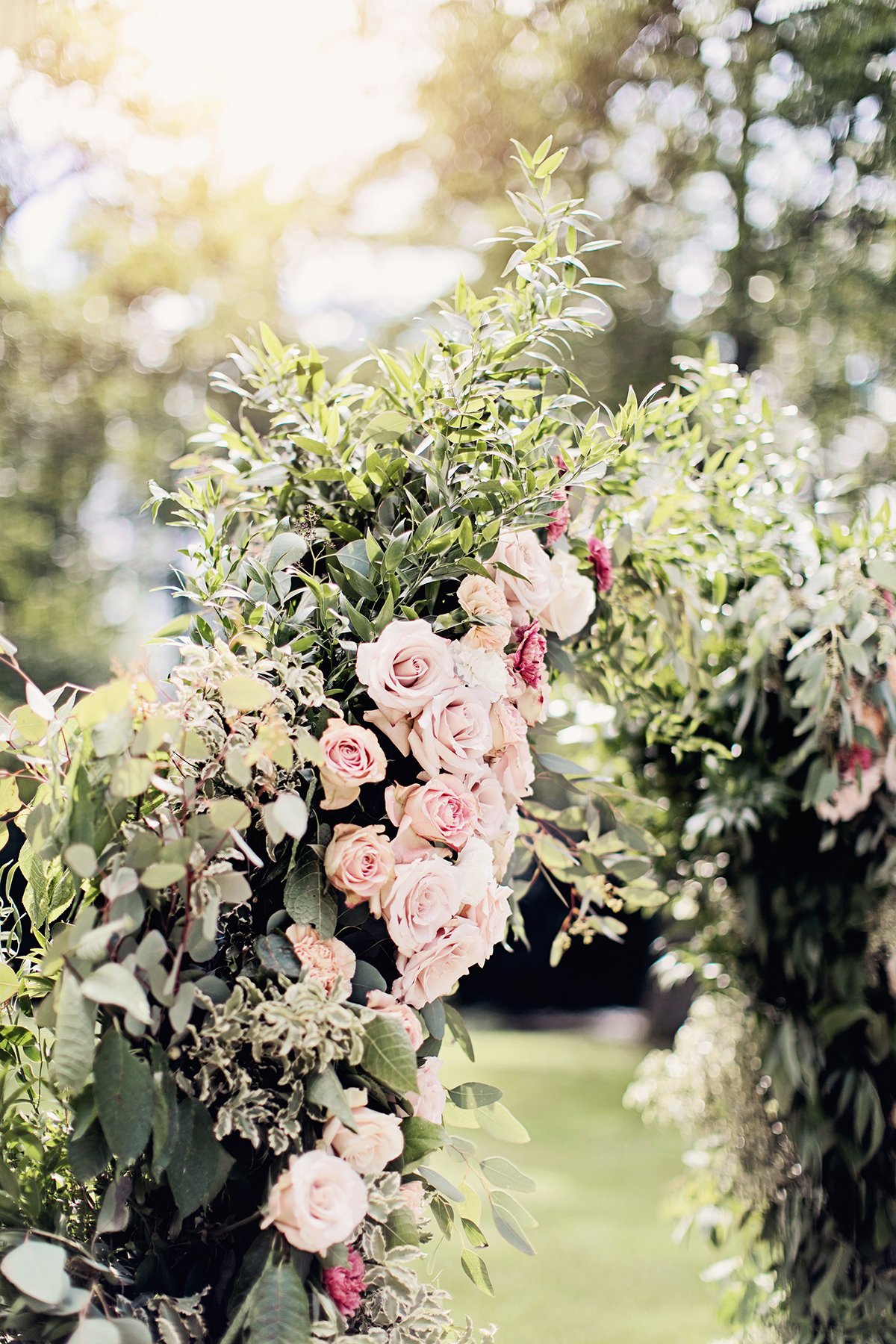 Vi börjar med vigselplatsen. Temat för hela bröllopet var ju "förtrollad trädgård" och hur nailar man den om inte med grönt och blommor i stora mängder? Just blommor var en av de grejerna vi la mest pengar på och vår florist/bröllopsdesigner Fanny Staaf och hennes team skapade precis de arrangemangen vi drömde om. Det var SÅ vackert!
Vigselplatsen var ute på en liten "ö" med vatten runtomkring och bron över var smyckad med blad och blommor. Från bron fram till "altaret" var det en liten grusväg där det låg rosblad längs kanterna. Sedan mer rosblad framme vid altaret, och så den otroligt fina blombågen.
// Let's start with the ceremony spot. The theme for the whole wedding was "enchanted garden" and how do you nail that if not with lots of flowers and leaves? Flowers was one of the things we put most money on and our florist/wedding designer Fanny Staaf and her team created just the arrangements we had dreamed of. It was SO beautiful!
The ceremony spot was out on a little "island" with water around, and the bridge was also adorned with leaves and flowers. From the bridge to the "altar" it was a little pathway with rose petals along both sides. And then more rose petals at the altar, together with the incredibly beautiful flower arch.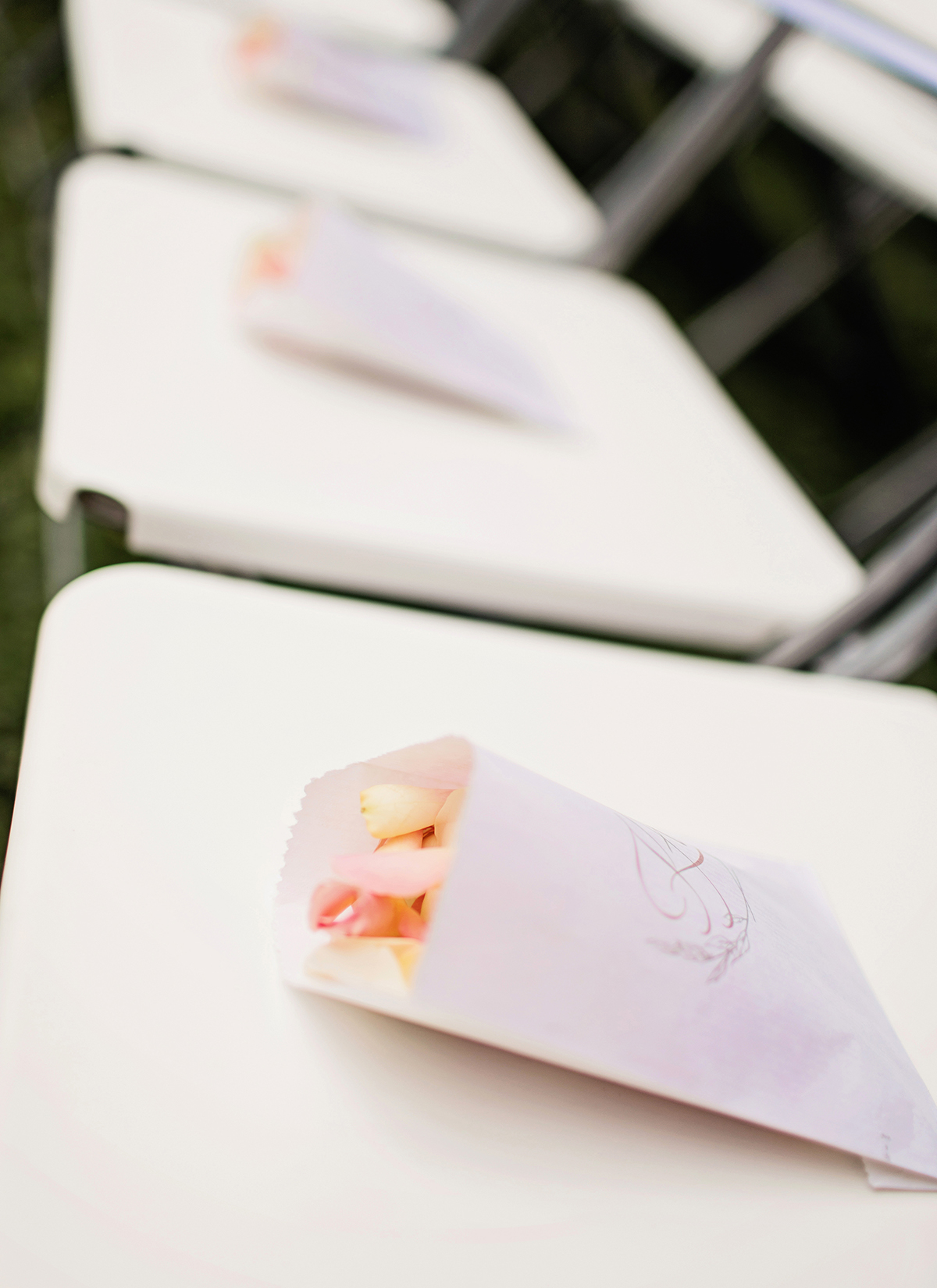 På stolarna närmast gången låg även små papperspåsar med vårt monogram på (vi hade monogrammet på en hel del saker så som inbjudan, tofflor, sidenrockar, tårta m.m. Kul sätt att göra det lite mer personligt!) och däri fanns rosblad som gästerna kastade på oss när vi sagt det magiska JA:et och skuttade iväg.
// On the chairs we also had small paper bags with our monogram on (we had the monogram on a quite a lot of stuff such as invitation, slippers, robes, cake etc. Fun way to make it a bit more personal!) and inside was rose petals that our guests threw at us when we said the magical I DO and left the ceremony.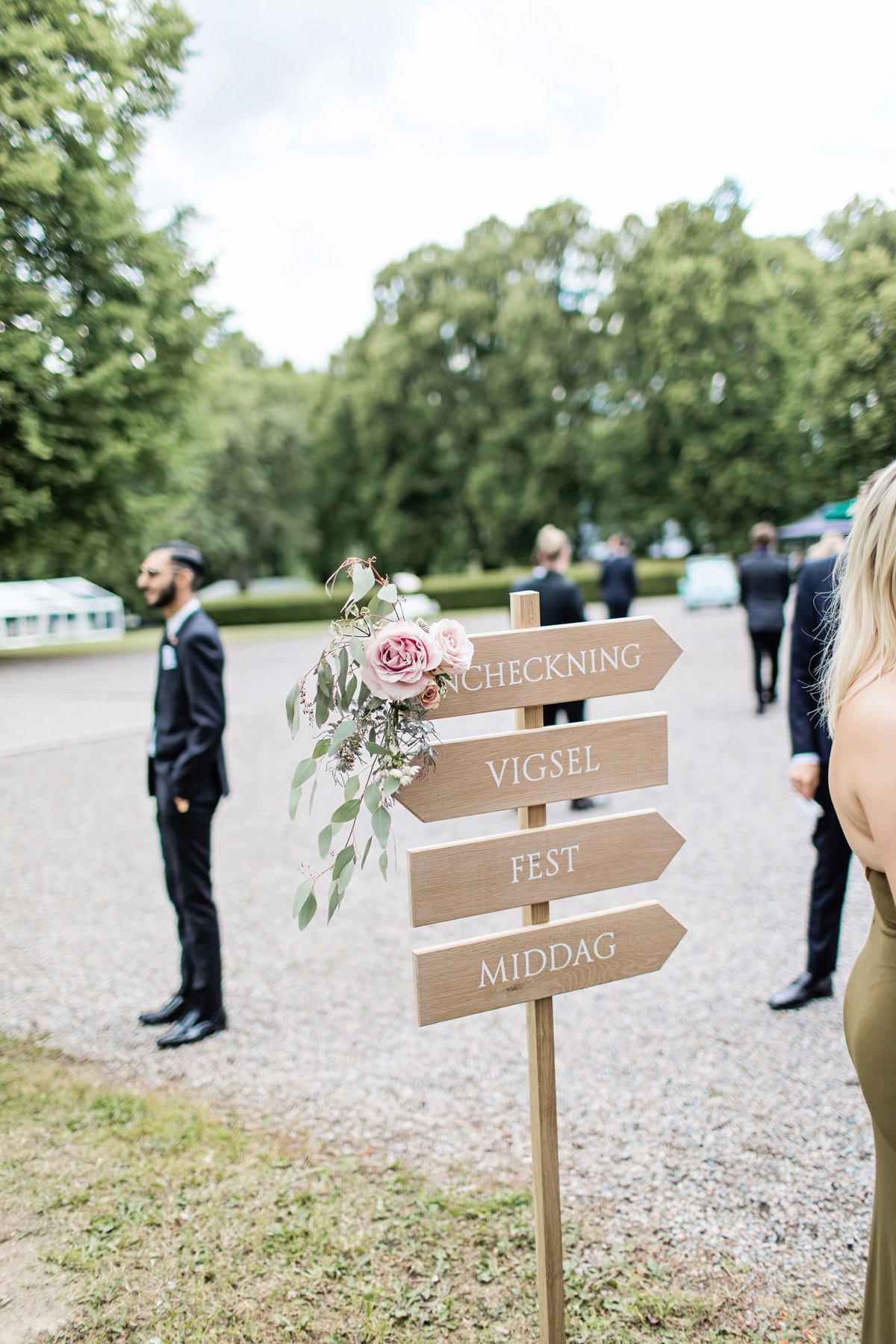 En skylt för att hjälpa gästerna lite på traven. ;-)
// A sign to help the guests a bit. ;-)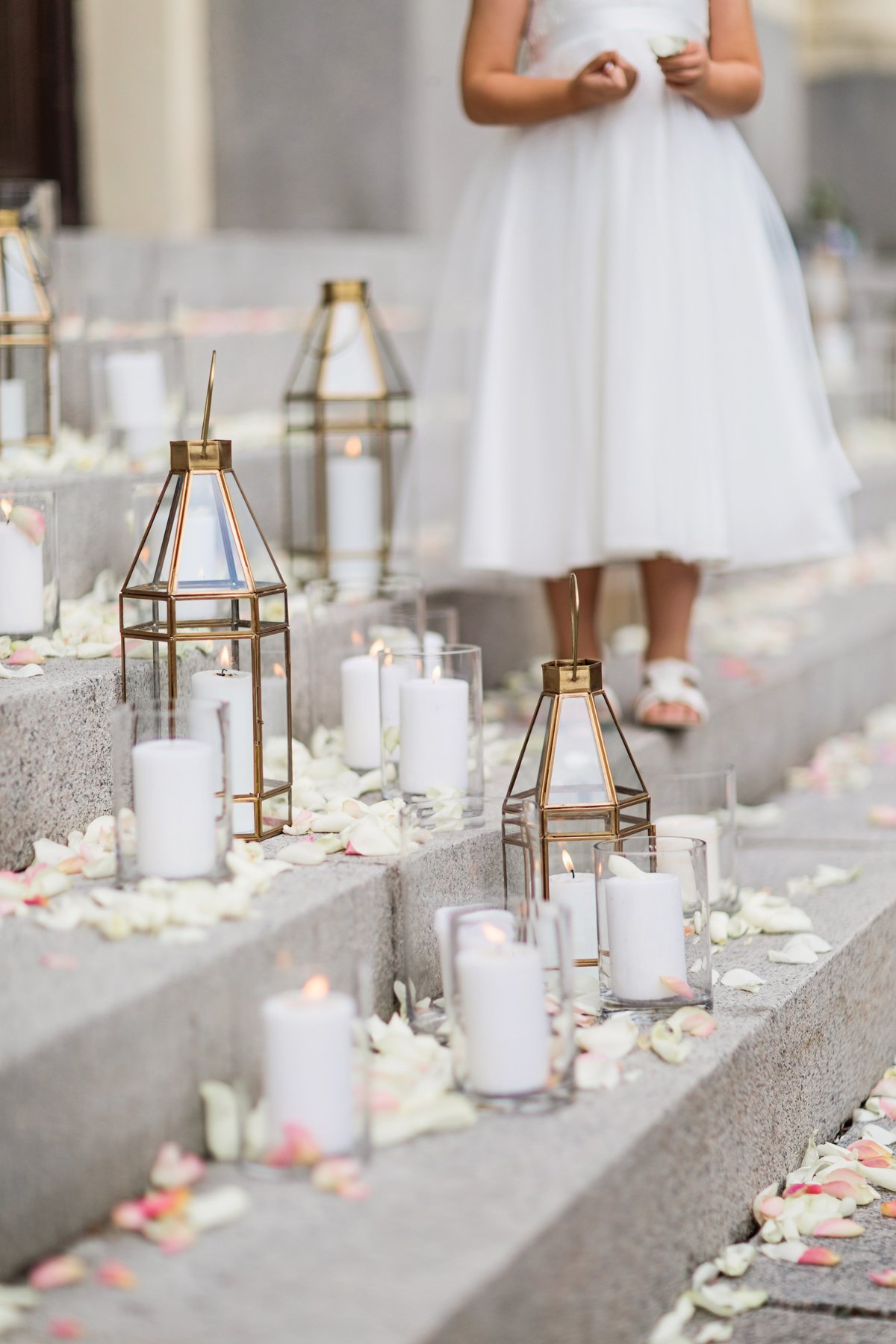 Lite här och var låg mer rosblad, levande ljus och lyktor – för att skapa den lite förtrollade känslan.
// More rose petals here and there, candles and lanterns – to create that enchanted feeling.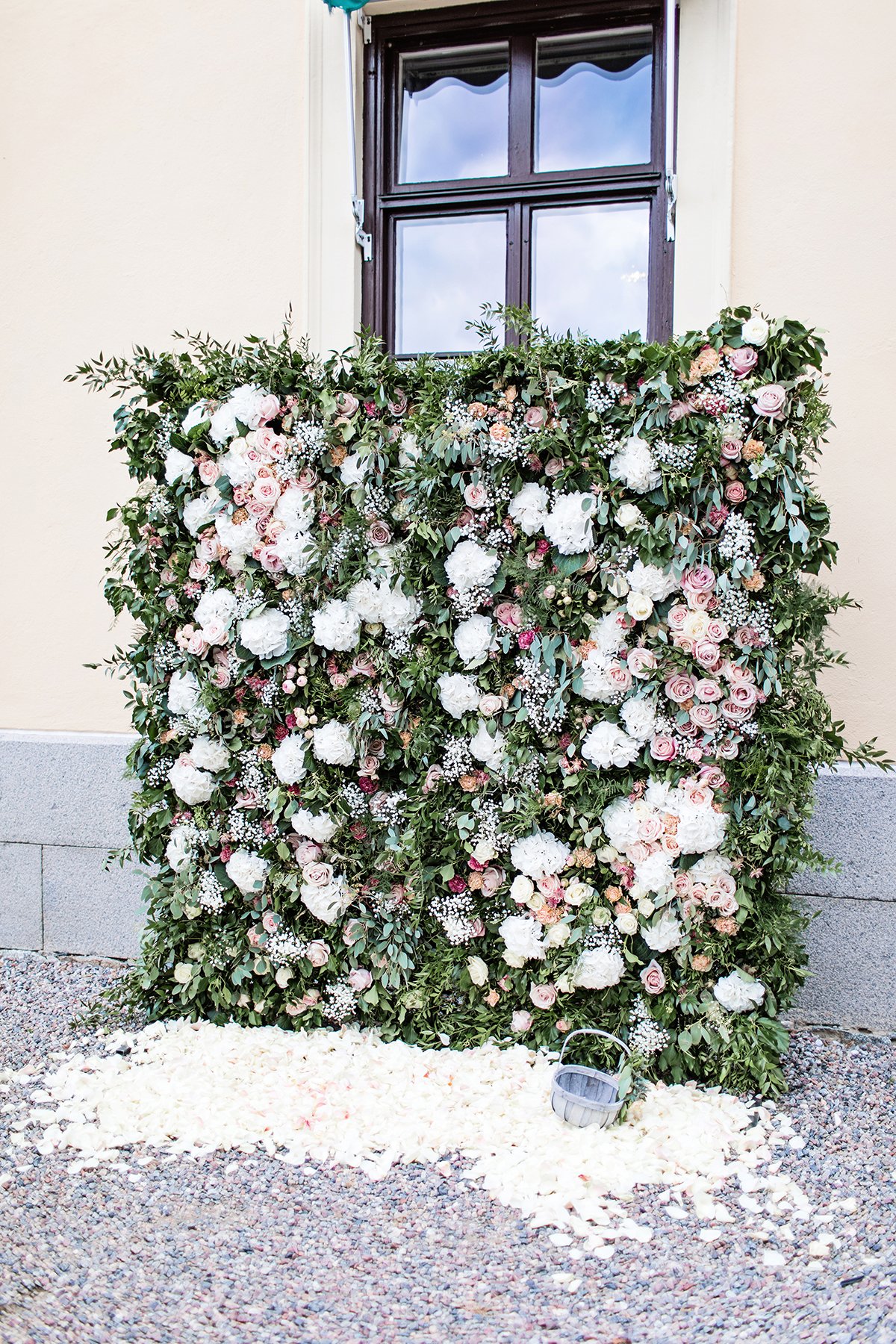 Gästernas favorit? På ena sidan av slottet stod denna vackra "fotovägg" och jag tror nog att nästan varenda gäst tog en liten bild där framför! Blomsterväggar kan liksom aldrig bli fel.
// The guests favorite? On one side of the castle we had this beautiful "photo wall" and I think almost every guest took a little photo infront of it! A flower wall can never be wrong.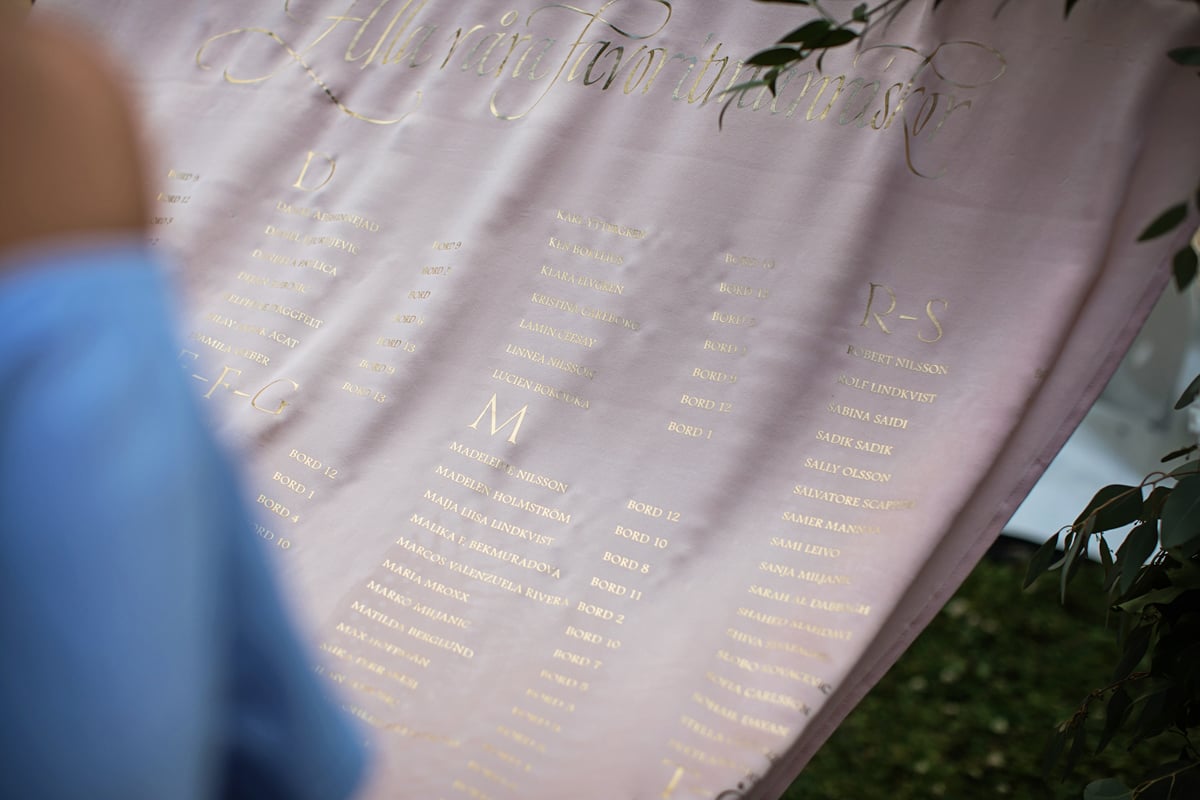 Vi hade ju vår middag och fest nere i ett genomskinligt tält och utanför hängde en fin duk (i smutsrosa såklart, vilket var färgen för hela bröllopet ihop med vitt, guld och gröna blad) med allas namn på så att de kunde se vilket bord de satt vid. Vi var väldigt nöjda med bordsplaceringen, vi valde att sätta alla med folk de känner och har kul med och det var lyckat. Alla hade riktigt kul!
// As you know we had our dinner and party in a tent and outside was this pretty thing (in dusty pink of course, which was the main color for the wedding together with white, gold and green leaves) with all the names on so they could see what table they we're sitting at. We were very pleased with the seating we had made, we decided to put everyone with people they know and have fun with and it was a success. Everyone had lots of fun!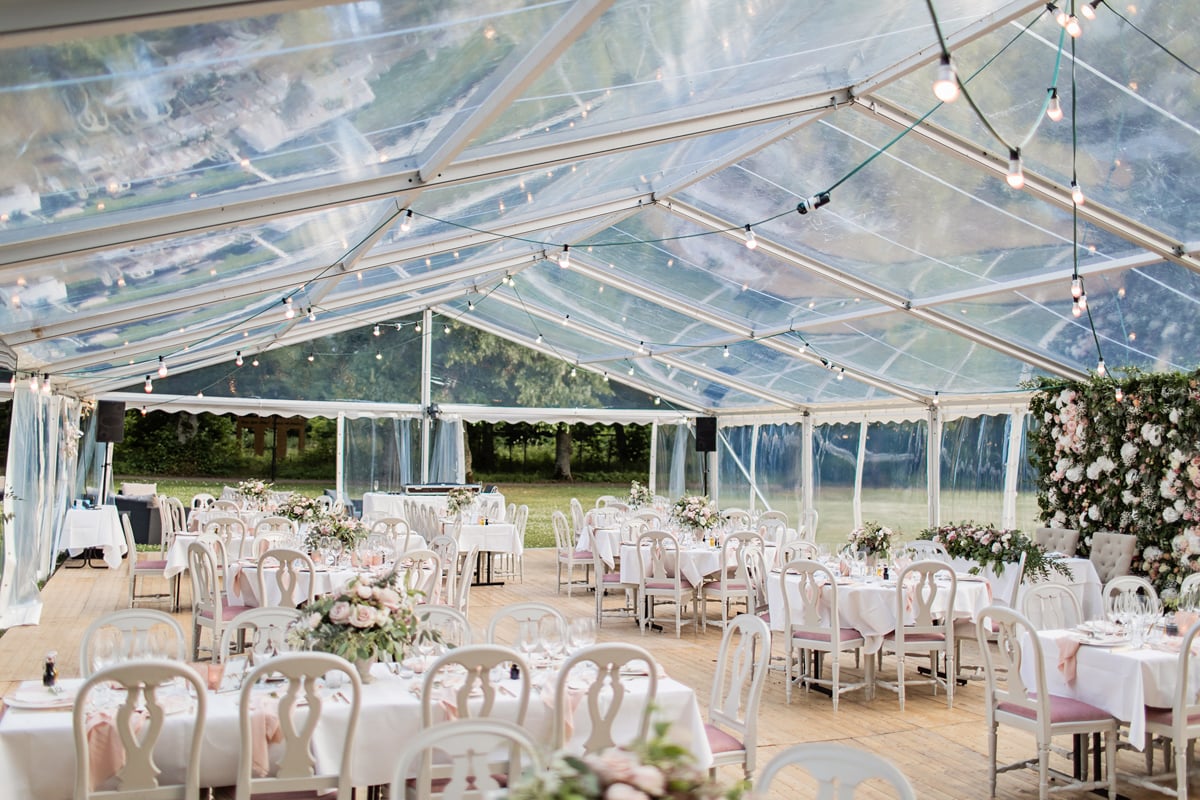 Så här såg det ut i tältet! Vi mixade runda med avlånga bord och Rånäs Slotts egna stolar passade ju perfekt för temat. :-) Det genomskinliga glastaket gjorde att det kändes som att vi satt under bar himmel. Det blev så fint med ljusslingorna när solen gick ner!
// This is what it looked like in the tent! We mixed round tables with rectangular ones and the castle's own chairs was perfect for the theme. :-) The see-through glass roof made it feel like we were sitting under bare sky. It was so pretty with the light balls when the sun went down!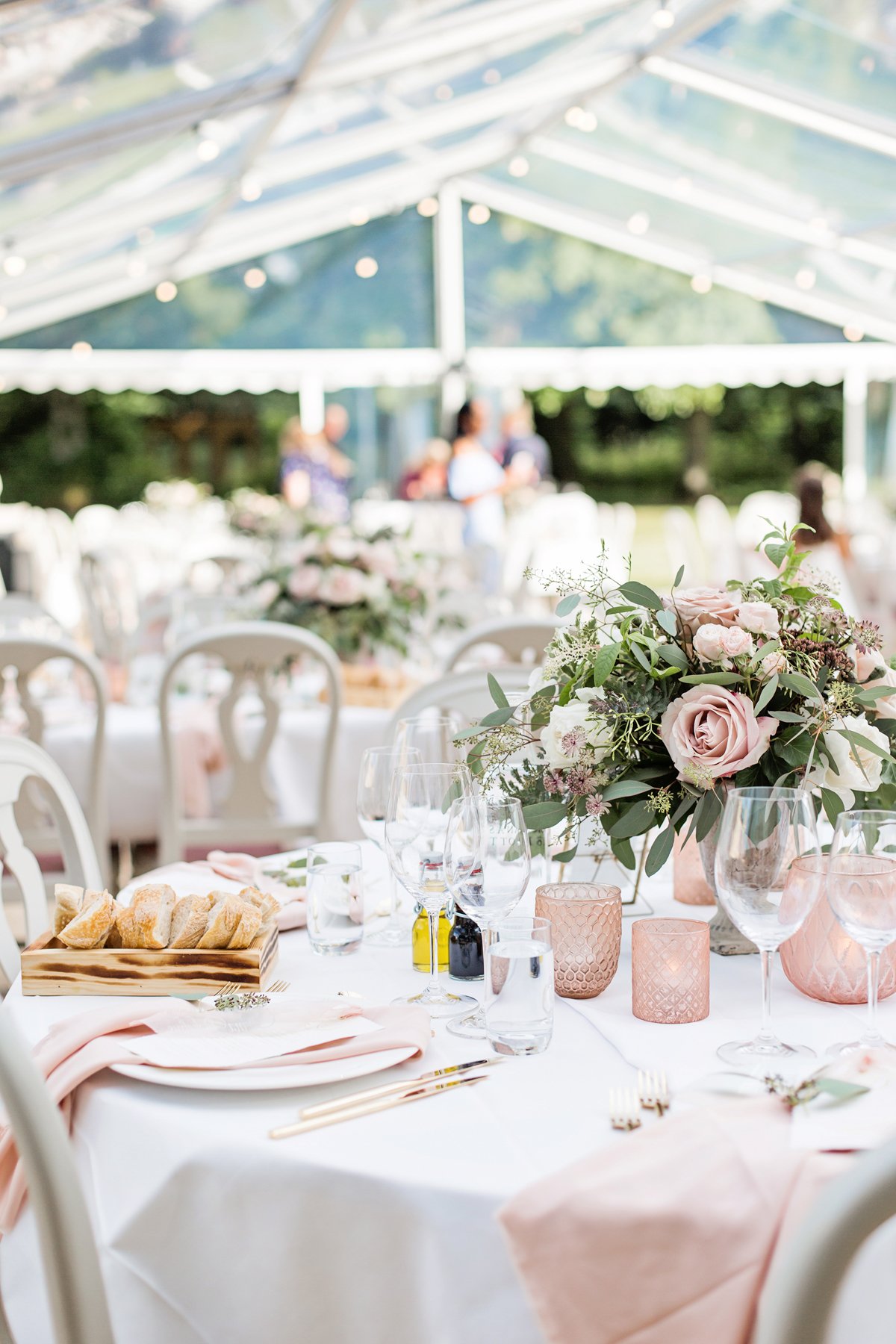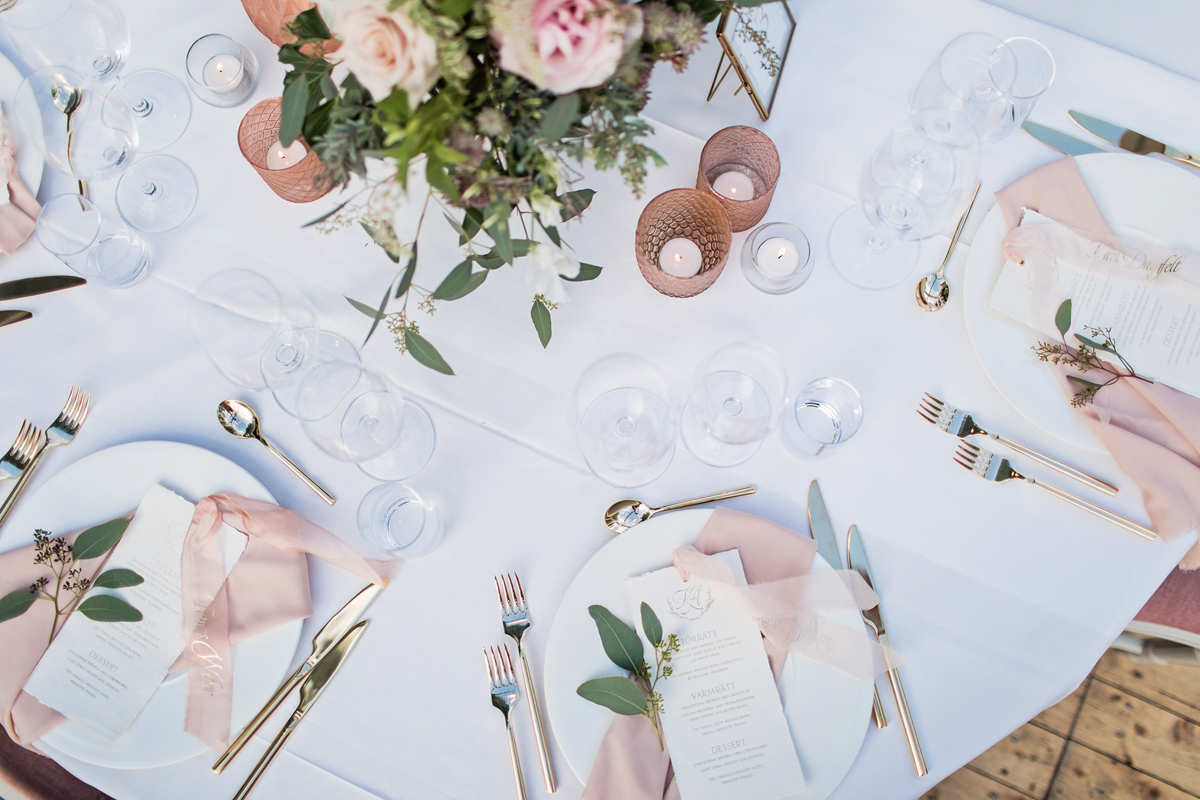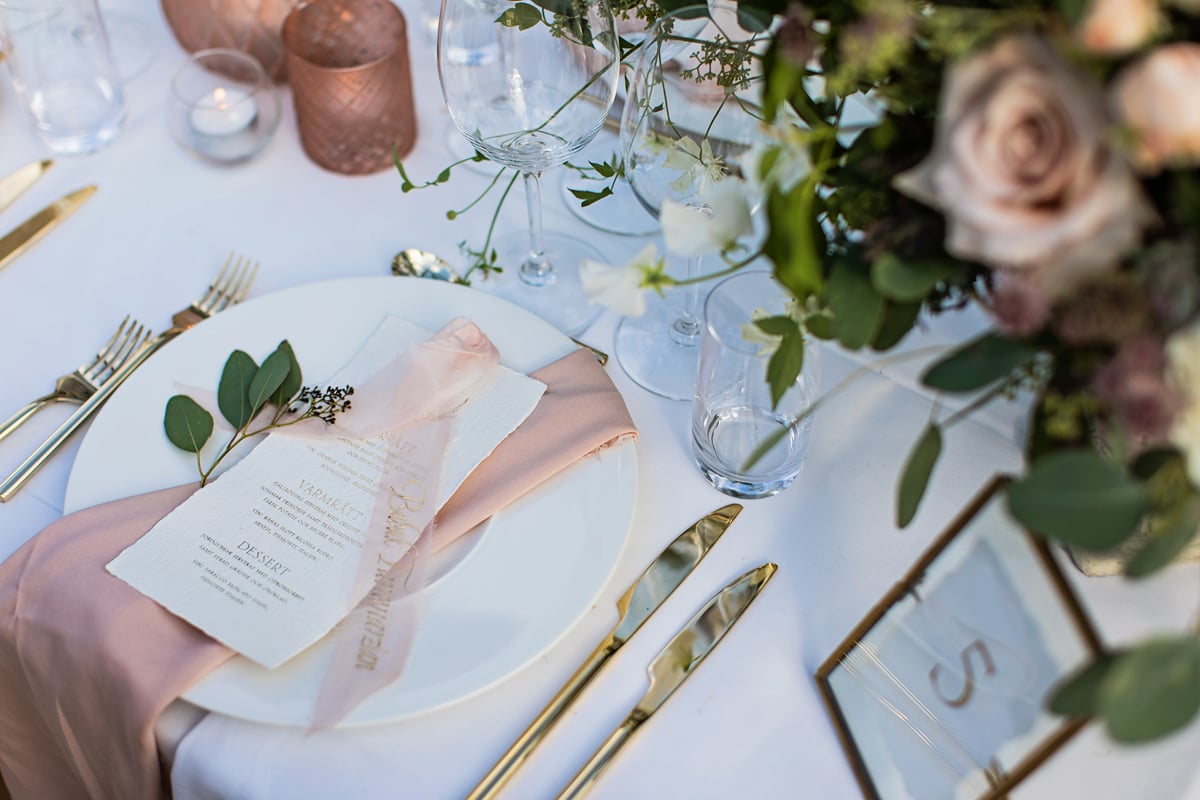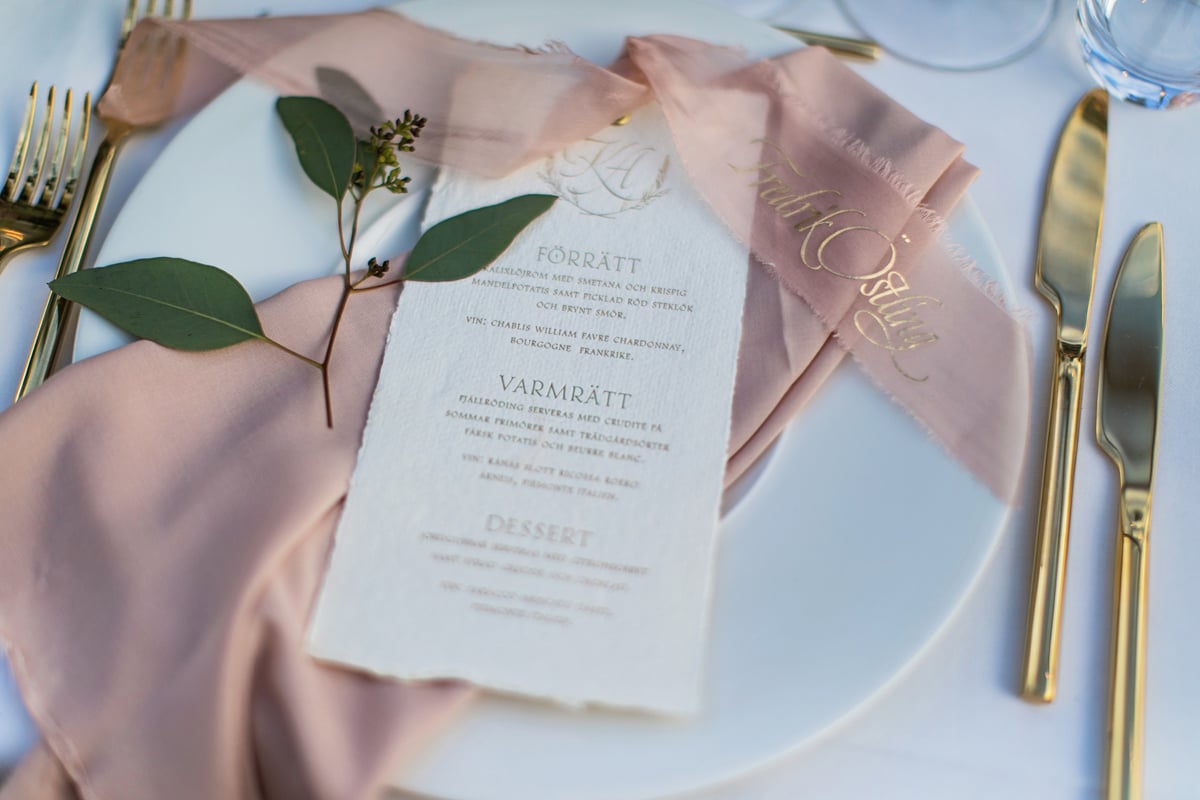 Och såhär såg dukningen ut! Monogram och guldtext på menyerna, mässingbestick och lite grönt & blommor såklart. Pga brandrisk fick vi skippa ljusstakarna men det blev himla fint ändå med de rosa små ljushållarna!
// And here's what the tables looked like! Monogram and golden text on the menus, golden cutlery and some green leaves/flowers ofc. Due to fire risk we had to skip the candle sticks but I think it turned out great with the little pink candleholders!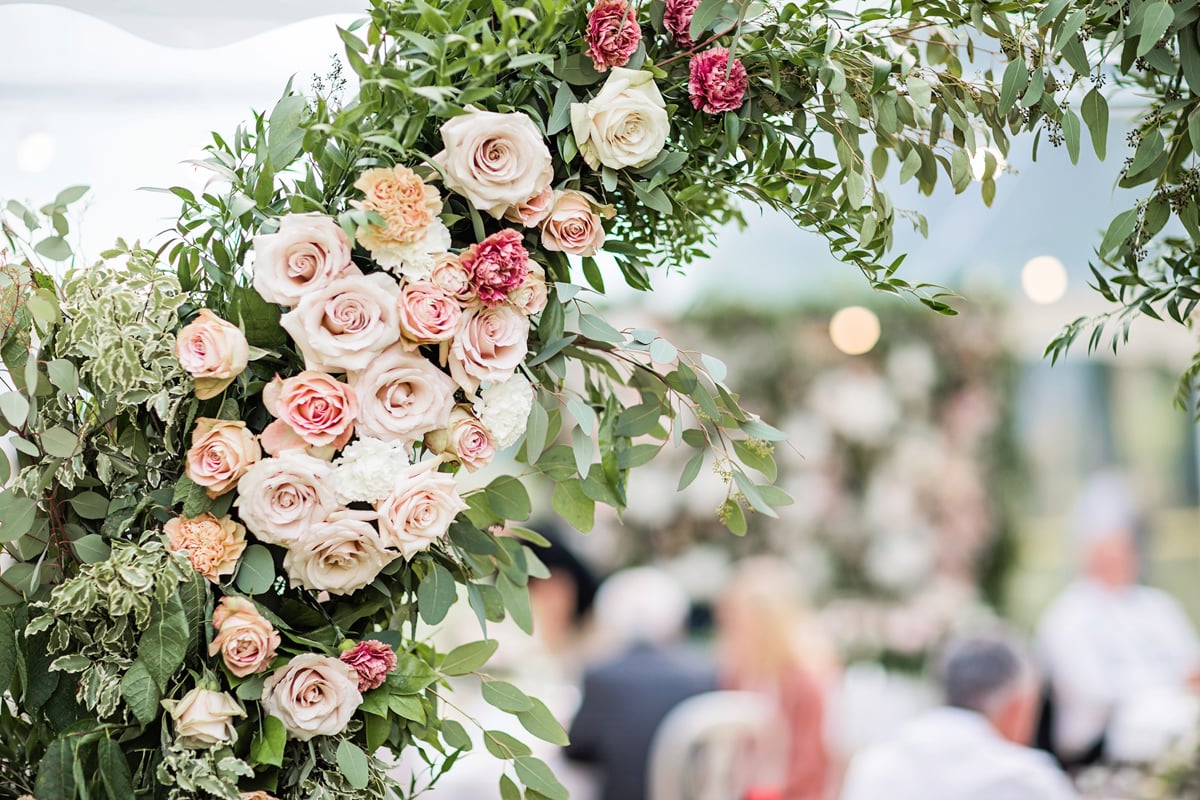 Blombågen flyttades ner från vigselplatsen och blev nu ingången till tältet.
// The flower arch was moved from the ceremony spot and became the entrance to the tent.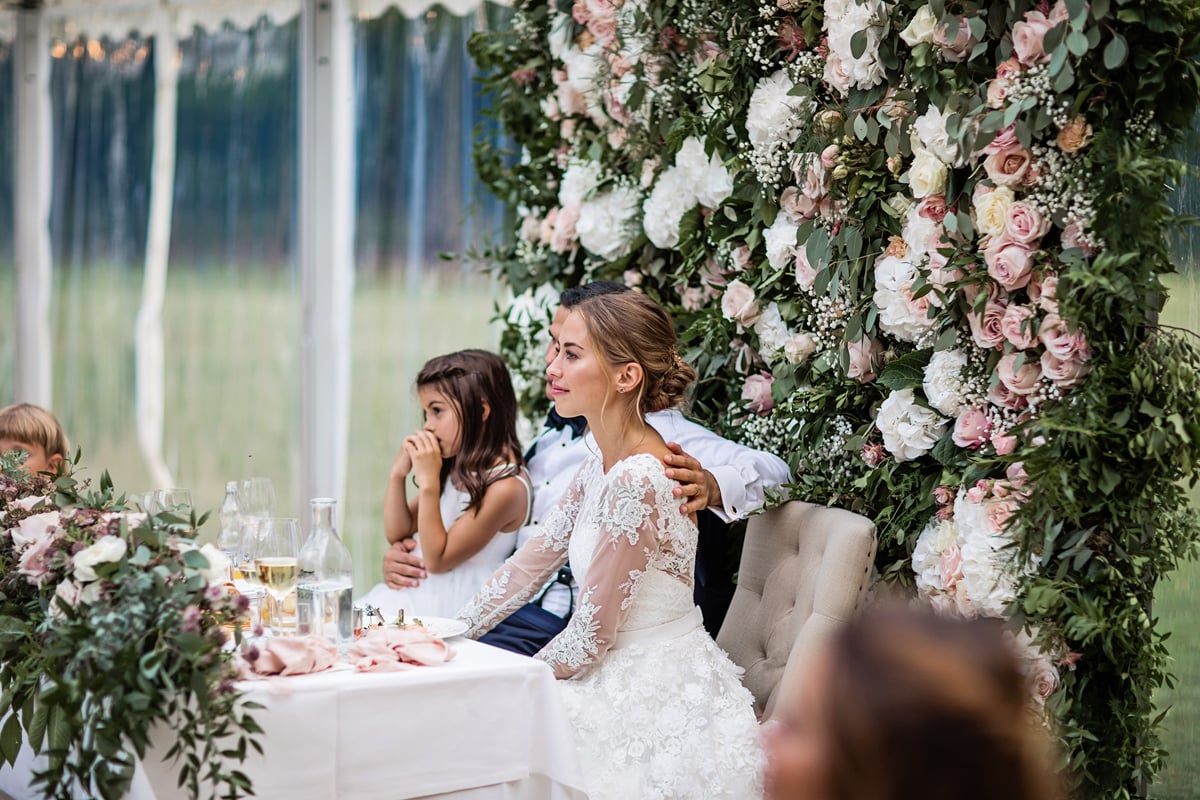 Den stora blomsterväggen flyttades också ner till tältet och fick bli vår backdrop under middagen, och blomsterarrangemangen från broräcket las på vårt bord.
// The big flower wall was also moved to the tent and became our backdrop during dinner, and the flower arrangements from the bridge was put on our table.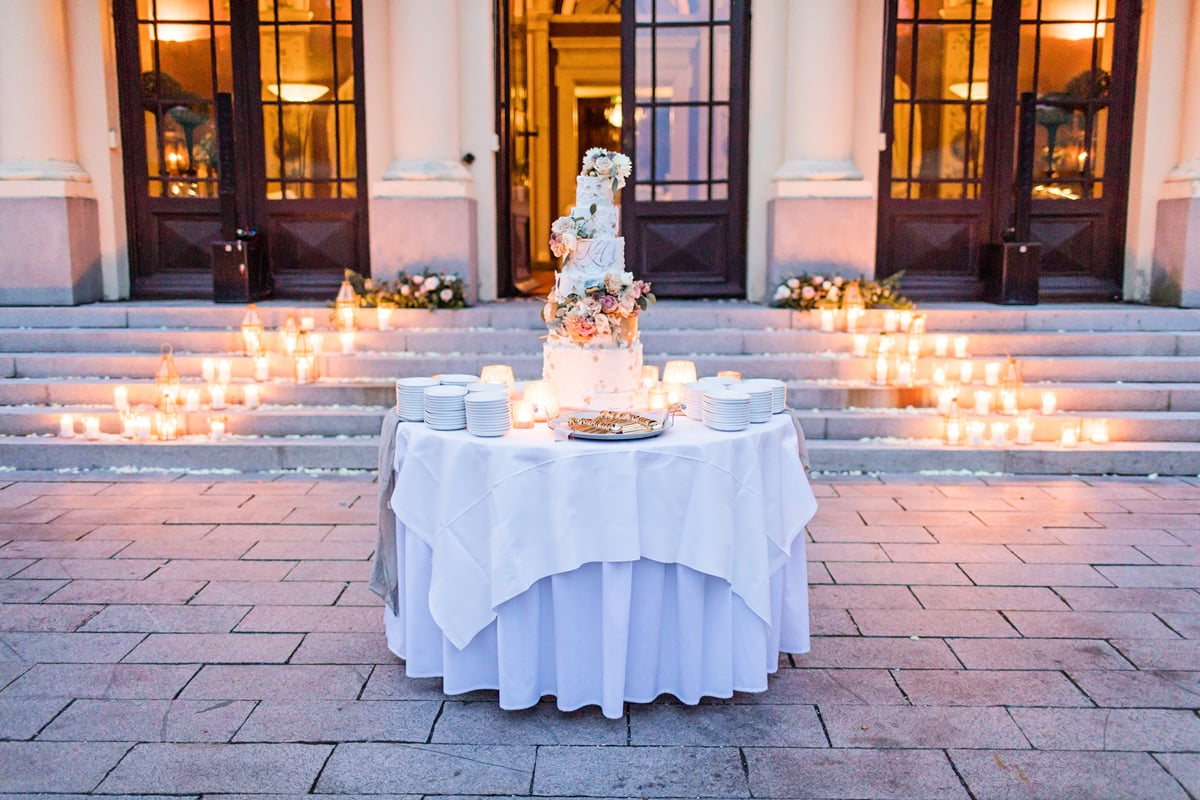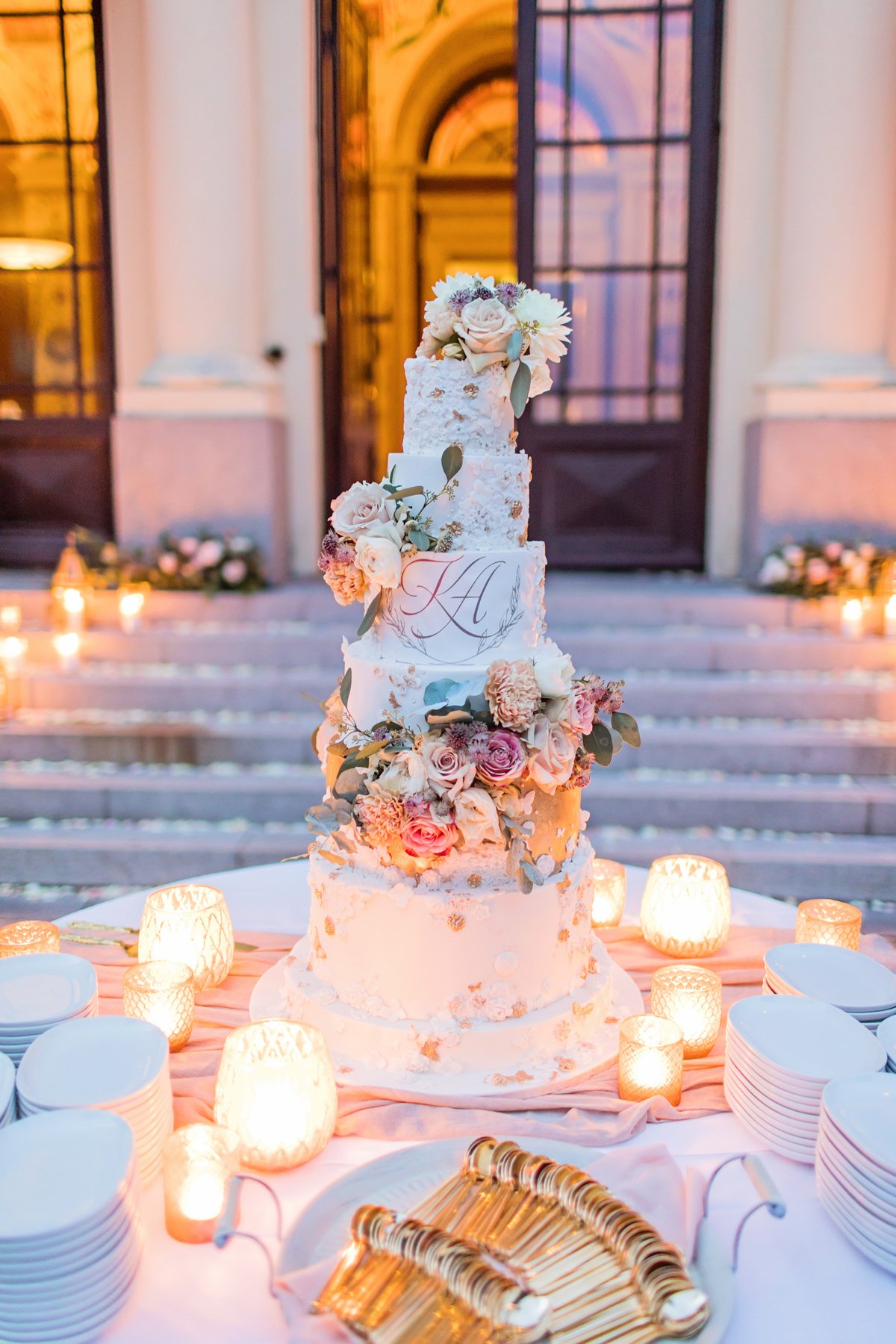 För att personalen skulle ha en chans att röja undan i tältet och göra redo för fest så körde vi tårta och kaffe uppe på slottsterrassen istället. Tänkte skriva att det var skönt med en bensträckare men sedan kom jag på att vi knappt satt ner under middagen, vi dansade ju haha!
Den mest magiska tårta jag någonsin sett gjordes av En Nypa Socker (de gjorde även vårt galna dessertbord vi hade dagen innan!) Och ja, den var lika god som den var fin. ;-)
// For the staff to be able to clean up in the tent and make room for the party, we had the cake and coffee up on the castle terrace instead. I was going to write that it was night to stretch our legs a bit but then I remembered that we barely sat down during dinner, we just danced haha!
The most magical cake ever was made by En Nypa Socker (they also made our crazy dessert table we had the day before!) . And yes, it was delicious. ;-)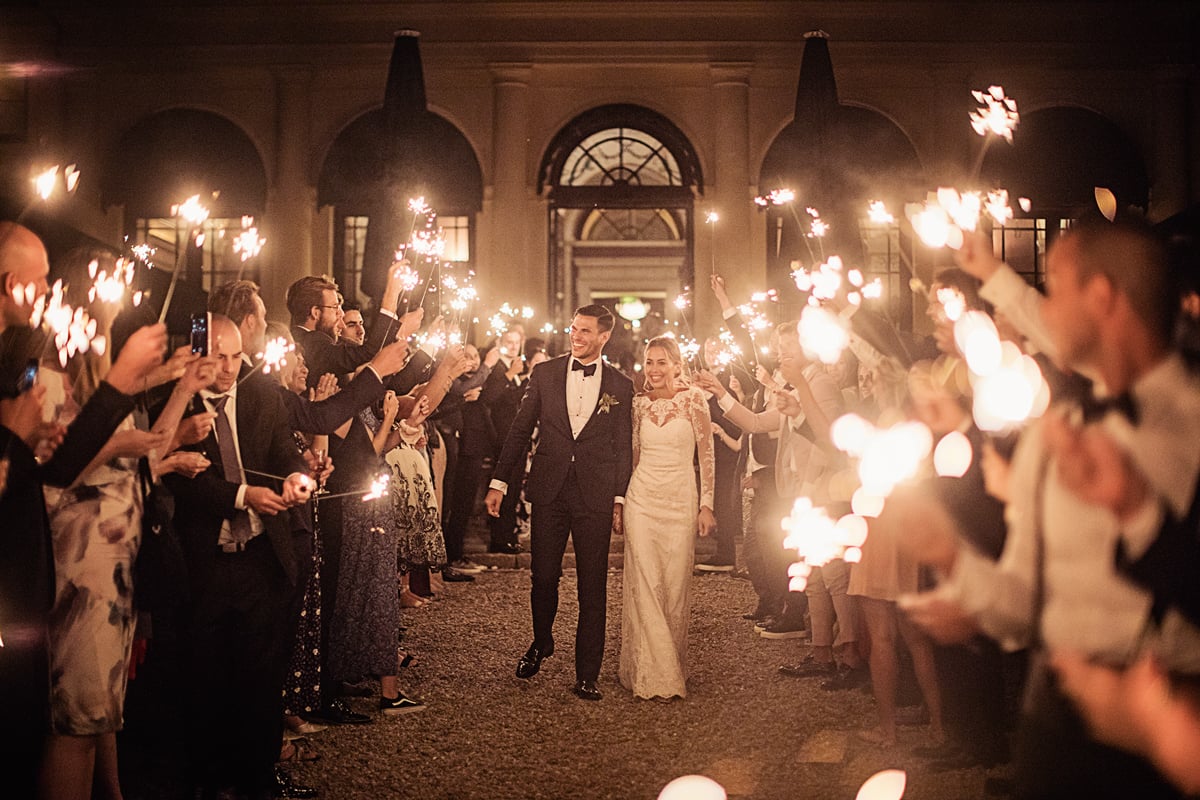 Efter tårta så var det dags att gå ner till tältet igen – vi skulle dansa vår första dans som man och fru. För att göra det lite roligare så ställde våra gäster upp sig som en "tunnel" och visade vägen ner till slottet med tomtebloss. Fint och kul!
// After cake it was time to return down to the tent again – we were going to dance our first dance as husband and wife. To make it a bit more fun, our guests made a "tunnel" and showed the way down to the castle with sparklers. Pretty and fun!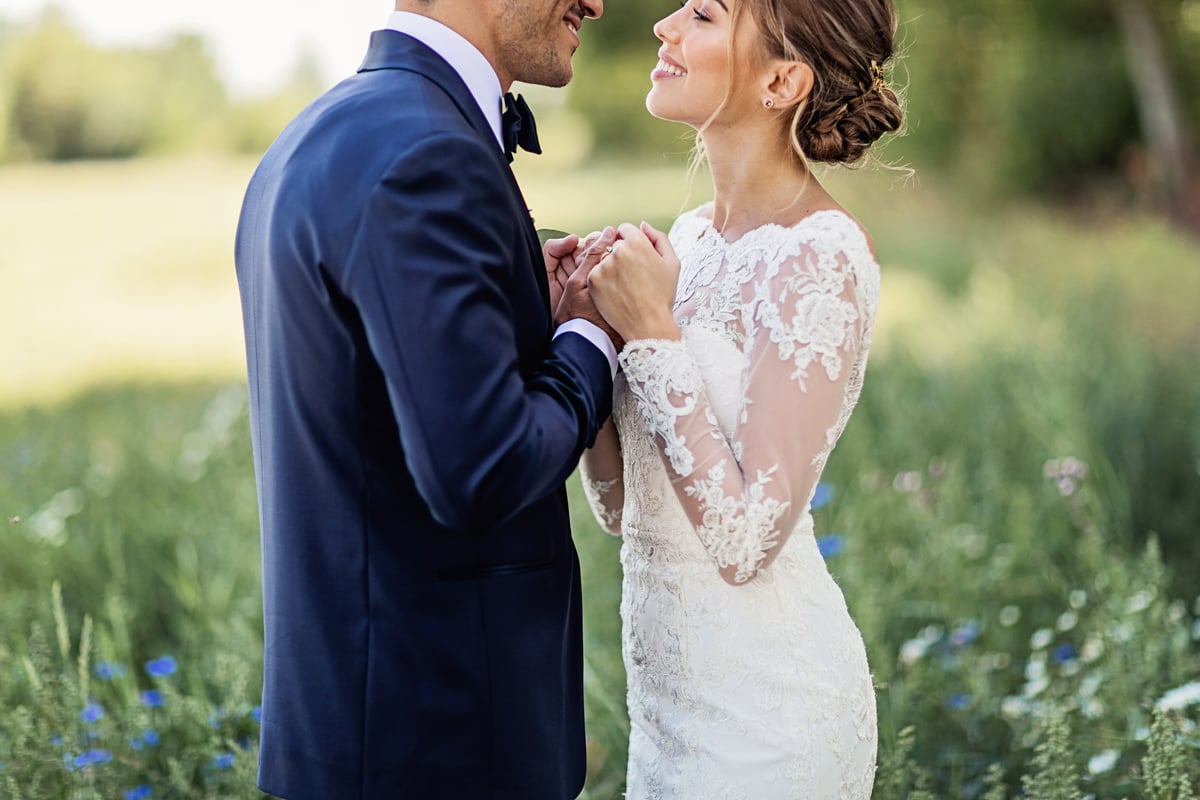 Om ni undrar något mer kring vårt bröllop så lämna en kommentar så svarar jag asap. ♥
// If you have any more questions about our wedding just leave a comment and I will answer asap. ♥