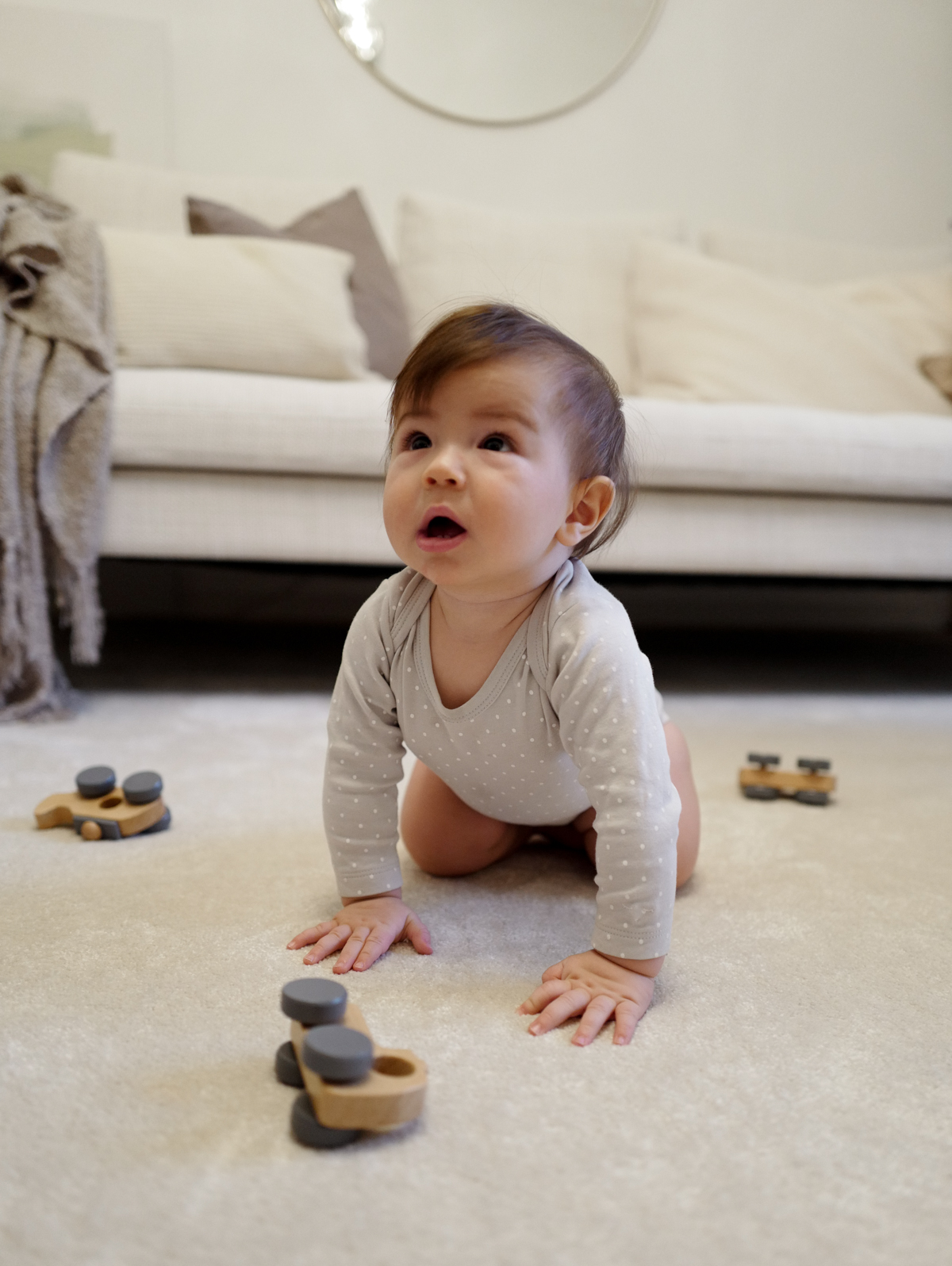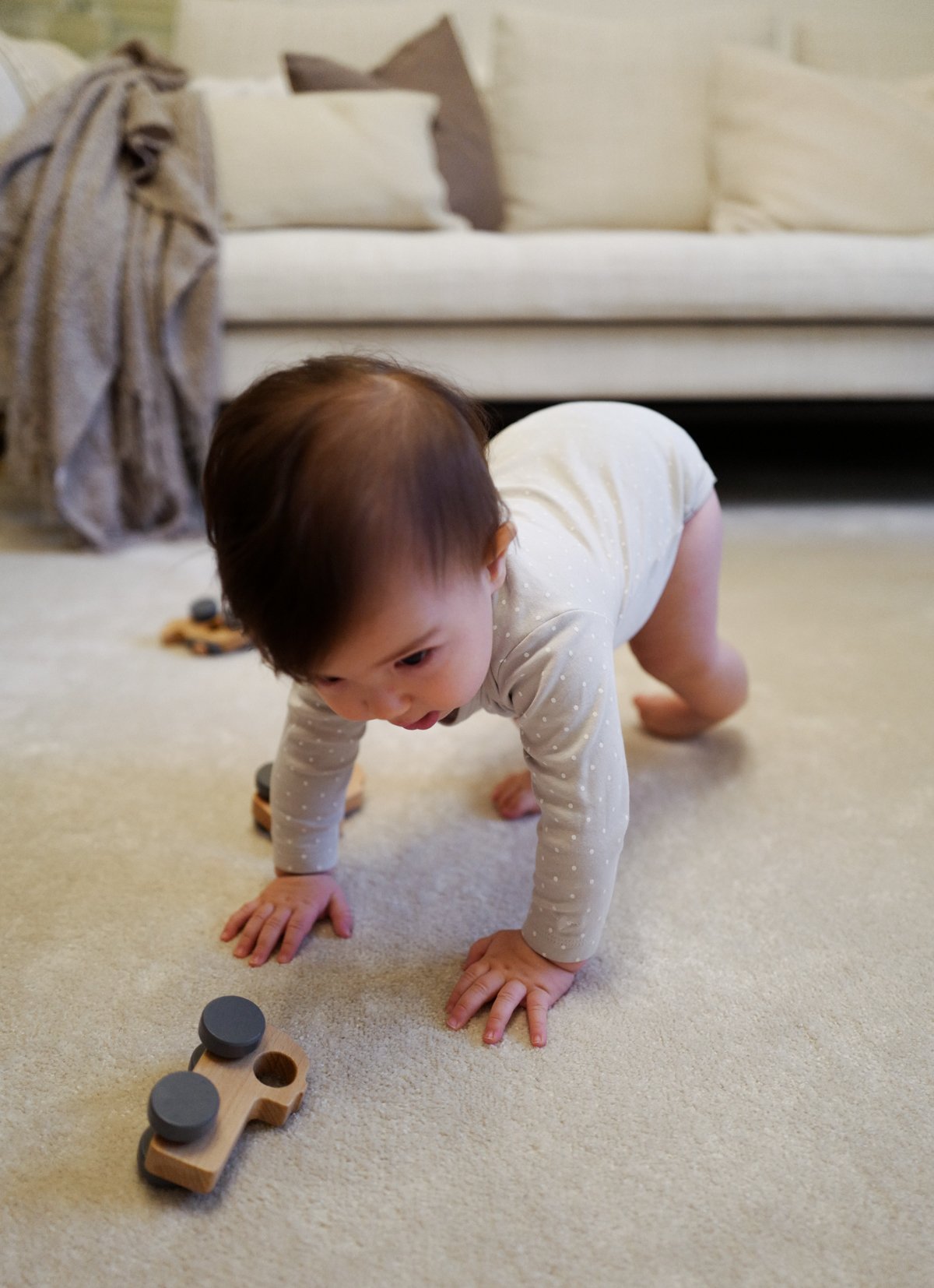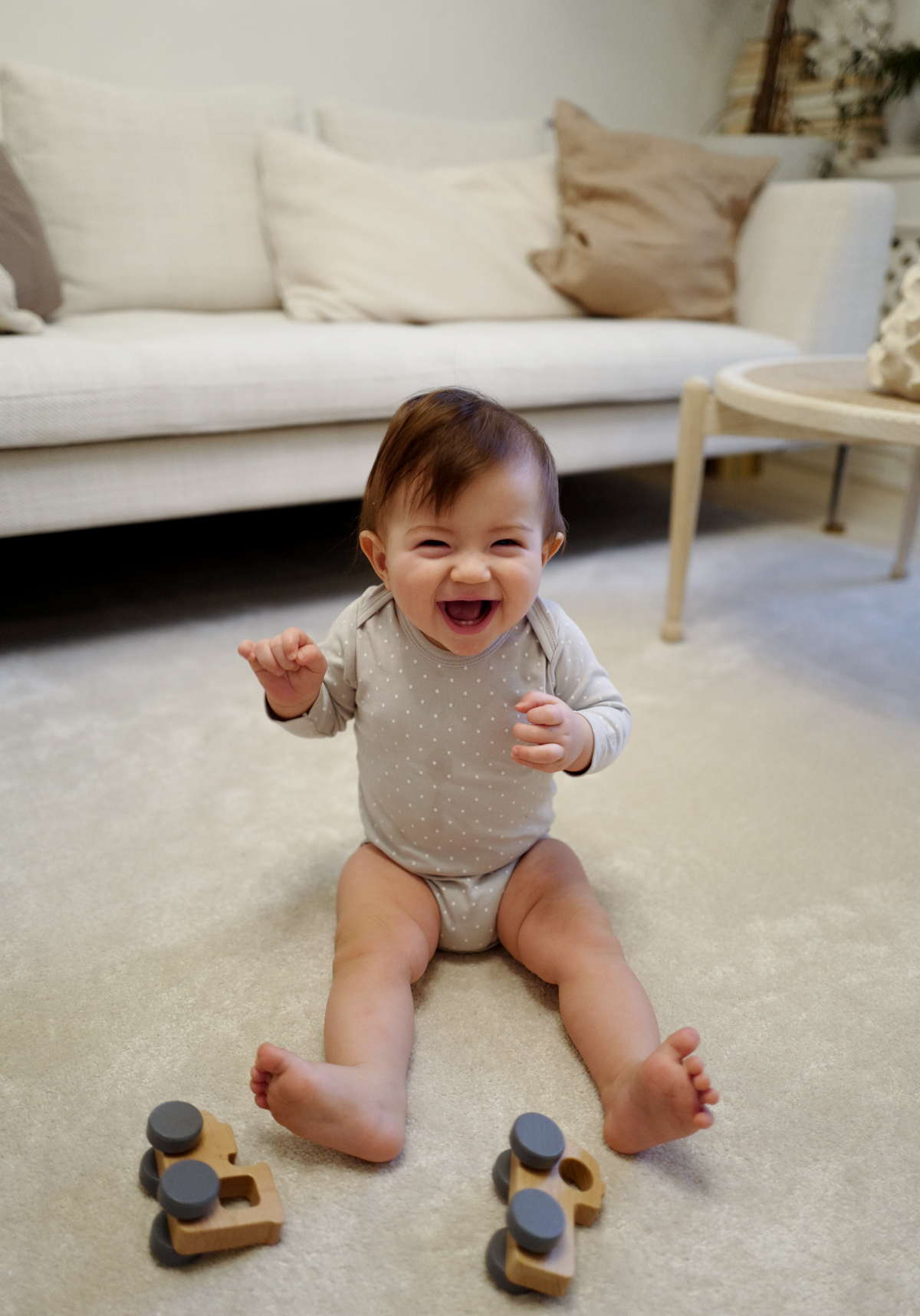 Weight: around 9.7 kg 
Height: around 73-74 cm (not sure, hard to measure at home)
Ok ni gillar tydligen dessa uppdateringar så jag fortsätter ett tag till. Om det blir hela vägen upp till 1 år eller inte får vi se. :-) Nu är Nikola iallafall 7 månader gammal och senaste månaden har minst sagt varit omtumlande. Kan ju börja med att säga att den perioden vi är i nu (sedan ett tag tillbaka) är den tuffaste hittills. Han har minst sagt fått en egen vilja nu och det märks. Det känns som att hela mina dagar går ut på att 1. försöka få en sur bebis att somna och 2. försöka få en envis bebis att äta fast föda. Nu har han lärt sig att krypa + försöker ställa sig upp mot möbler och vill därför inte göra något annat. Sova? Nej jag ska krypa runt i sängen och klättra på mamma. Äta? Nej jag ska ställa mig upp i stolen och spotta ut maten på mamma. :-)) Han har gått från att vara nöjd typ jämt till att gnälla vid minsta lilla sak (han skrattar ena sekunden och gnäller andra, finns inget mittemellan typ haha). Ibland känns det ärligt talat som att jag ska tappa det, men jag biter ihop och samlar ork när han sover eller är med Aleks. Och såklart även när hjärtat svämmar över av kärlek bara av att titta på hans vackra lilla ansikte. <3
Mat: Jag har trappat ner på amningen ytterligare och ammar nu bara morgon och kväll. Ibland även som nödlösning på natten för att få honom att somna om. Han har ÄNTLIGEN lärt sig att ta flaska med både ersättning och välling utan problem, faaaan vad vi kämpade med det. Får vi ett till barn kommer vi utan tvekan introducera flaska redan från början och ge det en gång per dag eller så. Iallafall, skulle kunna sluta amma helt nu men jag är inte redo… Och Nikola blir så lugn av det så jag vill inte sluta riktigt än. Känner mig inte jättestressad över det längre eftersom att jag fått tillbaka min mens ändå. Så flytande föda går utmärkt och fram tills för typ en vecka sedan har det även funkat med puréer av olika slag. Men nu vägrar han det. VÄGRAR. Har därför testat att ge lite mjuka bitar av mat istället (t.ex. ikväll fick han fisk, potatis och broccoli) och det verkar han vara mer intresserad av! Och till frukost slank det ner lite äggröra med smör, och avokado. Ni får jättegärna tipsa om liknande måltider som är lätta att göra.
Sömn: Sömnen är tyvärr oförändrad här (han sover 12 timmar men vaknar och gnäller efter mat/tröst varannan timme) så jag och Aleks turas om att sova på soffan. Det är det bästa med att han äntligen tar flaska, han är inte lika beroende av mig längre på natten så jag kan stoppa i öronpropparna och försvinna. Jag vaknar ändå ett par gånger under natten av vana men känner mig relativt utvilad på morgonen.
Utveckling: Han kryper nu som sagt, det tog några veckor från att han började ställa sig på alla fyra tills att det äntligen lossnade. Det var verkligen från en dag till en annan. Och så fort han lärde sig krypa så lärde han sig även att sätta sig upp själv (från krypposition). Den är dock lite jobbig för han är lite för vild ibland och ramlar därför bak och slår i huvudet om man inte e där snabbt och fångar honom. :-( Så det gäller verkligen att hålla koll hela tiden nu. Han har inte börjat säga något annat än dadadada och geehhhh än. Skriker mest glädjeskrik och låter som en kattunge typ. Och skrattar massor. Han är inte svår att göra glad.. Han vill bara att man pratar och busar med honom, och ger honom ens fulla uppmärksamhet. Och helst inte tvingar honom att sova. ;-)
Det ska bli så jäkla spännande att se hur han utvecklas denna månad för nu går det så himla fort!!
// Ok apparently you like these updates so I'm gonna continue a while longer. If I do it all the way to 1 year or not, we'll see. :-) Anyway now Nikola is 7 months old and the last month has been crazy. I can start by saying that the period we are in right now (since a while back) is the toughest one so far. He has his own will now and we can notice that. It feels like all I do in a day is 1. trying to make a whiny baby fall asleep and 2. trying to make a stubborn baby eat solid food. He has learned how to crawl now + trying to stand up against furniture and therefore he doesn't want to do anything else but that. Sleep? No I'm gonna crawl around in bed and climb on mom. Eat? No I'm gonna stand up in my chair and spit out the food on mom. :-)) He has gone from being satisfied most of the time to whining at every little thing (he's laughing one second and whining the other, there's nothing in-between haha). Honestly it feels like I'm about to lose it sometimes, but I bite my tongue and gather energy when he is sleeping or when he is with Aleks. And of course also when my heart explodes from love just by looking at his beautiful little face. <3
Food: I have cut down on the breastfeeding more and now I only breastfeed in the morning and in the evening. Sometimes also when needed during the night it nothing else works to get him to fall back asleep. He FINALLY takes the bottle with both formula and gruel without problem, daaaamn we struggled a lot with that. If we get another child we will without doubt introduce the bottle from the beginning and give it once per day or so. Anyway, I could quit breastfeeding completely now but I'm not ready… And Nikola gets so calm from it so I don't want to quit just yet. I don't feel so stressed about it anymore since I got my period back anyway. So liquid food is going great and up til one week ago it also worked with all kinds of purées. But now he refuses it. REFUSES. So we have tried to give him some soft pieces of food instead (like tonight he got fish, potato and broccoli) and he seemed to be more interested in that! And for breakfast he had some scrambled eggs with butter, and avocado. Please share ideas on similar meals that are easy to make. 
Sleep: It hasn't change unfortunately (he sleeps 12 hours per night but wakes up whining for food/comfort every other hour) so Aleks and I take turns in sleeping on the couch. That is the best thing about him finally accepting the bottle, he's not depending on me at night anymore so I can put in the earplugs and disappear. I still wake up a few times because I'm used to it but I feel pretty rested in the morning.
Developement: Like I said he is crawling now, it took a few weeks from when he started standing up on all four until he finally understood how to move. It really went from one day to another. And as soon as he learned how to crawl he also learned how to sit up (from crawling position). That's a bit tough though because he is a bit too wild sometimes and falls back and hits his head if we're not there quick and catch him. :-( So we really have to keep our eyes on him all the time now. He hasn't started saying anything else than dadadada and gehhhh yet. He mostly screams happy screams and sounds like a kitten. And laughs a lot. It is not hard to make him happy… He just wants us to talk and play with him, and give him our full attention. And rather not force him to sleep. ;-)
I'm super excited to see how he develops this month because it's going really fast now!!