Här är det zombiemode deluxe. Både jag och Nikola är snoriga (igen) och jag är så trött att jag inte vet var jag ska ta vägen. Senaste nätterna har varit helt okej (vi håller på och vänjer Nikola vid att sova i sin egen säng nu och det funkar förvånansvärt bra fram till en viss tid, då vill han bara komma över till vår säng för att ligga nära och snutta) men dagarna suger musten ur mig. Herrejösses vad krävande han är nu haha. Blev alldeles för bortskämd med en lätt och nöjd spädis i början.
Har verkligen ingen aning om hur jag ska balansera detta med mitt jobb men jag tror det kommer gå med bättre planering från min sida. Boka in dagar då min mamma kommer och hjälper till (vilket hon väldigt gärna vill) och då verkligen kötta samarbeten, bilder och annan content för mina sociala medier. Så att jag alltid ligger steget före. För det här med att "jobba lite varje dag" funkar inte längre när man har någon som bara vill klättra på möblerna hela tiden. Behöver nog bara få in en rutin på det så kommer det säkert ordna sig! :-)
Nu måste jag gå. Han var nöjd i sin hoppgunga i hela 5 minuter idag. Herråååååå!! <3
// Zombie mode deluxe here. Both me and Nikola have a little cold going on (again) and I'm so tired I don't know where to go. The last few nights have been pretty okey (we're trying to make Nikola sleep in his own bed now and it actually works pretty fine up until a specific time, then he just want to come over to our bed to be close to me and the boob) but the days are taking all m energy. Damn he is so needy now haha. We got way too spoiled in the beginning with a happy satisfied infant. 
I really have no idea how I'm gonna balance this with my job but I think it's gonna work with a bit better planning from my side. Schedule days when my mom comes and helps (which she really wants) and then work my ass off with collaborations, photos and other content for my social media. So that I'm always one step ahead. Because this whole "work a little every day" is not working anymore when you have someone who wants to climb on the furniture all the time. I probably just need to get a routine on this and I'm sure it will work out! :-)
Now I've gotta go. He was satisfied in his jump swing for a total of 5 minutes today. Byeeeeee!! <3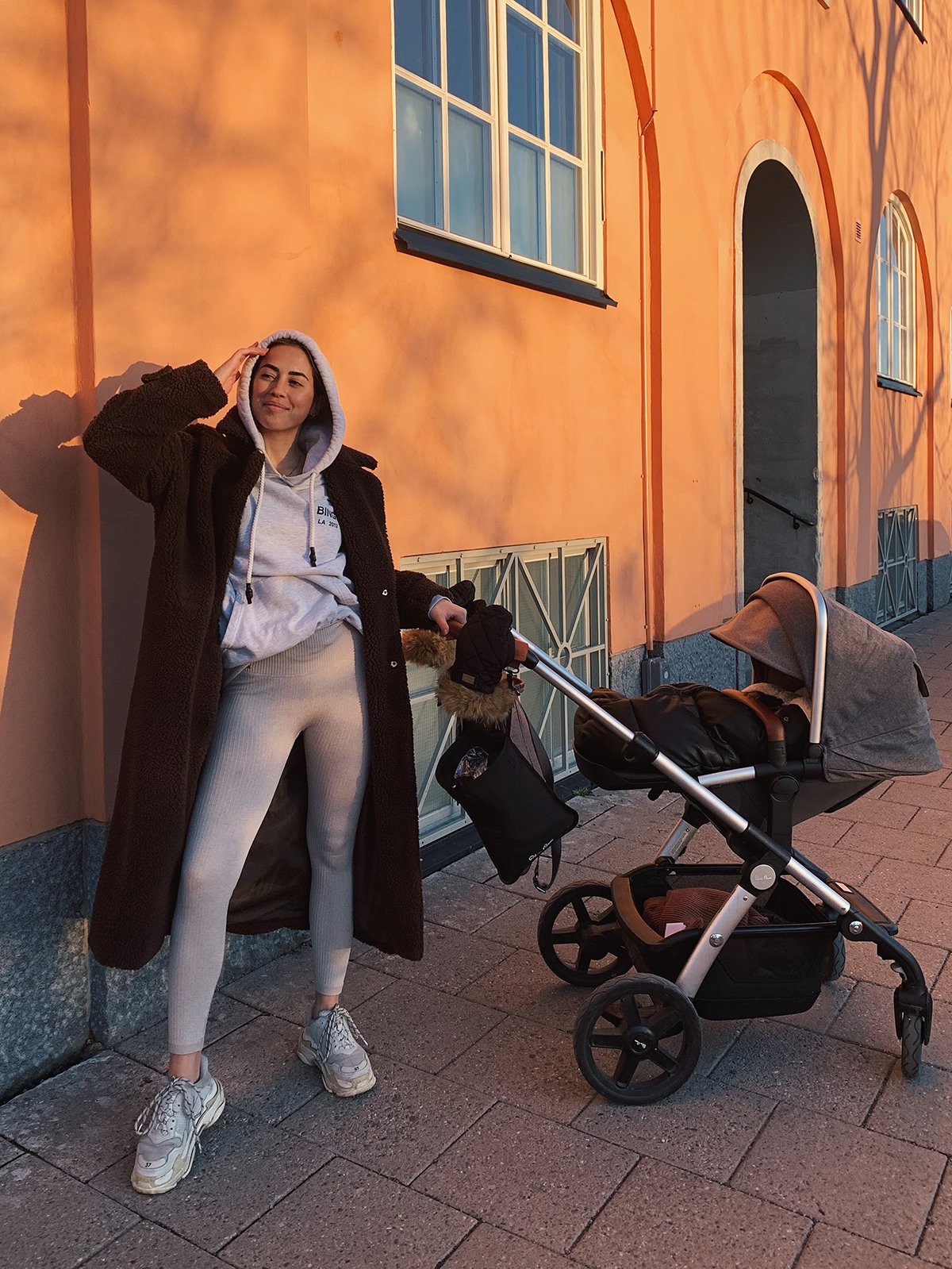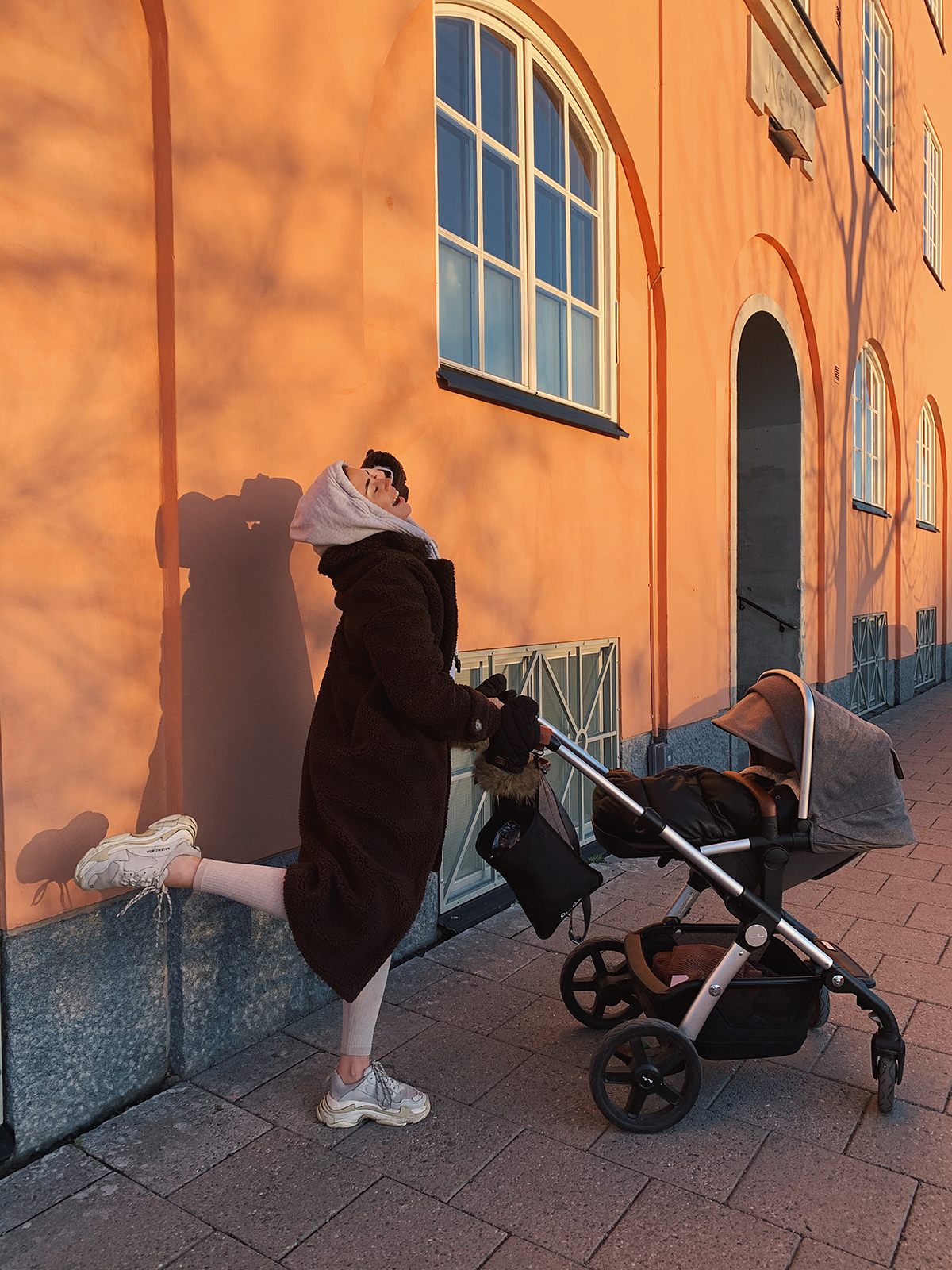 Ute på promenix igår för att få lilleman att somna. På bilderna ska det se ut som att jag är ute och "njuter av solen". Lyckades jag? PS. Har jättemörka bryn just nu pga gjorde microblading häromdagen och de är alltid supermörka och skarpa tills det läkt.
// Out on a walk yesterday trying to get the little man to fall asleep. It's supposed to look like I'm out "enjoying the sun". Did I get nail it? PS. I have really dark brows atm because I did microblading the other day and they are always super dark and sharp until it's healed.