Jag vill börja detta inlägg med att tacka er för era fina kommentarer på förra inlägget!! Blev både rörd och sjukt peppad på att ge bloggen en till chans! <3 Kul också att se att många av er verkar uppskatta like-funktionen (det lilla hjärtat i slutet av inlägget), det kräver ju lite tid och så att kommentera och fattar att inte alla orkar göra det varje gång liksom men då är det kul att se att ni ändå uppskattar inlägget. :-)
Så nu sitter jag här igen vid min laptop och knappar på tangenterna. Haha, jag minns så väl när jag var inlagd några dagar på sjukhus när jag var 17 och (såklart) hade med min laptop för att blogga. Delade rum med en äldre kvinna som blev riktigt förbannad på ljudet av mina fingrar på tangenterna (jag skriver ju så satans snabbt också så hon kände nog vad faaaaan är det som låter). Jag blev livrädd efter att hon skällde ut mig så då låg jag istället där i mörkret och tryckte försiktigt på tangent för tangent så ljudlöst som möjligt för blogginlägget skulle ju givetvis upp.
Och nu har jag ingen aning om hur jag ska vända det här inlägget till att handla om att vår familj växer men jag gör helt enkelt en tvärvändning och säger NIKOLA SKA BLI STOREBROR. Min älskade lilla bebis som typ föddes igår ska bli storebror nästa år, om allt går som det ska. Jag svarade på massa frågor på min insta story här om dagen (finns sparat på min profil om ni vill kika, skrev även ingående där om hormonbehandlingen) men jag tänker att jag också skriver lite kort om hela grejen här.
Så i juni, ungefär en vecka efter att vi hade firat Nikolas första födelsedag, så fick vi se det där fina plusset på stickan igen. Det där plusset som framkallar så mycket känslor och kastar om hela ens värld. Aleks satt vid matbordet och matade Nikola och jag kom ut och la det fortfarande ofärdiga testet på matbordet och sa "du får kolla om det är något!" och så backade jag och lät Aleks säga resultatet. Det var vårt 6e syskonförsök och vårt 2a försök med hormoner, men även om det var planerat så blev vi så otroligt överraskade. Eller iallafall jag. Att det skulle ske så snabbt denna gång trodde jag verkligen inte. Jag hade en sån blandad kompott av känslor inuti mig att de tog mig ett tag att landa i det hela. Tankarna som flög var allt ifrån "hur ska vi klara två så små?" till "gud vad jag sviker Nikola nu, HAN ska ju vara min lilla bebis…." Snälla, säg att jag inte varit ensam med att känna skuldkänslor? Aleks förstod mig inte alls, han tyckte jag var knäpp som inte enbart tänkte att detta är det finaste vi kan ge honom. Och nu håller jag ju såklart med. Nu är detta mer självklart än någonting annat, att det ska komma en till liten kotte till vår familj, och jag hade inte velat ha det på något annat sätt. Och att vi hade tur nog att lyckas ännu en gång trots mina fattiga äggstockar är ju helt jävla fantastisk. Vi är så tacksamma.
Just nu är jag i vecka 16 och bebisen är beräknad till 1a mars. Men jag kommer inte bli förvånad om BF flyttas till slutet februari, för jag har redan flyttats några dagar på ultraljuden trots att jag vet exakt när jag ägglossade eftersom vi gjorde ultraljud och tog ägglossningsprutan. Ni kanske minns att Nikola flyttades (från 8e juni till 2a juni, men föddes 14e juni efter igångsättning) på RUL för att han mätte större, så det är säkert en stor bebis igen. Men med förhoppningsvis normalstort huvud haha. Vi får se på RUL den 2a oktober!
Så, här är vi nu! Jag har äntligen börjat må bra igen efter ett par veckor med trötthet och illamående. Magen har redan sagt HELLO (någon annan som fick bula mycket tidigare andra gången?) och jag försöker få Nikola att förstå att det ligger något i min mage men det går inte så bra. Han har hittat min navel iallafall som han gärna petar i, alltid något haha. Nu ska vi klä på oss och gå ut och leka! Sedan ska jag äntligen träna ett pass. Vi hörs! <3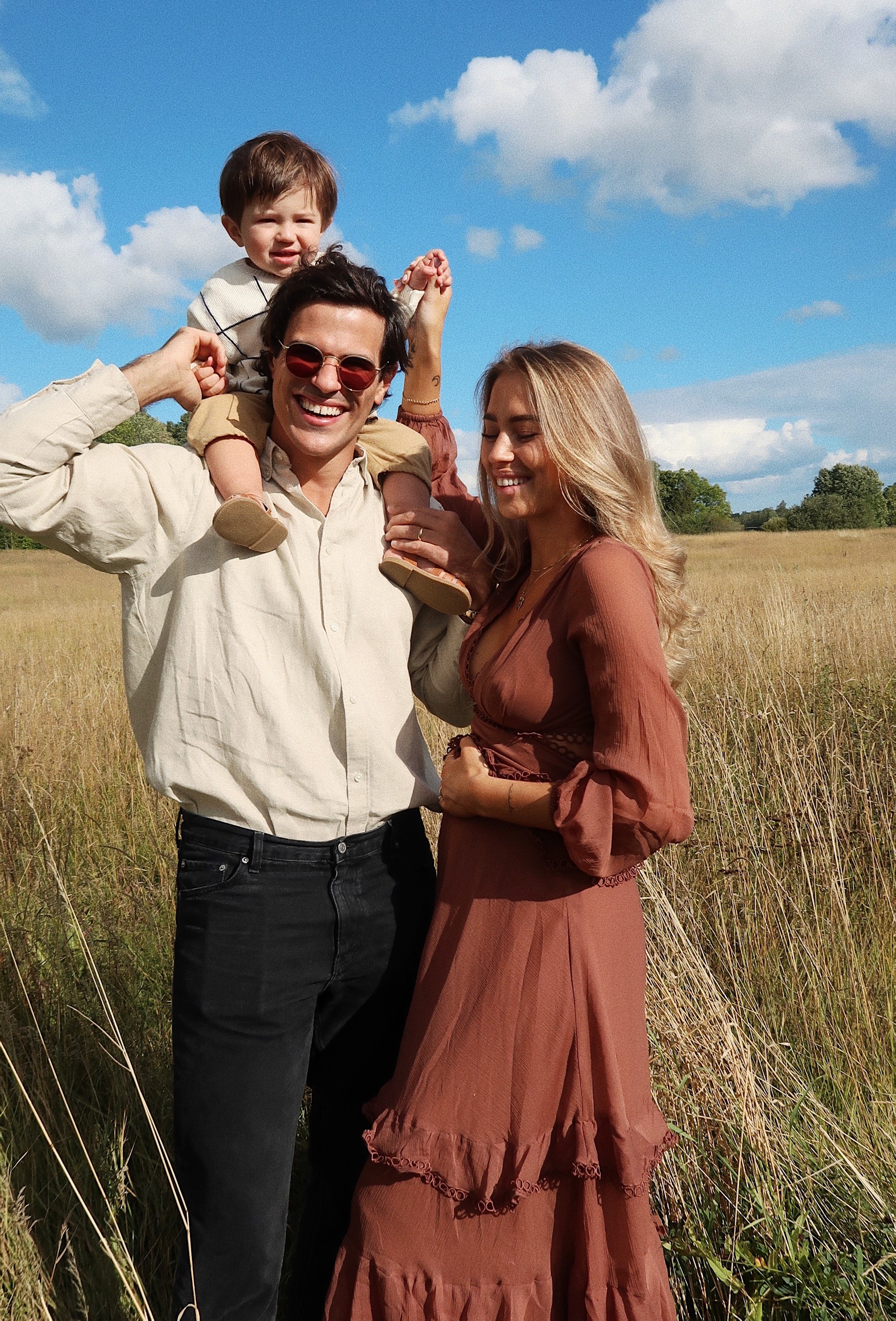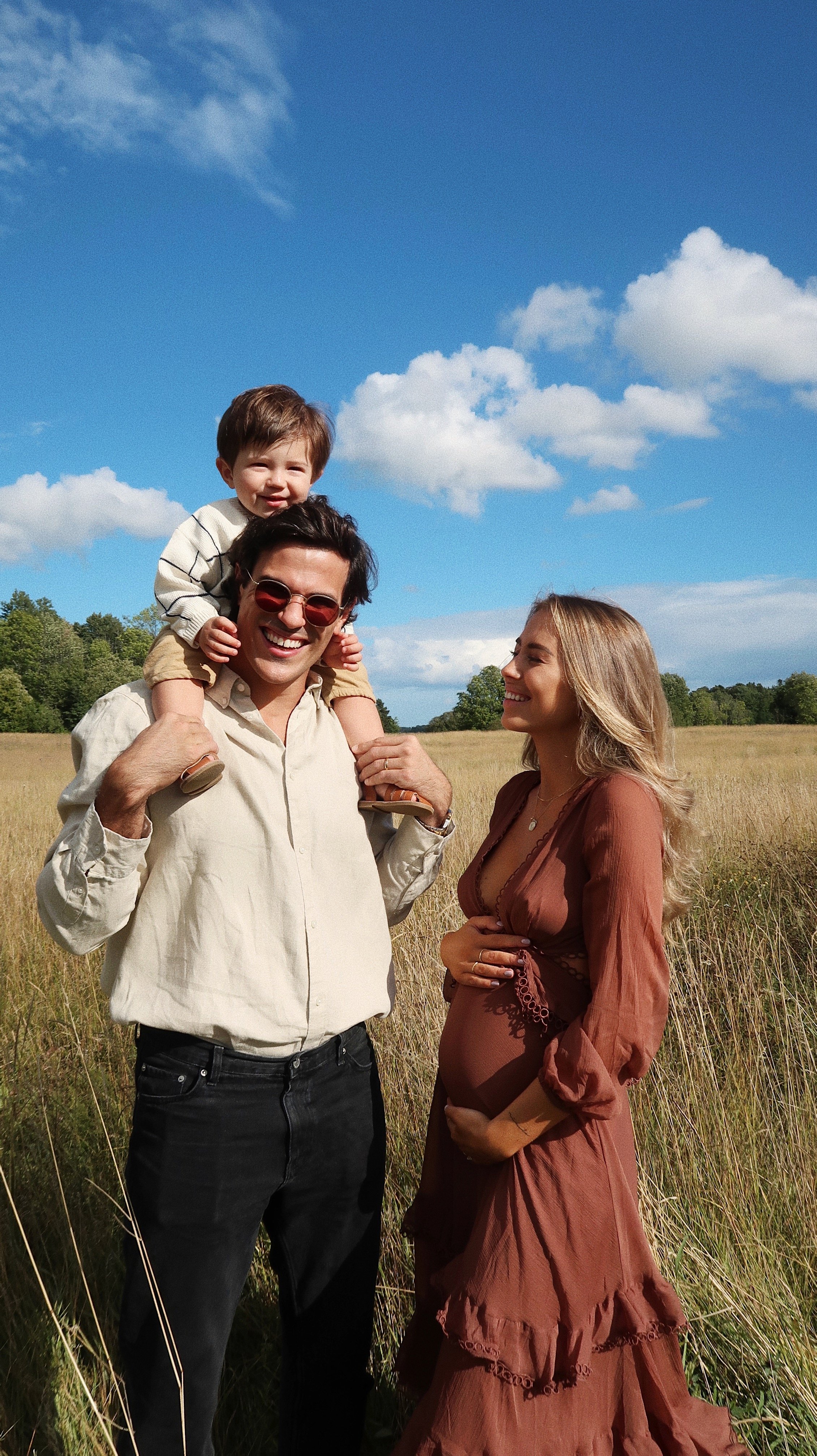 // I wanna begin this post by saying thank you for all your sweet comments on my last post. I was moved and now I'm very excited to give the blog a new chance! <3 I was also happy to see that many of you seem to appreciate the like-button (the heart by the end of every post), commenting takes more time so I get that not everyone can do it all the time. This function definitely makes it easier for every reader to show their appreciation :-)
So now I'm back with my laptop, slamming the computer keys again. Haha, I remember when I was 17 and spent some days at the hospital and (of course) had brought my laptop. I shared a room with an older woman who got really irritated with the sound of my fingers hitting the keys (I'm such a fast writer so I guess she wondered what the heeeeeell that sound was). I was so scared after she had yelled at me so I just laid there in the dark, pushing every key really carefully because I just had to publish my blog post. 
I have no idea how to make this post about our family growing now. Let's just start talking about the fact that NIKOLA IS GOING TO BE A BIG BROTHER. My little baby who was born like yesterday is becoming a big brother next year, if everything goes well. I answered a lot of your questions on my insta story the other day (I saved it on my profile if anyone would like to check it out. I wrote down the details on the hormone treatment there aswell). But I'll write a few words about the whole thing here too.
In June, about a week after we'd celebrated Nikolas first birthday, we got to see that beautiful plus on the pregnancy test again. The plus which brings out so many emotions and turns your world up side down. Aleks was sitting by the dinner table feeding Nikola and I came out from the bathroom and put the blank test on the dinner table and said "you'll check the results!" and then I backed off and let Aleks wait for it. It was our 6th try and our 2nd try with hormones, but even though we had planned it, we were still chocked when the result came. At least I was. I didn't think it would happen this easily this time. I had so much mixed feelings inside of me that it took me a while to land in the whole thing. I was thinking thoughts like "how are we gonna manage two kids" and "I'm letting Nikola down, HE is supposed to be my baby…" Please tell me I'm the only one feeling guilt? Aleks didn't understand it at all, he thought I was crazy to not see that this is the best thing ever for Nikola. Now I agree of course. It feels so natural to me now, that we're having another little baby in the house. I wouldn't have wanted it any other way. It is so amazing that we succeeded even though I'm battling with poor ovaries. We are so thankful. 
I'm in week 16 right now and the baby is due the 1st of March. But I won't be surprised if my due date is moved to the end of February, because I have already been moved a couple of days on the ultrasounds even though I know exactly when I was ovulating because we did an ultrasound and took the ovulation shot. You might remember that Nikola's due date was moved (from the 8th of June to the 2nd of June, but was born the 14th of June) because he was measured bigger, so I guess it's a big baby again. But hopefully with a normal sized head haha. We'll see on the routine ultrasound the 2nd of October. 
This is where we're at now! I'm finally starting to feel good after a few weeks of tiredness and nausea. My belly is already saying HELLO (did anyone of you get a bigger bump with the second child?) and I'm trying to get Nikola to understand that there's something in my belly, but it doesn't go very well. But he has found my belly button and loves to poke it, that's always something haha. Now we're getting dressed because we're going outside to play! Then I'm finally going to workout. Talk to you soon <3