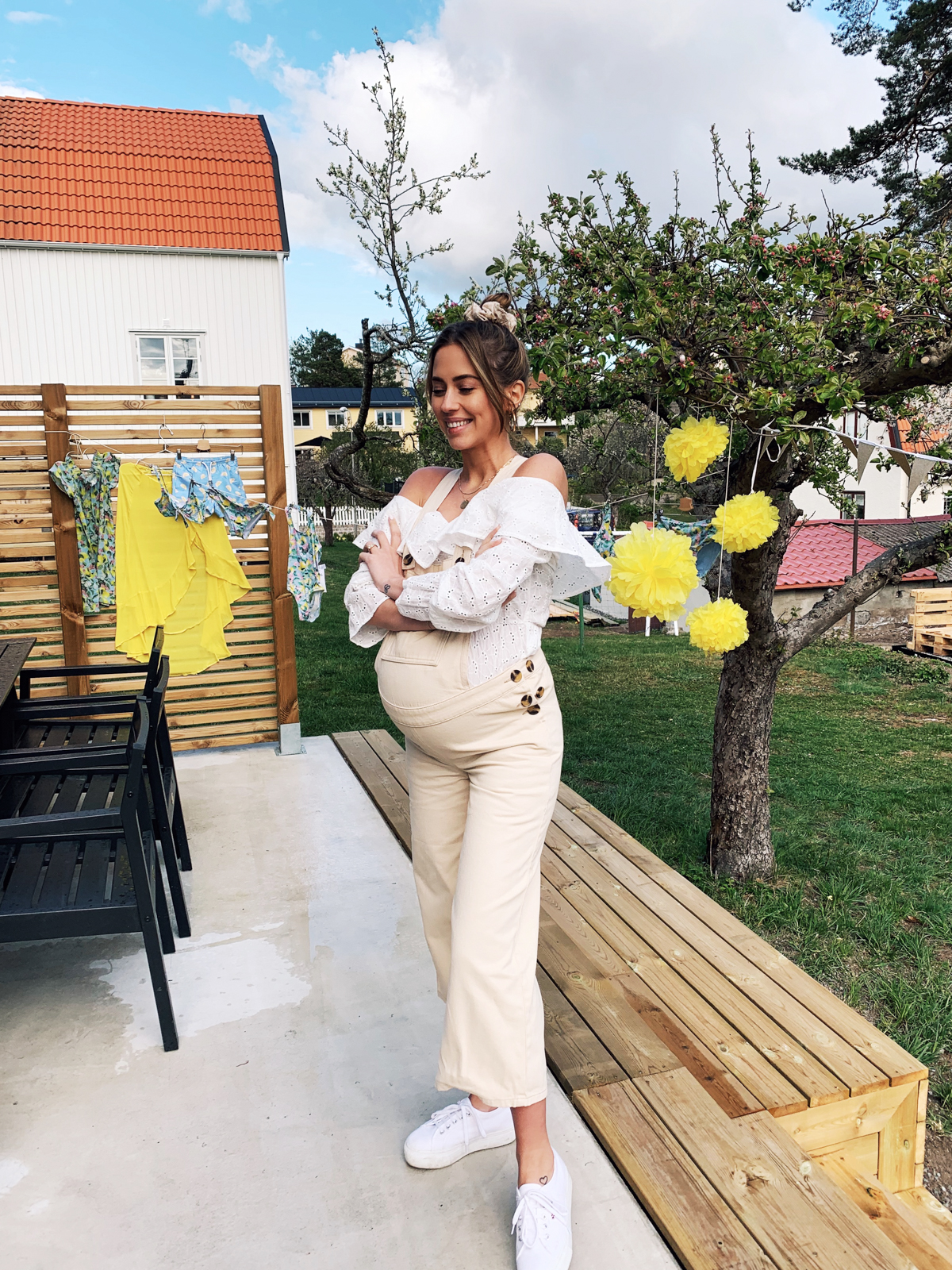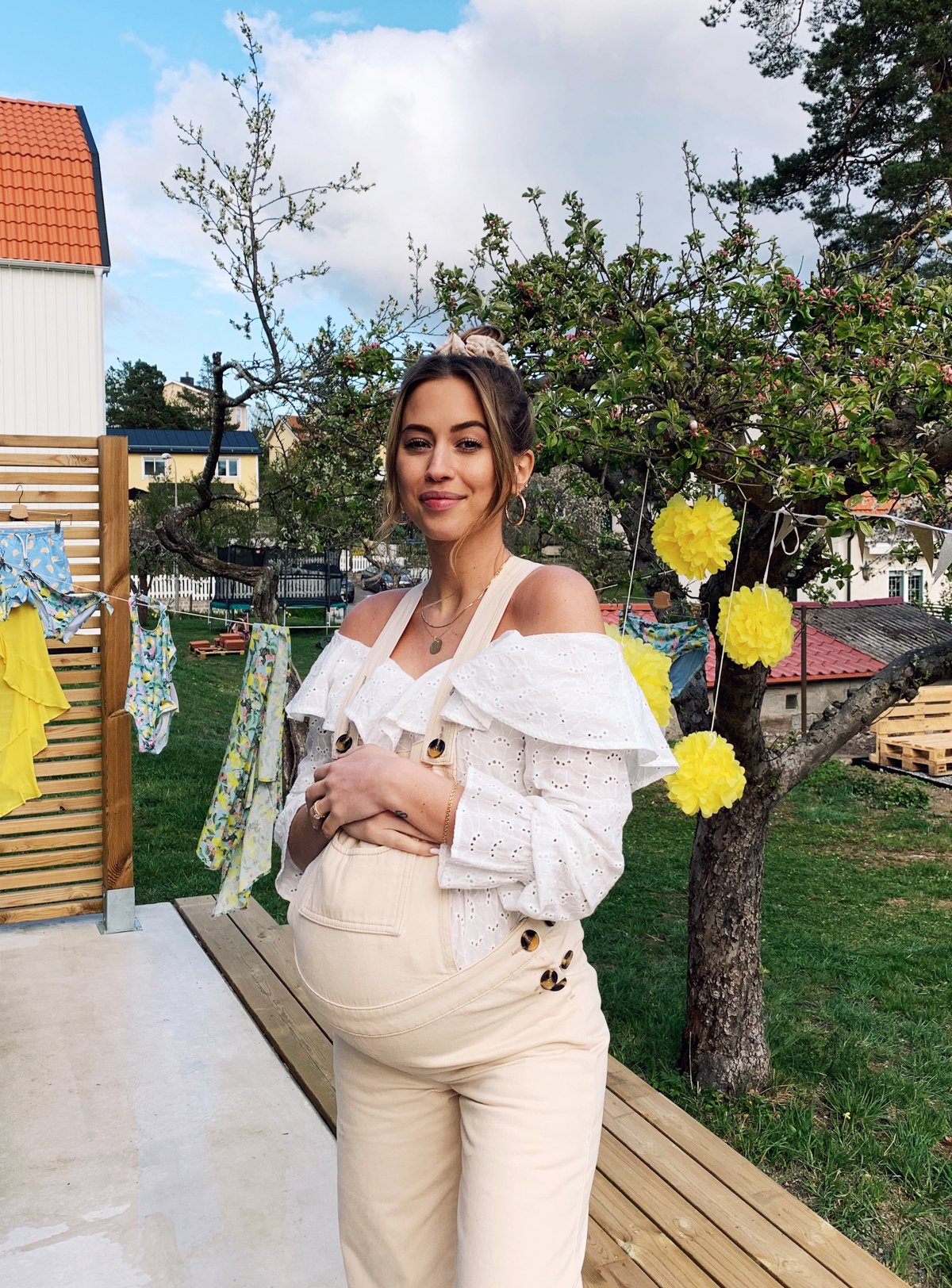 GRAVID VECKA 37
24 DAGAR KVAR/ 24 DAYS LEFT
Bebors status: Han är helt fixerad! Woho! Var förbi barnmorskan snabbt idag och då passade hon på och kände på hans huvud. Han är alltså redo och om några dagar (på måndag när vi går in i vecka 38) räknas han som helt färdigbakad och kan då egentligen komma när som. Det känns så läskigt och pirrigt och AH jag vet inte vad!
Vår älskade lilla bebis är nu runt 48 cm lång och väger runt 3 kg. Nu står det i en av apparna att mellan vecka 37-40 är fruktjämförelsen en jävla VATTENMELON. Jag går och bär på en vattenmelon och ja det känns haha. Kolla så stor magen är nu!
Bebor's status: He is completely engaged! Woho! I went by my midwife today and she could feel that on his head. So he is ready and in a few days (on Monday when we enter week 38) he is considered done and can arrive anytime. That feels so scary and exciting and AH I don't know what! 
Our beloved little baby is now about 48 cm tall and weighs around 3 kilos. One of the apps says that between week 37-40 the fruit comparison is a damn WATERMELON. So I'm walking around carrying a watermelon and yes I can feel that haha. Look how big my bump is now!
Min status: Jag har haft en superbra vecka hittills! Inga problem, inga smärtor (mer än trycket neråt), jag har tränat och jag känner mig pigg! Det känns även som att min kropp börjar förbereda sig på förlossning (antar att jag inte är ensam om att gå och leta tecken? hehe) men jag har egentligen ingen aning, har ju inte fött barn tidigare. Med största sannolikhet kommer jag gå över tiden och det är okej. Det enda jag önskar är att det kommer igång av sig själv så att jag slipper igångsättning. Vi har en tid inbokad hos BM den 12e juni för eventuell planering av igångsättning men förhoppningsvis har han kommit då. Förutom den tiden så har vi bara 2 (!!) inbokade besök kvar! 15e maj och 31a maj.
My status: I have had a really good week so far! No problems, no pain (more than the pressure between my legs), I've been working out and I feel alert! It also feels like my body is preparing for birth (I guess I'm not the only one who walks around looking for signs? hehe) but I have no idea since I haven't given birth before. Most likely I will pass due date and that is okey. My only wish is that it will start by itself so that I won't get induced. We have an appointment at our Midwife on the 12th of June to plan eventual induction but hopefully he is already here by then. Except that appointment, we only have 2 (!!!) other scheduled! May 15th and May 31st.
Övrigt: Hmm vad ska jag skriva här denna vecka? Kan ju börja med att säga TACK till alla er som kom med tips för halsbränna (Omeprazol) och pollenspray (Nasonex) som båda är okej att använda. Nu är jag människa igen! Tack också för era tips kring BB-väskan efter min senaste vlogg. La till Multi-Mam & Multi-gyn kompresser (sååå många tipsade om det!!), en extra pyjamas till Bebor, samt en morgonrock till mig. Ett litet babynest åker nog med också! Det + det vi redan packat känner jag får räcka, vill inte komma med en full fet resväska haha. Och visar det sig att något saknas för att vi blir kvar längre än tänkt så har vi allt någon som kan komma förbi med grejer. :-)
Jag sa i vloggen att jag skulle posta listan för BB-väskan här i bloggen också, men jag tänker att jag väntar med det tills efter jag fött istället och då även skriver vad jag faktiskt använde och inte. Det kan bli kul!
Other: Hmm what to write here this week? I can start by saying THANKS to everyone who told me what to do about my heartburn (Omeprazol) and pollen spray (Nasonex) which are okey to use. Now I'm alright again! And also thanks for your tips about my Hospital bag after my latest vlog. I added Multi-Mam & Multi-gyn compresses (soooo many told me about that!!), an extra pyjamas for Bebor, plus bathrobe for me. We will probably bring our little baby nest as well! I feel that this + what we've already packed is enough, I don't want to show up with a full fat suitcase haha. And if it turns out that something is missing because we are there longer than expected, we always have someone who can come by with stuff. :-)
I said in my vlog that I was going to post the list for my hospital bag here in my blog too, but I think I'm gonna wait with that until after birth instead and then also write what I actually did/didn't use. That could be fun!