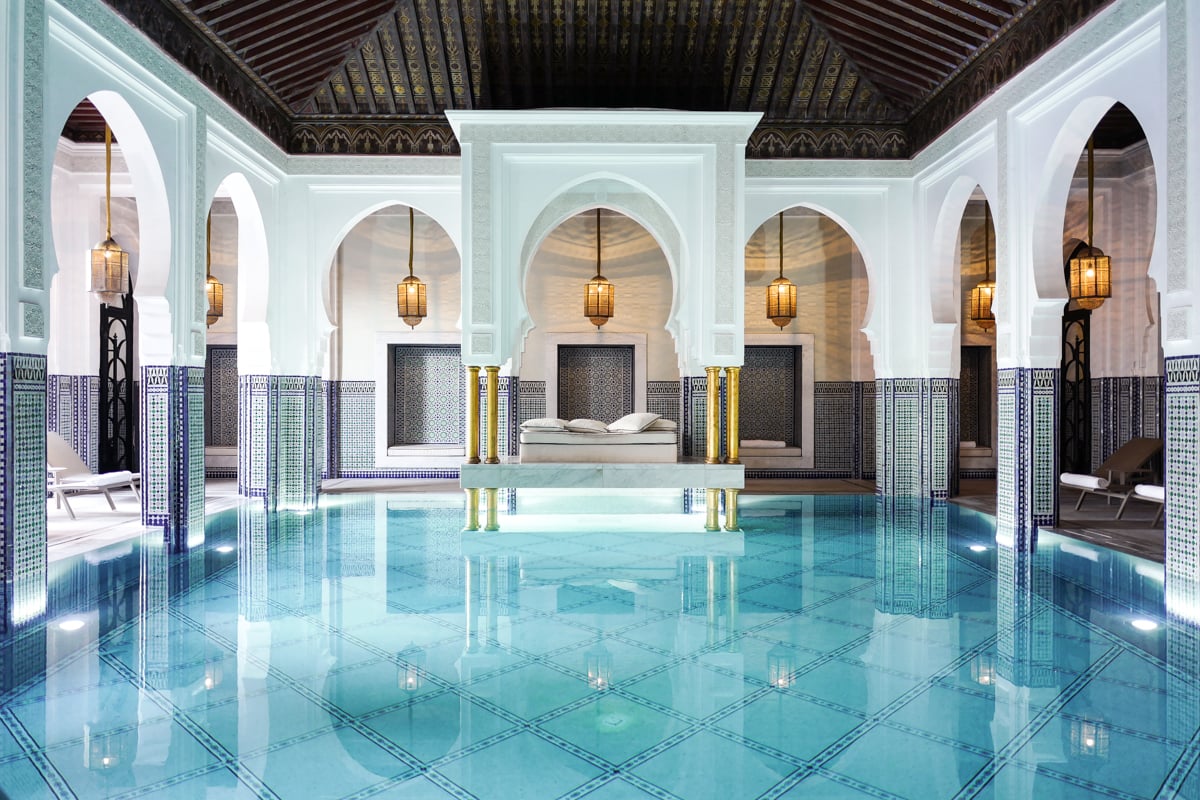 Har en hel del bilder från Marrakech så jag får dela upp det lite! Börjar med bilder från torsdagen. :-) På morgonen knallade jag och Shiva ner till hotellets vackra spa. Inte illa att börja dagen här va? Folk brukar prata om La Mamounia som ett av världens vackraste hotell och jag förstår verkligen varför. Herregud så fint det var! Varenda liten vrå!
Det var just hotellet som bjöd ner oss (och några fler bloggare!) på denna pressresa och jag är väldigt glad för det, har länge velat besöka detta ställe.
// I have a lot of photos from Marrakech so I have to split it up! Let's start with photos from Thursday. :-) In the morning Shiva and I went down to the beautiful spa. Not bad starting the day here right? People talk about La Mamounia as one of the most beautiful hotels in the world and I sure understand why. It was so beautiful! Every inch of it! 
The hotel invited us (and some more bloggers!) down to Marrakech for a little stay and I'm very happy about that, I've wanted to visit this place for so long.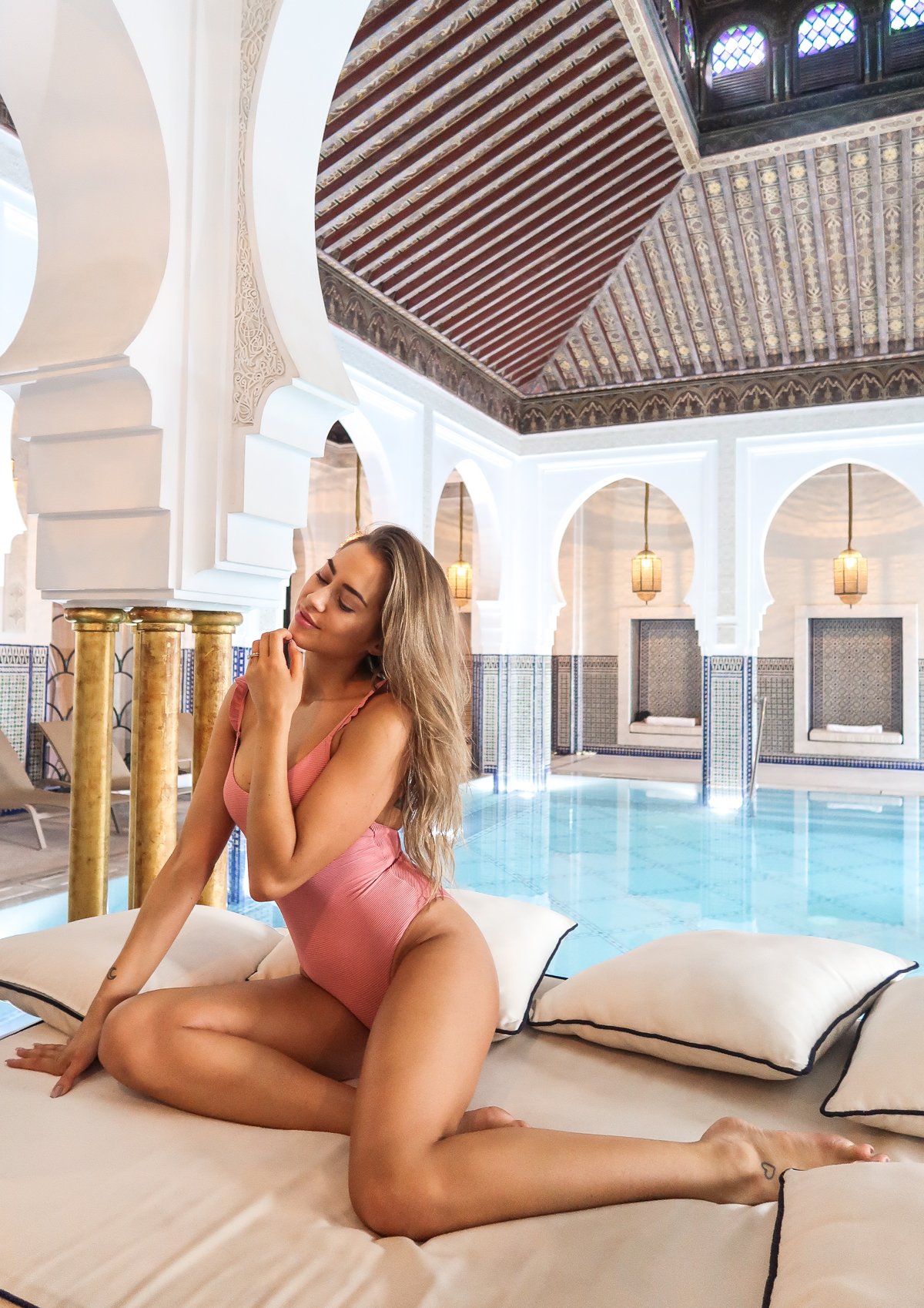 Så vad gjorde vi på spat då? Tog massa bilder, såklart. Som den bloggare man är. :-))) Vi visste att vi skulle tillbaka dit och njuta på riktigt med massage och allt senare så nu ville vi passa på och fota lite medan det var tomt på folk.
Min söta baddräkt är från Topshop!
// So what did we do at the spa? Took lots of photos, of course. As a true blogger. :-))) We knew that we were coming back there to enjoy it for real with massage and all that later so now we wanted to take photos while it was empty.
My cute swimsuit is from Topshop!
Vi åt sedan frukost vid poolen (vi började varje morgon så, dröm!!) och satt kvar där länge och njöt av solen. Med en helt okej frukostutsikt. :-)
Det blev dock aldrig ett dopp för mig i denna pool, 22 grader i luften räcker inte riktigt för att jag ska vilja bada hehe. Badkrukan.
// Then we had breakfast by the pool (we started every morning like that, such a dream!!) and sat there a long time and enjoyed the sun. With a pretty okey breakfast view. :-)
I never took a dip in this pool though, 22 degrees is not really enough for me to want to go for a swim hehe. Coward.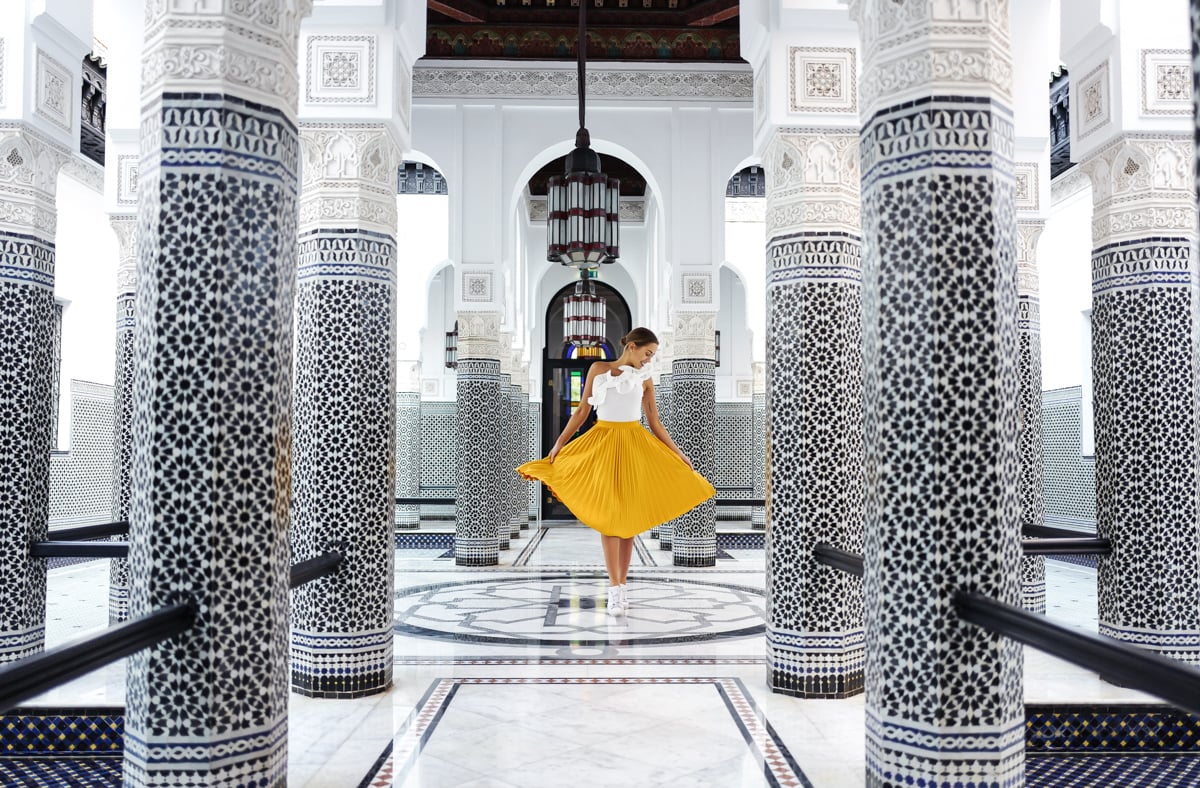 Vi satt kvar länge vid poolen så hann bara upp och byta om innan det var dags för lunch. Det här blev min lunchlook! Både kjolen och toppen är från Asos. Kjolen är slutsåld men toppen hittar ni här (adlink!)
Michaela, som också var med på resan, sa att jag såg ut som en marockansk blomma. :-)))
// We sat by the pool a long time so I only went up to change before it was time for lunch. This was my lunch look! Both skirt and top are from Asos. The skirt is holdout but you can find the top here (adlink!)
Michaela, who was also on this trip, said that I looked like a Moroccan flower. :-)))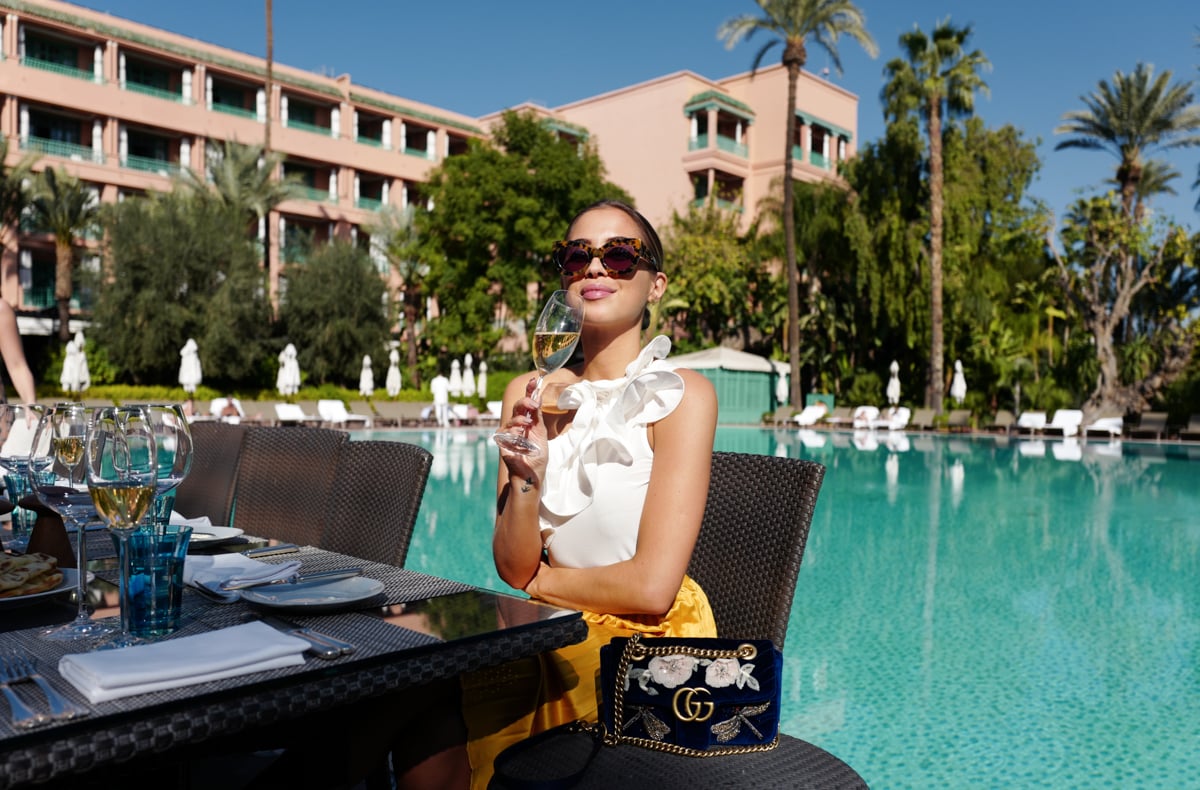 Haha här ser man att jag njuter ordentligt. Ser riktigt nöjd ut. Även lunchen serverades vid poolen och innan vi högg in på buffén så fick vi varsitt glas bubbel!
// Haha you can tell I'm really enjoying myself here. I look very satisfied. The lunch was also served by the pool and before we got food from the buffet, we had a glass of champagne!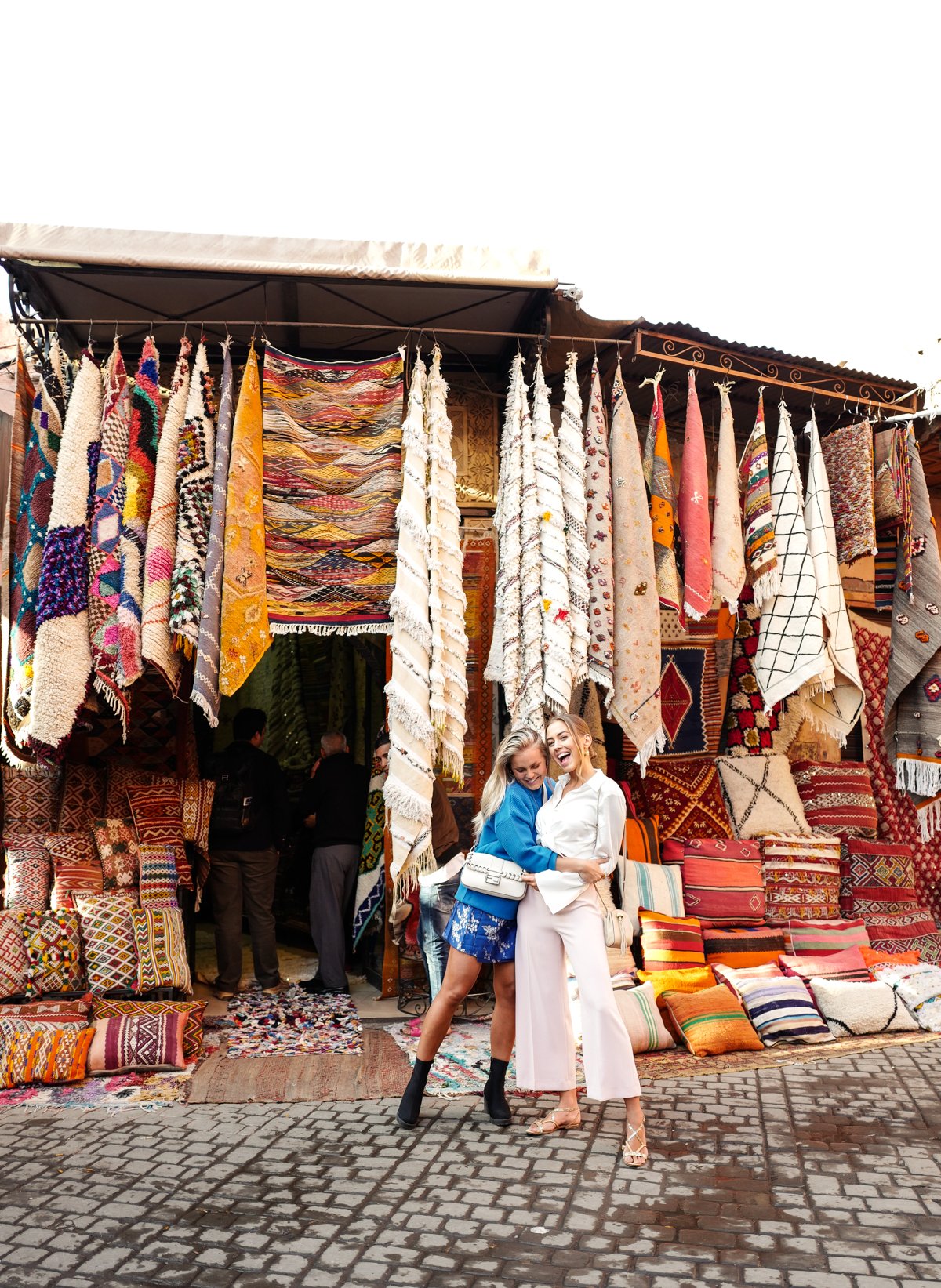 Efter lunchen gav vi oss ut på stan med Angelica och Alexandra, som också var med på resan. Vi promenerade runt och kollade på alla grejor. Köpte dock inget denna dag men sista dagen köpte jag jättefina skålar!
Jag hade bytt om (igen, hehe. det blev lite kyligt) och bar nu byxor från Zara och skjorta från Gina Tricot. Den lilla "väskan" är från Chloé, fick den i ett pressutskick med en parfym i.
// After lunch we went for a stroll in the city with Angelica and Alexandra, who was also on this trip. We walked around and looked at all the stuff. I didn't buy anything this day though but the last day I bought some really pretty bowls! 
I had a new outfit on (again, hehe. but it was a bit cold) and wore pants from Zara and shirt from Gina Tricot. The little "bag" is from Chloé, they sent it as a gift with a perfume in it.
Sedan ville vi dricka te med utsikt över Marrakech, och det visste Angie att man kunde göra på Atay Café!
// Then we wanted to drink tea with a view over Marrakech, and Angie knew that we could do that at Atay Café!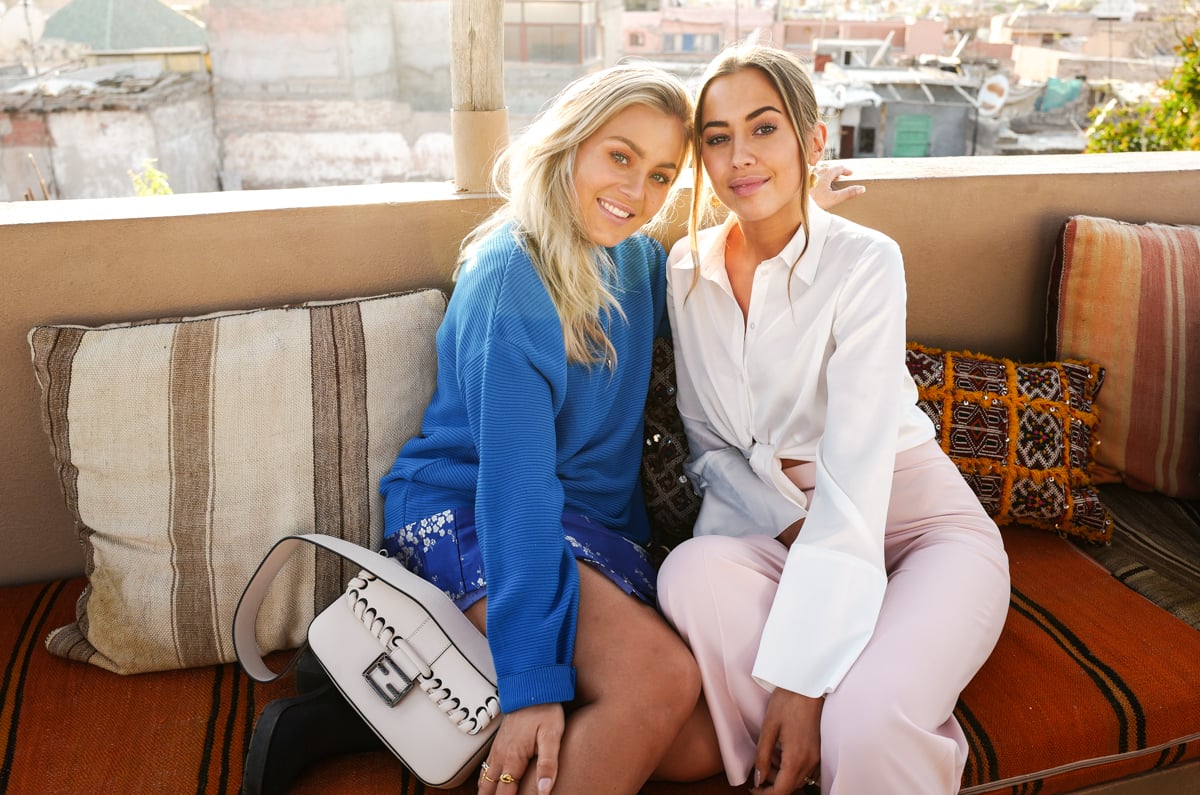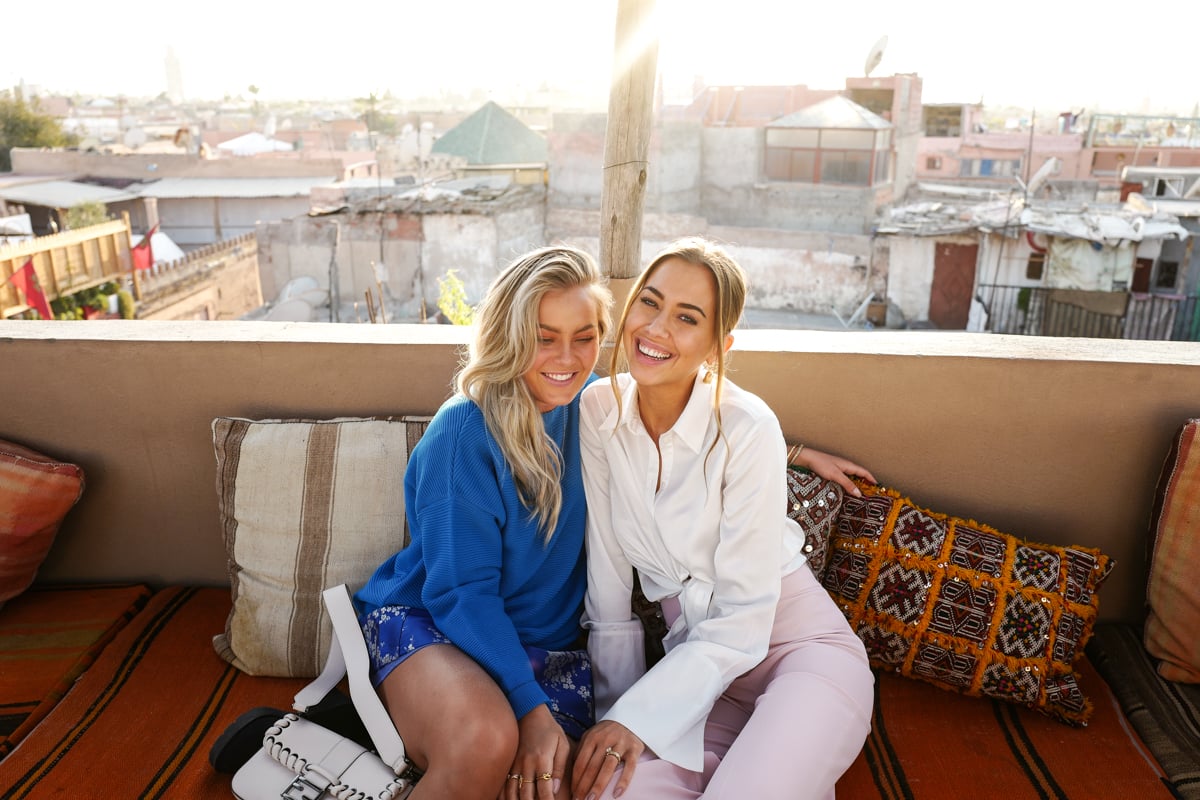 Här satt vi och mös (är det ens ett ord? myste?) medan himlen färgades rosa.
// We sat here and talked while the sky turned pink.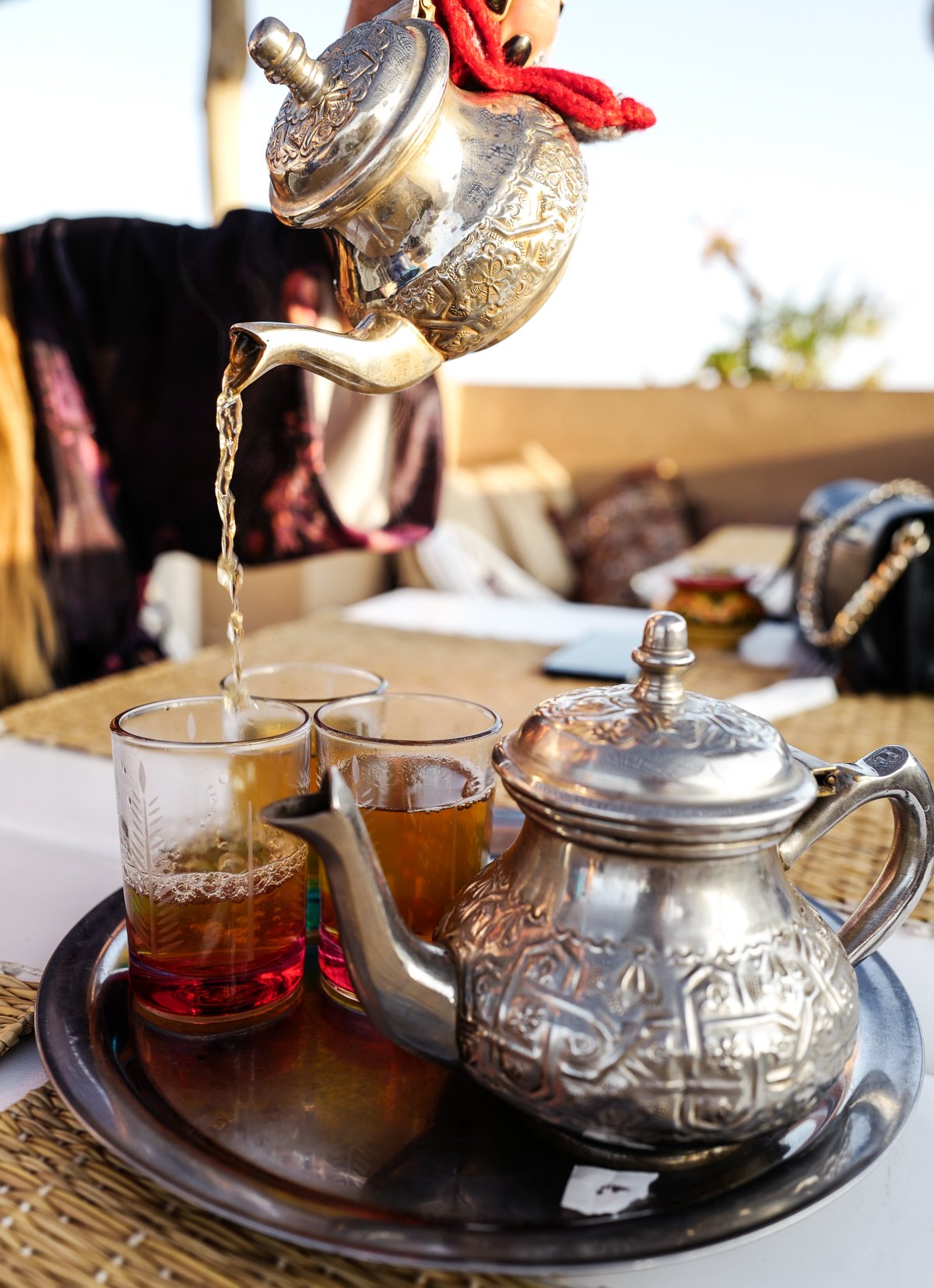 Och drack massa myntate såklart! Mmmmm.. Tyvärr glömde de sockret. Man kan INTE dricka myntate utan socker!!
// And had lots of mint tea of course! Mmmmm.. Unfortunately they forgot the sugar. You can NOT drink mint tea without sugar!!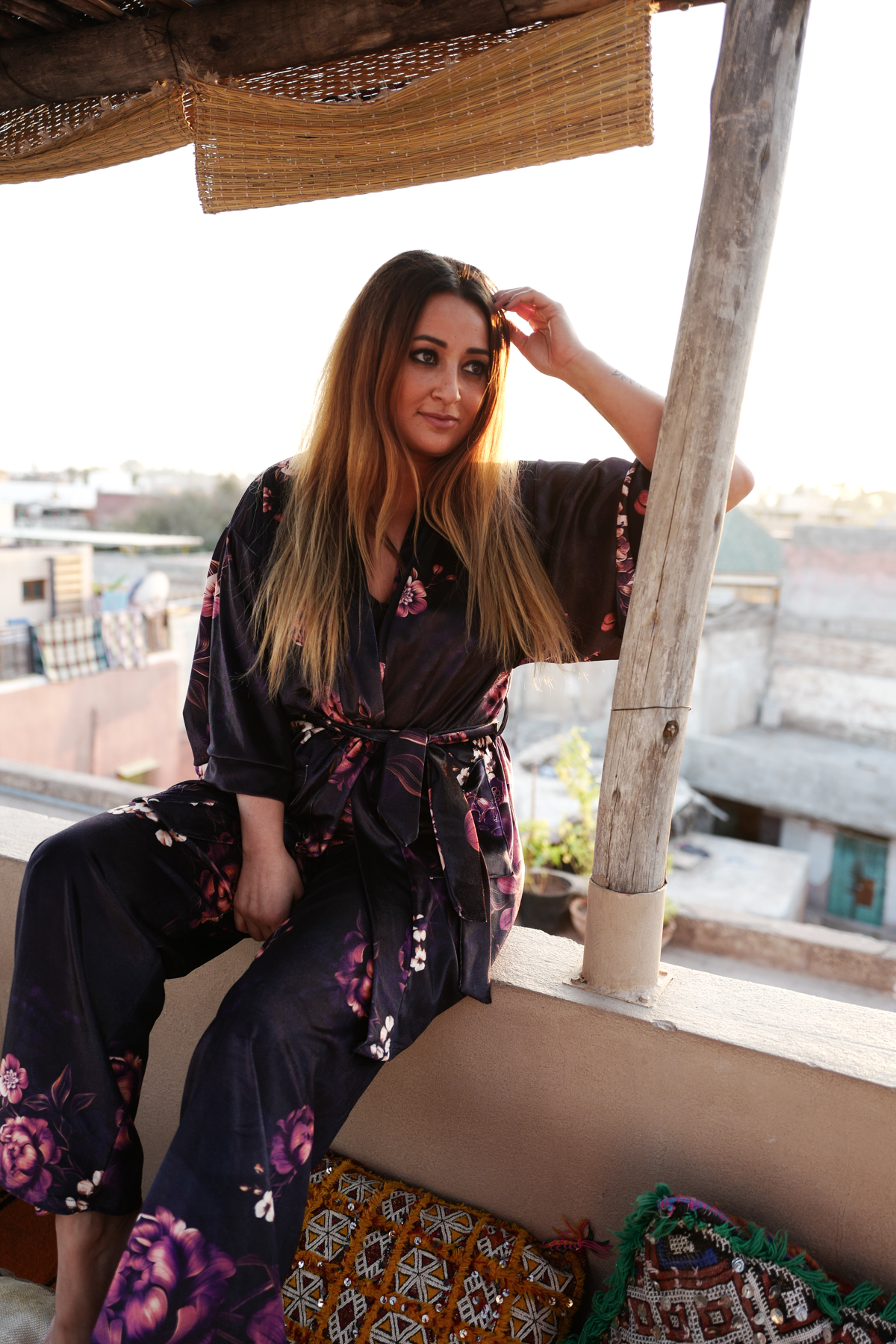 Alltså hur fin är inte Shiva? Min älskade vän. Har typ inte insett än att hon flyttar snart. Förtränger det lite. Men får väl se det från den ljusa sidan – kommer ha en anledning till att åka till Portugal ofta!
// How beautiful is Shiva? My dear friend. I almost haven't realized that she's moving soon. But I guess I have to see it from the bright side – I will have a reason to go to Portugal often!
Avslutar med en bild där jag och Angelica ser väldigt kära ut. ;-)
Efter detta promenerade vi hem och kom fram lagom tills det var dags för vår spabehandling – 60 minuters massage. Efter massagen hann jag duscha av mig snabbt innan vi mötte upp resten av gänget för en marockansk middag. För mig blev det kycklingtagine som var magisk! Finns inget bättre än marockansk mat. Helst farmors.
// Ending this with a photo of me and Angelica looking like we're in love. ;-)
After this we walked back home and arrived right in time for our spa treatment – 60 minutes massage. After the massage I took a quick shower before we met up with the rest of the team for a Moroccan dinner. I had a chicken tagine that was amazing! There's nothing better than Moroccan food. Especially my grandmothers.