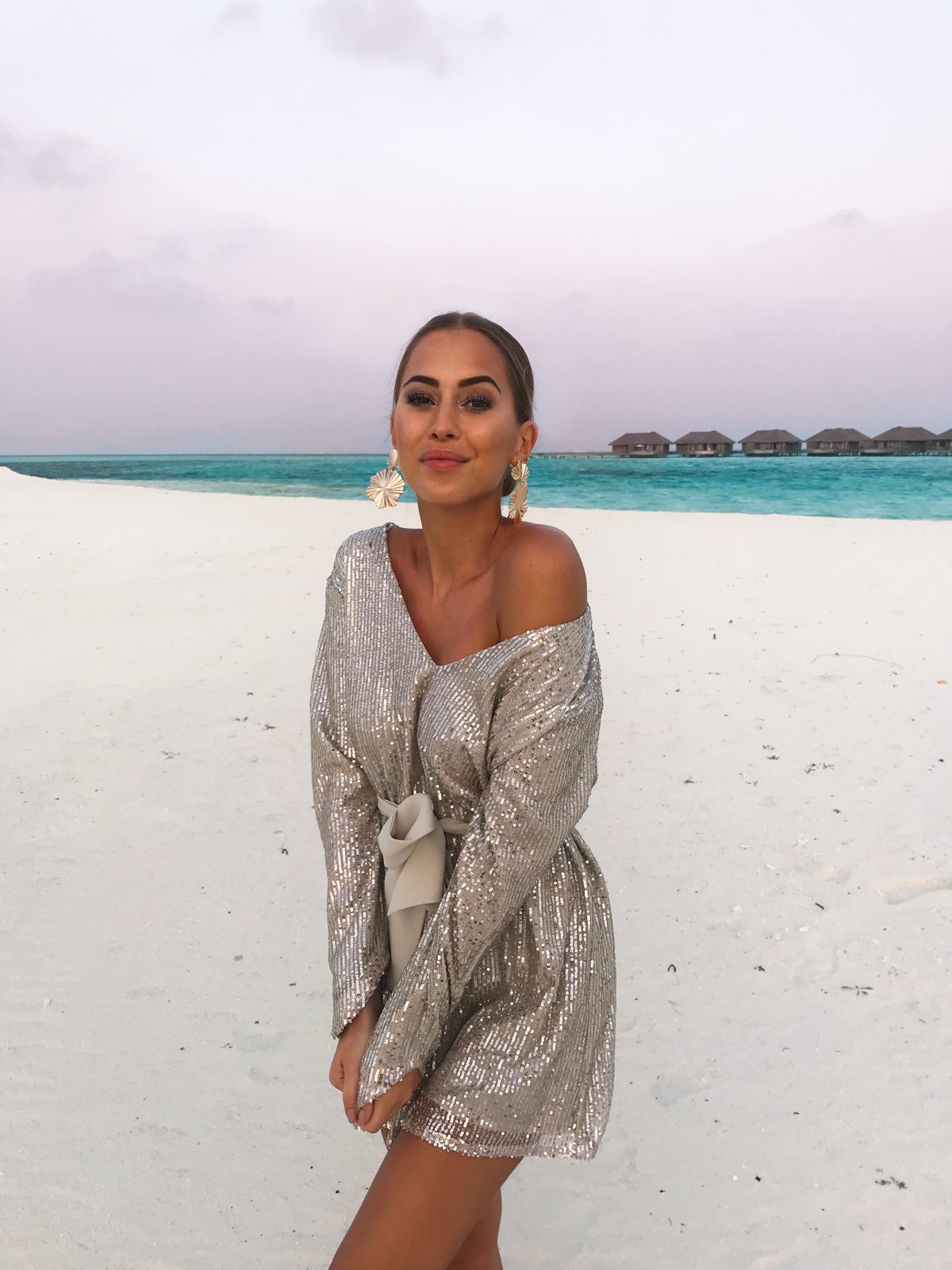 New Year's Eve 2018
För exakt 1 år sedan stod jag på en strand på Maldiverna. Jag postade mina nyårsbilder klädd i en glittrig klänning som satt sådär perfekt löst för att inte avslöja min växande lilla kula under. Så förväntansfull och så redo på det nya året, året då vi förhoppningsvis skulle få bli föräldrar. Men när jag stod där med ena handen på magen och andra handen i Aleks hand, tittandes på den stora skärmen där låtsasfyverkerierna small, så grät jag även en skvätt. Det kändes så jäkla tufft att lämna 2018 för i början av det året så levde pappa. Nu började ett helt nytt år där pappa inte längre fanns och det kändes som att jag "lämnade kvar" honom i 2018. Det gjorde ont. Det gör fortfarande ont och det kommer det nog göra hur många år som än går förbi, men bredvid hålet i hjärtat som alltid kommer finnas där så växte något stort.
Kärleken till mitt barn. 
// Exactly 1 year ago I was standing on a beach in the Maldives. I posted my New Year's pictures wearing a glittery dress that was perfectly loose so it didn't reveal my growing little bump underneath. So excited and ready for the new year, the year when we would hopefully get to become parents. But when I was standing there with one hand on my belly and the other hand in Aleks hand, looking at the big screen showing fake fireworks, I also cried a bit. It felt so damn tough to leave 2018 because at the beginning of that year, my dad was alive. Now a whole new year started where Dad no longer existed and it felt like I "left" him in 2018. It hurt. It still hurts and it will probably do so no matter how many years that passes, but next to the hole in my heart that will always be there – something big was growing.
The love to my child.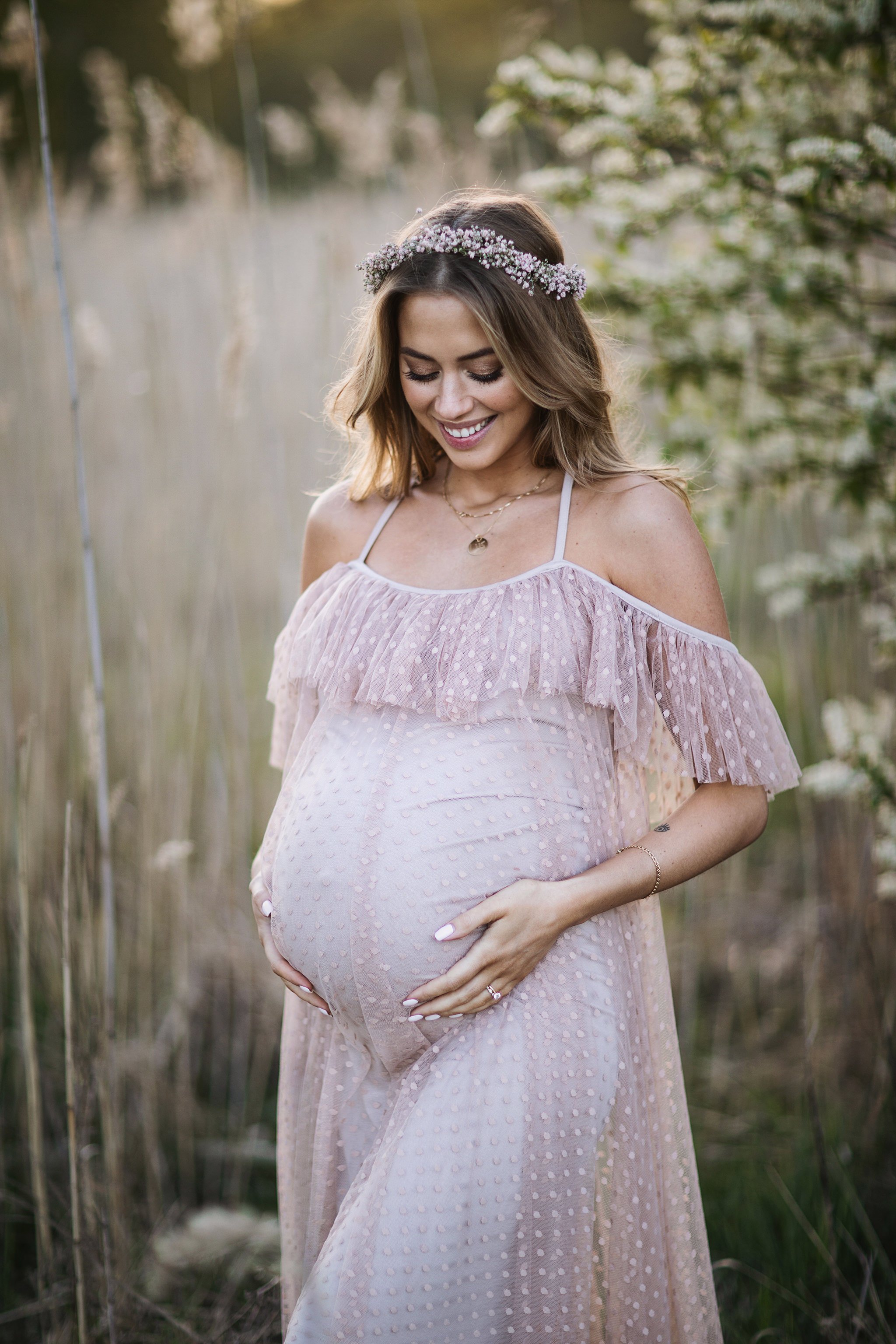 In May, with Nikola on the inside
Första halvan av 2019 var full av obeskrivlig längtan och förberedelser inför vår sons ankomst, men också en ständigt gnagande oro att något skulle ta ifrån mig mitt barn i magen och kasta ner mig i det svarta hål jag hade befunnit mig i efter pappas död, fertilitetsbehandlingar & rädslan att vi aldrig skulle lyckas bli med barn. Som tur är så gick tiden väldigt fort för mig, nästan läskigt fort, och helt plötslig var det den 14e juni och jag krystade ut honom sittandes på en pall på Nya Karolinska. Vår Nikola. <3
Jag behöver inte beskriva den känslan av att äntligen få bli mamma för ni vet vad jag menar. Det var det absolut största som hänt mig inte bara 2019 utan någonsin. Andra halvan av året har nästan bara bestått av sömnlösa nätter, amning, blöjbyten, barnvagnspromenader, frustration, tårar, skratt. Samt kärlek & lycka på en helt ny nivå. Det har säkert hänt en massa annat också, men ärligt talat är det detta jag minns. Jag minns bara känslostormar. Jag minns bara hur jag gick från att lägga energi på onödiga skitsaker, till att endast bry mig om att min son är frisk. Frisk och glad. Jag lever för att se honom skratta.
// First half of 2019 was filled with indescribable longing and preparations for the arrival of our son, but also a constant concern that something would take away the baby inside of me and throw me back into that black whole I was in after my fathers death, fertility treatments & the fear that we would never succeed getting pregnant. Luckily time went very fast for me, almost scary fast, and suddenly it was June 14th and I pushed him out while sitting down on a stool at Nya Karolinska. Our Nikola. <3
I don't have to describe the feeling of finally becoming a mother because you know what I mean. It was the biggest thing that happened to me not only in 2019, but in my whole life. The second part of the year has almost only been about sleepless nights, breastfeeding, diaper changes, walks with the stroller, frustration, tears, laughter. And love & happiness on a whole new level. It has probably happened a lot of other stuff as well, but honestly this is what I remember. I only remember storms of emotions. I only remember how I went from wasting my energy on unnecessary stuff, to only caring about that my son is healthy. Healthy and happy. I live to see him laugh.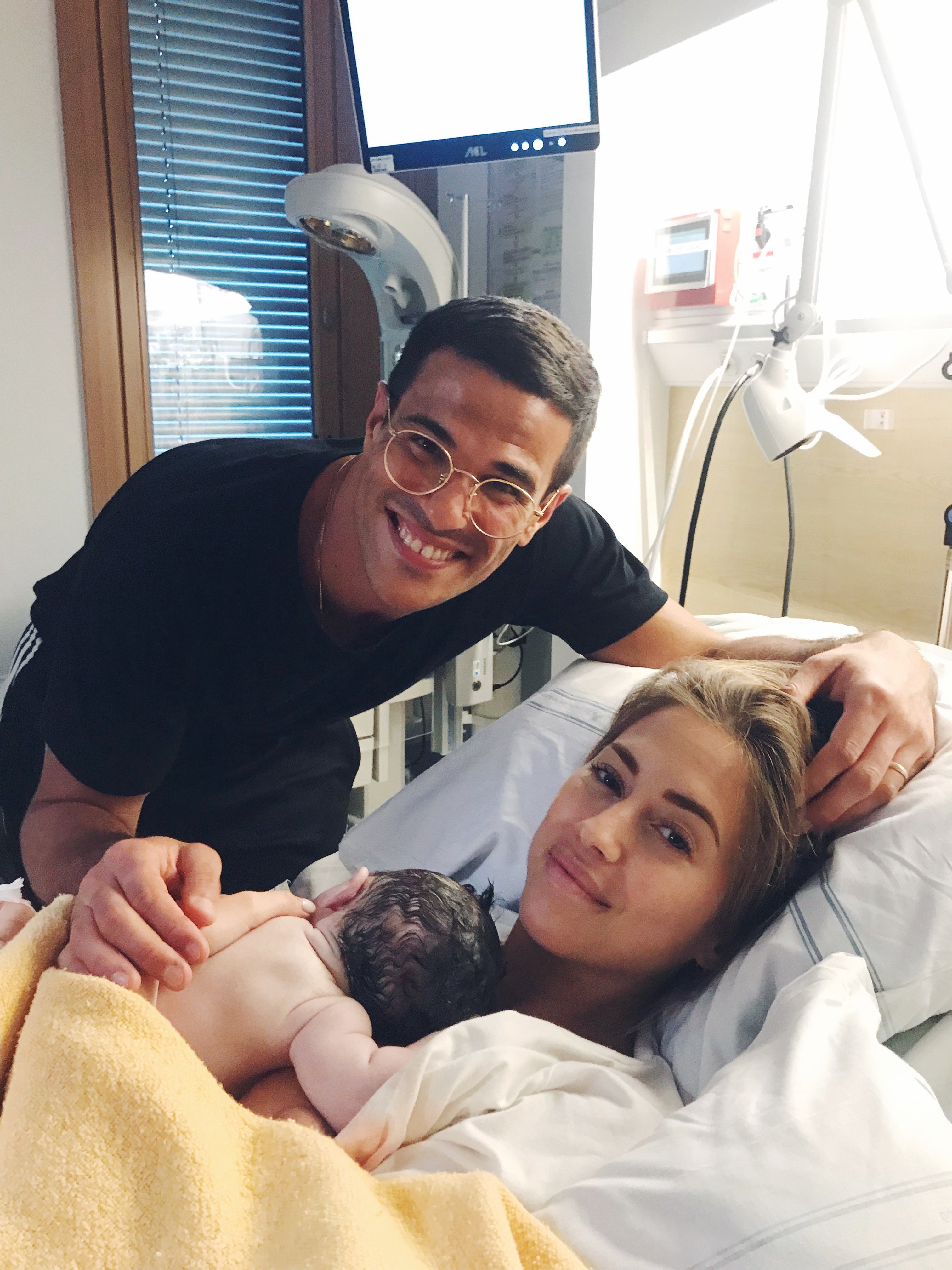 The best day ever
Jag kommer titta tillbaka på 2019 som mitt lyckligaste år. Det kommer aldrig komma ett år som slår detta år, men om vi är lyckligt lottade nog att vi en dag får ett till barn så kommer det året hamna på delad första plats såklart. Även om året då jag blev mamma för första gången alltid kommer vara lite extra speciellt. :-))
För 2020 önskar jag mig bara fortsatt lycka och välmående, för min familj och alla mina nära. Och för er. Det absolut viktigaste i livet är att vi mår bra och tar hand om oss själva och varandra. Gott nytt år kära läsare!
// I will look back at 2019 as my happiest year. It will never be a better year than this one, but if we are lucky enough to one day have another child that year will be on a shared first place of course. Even though the year I became a mother for the first time will always be a bit extra special. :-))
For 2020 I wish only continued happiness and health, for my family and for all of my loved ones. And for you. The most important thing in life is that we are happy and take care of ourselves and each other. Happy New Year dear readers!