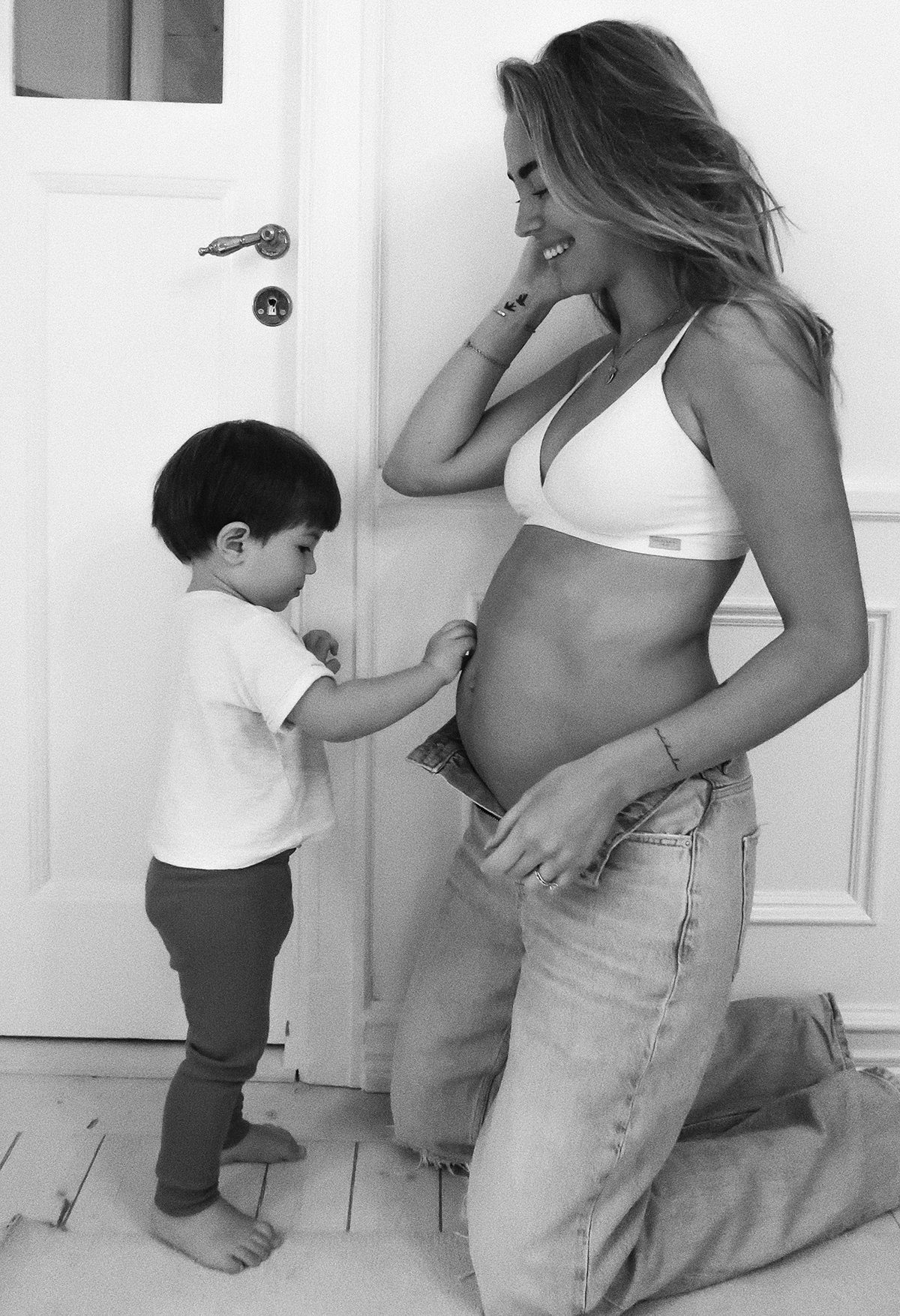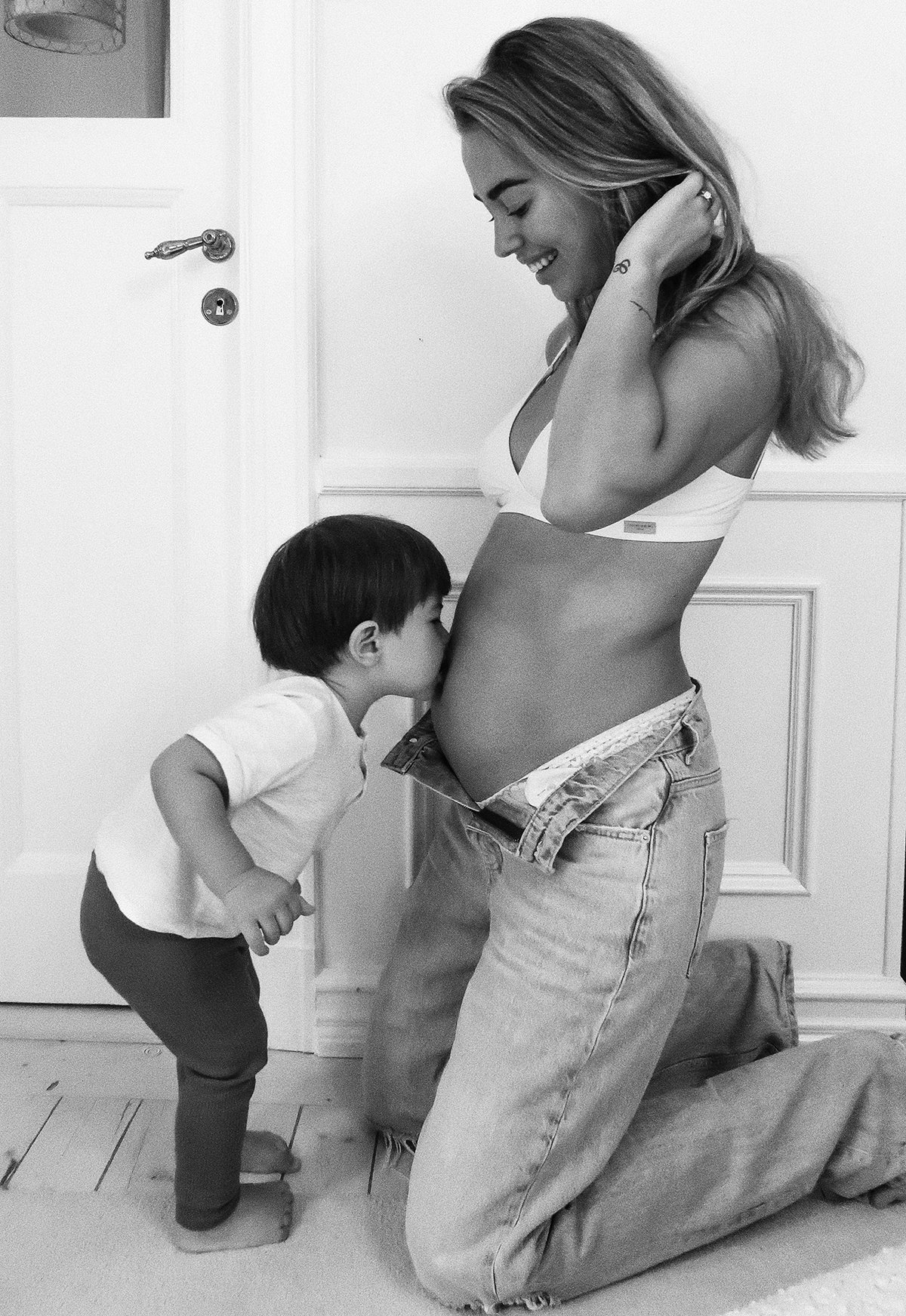 Nikola säger hej till sin LILLEBROR <3
Såklart är det en till liten pojke som ska komma till familjen!!!! Vi har vetat det i nästan 2 månader redan, och såhär gick det till! Vi gjorde NIPT-testet i vecka 11 även denna graviditet för att kolla att allt såg bra ut med bebisens kromosomer. Och då kan man, om man vill, även se vad bebisen har för könskromosom. Vi fick svar bara några dagar efter blodprovet att allt såg fint ut med bebisen, men vi valde att vänta med att ta reda på könet för vi visste inte riktigt än hur vi ville göra (Aleks har inte velat ta reda på könet någon av gångerna, men har alltid sagt att det är upp till mig). Skulle vi poppa en ballong igen? Eller bara öppna kuvertet? Ibland pratade vi om att inte ta reda på det överhuvudtaget för det spelar ju verkligen ingen roll, så kuvertet låg här hemma orört i två veckor. Men är man nyfiken så är man…. :-))
Det var efter mitt ultraljud runt vecka 13-14 som jag tyckte mig skymta en pillisnopp på skärmen. Eller ja, skymta och skymta, jag är rätt säker på vad jag såg haha. Så i bilen påväg hem till Aleks och Nikola så bestämde jag mig att så fort jag kommer hem så kommer jag slita upp kuvertet! Ville verkligen se om jag hade sett rätt! Så där och då, en tidig eftermiddag hemma samtidigt som Aleks satt och matade Nikola, så öppnade vi kuvertet. Utan ballonger och ståhej, bara vi tre. Aleks i bara kalsonger och Nikola med äggröra över hela sig. Och det var en av de finaste stunderna i mitt liv. <3
Självklart hade vi blivit lika glada om det var en flicka också så visst hade vi kunnat skippa att ta reda på könen innan våra barn fötts, för som jag sa så spelar det verkligen ingen roll. Men av någon anledning så blir det ju mycket mer verkligt när man får reda på om det är en flicka eller en pojke som växer i ens mage. Man börjar visualisera vem det är, hur familjen kommer se ut, hur framtiden kommer se ut, vad barnet ska heta och allt vad det är. Så så himla kul att brorsorna ska få växa upp ihop med knappt 21 månader emellan. Vi hoppas att de kommer vara bästa vänner genom hela livet. Blir han lika sjövild som Nikola kommer vi få det tufft haha (jag kan bara tänka mig hur mycket de kommer reta upp varandra också!), men blir han ens en bråkdel så charmig och glad som sin storebror så väger det upp för allt kaos. ;-) Åh vad vi längtar efter LILLEBROR!!! Nu går jag in i vecka 22, vi har passerat hälften och nu är det inte jättelångt kvar!
// Of course, it's another little boy who's joining our family!!!! We have known for almost 2 months, and this is the story about how we found out! Like the last pregnancy, we did the NIPT-test in week 11 to see if everything looked ok with the baby's chromosomes. And if you want to, it's also possible to know about the baby's sex chromosome. After a few days, we got the results on the blood sample, and everything looked fine with the baby. But we wanted to wait a little longer before knowing about the sex because we weren't sure what we wanted to do (Aleks has never wanted to know about the gender not last time either, he's just said that it's up to me). Should we pop a balloon again? Or just open the envelope? Sometimes we talked about waiting until the childbirth because the gender really didn't matter to us, so the envelope was laying unopened in our home for two weeks. But if you're curious, you're curious… :-)) 
It was at my ultrasound in week 13-14 that I thought I saw a tiny weenie on the screen. Or I didn't "think" I saw something, for me there was no doubt, I'm sure about what I saw haha. So in the car on my way home to Aleks and Nikola, I decided to rip up the envelope as soon as I got home. I really wanted to see if I was right! So right there and then, an early afternoon when Aleks was feeding Nikola, we opened the envelope. Without balloons, friends and family, just us three. Aleks in his underwear and Nikola with scrambled eggs all over him. And it was one of the most beautiful moments of my life. <3 
Of course we would have been just as happy if it was a girl, so we could have skipped knowing the gender, because It really didn't matter to us. But for some reason, it all feels more real when you know if it's a boy or girl growing in there. You start to visualize who it is, what the family's gonna look like, what the future will look like, what the child's name is gonna be etc. I'm so excited about watching these two brothers grow up together with only 21 months between them. We hope they're gonna be best friends for life. If the baby's as wild as Nikola, we're gonna have a hard time haha (I can only imagine how much teasing there will be!), but if he has just a fraction of his big brother's charm and happiness, it's all forgotten ;-) We're longing so much for LITTLE BROTHER!!! I'm entering week 22 now, we are more than halfway through and soon we're there!