Om en vecka har det gått 5 månader sedan jag blev mamma och jag har samlat ihop era frågor kring kroppen och första tiden som föräldrar här!
Hur mår fiffin? 
Den vanligaste frågan jag fått haha, och det förstår jag. Innan jag själv födde barn undrade jag hur fasen ens vagina skulle klara av det och sedan dessutom gå tillbaka till någorlunda normalt igen. Jag hade ju väldigt ont där jag hade blivit sydd (jag sprack grad 2 och sydde 8 stygn utvändigt) men efter knappt 2 veckor försvann det. Mitt avslag försvann efter ca 4 veckor (det kommer blod och sårvätska från såret där moderkakan suttit) och efter min 6-veckorskontroll där allt såg bra ut vågade jag mig på att ha samlag igen. Om det gjorde ont? Ja. Men det har blivit bättre sedan dess, även om det fortfarande svider/stramar i början. Annars så känns det bra där nere, det ser typ likadant ut som innan graviditeten så det är bara vid samlag som jag känner att något är annorlunda. Jag hoppas att det kommer bli ännu bättre med tiden för jag kan fortfarande inte njuta ordentligt och det suger såklart. :/
Hur har din kropp förändras sedan innan graviditeten?
Höfter och midja blivit bredare, huden på magen är lös och naveln är stor. Väger fortfarande ett par kilon mer än innan graviditeten men det är inte så konstigt med tanke på att jag äter mer skit (sötsuget är brutalt) och tränar mindre. Röven är plattare än någonsin. Tror mina bröst kommer se helt annorlunda ut efter amningen också för när jag precis ammat så hänger dem som små ärtpåsar haha. Kan även dra ut mina nipples flera cm?! De är helt elastiska haha. Många frågar om jag fick bristningar och det fick jag. Inte på magen, men på rumpa/lår. Jag har alltid haft en rätt avslappnad syn på min kropp men jag kan tänka mig att detta ändå hade stressat mig lite innan jag fick barn. Men idag så känns allt sånt så oviktigt. Det viktigaste är hur kroppen KÄNNS och den känns bra! Fortfarande lite svag i core men det har blivit mycket bättre.
När du tittar tillbaka på din förlossning nu, minns du den som positiv eller negativ?
Nu minns jag den bara som positiv. Kan liksom gå runt och längta tillbaka till förlossningsrummet haha. "Ja jag satt och krystade på en pall i 2 timmar och trodde jag skulle dö, men såååå farligt var det väl inte?!" Sjukt att man glömmer smärta (även om jag aldrig kommer glömma, ni fattar). Som när man efter en utekväll är så satans bakis och lovar sig själv att aldrig dricka alkohol igen, men det är som bortglömt helgen efter. Man minns bara att man hade kul så man går ut igen. Det måste ju fan vara därför folk vågar föda barn igen haha!
Vill ni fortfarande ha tre barn?
Ja!! De senaste månaderna har varit de bästa i mitt liv och kärleken till Nikola är det största jag någonsin känt. Jag vill gå igenom detta igen. Och igen och igen. Sen vet vi ju inte om jag ens lyckas bli gravid en gång till men drömma får man ju göra. <3
Bråkar du och Aleks mer sedan ni fick barn?
JAJJEMEN haha! Från att typ aldrig ha tjafsat så tjafsar vi lite nästan varje dag, som resultat av att vi pikar varandra. Alltid om små skitsaker som rör vardagssysslor, och av irritation pga för lite sömn. Man får lära sig att bita sig i tungan och tänka efter om det är värt att bli osams över något som vem som alltid får tvätta nerbajsade kläder. Oftast tjafsar vi samtidigt som vi skrattar och sedan blir sams snabbt igen. Vet ju att vi båda gör vårt bästa och att vi inte hade tjafsat om vi inte var så himla trötta. Viktigt att visa varandra respekt och omtanke, lyssna på när den andra behöver klaga lite utan att kontra med "jag har det värre än du" och inte glömma bort att kramas och pussas och säga jag älskar dig.
Hur har ert förhållande förändrats?
Att påstå att ens förhållande inte förändrats efter man fått barn är fan lögn alltså! Helt omöjligt att det inte gör det när man plötsligt inte längre är varandras nummer 1. Sen tror jag självklart att man kan hitta tillbaka till det man hade innan, men det är svårt den första tiden när man inte kan vara bara vi två. Vi försöker umgås lite på kvällarna när Nikola somnat men det är inte alltid det klaffar. Jag älskar Aleks mer än vad jag gjorde innan för nu är vi en familj, han gav mig min son och det går inte att beskriva kärleken jag känner när jag ser dem två ihop. Jag älskar dem så mycket. Men eftersom att fokuset är på Nikola nu så är det svårt att hitta tid för oss två som par, men jag tror och hoppas det kommer bli lättare ju äldre han blir. 
Vem skulle du rädda ur elden nu då, Aleks eller Nikola?
Haha alltså, självklart Nikola. Innan jag fick Nikola så kunde jag inte föreställa mig hur stark den kärleken skulle vara, och precis som när jag svarade på denna "pest eller kolera" i podden så visste jag ju att jag skulle tänka annorlunda när han väl var född. Jag hade gjort allt, precis ALLT, för honom.
Vad har varit det tuffaste med att bli mamma?
Sömnen, utan tvekan. Eftersom att jag helammar så har jag fått ta all matning (även på natten) själv och det har varit tufft. Speciellt när jag också måste upp och jobba vissa dagar. Det har också varit det svåraste, att kombinera "mammaledighet" med att driva eget och jobba lite varje dag.
Har ni någon som hjälper er med Nikola?
Ibland när jag behöver jobba en stund på vardagarna kommer mamma över och hjälper mig med Nikola. Oftast försöker jag sitta och jobba när Nikola sover men det går inte alltid att få ihop det så och då är det skönt att mamma kan komma och ta ut honom på en långpromenad. Har jag t.ex. plåtning en hel dag är Aleks hemma med honom. Än så länge funkar detta (även om jag ibland bara vill bryta ihop och lägga ner mina bolag) och vi tror inte att vi kommer behöva mer hjälp än så innan han börjar förskolan.
Får du ibland dåligt samvete gentemot Nikola? 
Hela tiden. Han är så jävla snäll (oftast) och jag känner mig sämst i världen när jag typ sitter en timme vid datorn och jobbar och han bara sitter och tittar på mig i babysittern. Men även de dagar då han får nästan 100% av mitt fokus så får jag dåligt samvete över att jag kunde ha lekt med honom mer. Fan alltså. Får ont i hjärtat bara nu när han ligger och sover ensam i sovrummet och jag inte ligger bredvid honom.
Hur delar ni upp ansvaret?
Sömn: jag tar alla nätter eftersom att Nikola ammar. Vi samsover och jag liggammar under natten. Aleks kliver upp med honom vid 6 varje morgon och är med honom tills han går till jobbet vid 8:30 så att jag får sova ostört en stund. På helger går han också upp vid 6-7 och tar honom och då får jag sova ostört fram till 10 när Nikola är hungrig igen.
Mat: jag tar all matning. Planen är såklart att detta ändras när Nikola börjar äta annat. Ibland när jag är iväg på t.ex. plåtning försöker Aleks ge honom flaska men det är fortfarande inte så poppis, så oftast får de komma förbi plåtningen.
Blöjor: Aleks tar nästan alla byten när vi båda är hemma, eftersom att jag byter alla blöjor när han jobbar.
Bebiskläder/prylar/produkter: Jag köper allt sånt och ser till att allt finns hemma.
Hushållssysslor: Aleks handlar och lagar all mat. Jag plockar alltid undan här hemma. Vi hjälps åt att tvätta. Och så har vi städhjälp 1 gång i veckan.
Hund: Aleks har Mani på jobbet och tar även alla rastningar. På helgerna tar vi några rastningar ihop.
Känner ni att ni saknar eget rum till Nikola?
Nej och jag är glad över att vi inte gjorde om vårt extrarum till barnrum! Hade varit så onödigt eftersom att han sover i vår säng. Det börjar dock bli lite trångt med babyprylar i vardagsrummet nu så jag känner att jag vill flytta till större när Nikola blir runt 1 och börjar leka ännu mer med leksaker.
Använder ni preventivmedel eller försöker ni bli gravida igen?
Vi använder inget preventivmedel, jag helammar och har inte fått tillbaka min ägglossning/mens och vi försöker inte bli gravida. Ska skriva ett eget inlägg om detta sen.
// Next week it's been 5 months since I became a mom and I've gathered your questions regarding body and first time as parents here!
How's the vajayjay?
The most asked question haha, and I understand that. Before I gave birth myself I wondered how the hell the vagina would go through that and also go back to pretty much the same again. I had a lot of pain where I had been stitched (I "bursted" grade 2 and was sewn on the outside with 8 stitches) but after barely 2 weeks the pain went away. I stopped bleeding after around 4 weeks and after my 6 week check-up where everything looked fine, I dared to have sex again. If it was painful? Yes. But it has gotten better since then, even though it still hurts a bit in the beginning. Other than that it feels good down there, it looks pretty much the same as before pregnancy so it's just during intercourse that I feel that something is different. I hope it will get even better with time because I still can't enjoy it like before and that sucks. :/
How has your body changed since before pregnancy?
Hips and waist are wider, the skin on my belly is loose and my belly button is big. I still weigh a few kilos more than before pregnancy but that's not weird since I eat a lot more junk (my sweet tooth is insane) and workout less. My ass is flatter than ever. I think my boobs will be completely different after breastfeeding too because when I've just fed Nikola, my boobs are like tiny empty sacks haha. I can also pull out my nipples several cm?! They are so elastic haha. Many of you ask if I got stretch marks and yes I did. Not on my belly, but on my bum/thighs. I've always had a pretty relaxed view on my body but I can imagine that this would have stressed me a bit before I became a mother. But today all of that feels so unimportant. The important is how the body FEELS and it feels good! Still a bit weak in my core but it feels a lot better.
When you look back at your labor now, do you remember it as positive or negative?
Now I only remember it as positive. I can walk around and long back to the hospital room haha. "Well yes I sat on a chair and pushed for 2 hours and I thought I was going to die, but it wasn't thaaaaat bad?!" Crazy how you forget pain (even though I will never forget, you get it). Like after a night out and you're so hungover and promise yourself you will never drink again, but that is forgotten the weekend after. You just remember that you had fun so you go out again. That has to be why people dare to give birth again haha!
Do you still want three kids?
Yes!! The last few months has been the best of my life and my love to Nikola is the greatest I have ever felt. I want to go through this again. And again and again. Then we don't know I can even get pregnant again but we are allowed to dream. <3
Do you and Aleks fight more since you had a kid?
WELL YES haha! From never fighting at all, we argue a bit almost every day. Always about small stuff about daily chores, and of irritation due to lack of sleep. You have to learn to bite your tung and think twice if it's worth fighting about who always has to wash poop clothes. Most often we laugh at the same time we argue and then we become friends again quick. We know that both of us does our best and that we wouldn't have argued if we weren't so tired. It's important to show each other respect and that you care, listen to when the other needs to complain a bit without saying "it's worse for me" and don't forget to hug, kiss and say I love you. 
How has your relationship changed?
To say that your relationship hasn't changed after having a baby is a freaking lie! It's impossible that it wouldn't change when you're suddenly not each others number 1. Of course I believe that you can find your way back to what you had before, but it's hard the first time when you can't be just the two of you. We try to hang out a bit in the evenings when Nikola has fallen asleep but it's not always the right timing. I love Aleks more than I did before because now we're a family, he gave me my son and it's hard to describe the love I feel when I see them two together. I love them so much. But since the focus is on Nikola now it's hard to find time for us two as a couple, but I believe and hope that will get better the older he gets.
So who would you save from the fire, Aleks or Nikola?
Haha Nikola of course. Before I had Nikola I couldn't imagine how strong that love would be, and just like I said when I answered this game question in our podcast I knew that I would think differently when he was born. I would have done ANYTHING for him.
What has been the toughest part about becoming a mom?
The sleep, without doubt. Since I'm breastfeeding only I've taken all the feeding (even night time) on my own and that has been tough. Especially when I have to get up and work myself some days. That has also been the most hard part, to combine "maternity leave" with running my own business and work a bit every day.
Is anyone helping you with Nikola?
Sometimes when I have to work a while during the day, mom comes over to help me with Nikola. I try to work when he is sleeping but it's not always the right timing so then it's nice that my mom can come over and take him out on a long walk. If I have a photoshoot for example, Aleks stays at home with him. For now this is working (even though I sometimes just want to cry and shut down my companies) and I don't think we will need more help than that before he starts preschool.
Do you feel guilty towards Nikola sometimes?
All the time. He is so damn kind (most often) and I feel like the worst person ever when I for example sit by my laptop and work for an hour and he is just looking at me from the babysitter. But even those days when he gets almost 100% of my focus, I feel guilty that I could have played even more with him. Damn it. My heart hurts even now when he is sleeping alone in the bedroom and I'm not next to him.
How do you share the responsibilities?
Sleep: I take all the nights since Nikola is breastfeeding. We co-sleep and I breastfeed while lying down during night. Aleks gets up with him around 6 each morning and takes care of him til he goes to work at 8:30 so that I can sleep undisturbed for a while. In the weekends he also goes up with him at 6-7 and then I get to sleep undisturbed until 10 when Nikola is hungry again.
Food: I handle all the feeds. The plan is that this will change when Nikola starts eating other stuff of course. Sometimes when I'm off for a photoshoot etc, Aleks tries to bottle-fed him but it's still not that popular, so they often have to come by the photoshoot.
Diapers: Aleks takes almost all the diaper changes when we are both at home, since I change all the diapers when he is working.
Baby clothes/products: I buy all that and make sure that we have everything at home.
Daily chores: Aleks do grocery shopping and cooks all the food. I always clean up at home. We both do the laundry. And then we have cleaning help once a week.
Dog: Aleks has Mani at work and also takes all the walks. In the weekend we do some walks together.
Do you feel that you miss having own room for Nikola?
No and I'm happy we didn't change our extra room into a nursery! It would have been so unnecessary since he is sleeping in our bed. It's getting a bit crowded with baby stuff in our living room though so I feel that I want to move to a bigger place when Nikola is around 1 year and starts playing even more with toys.
Are you using any contraceptive or are you trying to get pregnant again?
We are not using any protection, I'm still breastfeeding only and haven't gotten my ovulation/period back and we are not trying to get pregnant. I will write a separate post about this later!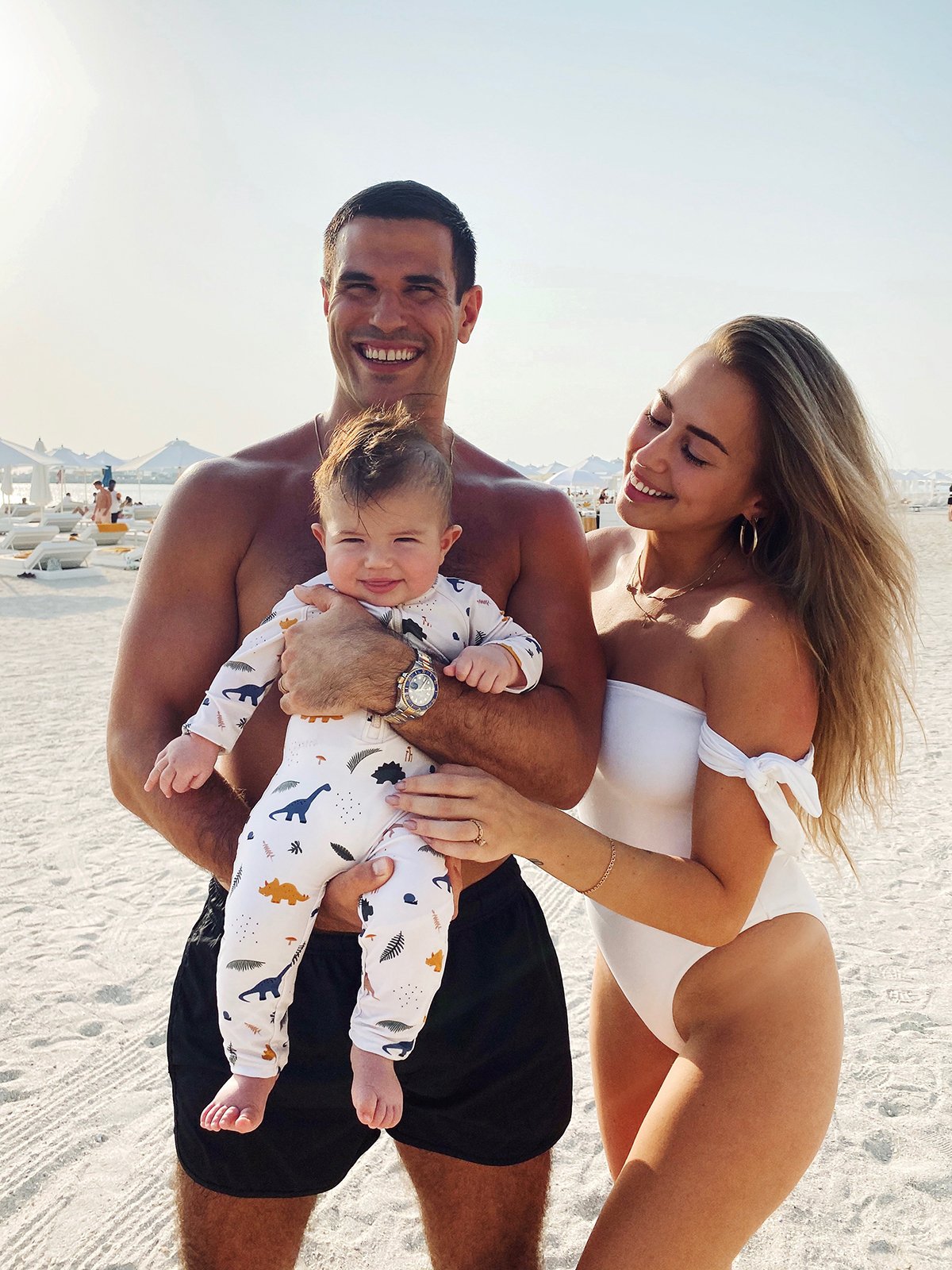 My family ♥