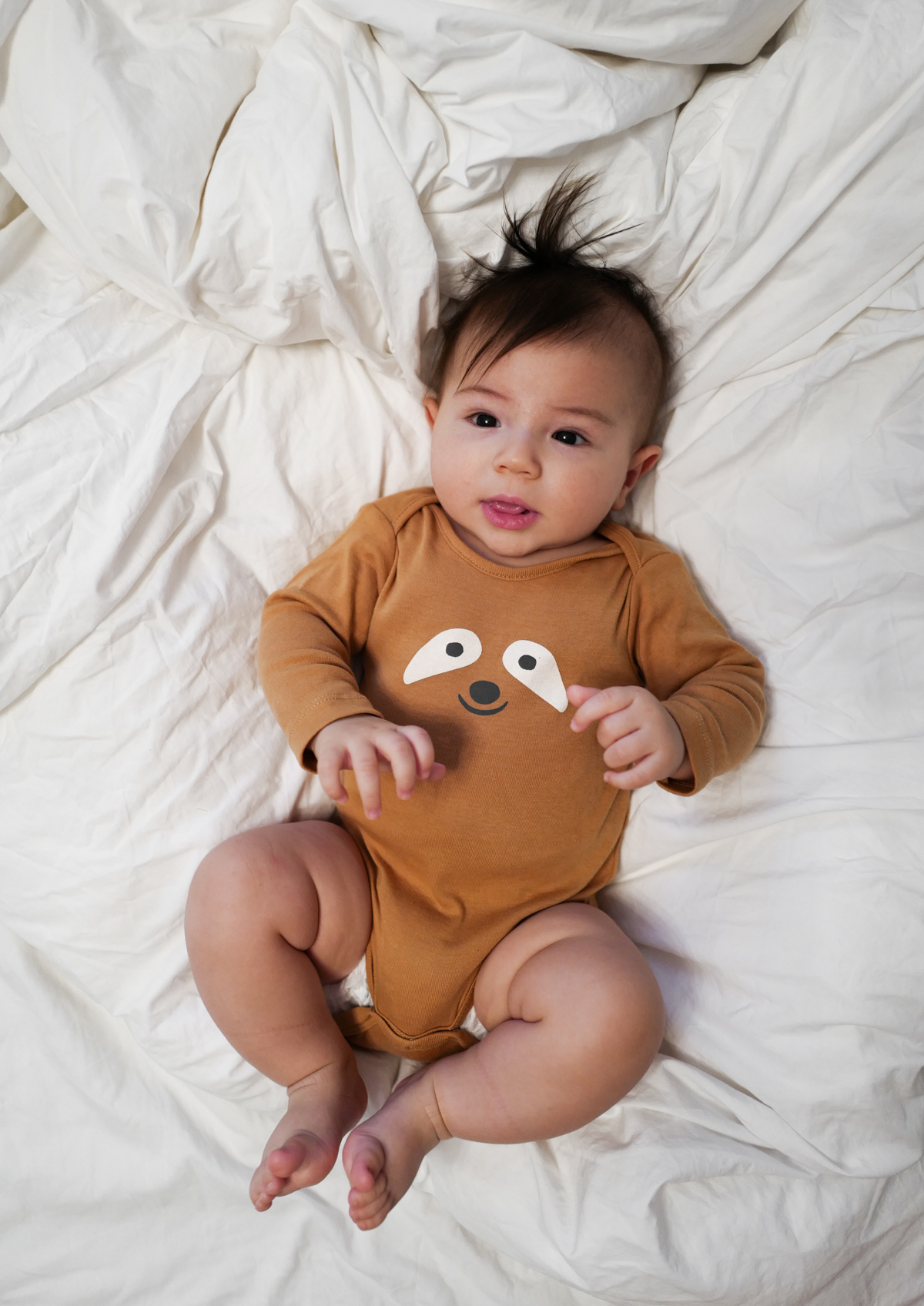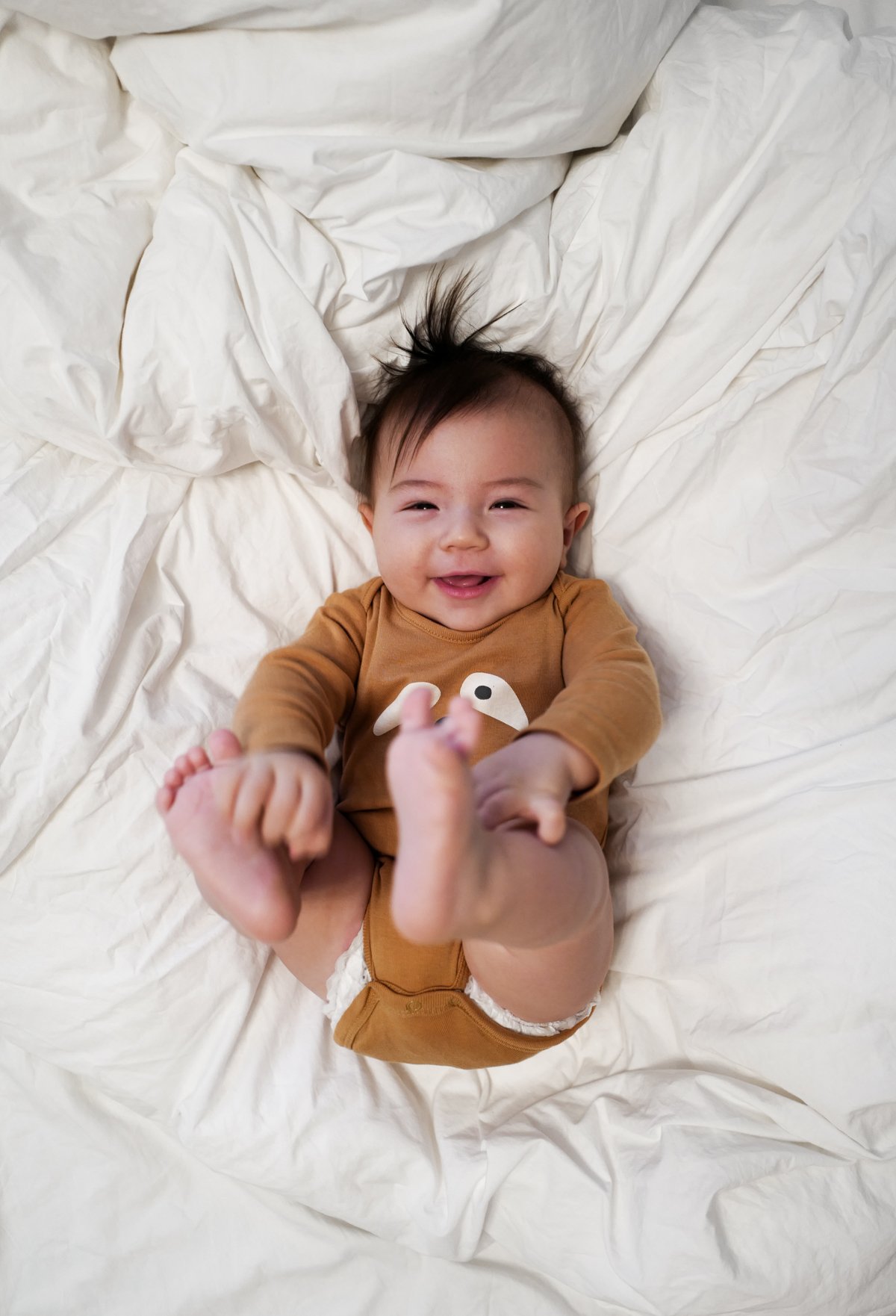 Nikola 4 months old!

Weight: 8,2 kg (+0,7 kg since last month % +4 kg since birth)
Length: 67 cm (+2 cm since last month & +13 cm since birth)
Det är dags för Nikolas 4-månadersuppdatering! Sätter ihop inlägget med hjälp av era förslag (tack! <3) samt avslutar med att svara på några frågor. :-) Några av er frågade frågor som är mer fokus på mig och oss som föräldrar, men det kan vi ta i ett annat inlägg så fråga på.
Så ännu en månad har gått och vår lilla Monkey Lost (vi har så många smeknamn på honom haha, detta har blivit ett av dem för att han påminner om min lilla gosedjursapa jag hade när jag var liten) är nu 4 månader gammal. 17 veckor enligt appen men jag orkar inte hålla koll på veckor längre haha. Så kul att man i början ba "nu är han 20 dagar gammal!!!!" Antar att man efter 1 år sen inte heller kommer hålla koll på månader?
Så vad är nytt sedan 3 månaders uppdateringen då. Jo, strax efter att jag skrev den så lärde han sig att rulla över från rygg till mage och stoltheten i hans ögon gjorde mig helt blödig. Allt Nikola gör, gör mig helt blödig. Trodde verkligen inte jag skulle bli så känslig vad gäller allt men det kanske är lite hormoner också. Något annat han lärt sig denna månad är att skrika för skojs skull (aj mina öron) och han har även upptäckt sina gosiga små fossingar. Han har fått dyka under vattnet några gånger på babysimmet och smakat något annat än mjölk för första gången! Han fick suga och slicka lite på en äppelbit och han verkade tycka om det för han tog tag i min hand och tryckte den mot munnen haha. Han kommer få smaka på saker såhär tills han blir äldre än 6 månader och är redo för smakportioner, gröt osv och det är även då det är tänkt att jag ska sluta amma. Usch det ger mig sån klump i magen för jag är verkligen inte redo för det (borde ju typ börja fasa in lite ersättning snart?) och hade jag fått välja så hade jag ammat till minst 1 år, men det får bli ett annat inlägg det med.
Sömnen då… Ja vad finns det att säga om den. Den är obefintlig, haha. Iallafall för mig. Några av er har nämnt "4 months sleep regression" och efter att ha läst på om det så fattar jag nu vad det är vi går igenom. Nikolas sömncykel håller på att förändras och tills det har stabiliserats så kommer vi förmodligen fortsätta ha tuffa nätter. På dagarna följer han sitt sovschema väldigt bra. Han är vaken 2 timmar, sover 40 min, vaken 2 timmar osv osv. Då kan han somna själv i sin sägn, på soffan i näst, eller i vagn utan problem. Men nätterna.. Han håller på och vrider och vänder sig, gnäller i sömnen, sparkar och slåss och jag vaknar till kanske 7 gånger per natt (vi sover fortfarande ihop). Oftast behöver han bara läggas på sidan och komma nära någon av oss men ibland krävs det att jag ger honom bröstet. Han har även gått från att kunna somna på soffan på kvällarna när vi tittar på tv, till att det måste vara mörkt och tyst. Så nu har vi bestämt att vi ska försöka natta honom inne i sovrummet vid 19:30 efter mat och bad, och försöka få honom att sova där själv tills vi lägger oss där med honom vid 21. Ja, få lite rutiner på det hela helt enkelt! Berätta gärna hur ni gör med era små. <3
Annars så märker vi nu att han behöver mer underhållning nu när han är vaken. Man får variera mellan att leka i babygymmet, sitta i babysittern med sina hängande leksaker över sig, hoppa/stå i knät, kolla i spegeln, busa i sängen, sjunga osv. Han kräver även lite mer närhet nu och kan börjar gnälla om vi lägger ner honom. Jag märker att det blir svårare och svårare för mig att hinna med jobb under dagarna, dels för att han sover mindre nu och dels för att när han är vaken så vill han helst leka. Bara det här inlägget har tagit mig en hel dag att få ihop. :-)
Hur går det med napp?
Oförändrat, han är fortfarande inte intresserad av den. Han gör typ en äcklad min när jag stoppar in en i munnen haha.
Vad har han för klädstorlek nu?
Storlek 68 i det mesta!
Tycker han om babysim?
Jag tror att han tycker att det är spännande! Han är dock inte alltid sitt glada skrattande jag i poolen, utan ögonen är stora och munnen gapar så jag tror han är nyfiken och fascinerad. Jag älskar iallafall att gå iväg på babysim, det är så mysigt att göra detta ihop och han sover som en stock efteråt. Det är bara efter babysimmet han kan sova 2 timmar mitt på dagen.
Hur ofta äter han nu?
På dagen ammar vi fortfarande varannan timme. Som max går det 3 timmar emellan. På natten vet jag inte, det är väldigt olika och jag kör in tutten i mun när det behövs och tittar inte på klockan men han äter iallafall minst 3-4 gånger under natten. Känns lite konstigt att det typ inte blivit mer sällan sedan födseln för jag trodde verkligen att det bara var i början han skulle vilja äta så ofta, men det kanske är vanligt.
Några starka drag hos Nikola?
Nyfiken. Glad. Kittlig. Jag tror att han kommer bli en väldigt busig liten kille.
// It's time for Nikola's 4 months update! I will put together this post with the help of your comments (thank you! <3) and I will finish it with answering some questions. :-) Some of you asked questions that are more about me and us as parents, but I can take that in another post. So keep on asking.
So another month has passed and our little Monkey Lost (he has so many nicknames haha, this is one of them because he reminds me of my little toy I had when I was a kid) is now 4 months old. 17 weeks according to the app but I don't keep track of weeks anymore haha. I think it's so much fun that in the beginning you're like "now he's 20 days old!!!!" I guess that after 1 year you don't even keep track of months?
So what's new since his 3 month update. Well, soon after I wrote that he learned how to roll over from back to belly and the pride in his eyes made me cry. Everything Nikola does, makes me cry. I really didn't think I would be so emotional about everything but maybe it's some hormones as well. Something else he has learned this month is to scream for fun (ouch, my ears) and he also discovered his cute little feet. He has dived under the water a few times at the baby swim class and he has tasted something else but milk for the first time! He got to suck and lick a bit on a piece of apple and he seemed to like it because he took my hand and pushed it towards his mouth haha. He will taste stuff like this until he is older than 6 months and ready to eat taste portions, porridge etc and the plan is that I will stop breastfeeding too at that time. Just the thought of it makes me a bit anxious because I'm definitely not ready for it (I think I should start changing some meals to formula soon?) and if I could choose I would breastfeed until he is at least 1 year, but that will also have to be a different post.
And what about sleep… Well what can I say about that. It's non-existent haha. At least for me. Some of you mentioned "4 months sleep regression" and after reading about that I know understand what we are going through. Nikola's sleep cycle is changing and until it has stabilized we will probably continue having tough nights. During the days he is following his sleep schedule very well. He is awake for 2 hours, sleeps 40 minutes, awake for 2 hours etc etc. Then he can fall asleep on his own in his bed, on the sofa in his nest, or in the stroller without problems. But the nights… He is twisting and turning, whining in his sleep, kicking and boxing and I wake up maybe 7 times per night (we still sleep together). Most often he just has to be put on his side again and come closer to one of us, but sometimes I have to give him the boob. He has also gone from being able to fall asleep on the couch in the evenings when we're watching tv, to needing a dark and quiet room. So now we have decided that we will try to put him to bed in the bedroom at 19:30 after bath and food, and try to get him to sleep there on his own until we go to bed at 21. Yes, simply get some routines! Feel free to tell me how you do with your babies. <3
Other than that we also notice that he need more entertainment now when he is awake. We have to switch between playing in his baby gym, sitting in his babysitter with the hanging toys, jump/stand in our laps, look in the mirror, play in bed, sing etc. He also needs to be close more now and he can start whining if we put him down. I notice that it's getting harder and harder for me to get some work done during the days, partly because he sleeps less now and partly because when he's awake he wants to play. Just this post took me a whole day to put together. :-)
How's it going with the pacifier?
No change, he is still not interested. He kinda does a disgusted face when I put it in his mouth haha.
What is his clothes size now?
Size 68 in most of it!
Is he enjoying the baby swim class?
I think he finds it exciting! He is not his happy laughing self in the pool though, his eyes are big and his mouth is wide open so I think he's curious and fascinated. I love going there, it's so cozy to do this together and he sleeps so well afterwards. It's only after babyswim that he can sleeps 2 hours in the middle of the day.
How often does he eat now?
During the day I still breastfeed him every other hour. At most 3 hours between. During the night I don't know, it's very different and I put the boob in his mouth when needed and I don't check the watch but it's at least 3-4 times during the night. It feels a bit weird that it's still that often because I thought it would only be like that in the beginning, but maybe that's common.
Strong features?
Curious. Happy. Ticklish. I think he's gonna be a very playful little guy.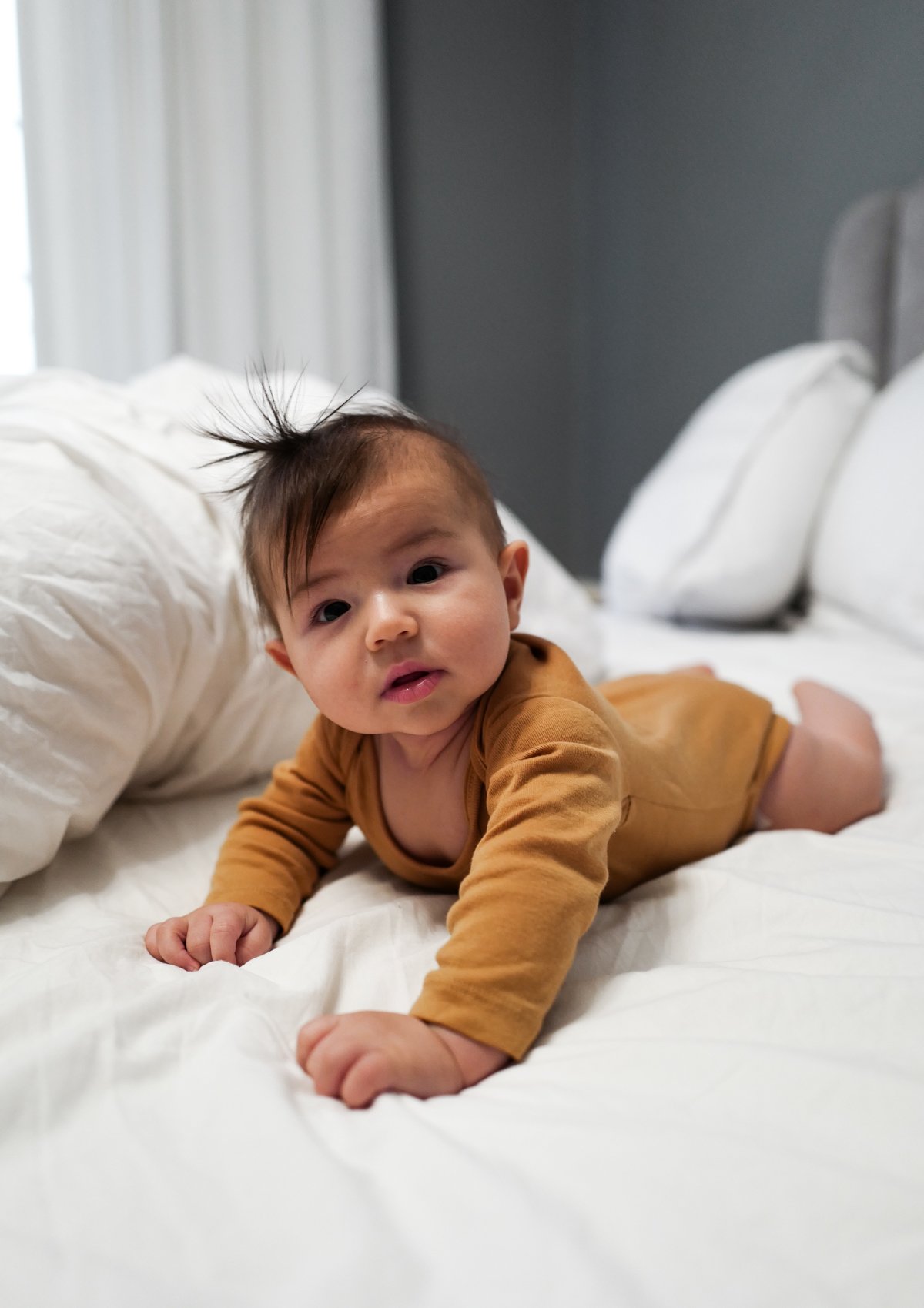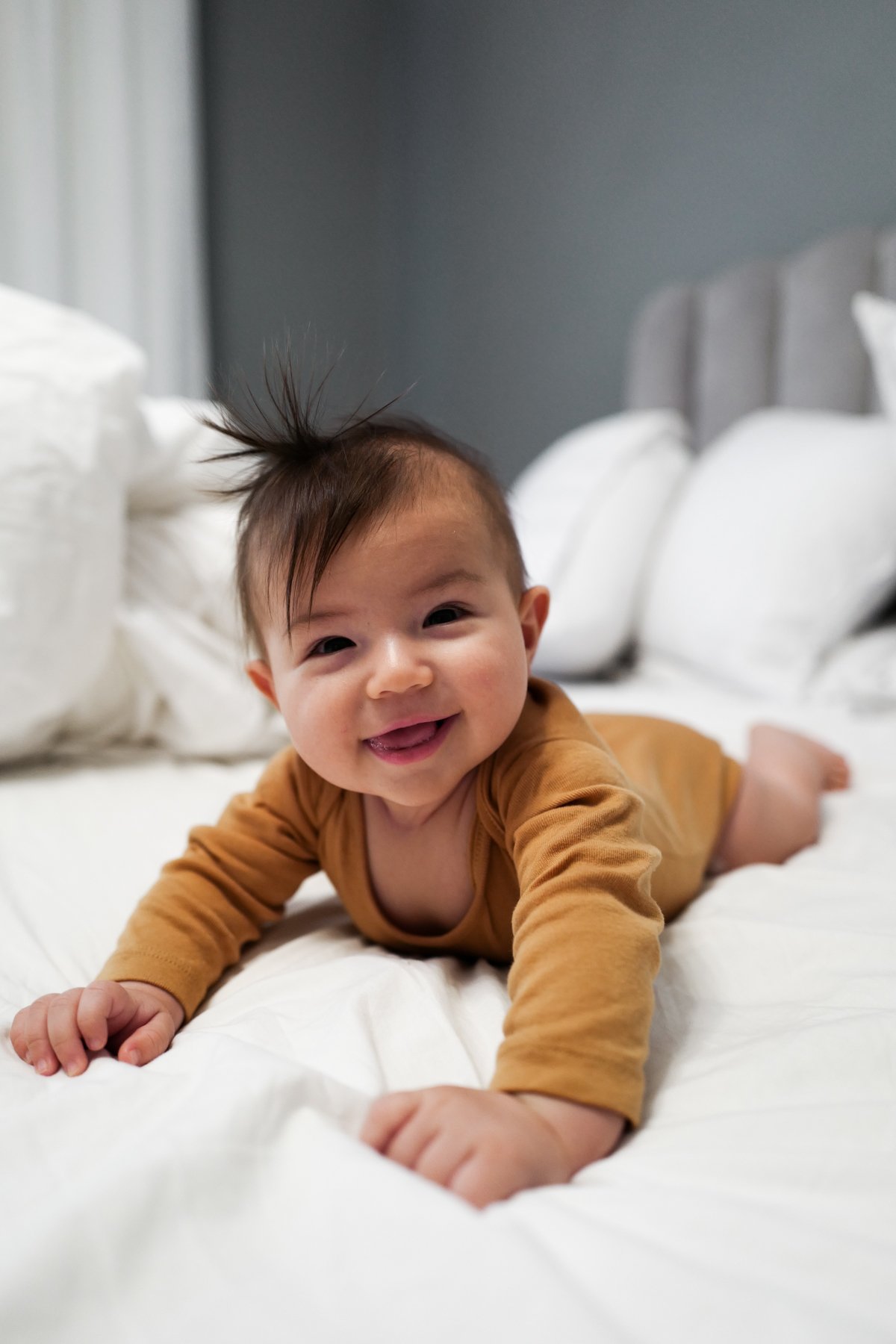 ÄLSKAR DIG!!!!!!!