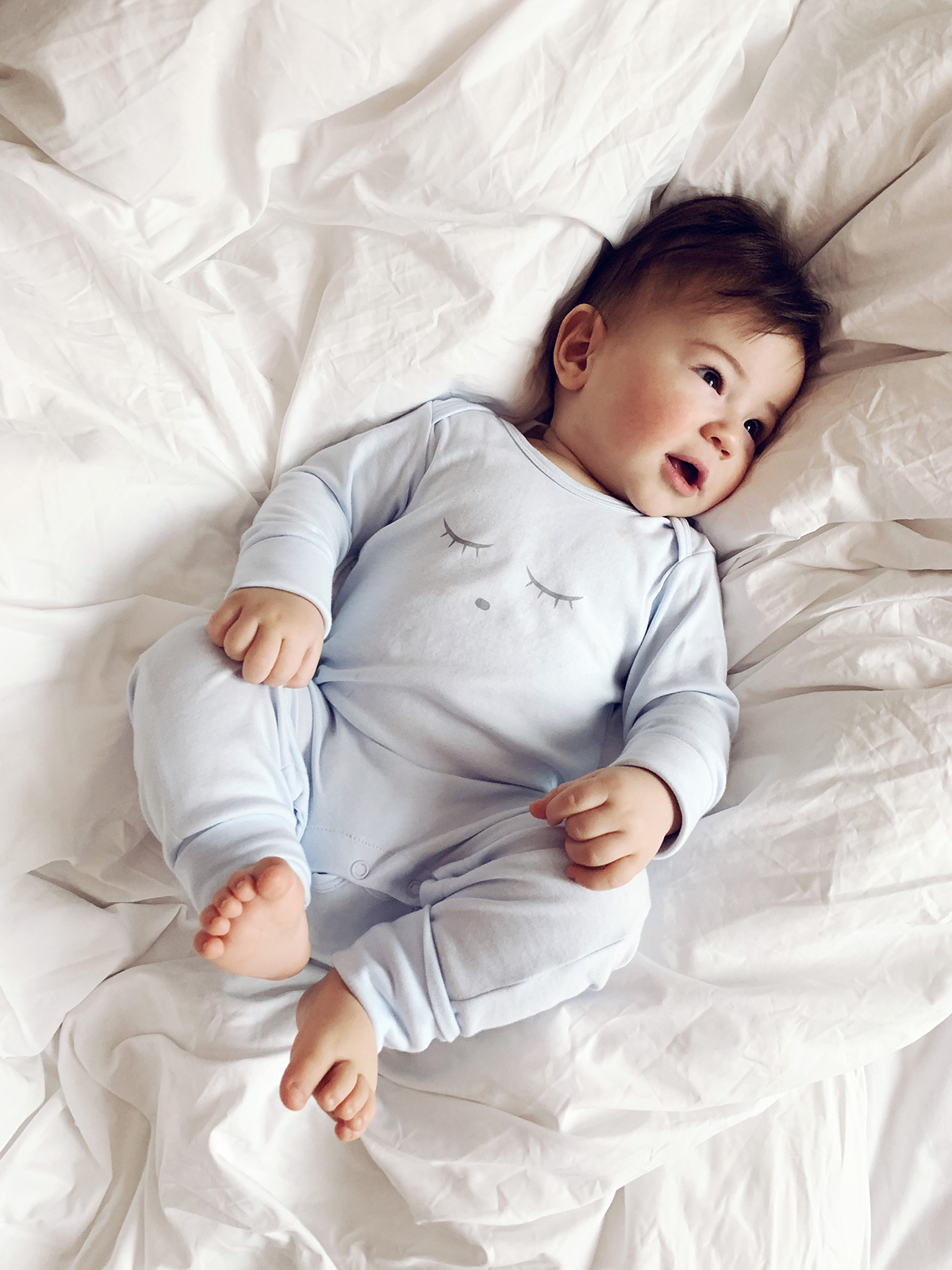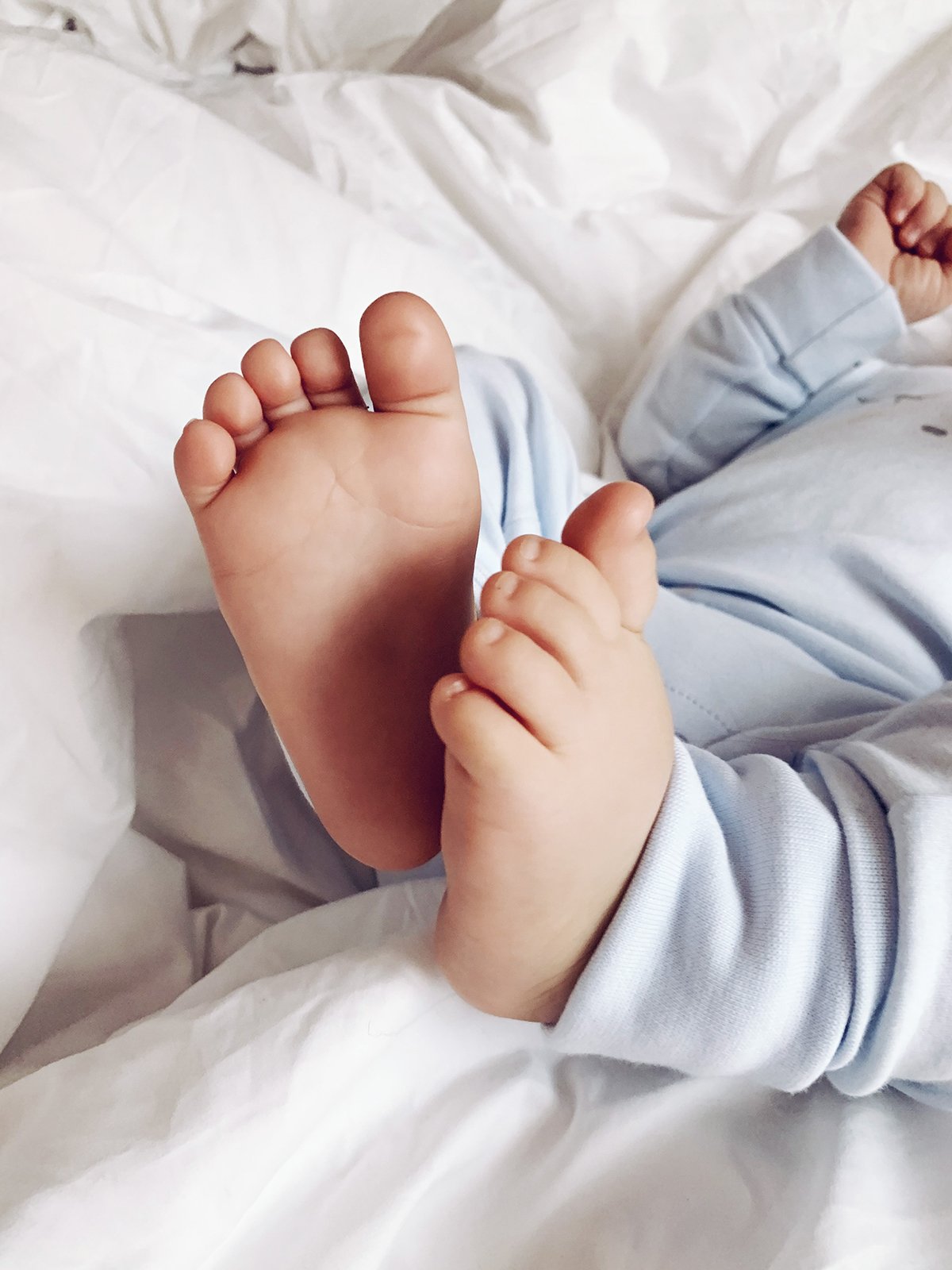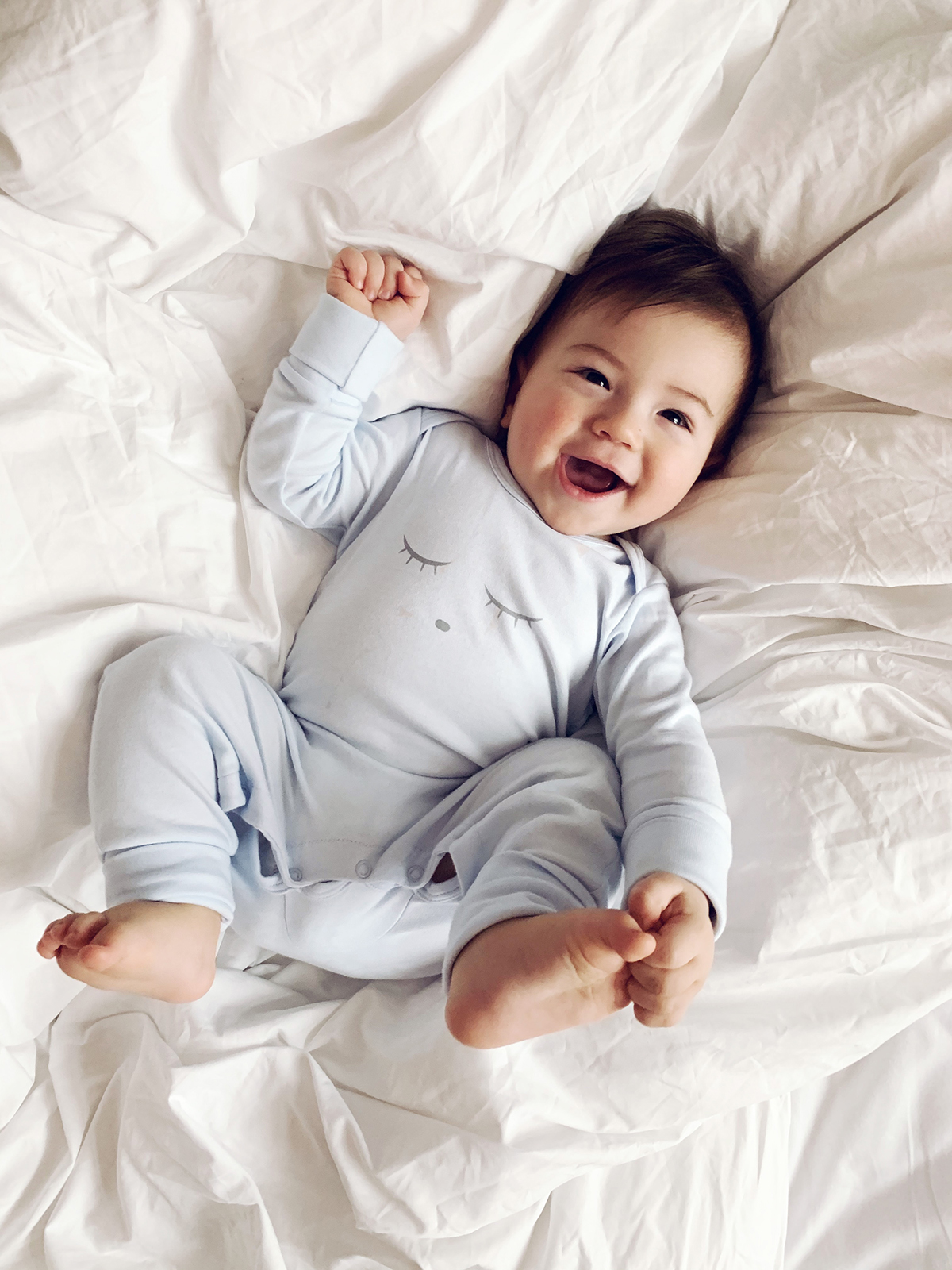 Pajamas from Livly
Som jag nämnde så håller vi på och försöker vänja Nikola vid att sova i sin egen säng som står bredvid vår. Inte för att vi vill det haha, vi hade helst sovit med honom hos oss för alltid. Finns ju inget gosigare än att sova med de där varma små fossingarna bredvid mig, eller när han vänder sig mot mig i sömnen, lägger sin lilla arm på mig och drar en liten suck… <3 Men nu när han kryper och ställer sig upp så är vi så himla rädda över att han ska klättra över kuddbarriären (Aleks sover oftast på soffan och då är det kuddar under madrassen på ena sidan) och ramla ner från sängen. Vår säng är så satans hög också så ramlar han där blir det en rejäl smäll. Usch… Sen vill vi också se om han kanske sover bättre själv när han inte stör av oss när vi vänder oss osv men det verkar inte göra någon skillnad, han vaknar lika ofta ändå.
Men men det är det vi testar nu! Så vi nattar honom i vår säng och sedan lyfter vi över honom precis när han håller på och somnar. Det funkar rätt bra! Fram till att vi själva går och lägger oss iallafall. Sen blir det så jäkla jobbigt att ställa sig upp och trösta/klappa på rumpan/ge flaska var eller varannan timme så därför brukar jag lyfta över honom när han vaknar vid 2-3 tiden och lägga honom vid bröstet istället. Det är väl där jag gör fel antar jag, måste ju vänja honom vid att vara kvar i sin säng men alltså…..jag pallar inte. Där når jag min limit för hur mycket jag orkar kämpa haha. Inatt är det Aleks tur (jag ska sova på soffan pga grät av trötthet imorse) så vi får se hur det går för dem.
Tänk ändå, om 15 år kommer vi få KRIGA för att få upp en trött tonåring ur sängen och då kommer dessa sömnlösa nätter vara ett minne blott. Åh, vill inte att min lilla pyjamaspojke ska bli stor. <3
// As I mentioned we are trying to make Nikola get used to sleeping in his own bed that is next to ours. Not because we want to haha, we would prefer sleeping with him forever. There's nothing more cozy than sleeping with those warm little feet next to me, or when he turn towards me in his sleep, puts his little arm on me and sighs… <3 But now when he is crawling and standing up, we are so damn scared that he's gonna climb over the pillows (Aleks sleeps on the couch often and then we put pillows under the mattress on one side) and fall down from the bed. Our bed is also super high so if he falls from there it will be hard. Plus we also want to see if he might sleep better alone when not getting disturbed when we turn around etc but that doesn't seem to make any difference, he wakes up just as much. 
Anyway that's what we are trying now! So we put him to sleep in our bed and lift him over right when he is about to fall asleep. It works pretty good! Well at least until we go to bed too. Because then it's so damn hard to get up and comfort/pat on the butt/give the bottle every or every second hour, so therefore I lift him over to our bed when he wakes up around 2-3 and give the boob instead. I guess that's where I do wrong, cause he needs to get used to staying in his bed but…..I can't do it. That's when I reach my limit on how much energy I can put into this haha. Tonight it's Aleks turn (I'm gonna sleep on the couch because I cried from exhaustion this morning) so we'll see how it goes for them.
Well can you imagine, that in 15 years we will FIGHT to make a tired teenager get out of bed and then these sleepless nights will be nothing but a memory. Oh, I don't want my little pajamas boy to grow up. <3