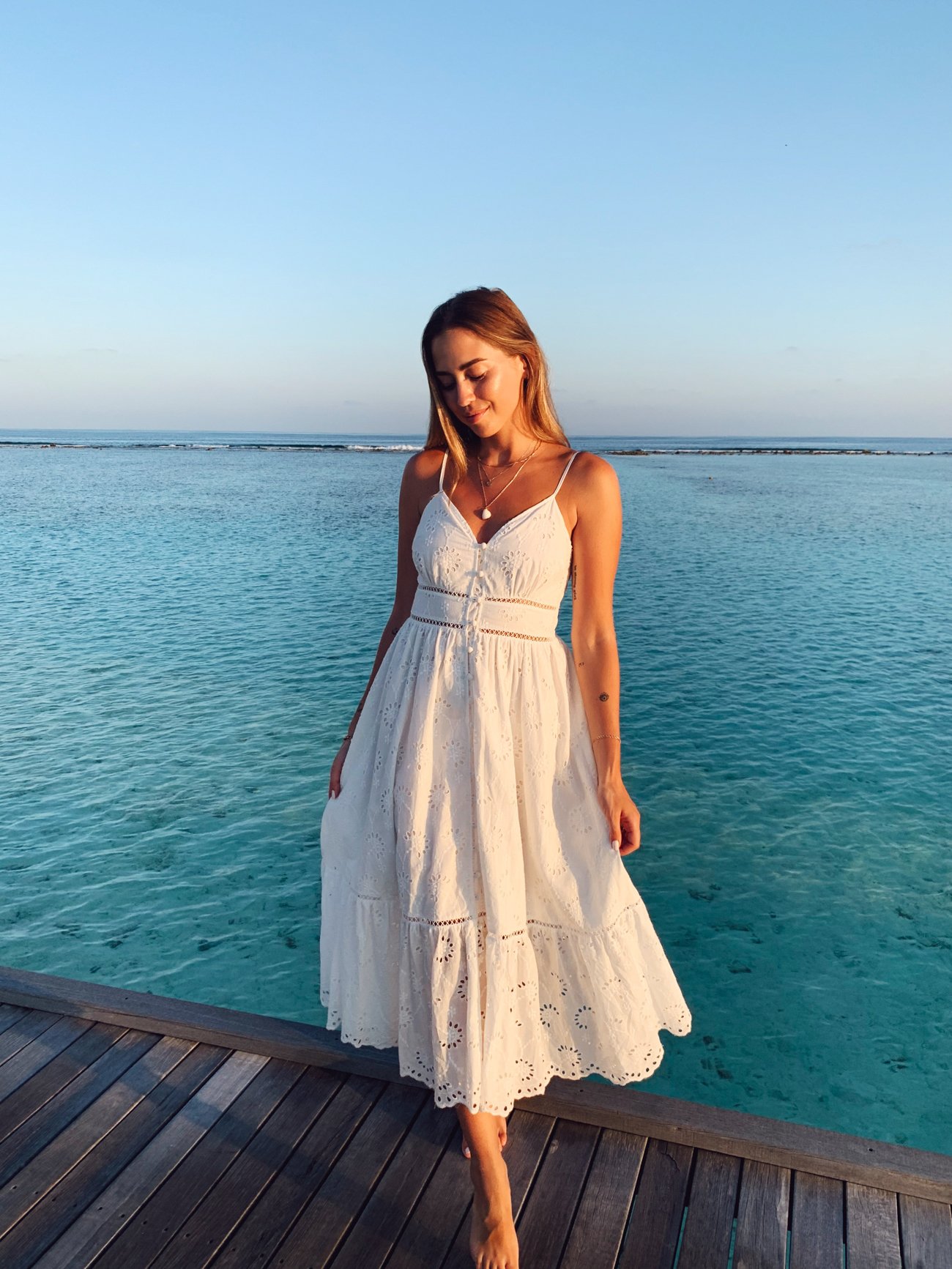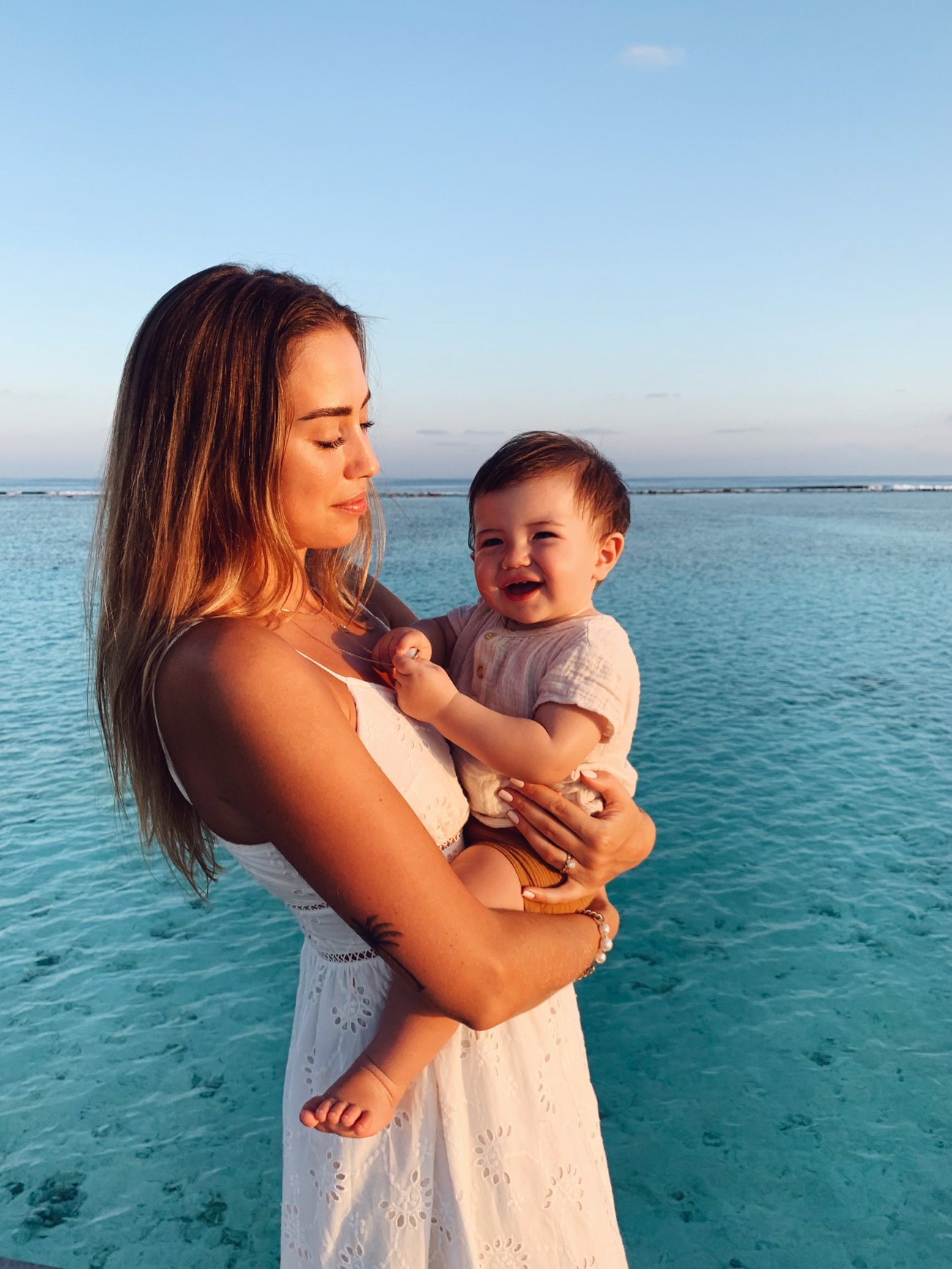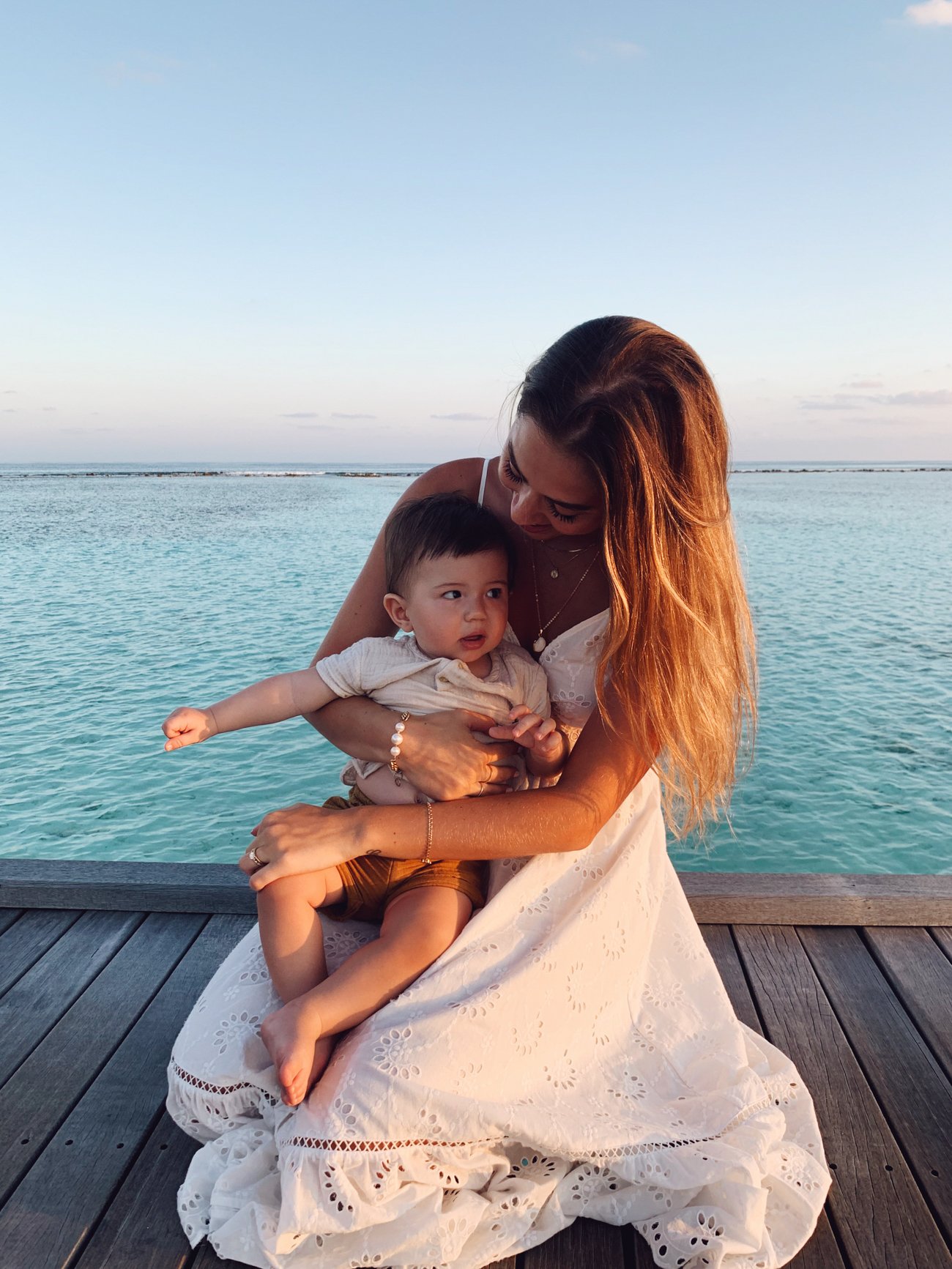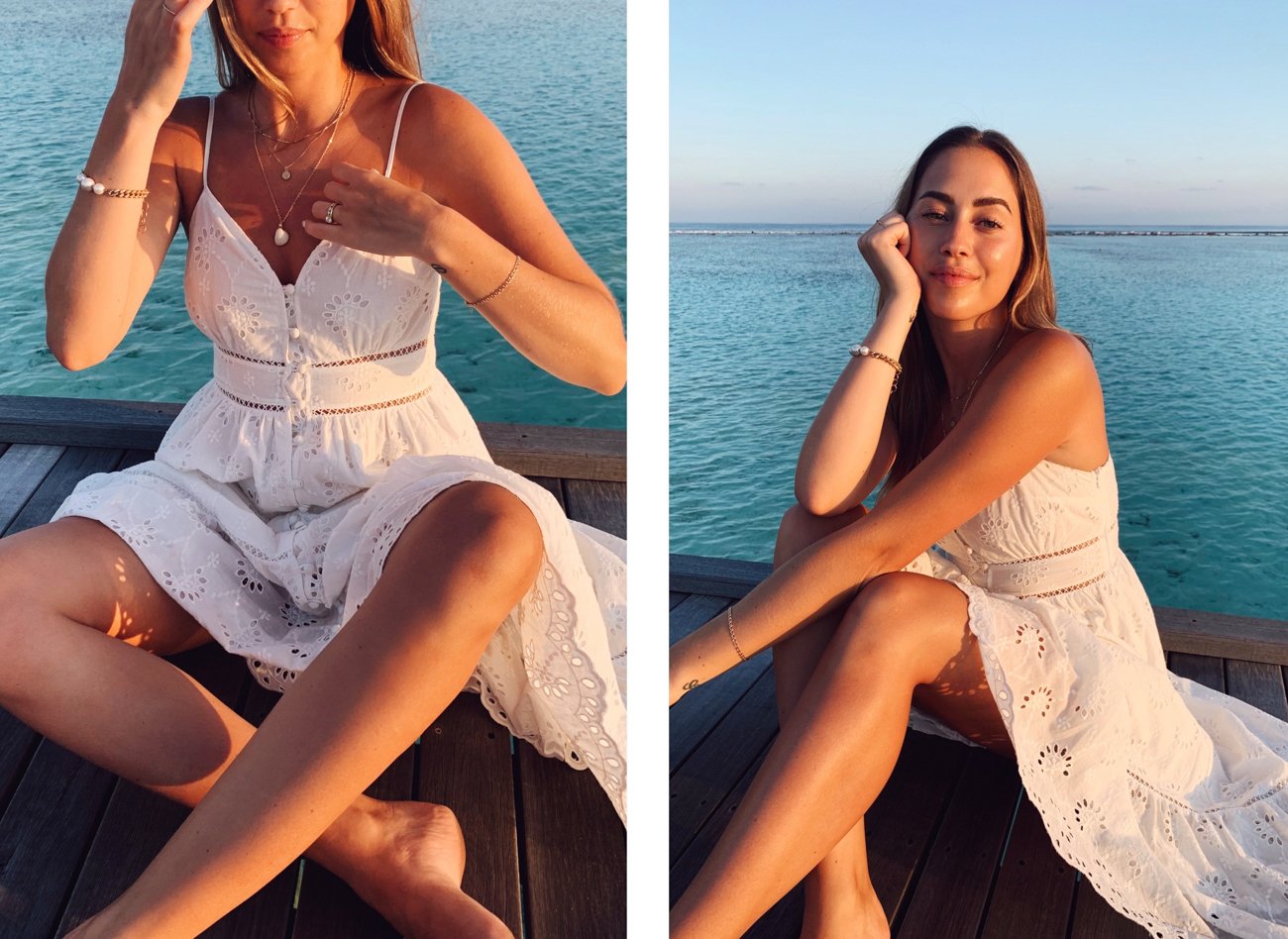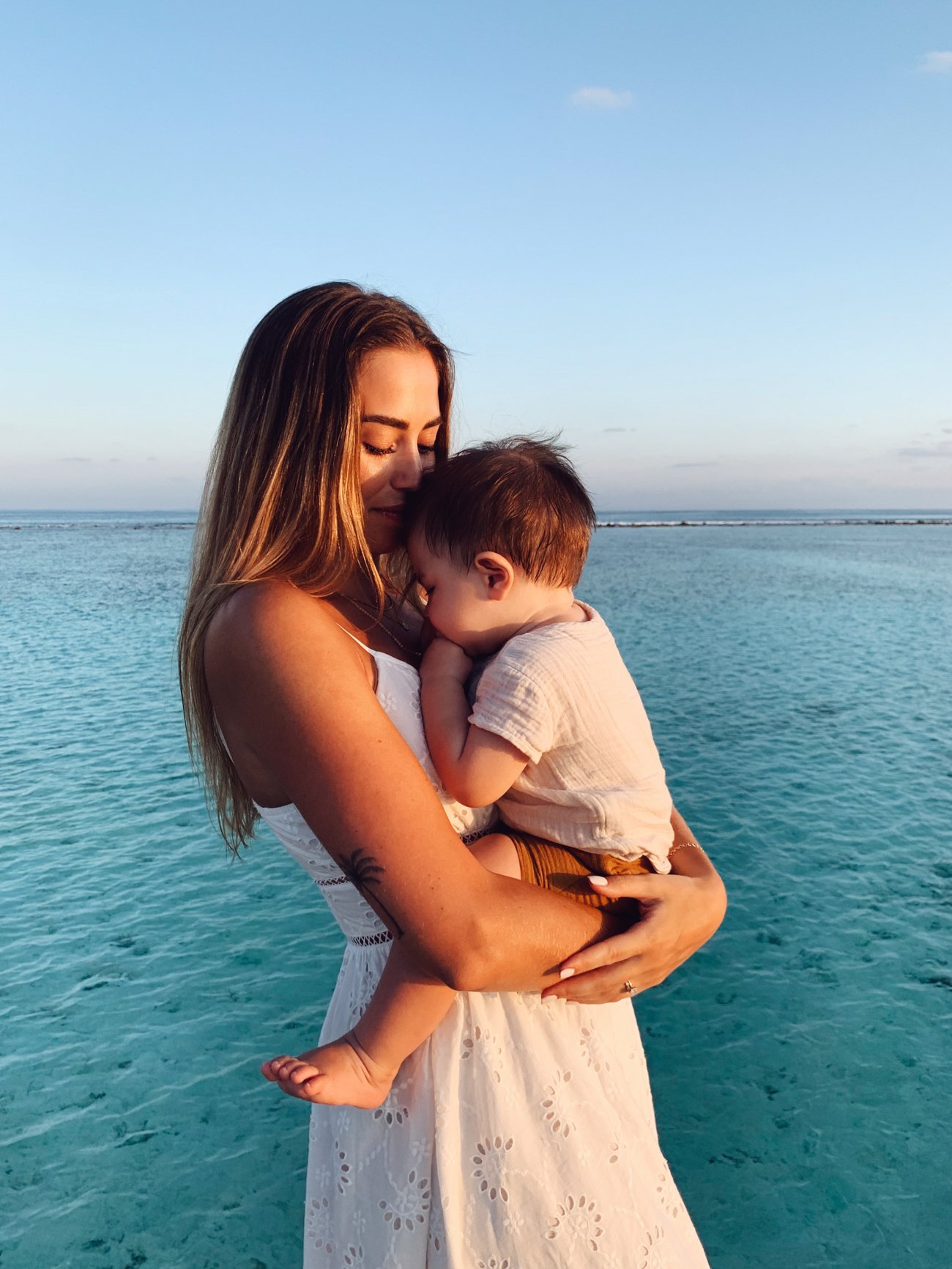 My dress is from By Malina, Nikola's set is from H&M exclusive
Vi är tillbaka hemma och det känns nästan lite overkligt. När jag vaknade imorse väntade jag liksom på att Aleks skulle öppna upp gardinerna och släppa in ljuset från himlen och det turkosa havet framför vår vattenvilla. Så att jag kunde ligga där och se fenorna på ett 50-tal delfiner simma förbi på andra sidan revet…. Åh, vad vi har haft det bra! Bästa bästa bästa semestern någonsin och jag är så full av lycka, kärlek och ro efter dessa veckor. Längtar redan tillbaka massor!!
Ska såklart berätta för er om våra veckor på Maldiverna, börjar med dessa solnedgångsbilder på mig och min älskade pojke. De är från en av de sista kvällarna där och vi var som vanligt ute för att se när solen färgade himlen rosa för att sedan försvinna. Det känns som att Nikola plötsligt blev 1.5 år på vissa bilder haha, han har verkligen blivit stor. Om några dagar blir han 9 månader och det ska bli så kul att berätta för er om hans utveckling den senaste månaden för det har hänt så mycket! <3
Vi landade igår och tack och lov kom Nikola snabbt in i svensk tid igen. Han ville dock upp redan vid 2 inatt (då klockan var 6 på Maldiverna) men vi lyckades få honom att somna om till 6. Vi alla sov från 20 till 6. Fick rätt mycket sömn inatt ändå vilket är bra för jag ska iväg och fota/filma för en kampanj idag. Ge mig några köppar kaffe bara så kommer det nog gå galant!
// We are back home and if almost feels a bit unreal. When I woke up this morning I kinda waited for Aleks to open the curtains and let the light in from the sky and the turquoise sea infront of our water villa. So that I could lie there and watch the fins of 50 dolphins swim by on the other side of the reef… Oh, we've had such a wonderful time! Best best best vacation ever and I'm so filled with happiness, love and peacefulness after these weeks. I'm already dreaming myself back!!
I'm gonna tell you about our weeks in the Maldives of course, I'll start with these sunset photos of me and my beloved boy. They are from one of the last nights there and as usual we were outside to see when the sun colored the sky pink and then disappeard. It feels like Nikola suddenly got 1.5 years old in some photos haha, he has really gotten big. In a few days he will be 9 months and I'm excited to tell you about his development the last month because a lot has happened! <3 
We landed yesterday and luckily Nikola adjusted to Swedish time fast. He wanted to get up at 2am though (when it was 6 in the Maldives) but we managed to put him back to sleep and slept til 6. We all slept from 20 to 6. So I got pretty much sleep last night which is good because I'm gonna shoot for a campaign today. Just give me a couple of cups of coffee and I'm sure it will go well!