Jag drömde om pappa inatt. Precis som många gånger förut men ändå inte, inatt var annorlunda. Jag tror att jag pratade med pappa via ett medium för några veckor sedan. Eller jag är rätt säker på att det var han, för hon sa saker som ingen annan vet om. Hon sa även att han försökt visa sig för mig och att jag är mottaglig för det. Jag har känt honom flera gånger sedan han gick bort, och kanske var det han som kom till mig inatt.
Jag var tillbaka i vårt gamla radhus på Diligensvägen. Kliver ut ur badrummet på nedervåningen och ser honom i mammas gamla sovrum. Han ligger på sängen men är vaken och han tittar på mig. Jag springer fram till honom och kastar mig på honom, kramar om honom och gråter. Han var så smal och benig som sista tiden på sjukhuset, men han luktade precis så som han luktade när jag var yngre. Cigaretter och alkohol. Men jag brydde mig inte. Han var där och det var det enda jag behövde. Vi sa ingenting till varandra, jag bara grät och grät medan han höll om mig. Han var död men där och då levde han.
Vaknade som vanligt upp med ett hål i hjärtat, men idag kändes det faktiskt lite lättare. Att jag ens kan sitta och skriva det här utan att bryta ihop är något nytt, för senast igår kunde jag inte prata om honom utan att gråta. Kanske är det för att jag fick tröst i drömmen. Att jag ännu en gång fick känna att han fortfarande är med mig. Jag väljer att tro på det iallafall. Jag väljer att tro på en plats efter detta liv och att vi kommer ses där igen. Jag måste tro på det.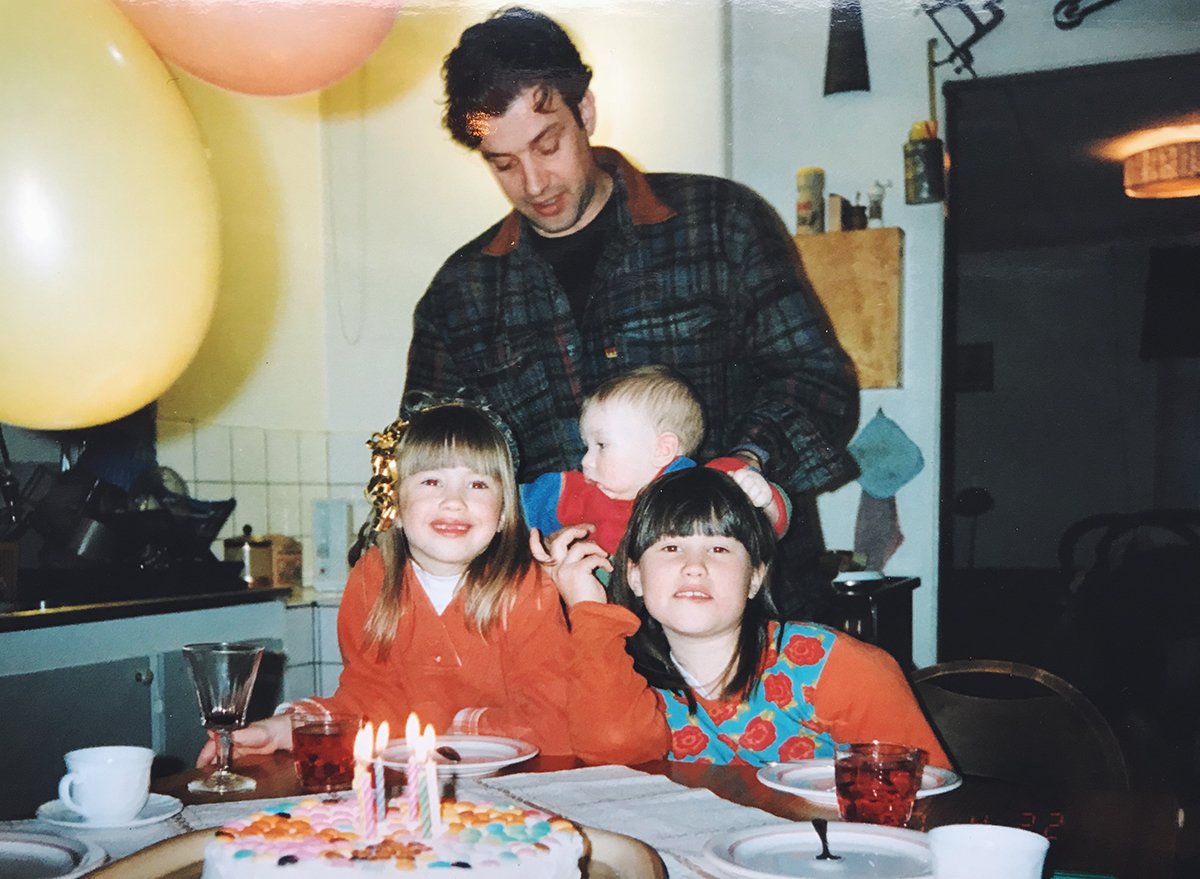 Jag tillsammans med pappa, min bror och min syster. Firar min 6e födelsedag på det lyckligaste stället jag visste, hos mormor och morfar ute på landet. 
// Me together with my father, my brother and my sister. Celebrating my 6th birthday at the happiest place I knew, at grandma and grandpa out on the country side.