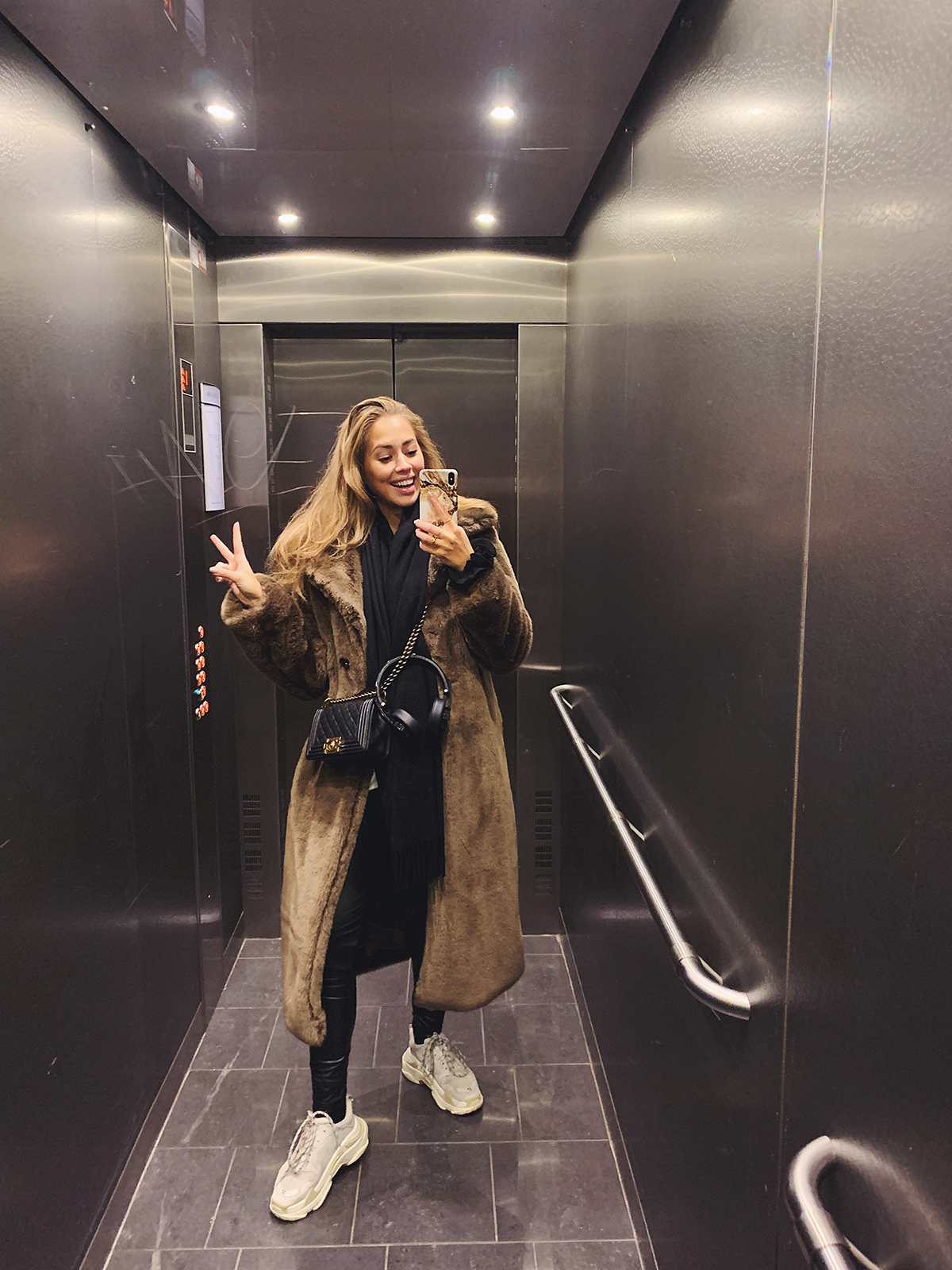 Yesterday on my way up to the podcast studio!
God morgon hjärtan! Ska precis in på frukostmöte här på kontoret, har dock magknip (bebis börjar bli stor och trycker på allt möjligt där inne) så sitter och småfiser här inne på mitt rum HAHA. Kul om någon på kontoret läser, ba hmm är det det som luktar? Nej men seriöst, måste det ut så måste det. Magen lever sitt egna liv under graviditeten och är man inte förstoppad så är det tvärtom. Någon som känner igen sig?
IALLAFALL nog om farts, hur mår ni annars? Jag mår rätt bra! Har dock en rätt stressig vecka med mycket inspelningar (dubbel poddinspelning och en videoinspelning för ett projekt jag startar snart) och massa möten, därav ingen uppdatering igår. Åker till Marocko på måndag vilket ger mig lite småångest också, orkar inte resa just nu, vill inte lämna Mani och jag är även rädd för känslostormen som kommer slå mig vid pappas gravplats, men minnesstunden är bokad sedan långt tillbaka så jag måste åka. Har iallafall båda mina syskon med mig, och Aleks, så det kommer gå bra. <3
Nu måste jag in på mötet. Sedan ska vi till barnmorskan och idag är det dags att välja förlossningsklinik!
// Good morning sweethearts! I'm just about to head into the breakfast meeting here at the office, I have stomach ache though (baby is getting big and pressing everything in there) so I'm sitting here letting little farts out in my room HAHA. Fun if anyone at the office is reading this, and like hmm is that what's smelling? No but seriously, if it has to come out it has to come out. The stomach is living it's own life during pregnancy and if you're not constipated it's the other way around.
ANYWAY enough about farts, how are you? I'm pretty fine! I'm having a stressful week though with lots of recordings (double podcast recording and one video recording for a project I will launch soon) and lots of meetings, that's why I didn't have time to update yesterday. I'm going to Morocco on Monday as well which makes me a bit anxious, I don't have the energy to travel right now, I don't want to leave Mani and I'm also scared about the emotions that will hit me at my fathers grave, but the memory ceremony is booked since way back so I have to go. At least I have both my siblings with me, and Aleks, so it will be fine. <3
Now I have to go to the meeting. Then we have an appointment at the midwife, it's time to choose our birth clinic today!