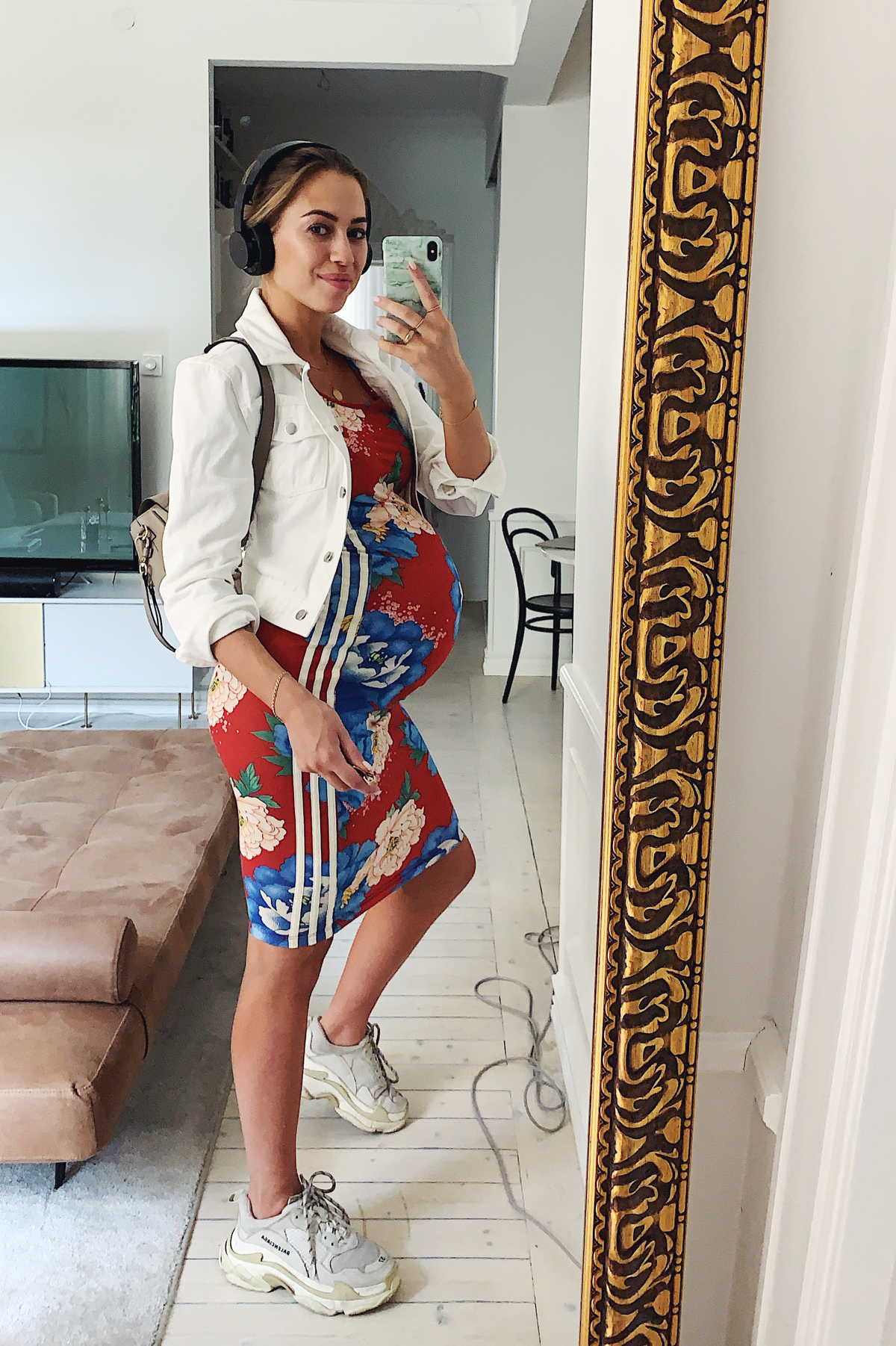 Min morgon började INTE bra. Först och främst så sov jag så jääääkla dåligt inatt!! Var uppe och kissade en miljard gånger, kunde inte ligga bekvämt, och så på toppen av det hade jag en jobbig mardröm om förlossningen som kändes så verklig att jag var svinsur på Aleks när vi vaknade haha. Sedan kom världens illamående när jag precis ätit frukost, så fick ligga på soffan en stund och andas mig igenom det.
Det gick över som tur var, och då gjorde jag mig i ordning och sminkade mig. Stockholm bjussar på sommarvärme så det fick bli en (gammal) klänning från Adidas + jeansjacka från Ivyrevel. Sedan tog jag bussen ner på stan för att möta upp Dani!
// My morning did NOT start out well. First of all I slept soooooo damn bad last night!! I went to the toilet a billion times, couldn't find a comfy position, and on top of that I had a nightmare about labour which felt so real so when we woke up I was really mad at Aleks haha. Then I got really nauseous after breakfast, so I had to rest on my couch for a bit and breathe through it.
Luckily it passed, so I got ready and did my makeup. It's summer heat in Stockholm so I put on an (old) dress from Adidas + denim jacket from Ivyrevel. Then I took the bus down town to meet up with Dani!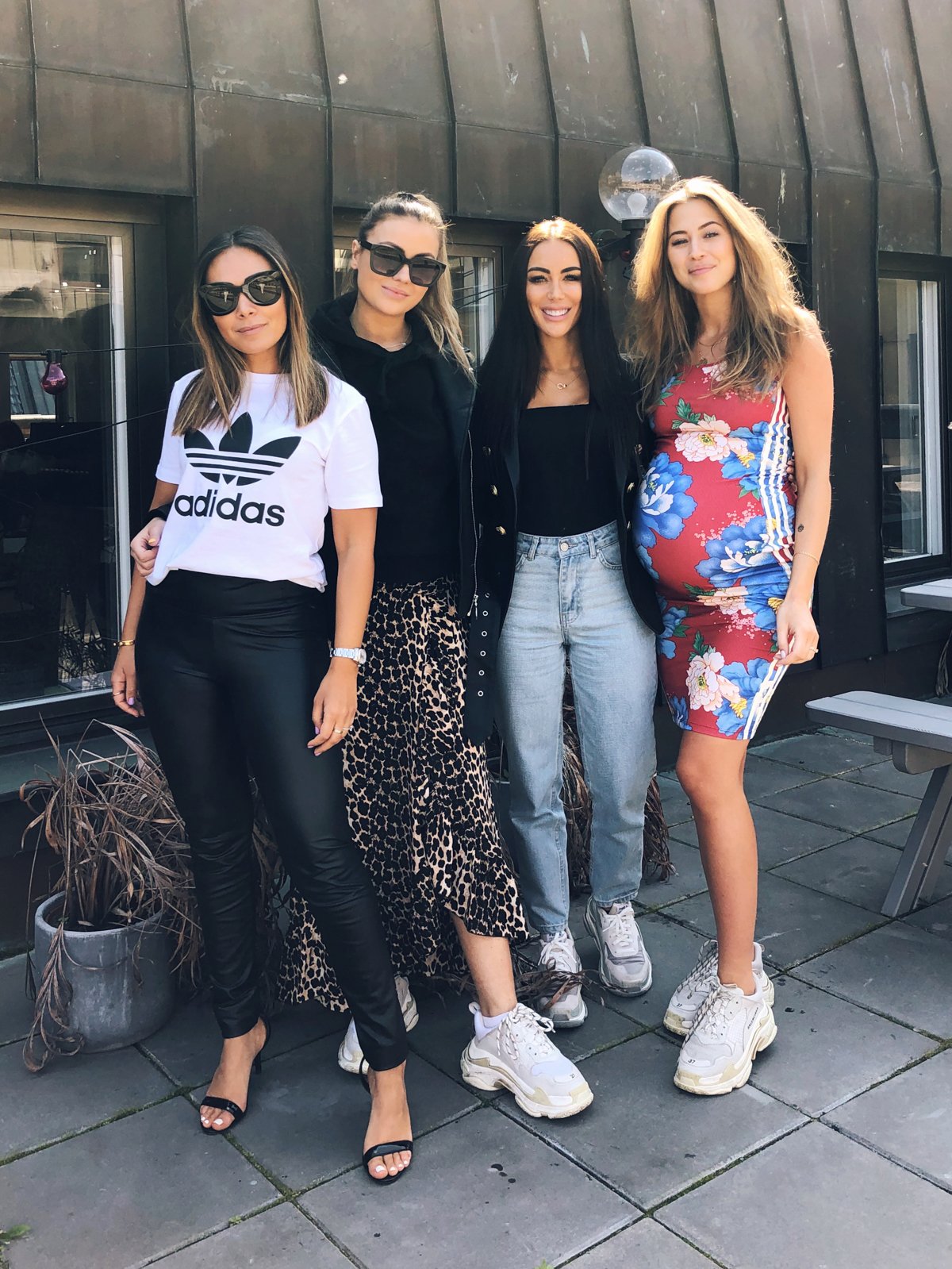 Det var nämligen dags att spela in veckans poddavsnitt, och denna vecka gästas vi av inga mindre än GUMMORNAS GUMMOR Stella & Vanz! Missa inte detta avsnitt som släpps på onsdag, vi pratar såklart en hel del om graviditet och förlossning då båda tjejerna är mammor. :-)
Vi gästar även deras podd men det är nästa vecka! Om jag inte skulle råka föda innan det sa vi när vi skildes åt, men det tror jag inte.
// It was time to record this week's podcast episode, and this week we have Stella & Vanz as our guests! Don't miss this episode that will be out on Wednesday, and of course we talk a lot about pregnancy and birth since both the girls are mothers. :-) 
We will also be guests in their podcast but that is next week! If I don't happen to give birth before that, but I don't think so.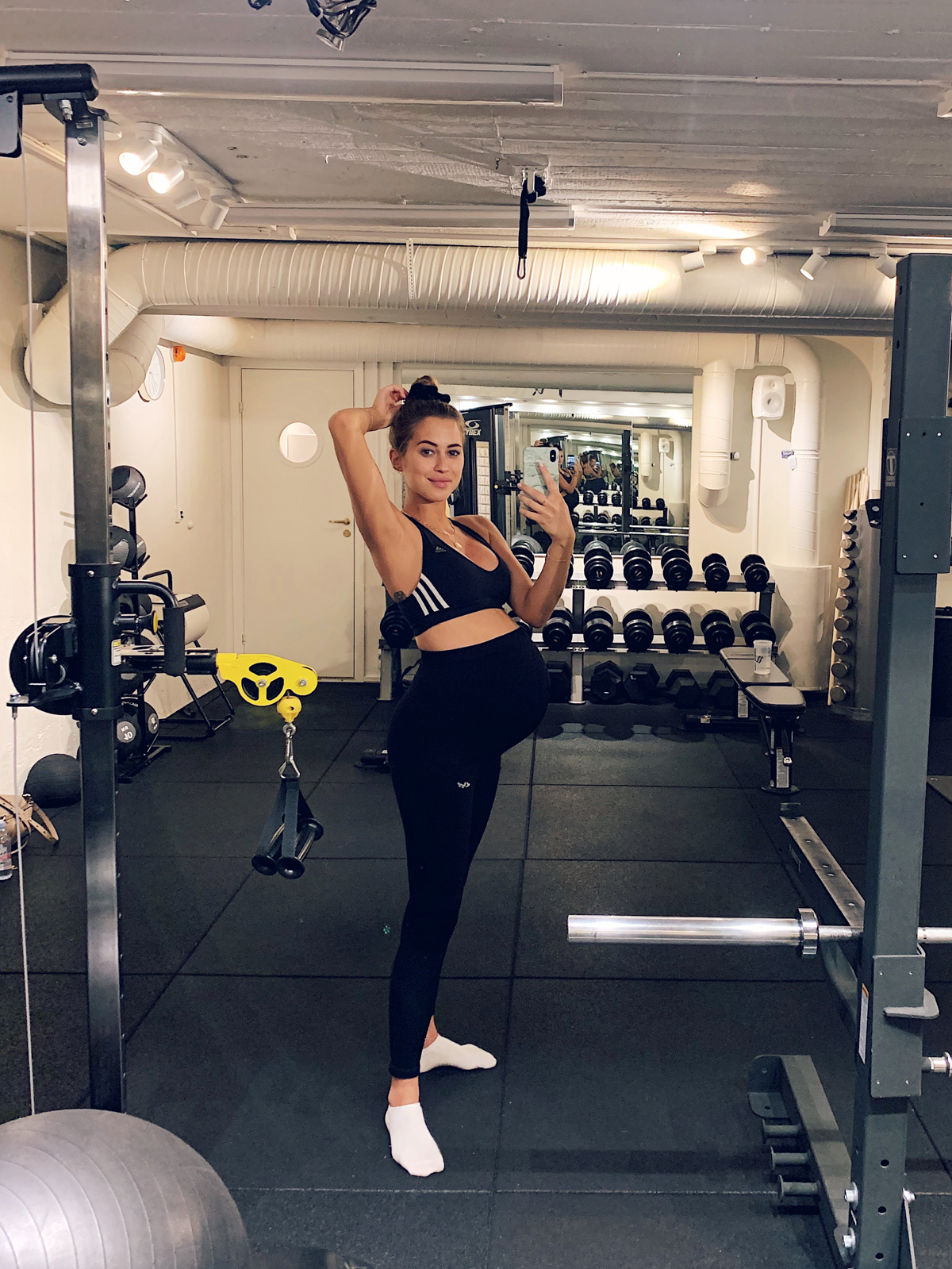 Efter lunch & mjukglass i solen så tränade jag ett pass med Damla. Trodde inte att jag skulle orka hålla igång såhär länge men kroppen känns fortfarande rätt stark (om än lite osmidig med denna stora kagge kanske). Har dock en känsla av att detta var mitt sista pass, men vi får se…. Kanske dyker upp där nästa vecka i vecka 40 också! :-)
Sedan tänkte jag promenera hem i det fina vädret men där sa höften ifrån så Aleks plockade upp mig.
// After lunch & ice cream in the sun, I did a workout with Damla. I didn't think I would manage to keep going this far but my body still feels pretty strong (but a bit clumsy with this huge belly maybe). I have a feeling this was my last workout though, but we'll see… I might show up there next week in week 40 as well! :-)
Then I was planning to take a walk home in the lovely weather but my hip said no, so Aleks picked me up with the car.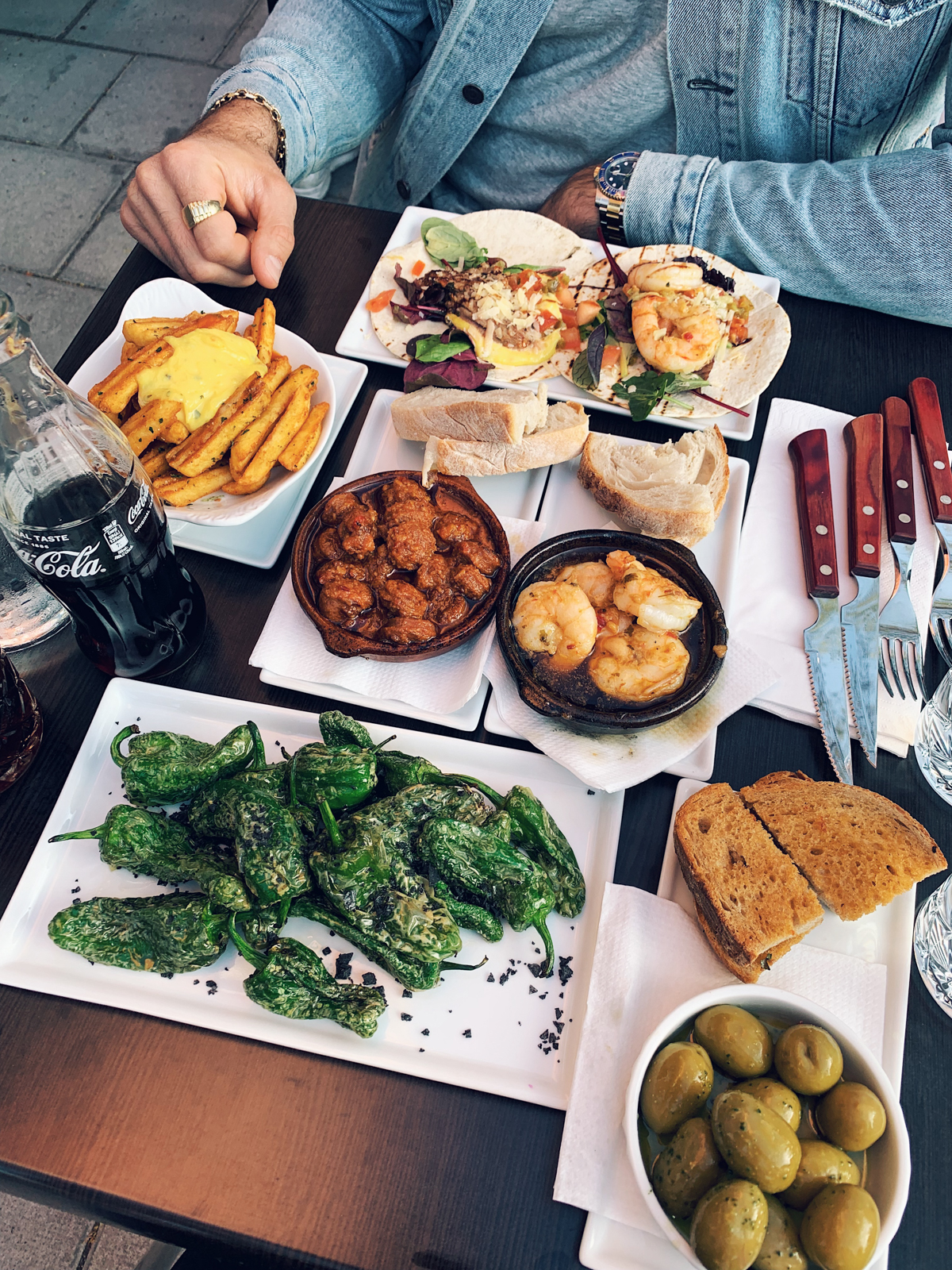 Vi lämnade Mani hemma och så gick vi ner runt hörnet och unnade oss en tapasmiddag! Så nice när man kan sitta ute. :-) På vägen hem köpte vi med Ben & Jerry's och nu ska vi…….SE SISTA AVSNITTET AV GAME OF THRONES!!! Fan vad jag har undvikit internet idag haha, har varit så rädd att läsa någon spoiler någonstans så har knappt vågat på in på instagram. Men nu…..nu är det dags! AHHHH
PS. Kommer INTE läsa kommentarerna förrän jag sett avsnittet så det är ingen idé att spoila om någon tänkt vara taskig!!!! ;P
// We left Mani at home and went around the corner for a tapas dinner! So nice when you can sit outside. :-) On our way home we bought Ben & Jerry's and now…….now we're gonna WATCH THE LAST EPISODE OF GAME OF THRONES!!!! Gosh I've been avoiding internet today haha, I've been so scared to read some spoiler somewhere so I have barely dared to open instagram. But now it's time! AHHHHH
PS. I will NOT read the comments before I've seen the episode so there's no reason to spoil if anyone of you planned to be mean!!!! ;P