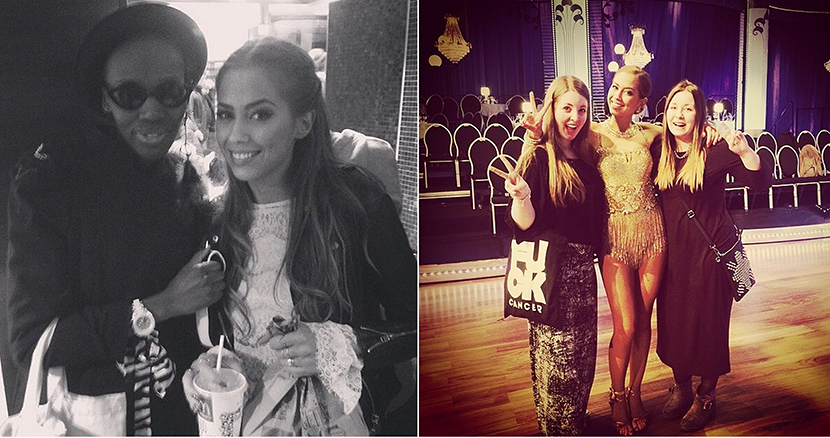 Hittade två bilder med mina läsare! Ena är tagen på Let's Dance (är ni där och tittar så måste ni ju komma ner och hälsa på mig, tycker det är så kul att ha er i publiken!!) och den andra bilden är tagen klockan fyra på morgonen på Mc Donalds haha. :-)
På tal om ER. I fredagens inslag i programmet så pratar jag om mina läsare och om bloggen! Jag vet inte hur mycket de kommer ta med (vi filmar alltid i flera timmar som sedan klipps ner till 1 minut) men jag berättar iallafall att jag är så glad över att jag har er, att jag aldrig hade tagit mig dit jag är idag utan ert stöd. Och hur KUL jag tycker att det är idag att vara en förebild till så många unga tjejer där ute, trots att jag hade svårt att förstå mitt ansvar när jag själv var en vilsen tonåring som försökte hitta mig själv.
Nog om det, nu ska jag äta frukost och sedan ner och köra genrep i studion! Ahhh, redan onsdag!!
// I found two photos with my readers! One of them is from Let's Dance and the other one is taken at 4 am at Mc Donalds haha. :-) Speaking of YOU. In the show on Friday I talk about my readers and my blog! I don't know how much they will show (we always shoot for hours, and then they cut it down to 1 minute) but I talk about how happy I am that I have you, and that I wouldn't be where I am today without your support. And how FUN I think it is to be a rolemodel to so many young girls out there, even though I found it hard to understand my responsibility when I was a lost teenager myself. Enough about that, now I'm gonna eat breakfast and then go down to the studio for rehearsal! Ahhh, Wednesday already!!
---