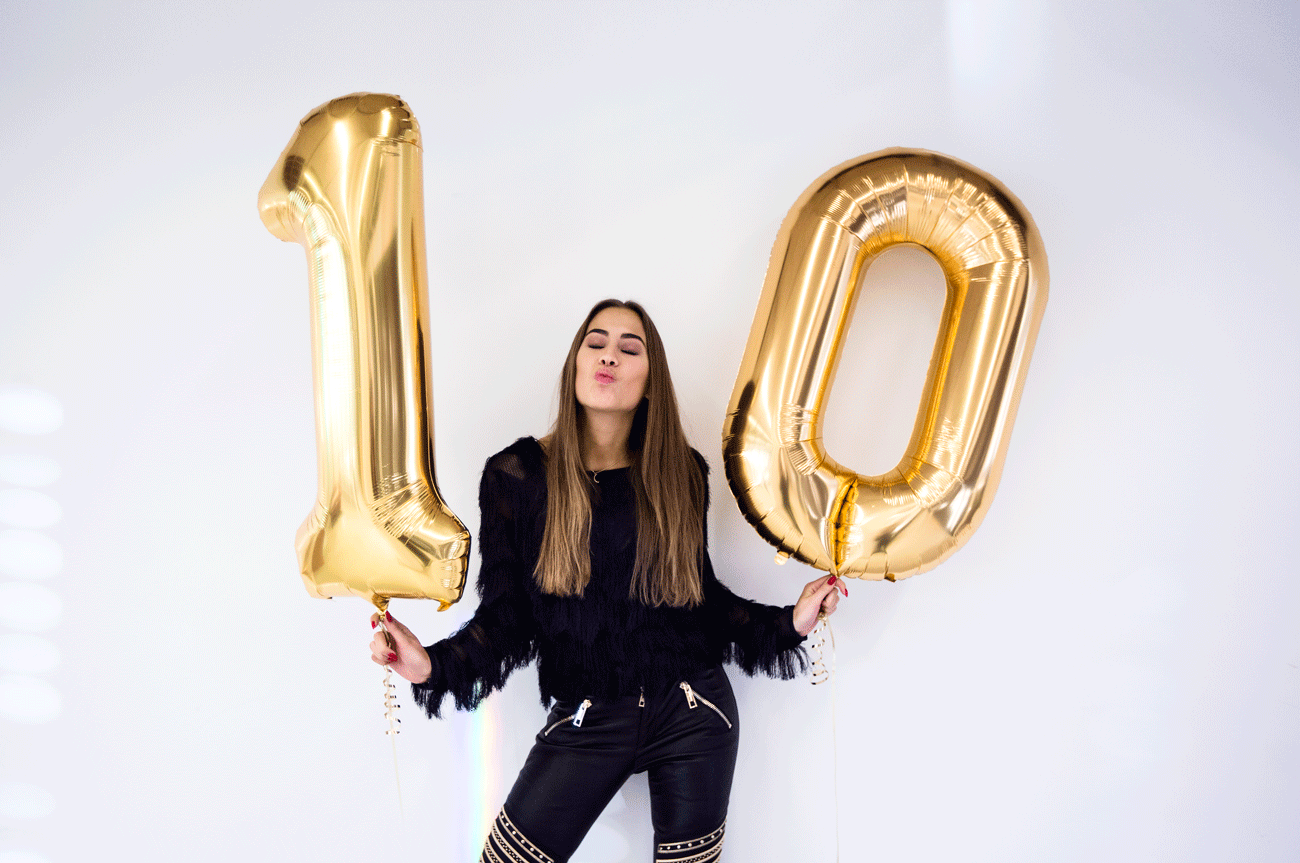 Happy 10th birthday to my blog! :-)
Idag är det ingen vanlig dag, för idag är det bloggens 10-årsdag!! Så jäkla sjukt att det gått TIO år. Jag minns verkligen när jag startade bloggen. Jag försökte blogga ett tag innan men tröttnade fort. Lyckades inte heller få en enda läsare så efter några veckor raderade jag den bloggen. Det dröjde dock inte länge innan jag ångrade mig, och den 6e december 2006 startade jag denna blogg!
Till en början såg jag, precis som alla andra, bloggen som en rolig hobby. Jag bloggade om skolan, familjeproblem, vad jag ville köpa för mitt studiebidrag denna månad och allt annat som tillhörde en helt vanlig 15-årings liv. Jag hade inga planer på att bloggen skulle bli någon slags inkomstkälla. Blogg var då en dagbok på internet, inget annat. I takt med att hela bloggfenomenet blev större och större så växte även min blogg. Februari 2008 var Kenza 16, Sverige största bloggare, på första sidan på Metro. I intervjun säger jag att jag ser bloggen som en hobby, och att jag i framtiden hoppas på att jobba med någonting inom mode – "typ modell, stylist eller på någon modetidning". Hur lite jag visste om företaget jag skulle bygga upp kring bloggen, eller att jag 9 år senare skulle äga ett klädföretag tillsammans med H&M Group.
Och vet ni, ingenting……och då menar jag verkligen INGENTING hade varit möjligt utan er. Resan vi har gjort tillsammans är helt jävla galen och overklig, och fantastisk på många sätt och vis. Tack för att ni stöttat mig alla dessa år! Nu låter det som ett hejdå haha, men än blir ni inte av med mig. Jag vet inte hur länge jag ser mig själv fortsätta blogga, det blir nog inte 10 år till men jag kommer att fortsätta så länge jag tycker det är kul.
Iallafall, nu vill jag ge tillbaka till er! :-) Snart drar jag igång THE BIG 10 GIVEAWAY där jag i 10 dagar tävlar ut priser som på något sätt är kopplade till varje år jag delat med er. Det kan vara allt ifrån något coolt som hänt i min karriär, till något privat som jag delat med er (wait 'til you brides to be ser ett av priserna…) Jag önskar verkligen att jag hade 400 000 priser att dela ut så att ni alla som fortfarande klickar er in här varje månad kunde få varsitt för det förtjänar ni verkligen, men nu blir det 10 stora priser vilket är helt okej det med. Hoppas ni är peppade! Vi kör igång strax! xx
// Today is not an ordinary day, because today is my blog's 10th birthday!! It's crazy that it's been TEN years. I really remember the day I started this blog. I tried blogging a while before that but I got tired of it. And I didn't even get one single reader so I deleted that blog after a few weeks. It didn't take long until I regret that, and on December 6 in 2006 I started this blog!
At first I saw this blog, just like everyone else, as a fun hobby. I wrote about school, family issues, what I wanted to buy for this month's student subsidy and all the other stuff that was normal in a regular 15 year old's life. I had no plans on my blog to become a source of income. Back then a blog was a diary on the internet, nothing else. While the whole blog phenomenom got bigger, my blog got bigger. In February 2008 Metro put Kenza 16, the biggest blogger in Sweden, on the front page. In this interview I said that I see my blog as a hobby, and that I hope to work with fashion in the future – "like a model, stylist or on a fashion magazine". The little I knew about the company I was going to build up around my blog, or that I would 9 years later own a fashion company together with the H&M Group.
And you know what, nothing…..and then I really mean NOTHING would have been possible without you. The journey we have done together is completely insane and unreal, and fantastic in so many ways. Thank you for supporting me through all these years! It sounds like a goodbye now haha, but you won't get rid of me yet. I don't know how long I see myself blogging, it probably won't be another 10 years but I will continue as long as I enjoy it.
Anyway, now I want to give something back to you! :-) I will soon start THE BIG 10 GIVEAWAY, a competition where I will give away amazing stuff for 10 days that are somehow connected to each year I've shared with you. It can be something cool that has happened in my career, or maybe something private I have shared with you (wait 'til you brides to be see one of the prizes…) I really wish that I had 400 000 gifts to give away so that all of you who read my blog each month could have one each because you really deserve it, but now it will be 10 big prizes instead which is totally okey too. I hope you're excited! We'll get started soon! xx