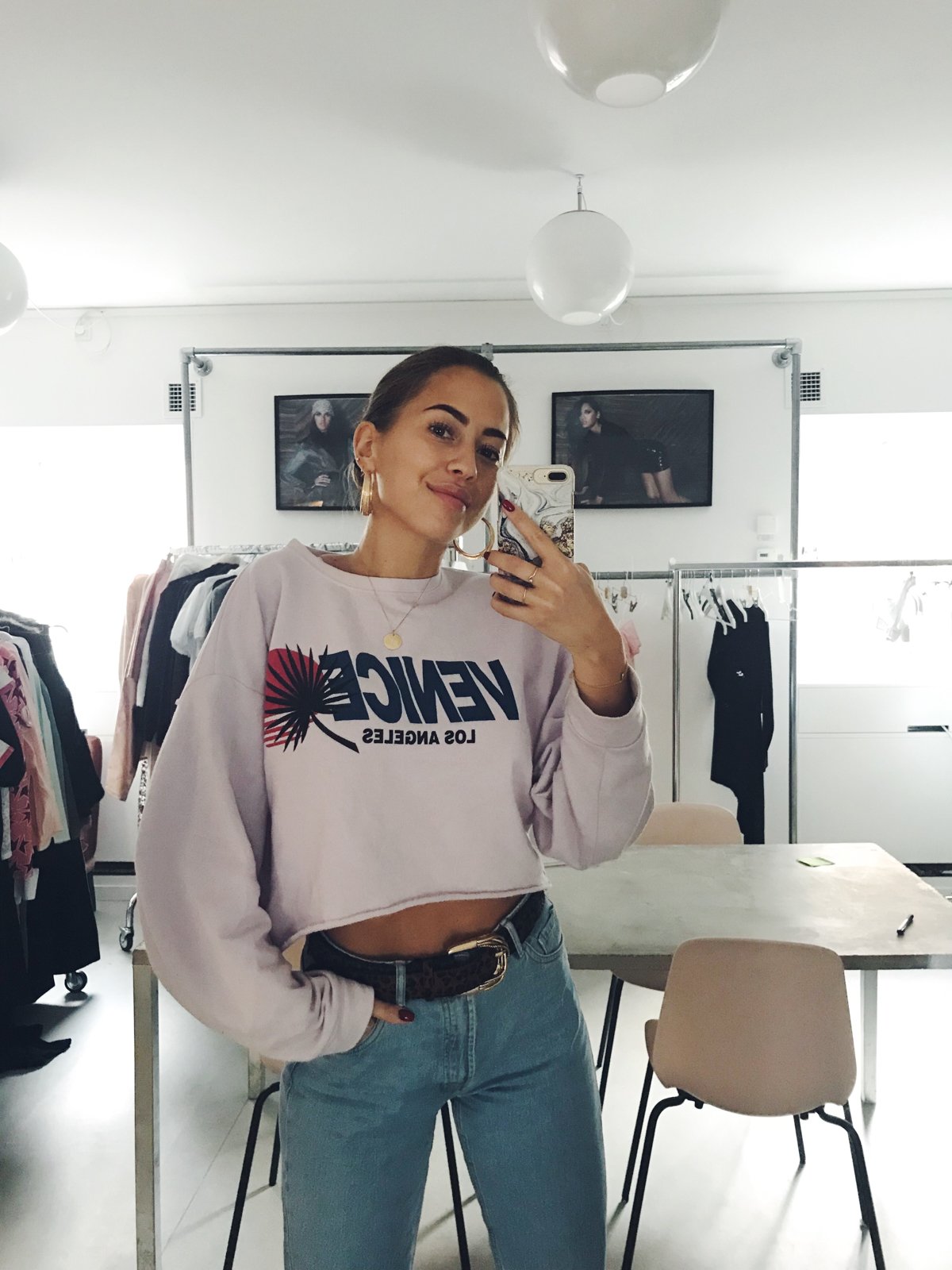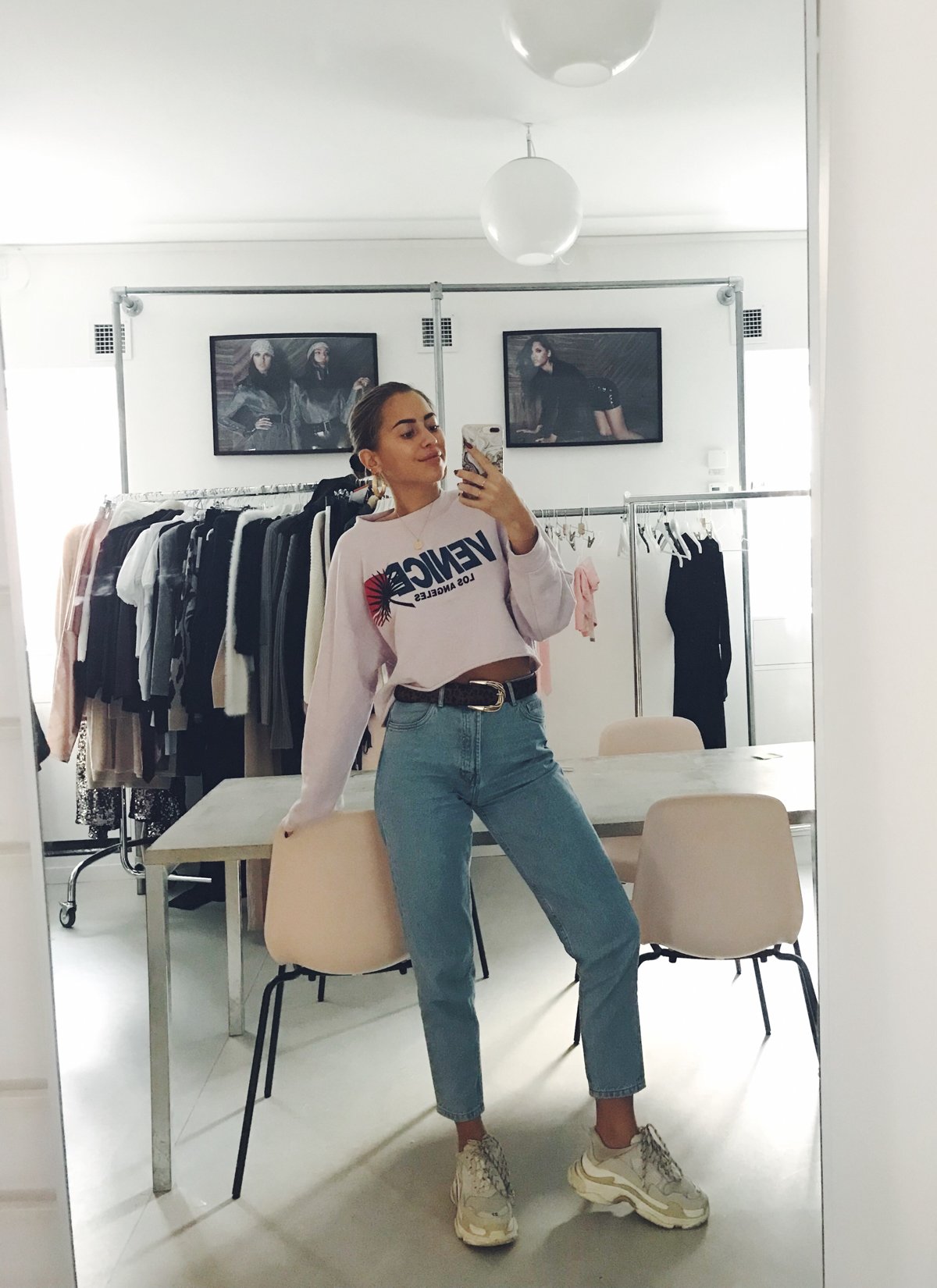 It's time for my Friday list! HAPPY FRIDAY EVERYONE!
Vad har du på dig idag?
En gammal sweatshirt från någonstans, jeans och skärp från Zara & mina Balenciaga sneakers. :-) Gud är så omotiverad vad gäller kläder nu för tiden, tar bara det som ligger överst i lådan så att jag istället kan få sova lite längre. Lite hösttrött antar jag.
Vad lyssnar du på idag?
Ja men gissa… SHALLOW med Lady Gaga och Bradley Cooper såklart!! Fyfan vilken bra film. Vet inte vad jag ska säga mer än att ni måste se den. Satt och rös, skrattade och grät vartannat. Men jag var inte beredd på att den skulle handla om psykisk ohälsa och missbruk… Det är ju något som alltid ligger och skaver i mitt hjärta. Läs mer nedan.
Vad är du på för humör idag?
Jag är trött men glad! Ska luncha med Mirre idag och äntligen hälsa på lilla Luna. Ja hon har fått barn! En liten tjej som kom i augusti. Ska bli mysigt att pussa på henne. <3
Helgens planer?
Min fredagskväll kommer se ut som alla andra fredagskvällar dvs mat, Idol och någon serie. Imorgonkväll ska jag på Angelicas event med MAC (och sno lite gratissmink hehehehe) och sedan ut och käka middag med Humlan. På söndag har jag, Nadia, Mika och Dilay bokat in en brunch! Någon gång under helgen ska jag också försöka träna ett pass, det var några veckor sedan nu.
Vad var det roligaste hände denna vecka?
Hmm.. Vad har jag gjort denna vecka? Minns knappt haha. Nej det har nog inte hänt något speciellt denna vecka, har mest jobbat på dagarna och på kvällarna har vi bara kollat serier och chillat. Får nog säga gårkvällen då eftersom att vi gick på bio och såg en jävligt bra film.
Veckans fundering?
Filmen igår kastade mig tillbaka till hur det var hemma när jag var yngre. Till ilskan, till oron, till skammen. Fyfan för alkohol, droger och vad det förstör. Missbruket blev min pappas död men det som gör mest ont är att han aldrig någonsin var lycklig. Mina glada minnen med honom är få, vår relation de sista åren var kass och vi kommer aldrig få en till chans. Jag kommer alltid vara arg på honom för sveken och för att han valde bort oss, men efter att han gick bort så har jag fått en lite större förståelse till hans sjukdom. Pappa var psykiskt sjuk och det fanns ingenting vi kunde göra för att hjälpa honom. Vi försökte, om och om igen tills vi inte orkade mer, men han ville inte. För stolt för att inse sina svagheter, eller för förstörd för att orka göra något åt det. Jag vet inte. Det finns fortfarande tillfällen då jag klandrar mig själv, men jag var bara barn och jag kunde inte ta hand om honom. Jag trodde lösningen var att hälla ut alla vinflaskor och ölburkar, gråta och skrika på honom tills han förstod min smärta, ställa ultimatum. Men ingenting hjälpte. Det låg så mycket djupare än alkoholen. Det jag önskar är att alla gånger vi hade polisen hemma hos oss för att något gått snett i pappas huvud, att någon tittade efter oss och räckte ut en hand. Jag önskar att någon hade lyssnat på oss, försökt prata med honom, erbjudit honom hjälp. Någonting. Tänk om…. Tänk om.
What are you wearing today?
An old sweatshirt from somewhere, jeans and belt from Zara and my Balenciaga sneakers. :-) Gosh I'm so unmotivated when it comes to clothes nowadays, I just take what's on top in my drawers so that I can sleep a bit longer. I guess I'm a bit "autumn tired". 
What are you listening to today?
Well guess…. SHALLOW with Lady Gaga and Bradley Cooper of course!! Wow such a good movie. I don't know what more to say, you have to see it. I sat there with goosebumps, laughing and crying. But I wasn't prepared that it would be about mental illness and addiction… That will always be something that's hurting my heart. Read more about it in the end of this post.
Today's mood?
I'm tired but happy! I'm gonna eat lunch with Mirre today and finally meet little Luna. Yes she had a baby! A little girl who arrived in August. It will be so cozy to cuddle with her. <3
Plans for the weekend?
My Friday night will look like all the other Friday night's meaning food, Idol and some tv-series. Tomorrow night I'm gonna attend at Angelica's event with MAC (go and steal some free makeup hehehehe) and then out for dinner with Alexandra. On Sunday I have a brunch scheduled with Mika, Nadia and Dilay! One day during the weekend I'll try to do a workout as well, it's been a few weeks now.
What was the most fun thing that happened this week? 
Hmm.. What have I done this week? I can barely remember haha. No nothing special happened this week, I've been working during the days and the evenings we've been watching series and chilled. I guess I have to say last night then since we saw a really good movie.
Thought of the week? 
The movie yesterday threw me back to what it was like at home when I was younger. To the anger, the anxiety, the shame. Fuck alcohol and drugs and what it destroys. The addiction became my father's death but what hurts the most is that he was never happy. My happy memories with him are few, our relationship the last years was shitty and we will never get another chance. I will always be angry at him for the betrayals and for not choosing us, but after he passed I've got a bit bigger understanding for his illness. My dad was mentally ill and there was nothing we could do to help him. We tried, over and over again until we no longer could, but he didn't want to. To proud to realize his weaknesses, or too destroyed to have the power to do something about it. I don't know. There are still times when I blame myself, but I was just a child and I couldn't take care of him. I thought the solution was to pour out all the wine bottles and beer cans, cry and scream at him until he understood my pain. But nothing helped. It was so much deeper than the alcohol. What I wish is that all the times we had the police at home because something had gone wrong in my dad's head, was that someone looked after us and reached out a hand. I wish someone would have listened to us, tried to talk to him, offered him help. Something. What if…. What if.