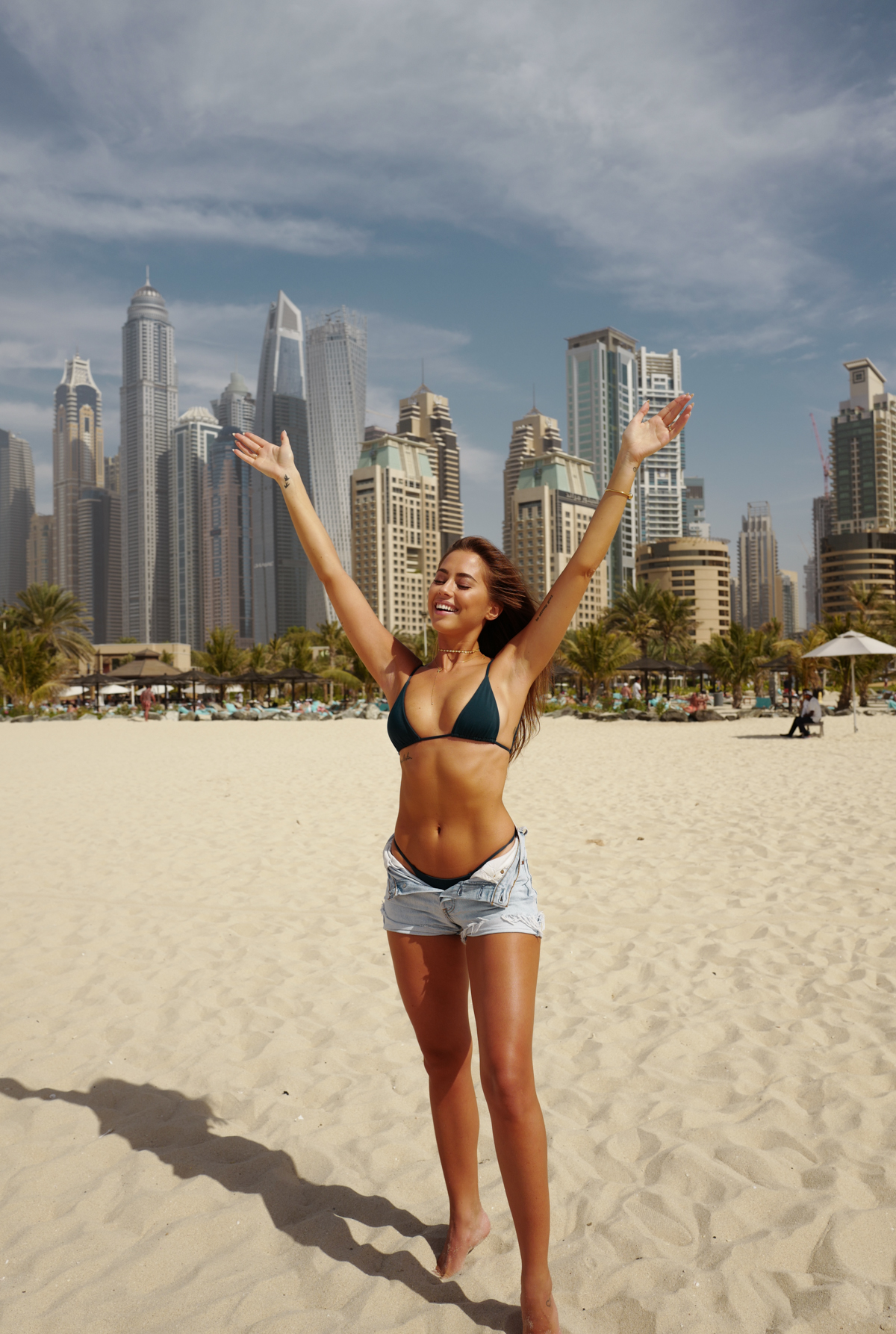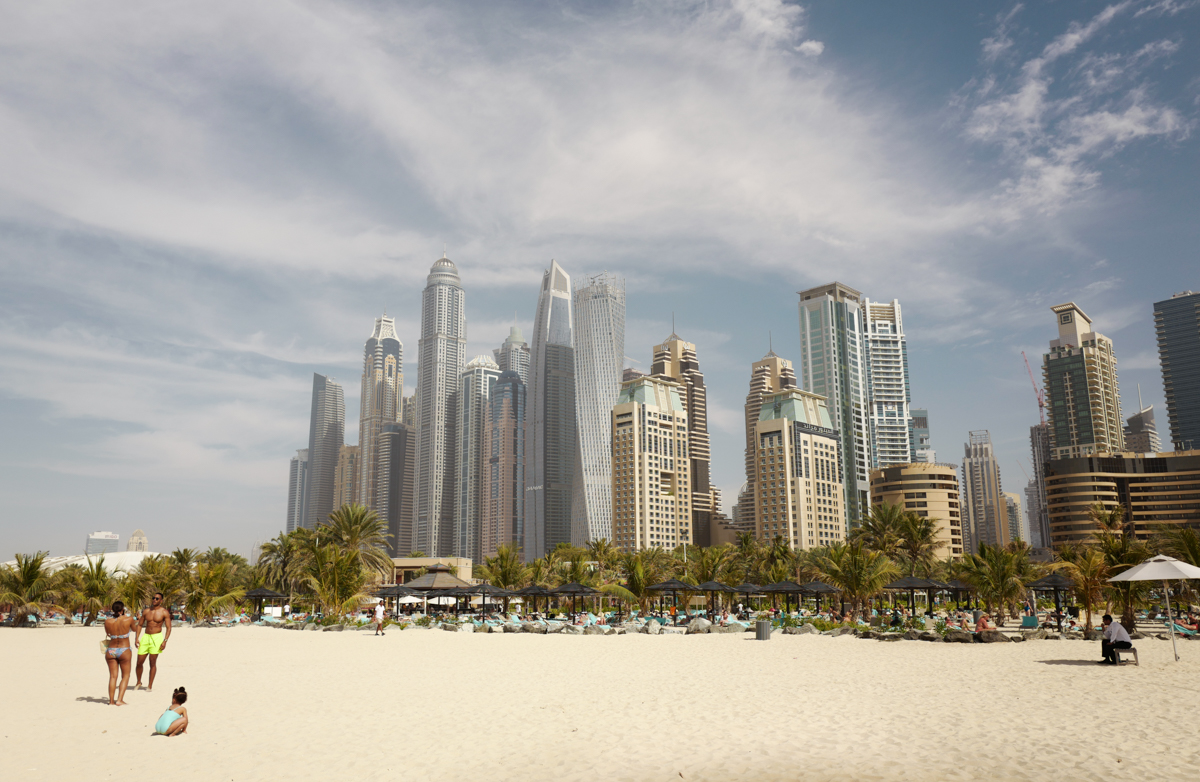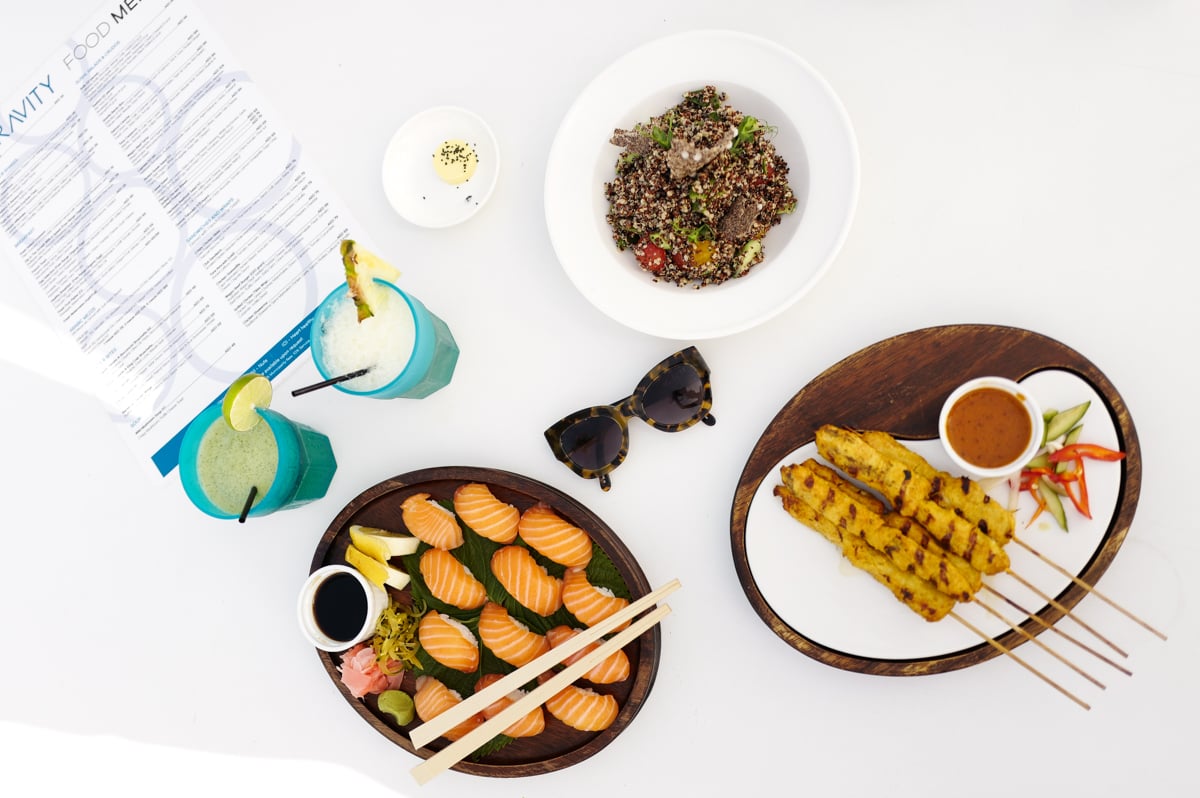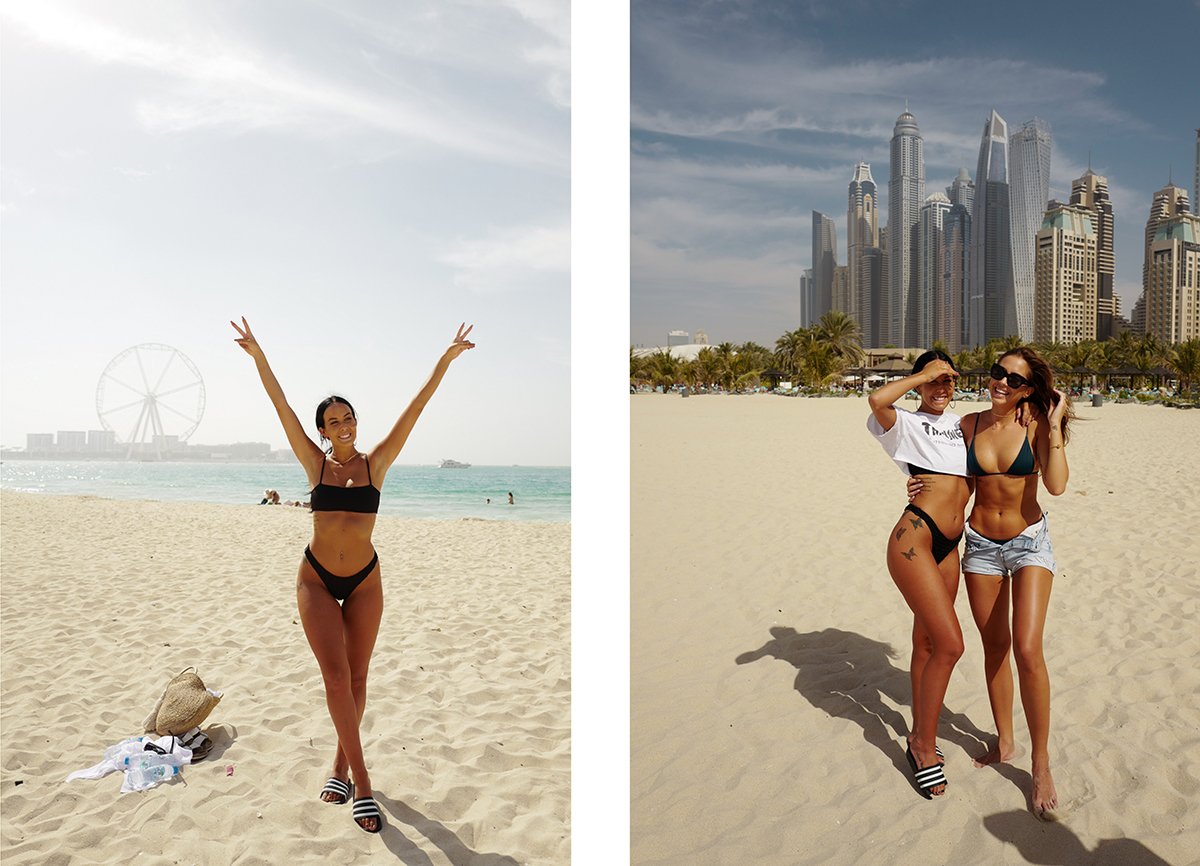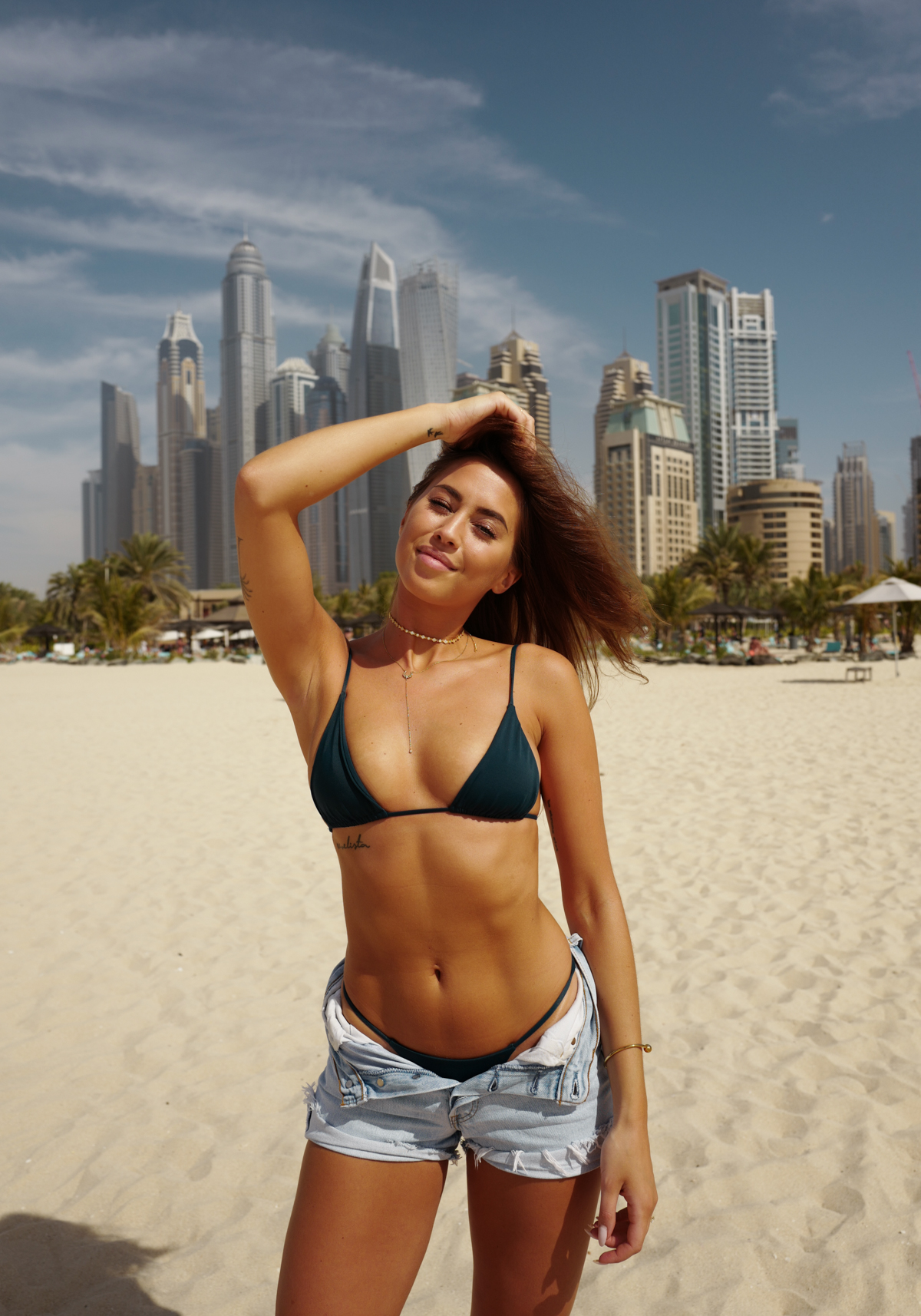 An afternoon at JBR beach
Vi har det bra här. Vi softar mest, äter mat och lyssnar på podcasts. Det känns konstigt att se bilder på mig själv där jag skrattar, för jag mår fortfarande dåligt. På dagarna när vi sysselsätter oss så lyckas jag tänka på annat men sorgen slår mig fortfarande flera gånger per dag. Vid varje böneutrop så kastas jag tillbaka till pappas begravning och på kvällarna när jag försöker sova så bränner tankarna i huvudet. Jag kan inte fatta att det gått en månad nu.
Jag vet inte varför jag skrev detta, det här inlägget skulle ju handla om vår eftermiddag på stranden i förrgår. Men någonstans känner jag mig väl tvungen att förklara varför jag fortfarande är lite off eftersom jag fått kommentarer om det. "Varför uppdaterar du så dåligt? Varför tar du så dåliga bilder? Varför gör du inga vloggar? Du har blivit så tråkig!" Ja, jag ber om ursäkt för det. Men vissa dagar får jag ge alla mina krafter till att samla mig och sluta gråta och då är det inte så lätt att ta upp kameran eller sätta sig och skriva om sin dag. Jag trodde att ni alla förstod det. "Du ska ut och resa, har du redan glömt din pappa?" Jag fattar att ni kanske tänker att jag mår bra nu för jag lägger upp bilder där jag poserar och ler. Men jag mår inte bra, inte på långa vägar. Jag försöker bara gå tillbaka till mitt jobb och vanliga liv men vissa dagar går det inte att låtsas. Vissa dagar äter sorgen och saknaden upp mig och jag skriker efter pappa tills jag knappt kan andas. Vissa nätter får Aleks ligga uppe och hålla om mig för att jag gråter hysteriskt. Vissa stunder känner jag att ingenting spelar någon roll längre. Jag har inte sörjt färdigt och jag måste få göra det. Vill jag ena dagen sysselsätta mig med jobb & blogg och andra dagen stänga in mig hemma så måste jag få göra det. Jag ber er bara ha överseende med det och tänka steget längre innan ni skriver något som kanske sårar mig.
PS. Vet också att ni är många många fler som både kommenterar och mailar massa fina ord och stöd och det är ni som får mig att fortsätta. Tack. <3
// We're having a good time here. Mostly just chillin, eating food and listening to podcasts. It feels weird to see photos of me where I'm laughing, because I'm still not ok. During the days when we do stuff I manage to get my mind on other things, but my sorrow still hits me several times a day. At every call to prayer from the mosques I get thrown back to my fathers funeral and in the evening when I'm trying to fall asleep the thoughts are burning inside of my head. I can't believe it's been a month now.
I don't know why I wrote this, this post was supposed to be about our afternoon at the beach the other day. But somehow I feel that I need to explain why I'm still off since I get comments about that. "Why do you update so bad? Why are your photos so bad? Why don't you make any vlogs? You have become so boring!" Yes, I apologize for that. But some days I have to use all my power to get myself together and stop crying and at that time it's not easy to pull my camera or sit down and write about my day. I thought all of you understood that. "You're going on a trip, have you already forgot your dad?" I get that you might think that I'm fine now because I post photos of myself posing and smiling. But I'm not fine, not at all. I'm just trying to go back to work and my regular life but some days I just can't pretend. Some days the sorrow eats me alive and I keep yelling after my dad until I can barely breathe. Some nights Aleks has to stay up and hold me because I'm crying hysterically. Some moments I feel that nothing matters anymore. I'm not done mourning and I need you to let me mourn. If I want to keep myself busy with work & blog one day and the next day hide at home I need you to let me do that. All I'm asking is for you to keep this in mind and think one step further before writing something that might hurt me.
PS. I know you are many many more who both comment and e-mail me lots of kind words and support and thanks to you I continue doing this. <3