Vet ni vad, jag har funderat och funderat och blivit peppad av mina nära och kära att ge bloggen en till chans. I april när jag bestämde mig för att ta en paus var jag så trött på det. Nikola var i en väldigt krävande period, jag hade svårt att få ihop min "mammalediga" vardag med allt jobb och måsten och varje gång jag gick in här möttes jag av så jäkla tråkig stämning. Bloggen som tidigare hade varit en glad plats som jag älskade att besöka hade blivit ångestladdad. Kommentarsfältet svämmade över av hat, rasism, bråk, påhopp och jag vet inte vad. Något jag inte tänker acceptera.
Men jag saknar ju såklart bloggen!! Jag saknar er och jag saknar verkligen att skriva. Och jag saknar att ha mina dagar, månader och år nerskrivna här. Jag saknar att ha något mer att göra utöver instagram. Därför tänkte jag såhär: jag ger det en till chans, på nya villkor, och ser om nya varianten passar mig bättre och gör att jag tycker att det är kul igen.
Den största skillnaden kommer vara uppdateringen. Jag tänkte testa att ha bloggen enbart som en hobby, dvs inga betalda inlägg, och därmed ingen press att uppdatera för att hålla statistiken uppe. Jag vill gå tillbaka till hur det var back in the days då min blogg var min dagbok. Jag kommer uppdatera när jag känner för det, när jag tycker att jag har något skoj (eller mindre skoj) att dela med mig av. Jag förstår att många är ute efter en daglig uppdatering men det kommer ni inte hitta här. Det kanske blir en gång i veckan eller två. Och i vissa perioder kanske färre eller kanske mer. Ni fattar! Jag kan ju säga till på insta story när ett nytt inlägg finns uppe.
Den andra skillnaden är att det kommer komma en ny funktion för att kommentera där man behöver logga in, för att göra det lite krångligare för nättrollen. :-)) Först tänkte jag ta bort kommentarsfältet helt men då känner jag att jag inte kan ha någon kontakt med er alls eller svara på era frågor och det känns inte kul. Tills den funktionen är uppe så modereras kommentarerna av någon (inte av mig, så det är ingen idé att skriva något elakt till mig för det kommer ändå inte nå mig.) Vi har även lagt till en gilla-knapp nere i vänstra hörnet efter varje inlägg, så om ni vill kan ni klicka på hjärtat för att visa att ni gillar inlägget.
Och sist men inte minst så kommer jag för att spara tid inte längre skriva en engelsk översättning själv. Nu påverkar ju detta inte er som läser här på svenska men jag kommer iallafall se till att det kommer upp en engelsk översättning av inläggen i efterhand.
OK nu när vi gått igenom allt tråkigt haha, välkomna tillbaka!!! (om det finns någon kvar dvs hehe) Vi har ju en hel del att catcha upp på så att säga, det har hänt en hel del senaste månaderna…. Vad vill ni att nästa inlägg ska handla om? Kanske……att det bakas en till bebis i min mage? <3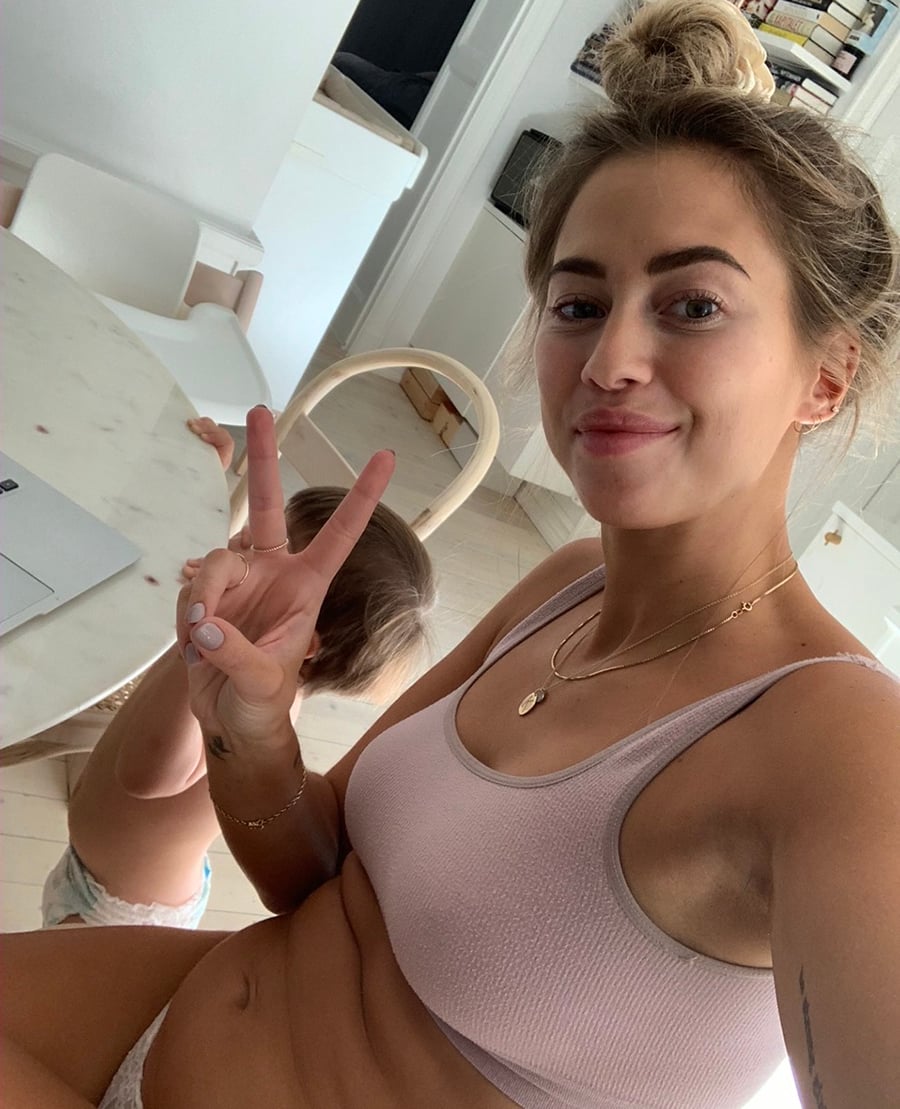 Tillbaks vid min laptop! Sorry för nakenchock men vem bär egentligen kläder hemma…
// You know what, I have been thinking a lot and my family and friends have encouraged me to give the blog another try. In April when I decided to take a break, I was sick and tired of it. Nikola was in a demanding period, I hade trouble combining maternity leave with work and every time I checked my blog, the atmosphere in here was so bad. The blog, which I used to be happy to enter had become something that made me anxious. The comments were filled with hatred, racism, fights, personal accusations etc. Which I will not accept. 
But of course I miss the blog!! I really miss writing and I really miss you. And I miss to have my days, months and years written down here. I miss having something more than just instagram. That's why I'm gonna give it another try: another chance, with new terms, and see if it fits me better and makes it all fun again.
The biggest change will be the updating. I'm gonna use my blog as a hobby, only. No paid collaborations, which means no pressure to keep my statistics high. I want to go back to how it was back in the days when my blog was my diary. I'm gonna update when I feel for it, when I have something fun (or not so fun) to share with you. I understand that many of you would like a daily update, but you won't find it here. I will update once or twice a week. Sometimes more and sometimes less. You get it! I'll tell you on Insta Story when there's a new blogpost. 
The second change will be that there's a new function for the comments, where you will have to log in to make it harder for people who are trolling :-)) First, I was thinking about removing the comment field completely but that would mean no  interaction with you guys. Until that function is up, the comments will be controlled by another person (not me). That means there's no point in writing something mean to me, because I won't be able to see it. We have also added a like-botten in the lower left corner, so if you'd like, you can click on the heart to show me that you liked the post.
Last but not least, I won't write the translation in English myself. To save time. This won't affect my Swedish readers, but I will make sure that an English translation will be uploaded soon after I've posted. 
Okay, now we have went through all the boring stuff haha, welcome back!!! (If anyone's still here hehe). We have a lot of catch up to do, because a lot has happened the last couple of months… What do you want me to write about in my next post? Maybe…. the baby I'm baking in my belly? <3